Solar-powered floating prefab room by Kenjo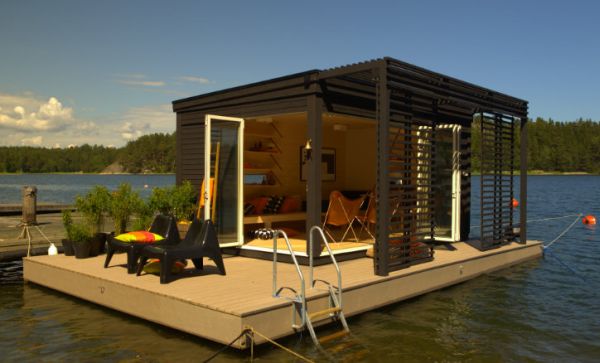 Not everyone would fancy the idea of a floating home – or an extra floating room per se. But the same cannot be said about Sandell brothers, who along with Swedish prefab cabin builder Kenjo designed a budget waterproof property from locally available material, which can be used as an additional room when needed. Featuring solar panels installed on the roof to power LED lighting and the stereo system inside, the one-room floating platform is made entirely of wood and features energy efficient windows.
This floating cabin, which Sandell family can use as a guest room, relaxation room, office or even as a floating house, is stuffed in with a motor (like one used in fishing boats) which allows it to be moved on water to different locations if required. The Kenjo Floating Cabin is made as part of the Swedish show 'Roomservice on Kanal 5', there is a video of the room's construction (in Swedish) that you can see to know exactly how it is made. To see more of the floating cabin, hit the jump.
The following two tabs change content below.
Bharat has been reviewing latest gadgets, toys, robots and new home technologies across various platforms. In addition to reporting and reviewing new products and technologies, he spends too much time digging the Internet for endless questions. Bharat is a football fan and a big time foodie.
Comments