Environmental Lights unveils their advanced series of LED Dimmers and Controllers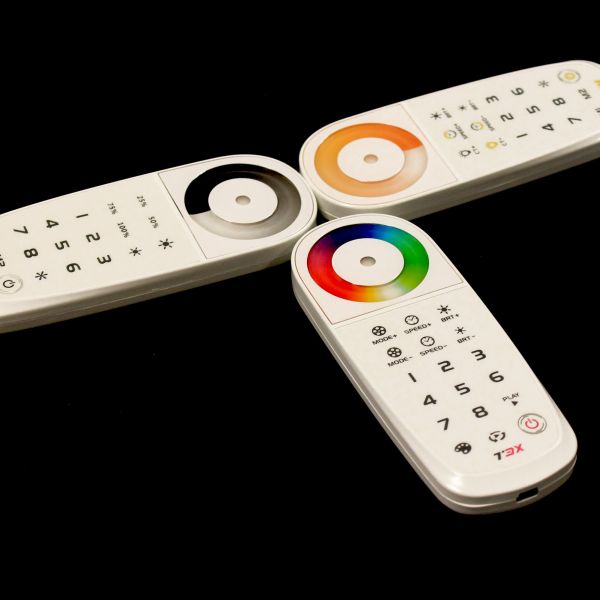 Those with a penchant for controlling the lighting ambiance of their interior home decor would surely be thrilled by Environmental Lights upcoming products. This range of new lighting components includes the T-Series LED dimmers and controllers that are tailored for LED strip lights.
With special attention being given to intuition of use, each of the remote controls are featured with user friendly as well as energy efficient attributes. These include a touch sensitive color wheel, pre-programmed triggers, memory function and of course compatible receivers for the customized lighting effect. For example, the Multi-Zone LED Touch Dimmer has a touch oriented color wheel that gives a whopping 256 options of varying brightness. It also has  preset options that correspond to 25 percent to 100 percent of brightness of the connected LED strip.
Now, this is only one part of the whole light ambiance controlling function. The other part entails the receiving of the input command transmitted by the controllers. For this one needs to pair the dimmer with the LED Touch Receiver. The wireless controlling of the LED strips can be done according to their voltage capacity. But more importantly, the user can also control the LED strips in multiple zones, with as many receivers as they want in each of the individual spaces. This certainly alludes to a scope of glorious customization, allowing the much needed flexibility when it comes to decoration of interiors with a variety of lighting effects.
Via: EnvironmentalLights
The following two tabs change content below.
A proud native of the beautiful steel township of Durgapur, West Bengal, Dattatreya's fascination lies within a range of diverse matters. With a bachelor's degree in architecture, he is quite fond of his hardcore strategy gamer as well as amateur historian tag. Of course, with over two years of blogging experience under his belt, he also likes to write about the latest updates on home based technology and gizmo oriented products.
Latest posts by Dattatreya (see all)
Comments