Sharp introduces cherry blossom-colored LED that improves our concentration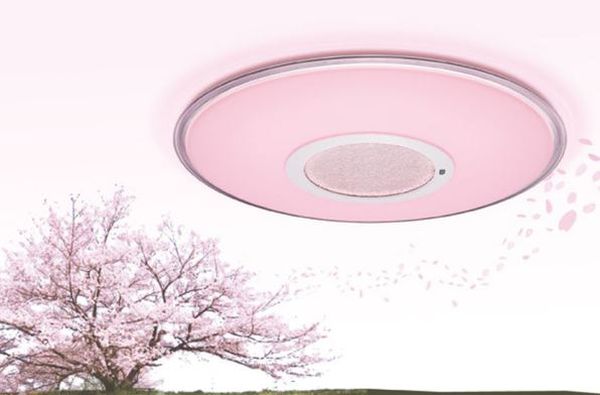 The effulgence of the soft hue of cherry blossoms is nigh synonymous with Japanese gardens. And, to complete our trio of Japanese conceptions covered today, we have at last the 'sakura iro', or cherry blossom-colored LED mechanism from Sharp. Exhibiting the very same soft glow (achievable via dimmer control), the light is also touted to improve our level of productivity and psychological focus when fixed inside a room. So, in essence, the regular pedestrian illumination of our interiors gives way to the affable warmness of the light-pink blushed glow, while we are working, studying or just relaxing.
Of course, as a dimmer controlled mechanism, that is not the only function of the LED conception. The light has an automatic system that emanates different intensities of shades corresponding to the different times of the day. For example, it starts out the day with a more deeper variety of pink. And, as the day progresses, the lighting becomes more warmer and inviting, ultimately resulting in a tepid afterglow just before we decide to switch it off for the night.
Finally, coming to the commercial scheme of things, the light comes in two models designed for corresponding spatial denominations of our rooms. The 40,000 yen (US$432) version is adequate for 13 sq m of space, while the 55,000 yen ($594) one is good for a larger 23 sq m of space. Both of the pretty pink LED products would be available from this month, as confirmed by the electronic company.
Via: GGSoku
The following two tabs change content below.
A proud native of the beautiful steel township of Durgapur, West Bengal, Dattatreya's fascination lies within a range of diverse matters. With a bachelor's degree in architecture, he is quite fond of his hardcore strategy gamer as well as amateur historian tag. Of course, with over two years of blogging experience under his belt, he also likes to write about the latest updates on home based technology and gizmo oriented products.
Latest posts by Dattatreya (see all)
Comments