Piazzetta's P938 pellet stove fuses graceful aesthetics with hi-tech features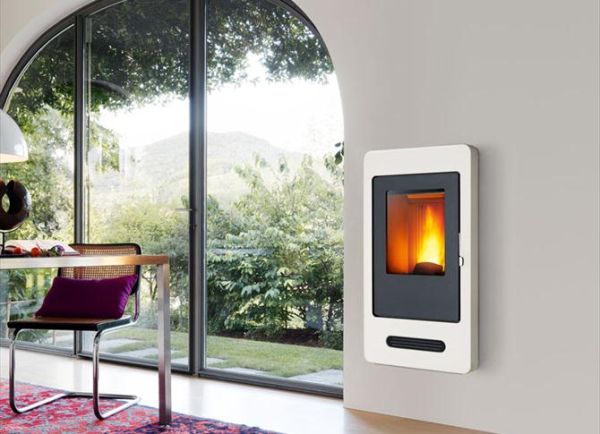 Modern day pellet stoves have certainly traversed the scope set by their bulky, unrefined predecessors. Now, it is all about sleekness, aesthetics and hi-tech features. In that the wall mounted Piazzetta's 'P938′ doesn't disappoint with its uniquely graceful bearing which is equally complemented by the strength of its enamelled steel structure, along with technological features like remotely accessed controls. Even from the visual perspective, the presumed rigidity of steel and iron is overcome by the novelty of Majolica cladding – an Italian form of indigenous tin-glazed pottery.
The structure, as we mentioned before, comprises of steel with the additional door, brazier and firebox crafted in solid cast iron. The transparent component on this door is made from a self cleaning ceramic glass which can handle temperatures of up to a whopping 750 degrees.
However, it is the level of technology infused in the P938 that really entices us. This technological ambit consists of a wide range of features including a forced ventilation system (with adequate air ducting), a dual power arrangement to endow different heat levels to two different rooms and an 'interactive' pellet sensor that alerts the user when new pellet is required for the stove. Finally, the hi-tech quotient is further notched up by a multi-purpose remote control that integrates LCD display, timer and thermostats for the temperature control.
Via: Piazzetta
The following two tabs change content below.
A proud native of the beautiful steel township of Durgapur, West Bengal, Dattatreya's fascination lies within a range of diverse matters. With a bachelor's degree in architecture, he is quite fond of his hardcore strategy gamer as well as amateur historian tag. Of course, with over two years of blogging experience under his belt, he also likes to write about the latest updates on home based technology and gizmo oriented products.
Latest posts by Dattatreya (see all)
Comments