Wood Shaving Bench by Hour25 Production mimics curling wood shavings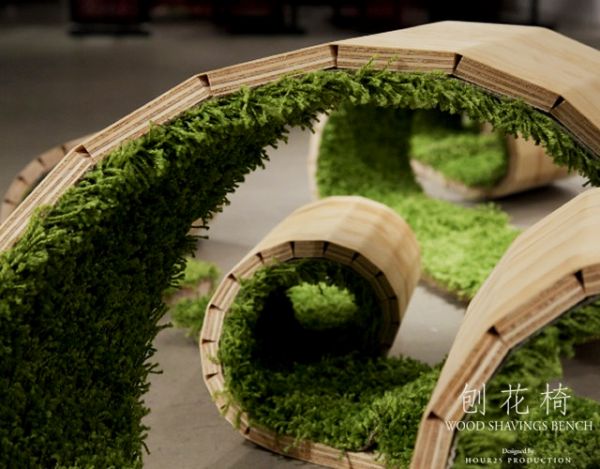 The rise in the environmental awareness nowadays is inspiring more and more people become eco-friendly in every possible way. With the same point of view, many of the artists, designers, and architects from around the world are creating different kinds of green projects in order to do their part in saving the environment. Similarly, a creative team of Hong Kong based firm, Hour25 Production has done the same and designed and created the 'Wood Shaving Bench' out of the dumped pieces of wood at the furniture workshops.
The inspiration for the design of this recycled wooden bench comes from the shape of curling wood shavings. This marvelous furniture piece designed by Lai Wing Fung William, Choi Kit Wang, Chan Yiu Kwan Bill, and So Tze Shun Jason of Hour25 makes use of traditional kerfing techniques along with digital precision methods to give the bench a spiral shape. This all makes the bench appear like a wood shaving with many iterations. The dimensions of each piece are 3800mm X1400mm X 400mm. Several such pieces are joined together by the hidden finger joints at the end of each piece. The entire assemblage looks like several pieces of wood shaving scattered on the floor of a furniture workshop. In order to enhance the sturdiness and aesthetical appeal of the wood shaving bench, the internal side of the bench is lined with a green carpet.
Via: TheMag
The following two tabs change content below.
A soft hearted girl, Garima finds herself to be lucky to be born in Shimla, Himachal Pradesh. With a writing experience of three years, she has been writing for various renowned blogs and absolutely enjoys her work. She is a firm believer of God and holds a positive attitude towards life. She is a big chatter box and adores every kind of music.
Comments