Korean architectural firm Moon Hoon designs Panaroma house with multi-purpose features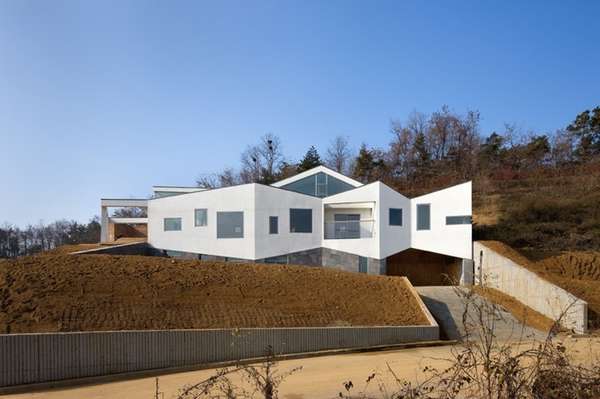 Over the years, architects have always struggled to maintain the spatial circulation between different levels, when it comes to multi-storied housing units. The reasons behind this may vary from reduced scale of the project, building by-laws to even obtrusive plans due to smaller plots. However, Korean architectural firm Moon Hoon have traversed these limitations by their own design of a modern single family property in Chungcheongbuk-do, South Korea. Sprawling in its entire scope, the 'Panorama' residential building is defined by a rectilinear wave form. However, beyond the expansive elevation, it is the 'seamless', open plan of the house that really tickles our fancy.
Section wise, the two floors of Panorama are joined spatially as well as visually by a simple staircase that uniquely doubles up as a book shelving system. It also poses as the crucial access point to the main living quarters of the house (all situated on the upper floor), along with the kitchens and a big movie screen. The multi-use stairs further continue on to the attic, which has been envisaged as an isolated play room for the younger kids of the family. Finally, the extending wave-patterned windows along with the vantage point in the attic provide sweeping views of the surrounding city-scape draped in greenery.
Via: MoonHoon
The following two tabs change content below.
A proud native of the beautiful steel township of Durgapur, West Bengal, Dattatreya's fascination lies within a range of diverse matters. With a bachelor's degree in architecture, he is quite fond of his hardcore strategy gamer as well as amateur historian tag. Of course, with over two years of blogging experience under his belt, he also likes to write about the latest updates on home based technology and gizmo oriented products.
Latest posts by Dattatreya (see all)
Comments