'Bike All' doubles up as bike parking system and a shelf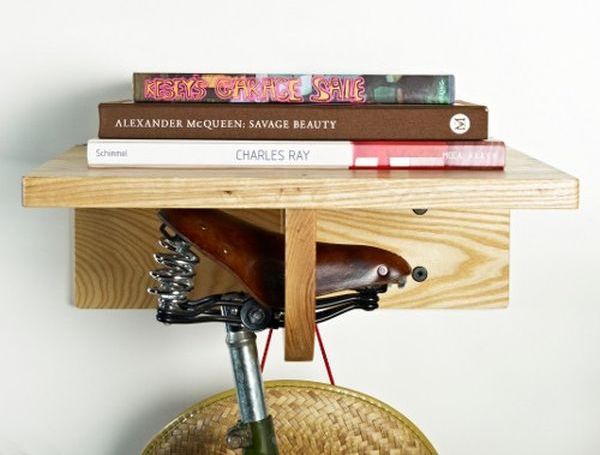 This is not the first time we have come across multi-purpose furniture systems, and hopefully this won't be the last time. However, what separates the above pictured 'Bike All' shelf from other 'collective' furniture items is that it involves the scope of a full fledged bike. Envisaged as a bike parking system that also doubles up as a shelf, the unique arrangement was conceived by Colorado based 'Board by Design'. The parking system itself utilizes the common element of saddle found in every bike. So, basically the user has to just push the saddle into the lower wooden loop, thus 'locking' the bike with the Bike All component. Additionally there are two hooks hanging from this loop that can used for keeping your helmet, hat or even satchels.
The furniture part of the conception entails the top section that comprises of an open shelf. This storage space can be used for keeping books, decor items and even other bike oriented stuff one could need on a long ride. There is also a separate receptacle on this top facade for our cell phone/MP3 charger cord. And, finally as for usability, the company provides the user with all the mounting hardware that makes it easy to install the all-wooden 'Bike All' shelf.
Via: YLiving
The following two tabs change content below.
A proud native of the beautiful steel township of Durgapur, West Bengal, Dattatreya's fascination lies within a range of diverse matters. With a bachelor's degree in architecture, he is quite fond of his hardcore strategy gamer as well as amateur historian tag. Of course, with over two years of blogging experience under his belt, he also likes to write about the latest updates on home based technology and gizmo oriented products.
Latest posts by Dattatreya (see all)
Comments