Minipool by Kos is a bathtub with features of spa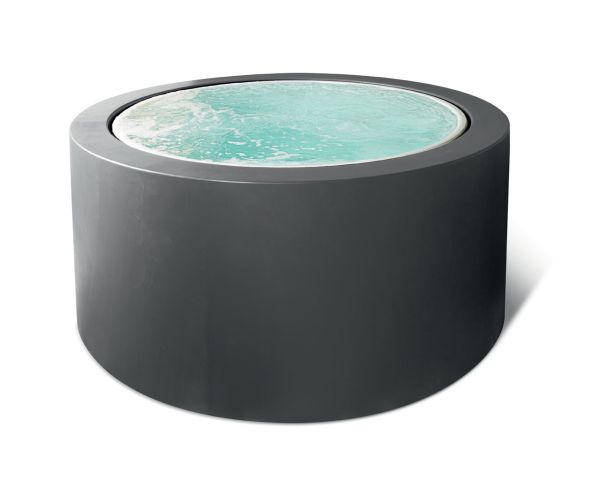 People often wish to have a personal spa to relax and soothe their fatigued bodies after a long day at work.Now with Minipool installed at home, this wish can come true. Multiple award winners designer duo Ludovica+Roberto Palomba based in Milan, designed the gorgeous Minipool for the Italian hot tubs, and shower cubicles manufacturer company Kos. This freestanding overflowing rim miniature pool is one of its kind and is perfect to be used as an indoor or outdoor spa with hydromassage, hydrocolor and LED lights underwater.
The Minipool consists of  an internal tank that guarantees a constant filling and automatic return of water.  The perfect aesthetics and absolute geometry of this pool makes it appear like  a sculpture and the circular band around the edges blends with the water surface. You can also get a built in version of this circular pool that is a little higher than the ground level. It is encapsulated by a circular bench where around five people can sit easily. The freestanding bathtub  is made with Oltremateria®, a natural and environmentally friendly water-based coating. This is a quality material that is utilized by Kos to make all of its bath tubs and shower cubicles etc.
The hydromassage system employed in the Minipool can be regulated by the user according to his or her requirement. It also employs the hydrocolor, underwater LED lights and a system for heating the water  to give you the spa experience that you can get in expensive Spas and Wellness centers,
Via: Design-milk
The following two tabs change content below.
A soft hearted girl, Garima finds herself to be lucky to be born in Shimla, Himachal Pradesh. With a writing experience of three years, she has been writing for various renowned blogs and absolutely enjoys her work. She is a firm believer of God and holds a positive attitude towards life. She is a big chatter box and adores every kind of music.
Comments