Bathsphere – A 'personalized' glass-built bathroom suspended in your living area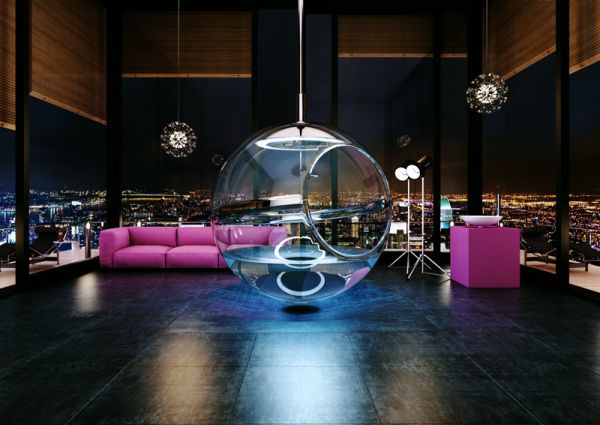 We have previously come across bathrooms that were 'boldly' envisaged as an accessible part of the actual living zone of a room. However, the above pictured 'Bathsphere' by designer Alexander Zhukovsky goes much beyond the threshold of gimmicky novelty. Conceptualized as a primary spatial entity in where we would start our day and end our day, the Bathsphere is a glass-built structure suspended in air. In that regard, the conception would pose as that 'solitary' retirement space inside our house, which can be easily accessed from the living areas but still semi-privately segregated by its uniquely suspended credentials.
According to the designer, the glass bowl of the Bathsphere would serve as our personal 'cleansing' zone before and after our hard day's work. The design language responds to such meditative and bathing attributes by incorporating a few features of its own. These include the simulation of rain; the option of optimizing the inside glass micro-climate by changing temperature and humidity; relaxing light and sound effects; and finally a dose of aroma therapy.
Furthermore, the 'bathroom' structure gives us the illusion of floating in mid air. This surreal sense of suspension with 360 degree views of your living space provides that much needed spark of spatial originality that could certainly spice up your bathing experience.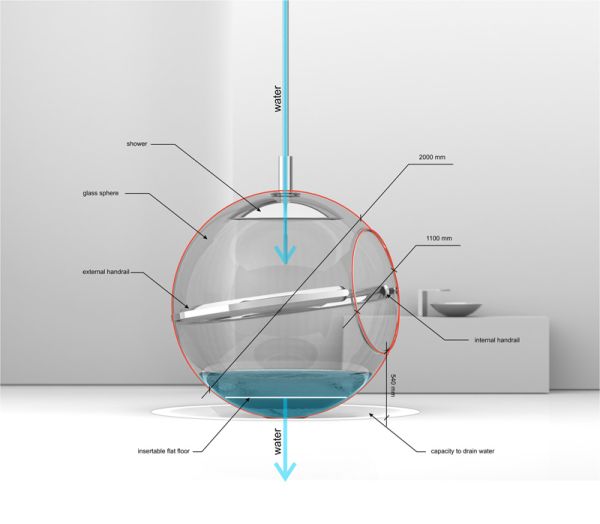 Via: Aizzz
The following two tabs change content below.
A proud native of the beautiful steel township of Durgapur, West Bengal, Dattatreya's fascination lies within a range of diverse matters. With a bachelor's degree in architecture, he is quite fond of his hardcore strategy gamer as well as amateur historian tag. Of course, with over two years of blogging experience under his belt, he also likes to write about the latest updates on home based technology and gizmo oriented products.
Latest posts by Dattatreya (see all)
Comments