20th century historic villa transformed in a modern zero-carbon house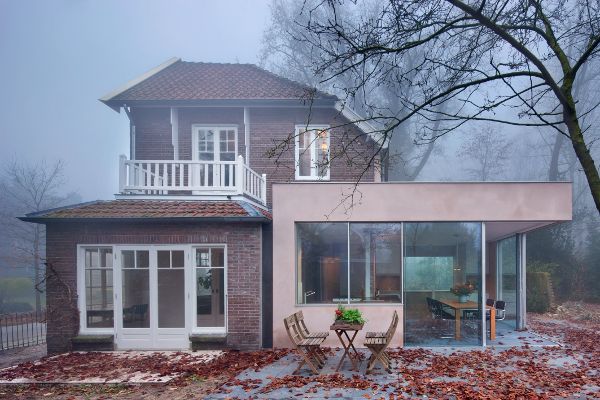 A few days ago, we talked about a 19th century barn that had been re-purposed into a modern day office. And, now we come across another 'historic' villa (from early 20th century) that has been turned into a contemporary carbon-neutral residence. Located in the rural town of Driebergen-Rijsenburg, Netherlands, the modernization project was achieved by Dutch architecture firm Zecc Architecten in collaboration with One Planet Architecture Institute or OPAi. In this regard, the green energy credentials are conveniently provided by sustainable systems comprising of solar paneled roofing and geothermal heat pump mechanisms.
However, the renovation didn't only entail the achievement of the zero-carbon status; the scope also encompassed a new structural addition to the old villa. This can be seen from the modernist kitchen expansion (with tall window facades and linear bearing) that directly contrasts with the brick-laden structure of the original building. In fact, it is the juxtaposition of old and modern that translates the historic building's 'transformation' into a contemporary house infused with dollops of high end technology.
All images are courtesy of Cornbread Works.
Via: Earth911
The following two tabs change content below.
A proud native of the beautiful steel township of Durgapur, West Bengal, Dattatreya's fascination lies within a range of diverse matters. With a bachelor's degree in architecture, he is quite fond of his hardcore strategy gamer as well as amateur historian tag. Of course, with over two years of blogging experience under his belt, he also likes to write about the latest updates on home based technology and gizmo oriented products.
Latest posts by Dattatreya (see all)
Comments