Sandusa – The world's first sand-resistant beach towel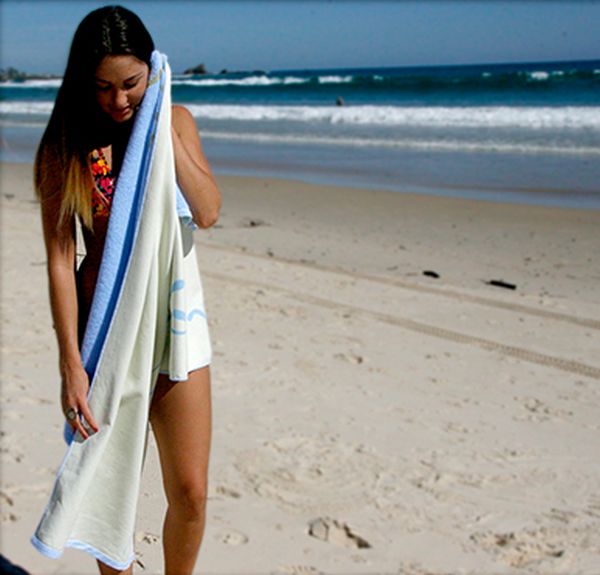 Beach towels can be a b*tch! Why this unrestrained vocal attack on our age old beach accessory, you ask? Well, the reasons are many – starting from the nigh unending stream of 'irritating' sand from our towels when we hurl them, to the occurrence of such 'scratchy' sand in our car seats and even back home. However, being a beach aficionado himself, Australian designer Baz Brown fortunately feels the same way. And as a solution, he has created the 'Sandusa', the world's first sand-resistant beach towel.
Launched through Indiegogo, the simple yet effective invention can surely improve upon the beach experience for thousands of coast dwellers and tourists around the globe. The materials used for the Sandusa include Terrycloth Cotton with a nylon backing. This nylon layer comprises of short 'loop-less' fibers which doesn't allow the sand particles to stick to the surface.
The functional scope however is not just limited to mitigating sands. There is a separate thin layer of waterproof material between the absorbent towel and the nylon backing, which also makes the Sandusa water-resistant. This feature certainly enhances the practical applications of the beach towel – like being used as a picnic cloth, an outdoor cover for electronic machinery, a draping for furniture and also has a gym towel that protects your from perspiration.
All images are taken from Indiegogo.
Via: Indiegogo
The following two tabs change content below.
A proud native of the beautiful steel township of Durgapur, West Bengal, Dattatreya's fascination lies within a range of diverse matters. With a bachelor's degree in architecture, he is quite fond of his hardcore strategy gamer as well as amateur historian tag. Of course, with over two years of blogging experience under his belt, he also likes to write about the latest updates on home based technology and gizmo oriented products.
Latest posts by Dattatreya (see all)
Comments