WaterDream – A lamp that also integrates a shower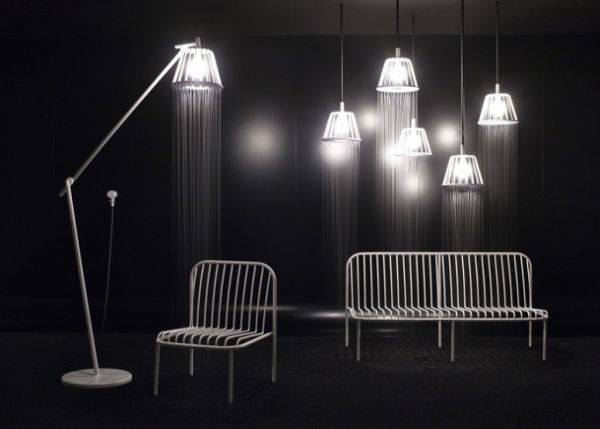 We have harped about lamps that mimic C3PO leg and we have reiterated about lamps that change their colors according to your mood. And, in spite of our coverage of such a wide spectrum of unique designs, this is the first time we have come across a lamp conception that also integrates a shower! Designed by Oki Sato (from Japanese design firm Nendo) for German brand Axor, the contrivance is named aptly as the WaterDream. Form wise, it comprises of a cage-like component that houses the light bulb; while the shower head is fixed to the bottom section. So, basically the design poses as a lighting mechanism, which also notches up on the novel 'rain like' ambiance in your living room.
Of course, a shower in our living room doesn't make much sense from the practical perspective. In this regard, the WaterDream is actually a conceptual piece that aims to showcase that even our private bathing function can be accommodated in a different zone with a bit of spatial modification. Philippe Grohe, head of Axor, has went on to say –
The natural coming-together of light and water is freed from spatial constraints: what traditionally took place in separate rooms – reading under a lamp in the living room, taking a shower in the bathroom – can now be experienced free from spatial allocations or confinements.
Now, many of us traditionalists would feel a bit awkward with all this talk of 'non-confined' bathing. However, from the purely aesthetic viewpoint, the WaterDream collection is surely a winner in our book.
Via: Spoon-Tamago
The following two tabs change content below.
A proud native of the beautiful steel township of Durgapur, West Bengal, Dattatreya's fascination lies within a range of diverse matters. With a bachelor's degree in architecture, he is quite fond of his hardcore strategy gamer as well as amateur historian tag. Of course, with over two years of blogging experience under his belt, he also likes to write about the latest updates on home based technology and gizmo oriented products.
Latest posts by Dattatreya (see all)
Comments