Michiko Shimada's realistic collection of hand crafted ceramics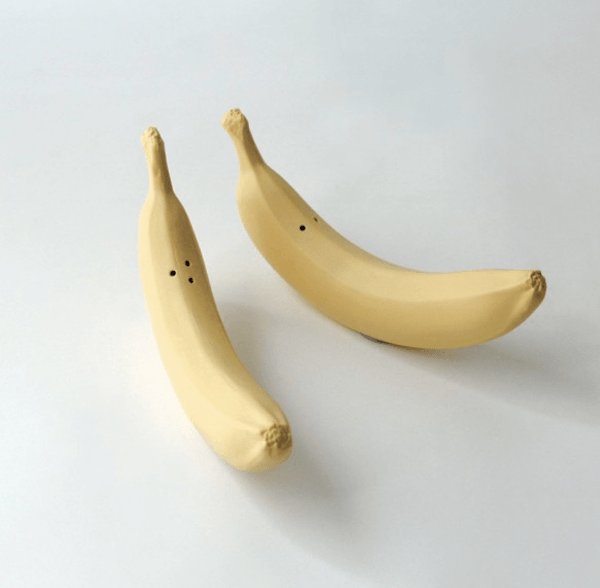 Simple in their craft yet realistic in their embodiment – the above pictured conception is a part of  the collection of hand crafted ceramics by Brooklyn-based product designer Michiko Shimada. Originally hailing from Japan, the designer made her move to Brooklyn to attend Parsons School of Design. And, in the process, she brought along with her the essence of the Japanese affinity for delicate ceramic contrivances. As a result, the collection of household ceramics was borne out the designer's deft craftsmanship and the tradition of vernacular Japanese pottery.
But what really entices us about the collection is that it has a range of dining table items that are given whimsical yet familiar forms. For example, in the top image we can see salt and pepper shakers that are envisaged as bananas. Other items of the collection includes salt and pepper shakers designed as strawberries, small containers visualized as apples and a spoon replicating a twig. So, at the end of the day, the scope is not only about the realistic visual quotient. It also entails practicality, given the items are supposed to be used daily when we take our food.
Dimensions (for banana salt and pepper shaker) –   each: W 1.5-inch X L 6.5-inch
Price (for banana salt and pepper shaker) – each: $42.
For more price details for other items, please check this link.
Via: StillHouseNYC
The following two tabs change content below.
A proud native of the beautiful steel township of Durgapur, West Bengal, Dattatreya's fascination lies within a range of diverse matters. With a bachelor's degree in architecture, he is quite fond of his hardcore strategy gamer as well as amateur historian tag. Of course, with over two years of blogging experience under his belt, he also likes to write about the latest updates on home based technology and gizmo oriented products.
Latest posts by Dattatreya (see all)
Comments