Mercedes-Benz van interior transformed into a 'Reale' ritzy set-up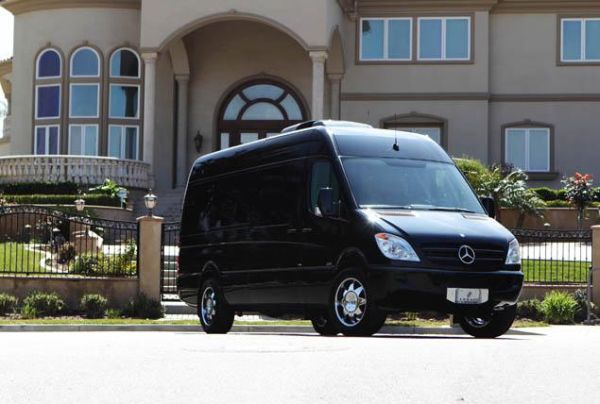 The above pictured Mercedes-Benz B6 Sprinter van may look a like car used for kidnappings and heist getaways. However, once you take a peek at the interiors, you should be blown away by the sheer opulence of the swanky set-up. Putting even private jets to shame, the pimped up scope were custom made and arranged by California-based Lexani Motorcars. Christened as the 'Reale', the van as expected will cater to rich clientele including politicians and sportspeople (in fact, the fully armored car is already touted as the 'ultimate' in personal security). So, what exactly does the whole luxurious ambit comprise of? Hit the jump to read more!
The ritzy affair starts off with the Alcantara suede-lined interior that is bedecked with hand-crafted leather seats. This high-class set-up is complemented by Reale's very own luxury bar area equipped with a Baccarat crystal decanter. Beyond liquors, the service also features a kitchen with a built-in microwave, refrigerator and even an espresso machine. And, in case the client had consumed too much wine or coffee, there is a separate bathroom compartment with a 24-carat sink and a hidden garment closet.
The features of the Reale is however not just limited to utilities. For those long and boring drives, the arrangement has a built-in 46-inch LED 3D television for full on entertainment, while the seats themselves are integrated with heating and massaging mechanisms.
Now, the question of course remains – what is the cost for this exclusive treatment in transportation. Well, according to sources, the whole traveling shindig will set you back by around $450,000 to $500,000. But then nobody claimed – awesomeness comes cheap!
Via: LexaniMotorcars
The following two tabs change content below.
A proud native of the beautiful steel township of Durgapur, West Bengal, Dattatreya's fascination lies within a range of diverse matters. With a bachelor's degree in architecture, he is quite fond of his hardcore strategy gamer as well as amateur historian tag. Of course, with over two years of blogging experience under his belt, he also likes to write about the latest updates on home based technology and gizmo oriented products.
Latest posts by Dattatreya (see all)
Comments