Calibur Prints – Blueprints of famous guns for your home decor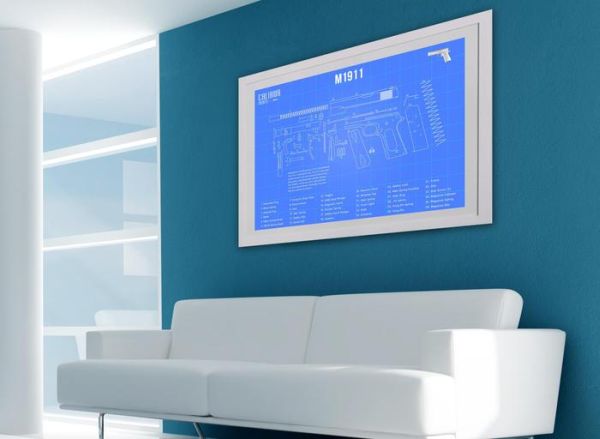 To be quite frank, guns bedecking your walls have a certain 'redneck-y' feel to it. However, blueprints of guns bedecking your sounds much cooler, and yes – looks much cooler. Justin Janes, the creator of Calibur Prints certainly knows this as is evident from his successful Kickstarter campaign for the nifty looking prints. The blueprints comprise of some of the well known guns used throughout our modern era including AK-47, AR-15, M1911 and M1 Garand. Moreover, the scope not only about exalted names, but also encompasses the authentic details of these specimens. In other words, any military history aficionado worth his salt should salivate at the thought of having Calibur Prints as a part of his living room decor.
The overall 'blueness' of the blueprint has a certain glow-like feel to it (achieved by recycled gloss books with aqueous coating) that cleverly attracts the attention of the users or even guests. And, once we move closer to inspect the print, we would not only see the diagram of the said gun, but can also observe the details of the individual mechanical components with stylishly conceived textual data at the bottom. The Calibur Prints also cater to the more purists among us by even providing info on the firearm's original designer, the period when it was produced and other factual summaries.
Now, it may sound ironic, but there is a conscientious side to this whole firearms scope. In this regard, the Calibur Prints use soy based inks and solvents that emit very low quantities of organic compounds. The designs are furthermore produced in eco-friendly labs, thus notching up on the degree of 'greenness'.
Price – Starting from $15 to $45.
For more details, please check the product's Kickstarter page.
The following two tabs change content below.
A proud native of the beautiful steel township of Durgapur, West Bengal, Dattatreya's fascination lies within a range of diverse matters. With a bachelor's degree in architecture, he is quite fond of his hardcore strategy gamer as well as amateur historian tag. Of course, with over two years of blogging experience under his belt, he also likes to write about the latest updates on home based technology and gizmo oriented products.
Latest posts by Dattatreya (see all)
Comments