DIY-er creates Game of Life Clock with functional timepiece and larger playing area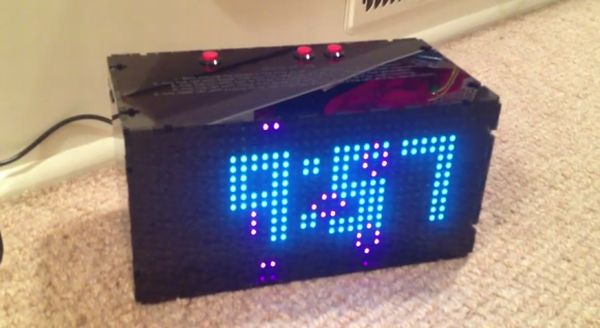 Sometimes a slight inspiration can do wonders to your thought. Something of sorts happened with Matthews a self-thought creator who inspired by a Game of Life Clock featured on HackADay created his own Game of Life style clock as a present for his brother-in-law. Matthews wanted to create something geeky and functional for his brother-in-law who is a mathematician and programmer, so he has kept a bigger playing field and functional clock, which is visible all the time, in his version of the Game of Life Clock. To create a bigger playing field, the DIY-er has used a 16×32 RGB LED matrix.
In addition to a large display, the Game of Life Clock is stuffed in with an Arduino UNO which uses a Chronodot RTC module to keep time accurately. Made in acrylic sheet casing, designed using instructions from MakerCase (app for designing boxes). The game is played on the top area of the clock, while the clock display time in the bottom area of the screen. The Game of Life kicks off at the start of every minute. There are three buttons on the top of the clock, which can be used to make adjustments in time, brightness, colors, speed and edge behavior. Check out the video of the decent Game of Life Clock bellow. 
Via: HackADay
The following two tabs change content below.
Bharat has been reviewing latest gadgets, toys, robots and new home technologies across various platforms. In addition to reporting and reviewing new products and technologies, he spends too much time digging the Internet for endless questions. Bharat is a football fan and a big time foodie.
Comments