Shipping container is a cool, eco-friendly trend in home construction. For the last decade, there has been a surge in demand for shipping container homes, owing to its low cost of construction and portability.
If you are thinking of owning or moving into a shipping container home, get inspired by these shipping container homes from the list. This will not only offer you a chance to own a home for less but also do your bit to lead a sustainable life. Have a look!
Intellectual Tiny Home by Roostspace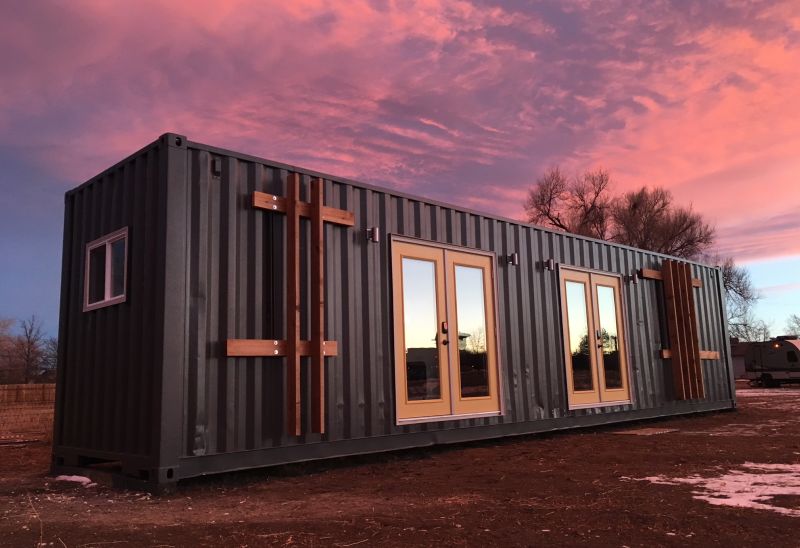 Intellectual Tiny Home by Rootspace is an ideal home for couples looking for a private space. This fabulous home container looks very crisp, clean and modern. The luxurious house has only a ground floor that features a bedroom, living space, closet, kitchen and bathroom. This full-time tin house is currently located in Longmont, Colorado. You can buy this dwelling by paying US$62,000.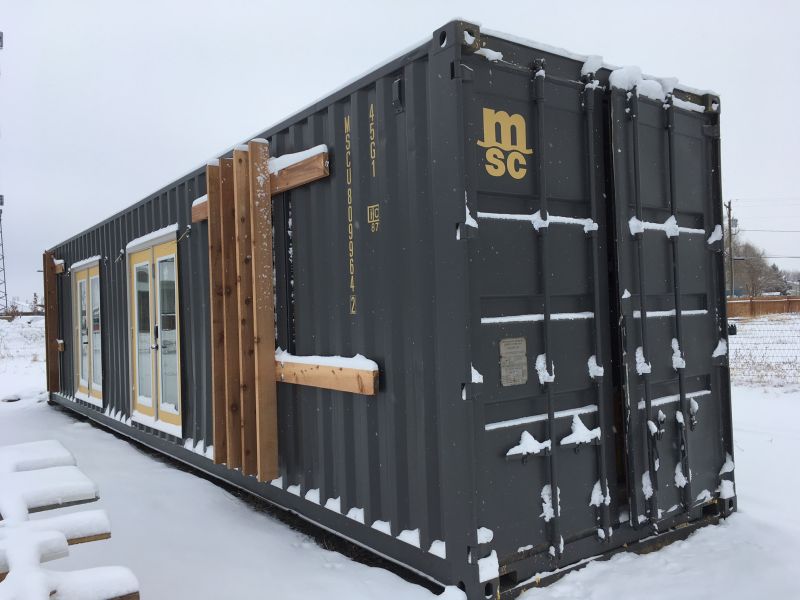 Port-A-Bach sustainable shipping container home
Whether you are looking for an ideal guest house or want to build a private space, then this portable Port-A-Bach shipping container by Atelier Workshop would be a great fit for you. You can effortlessly move this small mansion wherever you want. Made from a single repurposed shipping container, the dwelling features all important facilities which are required for sustainable living.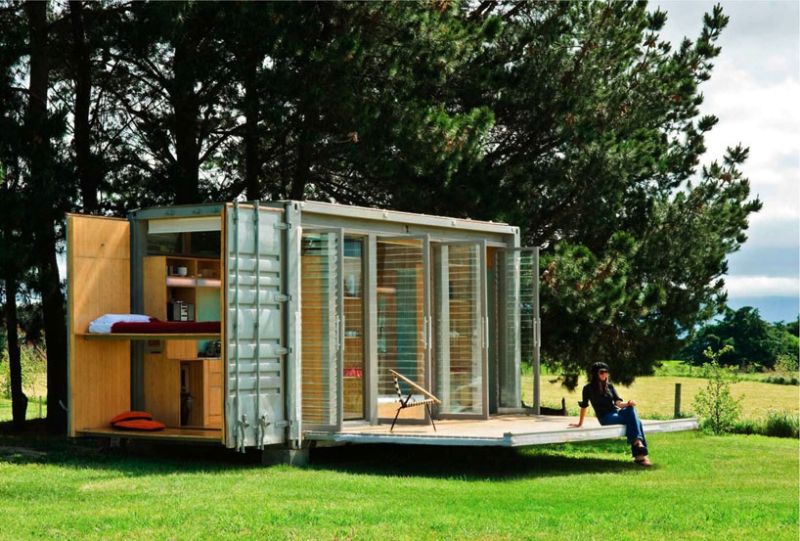 Former RAF Corporal Paul Chambers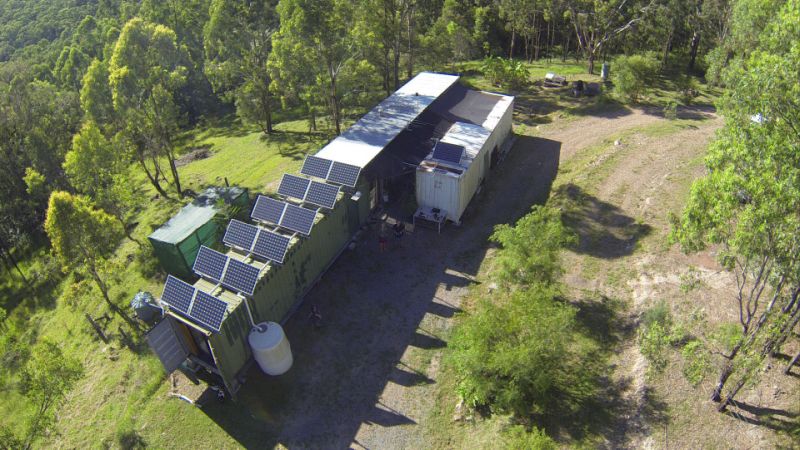 Located 62 miles from civilization near Newcastle, New South Wales, the ultimate off-grid shipping home is made up using two shipping containers by Paul and his wife Sarah. The tin and glass structure features a living room, fireplace, bedroom, kitchen and bathroom. You can also build a home like Paul and Sarah by spending only US$46,551.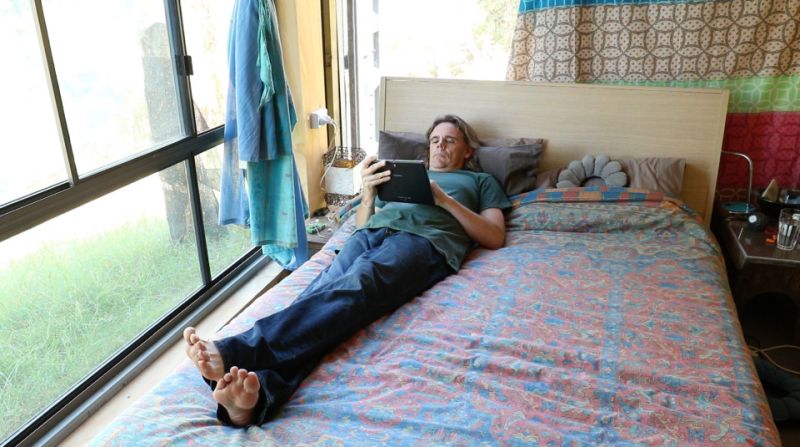 HO4+ modern shipping container hosue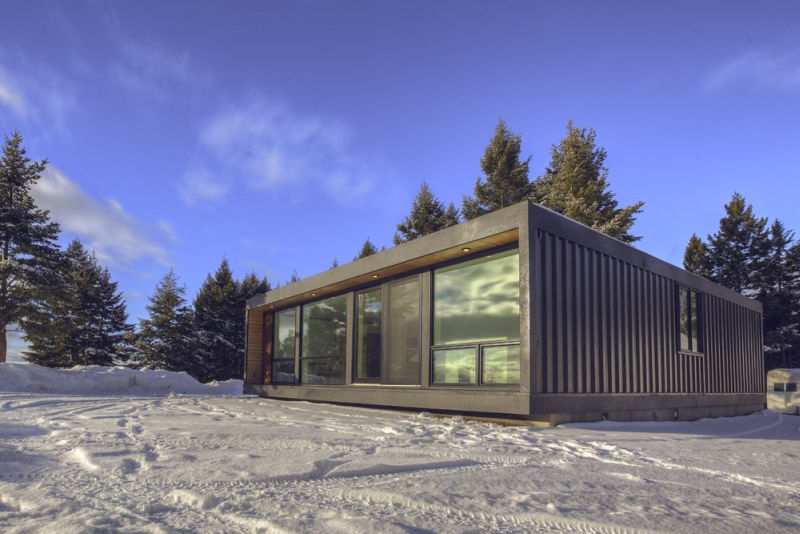 Get inspired by Canada-based company Honomobo's modern shipping container HO4+. It is a true luxury dwelling for the small families, and it features a large living room, dining room, kitchen and three bedrooms with furnished bathroom. You can purchase this astonishing adobe for just US$179,728. You can also explore you options by checking out company's HO1, HO2, HO3, HO4 and OBO container home models.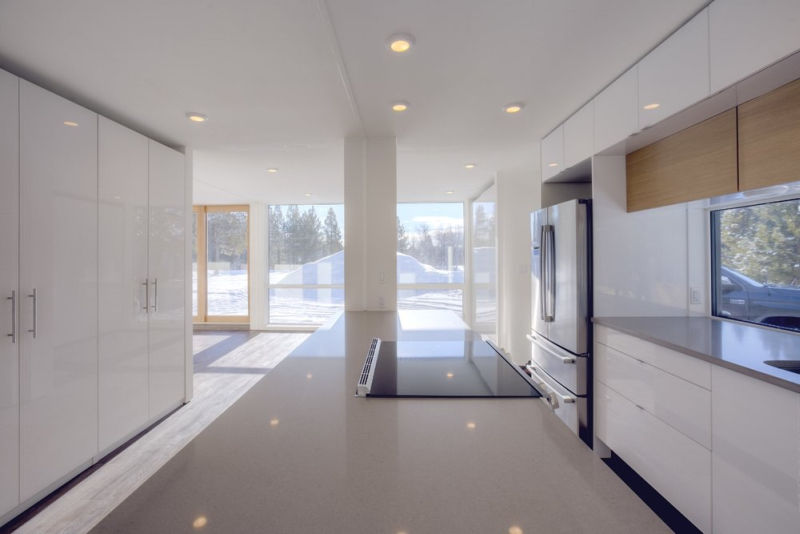 Posh apartments – Israel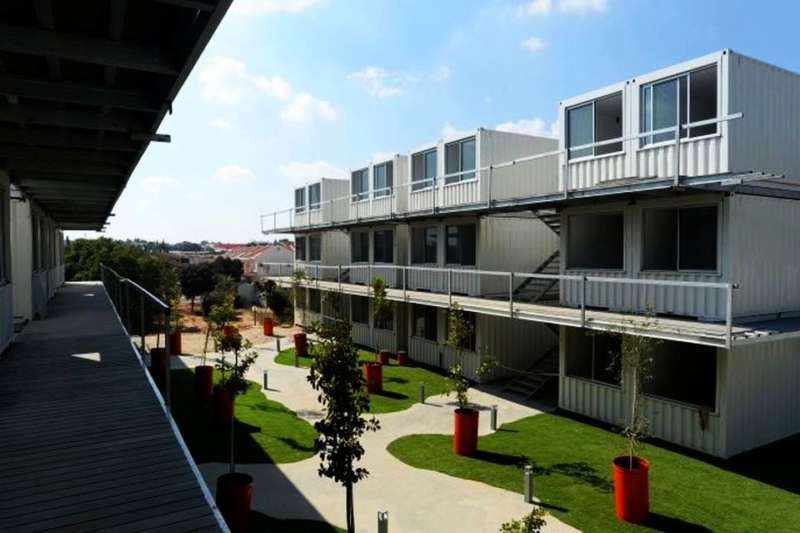 The Posh apartments by Israeli students are the remarkable shipping adobe. Each apartment is made of two shipping containers which conceal a living room, kitchen, bathroom and two bedrooms. The house is no less than any fully functional home that you can buy just at US$4,000. You can also rent the apartment by paying US$160 monthly/person.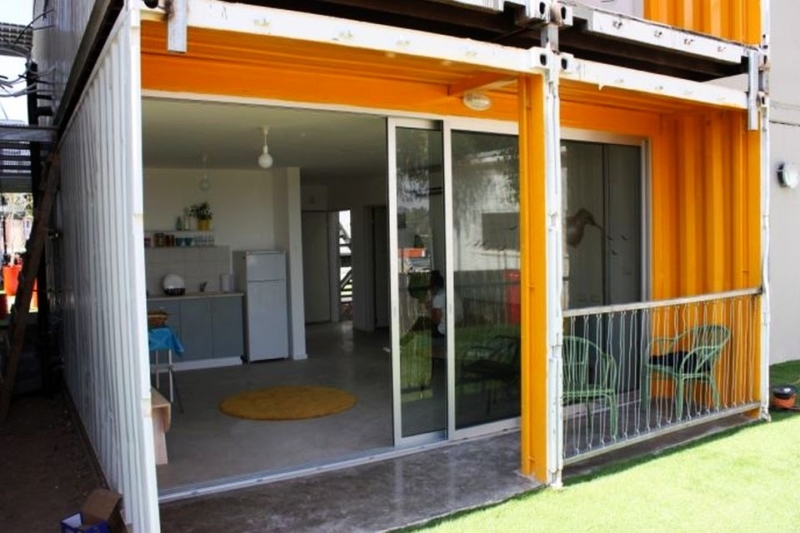 Shipping container home by Patrick Bradley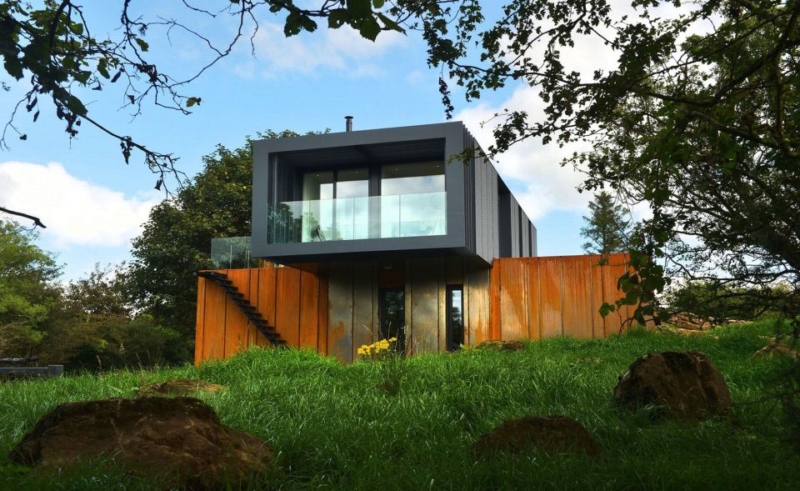 Patrick Bradley has built this eye-pleasing dream home in North Ireland using contrasting grey steel and shining wood. The house interior features contemporary designs. The luxurious house conceals two bedrooms, a living room, dining area, kitchen and bathroom with a hammock bathtub. The house can be a great inspiration for prospective shipping homeowners.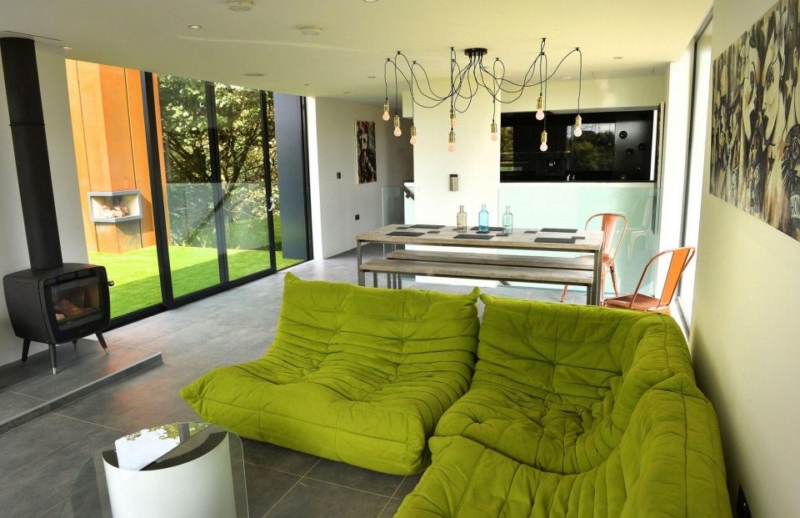 Container House by José Schreiber- San Francisco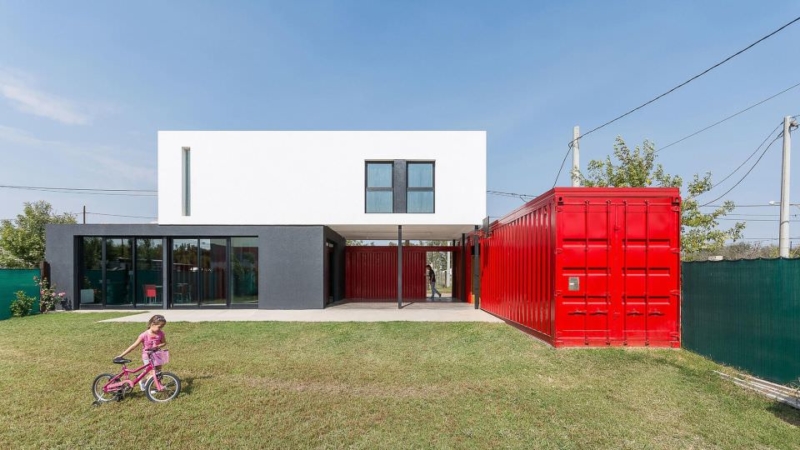 Container house in San Francisco by José Schreiber offers total 195 square meter living space. The L-shaped structure is built with the two metal containers, which conceals a kitchen, workshop, warehouse, laundry, garage, barbecue, living room on the lower level, and bedroom and bathroom on the upper level. The house's exterior and interior are wisely designed using red, white and black color.
Redondo Beach Shipping Container House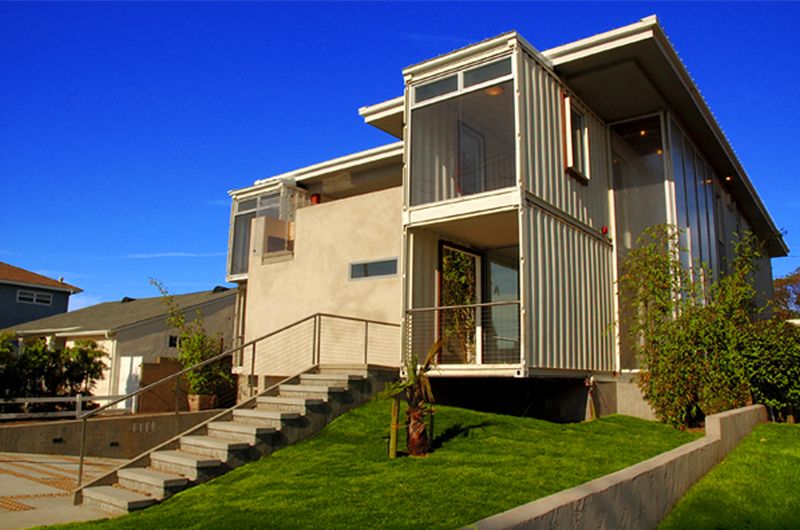 Designed by DeMaria Design Associates the Redondo Beach Shipping Container House provides all luxury living facilities. The dwelling is made up of eight containers of different sizes bound together by conventional building methods. The multi-level home is fully functional, featuring a master bedroom, living room, studio, dining area kitchen and bathroom.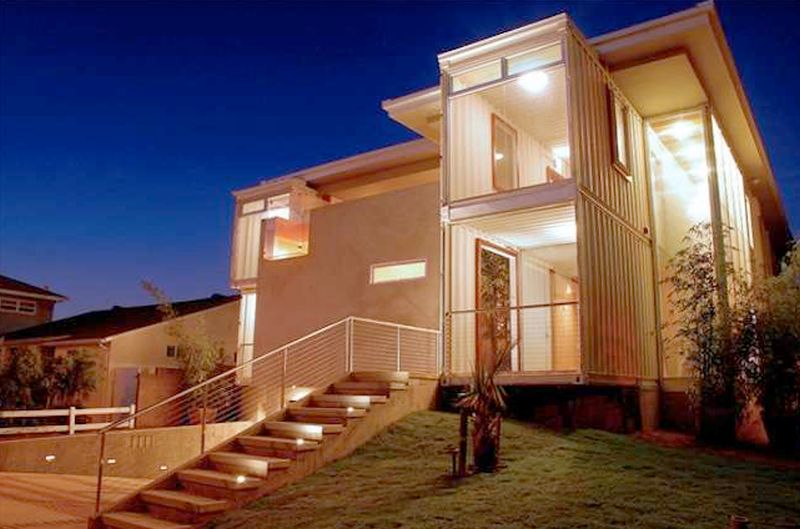 Urban Rigger: Floating Shipping Container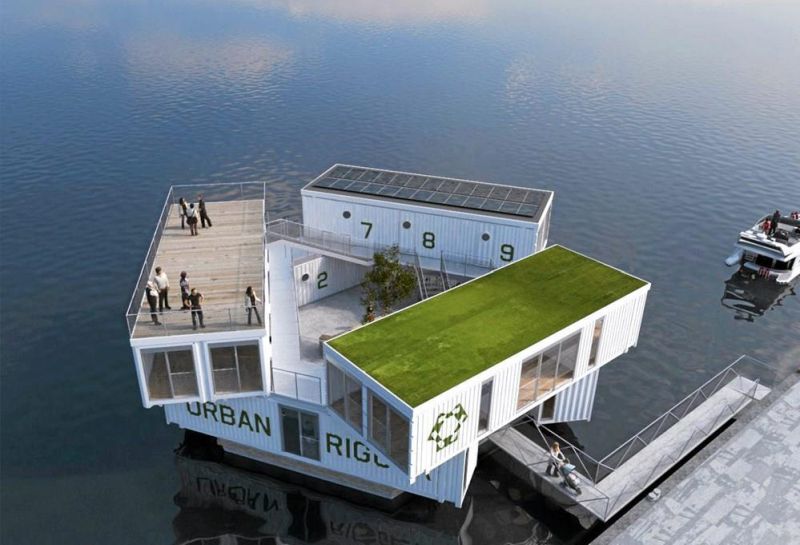 Located on the Copenhagen harbor, the Urban Rigger house is ideally made for waterfront cities. The house is just like any regular home made using 9 container units in a circle. The floating house features 12 storage rooms ideally built for 12 studio residences.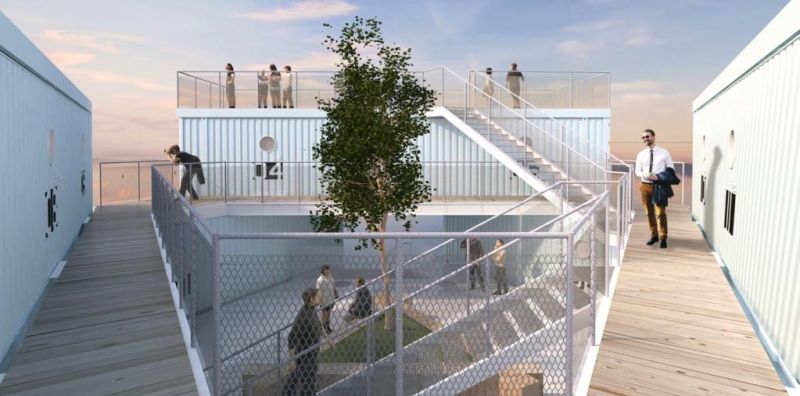 Shipping Crate Transforms into a Push Button Home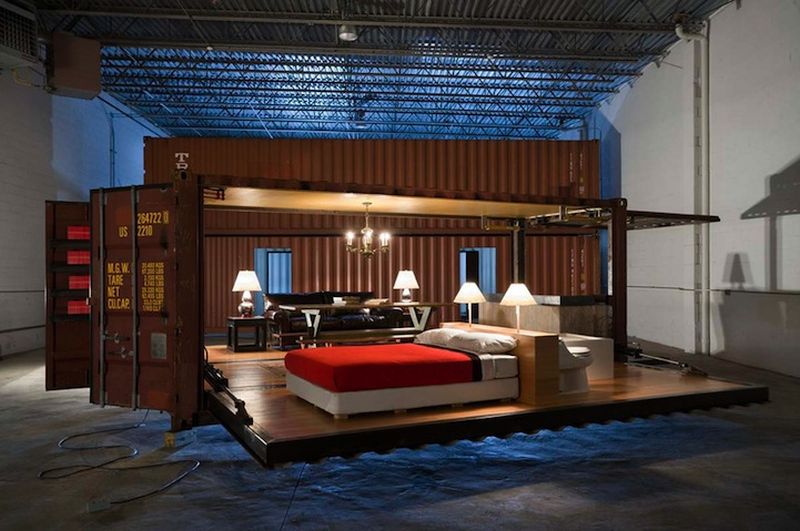 Adam Kalkin has built an enormous shipping crate that instantly transforms into a modern living space, at the push of a button. Fully adorned house crate takes 90 seconds to unveil space equals to 5 gigantic rooms with double bed, living area, dining table, bathroom, library and light fixtures.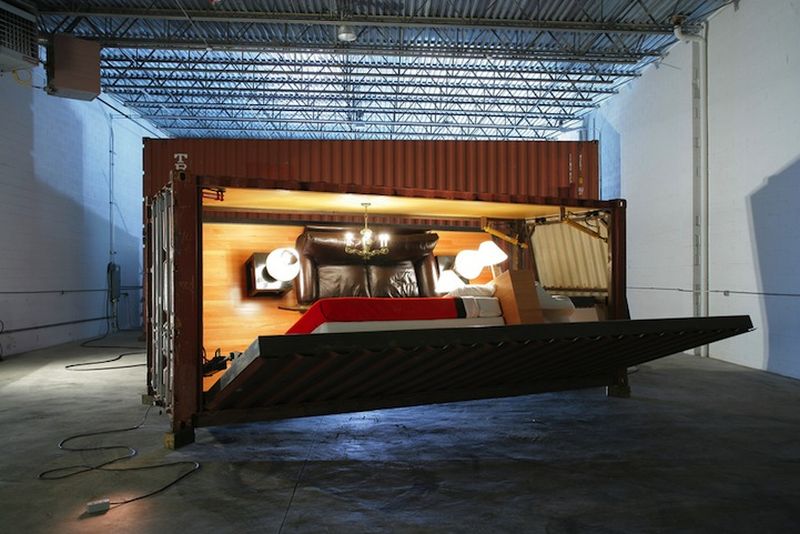 Container hotel by Artikul Architects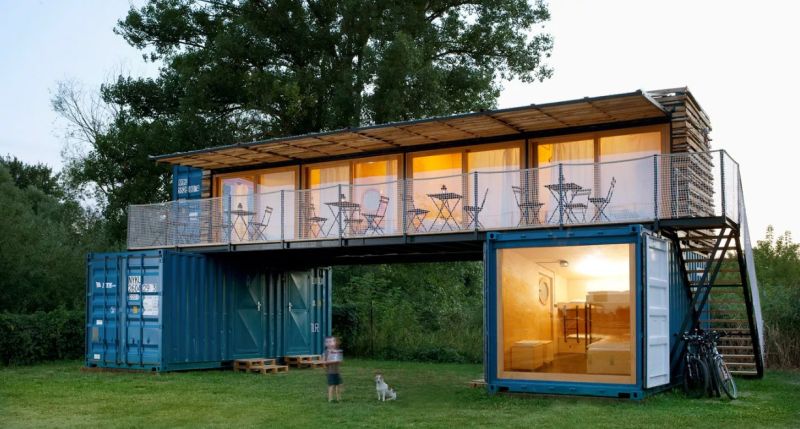 Artikul Architects designed a stunning hotel using 20 and 40-foot long transport containers. Located in Czech Republic, Europe, the multilevel hotel conceals a bathroom, warehouse, guest room in the lower level, and four rooms and a terrace on the upper level. The dwelling comfortably accommodates 13 guests in 5 spacious rooms.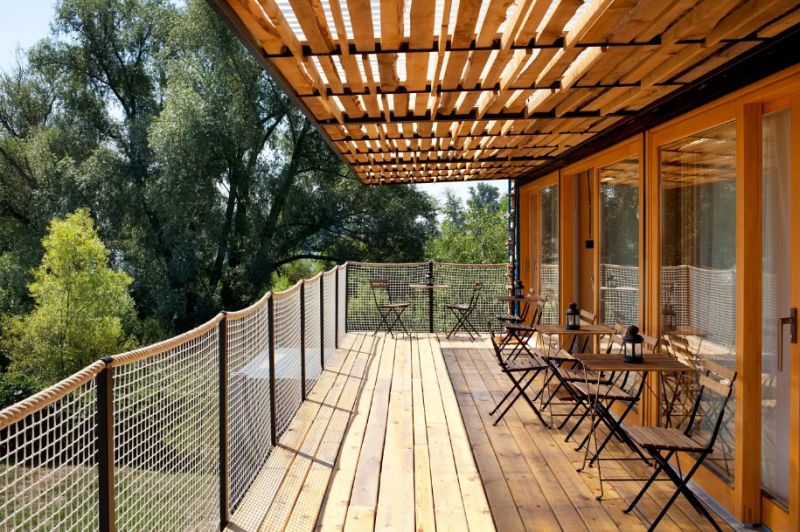 Angled shipping container houses – Israel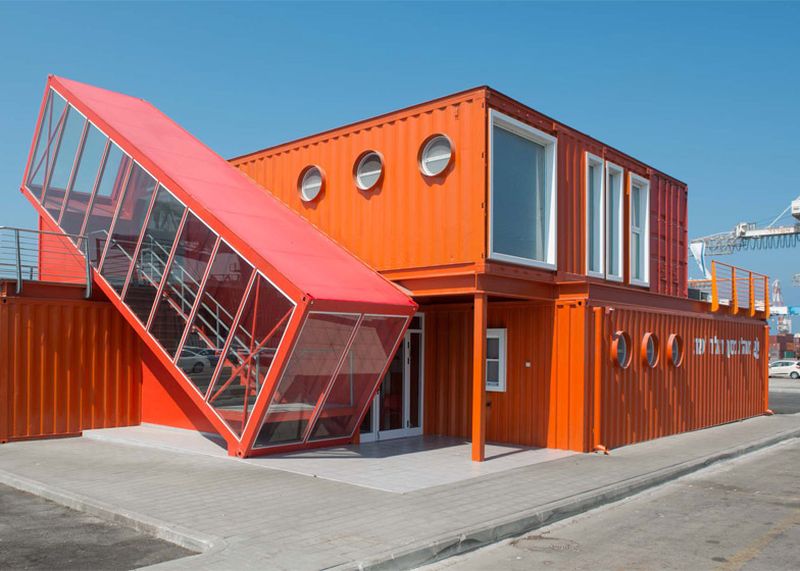 Located about 40 kilometers away from south of Tel Aviv, the angled shipping container house is built by Potash Architects for Israeli port office. The designer used one container to make an angled staircase, which is a focal point of the dwelling. The whole structure of the house is polished with an orange color that looks appealing.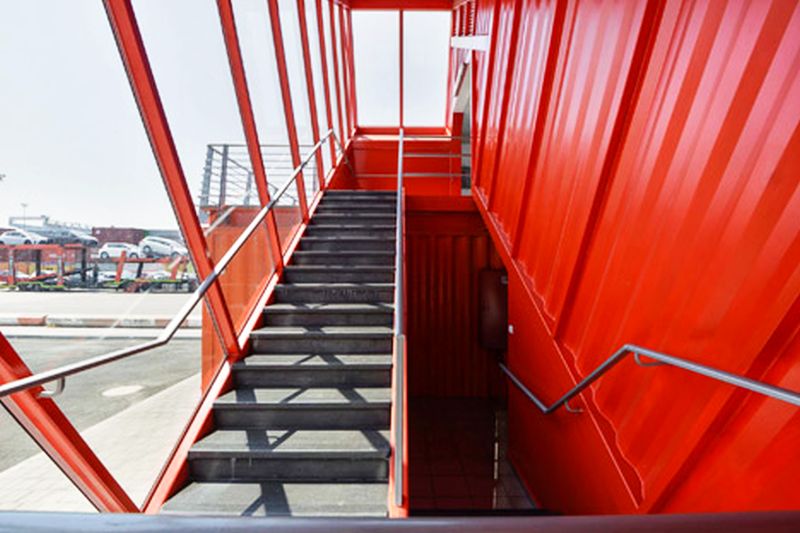 Container Guest House by Poteet Architects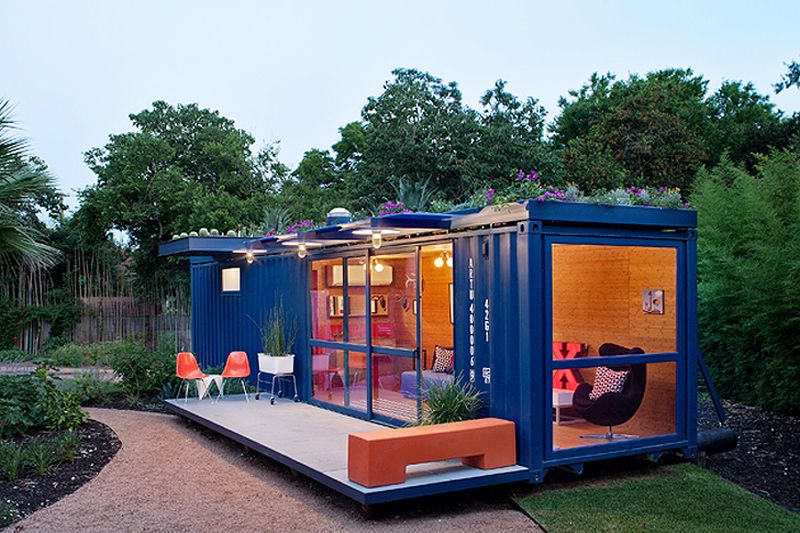 Texas-based firm Poteet Architects build an appealing blue colored container abode in San Antonio. The designer beautifully turned an old 8 by 40-foot container into an adorable lodging for guests with an outdoor patio balcony. The modern house consists of a bedroom, living space, kitchen and a full bathroom.
Flying Box House – France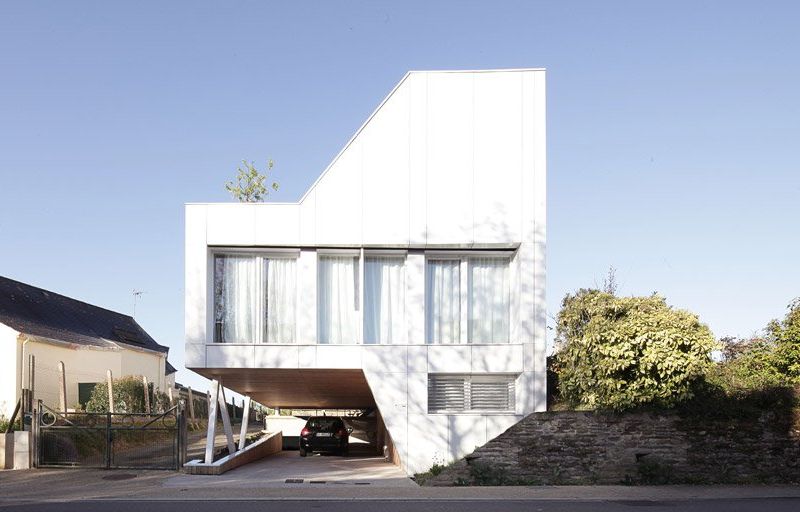 The astonishing white colored Flying Box House in the village of Orgères, France is devised by Gillet's studio 2A. The multilevel container home is built upon 100 square meter land with a parking on the ground. Furnished with modern furniture, the modular adobe provides all important facilities required for a luxury living.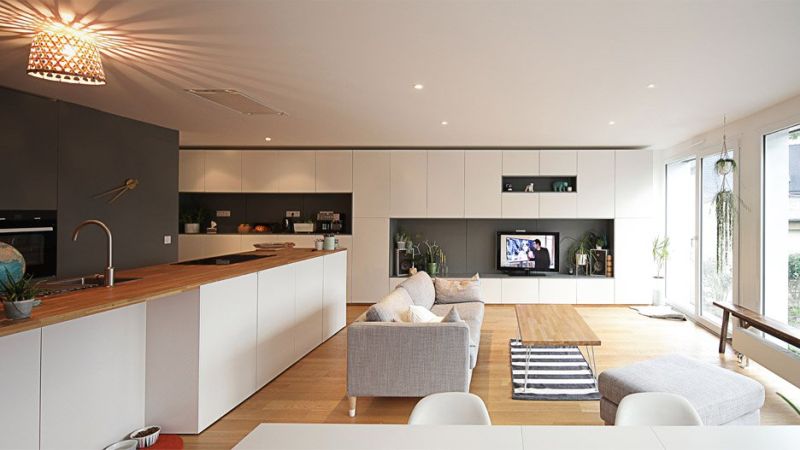 WFH shipping container house, Wuxi, China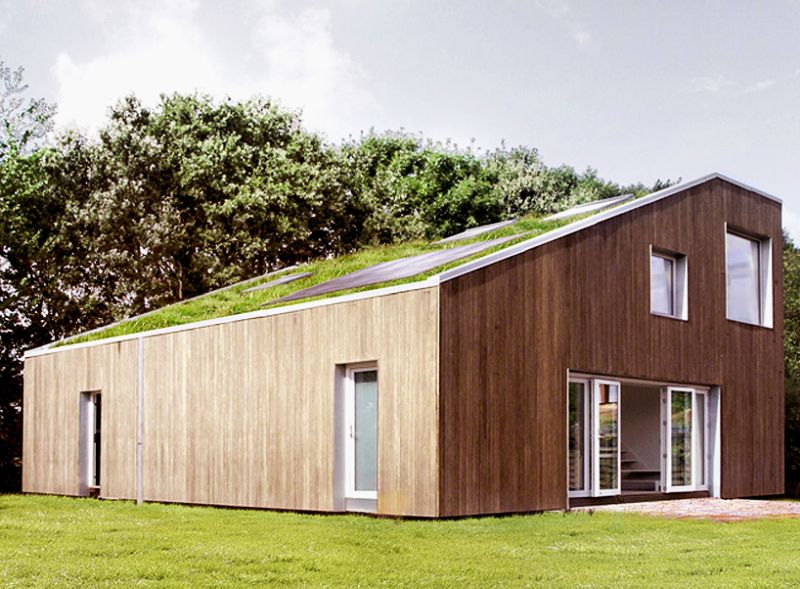 WFH shipping container house is an ultimate modern dream abode in Wuxi, China. Designed by Arcgency, Esbensen, Teknologisk and Institut for World FLEX Home, the multilevel house offers a spacious luxury living to its guests. The stunning white colored Interior furnished with modern furniture looks very inviting.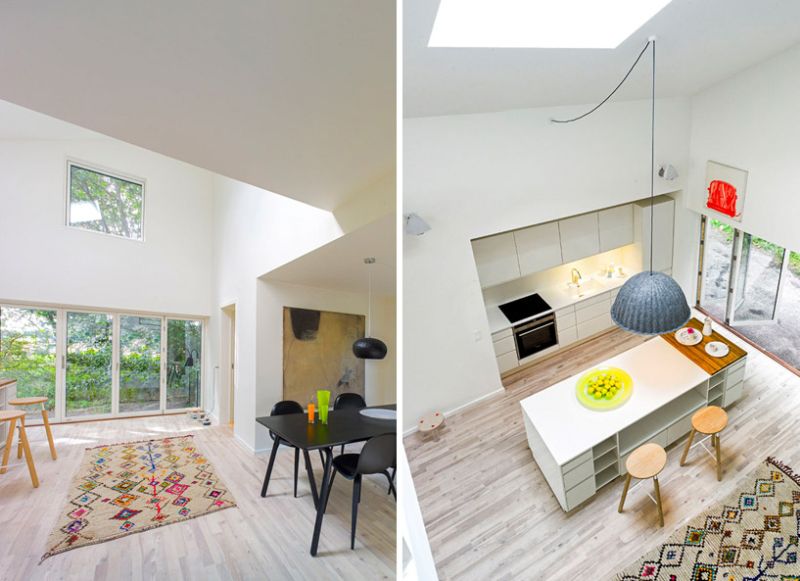 manifesto house for Infiniski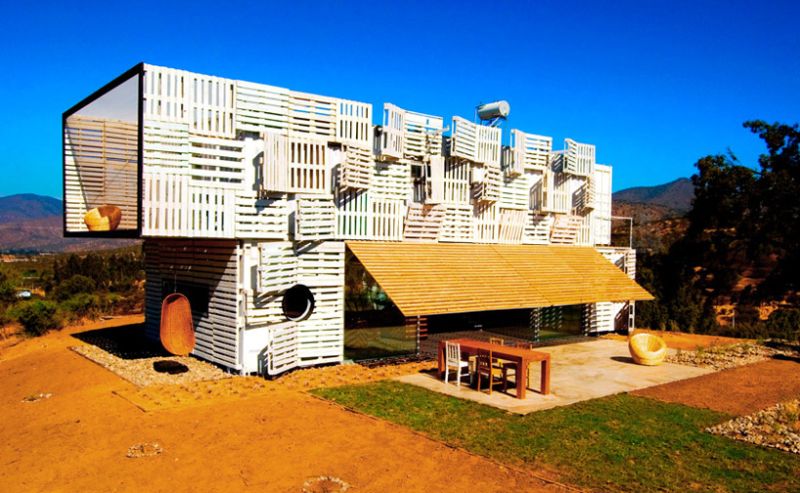 The modern eco-friendly manifesto house is comprised of three recycled shipping containers. james & mau arquitetura build this stunning two level house in Curacaví, Chile for Infiniski. Building upon the total floor area of 160 square meters, the contemporary house provides lavish comfort to its guests.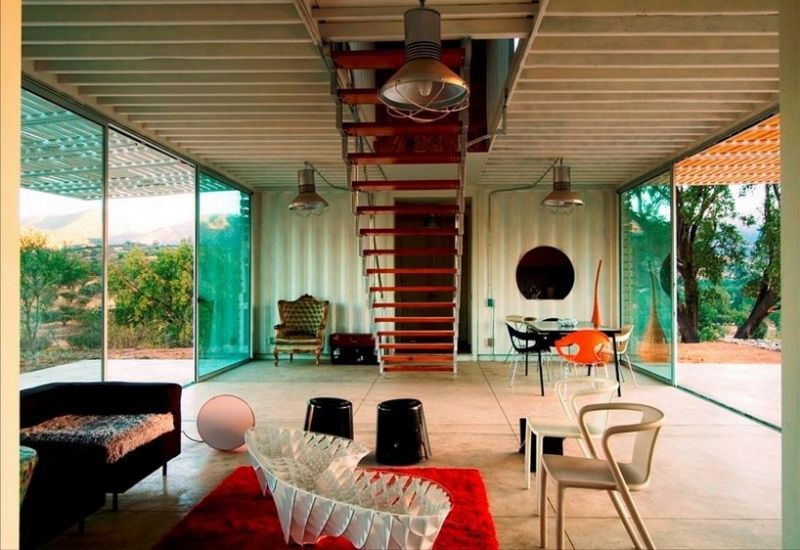 Weekend house 2+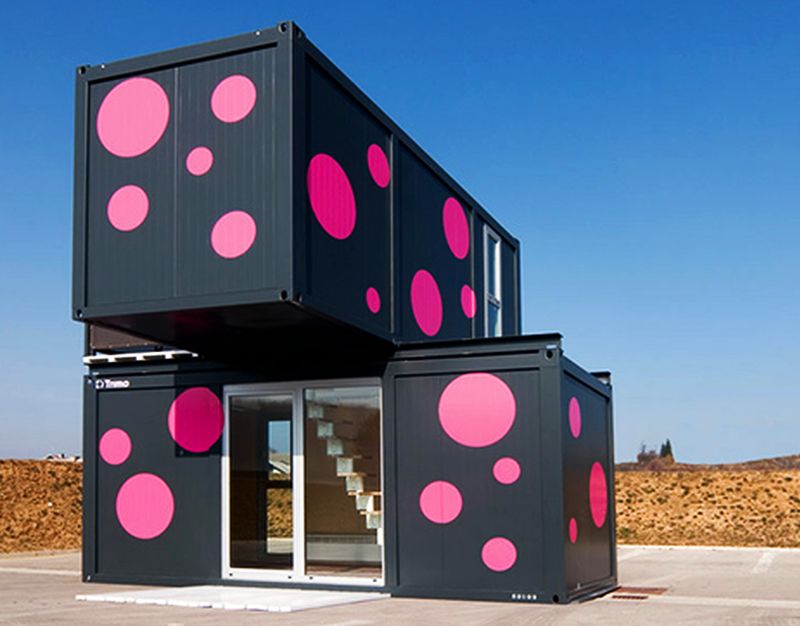 The black eye-catchy weekend house2+ with pink polka dots is beautifully designed and built by Jure Kotnik Arhitekt. The two-level mini housing unit is composed of two containers perpendicular to each other. Along with sustainable living, the house provides a projecting roof and an outdoor patio that looks appealing with the housing.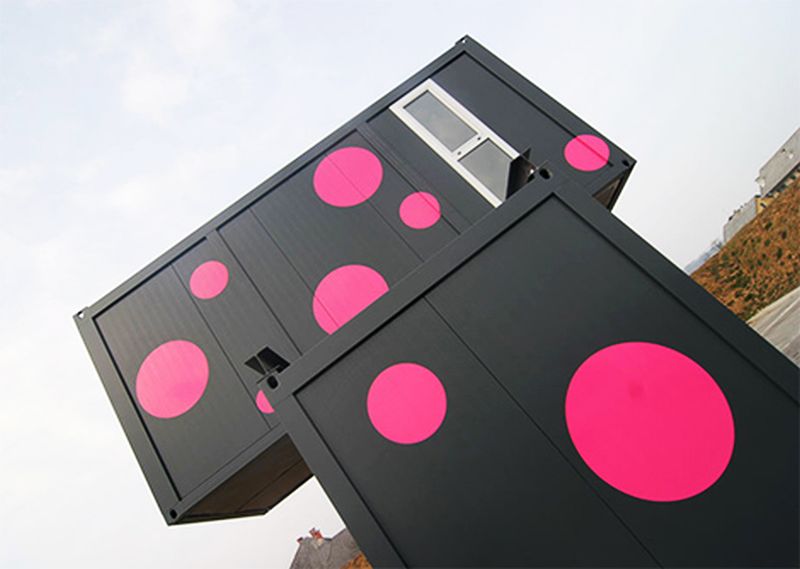 Huiini House – Mexico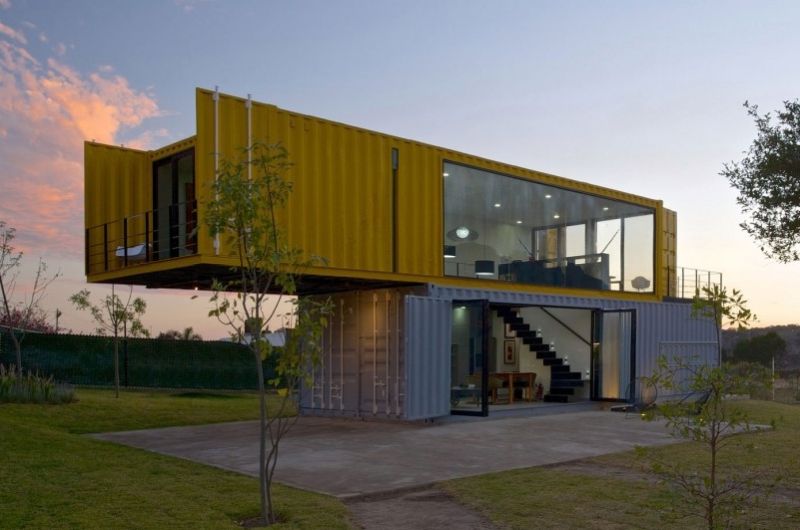 Located in the Primavera forest in Azpopan, Mexico, the two-story Huiini House is created with 5 shipping containers (One container is placed in the isolated location). The modern home's exterior is painted with eye-catching yellow and white color. Interior is aesthetically devised using modern furniture. The house also features a prolonged terrace and outdoor patio.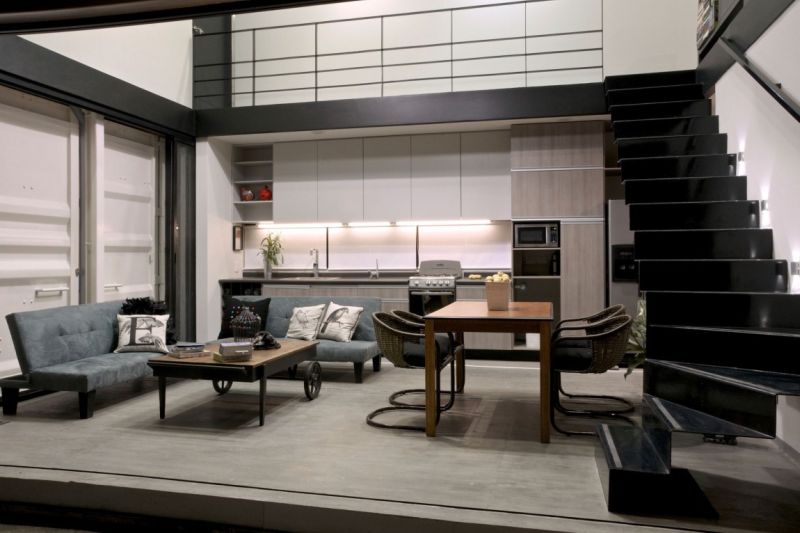 Container House – Costa Rica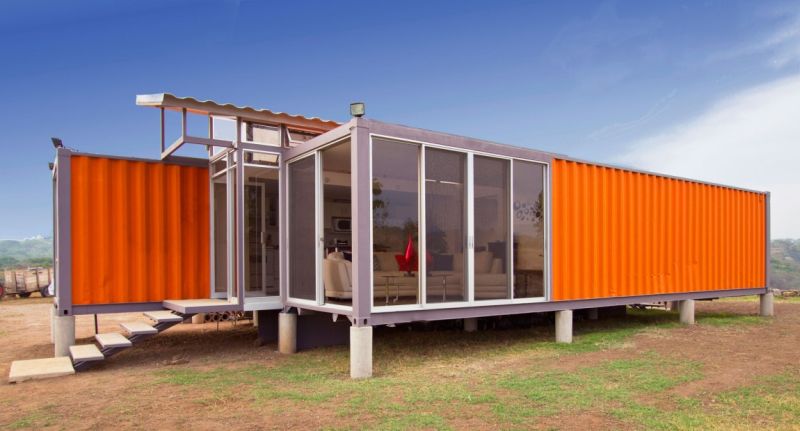 Benjamin Garcia Saxe has created an orange container house with the help of his clients in San Jose, Costa Rica. The 1000 square-feet container home is magnificently built with glass and aluminum. Its modern interior provides a comfortable living experience to its guests with a luxury living room, bedroom, guest room kitchen and bathroom.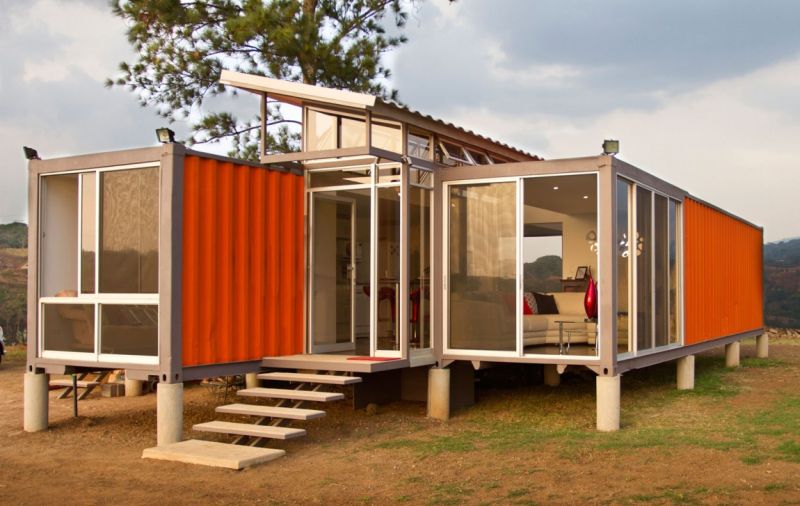 Dachi Papuashvill's cross-shaped micro home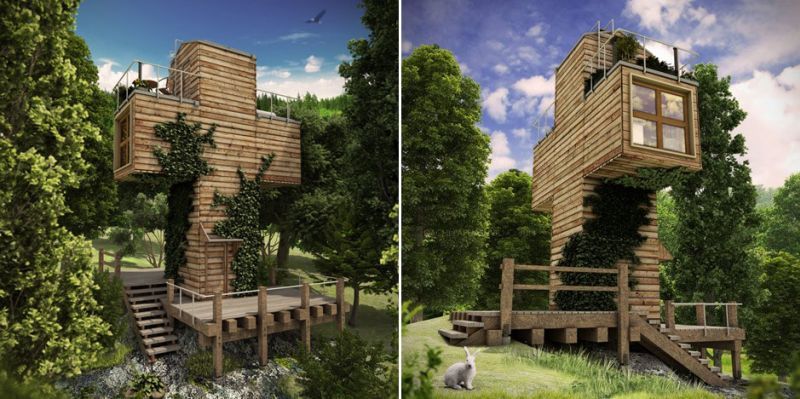 Georgian architect Dachi Papuashvili developed a cross-shaped micro home with two shipping containers, one placed vertically and another balanced horizontally. The exterior and interior of the house are covered in fine quality wood. The house features a stunning study room, bathroom, terrace, two bedrooms and a wooden deck on the ground floor.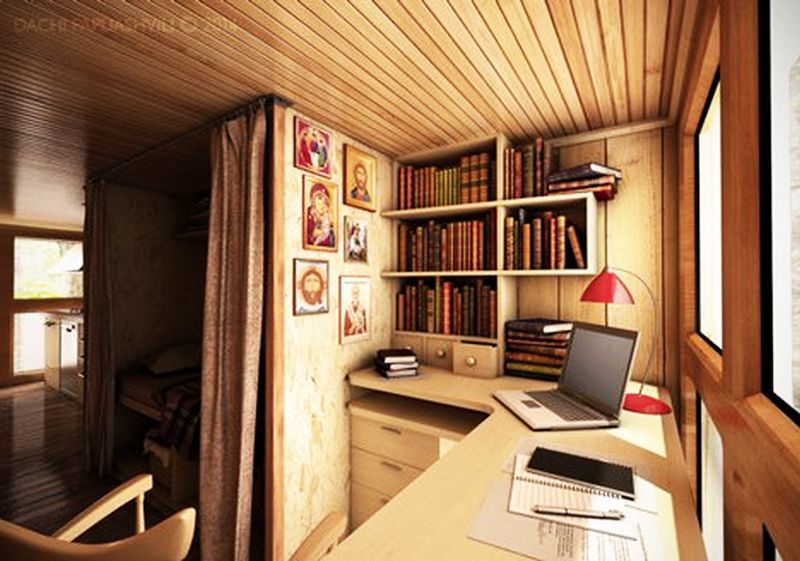 Crossbox, a cantilevered modular house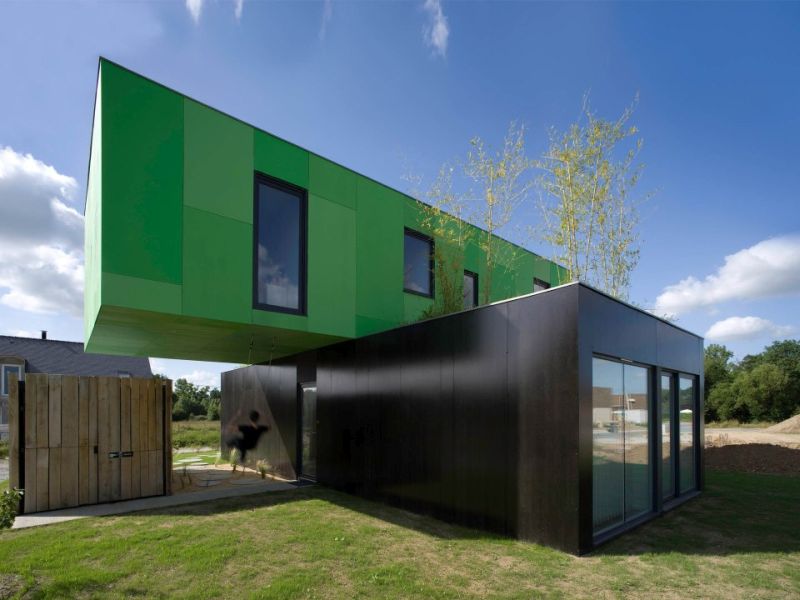 Located in Point-Pean, Brittany, the huge Crossbox house is built and designed by French firm CG Architectes. The multilevel cross-shaped house looks exclusive and stunning. The black base container conceals a modern living room and kitchen, and the green vertical container above black one contains three bedrooms with full bathrooms.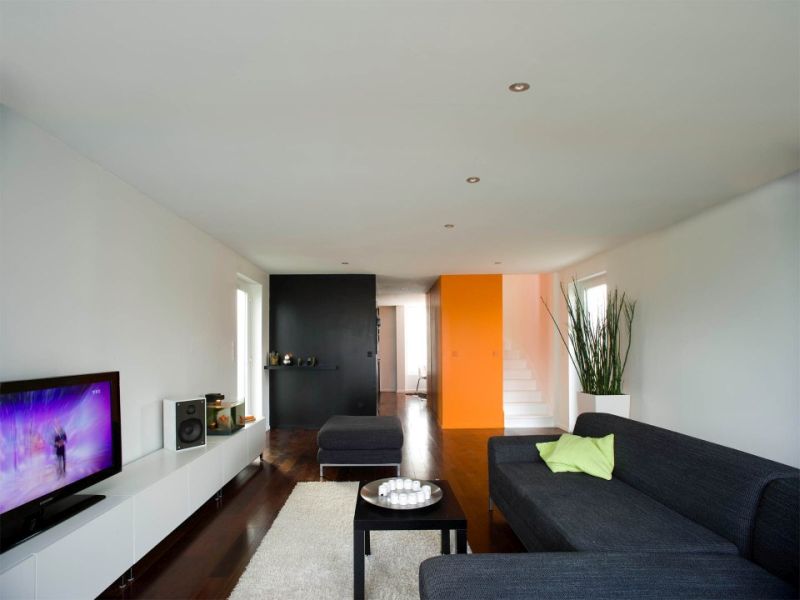 Shipping Container House by Studio H:T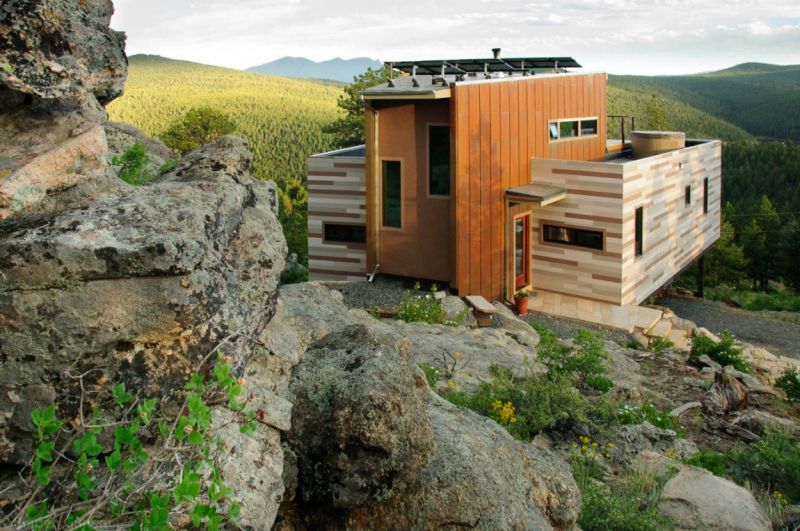 Studio H:T has built the Shipping Container House on 1,517 square meter land in Nederland, Colorado, USA. The 2- story house is a fully furnished home, offering a luxury living room, modular kitchen, bathroom and three bedrooms. Its interior and exterior are beautifully furnished using fine quality woods.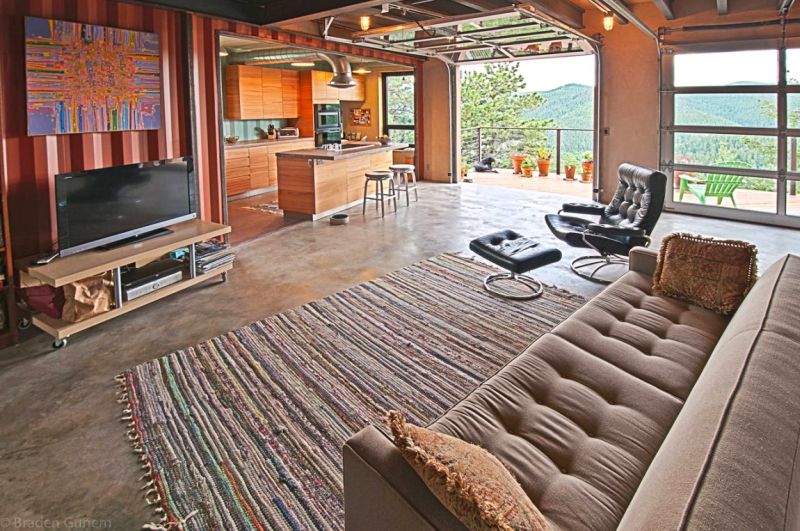 Beach Refuge in Chile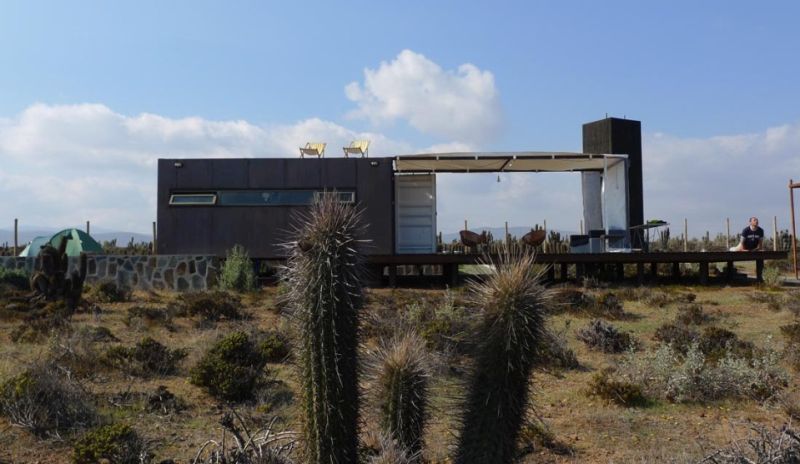 Architect Pablo Errázuriz's vacation getaway is situated just a few minutes walk from the beach near Huentelauquén in central Chile. The twenty-foot spectacular shipping container is made with Corten steel plates. Along with comfortable living space, the residence also offers a wonderful wooden deck and terrace.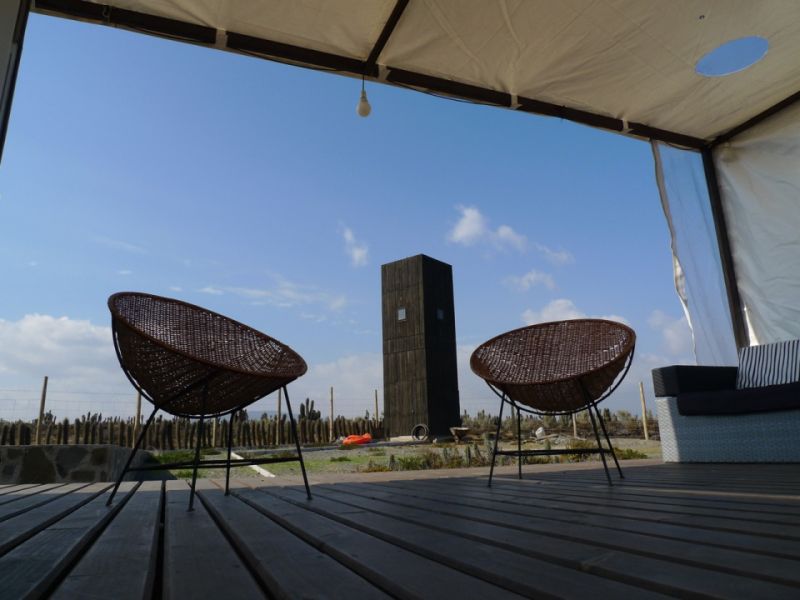 Casa Cubica, a tiny container home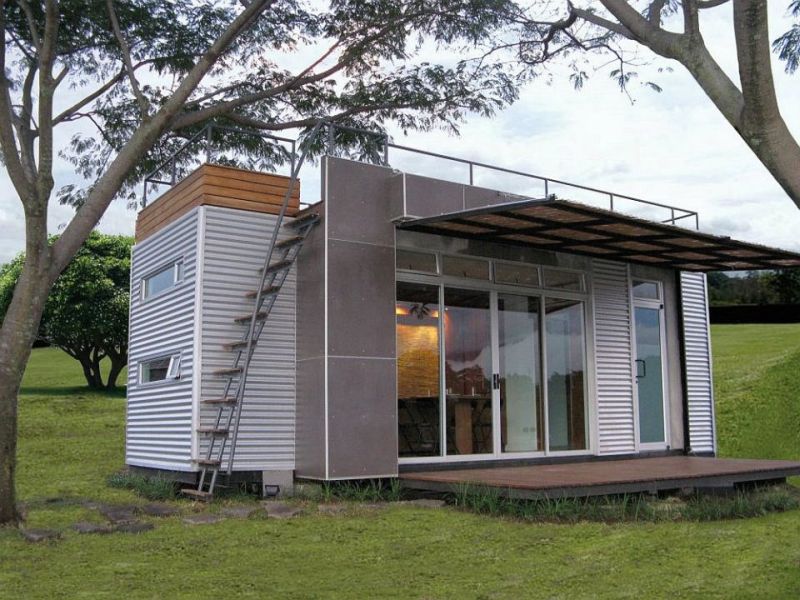 Costa Rica based architect firm Cubica has designed a tiny container home. The home accommodates 4 adults in its two bedrooms and a living room. This rectangular house also features a luxury bathroom, modular kitchen terrace and an outdoor wooden veranda.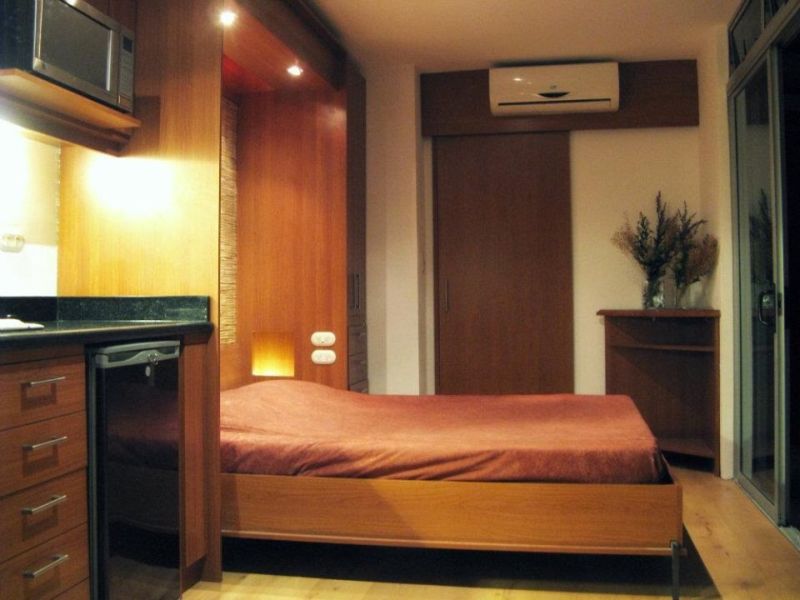 MDU (Mobile Dwelling Unit)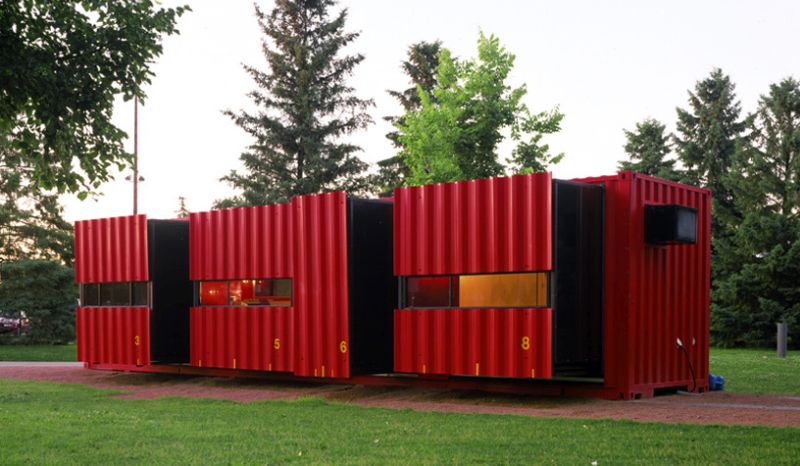 The red color mobile dwelling unit is built with three shipping containers. The remarkable house's interior features a living area, modular kitchen, bedroom with attached bathroom. All rooms of the house are well furnished using plywood and modern furniture in red and black color.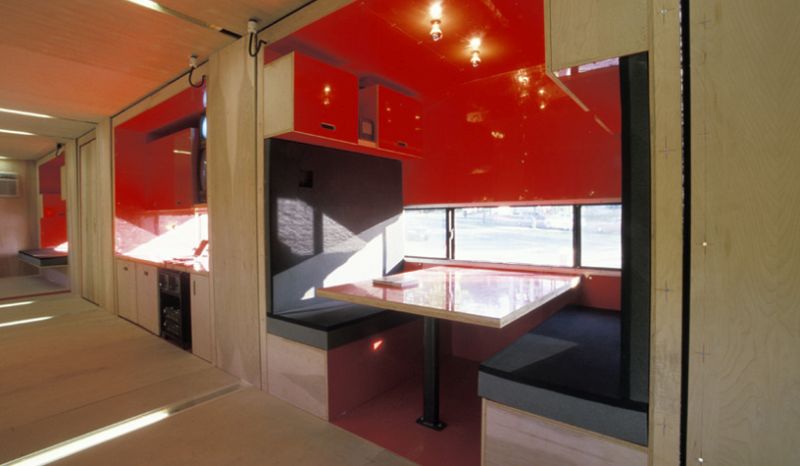 A Rustic Shipping Container Home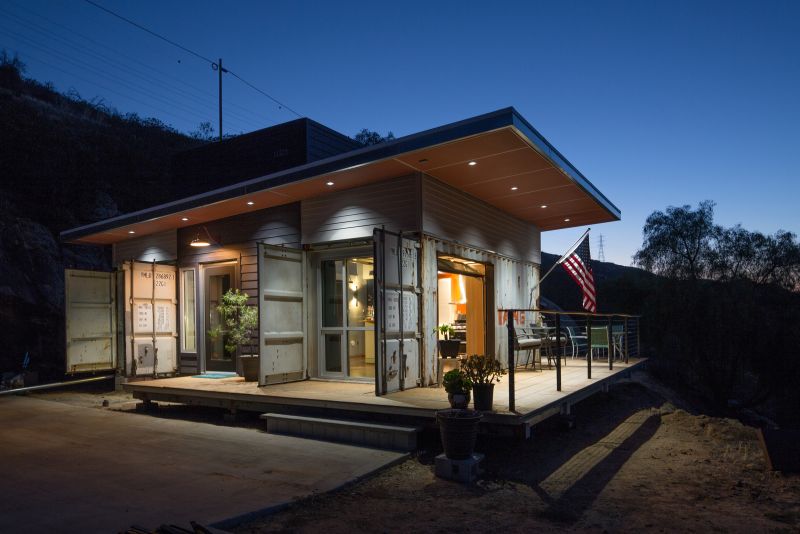 Located in San Diego City, the rustic shipping container is an outstanding house on wheels. Designer Chris Bittner of OBR Architecture built this single-story rectangular house with a veranda and terrace on the top. The modern house interior conceals a magnificence living area, kitchen, bathroom, and bedroom.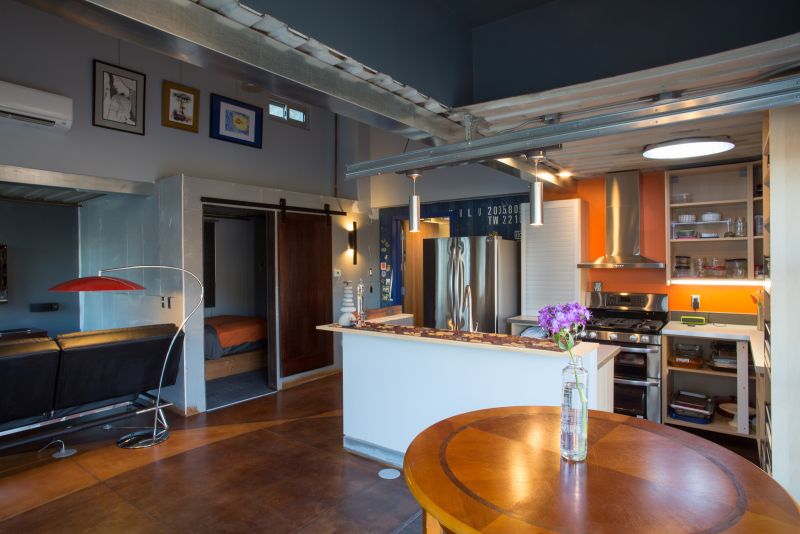 Black Rock residence
Designed by Madden Building Group, the striking Black Rock residence is located in Victoria, Australia. This remarkable container dwelling is built with huge shipping containers, and covered with timber clad. The two-story dwelling is a complete house with a living room, bedroom bathroo, and kitchen.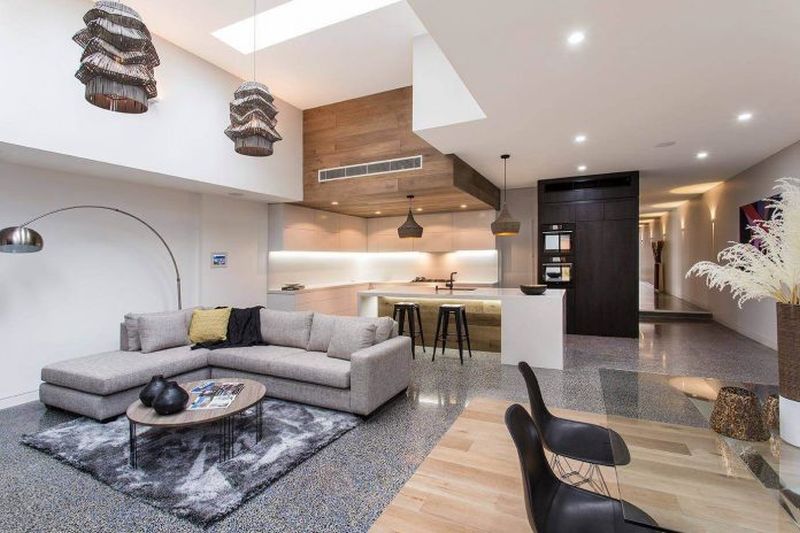 RDP House by Daniel Moreno Flores & Sesbastian Calero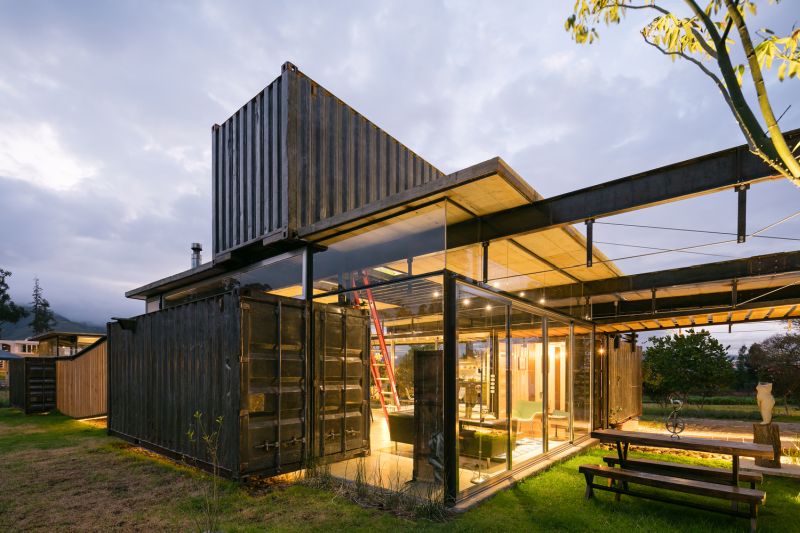 RDP shipping container house is located in Pichincha, Ecuador. It is an outstanding house by Daniel Moreno Flores and Sesbastian Calero. Build with gigantic shipping containers, the house provides spacious living to its guests. The house consists of a living room, kitchen, bathroom, guest room and two bedrooms.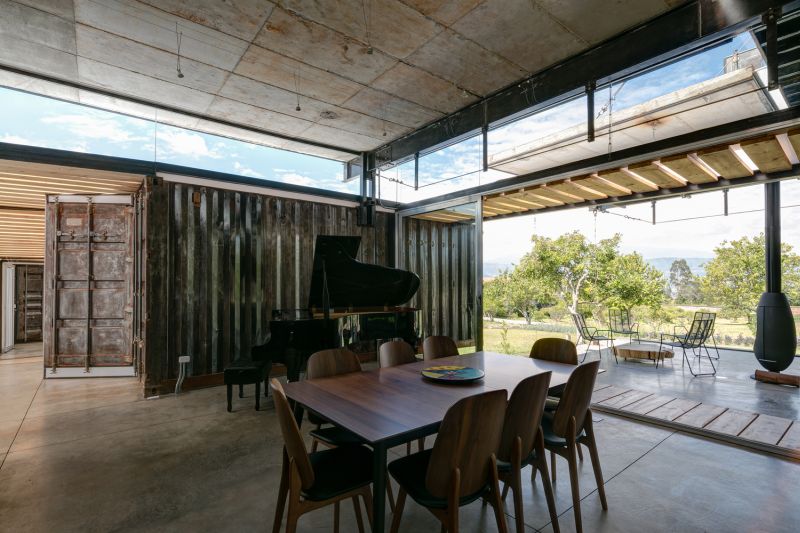 Passively-cooled Caterpillar House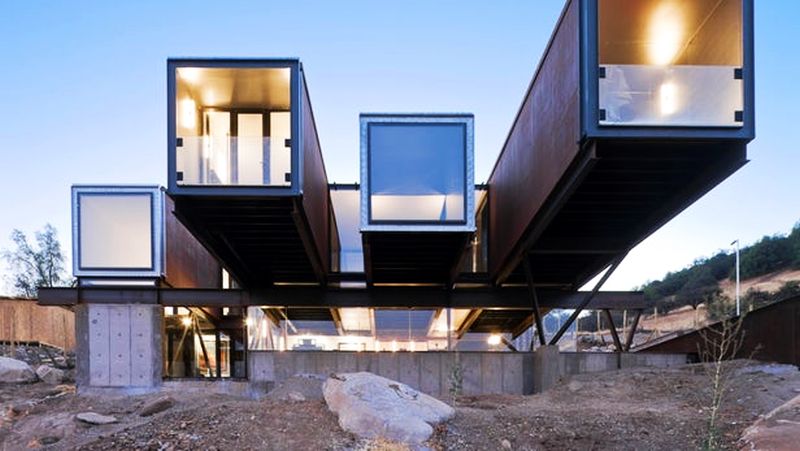 Located at a hillside of Chile's capital city Santiago, the Caterpillar House is build with four rustic containers. All four containers are hanged up on the ground on a metallic base. The nest's modern interior includes a luxury living room, guest house, kitchen, bathroom and 3 bedrooms. The house also features a balcony with a luxury Jacuzzi tub.
Tiny Container home by Keen Development Group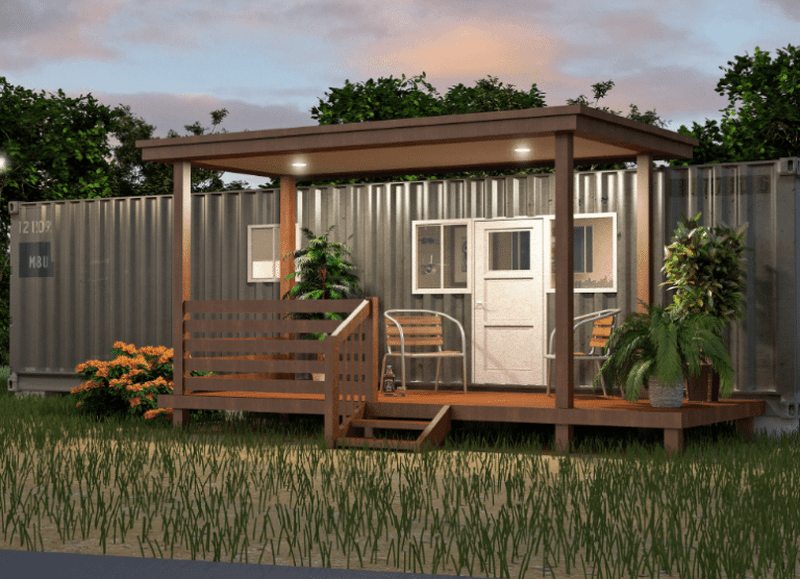 Keen Development Group, a Texas-based architect firm, has built a tiny shipping container house with a bedroom, living space, bathroom and kitchen. The house is built with a grey colored shipping container that has an attached wooden deck on the front. The house's interior is sufficient to accommodate a family of three.