Make your bathroom visually fascinating, high class in appearance by installing bathtubs with the classic appeal of stone. Installing a stone bathtub is a way to add durability, modern approach, and natural appeal to your bathroom. To bring an element of longevity, luxury and relaxation to your bathroom, we have compiled a list of 30 best stone bathtubs that will make your bathroom look utilitarian and refreshing.
Vascabarca-Barcavasca bathtub by Antonio Lupi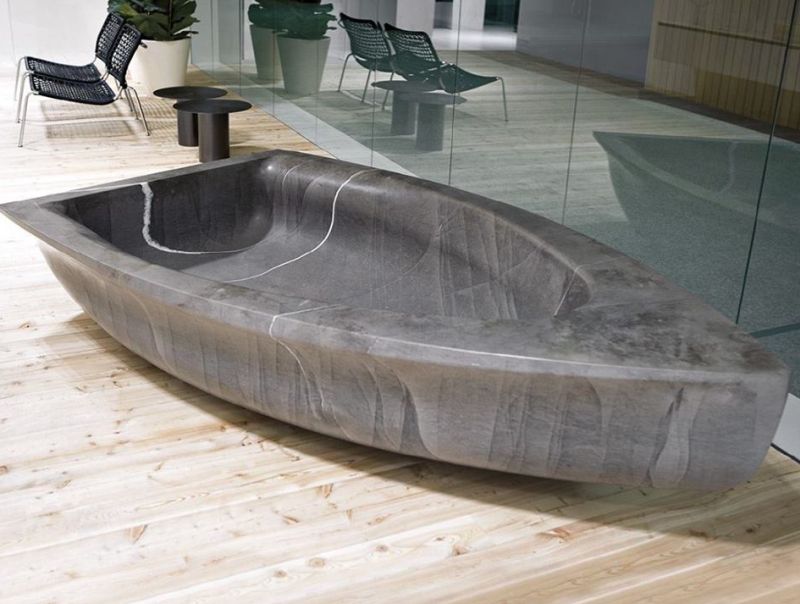 Vascabarca-Barcavasca is an astonishing bathtub designed by French artists Anne and Patrick Poirier for Antonio Lupi. The bathtub is made out of grey marble, complete with drain and pressure plug. The 1,600 kg tub is extremely durable and has capacity to store 400 liters. Every piece is exclusive, signed and numbered in Roman numerals by the designers.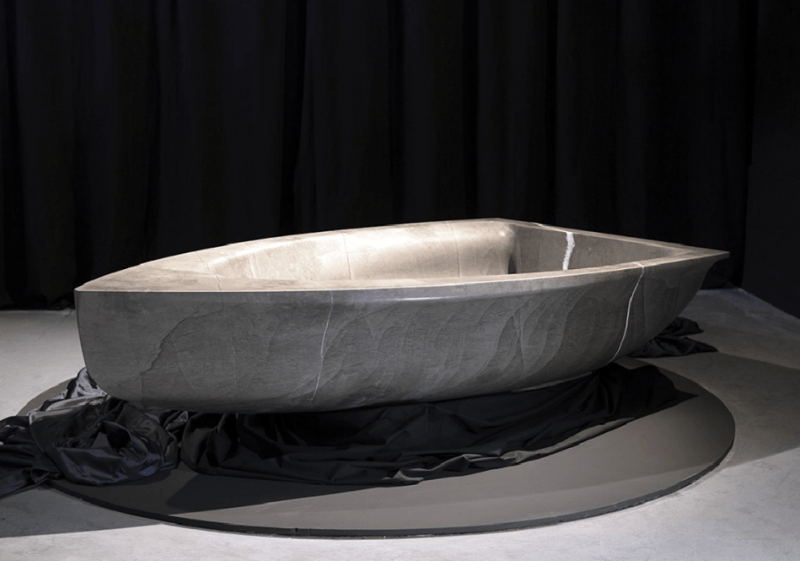 Papillon bathtub by Stone forest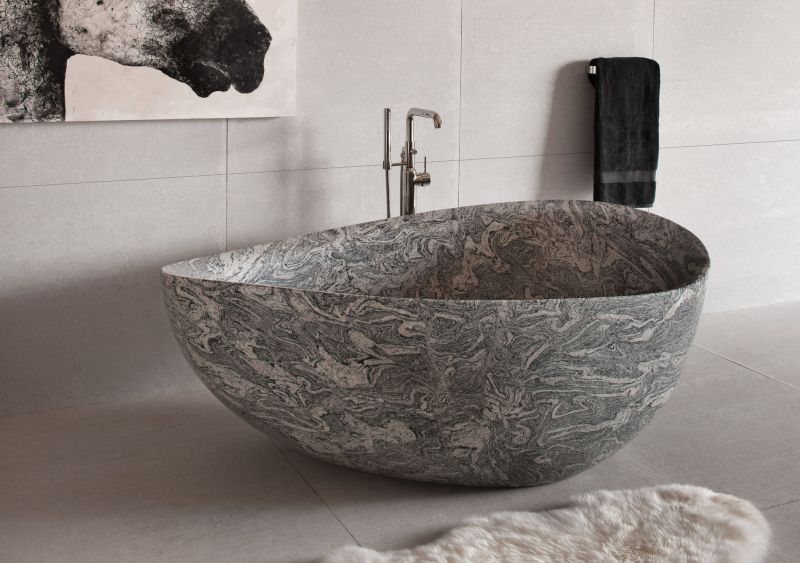 Designed by Stone Forest, the Papillon bathtub is a great pick for contemporary bath interiors. Made out of granite, the elegant bathtub has a hemispherical shape that impeccably adds a charm to contemporary bath space. It is a great pick for people who are willing to make their bathroom relaxing and pleasing.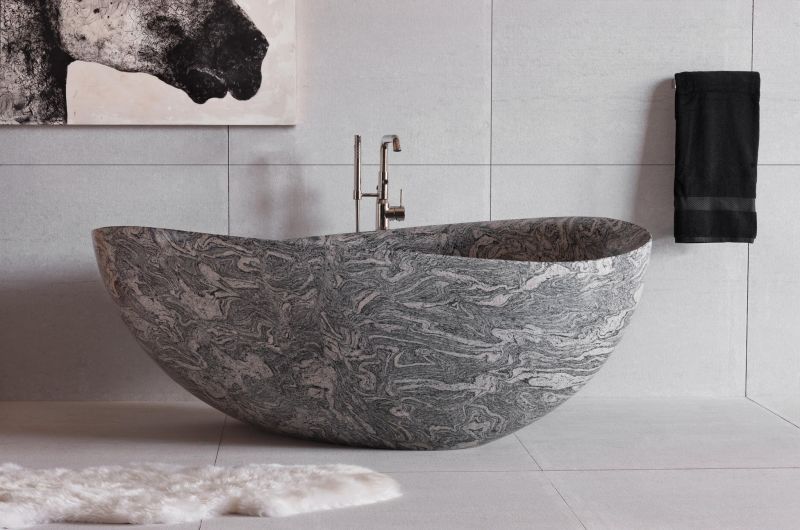 Kora bathtub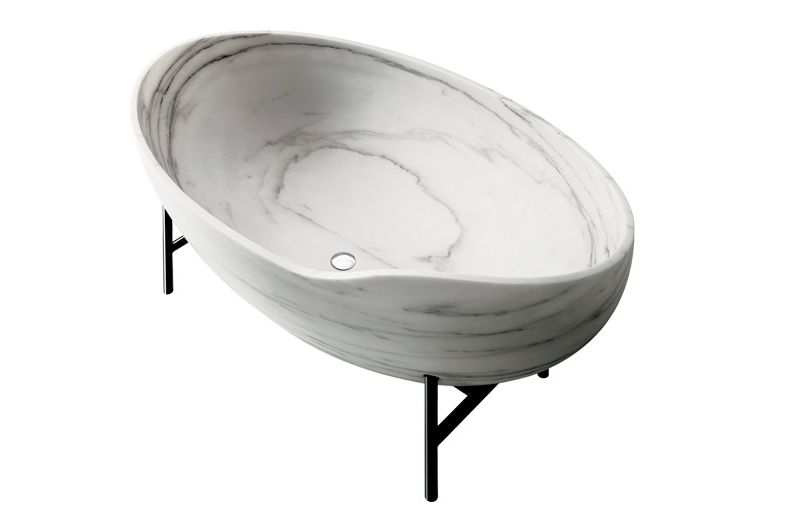 Kora bathtub is a beautiful creation of an international brand Kreoo. The bathtub is carved out of a single block of white marble. This crescent bathtub has no joints, lines and marks on the surface but has beautiful veining patterns of marble. The exceptional design impeccably goes well with modern bathrooms.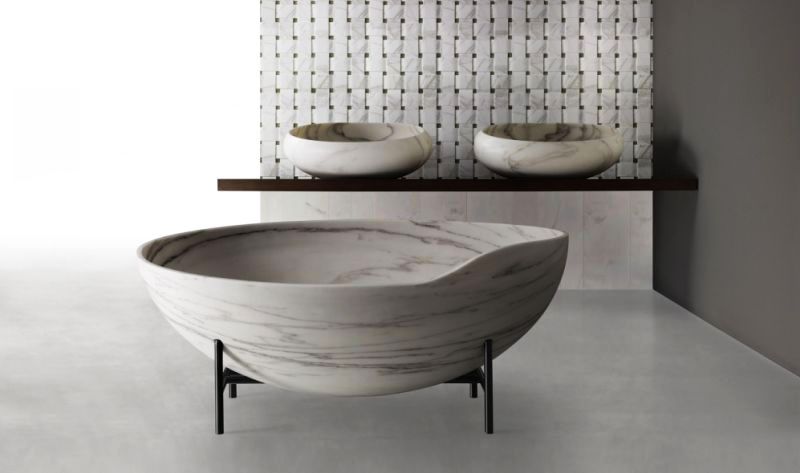 Henry Timi's rocky bathtub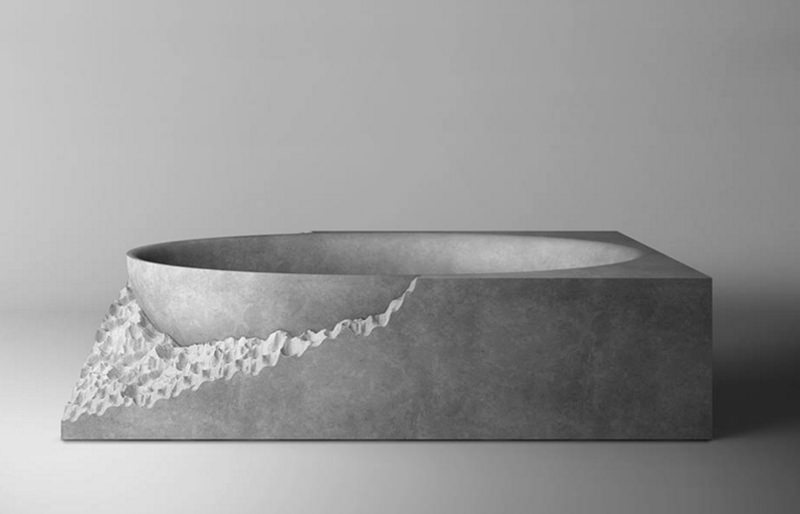 Henry Timi's stone bathtub is a great pick for those who want to fill their bathroom space with natural beauty, smoothness and purity. This bathtub is craved using uneven stone patterns paired with superior quality marble. The bathtub adds charm and functionality to any contemporary bathroom. You can purchase this eye-catching bathtub from the designer's official website.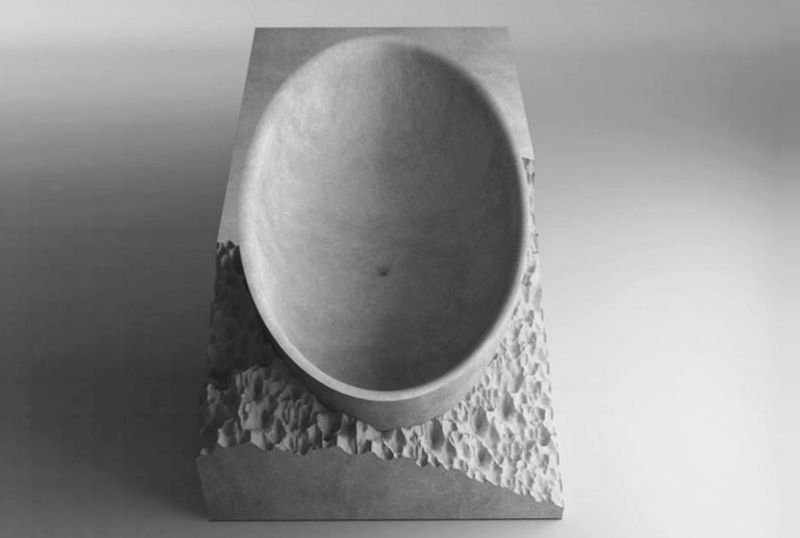 Large stone bathtub by Vaselli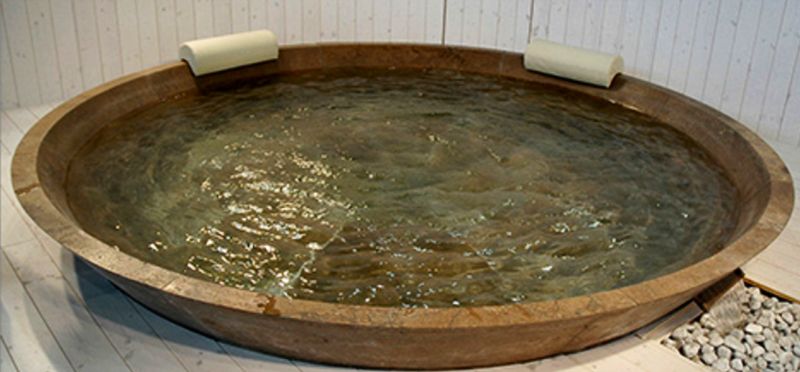 Make your bathroom space look royal and relaxing with this stone bathtub by Vaselli. The huge bathtub is a wonderful sculptural piece made of a large stone. This circular bathtub is a great example of ancient art of stonecutting.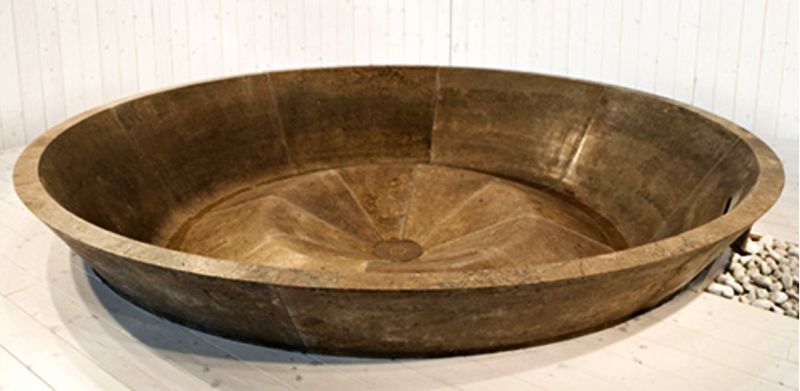 Bathtub by Bathco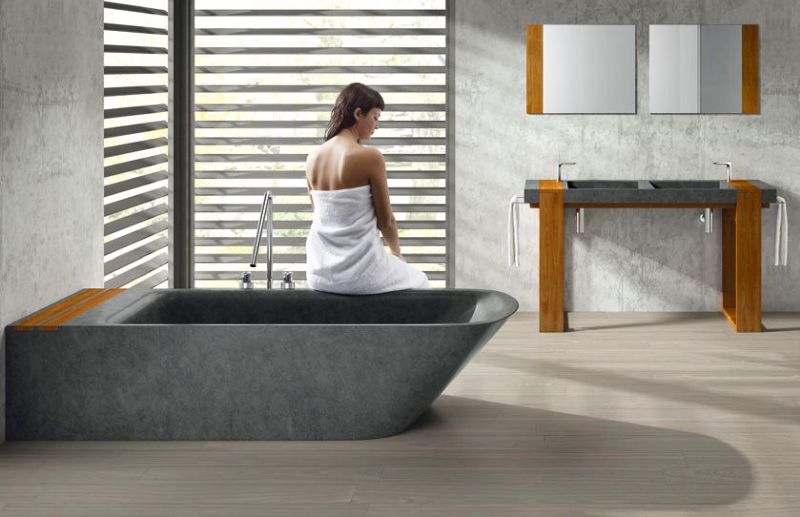 Add a calming appeal to your bathroom with a masterpiece bathtub by Batcho. Made using natural stone, the bathtub has an elegant look that instantly increases the appeal of bathroom. Available in dark grey and beige color, the bathtub offers a comforting bath space.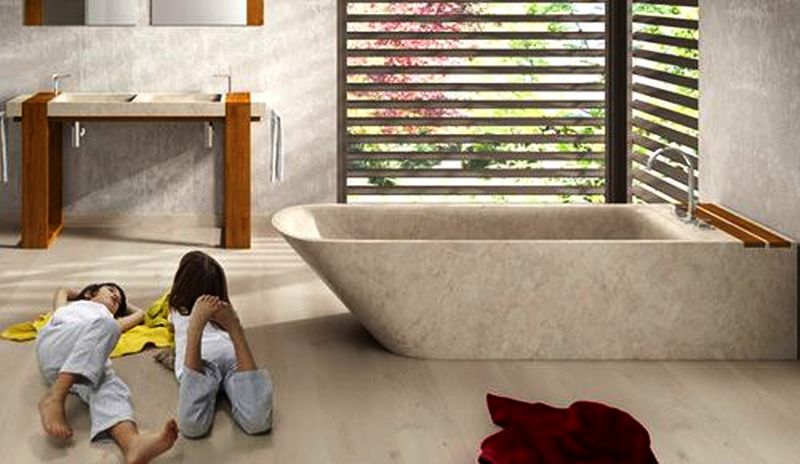 Egg-shaped bathtub by Rifra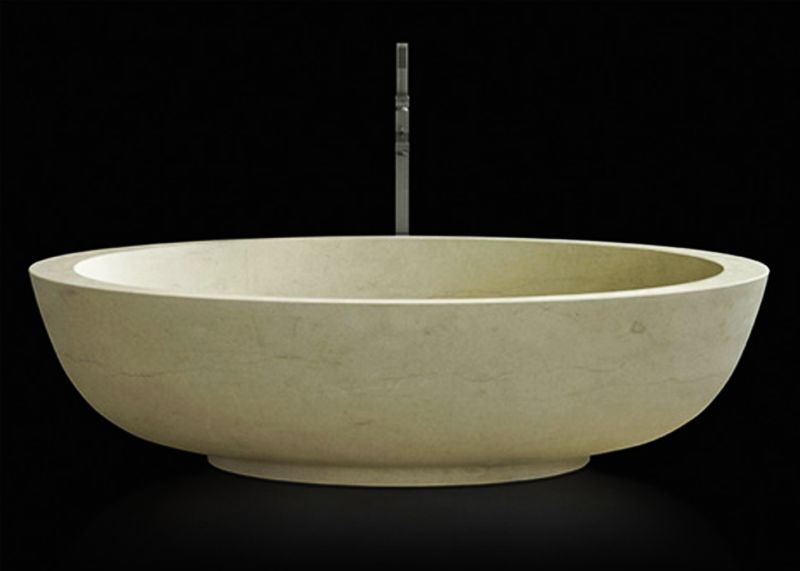 Soak yourself in a stunning stone bathtub from Rifra. This striking tub is refined and polished into a stunning egg-shaped sculptural art piece. The stone used to craft this bathtub is naturally hardwearing, stain-resistant and smooth. This bathtub is an ideal pick for people who are looking for a way to bring in comfort and luxury to their bathroom.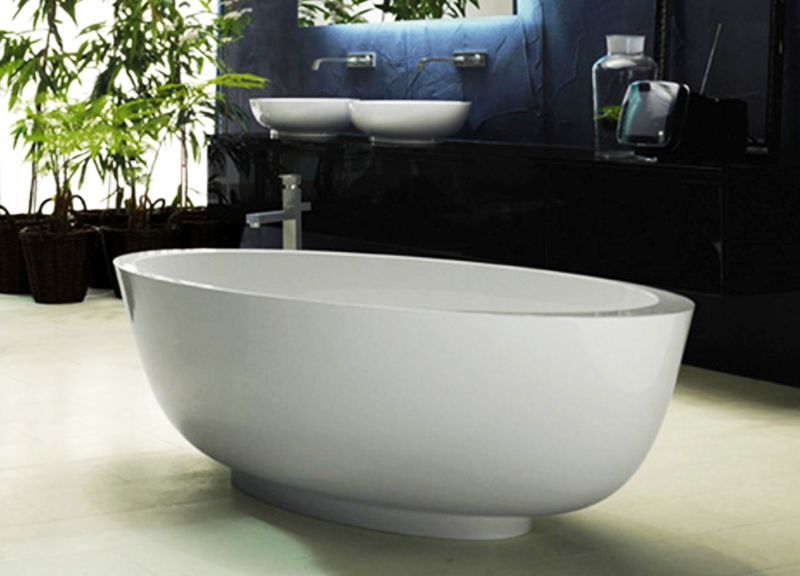 Ovum marble bathtub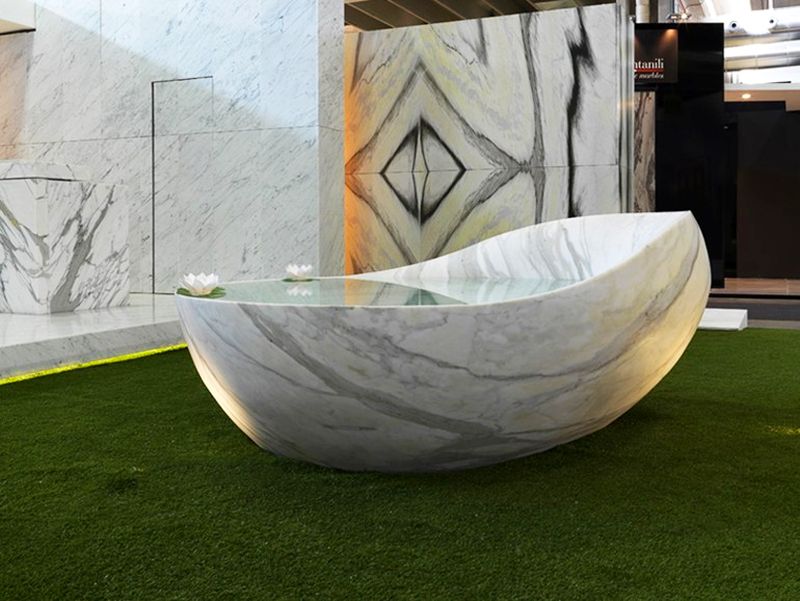 Ovum marble bathtub is a mesmerizing creation of Archizero, Michele Cazzani, Tony Matijas and Paolo Rivolta for FranchiUmbertoMarmi. The masterpiece is designed to add elegance, comfort and luxury to bathroom. Despite being carved out of hard materials like marble, symmetric design and smooth edges of the beautiful egg-shaped bath sculpture symbolizes the perfection of craftsmanship and nature.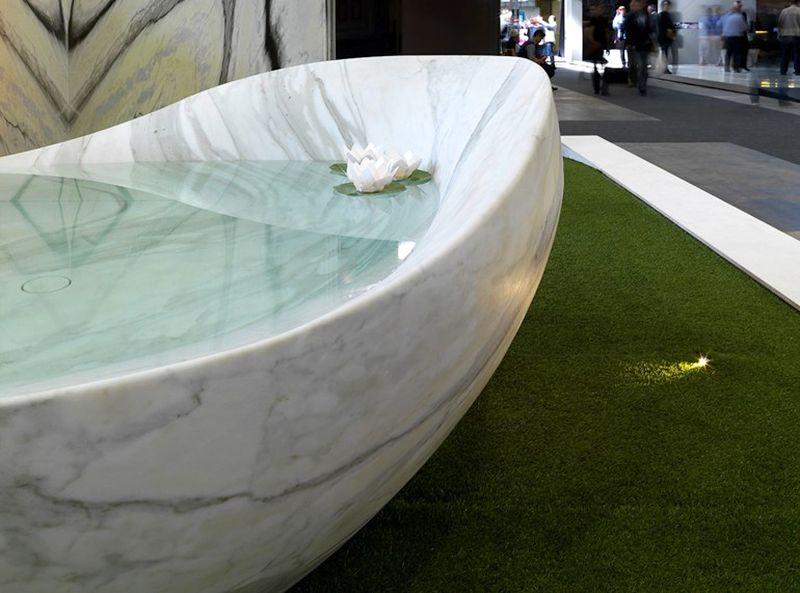 Level 45 marble bathtub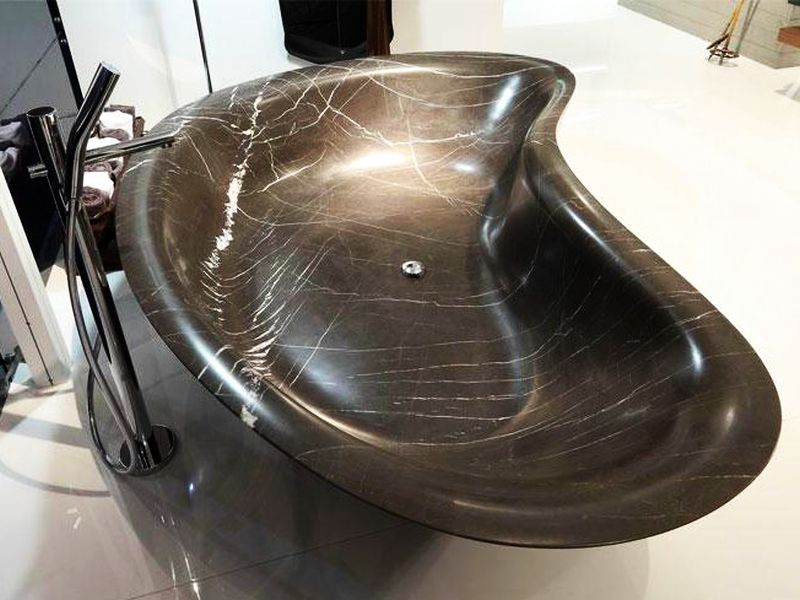 Designed by the popular architect Naghi Habib for Falper, Level 45 is a great freestanding bath sculpture for contemporary bathrooms. The incredibly elegant and sophisticated bathtub is designed using best quality marble and graphite, in exceptional timeless shape.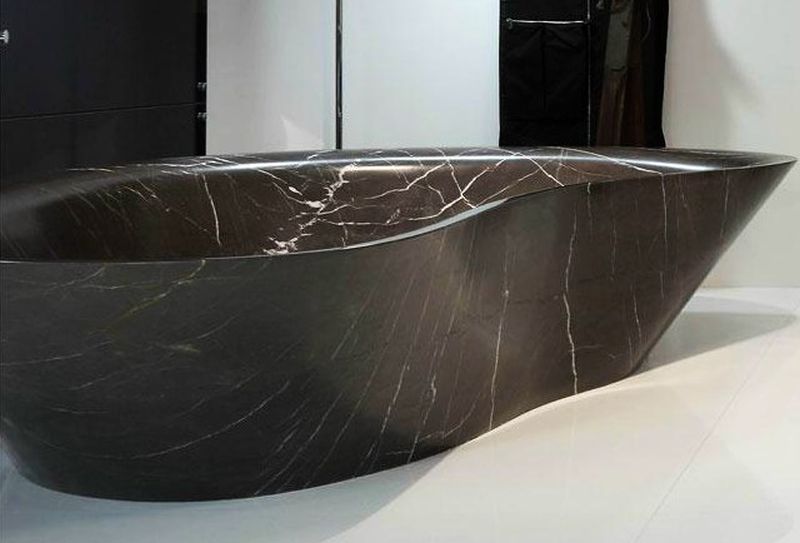 Roma natural stone bathtub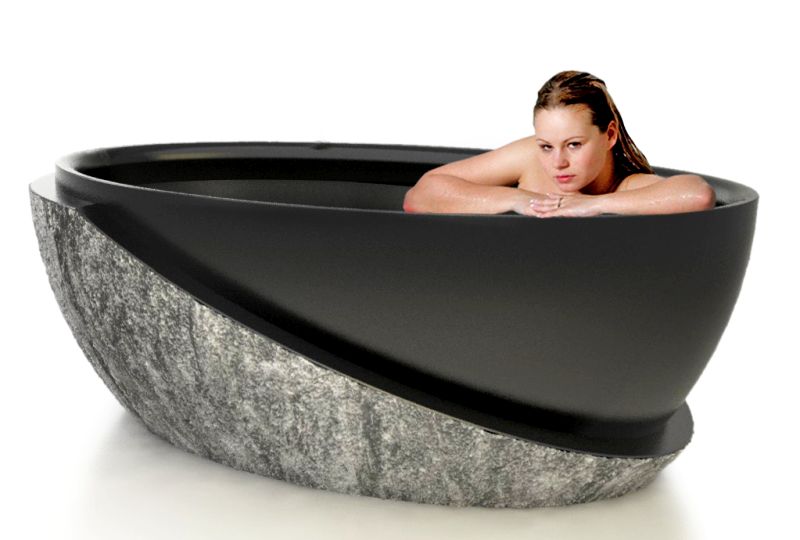 Roma natural bathtub is a graceful oval-shaped tub for modern bathrooms. It is a true piece of art available in four different eye-pleasing colors like blue stone, Galala marble, Shanxi black granite and white marble.
Natural stone bathtub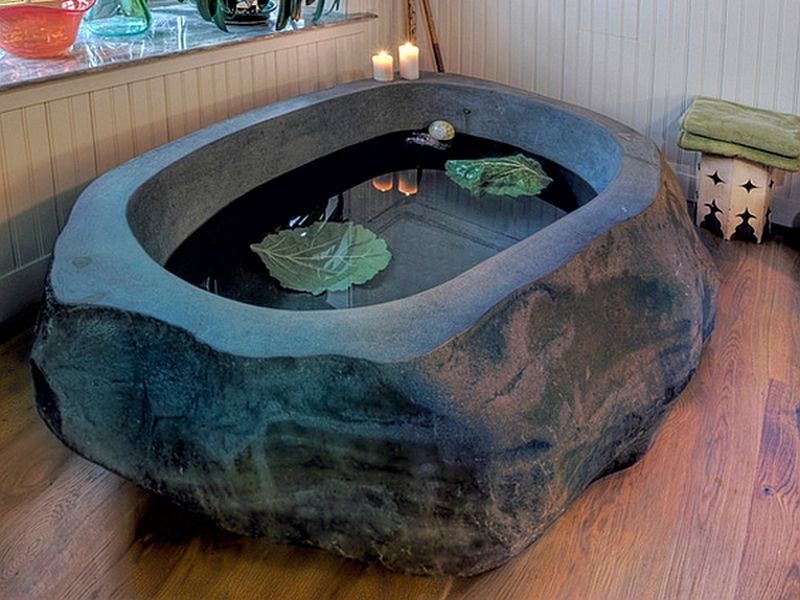 Bring in the most natural piece of rock bathtub that is designed to take you back to the primitive age. The bathtub from yourStoneBath is beautifully handcrafted out of a black rock found on river bank. This bathtub has a natural appeal that adds temperament of riverside bathing into your bathroom.
Piedra boat stone bathtub
Piedra boat is a modern bathtub from WS Bath Collections. This elegant bathtub is handcrafted for small bathroom spaces. It is a great choice for people who are looking for elegant stone bath sculptures and a way to add interest to their bathrooms.
Fusion natural stone bathtub from IL Marm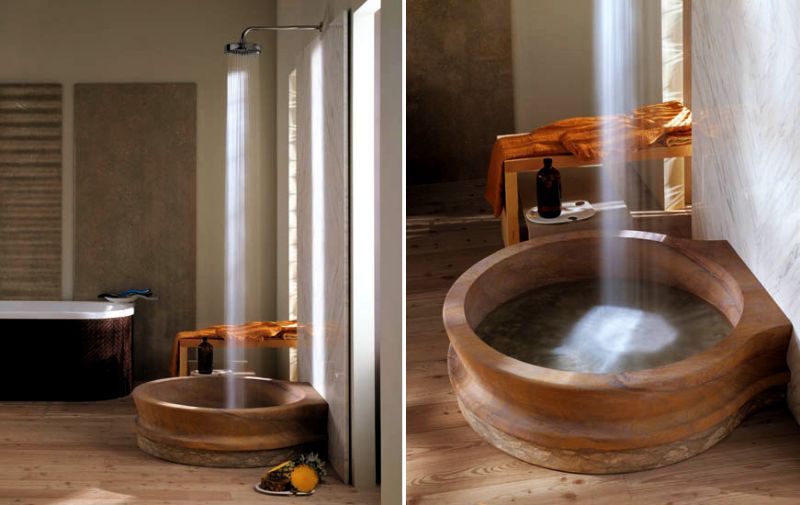 Fusion natural stone bathtub is a stylish creation of IL Marm. Made of a pure, splendid marble, the tub is an ultimate fusion of bathtub and shower. The look is extremely mesmerizing and can change a boring bath space into an exciting washroom.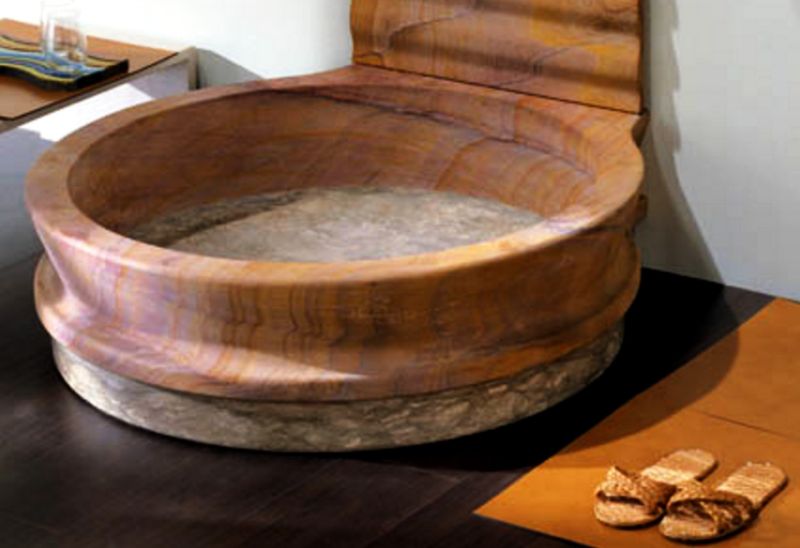 Samara Bioprot natural stone bathtub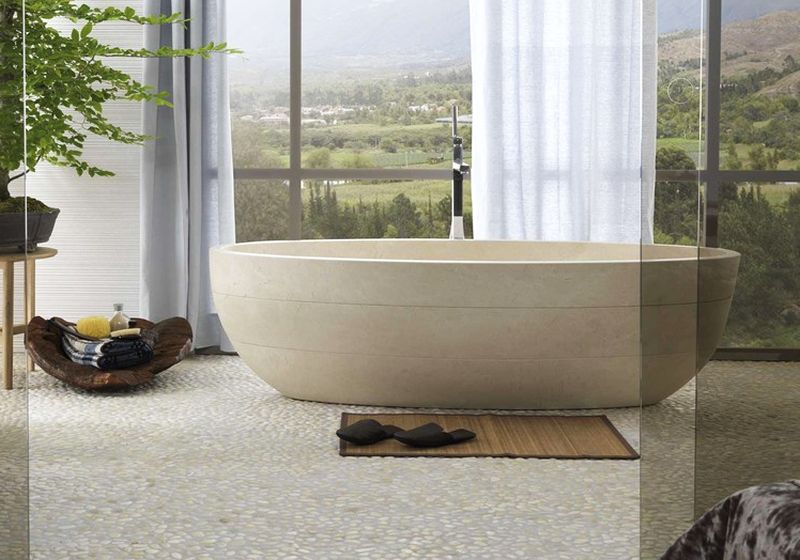 Enjoy the most relaxing cleansing experience with the freestanding natural stone bathtub by L'Antic Colonial. Crafted in an appealing oval shape using natural stone, Samara Bioprot tub is designed to go well with every type of bathroom spaces.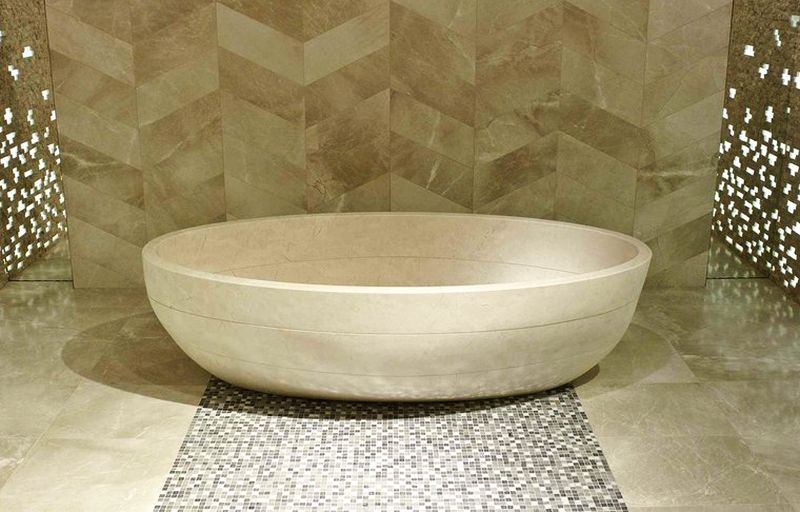 Monolithic marble bathtub by Dedalo Stone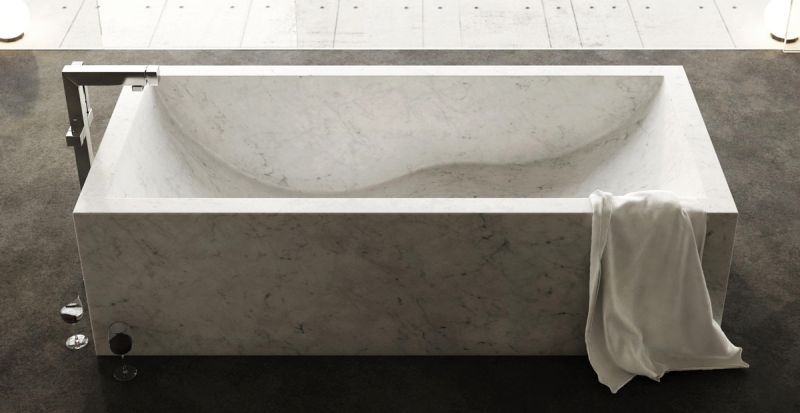 The monolithic marble bathtub is an exclusive bathtub from Dedalo Stone. The bathtub is carved out of white marble. It is not just a sculpted work of marble but a design object that can add class and natural feel to any bathroom space.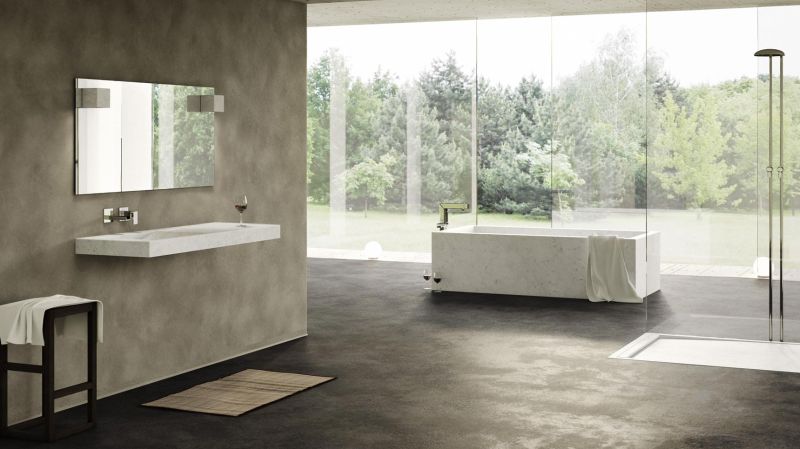 Pfeiffer bathtub by TCC Whitestone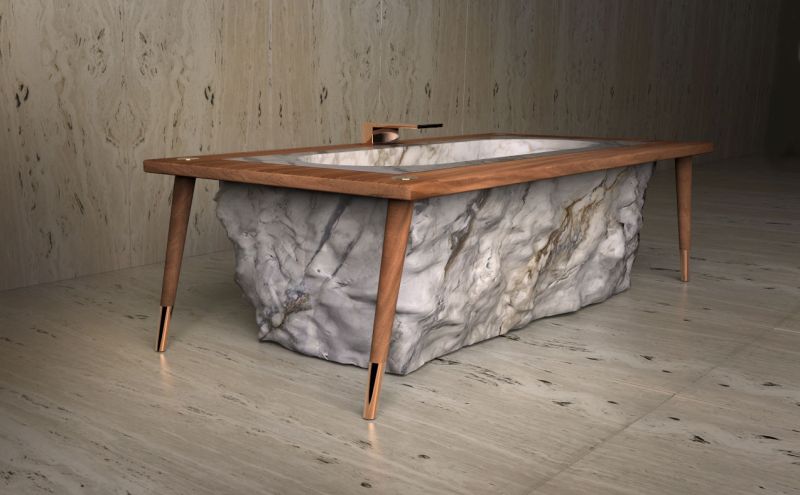 Bring in a modish appeal to your bathroom with the Pfeiffer bathtub carved out of Calacatta marble block. The bathtub looks more like a table, holding an uneven rock piece. The tub is entirely framed with fine quality glossy wood. To give it a classy touch, the manufacturer has added a copper band to the table legs. This is the kind of bathtub you will want to spend all your time in!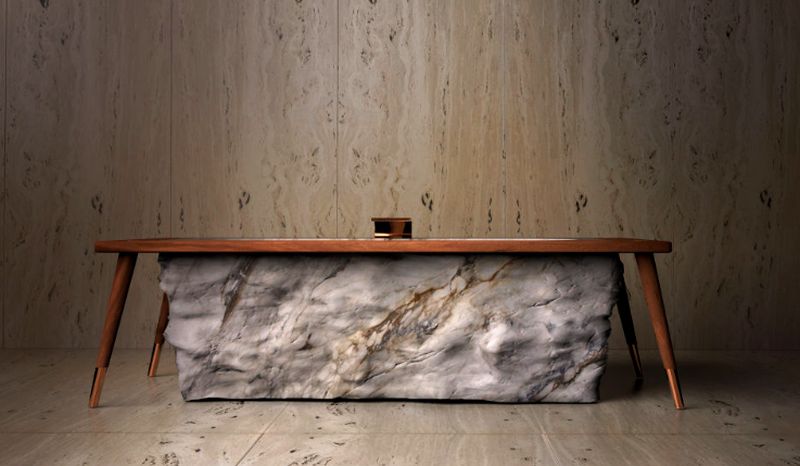 Graphite black surface bathtub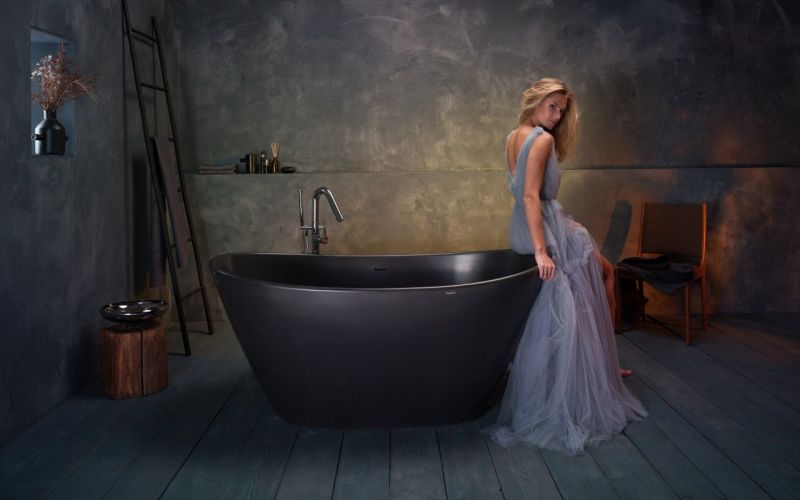 If you love having a mysterious, sophisticated and elegantly dark theme in your bathroom, then you should absolutely consider this graphite black solid bathtub by Aquatica. The freestanding bathtub is created with aqua stone, using the unique clay oven baking technique to achieve that pencil-lead texture on the surface.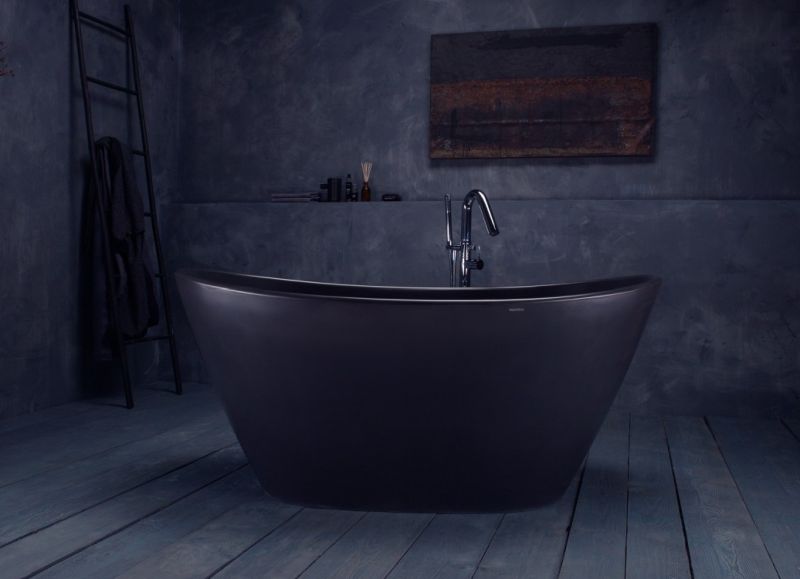 Naga bathtub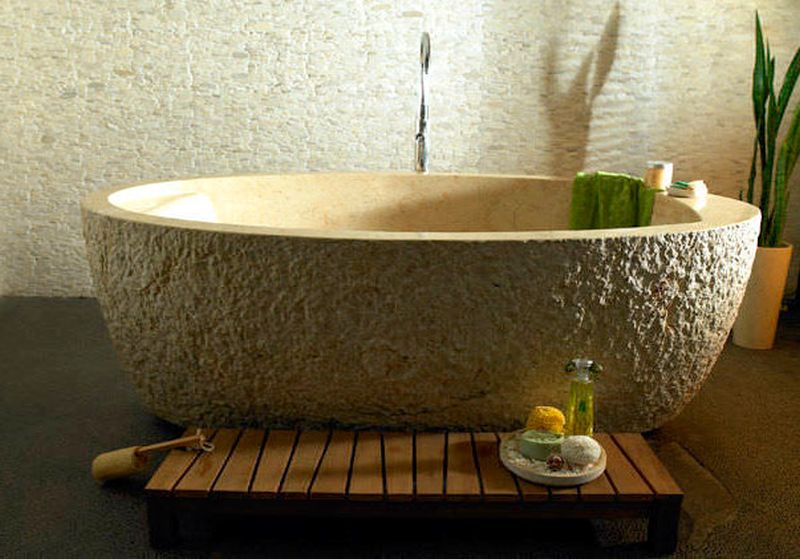 Naga bathtub is an oval-shaped freestanding bathtub designed to give your bathroom a raw look. It is crafted using stone and marble. The outer surface is kept rough to make it like a big pebble.
Freestanding marble bathtub by Roca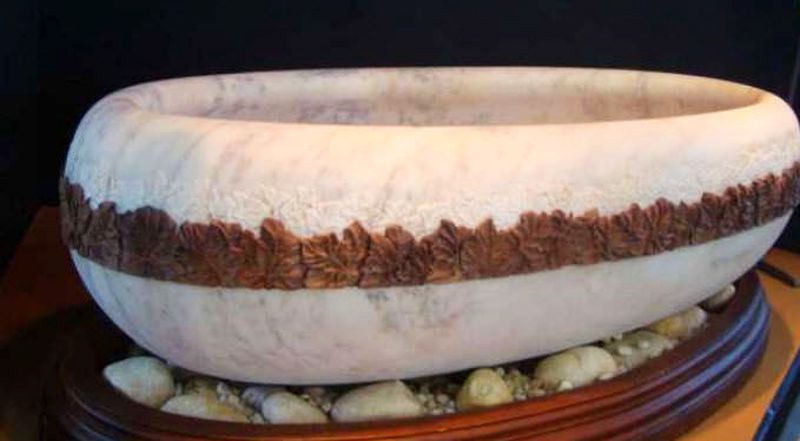 Enjoy luxury bathing in a loving freestanding bathtub by Roca! This white marble bathtub has a very fine oval outline to suit contemporary bathroom interiors. Its design reminds us of a pearl shell. Perfectly smooth surface is attractive and pleasing to touch.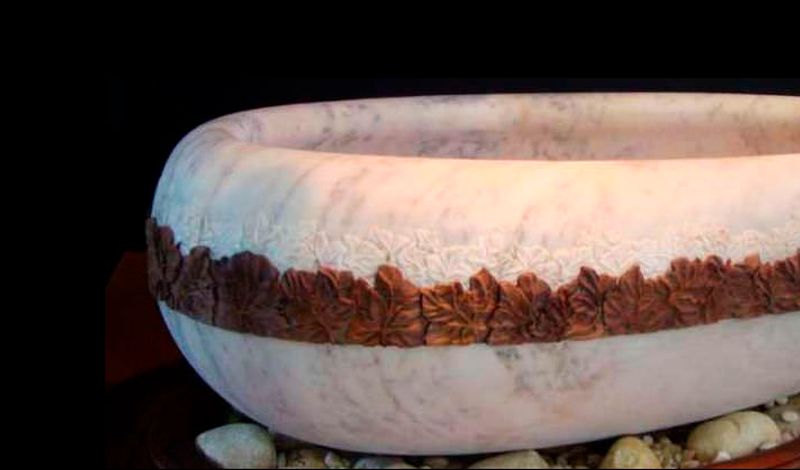 Grey bubble onyx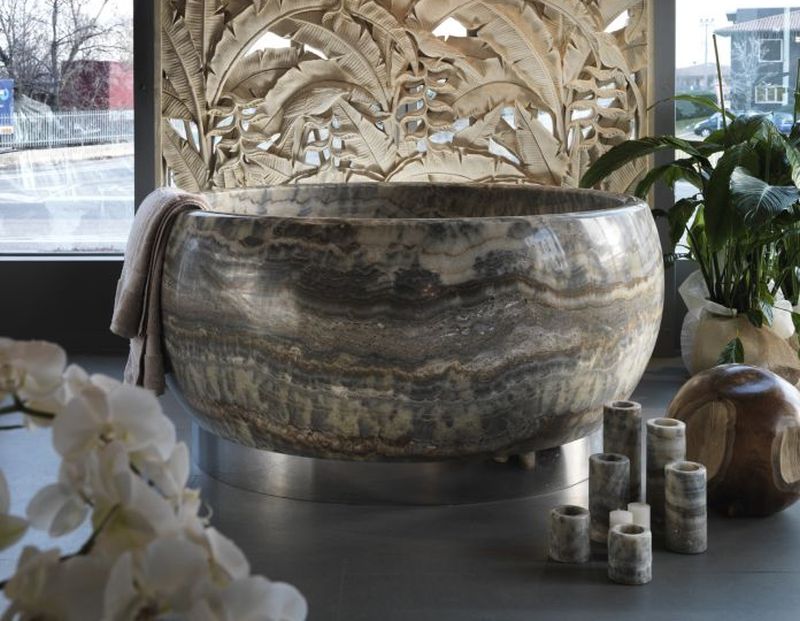 A solid block of splendid Grey bubble onyx is a magnificent bathtub that exalts fine stone craftsmanship. The bathtub is designed in a falcate shape using onyx marble. Exclusive example of great stone working, the bathtub enhances the appeal of light-colored bathrooms.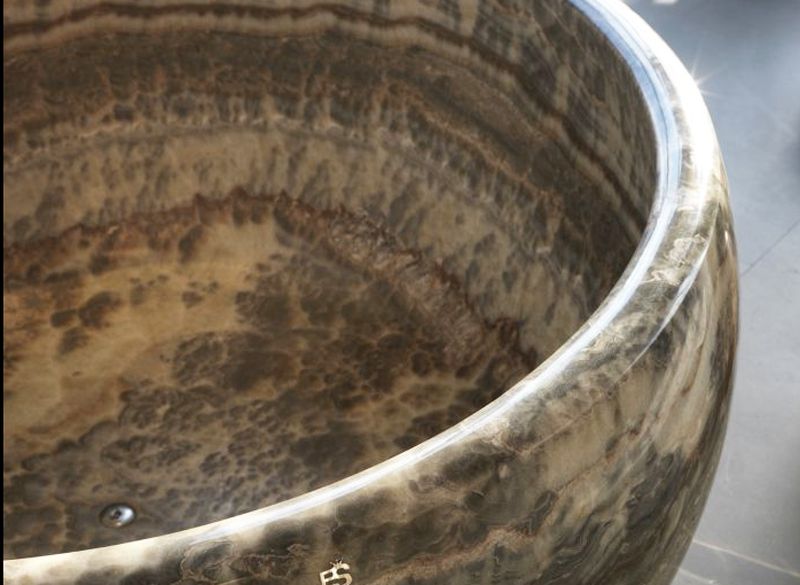 Kama Deva bathtub by Marina Pandunata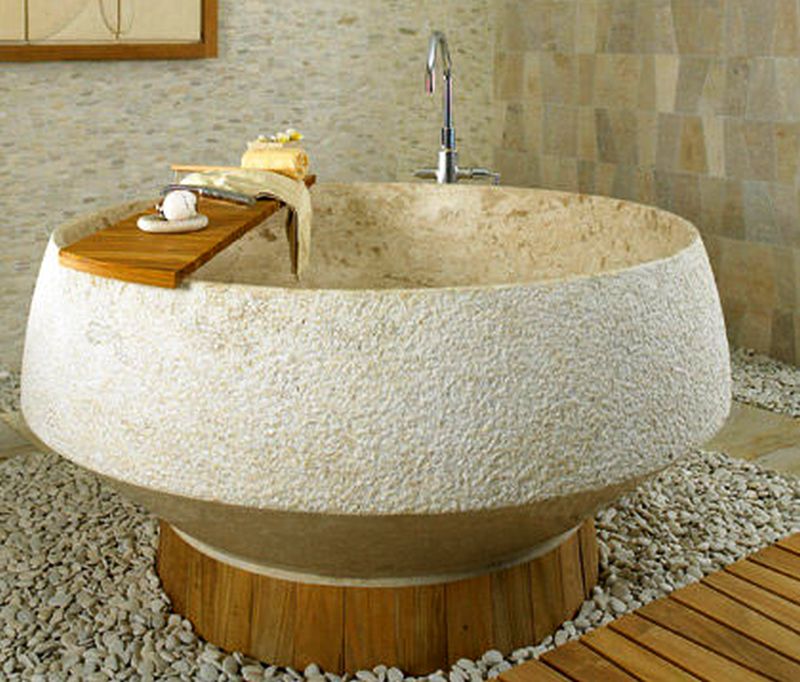 Kama Deva bathtub is designed by the popular Indonesian architect Marina Pandunata. Carved out of Cromatic natural stone, the bathtub is intended to add a romantic feel to any bathroom space. Bowl-shaped design lets you enjoy deep warm bath.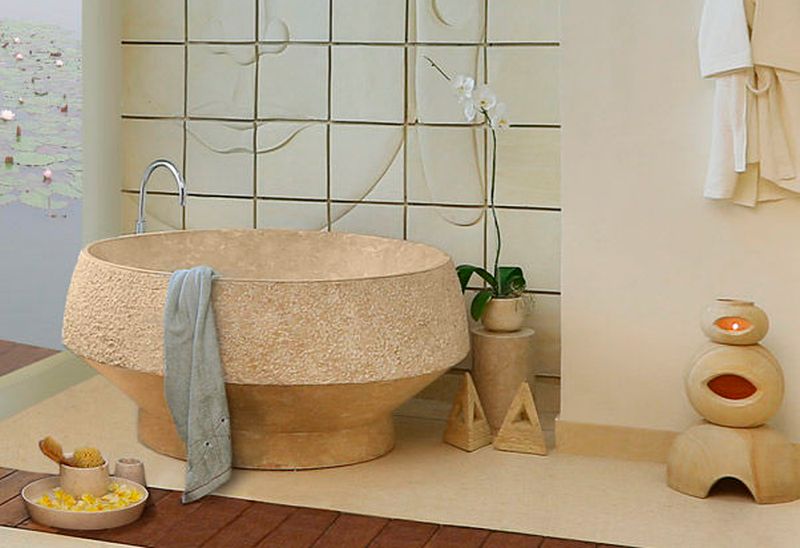 Onsen bathtub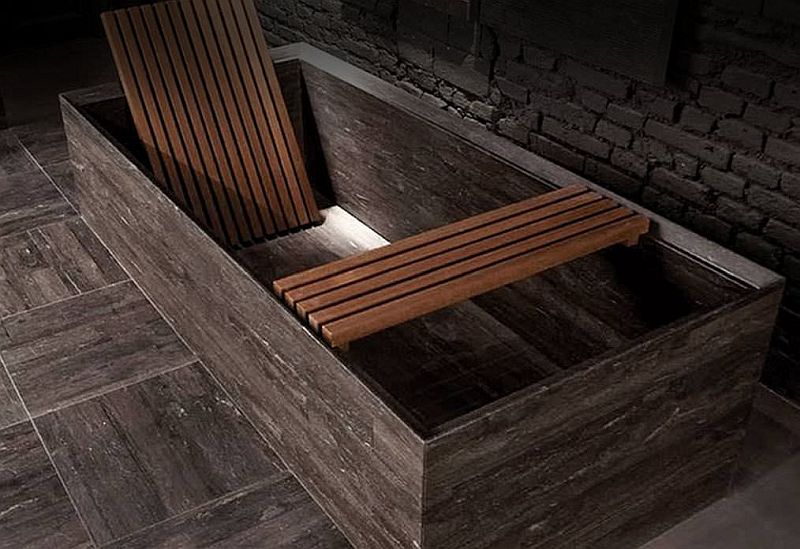 Onsen bathtub is a creation of Rodolfo Dordoni, the famous architect and designer from Italy. This bathtub is entirely built out of natural stone for the intension of providing luxury bathing experience to adults. The rectangular bathtub is relaxing and welcoming to the bather.
Slate tub from Maxim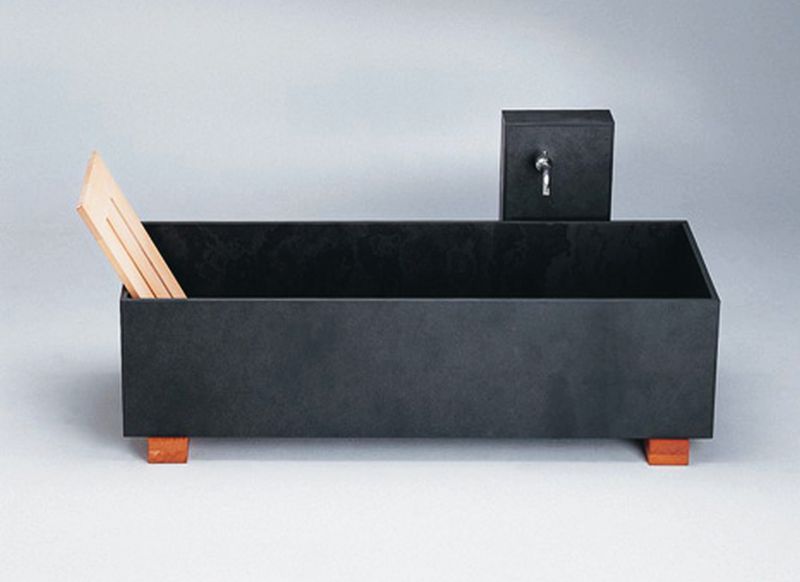 Slate is the uncompromising material of choice for the stone bathtub from Maxim. The bathtub is beautifully designed using black slate and wood beams. The smoothness of the material and sharp rectangular structure is so relaxing to let people enjoy warm baths. It is a truly iconic choice for dark bath spaces.
Rock crystal bathtub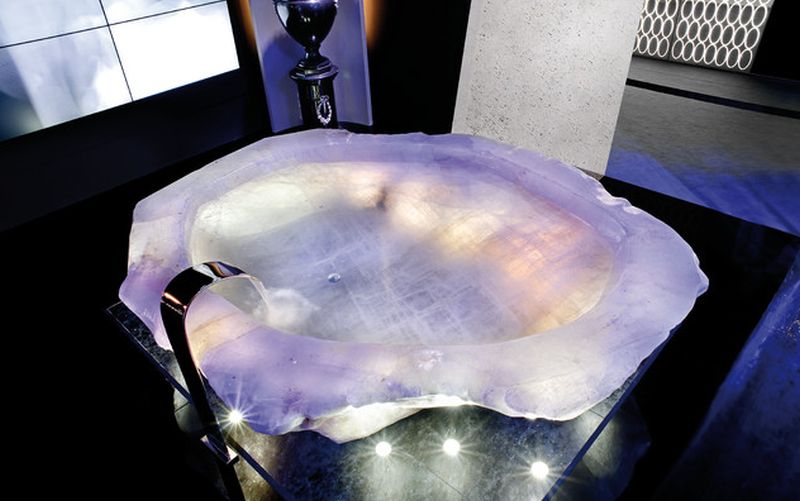 The rock crystal bathtub is carved out of a solid rock crystal block found in the Amazon forest in Brazil. The stunning crystal tub will sure become a classic item in your bathroom and sure to be appreciated for many years to come.
Huge rock bathtub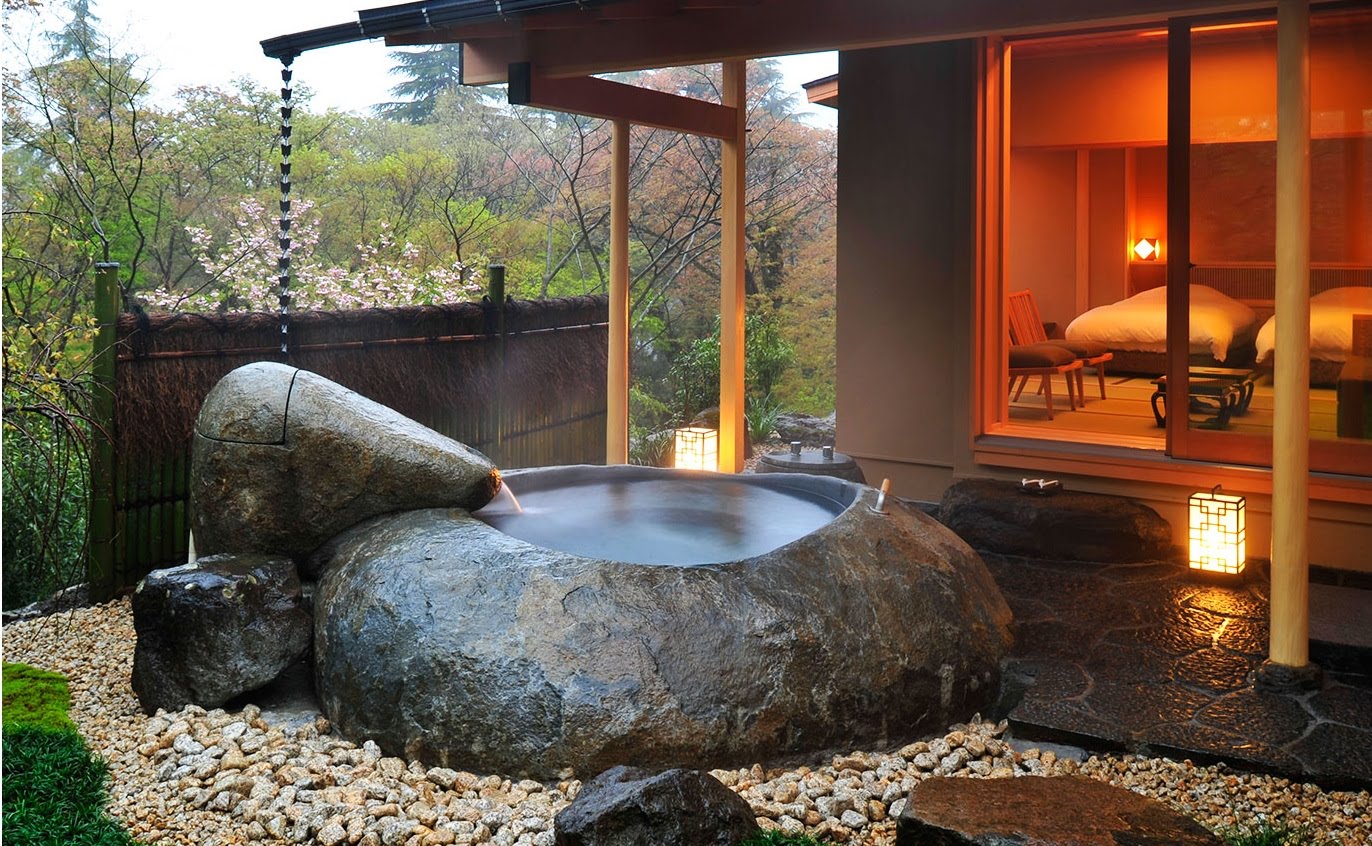 The huge rock bathtub is an exceptional creation that reminds you of giant riverside stones. This elegant bathtub is ideal for people who love being surrounded by nature. It has an attached rock faucet that adds natural appeal while making your bathroom more calming.
Convivium by Nespoli e Novara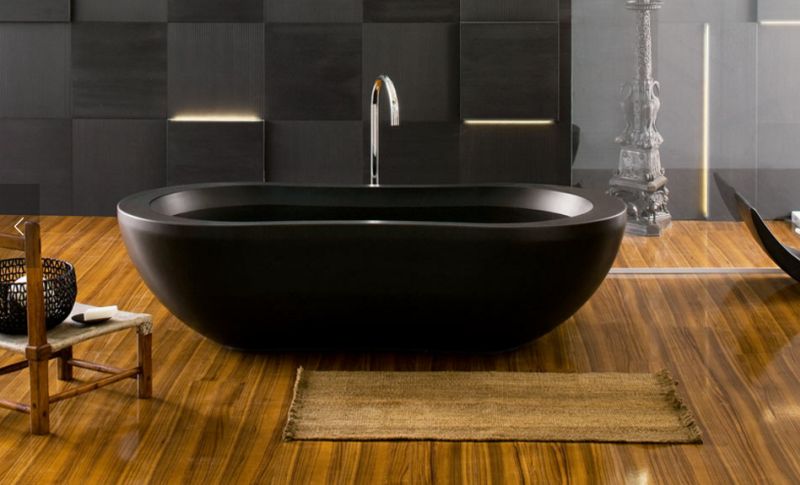 This elegant black-colored bathtub can be a great pick for bathrooms following dark theme. The bathtub is entirely crafted out of shiny black marble. Oval structure enhances its appeal and makes it more comforting.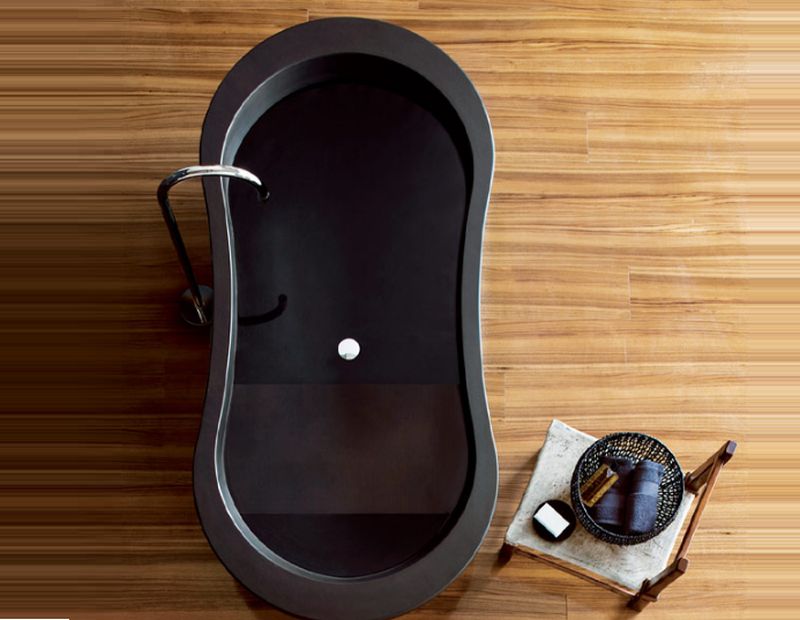 Le Acque bathtub by Toscoquattro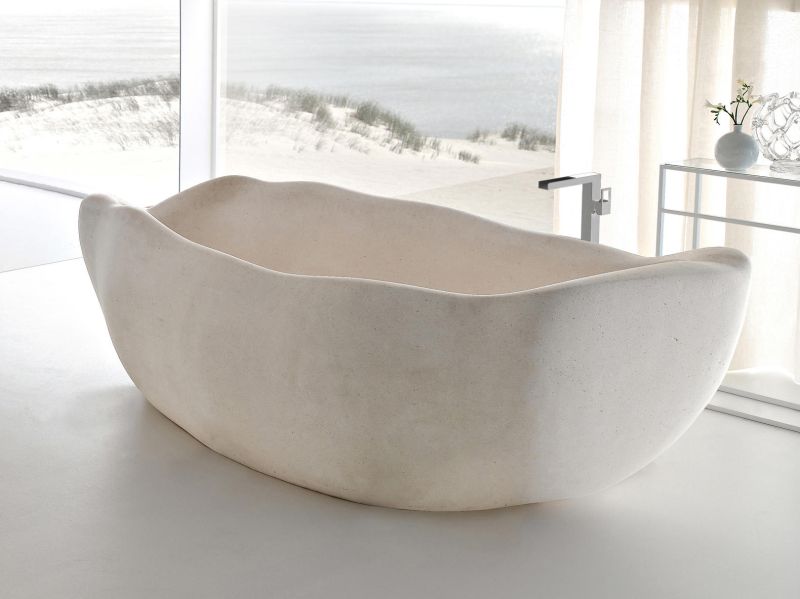 What could be more relaxing than bathing in a beautiful pearl shell like bathtub? Le Acque, a limited edition bathtub by Toscoquattro is designed to offer soothing bath experience to those who are fond of oceans and beaches. The bathtub is entirely crafted using white marble.
Cromatic stone bathtub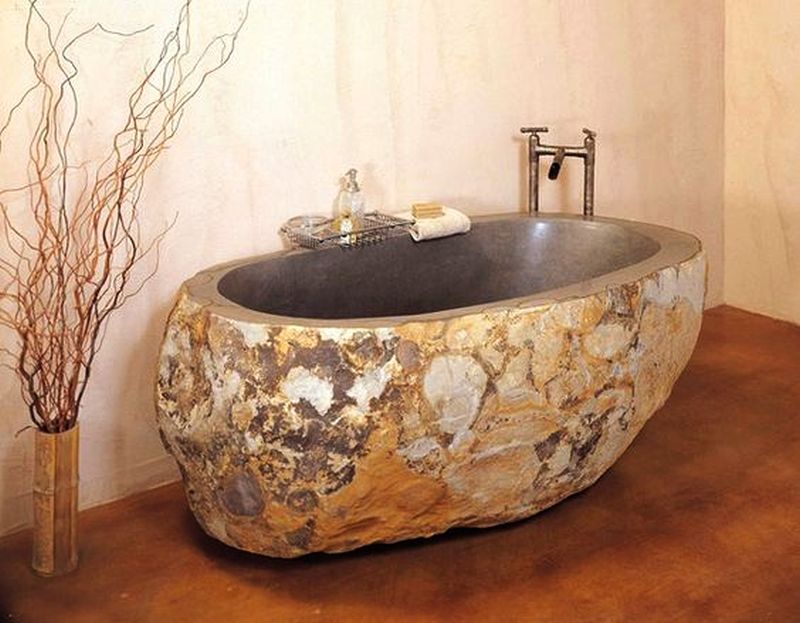 Adding a lovely Cromatic stone bathtub is great way to make bathroom a welcoming place. This portable bathtub is made from rough stone. The beige bathtub with raw stone patterns is a great way to bring nature indoors.
Cromatic black stone bathtub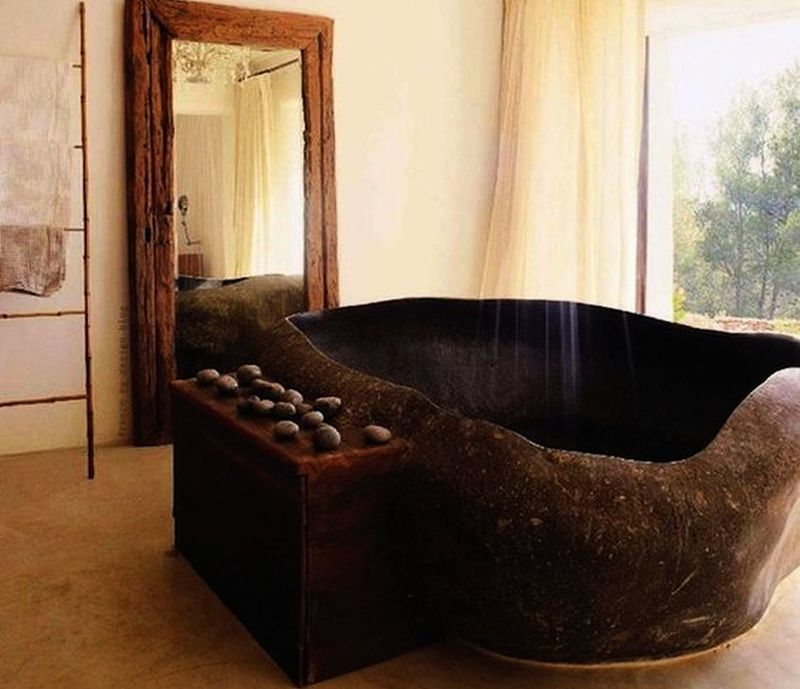 This stunning black stone bathtub is made of a giant rock found on river bank. The designer hollowed the rock to give the bathtub a look similar to small cave. This is an ultimate bathtub for people who want to stay connected to nature even when they are indoors.
Dedalo Stone's transparent bathtub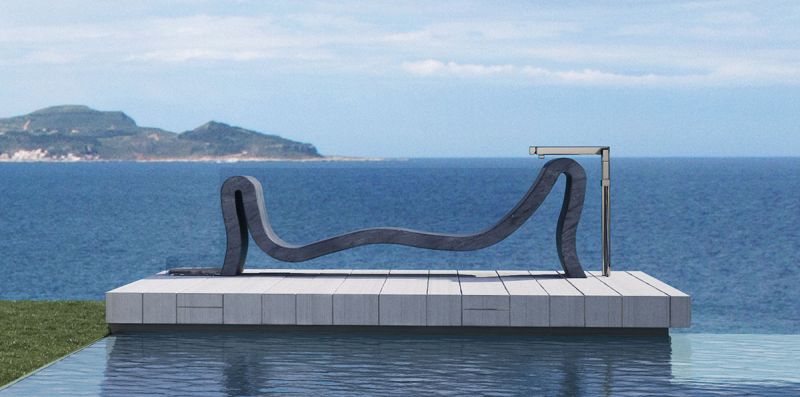 Dedalo Stone's transparent bathtub is the finest pick for those who want a mix of fragility of glass and durability of rock in their bathrooms. This bathtub is crafted using shiny marble and durable glass working as bathtub walls. Designed to bring an element of nothingness to your bathroom, the bathtub gives an impression of a chaise lounge that takes care of your body and comfort.