Having knowledge of how to carry your gun safely is a part of the responsibility of gun ownership. You cannot keep your deadly firearms carelessly in your home. Keeping them carelessly can land you and your family members in a deadly situation within a split second. Therefore, it is very important to install a secret safe or concealment to keep them secure. Today, we are going to share eight of our favorite gun concealments out of many options available. Hope our list will inspire you to install one in your home for total safety of your loved ones.
Bed Bunker by Heracles Research Corporation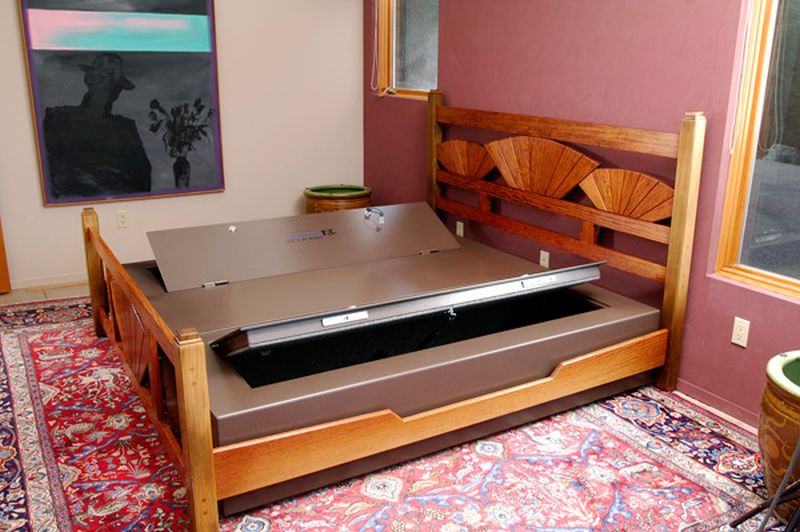 Hide your firearms in a weapon storage bed by Heracles Research Corporation. The secret concealment is ideally built for homes. Along with maintaining interior décor of your bedroom, concealment offers a bullet resistant safe with the capacity of hiding 60 rifles. Since the firearms remain hidden within the bed itself, the chances of someone finding the safe are equals to zero. In case, if someone finds the safe, then he will surely have a hard time to getting open it. Buy this bed bunker for $5,099 USD.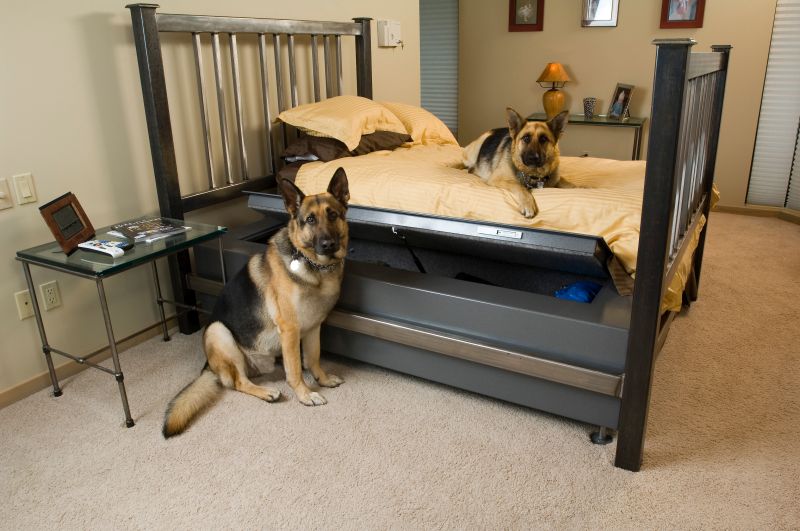 Couch Bunker by Heracles Research Corporation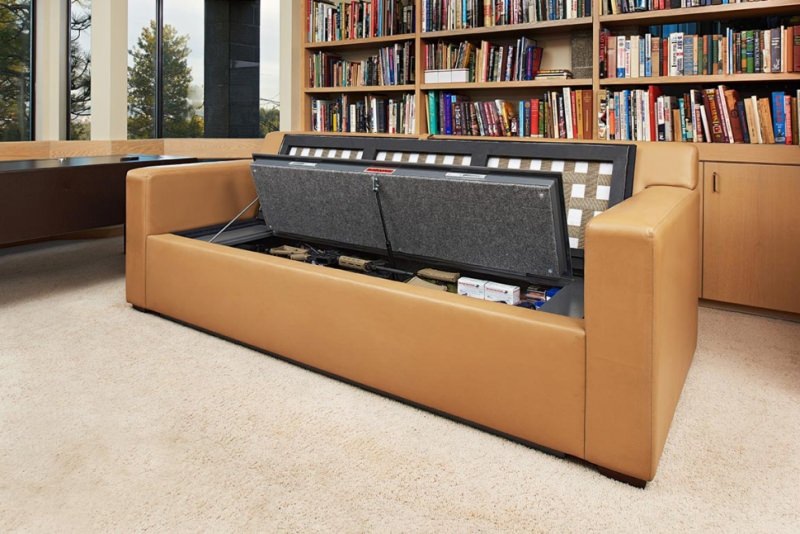 The couch bunker is another creation of Heracles Research Corporation after a bed bunker. The company installed gun concealment inside an elegant sofa. This bullet-resistant sofa is ideally built for homes, offices, schools, churches, shopping malls and other public buildings to provide easy access to firearms in case of emergency. Seeing the sofa nobody will guess that there is a hidden gun safe inside it.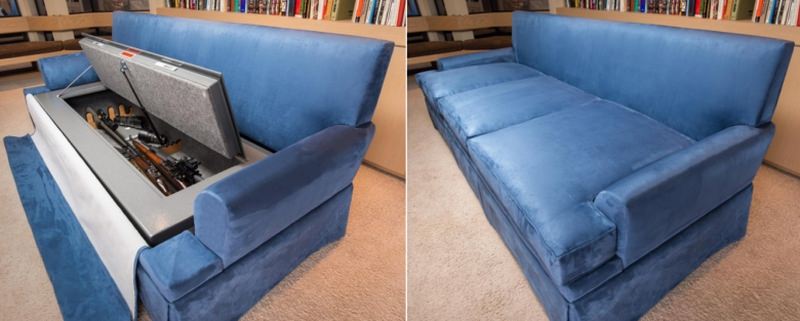 Concealment coffee table by TacticalWalls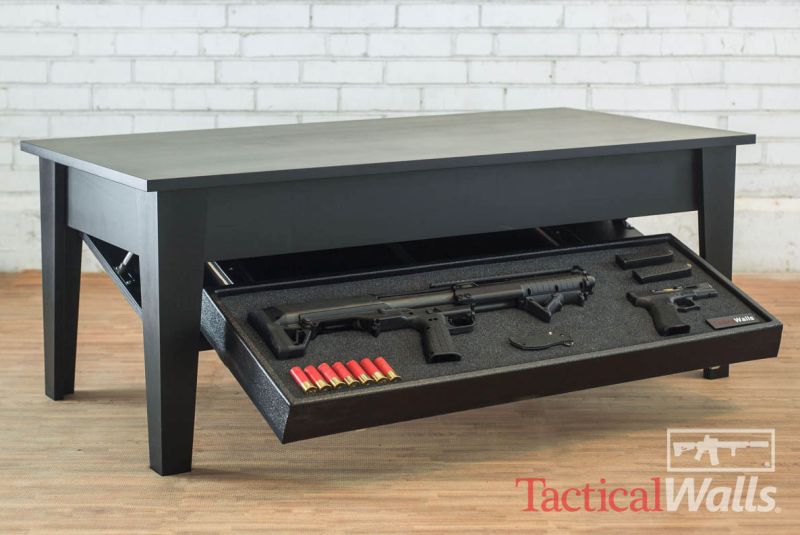 TacticalWalls constructed an elegant coffee table that hides a smart safe to keep firearms hidden within the interiors. The table does not require any wall installation. It is handmade and made with U.S sourced maple wood. With the clean shining design, the smart table keeps your weapons hidden in the pull-down tray. The table is available in five different wooden textures -Clear Coat, Early American, Dutch Walnut, Cherry and Black. You can purchase this table by paying $795 USD.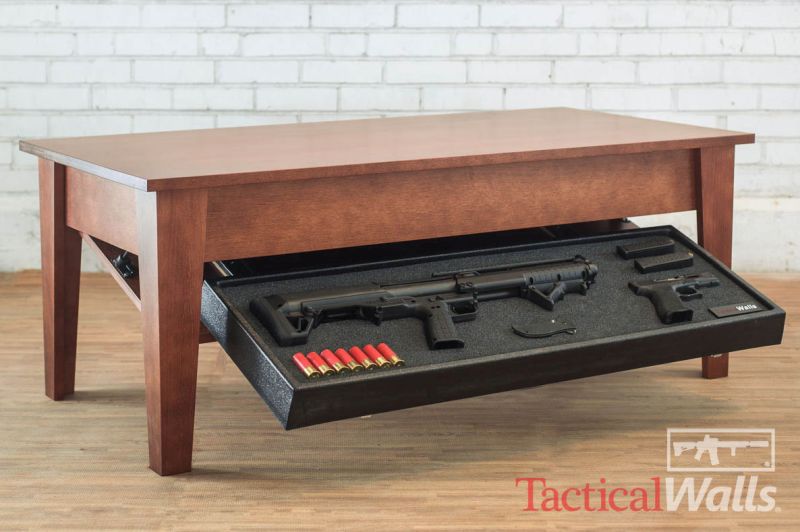 Hidden wall shelves by TacticalWalls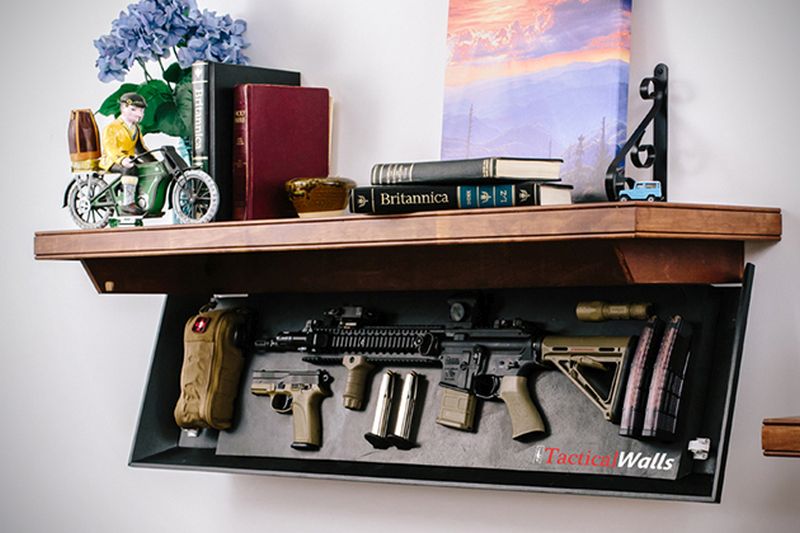 Hide your firearms inside a smart shelve by TacticalWalls. This shelve is not just a solution for holding picture frames, books and showpieces, but also a great secret storage solution for handguns and rifles. The hardwood shelve has a drop down ample room with two hidden locks that can be opened with supplied magnetic keys.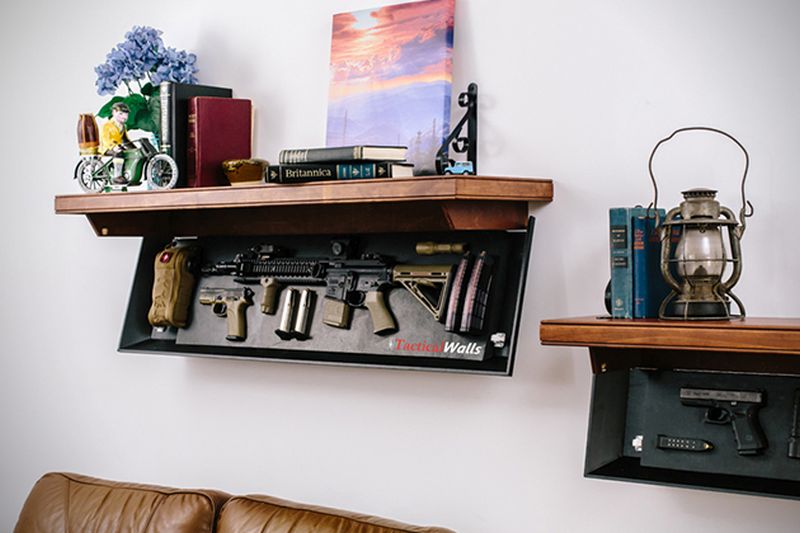 Executive desk offering a gun safe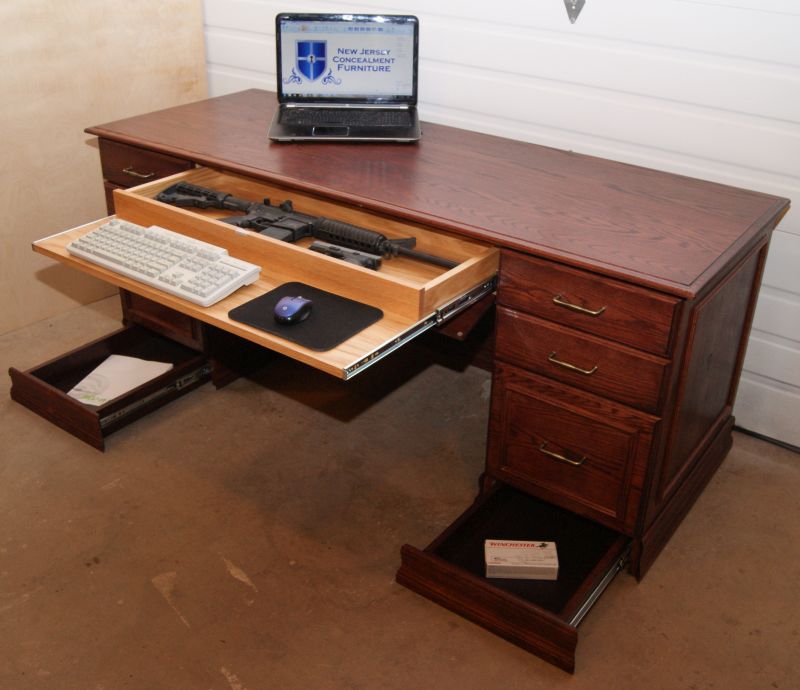 No one can imagine a gun safe behind the pull-out keyboard access of an executive desk. N.J. Concealment Furniture designed an executive desk for people who are looking for a quick access and security storage for their firearms and valuables. Build with maple wood, the desk functions as great storing and decorative furniture.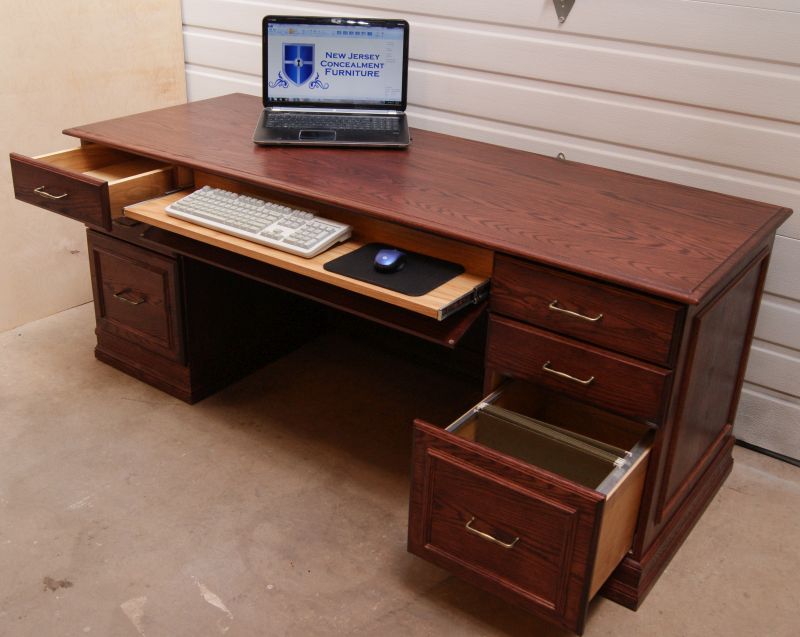 Gun safe in bed headboard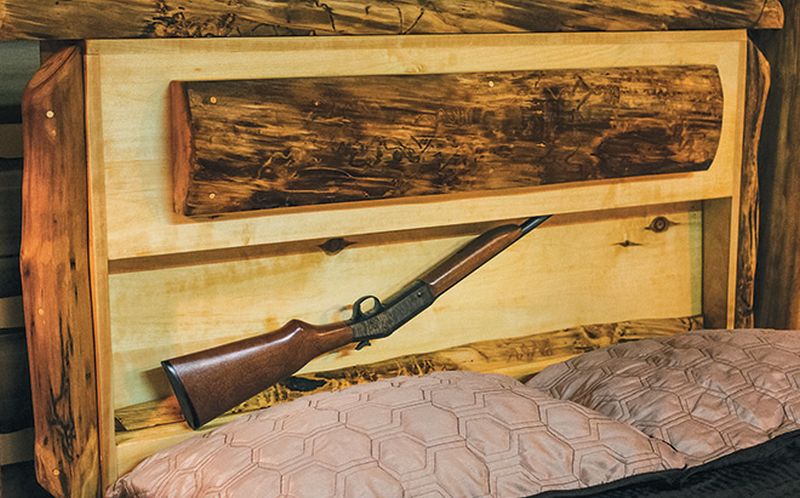 N.J. Concealment Furniture has designed an outstanding bed with secret gun safe in its headboard. The bed provides an easy access to weapons during emergencies. To open the safe, owner has to lie-down on bed and has to push his hands back, and then he has to press the spring-loaded panel. The shotgun will drop down into the owner's hand in seconds. This safe is ideally built for people who want to defend themselves from intruders in bedroom.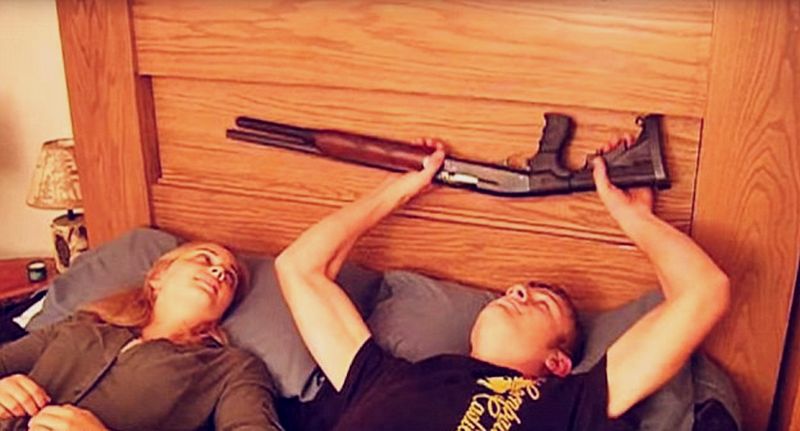 Gun concealment behind a mirror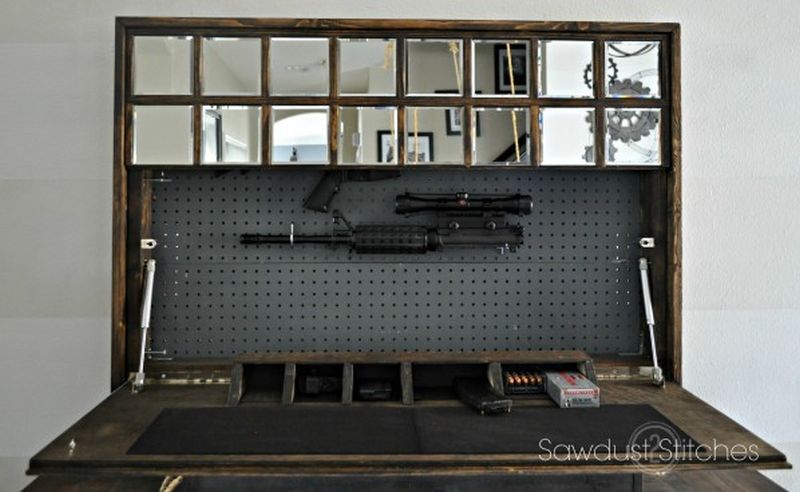 If you are looking for a gun cabinet with quick access, then this gun concealment behind a mirror will be the best pick for you. The mirror is designed by Sawdust 2 Stitches, and they have come up with a classy decorative mirror for living room. The huge rectangular mirror is not a safe, but a secret compartment. The fact is it is hidden, and requires knowledge to open it. The compartment can be opened the with given key.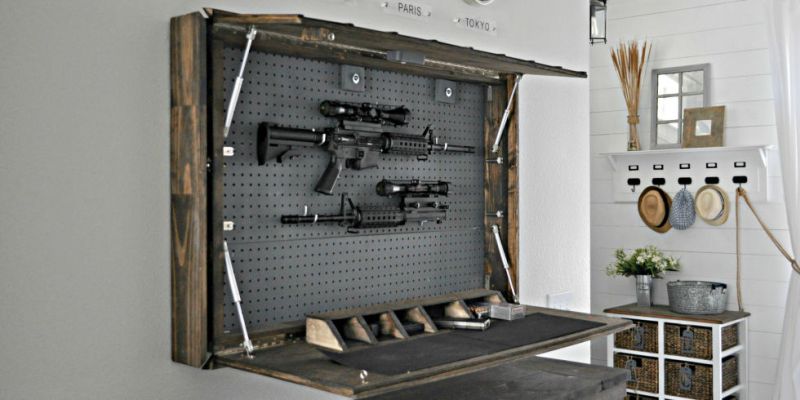 Bookcase with Hidden Gun Storage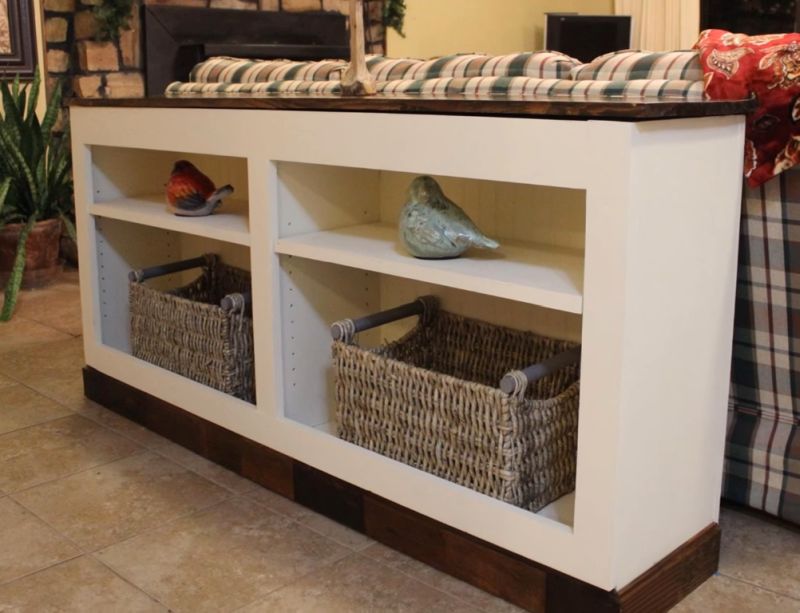 Hide your firearm inside a Bookcase by Sawadust 2 Stitches. The attractive bookcase conceals a secret firearm storage unit on the top. Seeing the bookcase, you cannot guess that the simple looking bookcase is actually a secret gun safe. You can buy this secret gun safe at just $550 USD.