Boston-based startup Ori's multifunctional studio suite created a buzz last year, this time around, their Pocket Closet and Cloud Bed are making the rounds in the furniture industry. Combining modern furniture with the latest technology, these robotic furniture pieces are designed to make most out of a cramped living space.
Ori Pocket Closet
With the objective to make most out of the available space in mini apartments, this walk-in closet includes storage for clothes, shoes, and accessories. Furthermore, it can be used as a desk, media console, or bookshelf in the closed position. The closet can be controlled from the onboard control panel, through a companion mobile app, or by voice commands via Google Home or Amazon Alexa.
Each unit consists of two vertical shelves that slide apart to reveal living space in between. The multifunctional closet has hinge down multi-purpose desk and 48" TV nook, LED lighting, three power outlets, and two USB ports to charge electronic devices. It expands on demand to show storage spaces and contracts to free up living space.
You will need at least nine feet long and nine feet wide wall with a minimum seven feet ceiling height to accommodate this robotic closet.
The $2,950 Ori Pocket Closet will be available for pre-order in spring 2019. Currently, Ori is offering the Founders' Edition of the app-controlled closet for $2,650.
Also Read: 8 Pro Tips for Buying Furniture Online
Ori Cloud Bed
Ori also introduced Cloud Bed, which would be available to consumers next year. Designed by MIT professor Kent Larson, the Cloud Bed is a ceiling retractable bed, which rises up to fix into the ceiling when not in use, leaving behind a wonderful sofa to use during the day. More information and pricing details are expected to roll out soon.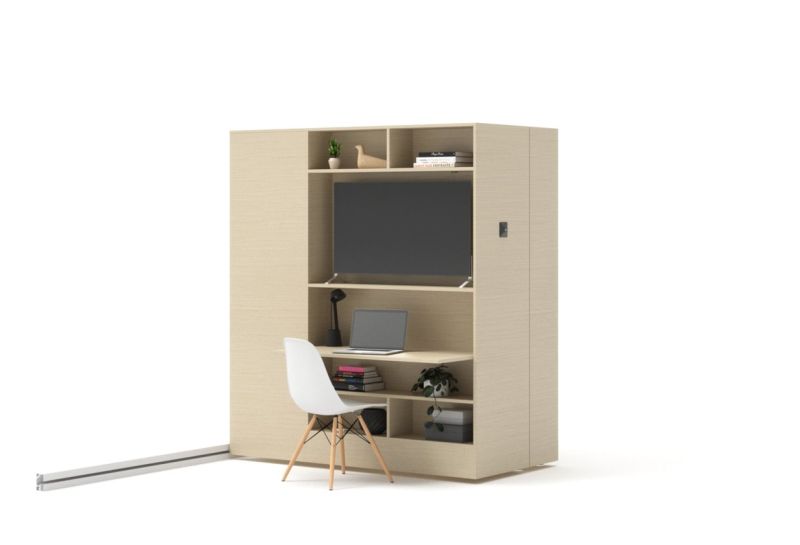 Image: Ori Living
Ori Cloud Bed
Via: FurnitureToday