A' Design Award is one of the largest and prestigious international platforms for designers all around the globe to compete and present unique designs. It is also a great destination for people who want to stay updated with the newest designs. Just a few days ago, winners of the 2016-17 competition were announced, which includes a total of 1958 winners from 98 countries in 97 different design categories. Below are listed some of our favorite designs, so scroll through and share your opinions.
KENA transforming coffee table by Alexander Sekirash
This convertible table is made of birch plywood and its tabletop is covered with wear-resistant laminate, while tabletop edges and legs are finished in natural oil. It is ideal for small rooms and apartments with minimum space for furniture. Short part and long part legs connected at a fixed axis make it easy to transform the small coffee table into a high-position dining table.
Design: Industrialdesign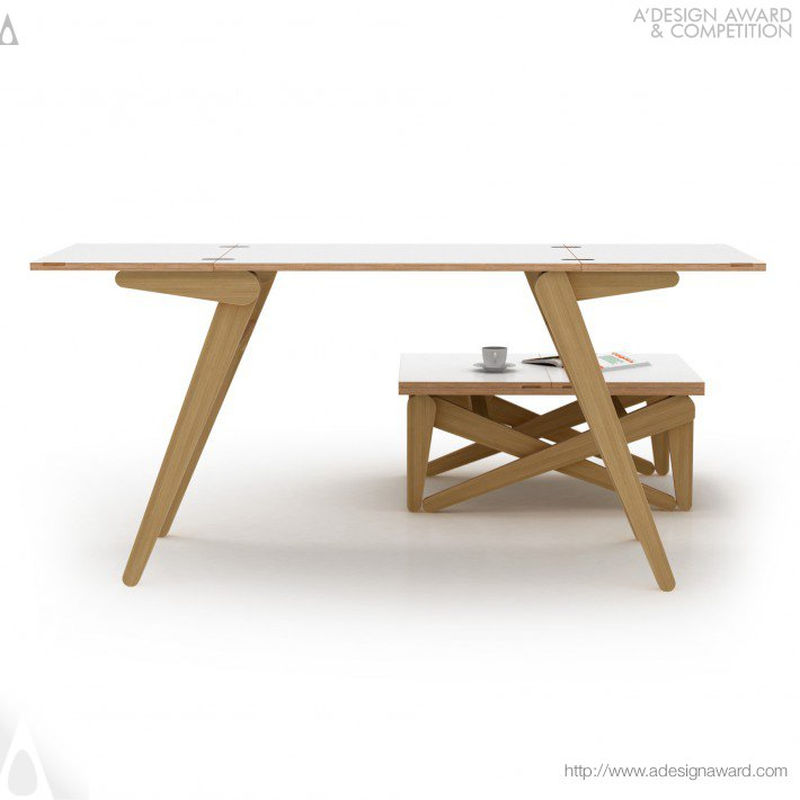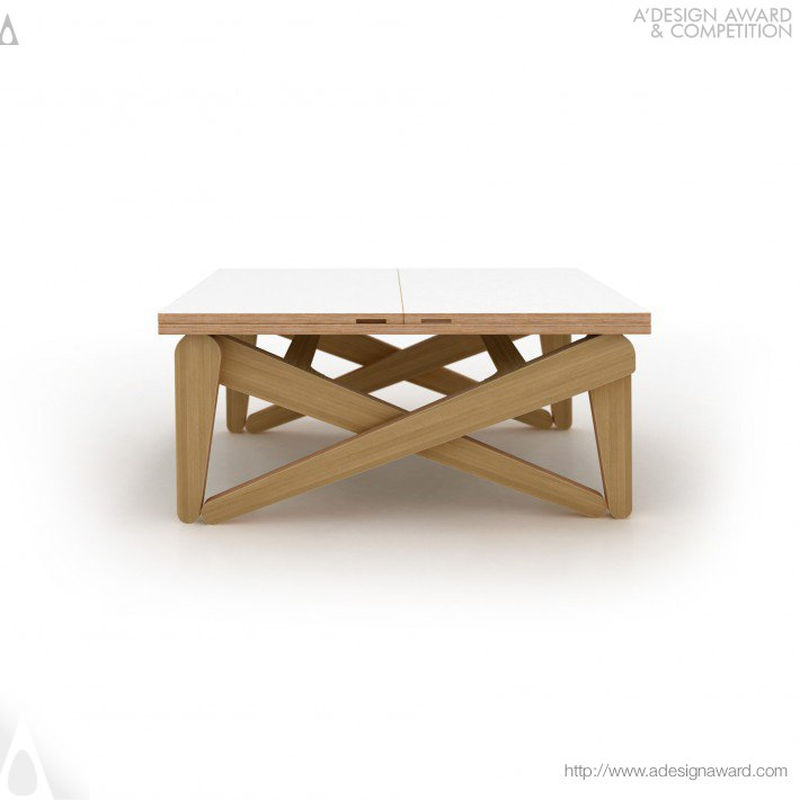 Wave table by Attila Stromajer
The shape of Wave table is inspired by the architecture of pyramid stairs and the movement of waves in the ocean. Its wooden base and large glass top add astonishing aesthetics to the furniture piece. No fittings or stiffening are used to keep the design natural, and it looks different from every angle.
Design: StrooDesign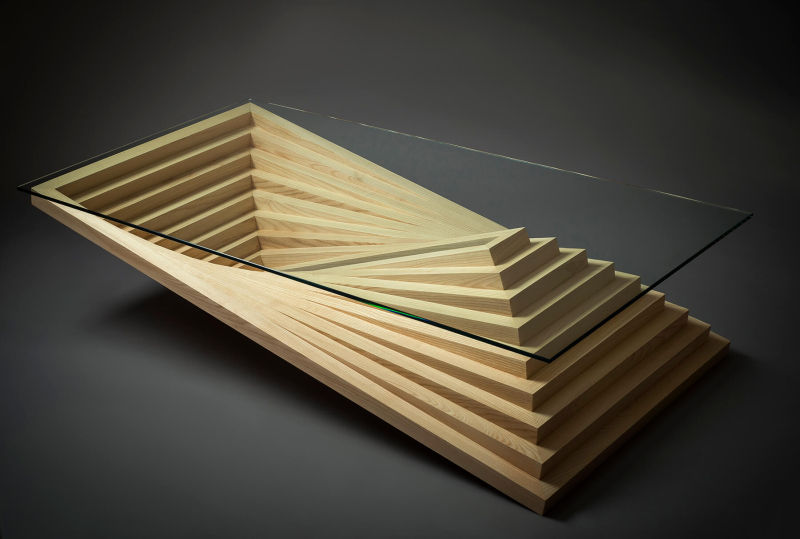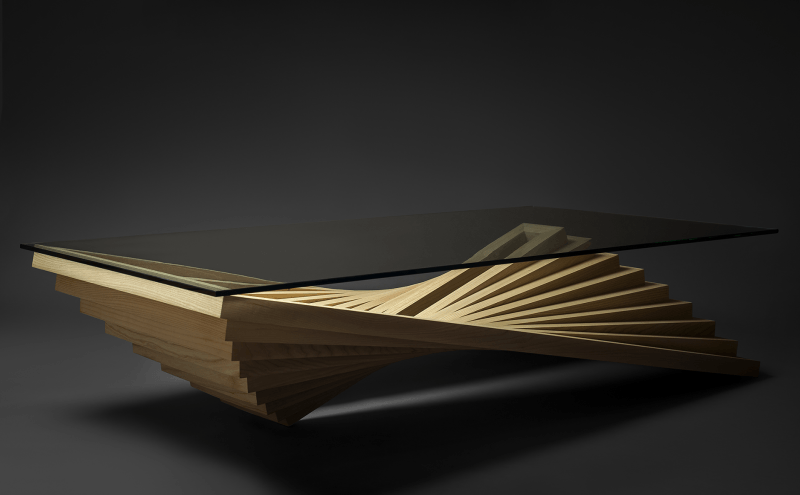 Iceberg table by Sameh Emam
This table features two slides of clear glass and iceberg-shaped white acrylic base to symbolize the effects of global warming on nature. It will be a perfect centerpiece at homes, in an office or at a reception counter. The inner glass panel represents the water level in past and outer panel represents the water levels after icebergs have melted due to global climate change.
Design: SamehDesigns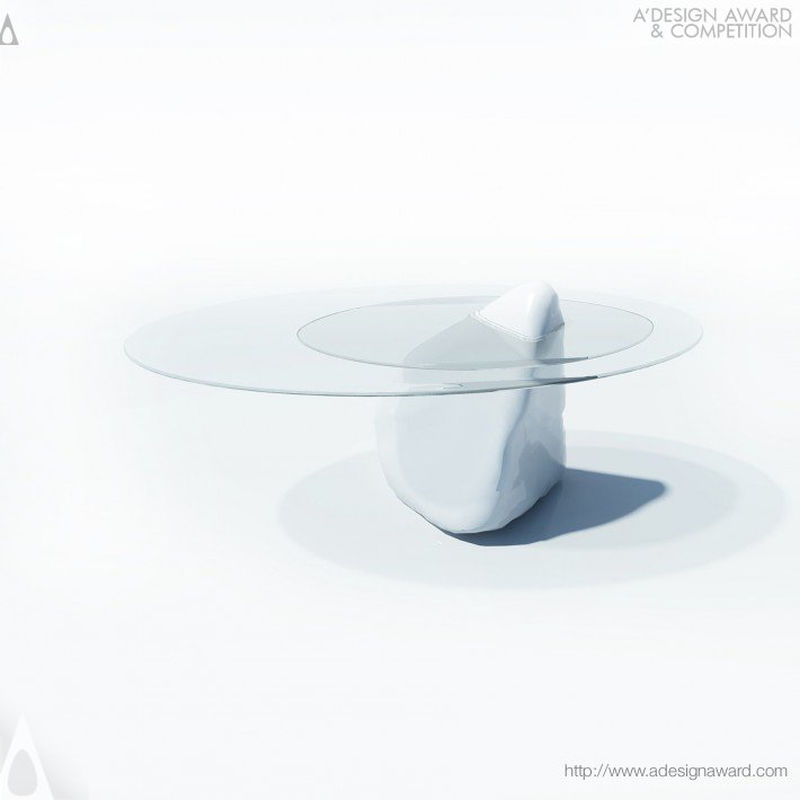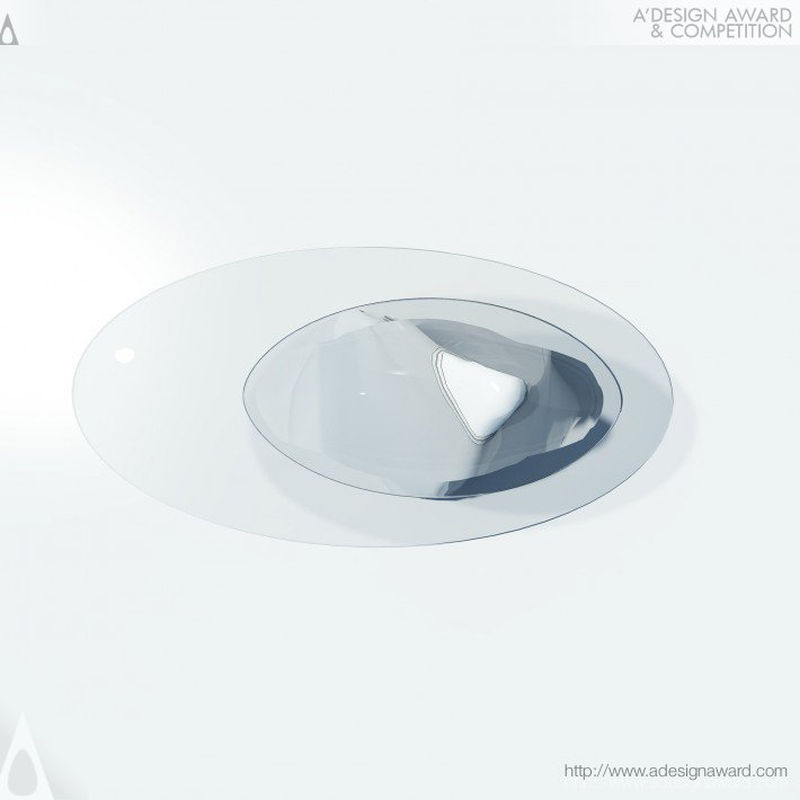 C 39 sofa by Yongwook Seong
Inspired by capsule pills, this unique sofa is perfect for having rest for a while. It's exposed interior elements serve as cushions and can be felt while you sit or lay down. These protruding interior particles are made of post-consumer recycled fiber, while its body consists of semi-transparent polycarbonate and anodized aluminum.
Design: CargoCollective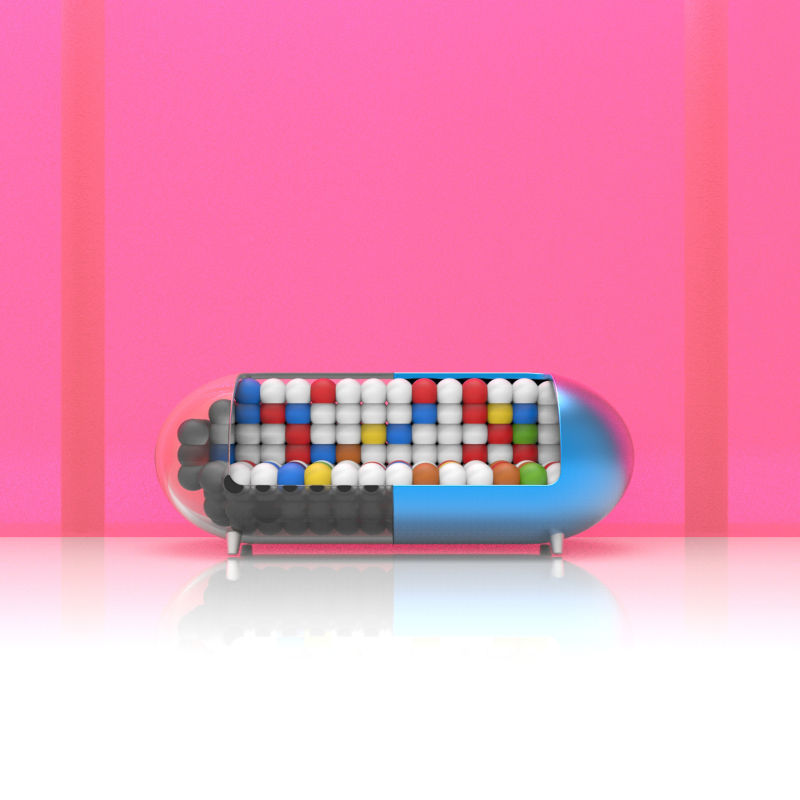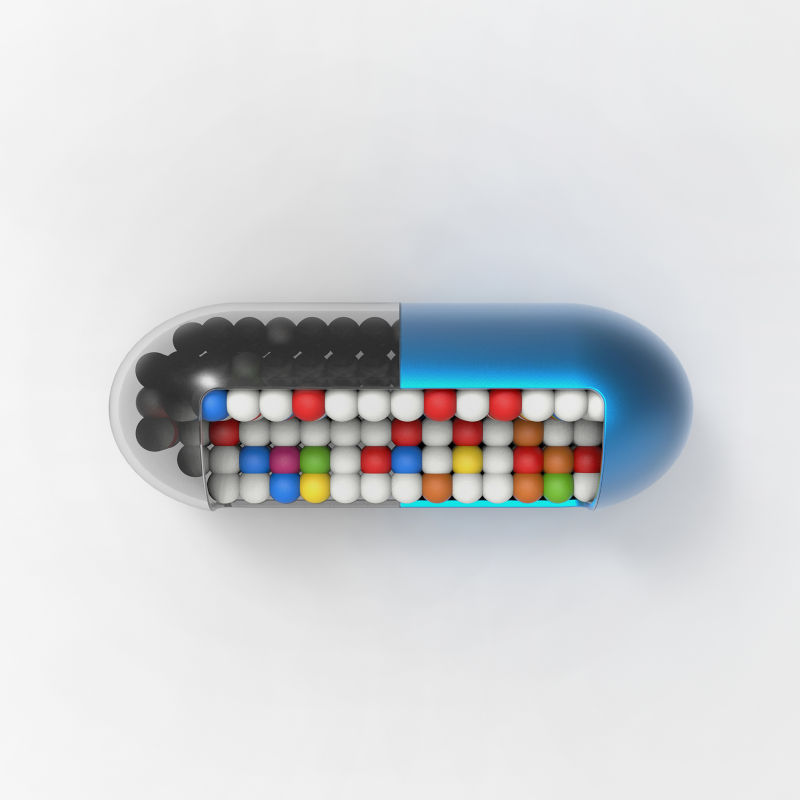 Diodon Solium sofa by Fossiture
Designed by excavated furniture maker Fossiture, this steampunk style sofa looks attractive and comfy from every angle. Plywood is used for main construction, while hardwood and steel add strength and appealing looks to the furniture. All the soft parts of the sofa consist of leather, latex and polyurethane foam.
Design: Fossiture


BOX B home bar by Ivan Gorozhankin of WRKBNCH
This open wooden home bar with two shelves and lighting is made of oak and graphite glass. It has three different trays to keep bottles, glassware, and other accessories in an organized manner. There is an option to choose the finishing for its metal base from black lacquered or brass.
Design: WRKBNCH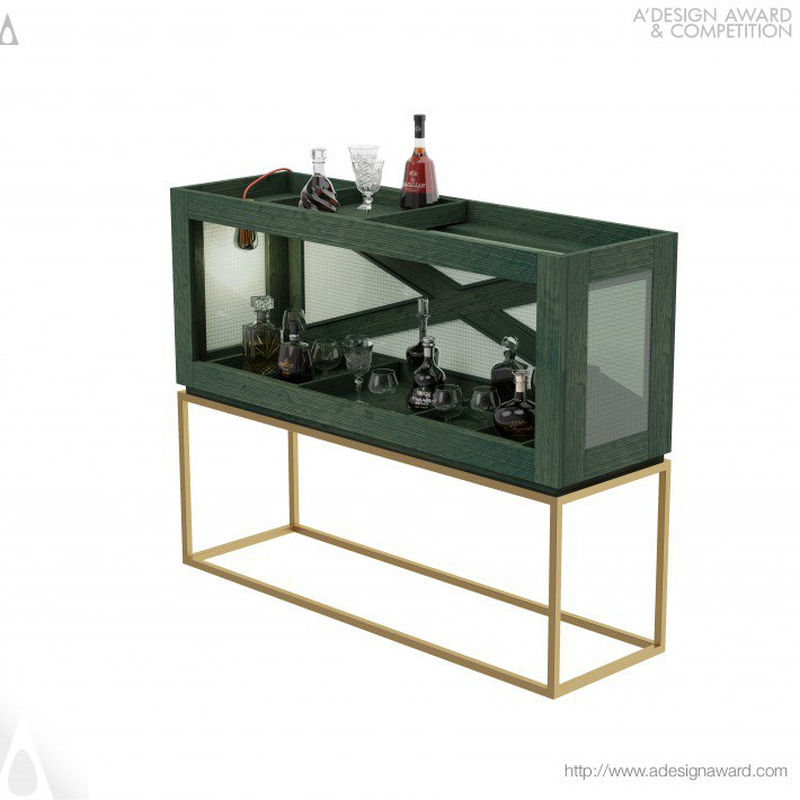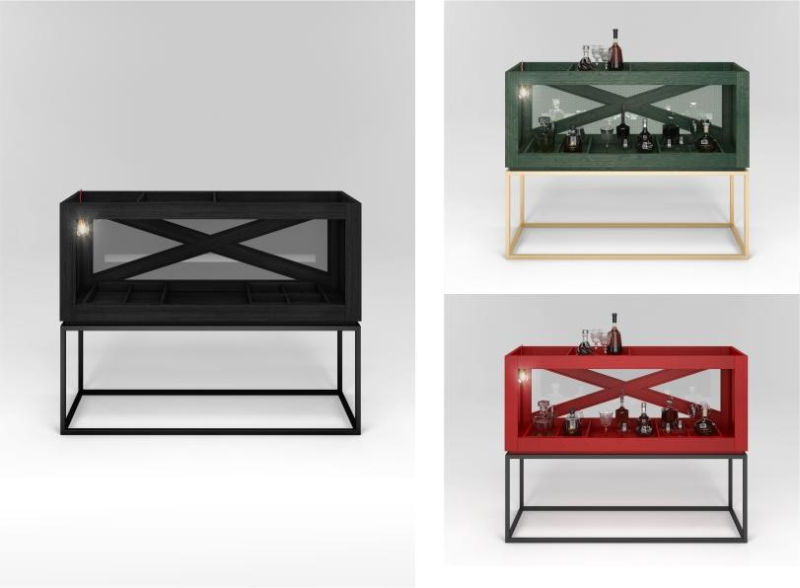 Villa Otto luxurious residential villa by Massimo Mercurio
Villa Otto in Jervois Hill area of Singapore has been designed in shape of eight, which is considered a lucky number in Chinese culture. Curvy interlocking pavilions of the building emphasize the form and draw natural light to the building. This luxury villa also looks like a spaceship while all round stainless steel cladding adds a unique charm to the exteriors of the house.
Design: MercurioDesignLab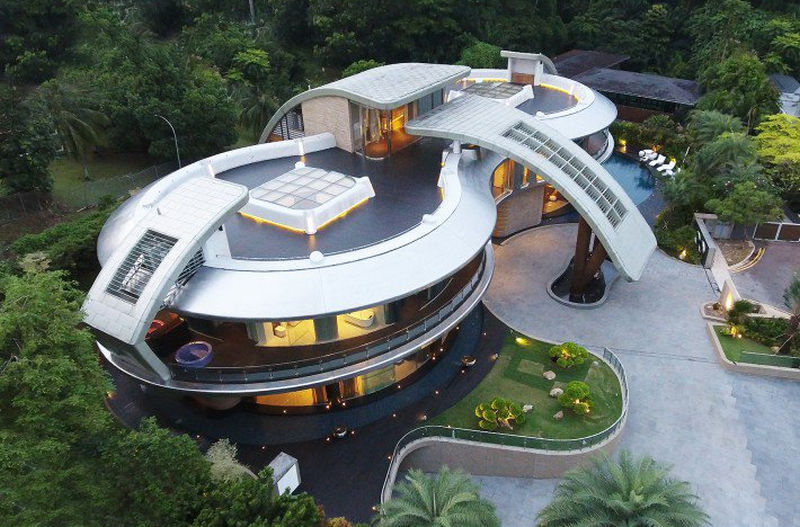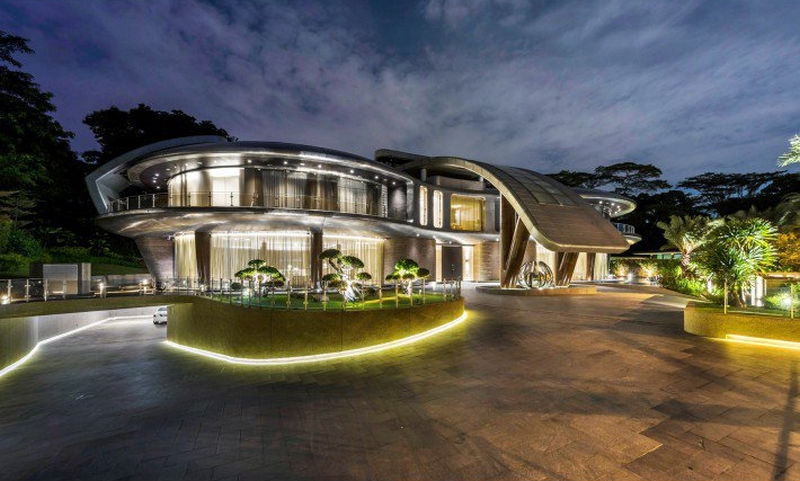 Three cubes in the forest by Kotoaki Asano and Makoto Kasuda
These three cubes are actually movable pavilions inspired by traditional Japanese tea rooms. They can be transported by trucks and can be used as furniture, artwork, small dwellings and playground for children. You can install them in the backyard as a playroom, yoga studio or a rest pod, while they can also be installed as public furniture and small waiting rooms. All the cubes have seats and windows so that children or adults can stay inside for a long.
Design: Kobe-Biennale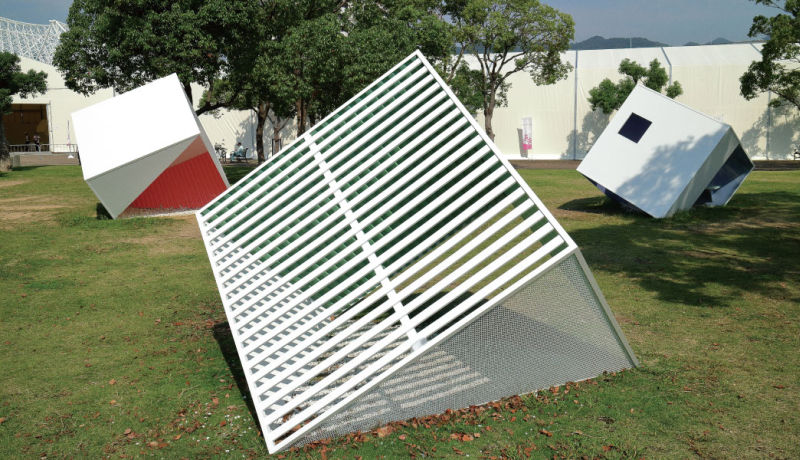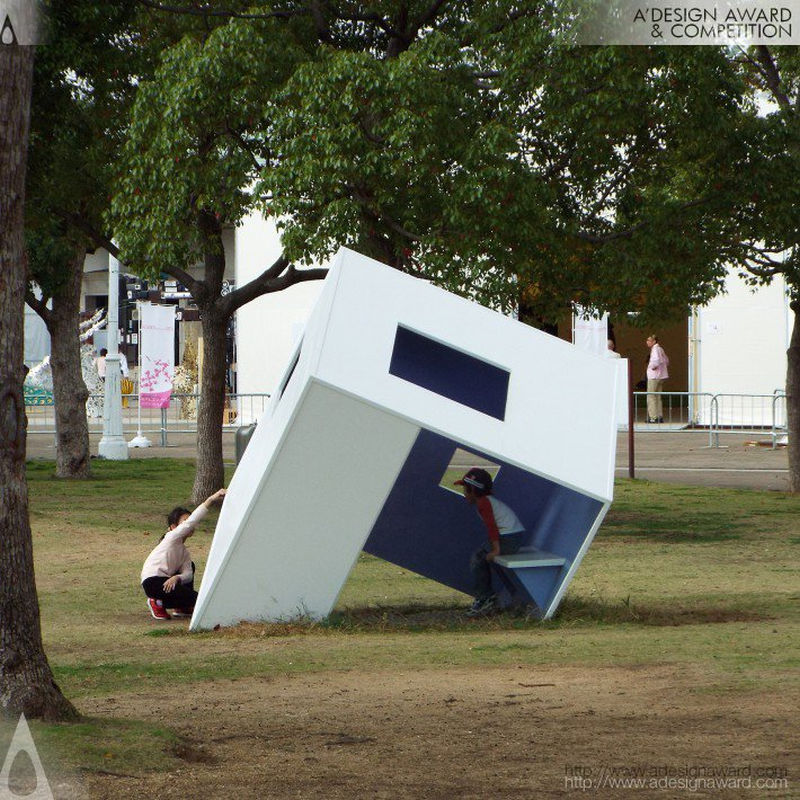 Star Seafood restaurant by Saber Sajadi
This under-construction restaurant is situated on Kish Island in the Persian Gulf off the southern coast of Iran. Designers Saber Sajadi and Nima Bavardi have used ABS material to create a two-layered porous roof that looks like the cheesy body of starfish and also functions as covering for the heat. The porous structure reflects inner lights towards the sky and looks like stars in the night.
Design: RayDesignStudio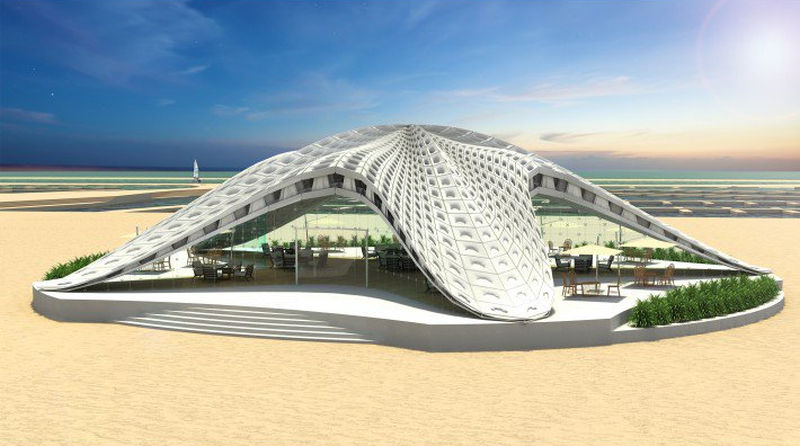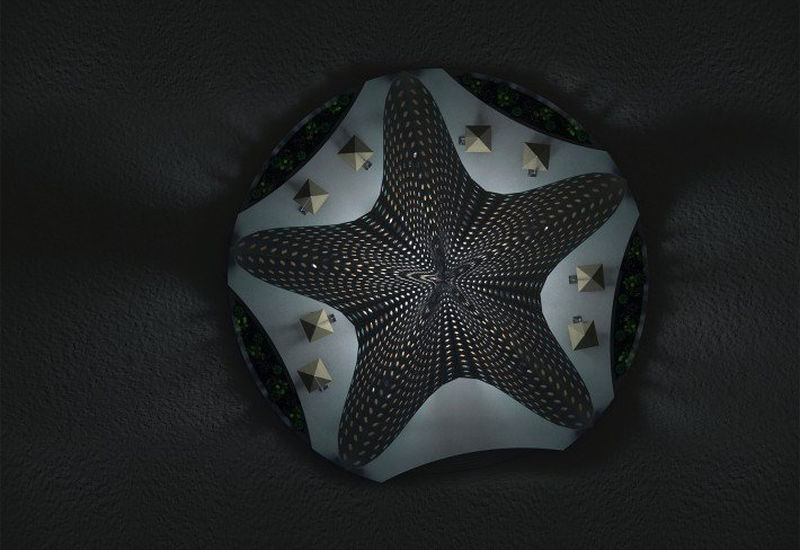 Gravity swing sofa by Technical Emotions
The base of Gravity hanging sofa is made of powder-coated stainless steel, and the seating is connected together with polyester nautical ropes. Its cushions are made of a special combination of water-resistant outdoor foams and fabrics. A lot of pillows can be placed for a comfortable feel. It is visually-pleasing and cozy outdoor furniture to decorate garden and patio areas of homes.
Design: TechnicalEmotions/RobertiRattan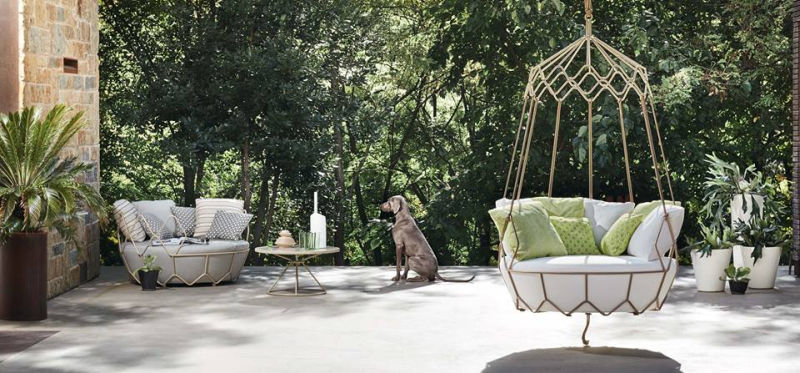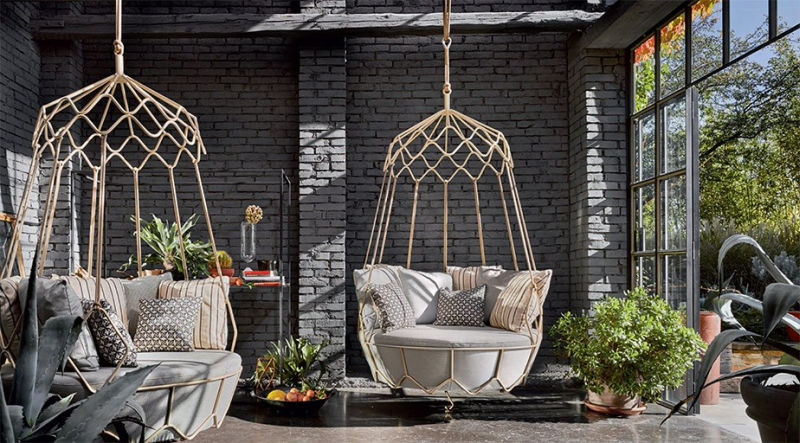 Bloom Parasol by Davy Grosemans and Sywawa
Bloom Parasol is a contemporary outdoor umbrella whose design is influenced by flowers. This forty-one-kg parasol opens up like an umbrella and its colorful fabric petals spread out to become a canopy for relaxation in shade. The petals dance with wind flows and create a mesmerizing visual effect. And when not in use, it can also be closed in a zippered pack.
Design: SymoParasols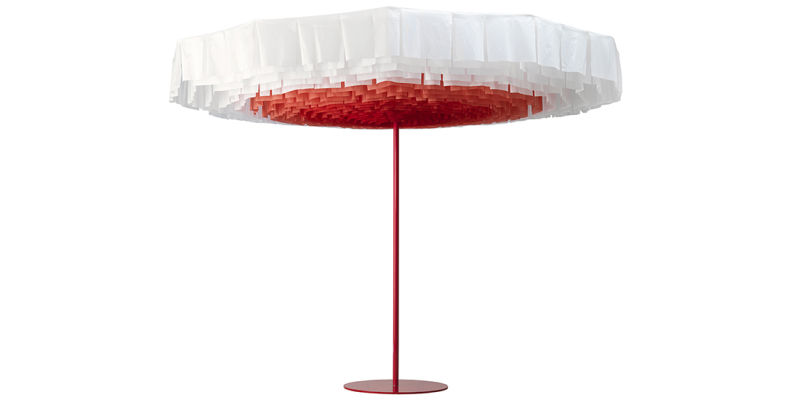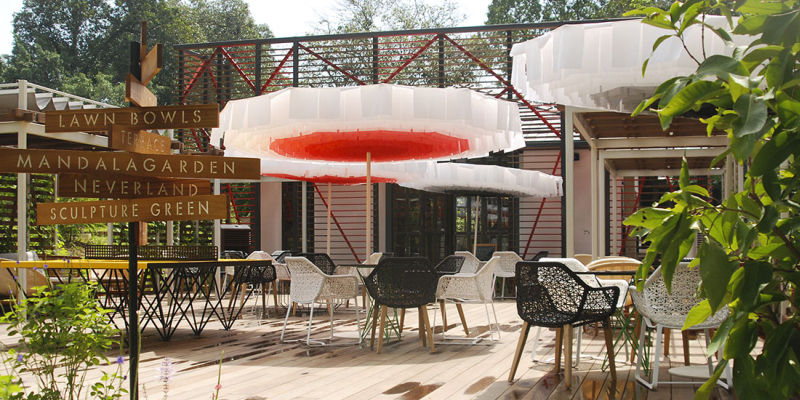 Urban Green Light sustainable facade installation by I-Ting Chuang & Jeanne Lee
This prefabricated façade installation is inspired by Taiwanese metal-sheet houses and is specially designed for subtropical climate regions. Recycled plastic milk jugs and bottles with three different sizes are used to incorporate small solar panels, planter and LED lights. It works like an integrated and accessible green layer of the building that reduces energy needs and maintains the indoor temperature of the rooftop metal-sheet house.
Design: JC Design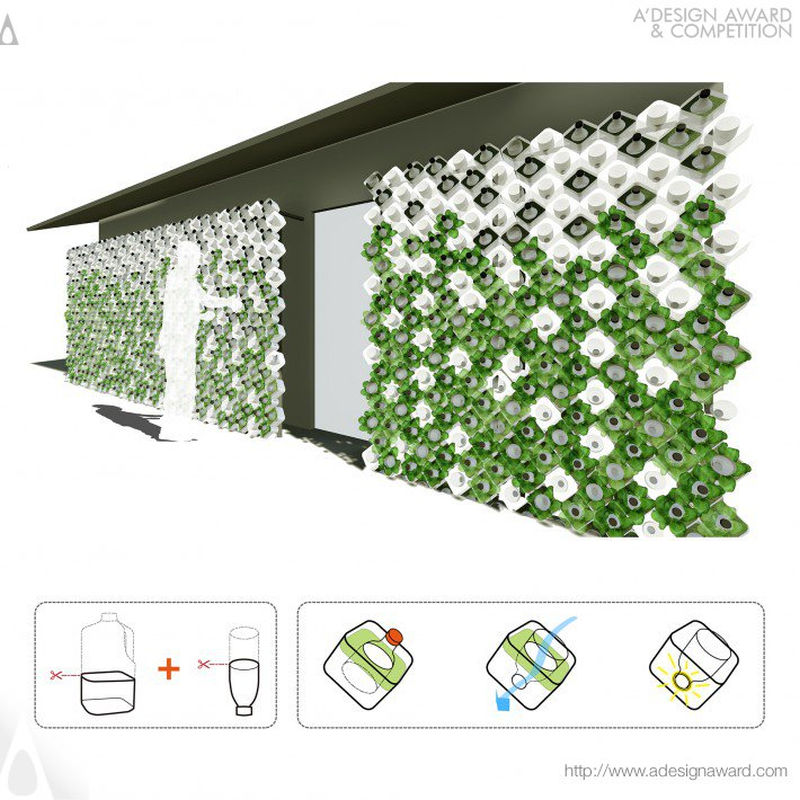 Woo screen by Magpie team
Inspired by an abandoned branch, this 3-dimensional screen has been constructed using eco-friendly materials and it is specially designed for teahouses. The featured branch is suspended through hemp ropes. The partition screen offers limited privacy but adds unique aesthetics to public or private places. Its pinewood frame is covered with Chinese lacquer from Sichuan to keep it anti-corrosion and insect-proof.
Design: Magpie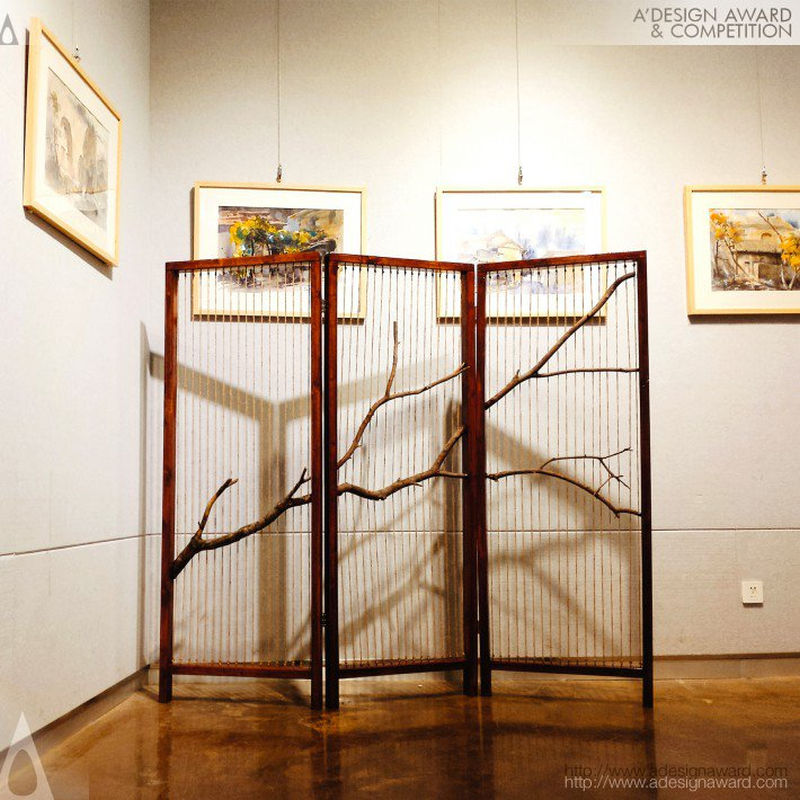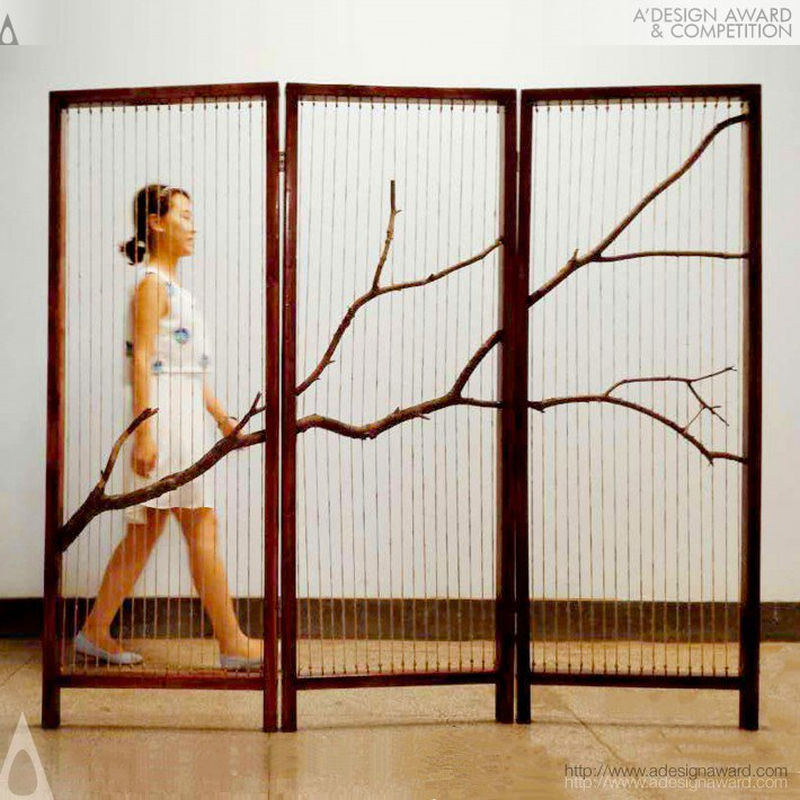 Piro Bioethanol fireplace by Vito Noto Industrial Design
This portable bio-ethanol fireplace is suitable for indoor or outdoor use. It is perfect equipment to bring warmth, ambiance and retro charm to space. Its base is made of cement or natural stone while surrounding parabolic disk and other accessories are in anodized aluminum. The parabolic disk can be re-positioned and a glass tube can be put in order to cover up the flame. Piro has a diameter of 330 mm for 214 mm height.
Design: Vito Noto Industrial Design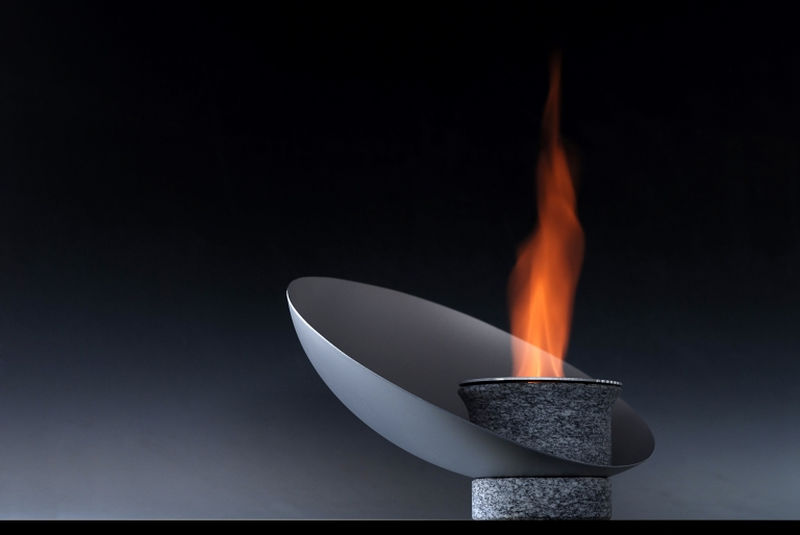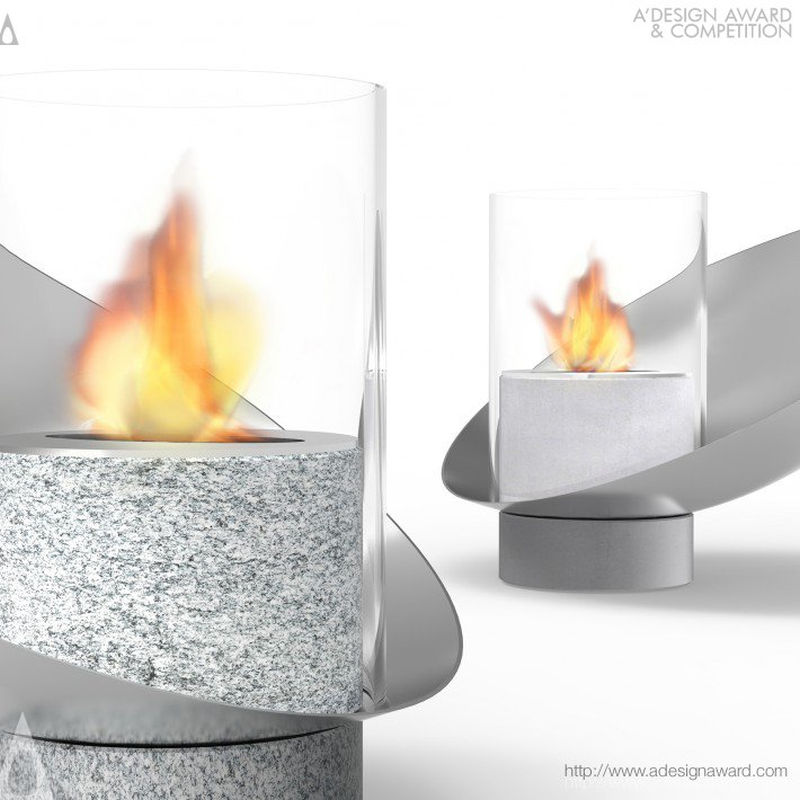 Pilo music pillow by Wang Zhong & Liu Peng
The Pilo music pillow enhances sleep through streaming natural sounds from mountains, sea, and specially-recorded peaceful vocals. At first sight, its low-poly structure looks hard but offers steady and cozy sleeping experience with the stuffed memory foam. Its fifty-two surfaces let users choose the best spot according to different sleeping positions. You can use the companion mobile app to control all features of this sleep-aid pillow.
Design: Soundario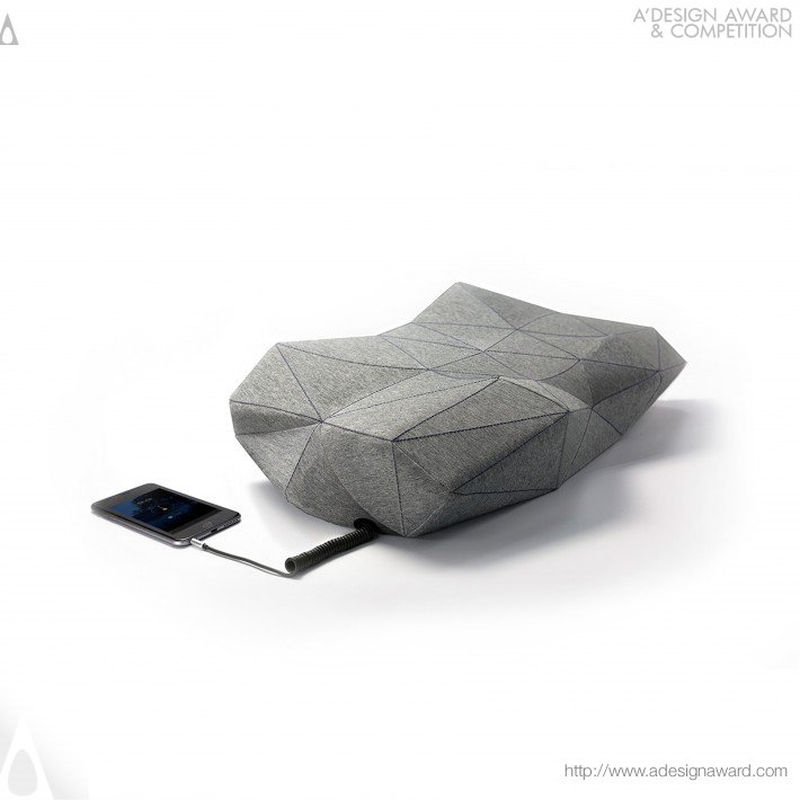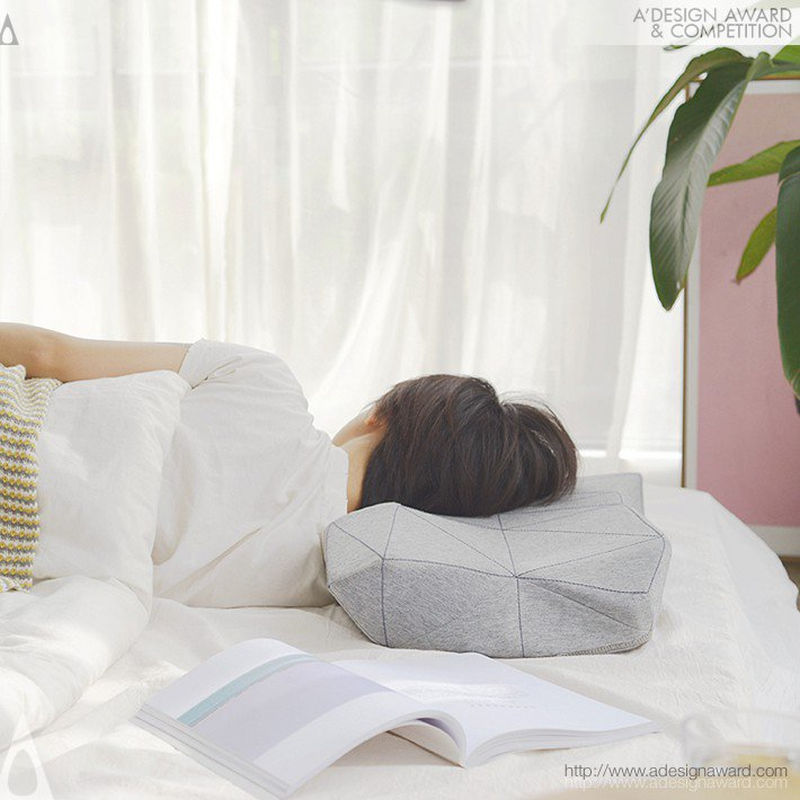 Only digital clock by Vadim Kibardin
Unlike traditional clocks, this desk/wall digital clock has a hollow face to offer a completely new way of displaying time. Its inner screen has built-in LED lights to highlight hour and other actions of the clock. Its outer frame perfectly blends with inner screens and makes it a perfect fit for work desks or bedside tables.
Design: Kibardindesign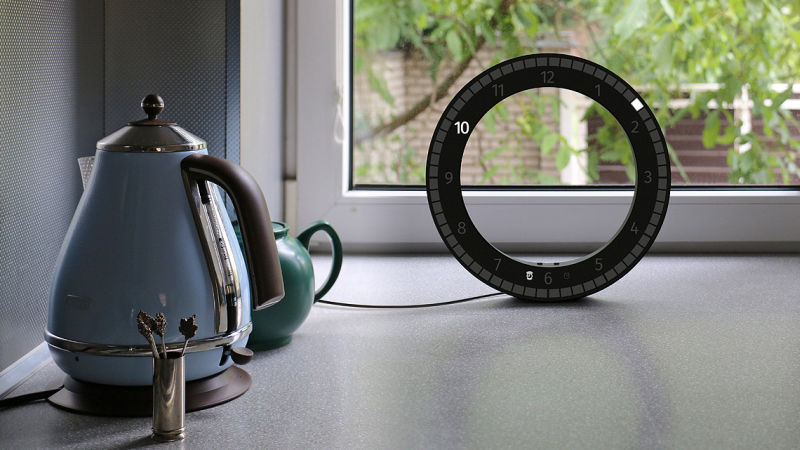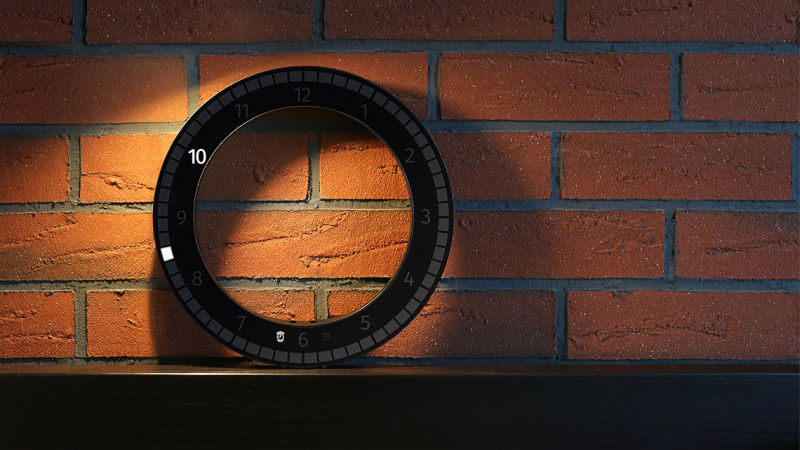 Golden Bug speaker by Han Sung-Jae of Analogizm
Designed by Korean wood speakers maker Analogizm, this floor-standing Bluetooth speaker is equipped with 5.25" Accuton woofer, 1" AMT ribbon tweeter and 30W vacuum tube amplifier to deliver premium output. Adequate use of natural materials such as birch plywood, walnut, marble, and gold makes it an appealing audio accessory for homes.
Design: Analogizm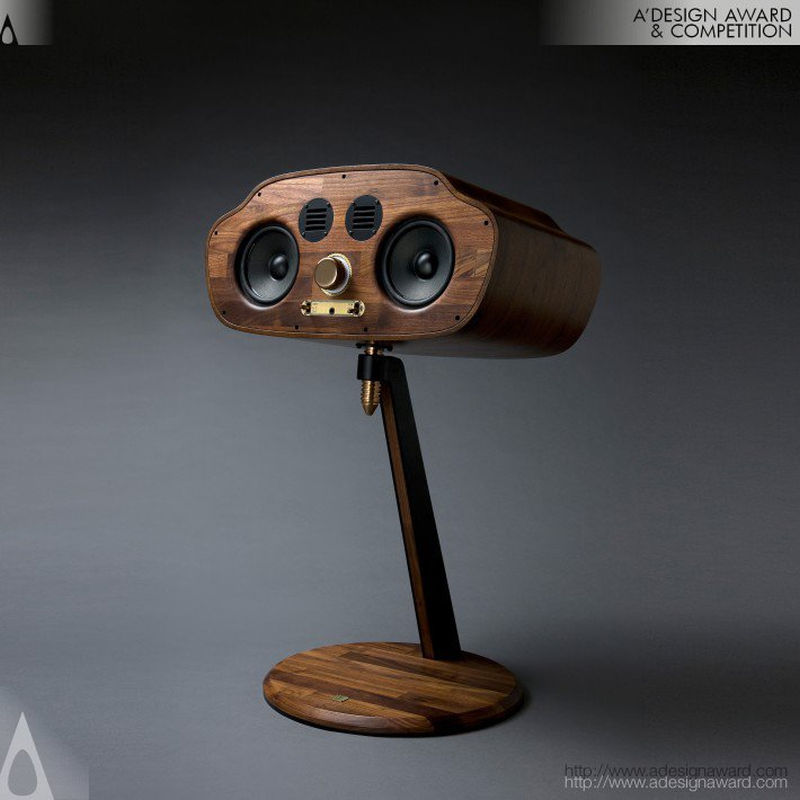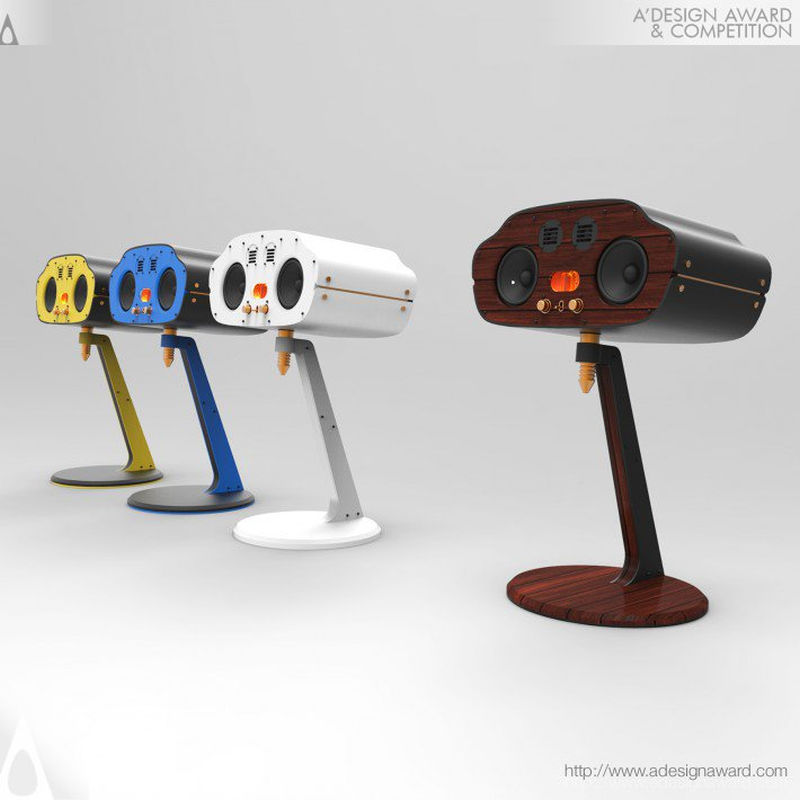 H-02 planter with seven positions by Hexagón Design
This wooden cuboctahedron planter is artistic yet functional décor piece for homes. Its geometric shape allows placing it in seven different angles. The flower vase comes with a cylindrical glass vase that fits inside the wooden flower pot. The wooden structure is made with sixteen laser-cut pieces that are assembled without any adhesive or hardware.
Design: ByHexagon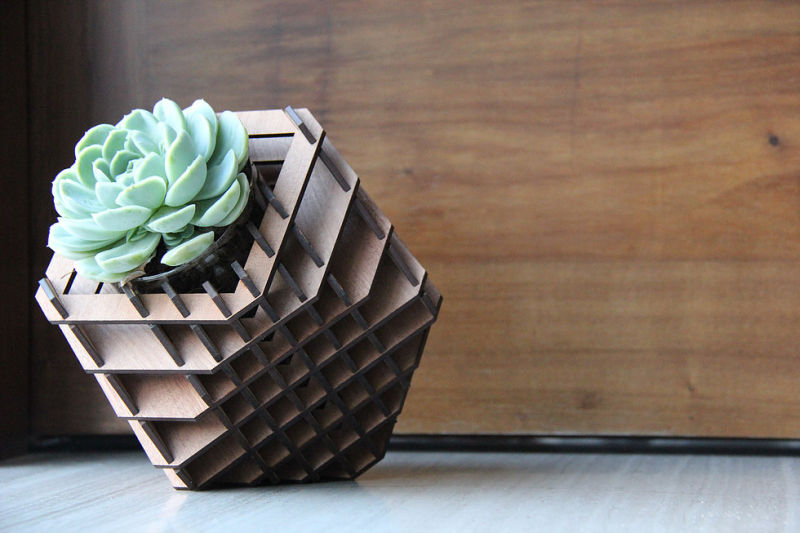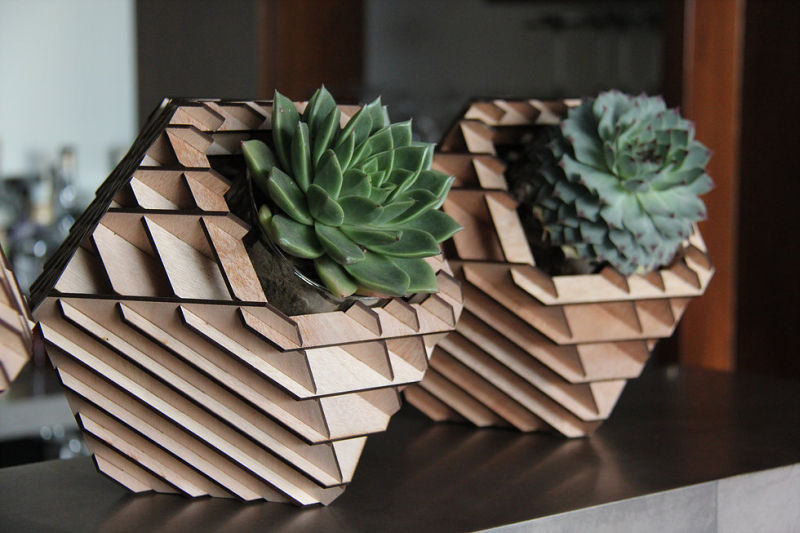 Diamond wall-mounted sinks by Berk Aril
This ceramic washbasin is complemented by gold-painted metal components. With these gilded fixtures, it looks like a diamond encased on a ring. People will feel privelaged with its presence in their daily bath areas. It also includes a hexagonal soap dispenser and tumbler holder.
Design: Berk Aril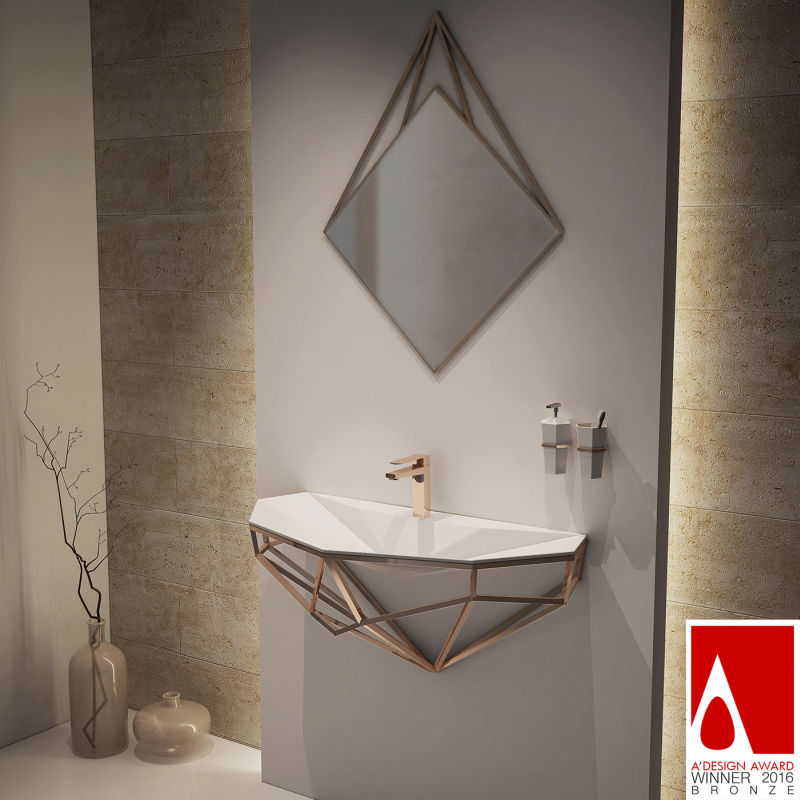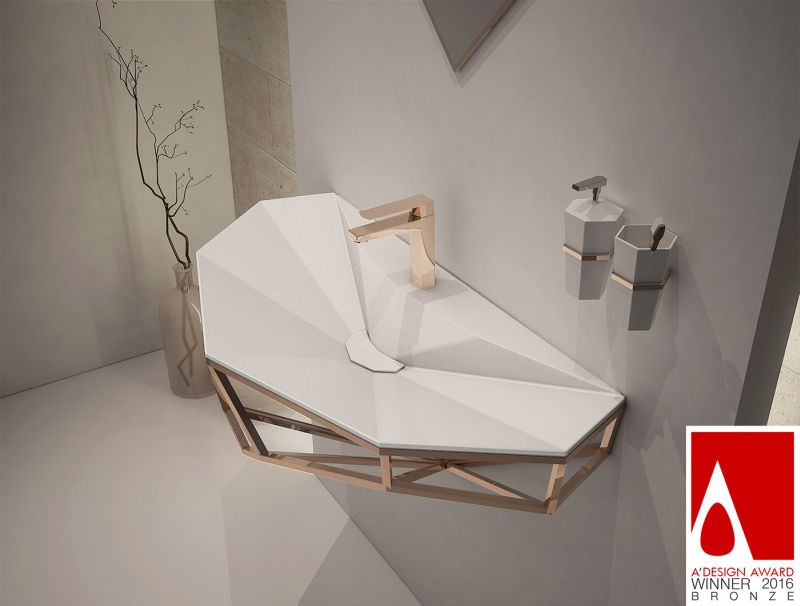 Hulumao Diamond cat bed by Shih-Chang Hsiao & Yu-luen Huang
This open cat bed comes with a replaceable scratcher in the center. Two layers of hard corrugated cardboard are used to create a sturdy cat bed in angular form. This bowl-like structure looks comfortable for furry friends and can accommodate cats of any size. It comes in a flattened package that can be assembled in minutes.
Design: LeCheer