If you are a motorsport fan or car enthusiast wanting to showcase your craze for cars at home, we have got you covered. There are a number of designers and companies who specialize in crafting furniture from car parts like crankshafts, engine blocks, wheels, etc. In most cases, you will find tables and desks that are jeweled with engines of vintage cars.
To make it easy for you, we've found some cool examples of car furniture. Some of them are made from car parts while others replicate the body and shape of a real car. These furniture pieces are perfect to spruce up the man cave of an auto aficionado.
See how creatively car parts have been transformed into functional and elegant furniture pieces below.
# If you have a big obsession for cars and distressed furniture, go get this Lamborghini table for your man cave right now. Buy: $4,899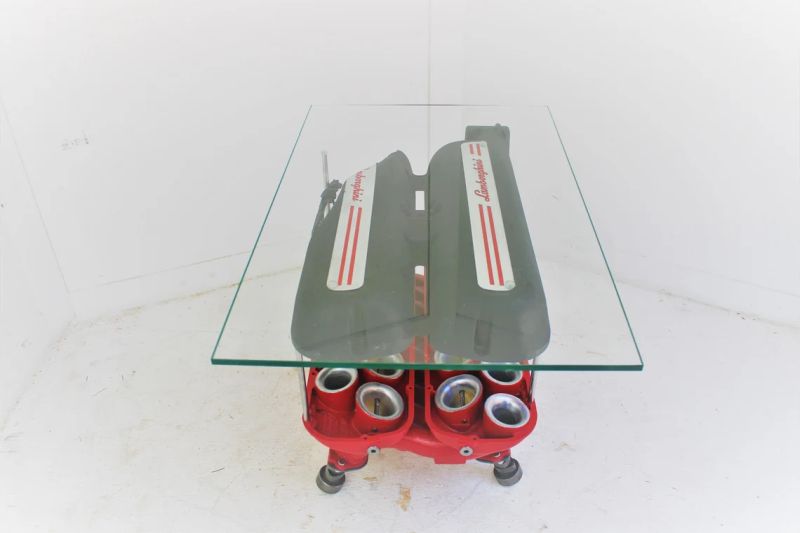 # Handmade from fiberglass and wood, this lovely bed made in shape of a Volkswagen pickup truck is perfect for a kid's room. Buy: $4,040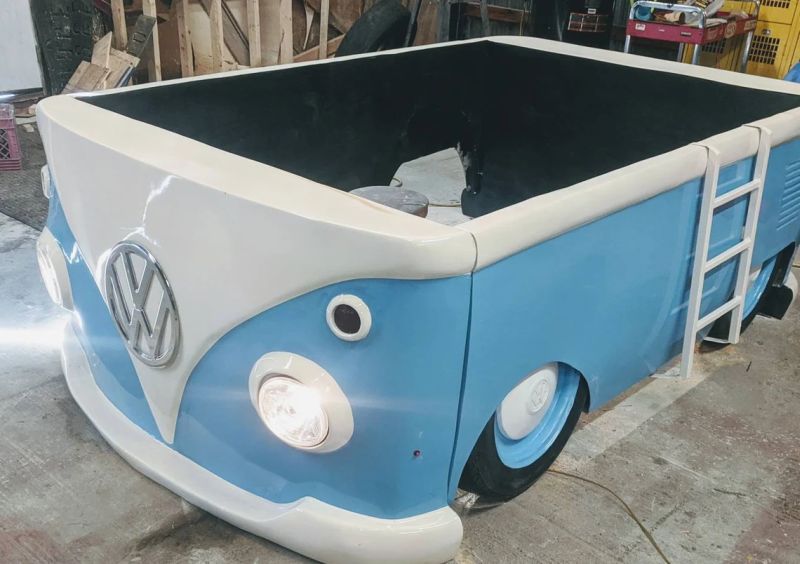 # This simple and beautiful desk handcrafted from old Mustang parts by Unibro Design will be an attention-grabbing piece inside a home or office.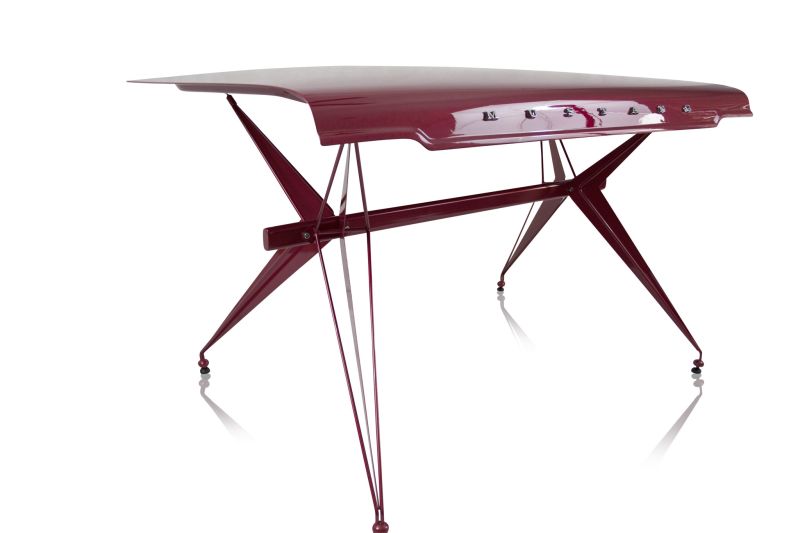 # This individually-sized desk has a stunning front, created from the original front grill of the Seat 132, and includes original headlights.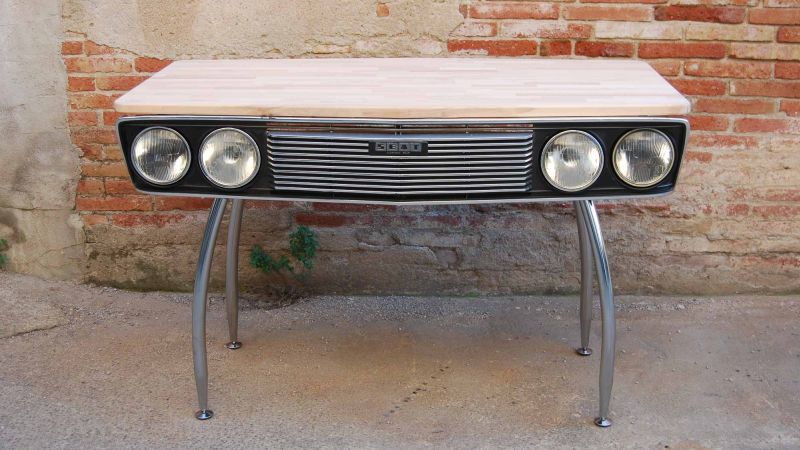 # The Baloch M1300 Turbo dining table is finished beautifully to showcase its engineering beauty. "BALOCH" logo is etched on either side of the top.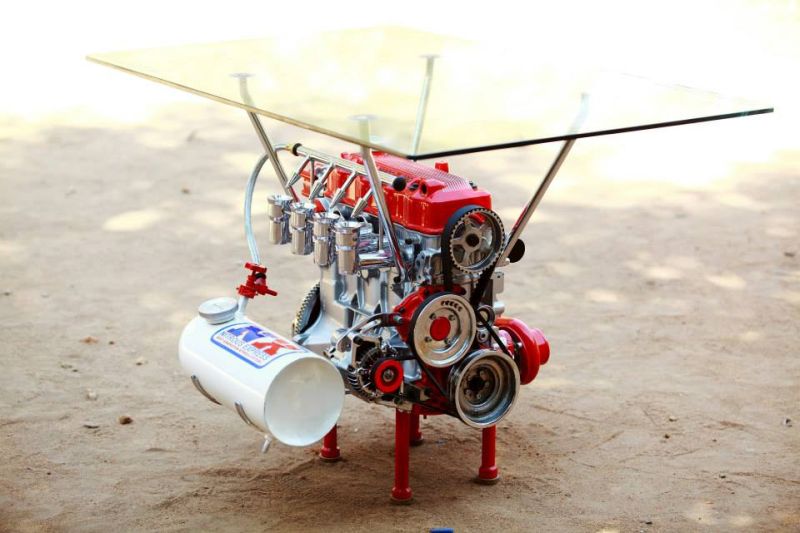 # This coffee table made from car rim and tires has built-in lights under the glass top for a cool appearance in night. Buy: $318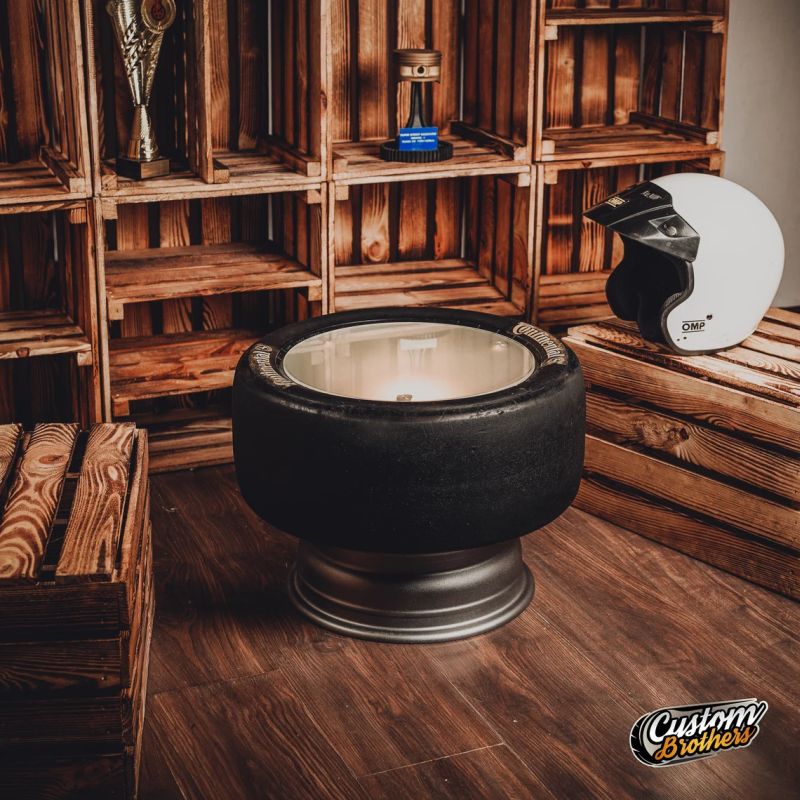 # You will surely like to own an original, numbered Gulf furniture. This Mustang GT sofa is a numbered piece with your name on it. Buy from Retroger.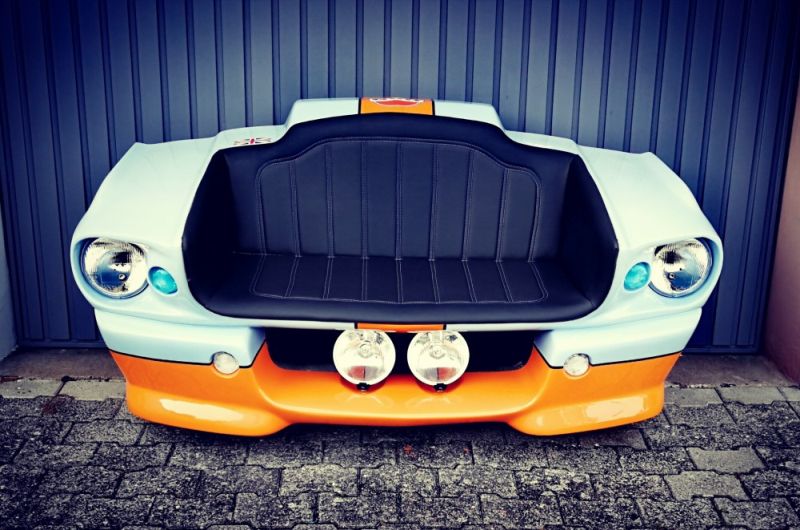 # This engine table wine rack and rim side table is transformed by Engine Table UK using recycled car parts and accessories.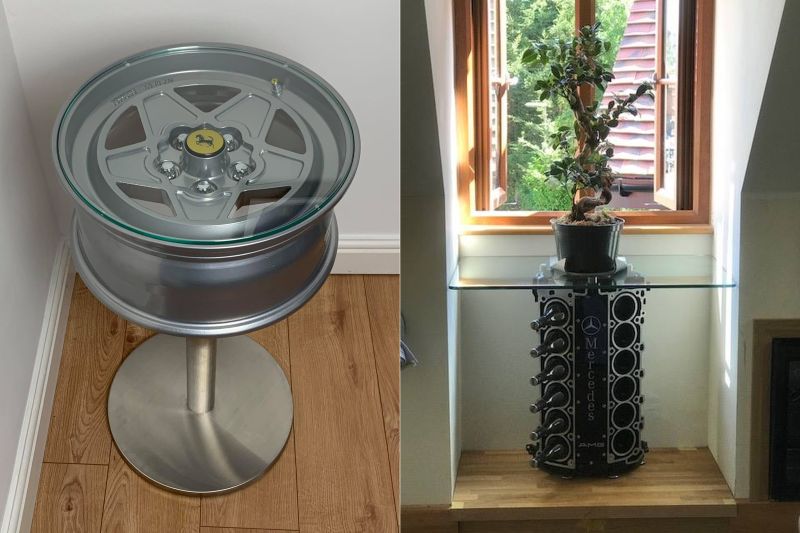 # This small engine block coffee tables will serve as a catchy centerpiece in any automotive themed room. Buy: $955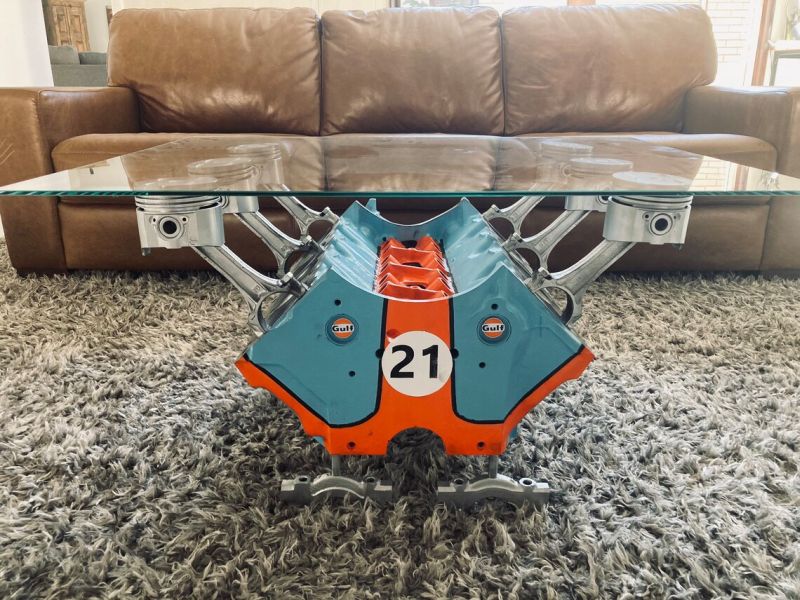 # This unique table made from an Aston Martin wheel rim is ideal choice for a motorsport fan. The top is toughened safety glass with polished & beveled edges.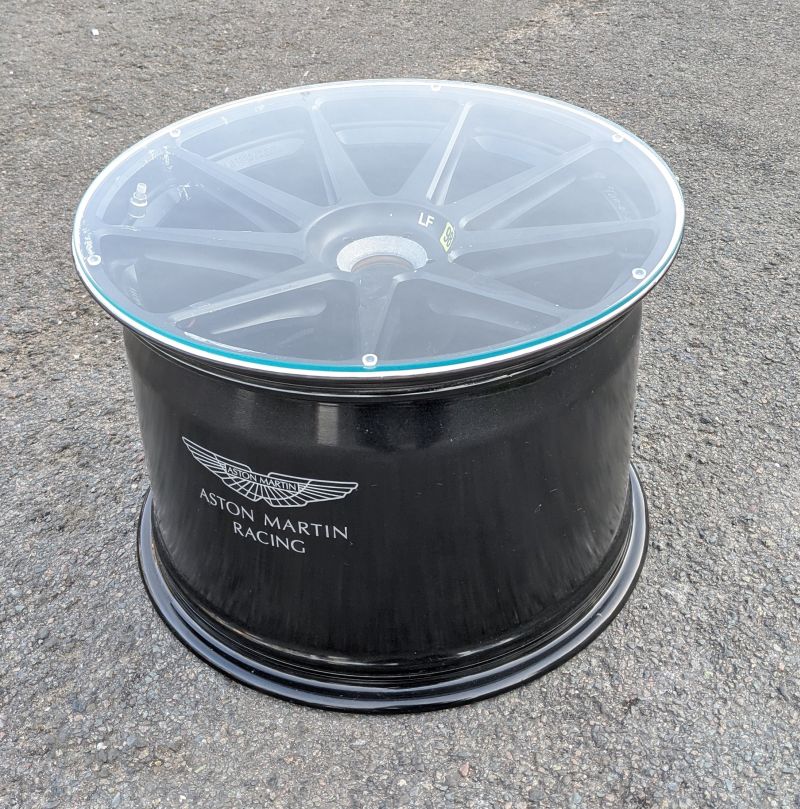 # This Jaguar V12 "Symphony" Engine coffee table with toughened glass top is converted sold by The Supercar Store UK.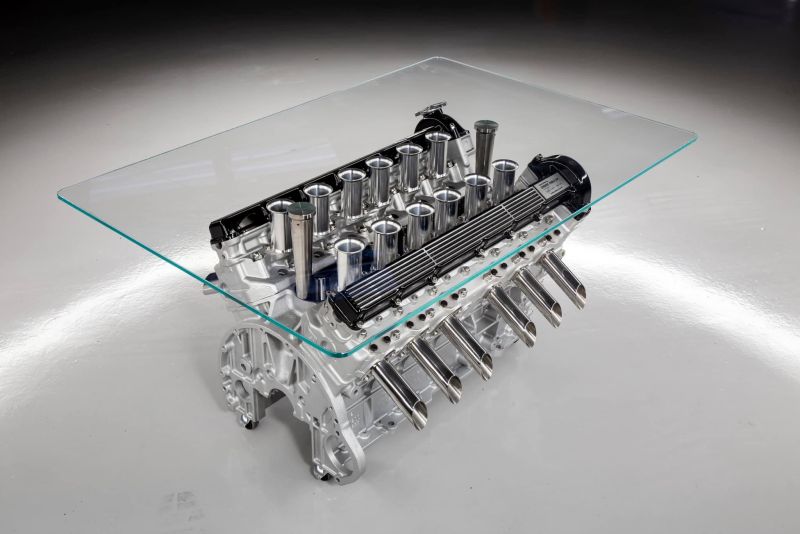 # This engine block made by a Malaysian company sports cool hues of blue and silver. There is also a glass top adding to its beauty.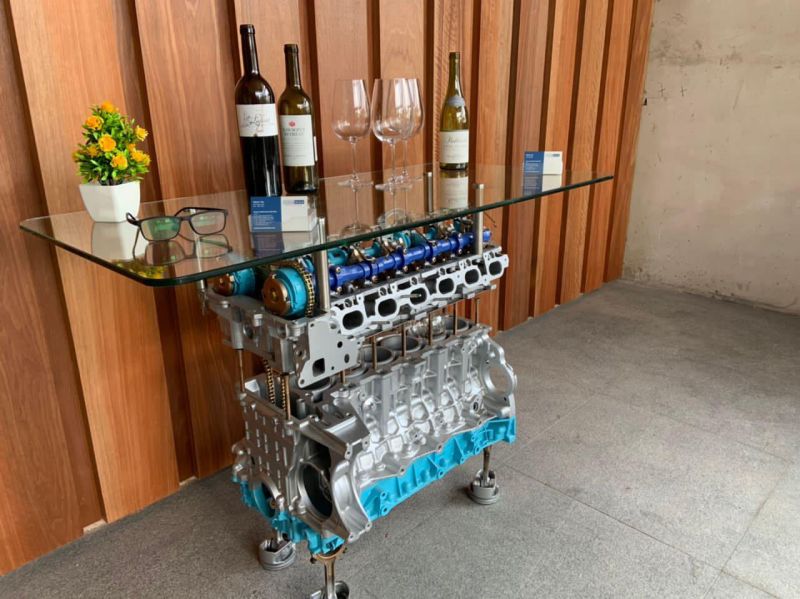 # These elegant and comfy sofas by artist Ronen Tinman's furniture collection are made out of authentic car parts.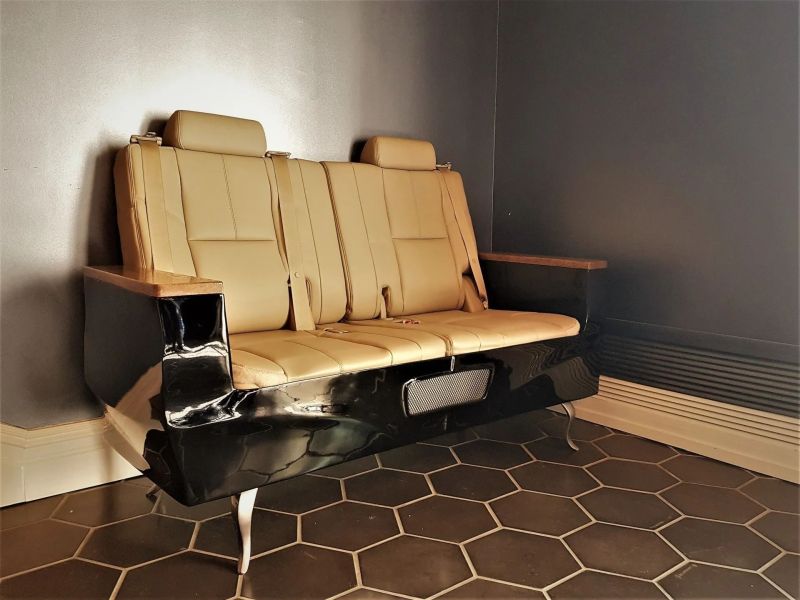 # Made by Andrew Colombo and Linda Assandri for ZAC Glamour Design, this ultimate armchair crafted out of actual Beetle MY 1968 is embellished with Swarovski crystals for some extra opulence.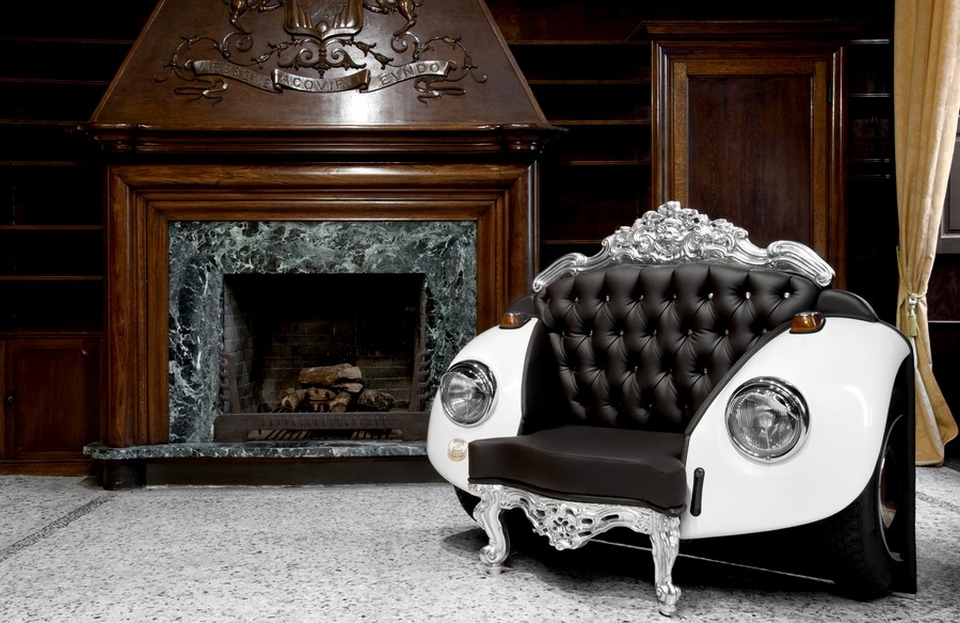 # Designed by Polish studio RETRO, this classy office desk replicates the front-section of Lamborghini, giving exquisite style to your workspace.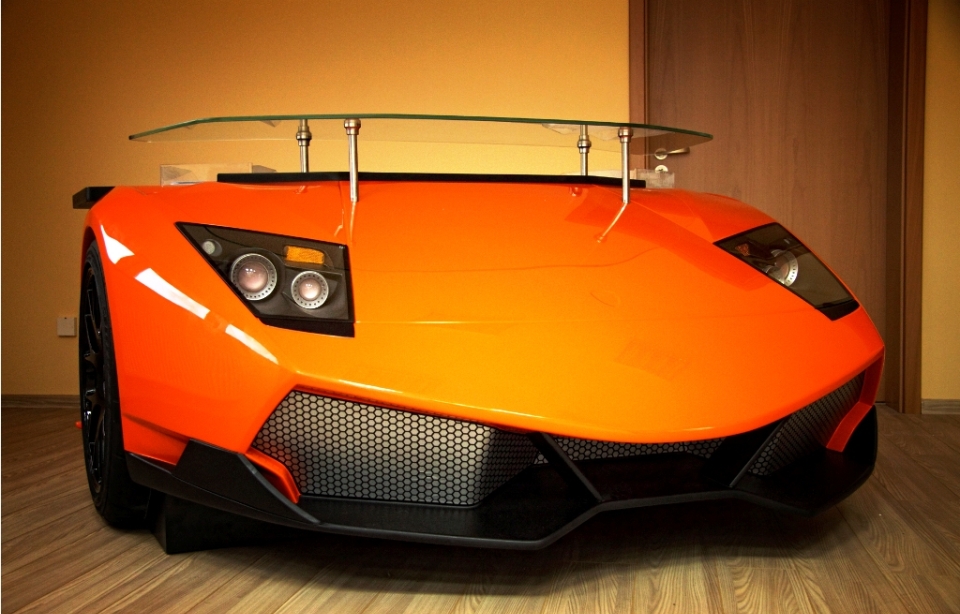 # Designed by Dubai-based company Simon Kirschke, it is two-seater sofa that resembles the front section of Mercedes C63 sedan, including bumper, headlights and the exalted Mercedes logo.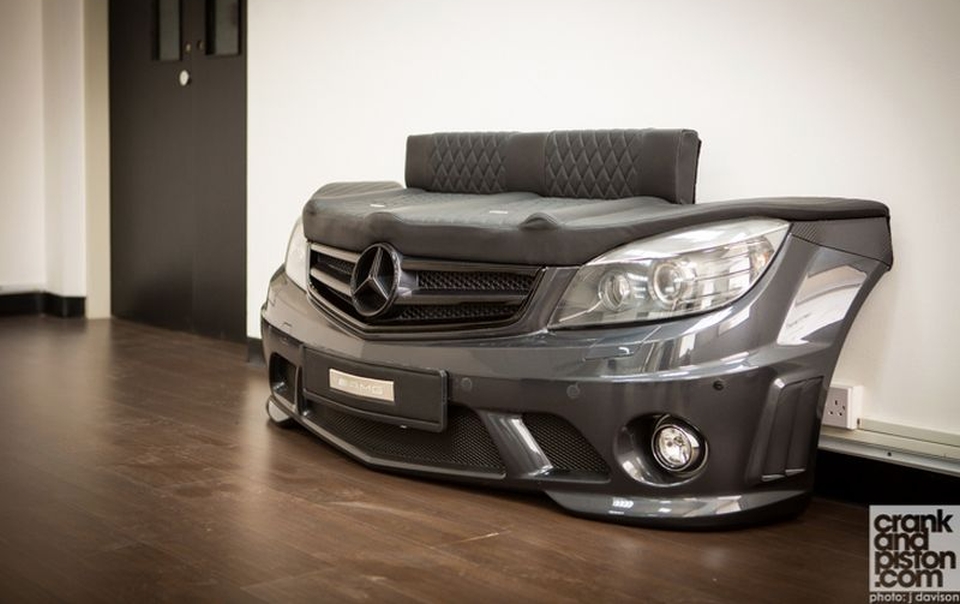 # This stunning Maserati's V8 engine coffee table by designers Bruno Kuzmin & Gregor Andrejašič  has a glass tabletop that reveals exquisite mechanical craftsmanship.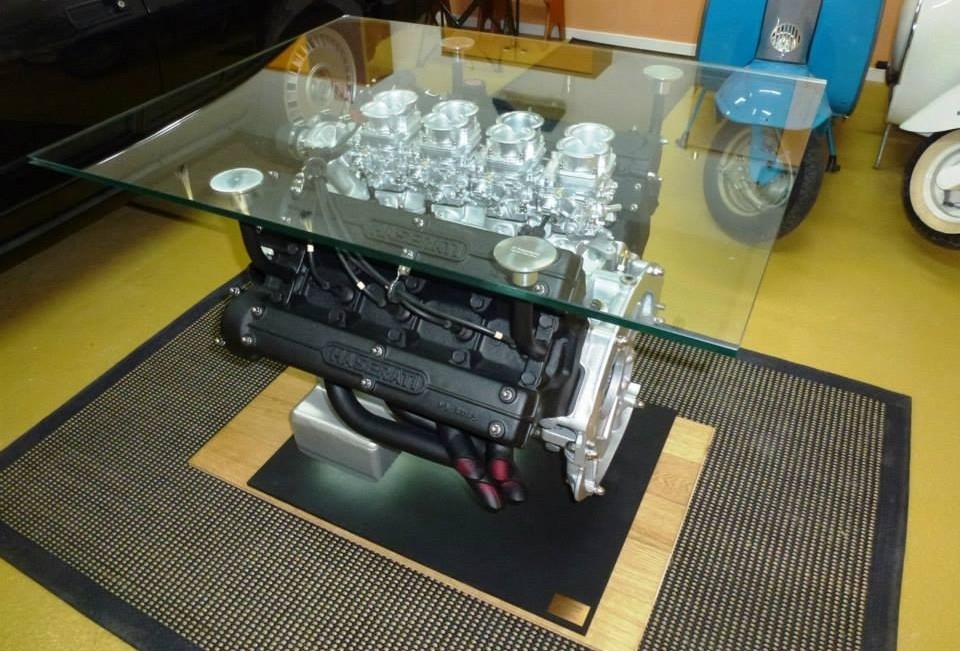 # These VW Beetle sofa and coffee table comprises of the car's trunk, back wheels and entire back seat whereas the coffee table includes engine of the same car.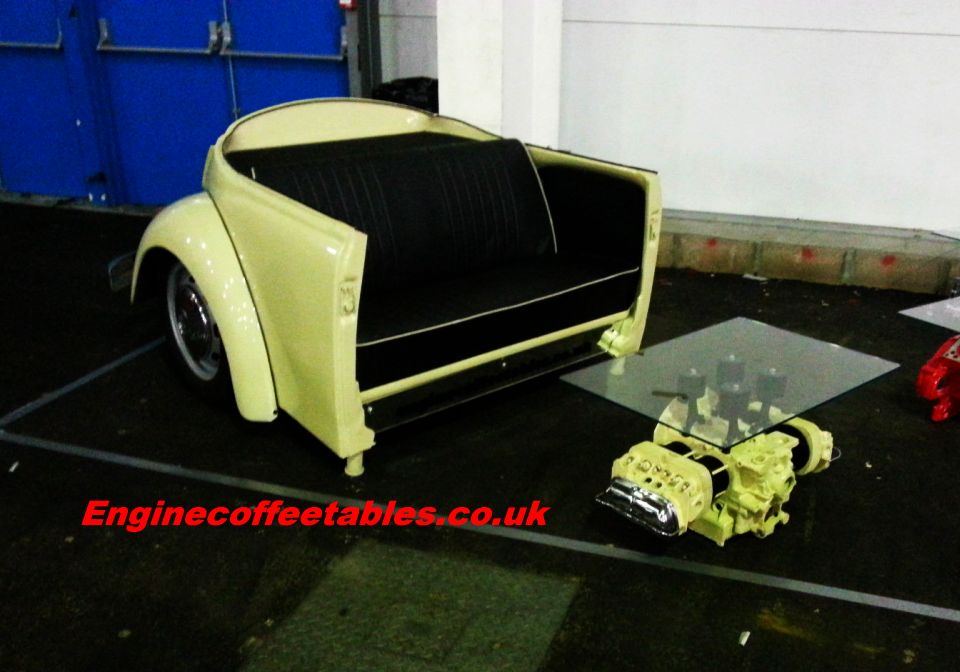 # Tavomatico table series by Giacomo Mondini incorporates colored car tires to add some splash of hue within space.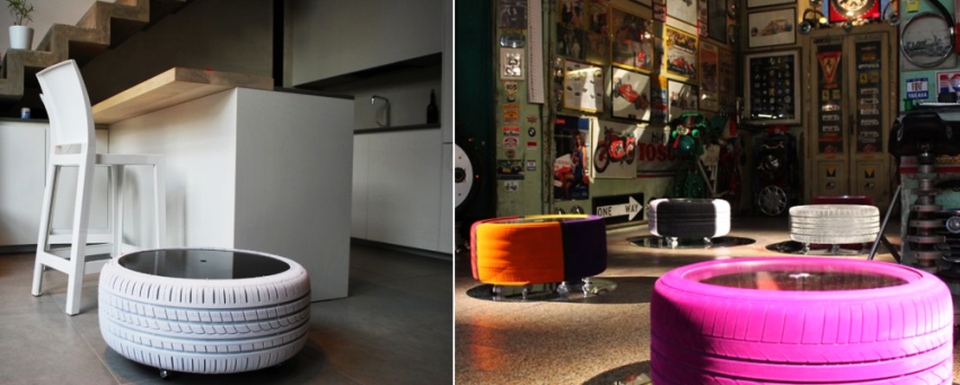 # This Engine Block coffee table also act as wine rack for bottles and has built-in lights for a cool appearance.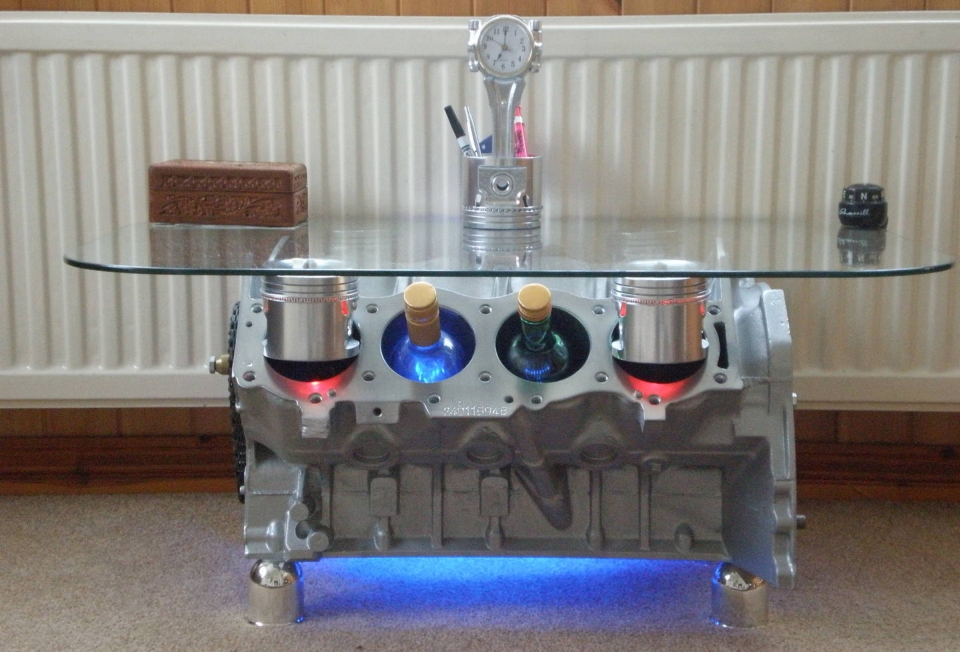 # If you can't afford expensive Lamborghini, then you can surely fulfill your dream of having one with the Lamborghini sofa.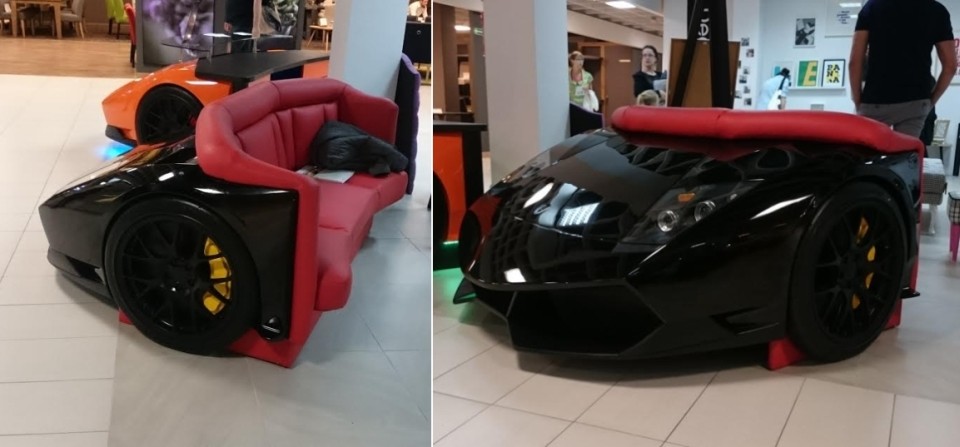 # Made by Design Epicentrum, this Bugatti Veyron desk is inspired by the world's fastest car and is perfect for a man cave.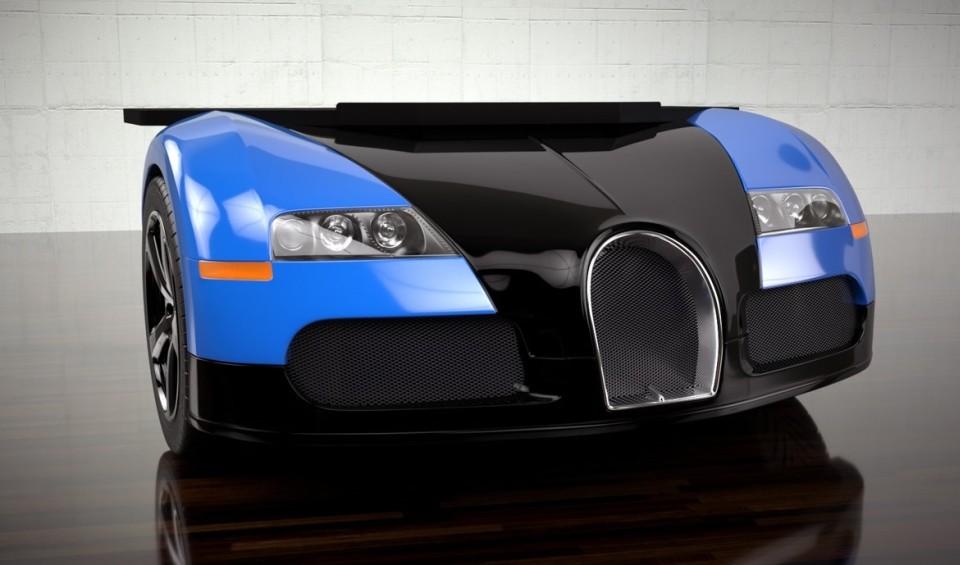 # This one-of-a-kind pool table has been designed on a 1959 Corvette model with extreme precision.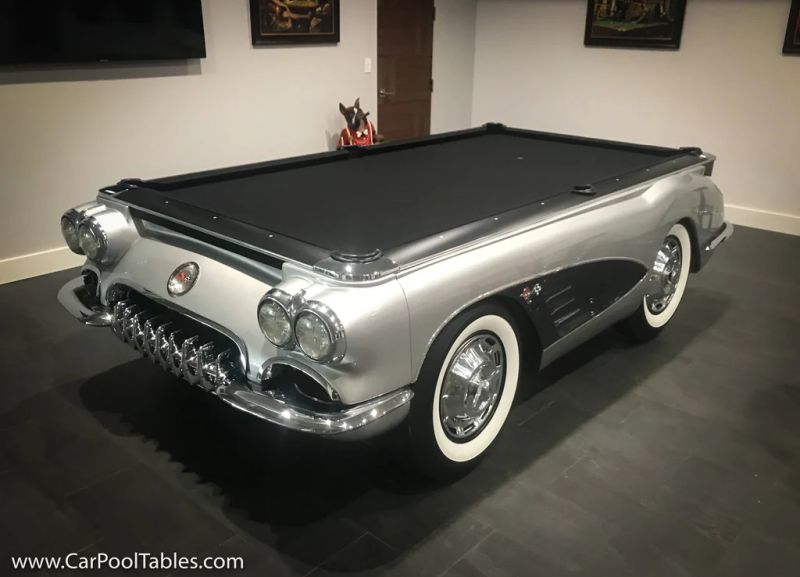 # The furniture collection by Car Sofa utilizes unused car parts and further shapes them into classy furniture pieces.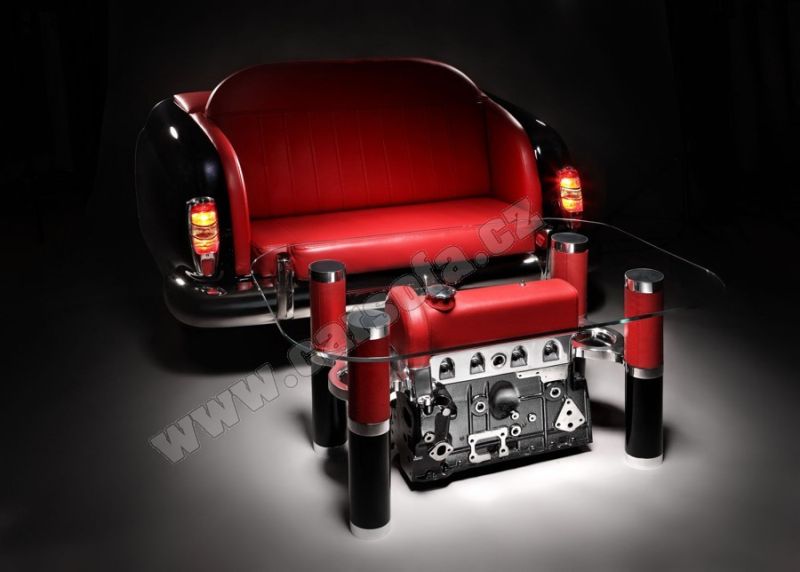 # This beautiful office desk is designed to look exactly like classic Fiat 500 Abarth. It is perfect to enjoy the feeling of a joyous car ride in home or office.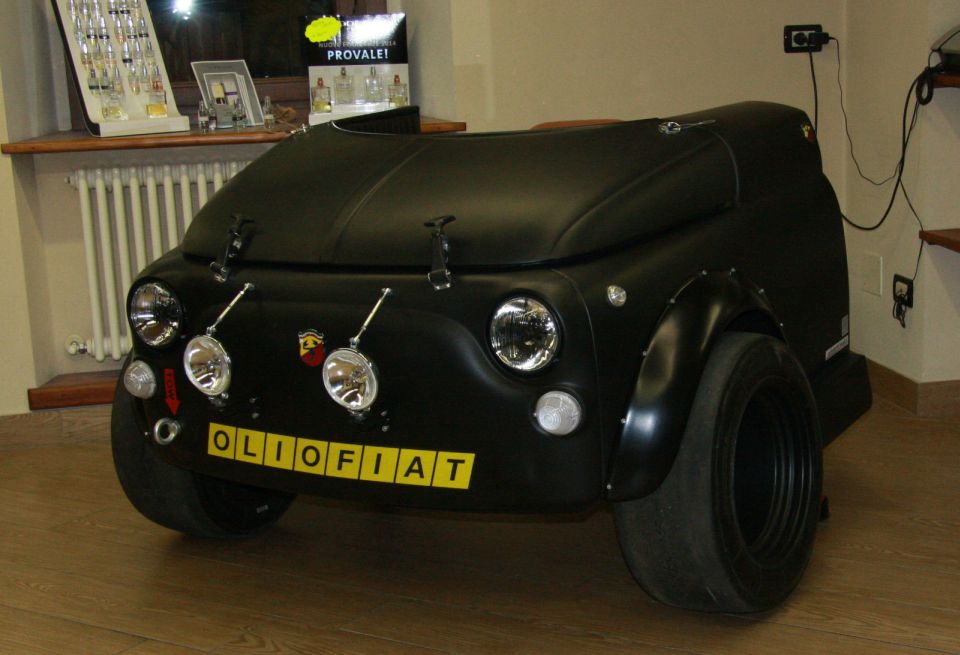 # It is an elegant two-seater sofa made from genuine Porsche 911 parts by renowned designers Luc Siodmok and Andre Sapierzynski of Polish design firm Luc & Andre.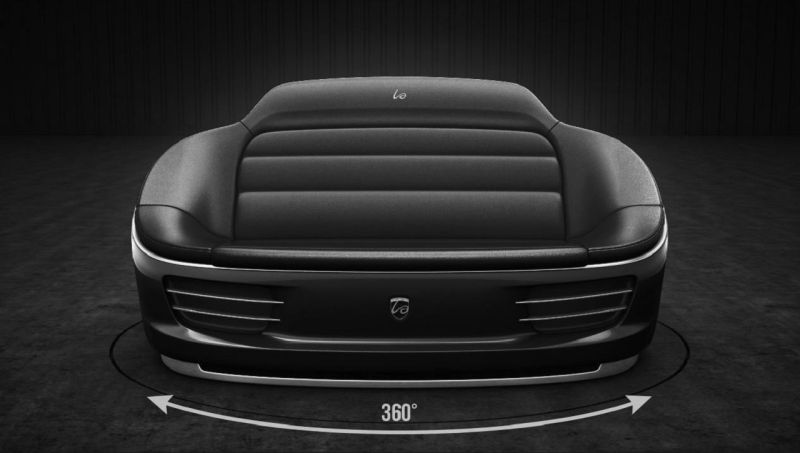 # Spruce up home bar with this vintage-styled VW Beetle 'Herbie' bar. It'll stylishly roll up your home parties like never before.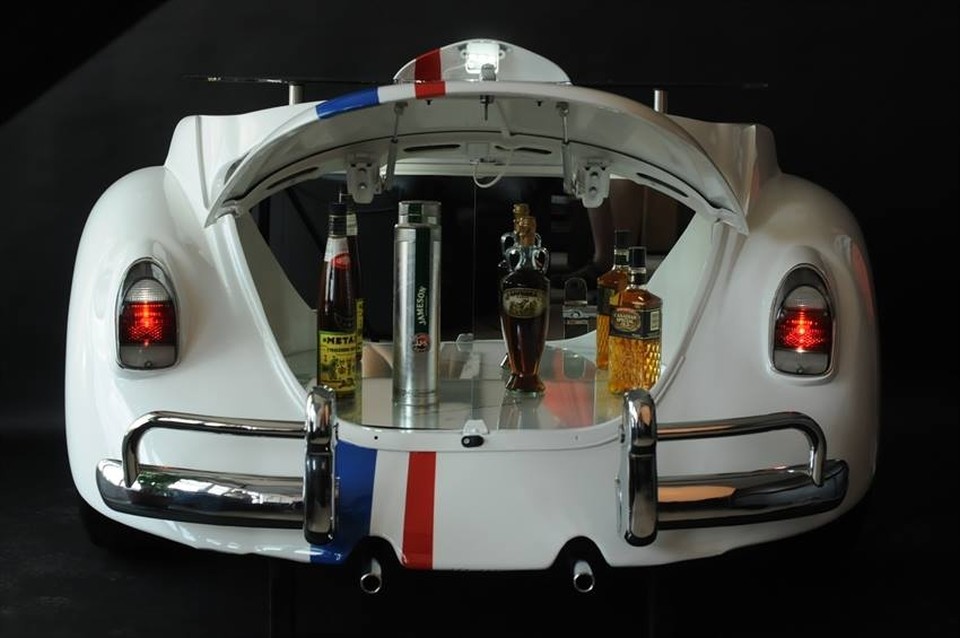 # This stylish coffee table made using Ferrari V12 engine has a rectangular glass tabletop imprinted with Ferrari's logo.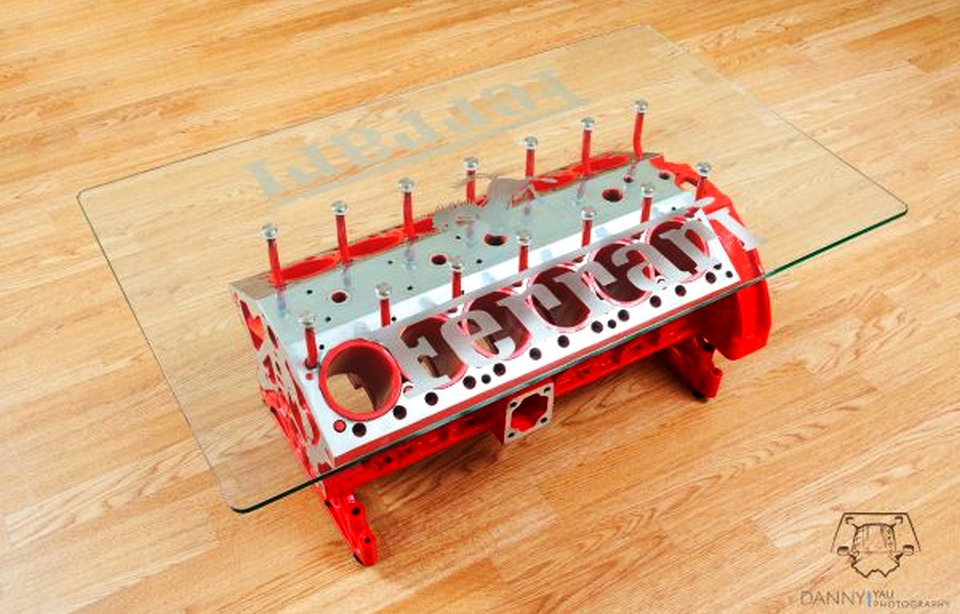 # Crashed Ferrari into coffee table: Made by French designer Charly Molinelli, the coffee table boasts a glass top, revealing the remains of a wrecked Ferrari underneath. It would be a reckless addition to any auto lover's home.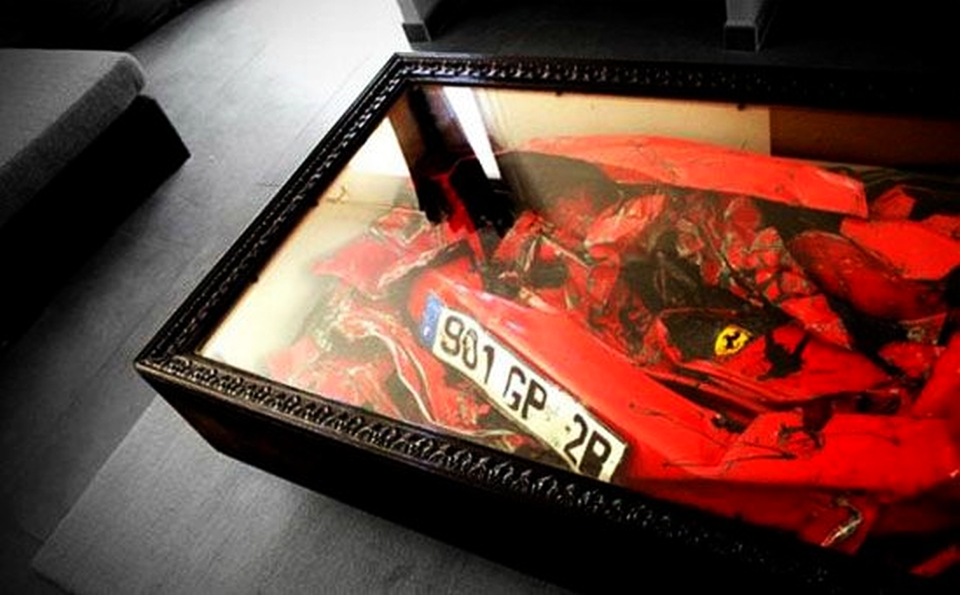 # This gaming car has been created from the frontend of a Mini Cooper. It is designed by David Gawthorpe, and also includes Xbox, 500-watt amplifier, strobe and laser lights, etc. for better gaming experience.

# This stunning bed is made out of Mercedes 8 Coupe (W115), and features under hood lighting, headlights and turn signals, and other car essentials. Thus, offers you a comfy sleep in a vintage car.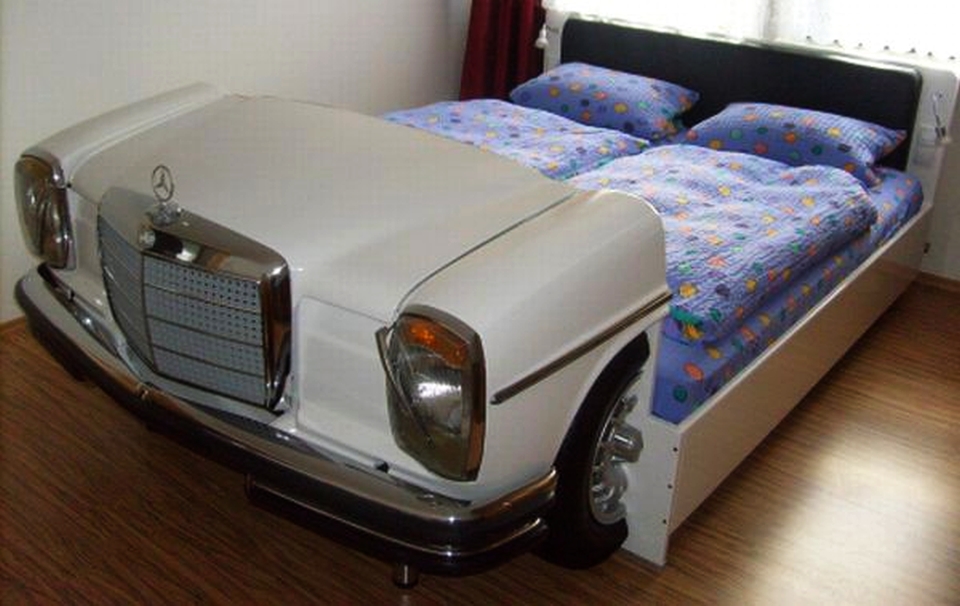 # Half portion of vintage Mazda car is used to create an elegant bar for both residential and commercial spaces. It is meant to add some automotive feel to the area where it's kept.

After looking at these attractive automotive-inspired furniture pieces, we're sure you won't send your wrecked car to the scrap yard and turn it into something useful and stylish for your home. These car furniture units have compelled us to say that 'one man's trash could be another man's couch.'