When we think of life on the road with all the comforts of home, Airstream is the first name that comes to mind. Riding on the success of their home on wheels concept which has been backed by countless customers around the globe, Airstream has upped the ante with their latest announcement. The classic models coming next year will have pre-loaded Smart Technology which adds another dimension to the way you interact with the RV.
This is the first of its kind smart connectivity solution introduced for RVs which lets the user control and monitor all the amenities from smart devices, virtually anywhere, anytime. Just like any other smart home, the user can control lighting, propane, water, vent fans, and HVAC remotely. This comes courtesy of Buddy Cloud with whom Airstream has collaborated for the initiative.
The trailers will also have WiFi connectivity and 4G LTE modem to stay connected with loved ones during extended trips on the road. For this, the roof-mounted antenna is used, and AT&T is the exclusive wireless provider. The reason behind Airstream's venture into smart technology is to offer:
More Controls: The smart feature facilitates remote control over indoor temperature, propane tanks, battery power, water levels, lighting, ventilation and more through a companion app.
Connectivity: It enables you to connect 10 smartphones, tablets and smart TVs to your Airstream's WiFi and stream music, watch your favorite TV shows while staying connected to your family and friends all the time.
Peace of Mind: GPS locator guides owners back to their RV from an outdoor adventure.
Airstream President and CEO Bob Wheeler said;
Technology and connectivity solution, starting with our Airstream Classic travel trailers. Digital technology has improved almost every aspect of our lives. Shouldn't it make camping better, too? We think so. That's why, in keeping with our commitment to innovation, we're leading the way with our new Smart Control Technology and connectivity solution, starting with our Airstream Classic travel trailers.
Also Read: 8 Reasons We Love Airstream Travel Trailer
Keeping security in mind, the Airstream trailers will come loaded with GPS locator which identifies the trailer's location in real time. Also, this feature will allow the users to navigate back to the trailer whenever they embark on an adventure to explore woods and fields.
McKay Featherstone, Airstream VP of Product Development and Engineering, says;
It's no surprise they embrace the idea of a smart trailer, a recreational vehicle that allows them to adventure with all the digital comforts and connectivity of home.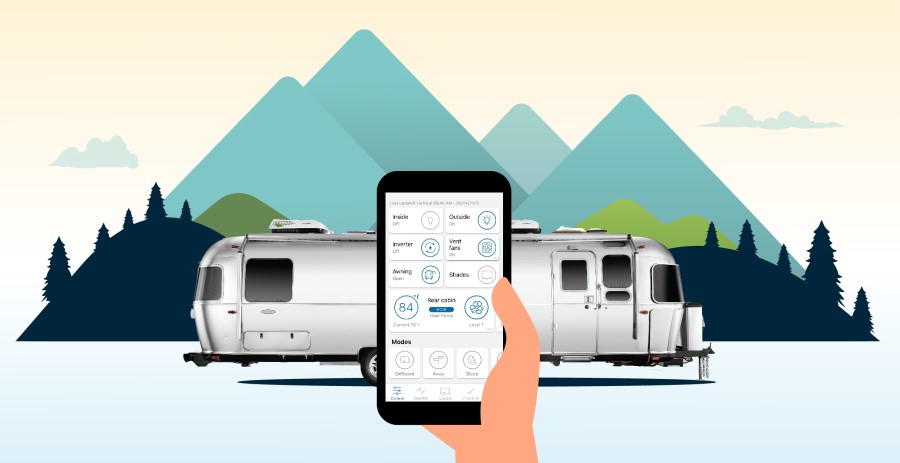 Source: PR