There are various bathtub designs in the market to accommodate your lifestyle with ease. But if you prefer unusual designs to the conventional ones, then you'll surely love the following five bathtubs designs by Maison Valentina. These bathtub designs differ from usual ones not only in terms of material and shape, but also boast some or the other special feature.
Recently unveiled at Maison et Objet in Paris, these tubs are beautifully embellished with gold-plating, silver leaf, lacquered brass. From bubbly depiction to diamond-cut structures, below is a collection of bathtubs that you'd wish you had in your luxury bathroom.
Koi Luxury Bathtub
The highly decorative design of Koi bathtub features recurring symbol of Japanese culture. Koi is a Japanese word for love or affection, thus making this bathroom fixture a symbol of love and friendship. The scales-like pattern on the tub is seen in Japanese water gardens, Irezumi practices or tattoo designs. The base of the tub is made out of aged brushed brass or aged brushed iron (depending on the customer's preference). The golden appearance of the bathtub is likely to add an opulent touch to any bathroom.
Dimensions
Width/Length: 180 cm | 70,86-inches
Depth: 75 cm | 29,53-inches
Height: 60 cm | 23,62-inches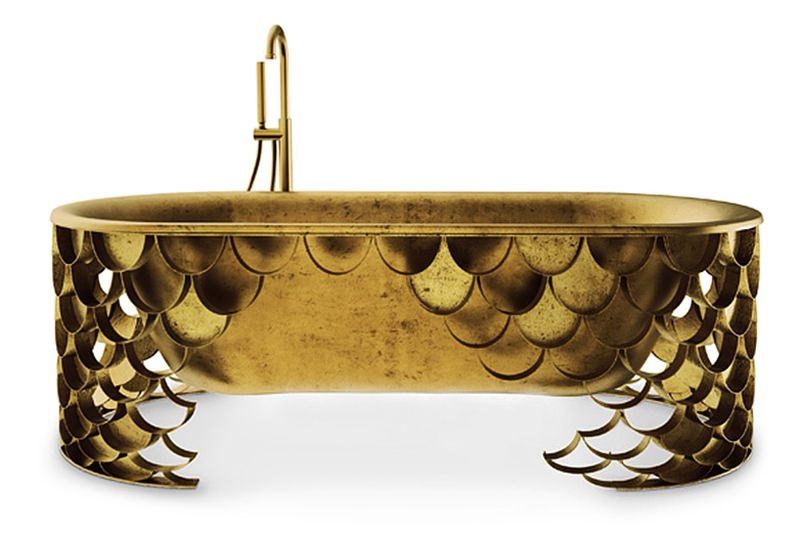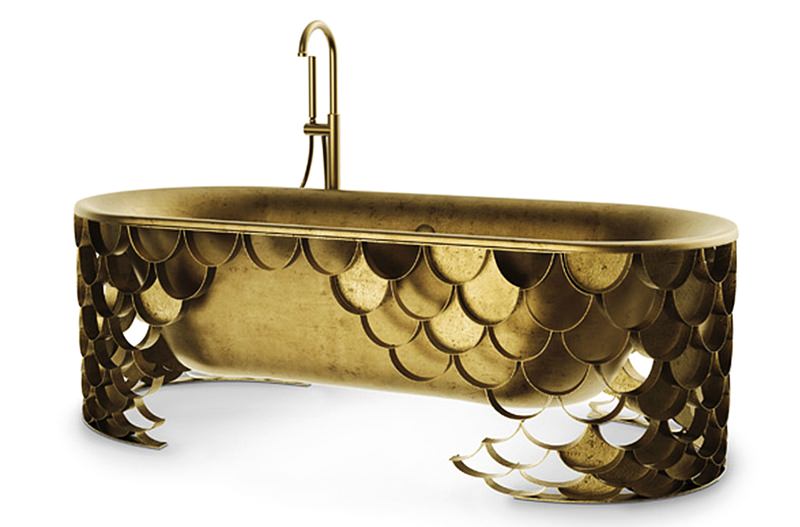 Newton Bathtub
This bizarre bathtub boasts black lacquer brass spheres with a high gloss varnish finish and some gold-plated spheres on the base. Even the inside of the tub is plated in gold, whereas the exterior reminds us of bubbles formed in water. In addition to witnessing the bubbly design of the tub, you can enjoy a hot bubbly bath in this extravagant bathing unit. Newton bathtub literally defies the laws of physics with its unconventional futuristic forms. For people who love to challenge usual norms of life, this will be a perfect addition to their bathroom.
Dimensions
Width/Length: 180 cm | 70,86-inches
Depth: 90 cm | 35,43-inches
Height: 80 cm | 31,50-inches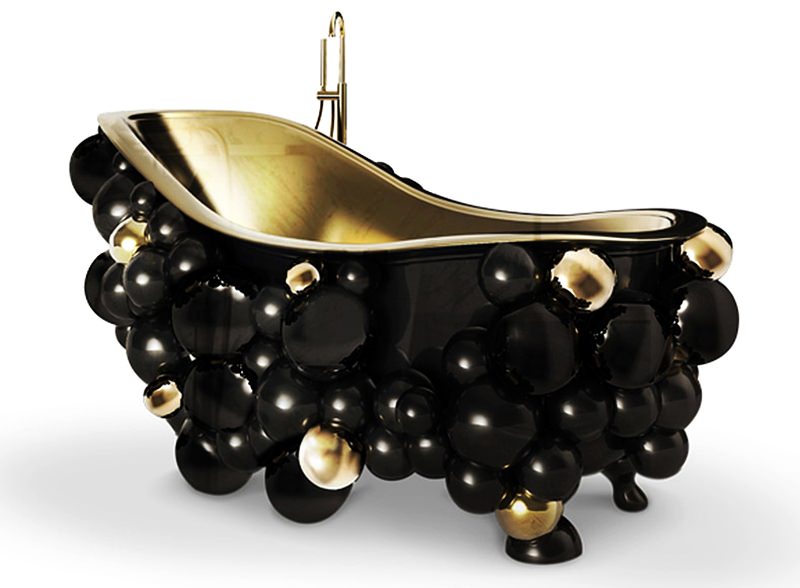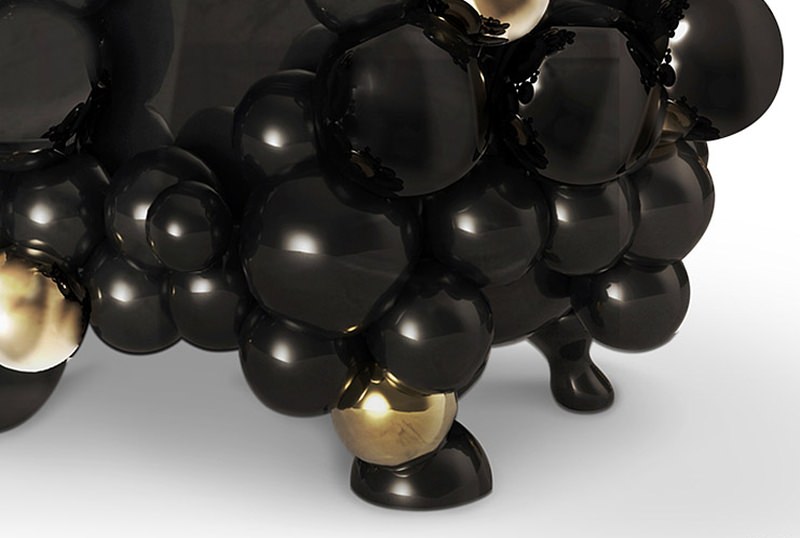 Lapiaz Bathtub
Highly-polished Lapiaz bathtub is made from polished brass, mirror, and lacquer. Lapiaz is a French word for typical karst formations produced by surface dissolution of limestone or dolomite rocks. Influenced by such sturdy yet beautiful dolomite rocks, this bathtub is likely to become a statement piece in any luxury interior. It appears as if a frozen stone has cracked to reveal its rich golden interior.
Dimensions
Width/Length: 197 cm | 77,6-inches
Depth: 93 cm | 36,6-inches
Height: 70 cm | 27,6-inches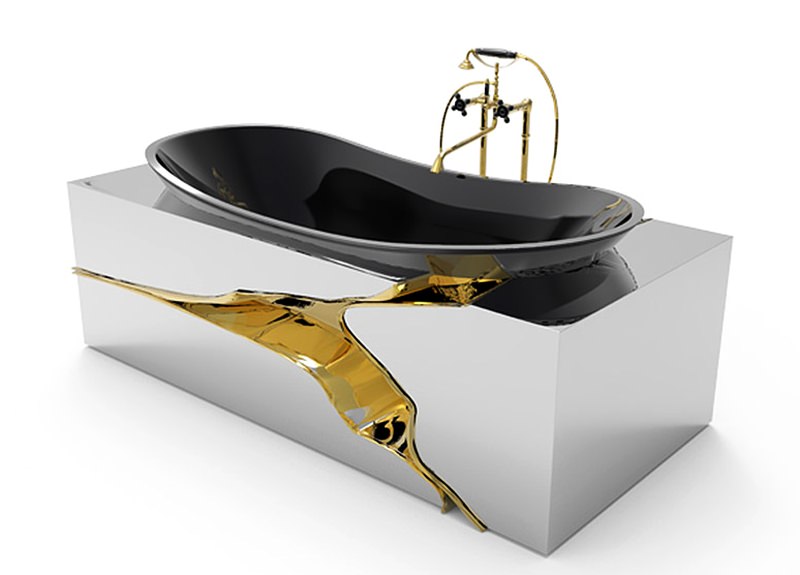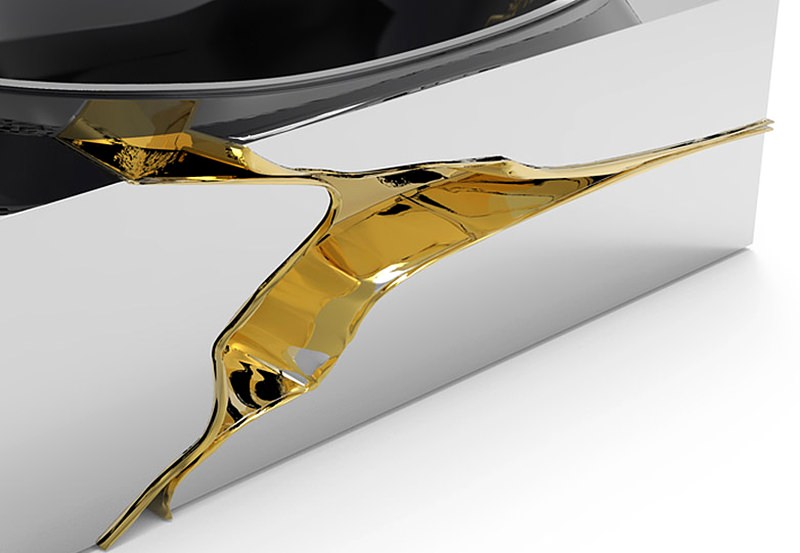 Diamond Bathtub
Want to ornate your bathroom with some precious jewel-like finishing? If yes, then the Diamond bathtub is for you. The exterior of this fascinating bathroom piece features diamond-cut layout that's highlighted with silver leaf finish. The luxurious shade of the tub is because of a translucent black stone polished with high gloss varnish. Furthermore, its golden leaf interior adds more charm to its splendid appearance.
Dimensions
Width/Length: 215 cm | 84,64-inches
Depth: 91,5 cm | 36,02-inches
Height: 70 cm | 27,6-inches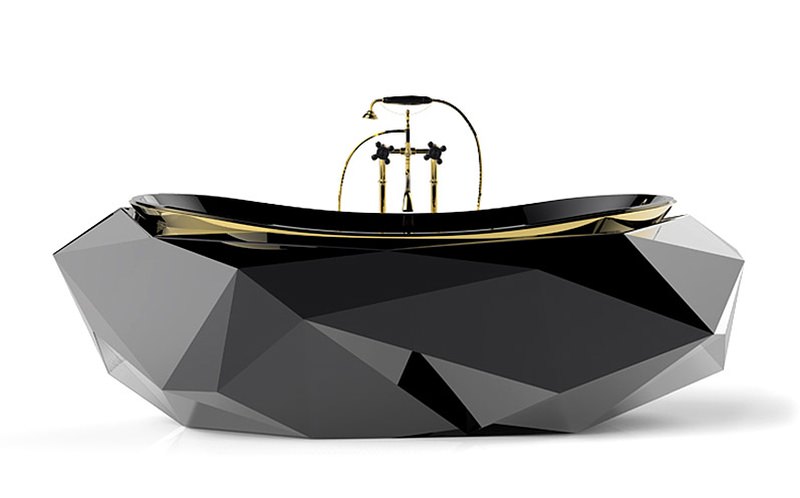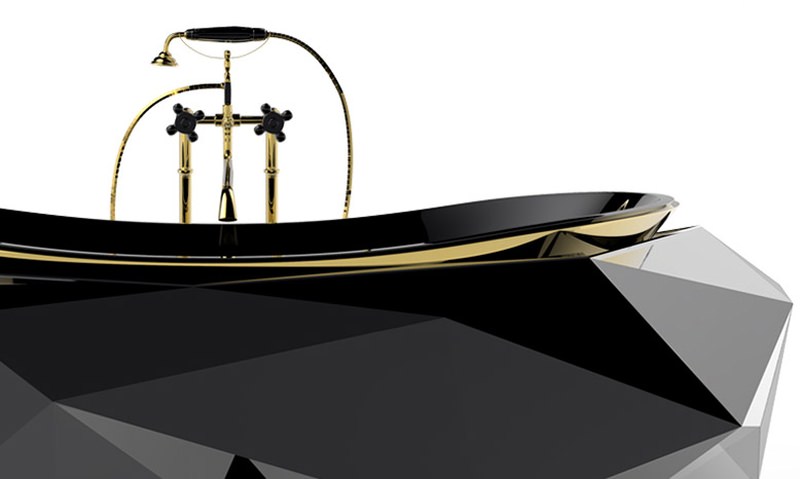 Symphony Bathtub
Passionately inspired by music, the circular-shaped Symphony bathtub is handcrafted with finest materials. Gold gives a luxury touch to any space, therefore this tub is also decorated with golden pipes that are influenced by musical instruments. Several gold pipes attached to the white tub surely give an extravagant aesthetic appeal to any contemporary bathroom.
Dimensions
Width/Length: 180 cm | 70,86-inches
Depth: 71 cm | 27,95-inches
Height: 60 cm | 23,62-inches