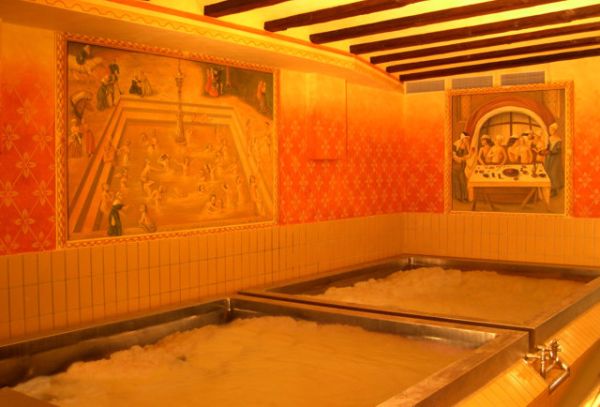 Beers and swimming pools do not seem to go too well in case you are drunk and trying to swim. However, Starkenberger Brewery castle in Tarrenz, Austria offers you the the 'best of two worlds' – swimming pools filled with beer. Touted as the world's first beer swimming pools (no surprises there!),  the pool spaces form an integral part of the old brewery. Oh, and if you thought that was remarkable, hear this out – the brewery had always been run by women through out its almost hundred years of history!
Coming to the installations, a total of seven pools are situated inside specific bath-rooms, all of which are located in the old fermentation brewery. The pool themselves contain around 12,000 liters of water, a big volume which is further 'refined' with 300 liters of Biergeläger (or remote yeast).
As for the ultimate beer-bathing experience, you can get a dip in one of the pools by paying a reservation fee of around $298/ pool (along with an additional $6.50 per person). And, if you not satiated with your paunch inside the beer (instead of the other way round), the establishment also offers beer crackers, Tyrolean meat spread and of course a bottle of 'clean' beer.
Via: Thrillist