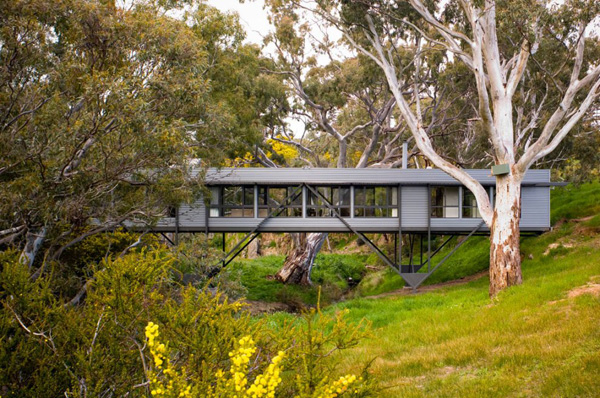 It is not often that we come across bridge structures that also serve as housing solutions! But incredibly, the aptly named 'Bridge House' at Adelaide, Australia poses as one of those swanky buildings that makes use of a yawning creek as its defining structural feature. Ingeniously designed by Max Pritchard Architects, the 1,184 sq ft longitudinal building spans across the deep water hole, while its flanking wings rest on the rocky backs on either side (with the help of triangular trusses). And, in spite of its elongated spatial form, the Bridge House is truly a 'house' with conventional habitable zones and an additional home office.
Aesthetically, the 'suspended' nature of the Bridge House gives us the notion of its low impact upon the serene yet rustic landscape. However, beyond just visuals, this low impact scope was also achieved by a slew of passive heating techniques. For example, the designers used the orientation of the building for the winter sun to 'strategically' heat a black concrete wall that would further re-heat the inside rooms during night time (much like a Thrombe Wall). The induction of heat is also complemented by other methods like the integration of a wood combustion heater and double glazing to the living area.
Of course, the architects have also thought about the various cooling features to be used during summer time. These entail a narrow plan that facilitates cross-ventilation and the inclusion of ceiling fans for conventional cooling. The essence of the whole low-carbon ambit of the Bridge House is further enhanced by usage of solar hot water heating and photovoltaic cells (that dot the roof the garage).
Via: OneKindDesign