Catch all the latest and greatest news from the world of smart home tech and innovations showcased at the CES 2020 – the largest and most influential consumer tech exhibition on the planet.
CONSUMER ELECTRONICS SHOW 2020
All the latest consumer technologies are first showcased at the Consumer Electronics Show (CES) – an annually held trade show organized by the Consumer Technology Association (CTA) in the month of January every year at the Las Vegas Convention Center in Las Vegas, Nevada, United States. The show has more than 4,500 exhibiting companies and over 175,000 attendees from 160 countries, making it one of the most popular trade fairs in the world.
Interestingly, the electronics trade fair started in June 1967 as a spin-off from the Chicago Music Show. Thereafter it slowly gained popularity. From 1978 to 1994, the show was held twice a year. Once in January known as Winter Consumer Electronics Show (WCES) in Las Vegas and then in June known as Summer Consumer Electronics Show (SCES) in Chicago. Over time, the summer CES lost popularity and from 1998 onwards, the trade fair was held only once annually.
Like all times, the 51st edition of the electronics show will be at the center stage for global consumer electronics technologies introduced to the marketplace that'll change the complexion of future living. The show will be held from January 7-10 2020, showcasing the latest home tech innovations that'll shape the future living.
Essential Facts About CES:
Q: Who can attend CES?
CES is only open to individuals aged 18 years or above who are associated with the consumer technology industry. One must submit their business credentials in advance as CTA (host of CES) verifies your affiliation with the consumer technology industry.
Q: How much does it cost to attend CES as a visitor?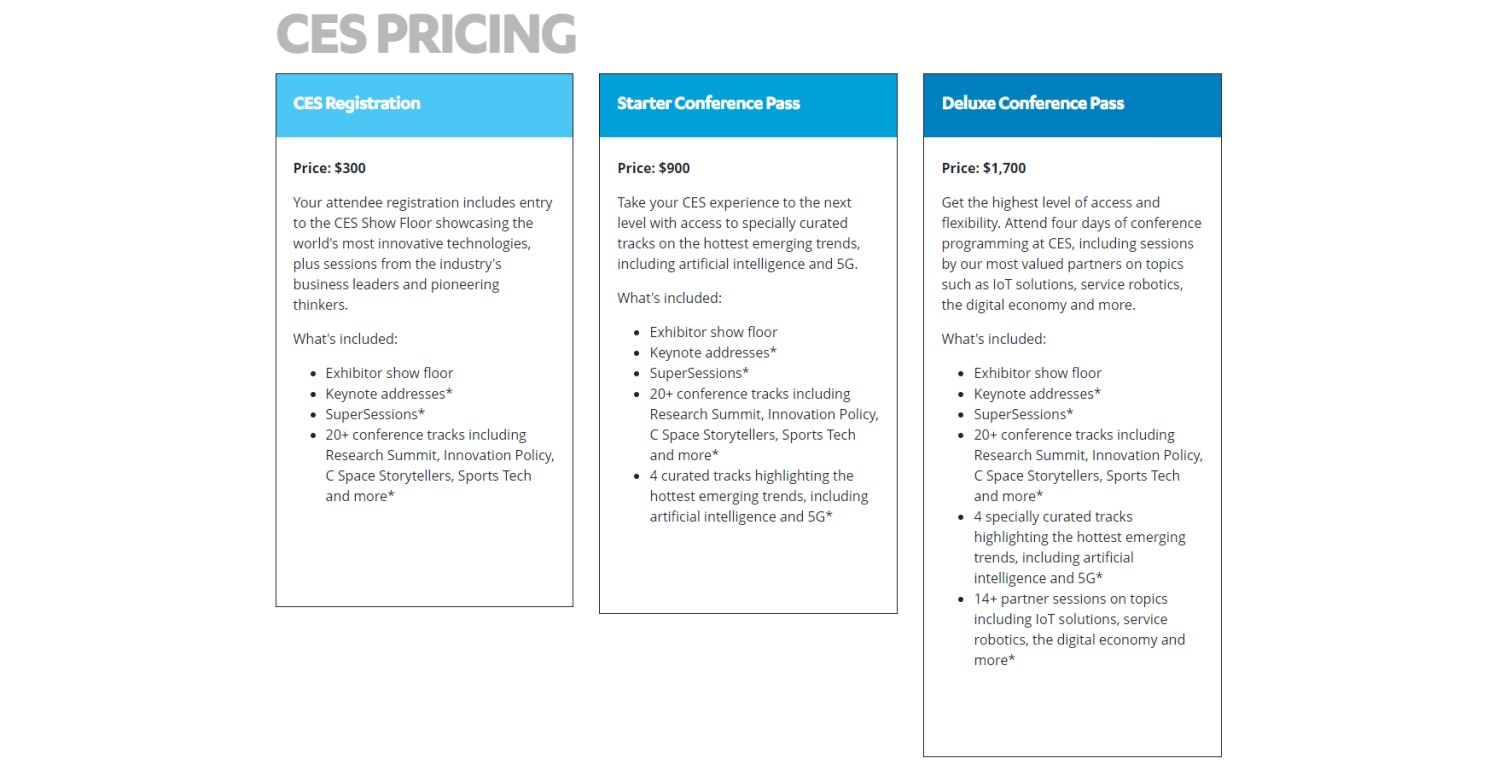 Q: How to register as a visitor?
 To get CES registration done in advance, you are required to have the date of birth proof in compliance with federal law enforcement. You also need to provide a valid email address and photo ID.
Along with that, it is mandatory to submit current business industry credentials that show affiliation with the Consumer Technology industry. You can provide a business card, link to the company website with your name mentioned there or media articles written by you.
Q: Where to stay?
To make it convenient for people flocking in to attend the trade fair, CES 2020 has pre-booked rooms at various hotels in Las Vegas. One can make reservations via onPeak, a booking site that serves as the official housing agent for CES 2020. The earlier you make reservations, the more budget-friendly it is. Reservations made on dates approaching January are obviously going to cost more.