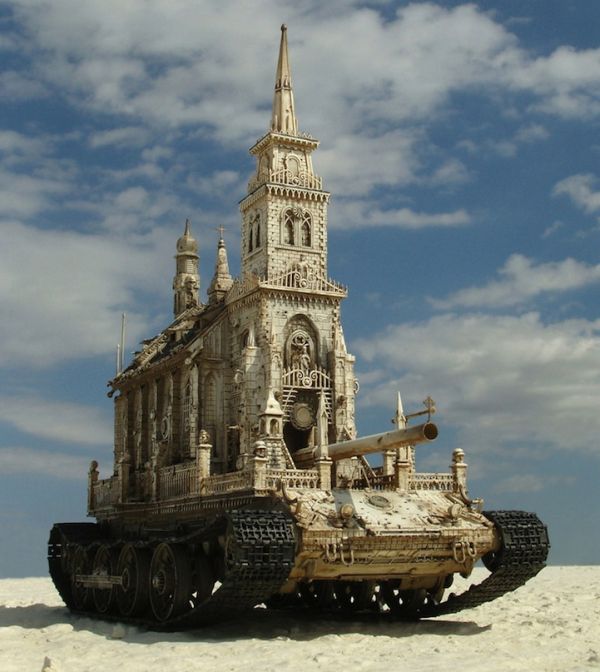 There are sculptures that hint at symbolism; sometimes in a subtle manner and sometimes quite bluntly. The above pictured 'Churchtanks' without a doubt belong to the second category. Painstakingly crafted by artist Kris Kuksi, the remarkable sculptures allude to the militaristic nature of organized religion. However, beyond the controversial issues, it is the eccentric yet deft combination of a cathedral structure and a heavy tank that really tickles our fancy.
In many ways, the Churchtanks present us with the juxtaposition of old and new. In this regard, the marvelously detailed church component of the sculpture initiates the Baroque essence, which was encouraged in early 17th century as the predominant architectural style for Roman Catholic cathedrals in Europe. Coming down to the tank component, it obviously replicates an imposing war-machine specimen of the modern day military engineering. So, basically both of the components are presented as powerful instruments of an elitist group that have helped them over the years in imposing their materialistic 'will' on the rest of our 'fragile' society.
Now, as we mentioned before, steering clear of the rampant symbolism, it is the quality of work that holds precedence to us. And, in that regard, the Churchtanks are surely crafted in a meticulous manner starting from the pointed towers, the medieval buttresses to the imposing barrel and the track mechanism of the tank.
Via: MyModernMet