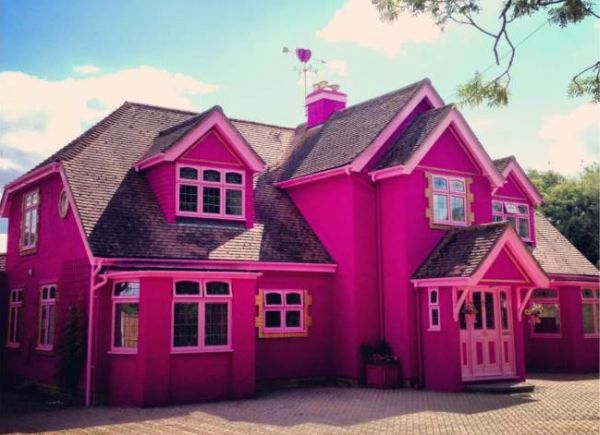 If you've been to Tiptree, a village in the English county of Essex, chances are you have rented the Eaton House to relish the exquisiteness. If you haven't been to Tiptree, then you have a reason to rest all your preconceptions about guest houses and head straight to the Eaton House with family or friends. The Eaton House also known as the 'Barbie's House' is built by James Lloyd Roberts and Amy Griffith (firefighter/photographer and artist respectively). The entire house is painted pink and gold and has awe-inspiring interiors and magical outdoors.
The magnificence of the house is that anyone can enjoy the hospitality of the house for a charge (just as a guest house). Roberts and Amy stay in a garden caravan and have spent good four years of their life building this amazing Eaton House which has hosted celebs like Gizzi Erskine (TV presenter), Felicity Hayward (model) and Iggy Azalea (singer). What makes celebs and other guest to rent the 13-room mansion Eaton House is the distinct personality of each of its rooms.
The Mansfield Suite (named after Jayne Mansfield) has the femininity and Hollywood glamour embodied to the core. The room's adorned in fairy lights and antique clocks and has heart shaped pillows for a cozy nap. Quintessential Cowboy is the other room decked out with horns over the bed. Riding Room has a more retro feel with dressing table, 15 gilt mirrors and floral curtains completing the room. In addition to the bed rooms, the Eaton House has a set of two living rooms. Green Parlour is more heritage with antique mirror, Louis XIII furnishings and fluffy rugs all over. The Universe Lounge is more today with Hawaiian-themed wallpapers and pool table.
On the outdoors, the Barbie's House has a magical garden with a lavish outdoor fireplace and a hot bath tub. Eaton House can be rented for two nights at £2,500 (approx. $4050) on an exclusive offer.
Via: Metro