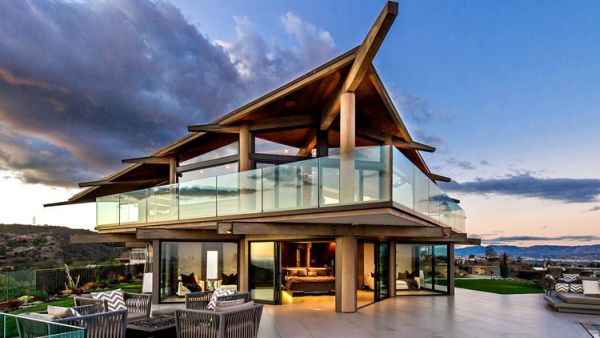 The Flying Wing House was constructed in 1975 by Harry Gesner, architect from Southern California. It was named Flying Wing by the architect as its shape is inspired by a flying bird. The 4,543 square feet house was renovated last year by Dean Larkin, architect from Los Angeles. The house is presently selected for a 'Breakfast with the Architect' tour, which will allow tour goers to spend a Sunday morning with the architect that designed the home. The tour is hosted by American Institute of Architects (AIA) on Sunday May 18.
The two-story house includes four bedrooms, six bathrooms, elevator, kitchen and large area outside with a swimming pool, garden and outdoor couch to relax. The house is made entirely of wood with huge glass walls and sliding glass doors to provide residents a beautiful view of the city and the legendry Hollywood sign outside.
Carol Caccavale, associate director of AIA, L.A. said,
It's a great example of bringing a house to meet modern needs using something that was built in a different time with different needs.
The interior of the house looks amazing with wooden furniture and contemporary color combinations and includes all the necessary things required of a modern living. The lighting within the house is brilliantly fixed to make it look livelier. This unique bird shaped house costs $8.8 million and agent Jason Oppenheim from the Oppenheim Group, is seeking a buyer for this amazing creation by Gesner.
Via: LATimes