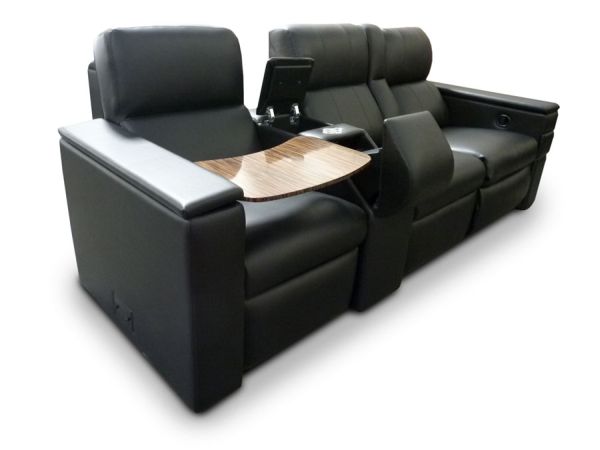 Elegance and technology make their unified appearance in Fortress Seating's Motorized Tray Table. The three-seater design is envisaged as a customized seating mechanism that allows the users to multi-task. For example, now you can work on your laptop or even have your dinner while watching your favorite movie. This convenient scope is achieved by an automated mechanism that literally controls a dedicated tray. This tray can be retrieved by opening the arm cap and then activating a motorized lift mechanism. During other times, the tray is kept hidden within the housing of the arm, thus serving as an unobtrusive yet functional component of the Motorized Tray Table.
The design of the Motorized Tray Table also serves dual purposes by virtue of its structural arrangement. This duality is endowed by a retractable pocket arm that separates the spatial zones of the furniture. So when the user needs to use the Tray table as a sofa, he/she can move the arm upwards; and when the user needs to use it as a three-seater (theater like arrangement), the arm can be pulled down to create individual spaces.
This inherent flexibility of usage pattern is further complemented by a myriad of other features. These include – a retractable iPad docking station, aisle lights, gooseneck lights and cup holders (both concealed and at the front). The Tray Table also notches it up in the storage department by integrating compartments for keeping games, telephones or remotes. So, in a nutshell – it is a worthy accompaniment to your home theater system!
Via: FortressSeating