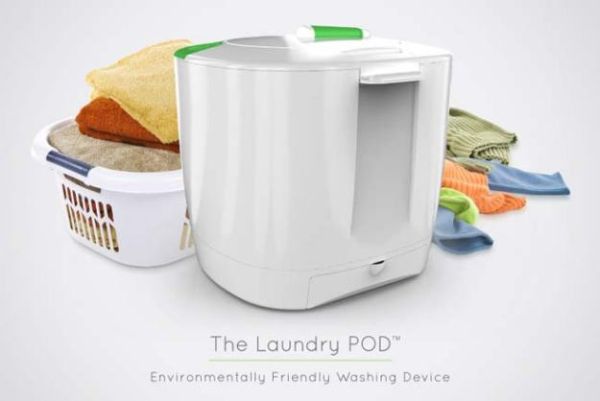 It is not often that we come across bantam washing machines that notch up on the portability factor. The Laundry Pod actually improves upon this novel scope by integrating an easy mechanism that not only requires a few minutes to wash but also eschews any form of electrical energy. So, in essence, the $100 Laundry Pod is a complete zero-energy appliance that is only depended on human energy. And what's more; the ingeniously designed contraption actually saves on water and resources while giving you the opportunity to clean clothes on the go.
Statistical figures allude to the fact that a conventional home-based washing machine takes around 50 gallon of water with each load of clothes. In stark comparison, the Laundry Pod remarkably uses less than 5 gallons of water, and that too while expending 1/5 of the detergent needed for regular machine washes.
The internal paraphernalia of this eco-friendly washing machine comprises of a circular wash system, a connected draining system, a spinning water extraction mechanism and a flexible drain hose. All that the user needs to do is – fill up the machine with adequate water, close the upper cover and then slowly rotate the handle for 2 minutes (located above the cover). The usability factor is also improved by making the design pretty easy to clean and maintain.
And, finally as for its varied applications, the spatially efficient Laundry Pod can fit inside your cramped apartment as well as your dorm room. For the more adventurous among us, the appliance might even serve as a mobile cleaning machine when camping in the outdoors!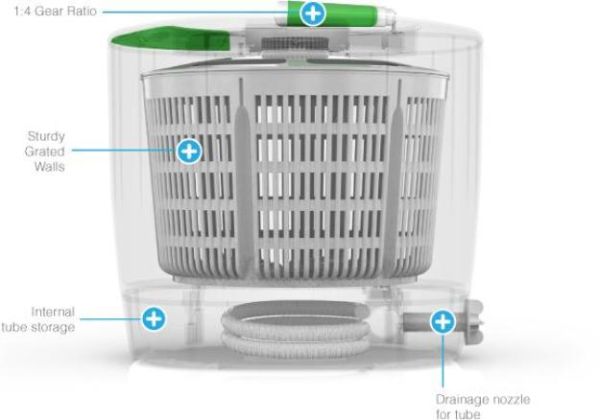 Dimensions: 13" x 14" x 14"
Via: TheLaundryPod