One of the most important spaces in every house is the bathroom. It's where we start and end our days, therefore it's essential for the bathroom to be practical, cozy, and attractive. LED mirror is a game-changing feature when it comes to boosting the feel and practicality of any bathroom.
These bathroom LED mirros can elevate your bathroom experience and improve the overall décor. If you are looking to enhance your grooming routine or want a delightful accent piece to better your bathroom décor, we have curated a selection of the best bathroom mirrors with lights that you can buy to meet your needs.
Amorho Horizontal Bathroom Mirror with Lights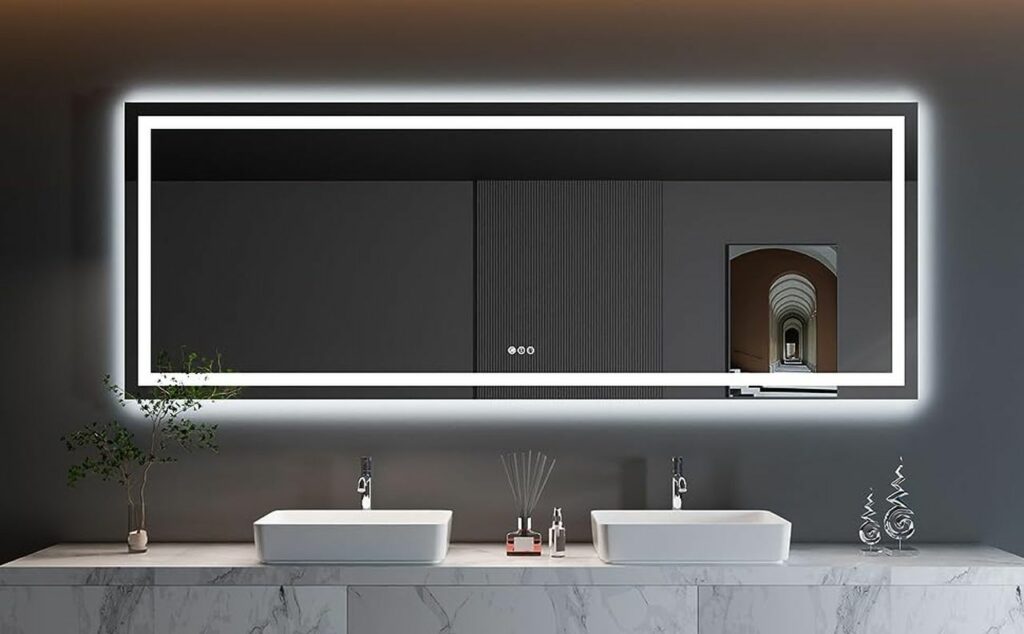 If you're looking for the best rated bathroom mirror light, the Amorho has this great option for you. This bathroom mirror has built-in lights on front and back sides. Available in 27 different sizes, it is made from 5mm tempered glass that will not get broken easily. The mirror comes with a dimmer feature, giving you the ability to adjust the light intensity according to your preference.
There are three onboard buttons to control the features. The Smart memory function retains previous lighting settings for seamless on/off transitions. It also boasts an anti-fog function, ensuring clear reflections even in steamy conditions.
Buy: $1,600
NeuType Arched LED Bathroom Mirror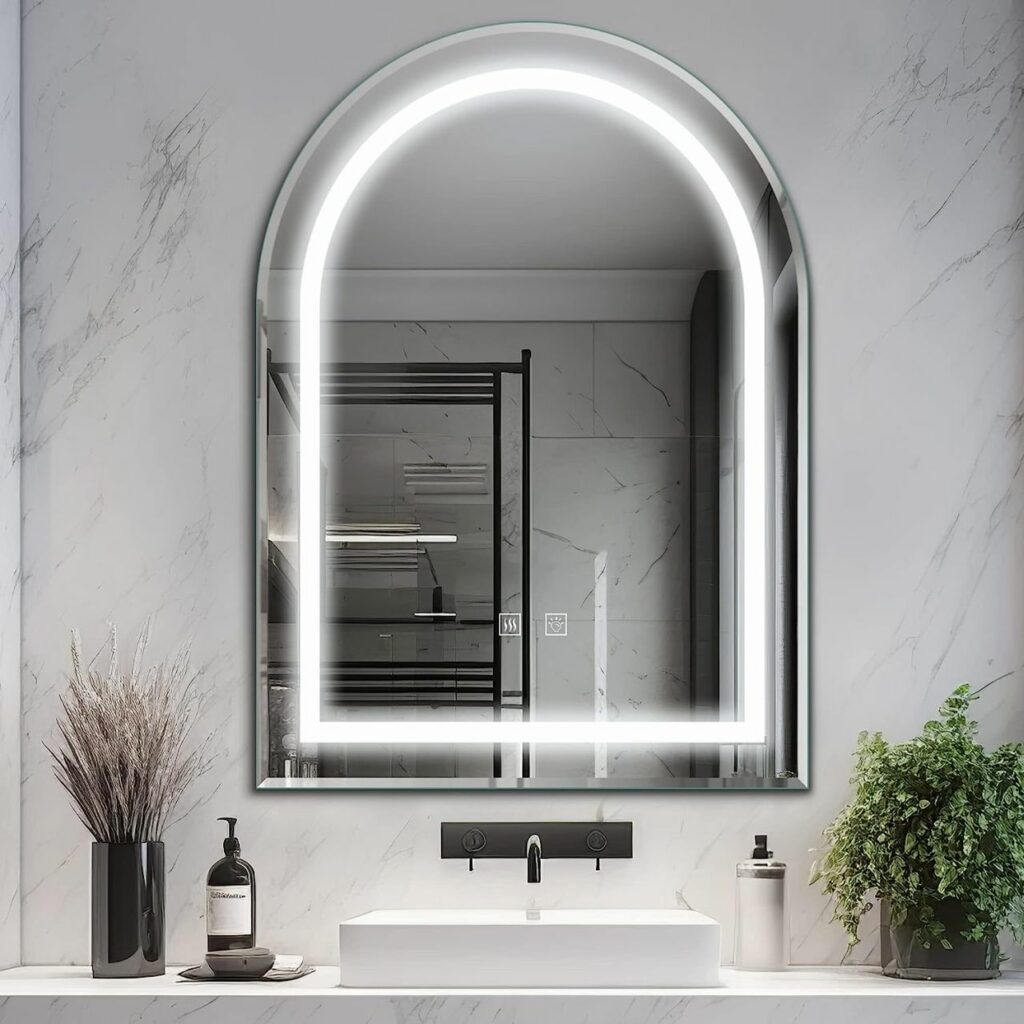 Arched mirrors are currently in vogue, adding a stylish touch to any bathroom. The NeuType arched LED bathroom mirror with a unique 0.4 inch beveled polished edge design and arched shape looks really sleek and modern. It is available in four colors and sizes to match different choices. This dimmable lighted mirror also has an anti-fog touch button to remove the moisture from the surface.
Buy: $170
ZELIEVE LED Backlit Mirror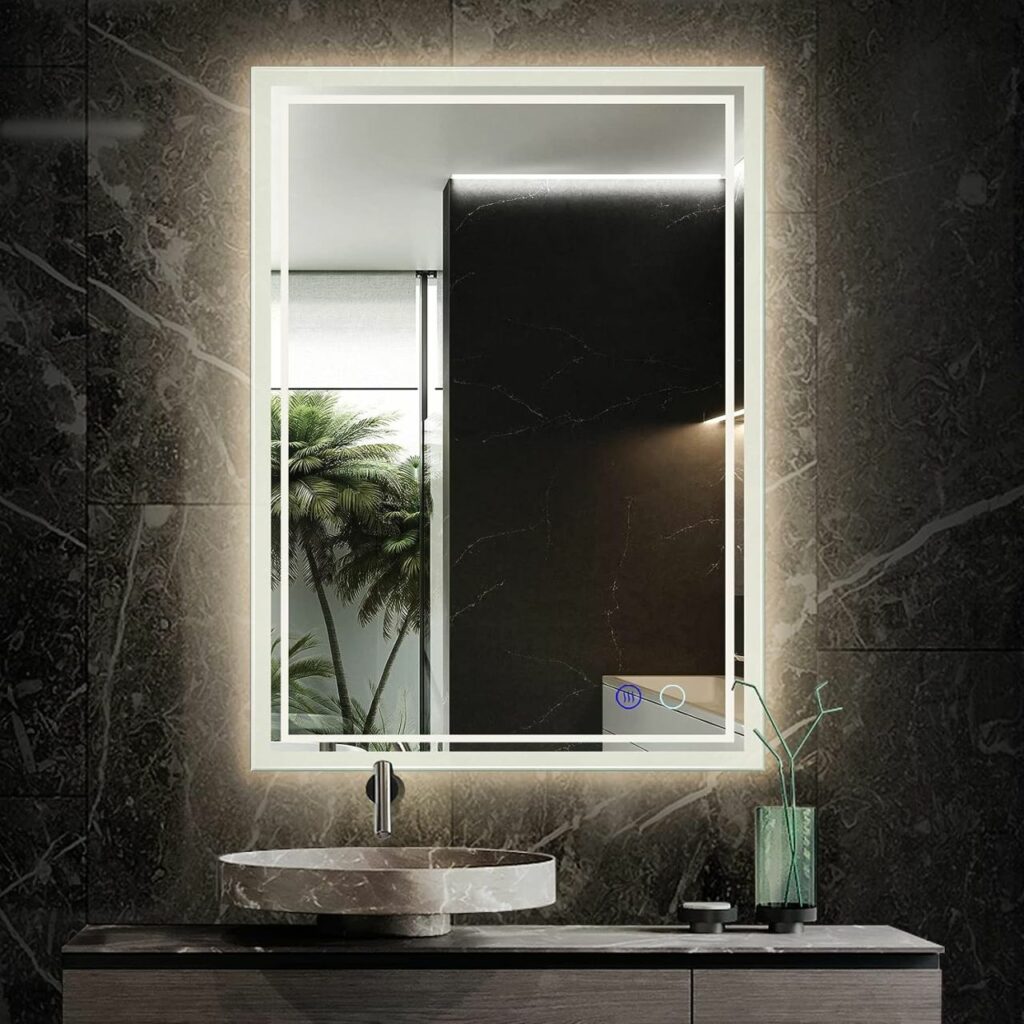 This wall-mounted bathroom mirror with lights can make your small bathroom feel bigger. It comes with waterproof and moisture-proof backing. The user can easily switch between warm white, natural, and daylight color temperatures. There are touch buttons to adjust brightness and turn on anti-fog function. The anti-fog feature ensures you see a proper reflection every time, even if there is moisture in the bathroom. It is available in 11 different sizes and can be mounted horizontally or vertically.
Buy: $102
Bonnlo LED Mirror with Bluetooth Speaker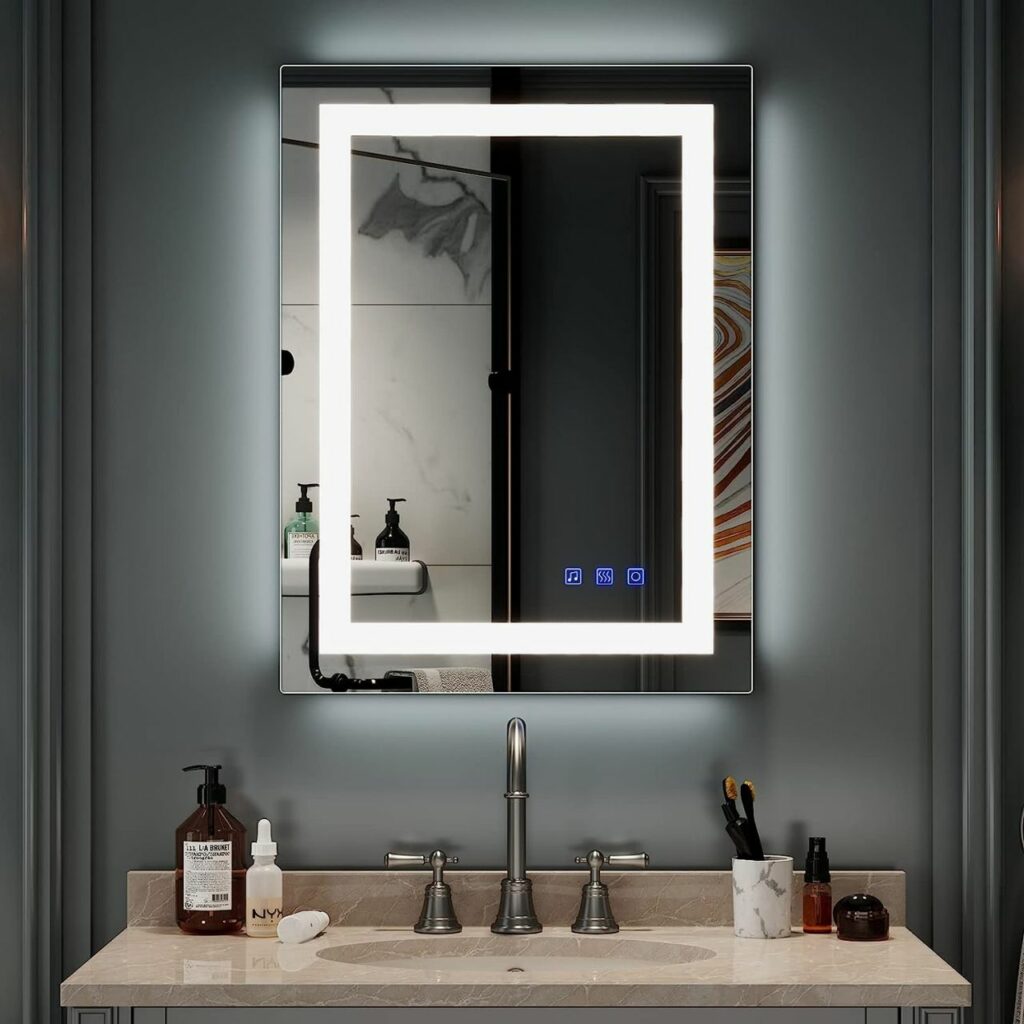 Our last pick for best LED bathroom mirrors is by Bonnlo, which includes an additional feature that is a built-in Bluetooth speaker. You can listen to your favorite music while you are applying makeup, shaving, and doing other tasks. Its sleek, streamlined design will add a touch of luxury and glamour to your bathroom. With the anti-fog switch, the fog will be eliminated automatically. There are three separate touch buttons to control the features. It is available in three sizes and five styles.
Buy: $166
Keonjinn Round LED Mirror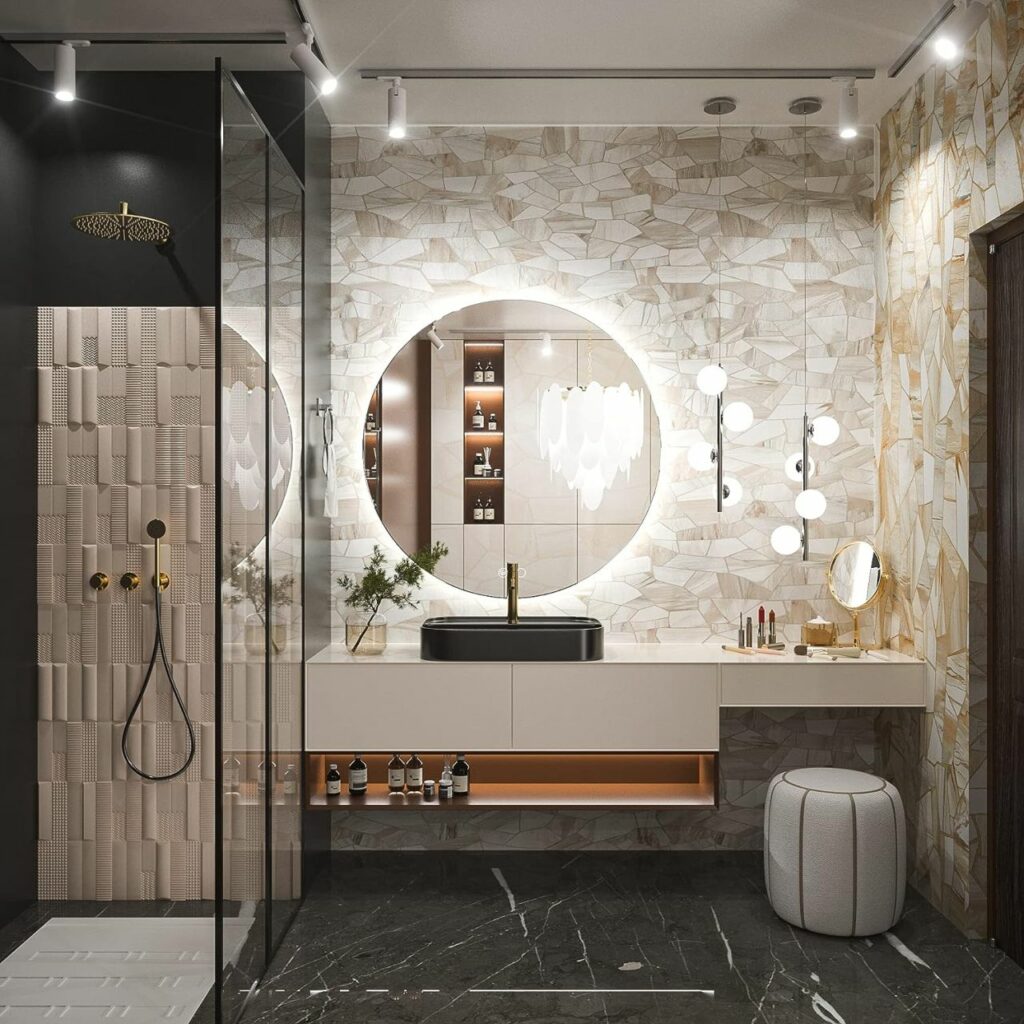 This bathroom mirror with lights features a sleek and rounded design to make any bathroom feel like a serene and tranquil haven. The Keonjinn LED Mirror is also dimmable, which means you can choose the lighting color per your mood. There are two onboard buttons (with memory function) to control the defogging feature and adjust the brightness from three color temperatures. It is available in four different sizes.
Buy: $190
Benefits of LED Bathroom Mirrors
The perfect lighting
Traditional mirrors in bathrooms with insufficient illumination cause unwanted shadows and stresses eyes. On the other hand, LED mirrors include built-in, energy-efficient LED lights that provide ideal amount of illumination. The balanced illumination minimizes jarring shadows, making it simpler to precisely apply makeup, shave, or do your beauty regimen. The LED lights make sure that your bathroom is always well-lit and welcoming, whether it is early morning or late at night.
Space-enhancing effect
Making the most of available space and giving the impression of openness is essential for those with smaller bathrooms. The best option is LED mirrors since they can give the impression that your bathroom is larger than it actually is. The light reflected by LED mirrors spreads across the bathroom for a spacious feel. This also works for bathrooms with little natural light.
De-fogging option
Traditional mirrors are prone to fogging from humidity and steam, which calls for frequent cleaning. However, LED mirrors have demister pads that stop fogging, giving you a clean reflection all the time. The LED lights also have a long lifespan, requiring little upkeep and preventing the need for regular bulb replacements.
Design choices
LED mirrors are a versatile choice for any bathroom since they are available in a huge variety of designs, shapes, and sizes. There is always a LED mirror that matches your design sense, whether you have a modern, minimalist bathroom or a more conventional one. You can choose from modern, frameless mirrors to ones with built-in shelving and storage to give your bathroom a touch of refinement. You can also customize LED mirrors for the bathroom according to your theme and furniture style.
Smart features
Some LED mirrors include smart capabilities that provide your bathroom experience an added touch of elegance and ease. Built-in defoggers, Bluetooth connection, temperature indicators, and touchless controls are some of them. All these features facilitate users with some extra benefits that enhance their grooming routine. Imagine entering your bathroom and having the mirror defrost itself while you listen to your favorite music through the speakers built into the mirror.