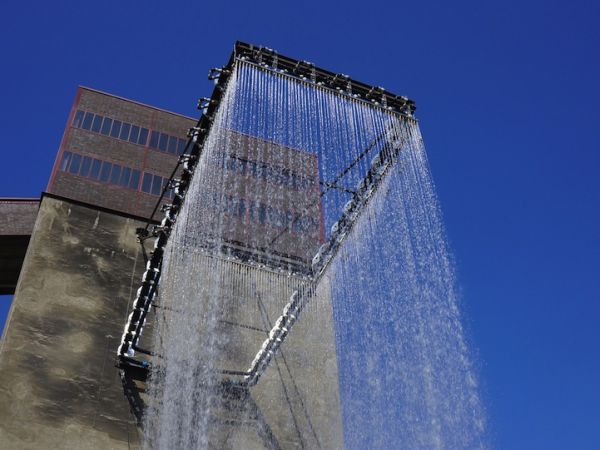 Imagine yourself standing beneath an ephemeral spray of 30,000 liters of water, with all the clinging moisture, fine vapor and the 'thunderous' ambiance of glory! No, we are not talking about some Jules Verne concocted larger than life scenario. London-based art studio rAndom I nternational (the very same designers who brought us Rain Room) has actually assembled an outdoor installation that seriously takes the scope of soaking to a whole new level. Christened as the 'Tower: Instant Structure for Schacht XII', this incredible shower mechanism (with a herculean capacity for discharging 30,000 liters of water per minute) is a 'performing' part of the Ruhrtriennale Art Festival in Germany.
The art-work shower emerges as cantilevered structure from a building. And, once you go beneath the overhanging mechanism, the magical experience of sound and sensation starts with unparalleled impunity. As put forth succinctly by the designers at Random –
 The sound of the falling drops is intensely loud and a sensation of moisture lingers in the air.
As we can see from the images, some visitors have already tried their hand (and body) beneath the gargantuan installation. This one of a kind experience is further enhanced by allowing you the romantic options of actually walking into a wall of water and dancing in the rain.
Currently, the outdoor shower can be seen inside the Zollverein Coal Mine Industrial Complex in Essen, Germany. So, if you have any plans for visiting Essen, schedule it before 6th October, as the installation will stay up till that date.
Via: MyModernMet