Salone del Mobile.Milano is more than a furniture trade show. Stretching over a campus of cavernous halls, the huge event is an opportune platform for designers – both established and emerging – to showcase their latest creations that'll eventually make their way into homes through furnishings and lighting accessories. While Salone del Mobile caters to a wide array of styles and themes, the winds of sustainability have been strong in 2023.
"Salone del Mobile has to continue its long and proud history by maintaining its leadership as an international hub where manufacturers and architects, designers, and general visitors get together taking the role of capital of design and of design culture. The Salone del Mobile has always been the pole of attraction for innovation and is also an example of being able to constantly innovate its content and communicate with the world. Sustainability and inclusivity are the new challenges." Maria Porro, President, Salone del Mobile, told Homecrux.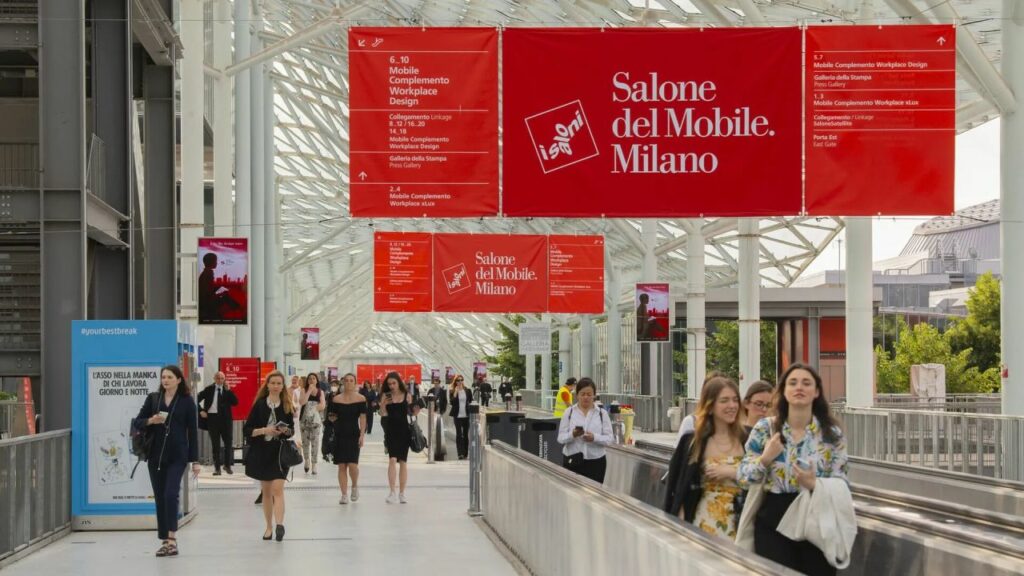 Sustainability has been one of the underlying themes of 2023 Salone del Mobile with a focus on a circular approach to social, environmental, and economic aspects of both the kermesse and out in the world. Many of the furnishings and lighting fixtures being exhibited at the 2023 Milan Furniture Fair uphold the criteria of sustainable design. Moreover, the event itself has established sustainable and long-lasting values combined with ethical principles of inclusion and transparency.
With economic, social, and environmental responsibility being a priority at the 2023 edition of Salone, we take a look at sustainability in furniture design and lighting accessories at the event. From recycled and upcycled plastic waste turned into exciting furnishings to eco-friendly and energy-efficient lighting solutions, sustainability is the whetting and reigning champion of the Salone del Mobile 2023.
Furniture
Ecological furniture has become a big trend with the changing design landscape as more and more designers are doing their part for the environment. Recycled plastic, natural materials such as stone and clay, and biodegradable raw materials like hemp are being utilized to create chairs, tables, and benches for living spaces both indoors and outdoors. Let's check out what eco-friendly furniture made a splash at the kermesse.
3D Printed Benches from Recycled Plastic
Design by: The New Raw
Netherlands-based The New Raw exhibited its winning 3D-printed benches from recycled plastic with a fabric-like texture. Part of the Knotty project, these benches are a collection of playful seating featuring a unique tactile texture that represents the potential of digital fabrication technology.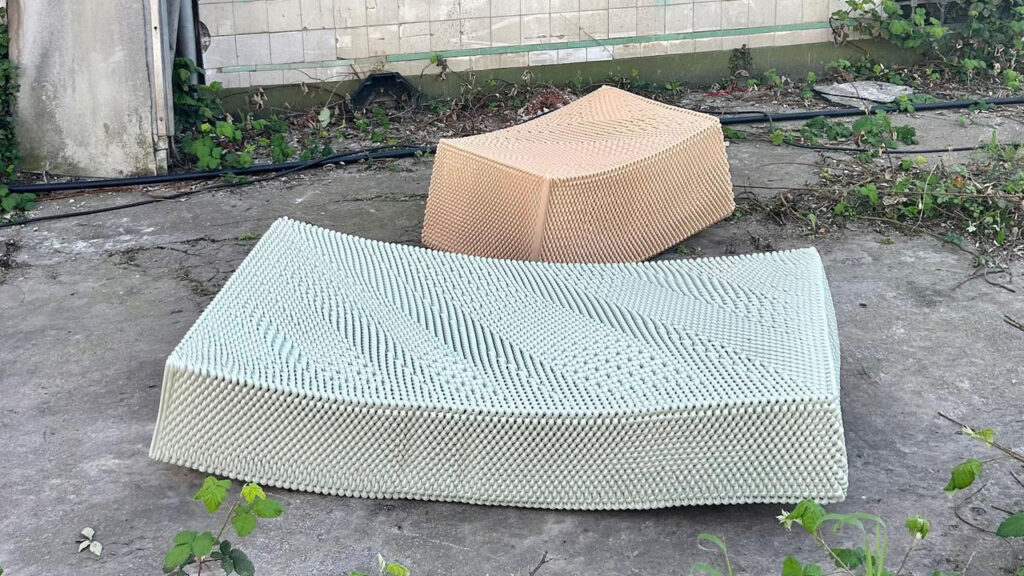 Inspired by knitting methods, the manufacturing turns plastic waste into a continuous thread that folds, twists, and loops to create an intriguing tactile surface alike to textiles. Suitable for outdoor usage, the knitted patterns allow water drainage and the hollow internal structure minimizes the overall production cost while ensuring sustainability.
Hemp PEEL Chair
Design by: PROWL Studio
A collaboration between PROWL Studio and M4 Factory resulted in the creation of the PEEL Chair, which is made from hemp as a responsible alternative to pervasive plastic stacking chairs. Rebuffing the use of toxic chemicals or toxins, the PEEL is biodegradable and compostable. The lightweight and stackable chair is easy to store and transport.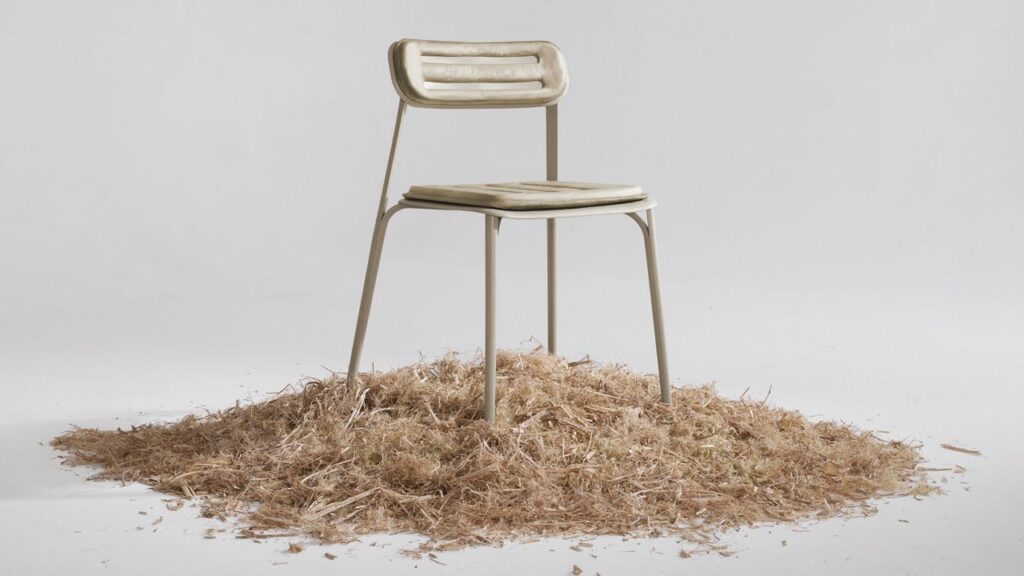 First-of-its-kind injection-molded furniture, the chair has a frame made from hemp-based bioplastic, while the hemp foam cushion covered in hemp bioleather offers natural elasticity. Being biodegradable in the true sense, the frame takes six months to decompose but the rest can break down as soon as an orange peel.
OTO Chair Made of Ocean Plastic Waste
Design by: Alessandro Stabile and Martinelli Venezia
Initialized in 2014 as a research project by Alessandro Stabile and Martinelli Venezia, OTO Chair has finally been revealed to the world at the Milan Furniture Fair 2023. Made from ocean plastic waste, the flat-pack chair draws attention to marine plastic pollution. The elements of the chair can be assembled by the user without any tools. The fastening elements of individual parts are designed to be easily producible but highly resistant at the same time.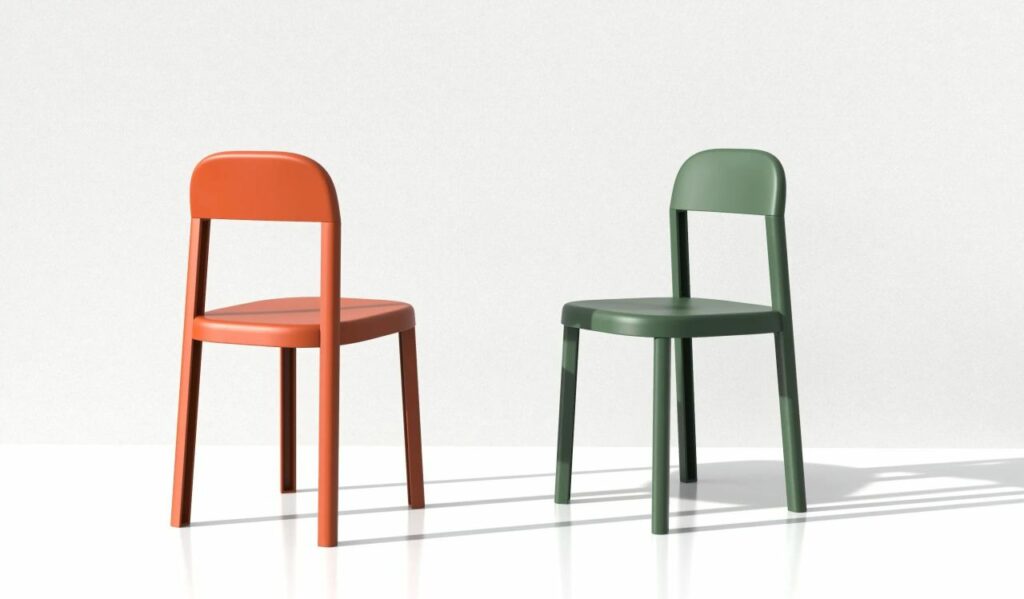 The usage of a single material makes it a sustainable product. The designers teamed up with Ogyre, the first Italian digital platform for marine waste recovery to create such material. To make the production green, all the elements of the OTO chair are molded in one go, which optimizes the mold size and the speed of production, reducing waste.
Super Chair from Recycled Plastic Chair
Design by: Nicholas Baker for Damiano Latini
Bearing resemblance to the iconic Panton Chair, Super Chair has a similar S-shaped design and is made from recycled plastic chairs. Featuring a sculptural design, the chair is manufactured with injection molding technology using 100 percent recycled polypropylene. It is coated with a silky finish to add a velvety soft texture.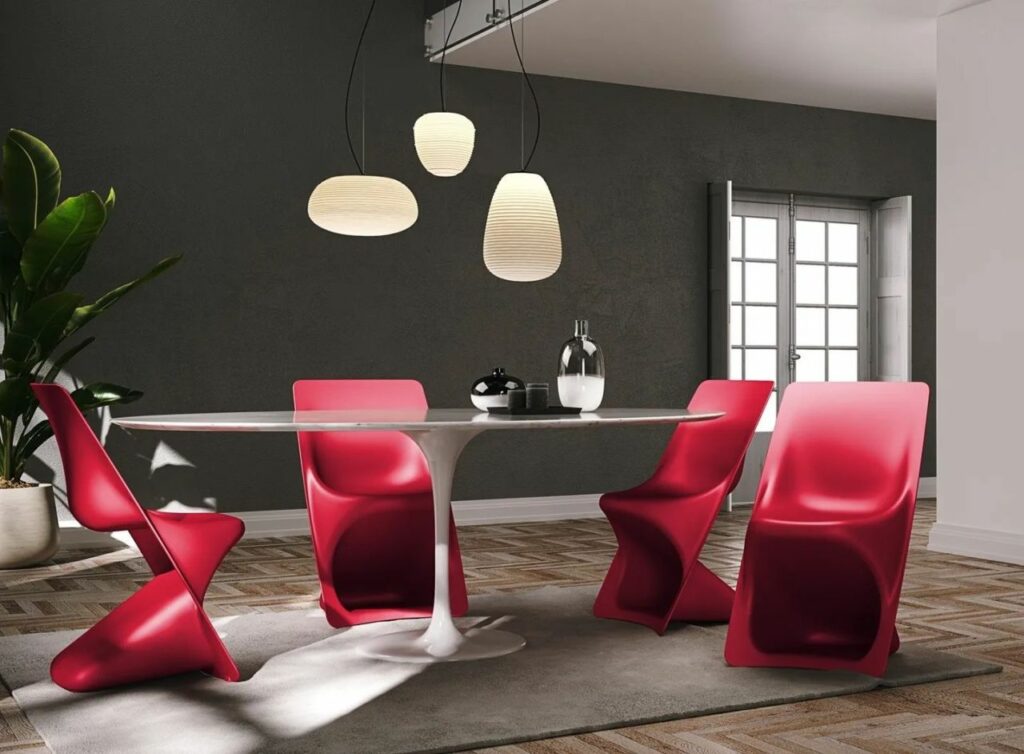 Focusing on its eco-responsibility, the material used for the production of the Super chair is made with RE-LIFE technology. The polymer part is obtained from recycled industry offcuts without the use of fossil resources. The Super chair is a monocoque 100-percent recycled plastic chair, intended for domestic and contract environments.
Kasane Clay Table
Design by: Nendo for Gervasoni
Japanese studio Nendo has designed an intriguing piece of furniture, dubbed Kasane 33 Clay Table for Italian home furnishing company Gervasoni. Inspired by stacked cups, the literal translation of Kasane is piled up; hence the name. Covered in a thin layer of clay, the base of the table is made from expanded polymer while the top is made of MDF.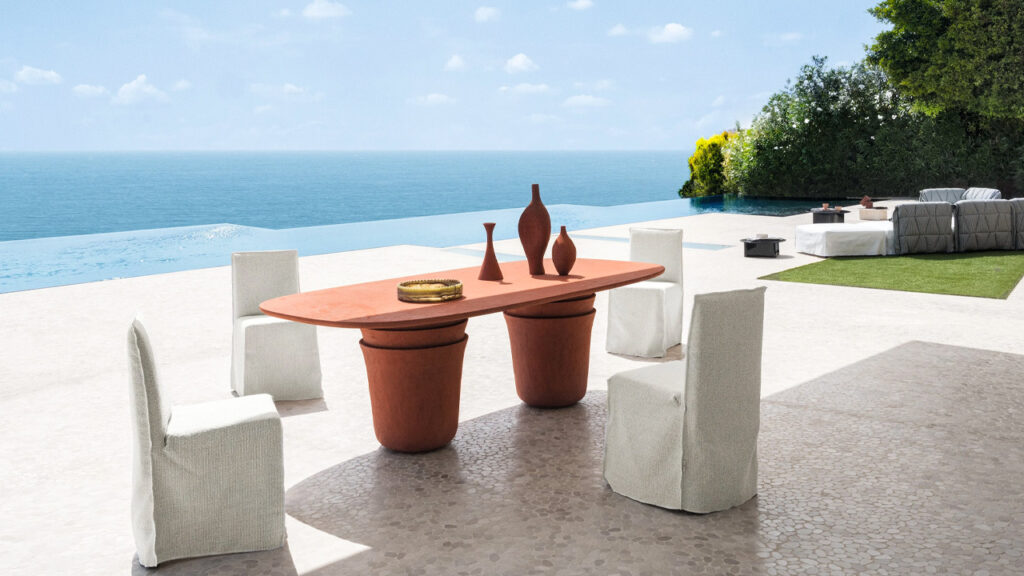 The finish in clay offers an exquisite texture to exhibit materiality and pleasant palpability. Suitable for styling on terraces, gardens, and swimming pools, the Kasane poufs and tables are distinguished by the pulsing expression of the stacked edges and the grainy texture of the clay.
Lighting
Sustainability wasn't limited to furniture designs at Salone del Mobile 2023. Many struggle to understand the sustainable aspects of lighting design, but there is nothing complicated about it. If your lighting fixture is energy-efficient, is distinguished by its low consumption and high efficiency, uses low-impact, recycled, or recyclable raw materials, and adopts circular economy principles, it is sustainable. This year's Salone del Mobile returned with the much-anticipated edition of Euroluce.
Osca Suspension Lamp
Design by: Bodo Sperlein
An architecturally inspired lamp with a charming aesthetic, the Osca suspension lamp is created with simple, interlocking three-dimensional wood veneer arches that both face upward and downward. Designed by Bodo Sperlein, this handmade sculptural form is crafted out of responsibly sourced wood.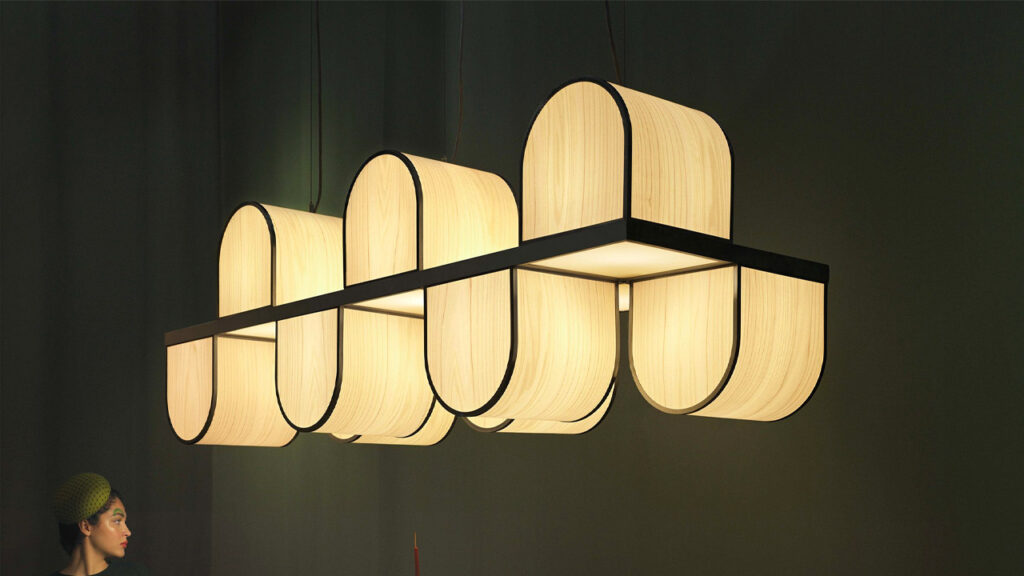 The minimalist light feature comprises an arched silhouette, paying an ode to Cubist sculptures. The process used to make the sculptural structure is called Timberlite, a sustainable technique to eradicate harmful and chemical substitutes.
Silence Lamp
Design by: OLEV
Embracing biophilic design and energy efficiency, the Italian company OLEV unveiled two new suspension light fixtures at Salone, both containing real leaves. Surprisingly, these leaves will stay fresh over time without any water or maintenance – thanks to a stabilization treatment. The new OLEV Silence lamp collection comprises two models – Gavin and Meeting – distinguished by their shape, size, and purpose.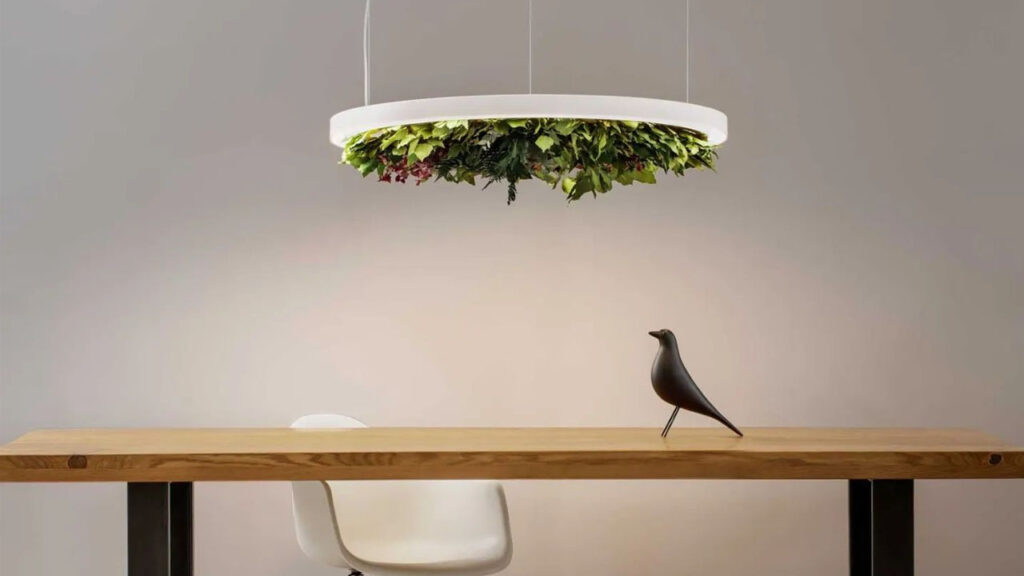 Gavin Silence Leaf is a LED light ring while the Meeting Silence Leaf sports a rectangular shape. In both versions, the central housing is enclosed with a sophisticated arrangement of preserved foliage, creating one-of-a-kind light fixtures.
ASAP Lamp
Design by: Lucas Muñoz Muñoz
Uniquely experimental, the ASAP lamp is made from natural wood veneer with its folds, curves, and spirals guided using copper rods. A stunning design, the lamp comprises rigid copper rods to conduct electricity, wood veneer to diffuse light, and a terracotta base to offer stability.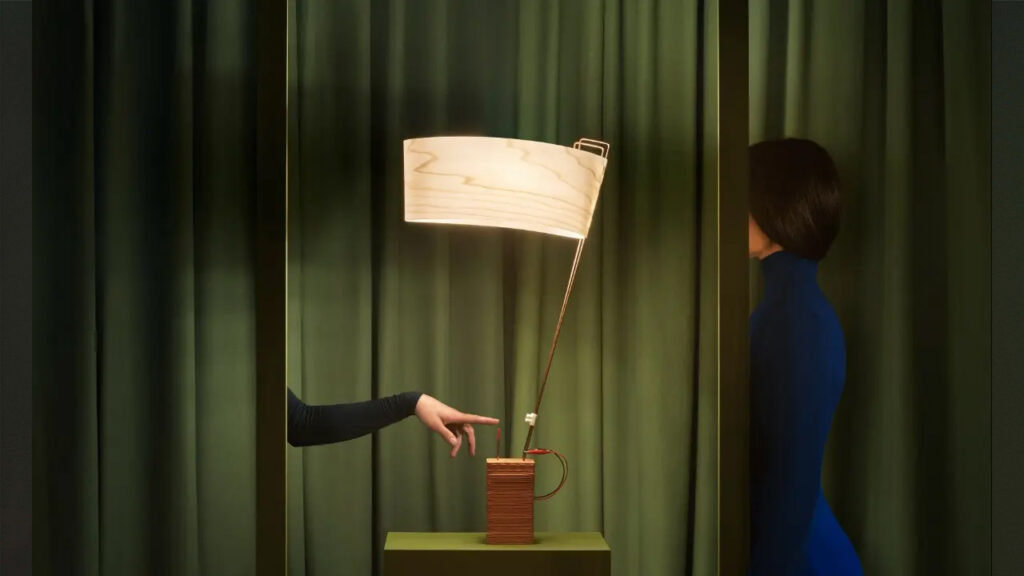 The minimalist practice of industrial sustainability uses primary materials of juxtaposition, recyclable and low voltage. The base and support of the lighting fixture are made by 3D printing. It's the usage of clever materials that lessens the waste in the manufacturing process, making the lamp more sustainable than its counterparts.
Tiny Table Lamp
Design by: Ray Power Design
It is difficult to find a small table lighting fixture that will not only offer illumination but also blend with the interior design and be sustainable as well. The Tiny Lamp by Ray Power is a classic solution for people looking for such as table illuminant. It is a cute little lamp with a heavy character. Made with a single strip of wood veneer, it is wrapped twice around the light source.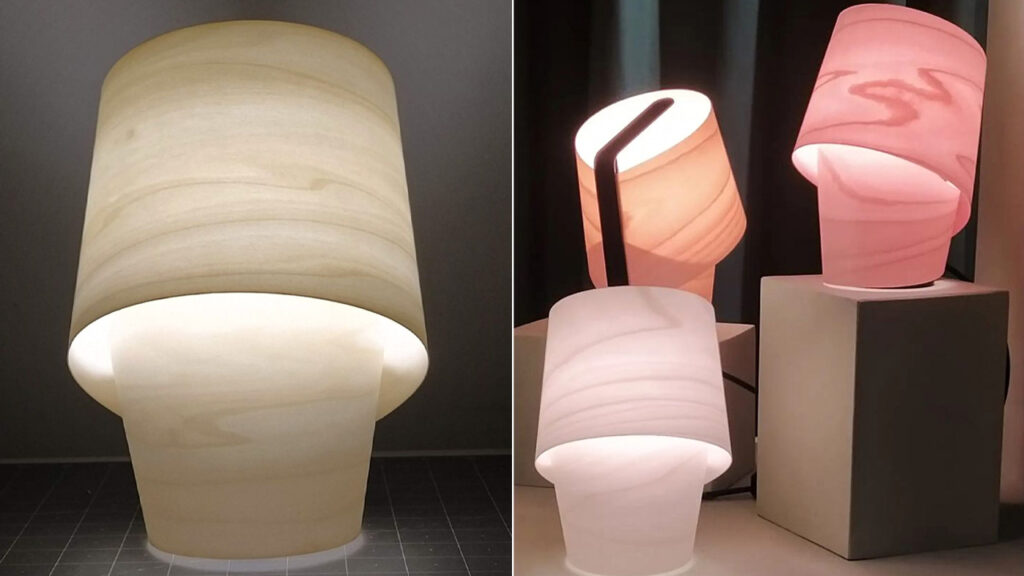 A metal strip holds the wood structure in place, offering a striking contrast to the lamp. The veneer diffuses the glow unveiling a unique and natural wood grain pattern that seamlessly lends a sensuous grace to any interior.
TECKA Solar Table
Design by: Les Jardins
Marrying lighting and furniture in a sustainable design, Les Jardins has successfully accomplished its mission of developing powerful solar and/or rechargeable lights as it unveiled its TECKA Solar Tables at the Salone del Mobile 2023. The solar-powered rechargeable coffee table comprises a teak frame and Duratek finish with a round top made of iridescent black Fenix.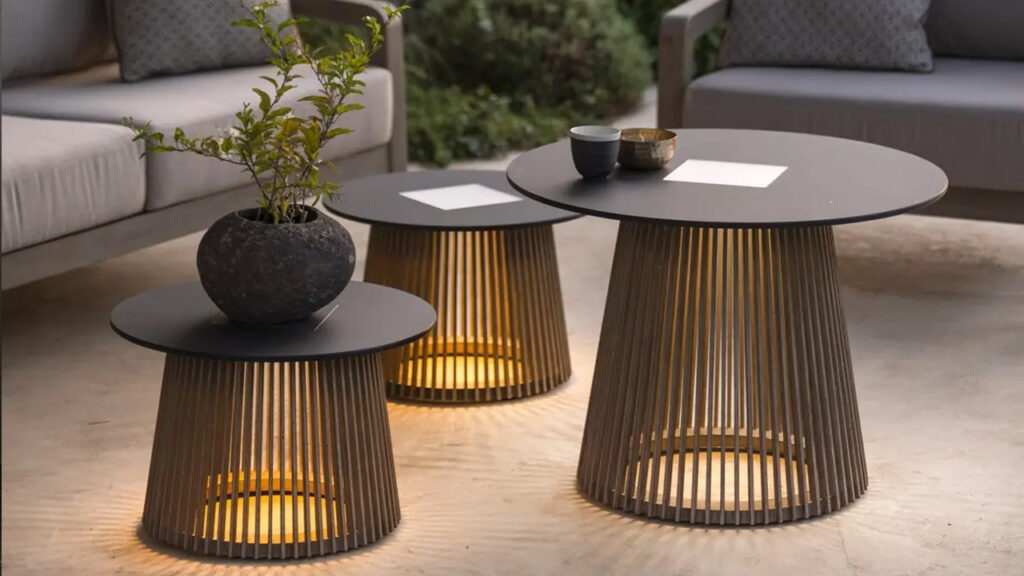 Equipped with a 500-lumen smart solar module, the outdoor furniture cum lighting glow up automatically at twilight. It diffuses a warm, powerful light with an adjustable intensity of up to 500 lumens for 5-200 hours.