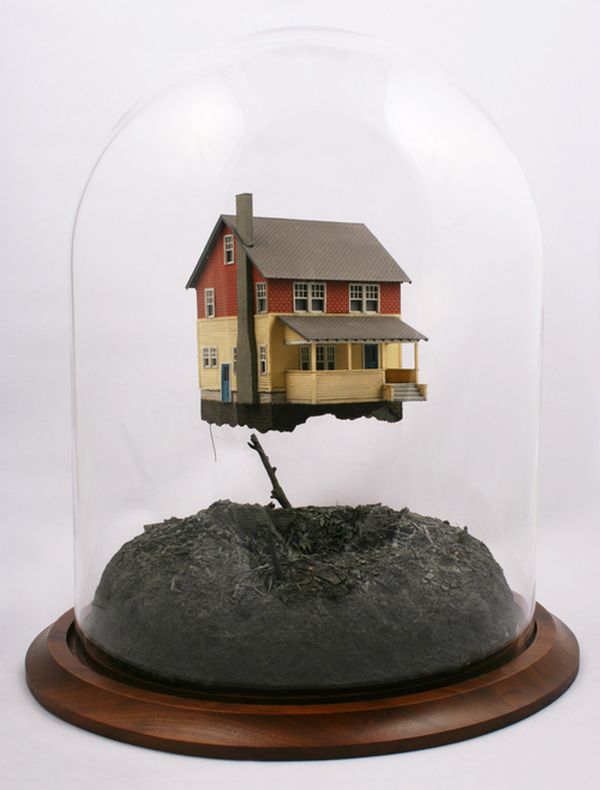 Adorable miniature houses within glass enclosures surely pose as good novelty items upon your living room shelf. However, New York-based artist Thomas Doyle has taken a more 'catastrophic' route with his eccentric series of mini-houses. What might look like quaint specimens of delectable dollhouse art, the bigger picture of these his works present a slew of calamitous scenarios. For example, in one of his designs we see a rustic red-yellow wall framed house being sucked into a gargantuan sinkhole. In another instance, we can see a blue painted house snatched up in the air by the untamed force of a tornado.
The dynamic essence of these art works do not just show destruction in a literal sense. Some allude to a more symbolic scope, like the one in the below image. This particular miniature exhibits the duality of dream and nightmare, or rather how a dream can turn into a nightmare (with the perfect house set-up along the top facade and its corresponding ruin along the bottom facade). Other specimens of the miniature series deal with more surrealistic scopes, like the display of a small glass enclosure within a bigger glass enclosure.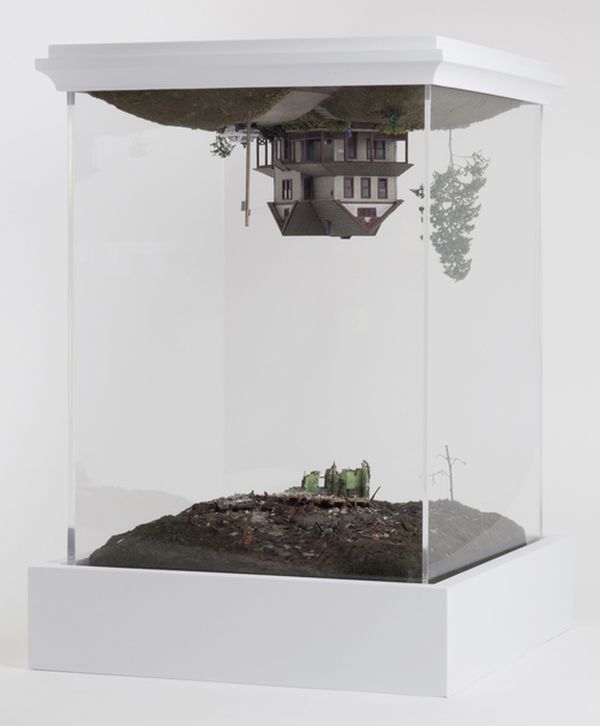 At the end of the day, Thomas Doyle's do have a sense of ardent despondency attached to them. However, in purely objective terms, the miniatures are surely detailed in their bearing. This combined with the 'dynamic replication' of the outdoors do make for magnificent set pieces that are sure to add both value and scale to your home decor.
The art works are currently on display at the Ronchini Gallery in London, as part of the 'Dream No Small Dreams' series.
Via: Curbed