Koket unveils Obssedia: An exquisite dining table with gold leafed base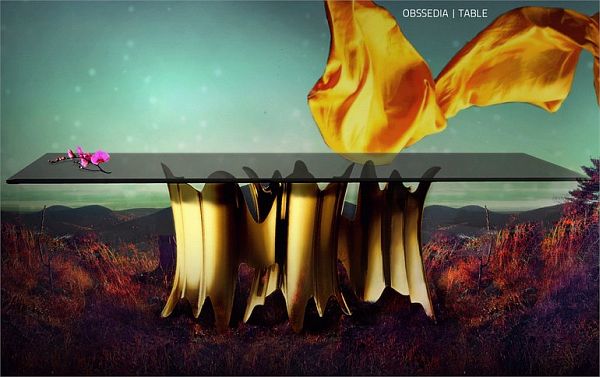 Sheer opulence draped in exquisite elegance: this short statement filled with adjectives righteously describes the Obssedia, a nigh ostentatious dining table from home decor luxury brand Koket. In its refined form, the table showcases a smooth surfaced glass top slightly smoked with bronze. However, the 'piece de resistance' of the majestic furniture continues at the bottom with the remarkably crafted gold support.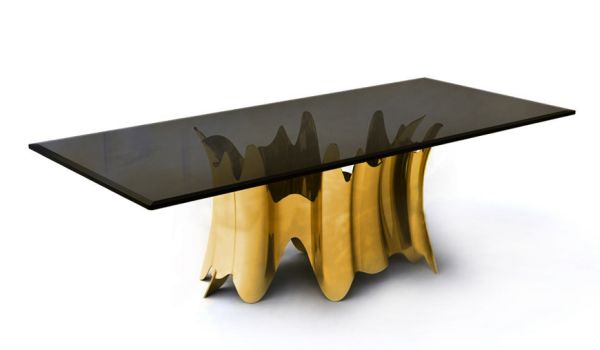 According to the designers, the 'aesthetic progression' of the Obssedia starts from the top. At the very first glance, it starts out as a conventional table with a clear glass top with a bronzed hue. However, as the user continues with his/her gander, they should finally come across the aforementioned gold support, which is deftly undulating its bearing yet structurally solid in its conception. This grandiose treatment alludes to that ultimate effect; the complete metamorphosis of a dining table into a sublime piece of art.
Now, beyond the ornamented visuals, the Obssedia as a furniture item is quite heavy. The 243 cm (width) x 110 cm (depth) x 77 cm (height) table weighs around 82 kg (or 181 pounds). Of course, much of it has to do with the gold leaf covered base, which also poses as the striking element of the whole furniture.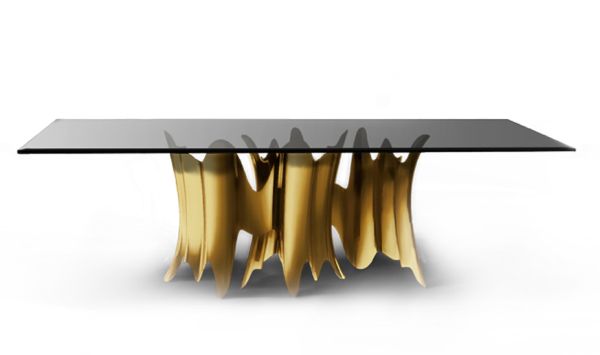 Via: ByKoket
The following two tabs change content below.
A proud native of the beautiful steel township of Durgapur, West Bengal, Dattatreya's fascination lies within a range of diverse matters. With a bachelor's degree in architecture, he is quite fond of his hardcore strategy gamer as well as amateur historian tag. Of course, with over two years of blogging experience under his belt, he also likes to write about the latest updates on home based technology and gizmo oriented products.
Latest posts by Dattatreya (see all)
Comments