Nao Nao: A fascinating fusion of a rocking chair and a large swing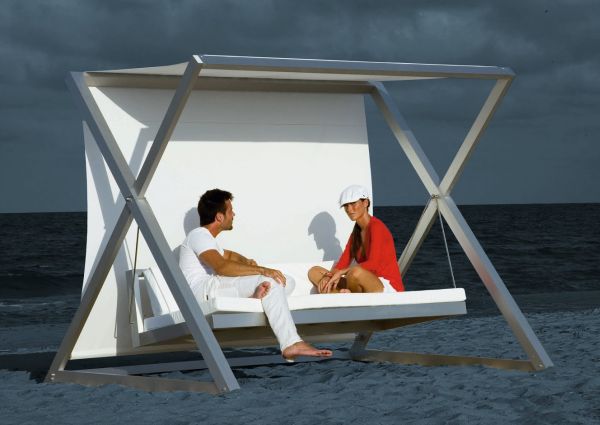 Fusion of different furniture styles is not in any way a new fad in the realm of home decor (ottoman: a cross between a bench and a footstool, comes to our mind). However, when this fusion has the potential to be convenient as well as practical for the user, the design can be termed as a success. In this regard, we have come across the 'Nao Nao', a hybrid conception that can be viewed as a fusion of a rocking chair and a large swing. Exhibiting a quite simplistic form with an imposing bearing, the chair can be used as a leisure furniture piece for both your outdoors and the expansive interiors.
The solid framework of the Nao Nao is crafted from anodized or lacquered aluminium components. This form is complemented by a white canvas of plastic fabric, which is conveniently removable and also water-repellent. So, in other words, the canvas is not just for the aesthetics, but also improves upon the usage pattern of the large chair. And, since, we are talking about usage pattern, the chair has the remarkable capacity for three people (with maximum load of 300 kg), with its 50×50 cm cushions included.
Via: YolandaHerraiz
The following two tabs change content below.
A proud native of the beautiful steel township of Durgapur, West Bengal, Dattatreya's fascination lies within a range of diverse matters. With a bachelor's degree in architecture, he is quite fond of his hardcore strategy gamer as well as amateur historian tag. Of course, with over two years of blogging experience under his belt, he also likes to write about the latest updates on home based technology and gizmo oriented products.
Latest posts by Dattatreya (see all)
Comments