Poyke – A charming work stool with adjustable seats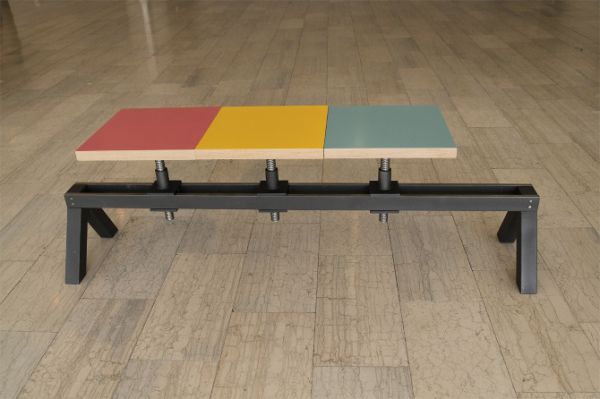 Adjustability meets simplicity in the 'Poyke', a charming work stool with three separate seats. These vibrantly colored seats are modifiable height-wise and also position-wise, thus making the conception a hybrid bench with multi-purpose features. For example, the vertical adjustable nature of the seats allows people of different heights to easily adapt to their seating position. While the horizontal adjustable scope (that is positional adjustment) of these same seats makes the Poyke practical for different scenarios – like using it as a collective chair for those two-people piano playing sessions, or moving to one side and using the other seats as a platform for keeping your foods and drinks.
The lower support of the Poyke comprising of the legs, rails and height adjustment system is crafted from sturdy metal to maintain the structural integrity of the furniture. The upper seats on the other hand are made from wood and then draped in vivacious hues of primary colored paints. This unpretentiously linear juxtaposition of timber and metal further notches up on the industrial look, highly reminiscent of the Modernist style where 'form follows function'.
Via: YonderMagnetik
The following two tabs change content below.
A proud native of the beautiful steel township of Durgapur, West Bengal, Dattatreya's fascination lies within a range of diverse matters. With a bachelor's degree in architecture, he is quite fond of his hardcore strategy gamer as well as amateur historian tag. Of course, with over two years of blogging experience under his belt, he also likes to write about the latest updates on home based technology and gizmo oriented products.
Latest posts by Dattatreya (see all)
Comments