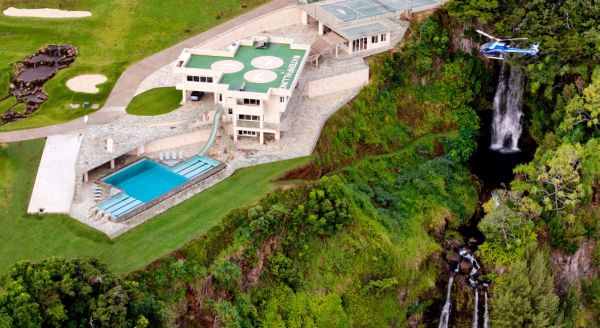 We'd all love to live by a waterfall flowing into the Pacific, but only a few with big cash to blow can afford luxury of the Water Falling Estate built on a breathtaking cliff along the Hamakua Coast in Big Island, Hawaii. The mansion boasting of endless facilities, unparalleled views of the Pacific Ocean and personal waterfalls, has been built by Scott Watson. Over the course of seven years Watson has transformed an ordinary cliff into a ravishing 9.44-acre estate with five bedrooms and ten bathrooms.
Besides offering panoramic views of natural waterfalls and whale-watching in the Pacific Ocean right from inside the bedrooms, the 10,000 sq. ft. Water Falling Estate features an Olympic infinity pool with two-story waterslide and high-dive platform, a three-chopper helipad, nine-tee golf course, 450-seat tennis stadium and basketball court, three-story vacuum tube elevator and fully furnished garage for four cars.
Watson believes in testing homes he builds to make sure everything is perfect in them, thus he has been living in the Water Falling Estate for about a year and half now. Watson had originally listed the estate for $26.5 million, but it didn't sell, a reason he had put the property for auction through Concierge Auctions. About 10 bidders qualified to compete in the auction, though sale is pending. We will update you on the price it sells for.
Via: ConciergeAuctions