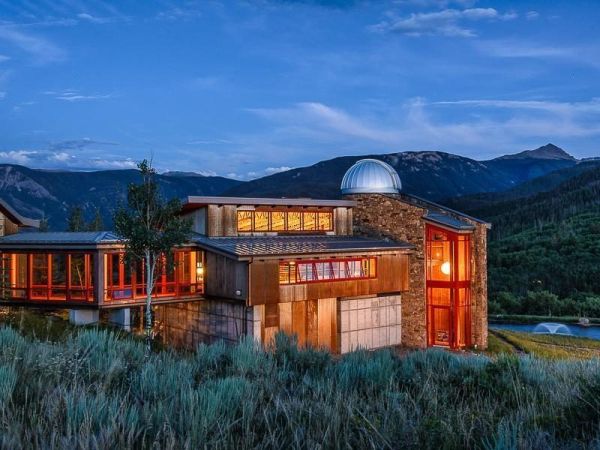 Very few imposing mansions and opulent residences can boast of what the above pictured Colorado based single family house has. We are talking about its professionally built telescope observatory that certainly tips the scale in favor of jaw dropping. In fact, the entire $9 million Squaw Creek Estate has been built for an owner whose pockets and mind both run deep. In this regard, the expansive 'hobby home' incorporates around 10,561 sq ft of full furnished space, which is nestled in a paradisiacal Aspen setting of 34 acres. And, if you are still unsatisfied with all the star gazing and lush green landscapes, the estate further flaunts its indoor tropical greenhouse, along with a fully automated Creston system (multimedia/temperature/lighting) that can be controlled via your smartphone.
In terms of spatial zones, the Squaw Creek Estate house basically built with two wings connected by curving glass walled bridge way. The circulation areas are all integrated along a main floor area comprising of the kitchen, dining, master suite, additional bedrooms, living room, office and a library. Other complementary zones include outdoor living areas, like two patios with their fireplaces and a separate caretaker apartment with its own set of utilities and grand views. However, the 'piece de resistance' of the rustic interior build would surely be the studio space (situated in another wing) with two storied, floor-to-ceiling glass panels and a gargantuan observatory mounted on top.
Finally, accompanying the ritzy credentials of the interiors is the expansively verdant outdoor setting of the  Squaw Creek Estate. Boasting of spectacular views, a whole unique property for horses, an adjacent plot for future building projects (of the owner), hiking paths and finally trails that lead to the White River National Forest, the entire scope alludes to a 'personal eco-system' of mammoth scale.
For buying and other details, please refer to the SothebysRealty site.