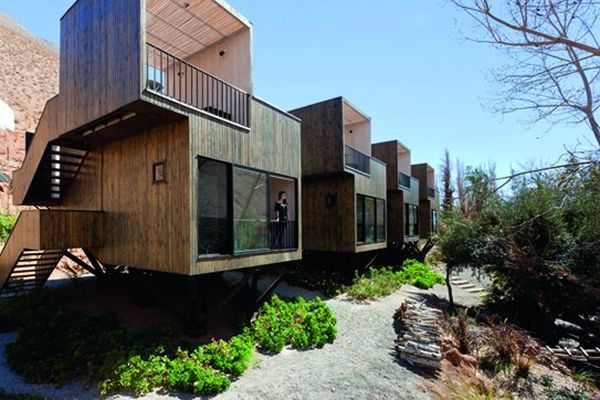 Star gazing inspiring architecture? That seems to be the remarkable case with the single-room cabins designed in Chile's famed Elqui Valley. Situated in the Norte Chico region of the country, between Santiago and the Atacama Desert, the remote Elqui Valley has always been a haven for star-gazers and astronomy aficionados. And now Rodrigo Duque Motta of RDM Arquitectura has taken advantage of the allure presented by valley's clear skies (actually one of the clearest from our earth) and good weather to construct the Elqui Domos cabins. In this regard, each of the star-gazing cabins comprise of four 1.5 m long sheets of angled glass positioned above the bed, for unparalleled maximized views of the surrounding mountains and the skies. Additionally, the ambit of the night-sky experience is improved on many levels by also integrating dedicated telescopes on each the roof terraces.
The rustic, subdued nature of the Elqui Domos cabins themselves are inspired by the wondrous scope of the valley. This design direction results in the simplistic arrangement of spaces that maintains comfort with sylvan essence. Of course, some interior zones of the circulation spaces also conform to an observatory style pattern; which is quite expected, as the great Milky Way shines brighter here than in almost any other location in the planet.
Since the Elqui Domos cabins have been envisaged as focal points of hobbies for enthusiasts, the Elqui Valley does boast of a host of other activities, including hiking, biking and even horse riding. And, as 'a cherry on the top' of the holiday, you can round off your stay with an expert tour of cosmology from the Elqui Domos hotel staff.
Via: Minispace