It won't be wrong to say that almost each one of us has dreamt of living in a treehouse in our childhood. If you live in a busy city, chances are you haven't experienced a treehouse stay yet. As a matter of fact, there's nothing more satisfying than sleeping in a cabin high amid the trees. And one way you can realize the dream of perching with the birds on trees is by renting out a treehouse vacation rental.
These holiday accommodations provide us with a cool opportunity to connect with nature and live out our childhood dream. If you want to spend a night in a tree-top cabin, check out the following list of the best treehouse hotels, resorts, and vacation rentals from around the world, designed to offer stunning panoramas and a cozy environment to its occupants. We hope this roundup inspires you for your next vacation!
# Amazing Treehouse Hotels You'd Wish to Stay in Once
ACRE Treehouse in San José del Cabo, Mexico
Nestled in a canopy of palms, this treehouse might catch your attention with a unique facade made of natural materials. Thatched exterior walls are a cool element of the treehouse that helps in ventilation naturally.
Accessed via its own path decked with foliage, the treehouse is a kind of private, jungle oasis with facilities of a boutique hotel. It has a king-size bed with mosquito net, terrace, closet, bathroom, and outdoor shower.
Nearby places: Baja California Sur, lagoons of the San José Estuary and Bird Sanctuary, Cabo Pulmo Marine Park, Lands End, etc.
Price: Starts from $375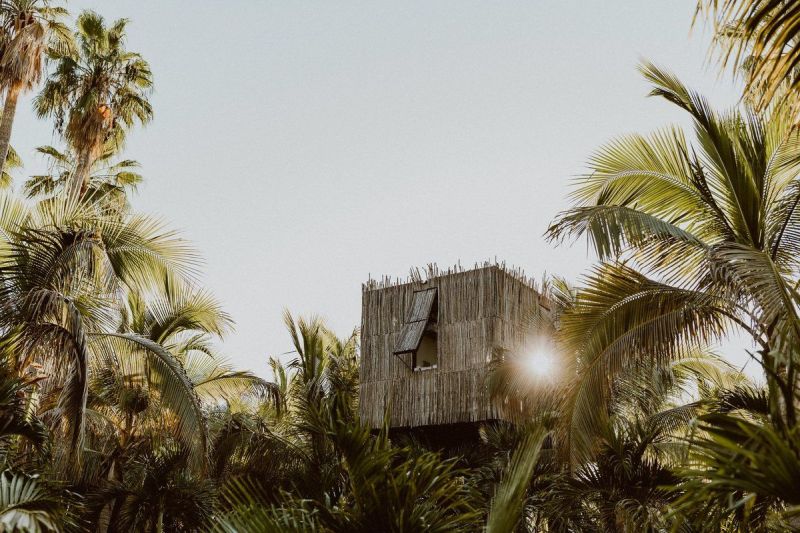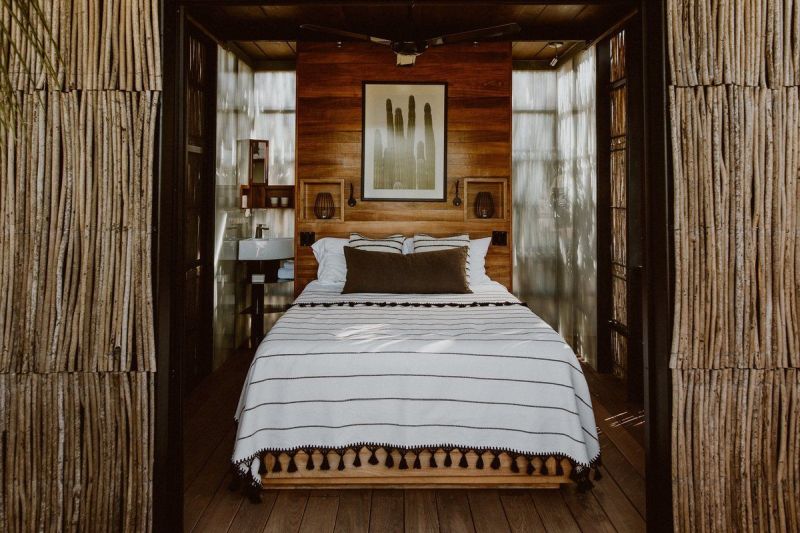 Spiral Treehouse EcoResort in Okinawa, Japan
Nestled 10-meters above the ground, this beautiful treehouse in Japan provides guests with sustainable luxury. There is minimal use of electricity and that is also generated from solar power. It has a double bed to sleep two guests and a compost toilet.
A spiral staircase built around a tree leads up to the main area. Its minimalist design is what makes it different from others.
Nearby places: Busena Marine Park, Neo Park Zoo, Nago City Hall, Shuri Castle, Blue Cave at Cape Maeda, etc.
Price: ¥120,000 about $910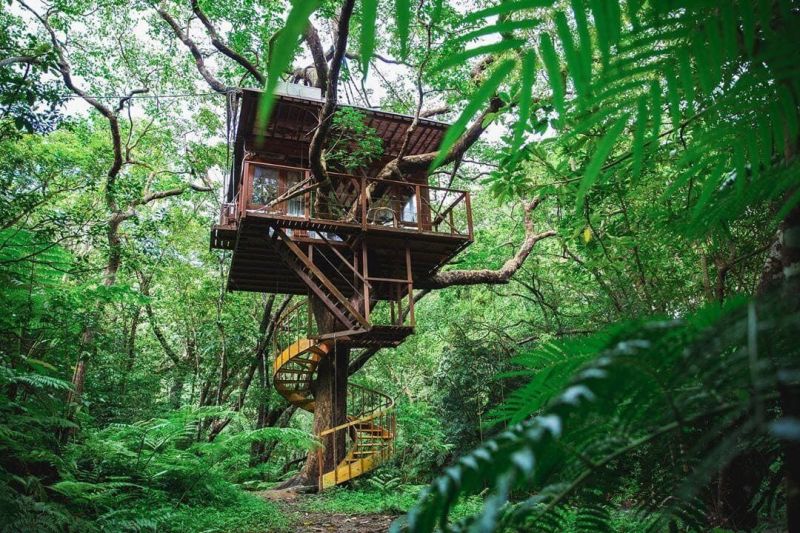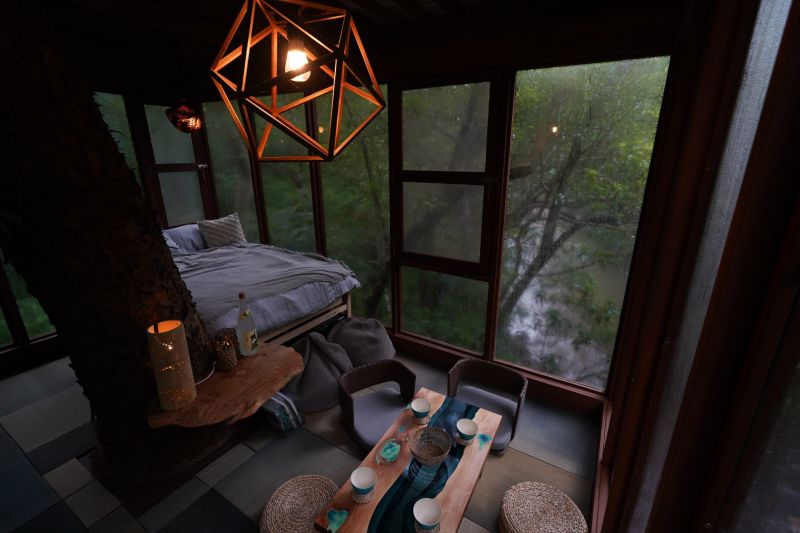 Woodnest Treehouse Hotel in Norway
Located in a forested region of Odda in Norway, this captivating treehouse is built by Norwegian architects Helen & Hard. It suspends 5-6m above the forest floor on a single pine tree.
The treehouse cabin features an open floor plan, with a sleeping area, a bathroom complete with shower and toilet, a kitchenette, and a living room. There are large windows on the front, providing views of the Hardanger fjord.
Nearby places: Hardangervidda and Folgefonna national parks, Trolltunga cliff, Lilletop hike, Røldal ski centre, etc.
Price: 3,300 NOK (about $320)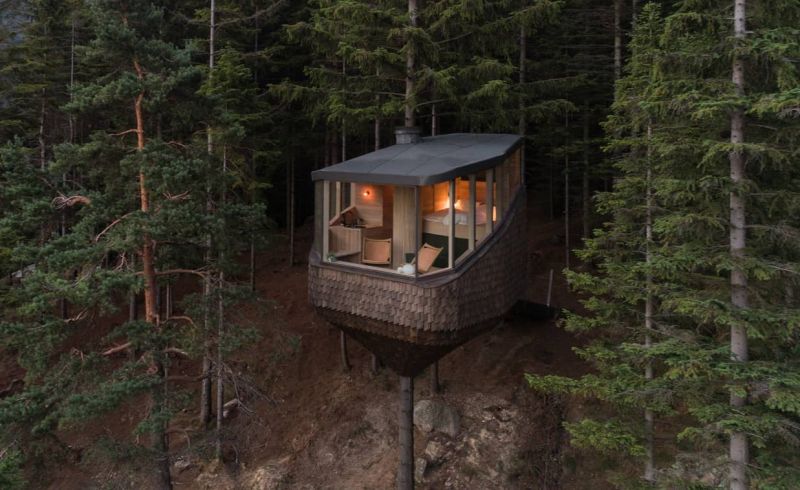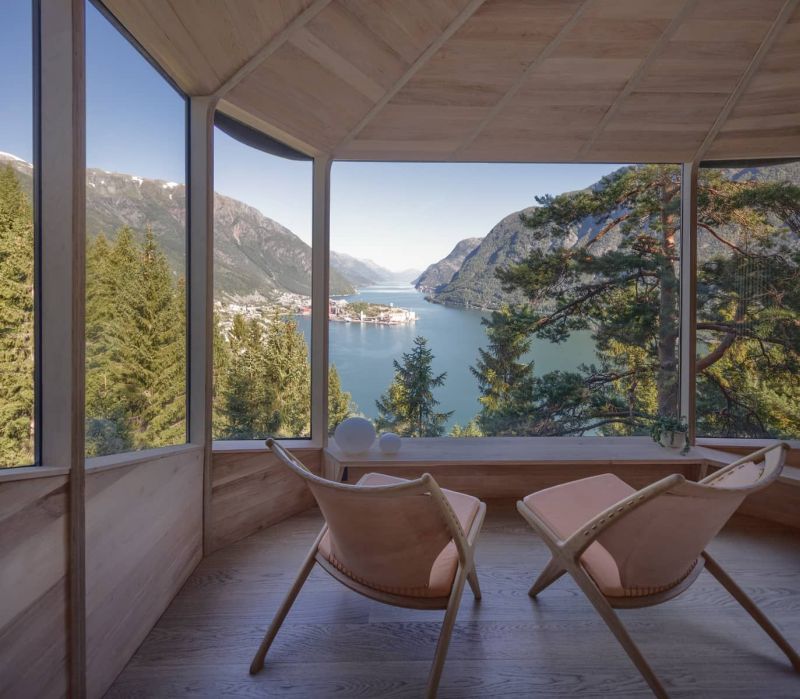 Løvtag Treetop Cabin in Denmark
This star-shaped treehouse cabin is located amidst the serene beauty of Mariager Fjord in Denmark. Designed by architect Sigurd Larsen, it features minimalistic Nordic interior design for a super comfy feeling.
Inside the cabin a living tree shoots from the floor and up through the roof. It includes a queen-size bed and a sofa bed, a small kitchen, and a toilet. There is also a roof terrace to enjoy morning coffee as well as spectacular views over the treetops.
Nearby places: Odde Kystvineri winery, Taigasport, Lille Vildmose, Rebild Bakker, and Rold Forest, Hobro, Hadsund, etc.
Price: DKK 1,950 (approx. $280)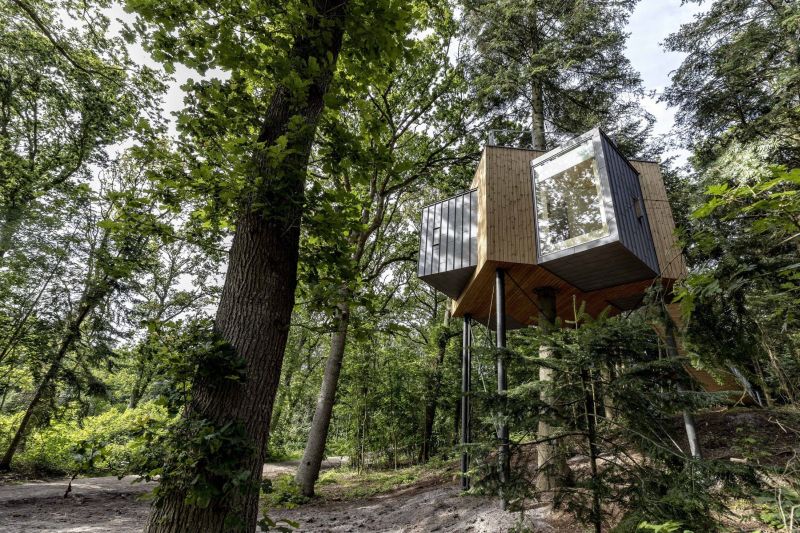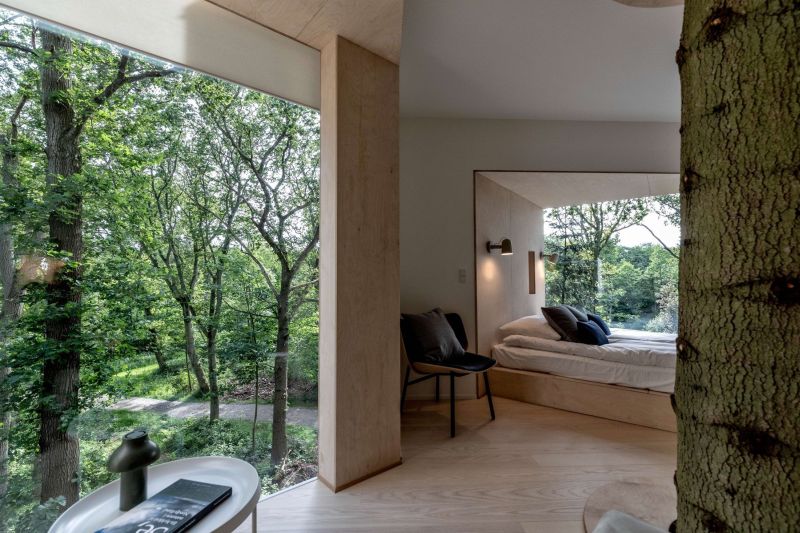 Bird's Nest at Treehotel in Harads, Sweden
If you ever wished to live high above in trees like birds, the Treehotel in Harads, Sweden is the destination you should head over to. Its exterior resembles a gigantic bird's nest while the interiors are spacious enough for a cozy stay.
This 17-sqm treehouse room has a separate living area, bedrooms, and toilets. Guests enter inside the Bird's Nest via a retractable staircase and through a hatch in the floor. It is designed to accommodate four persons at a time.
Nearby places: Lule River valley, White Water Rafting in Råne or Kalix River, Taiga forest, Moose safari.
Price: SEK 6,300 ($592/night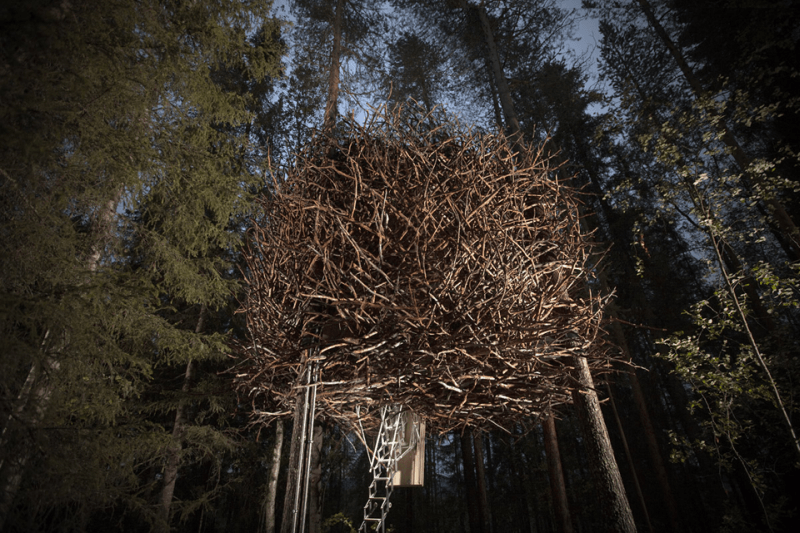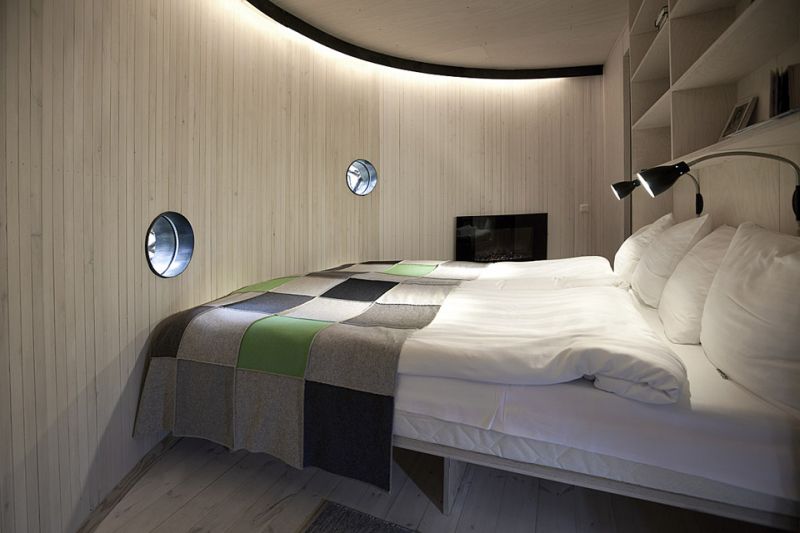 Treetops Treehouse Hotel in Devon, UK
This fairytale-inspired treehouse on the grounds of Fox and Hounds in Devon, UK is a great weekend getaway to connect with nature and wildlife. Accessed through a wooden staircase, it is built five meters above the ground over a 250-year-old tree.
The Treetops treehouse has a king-size bed, children's bedroom, bathroom, kitchen, lounge area, and a spacious terrace.
Nearby places: Tarka Trail, Castle Drogo, RHS Garden Rosemoor, National Trust Properties, Quad Biking near Umberleigh.
Price: Starts from £289 ($347)/night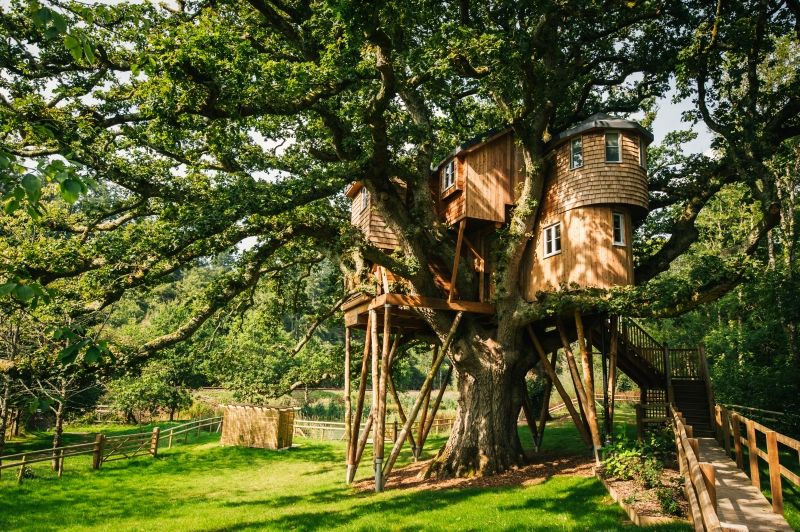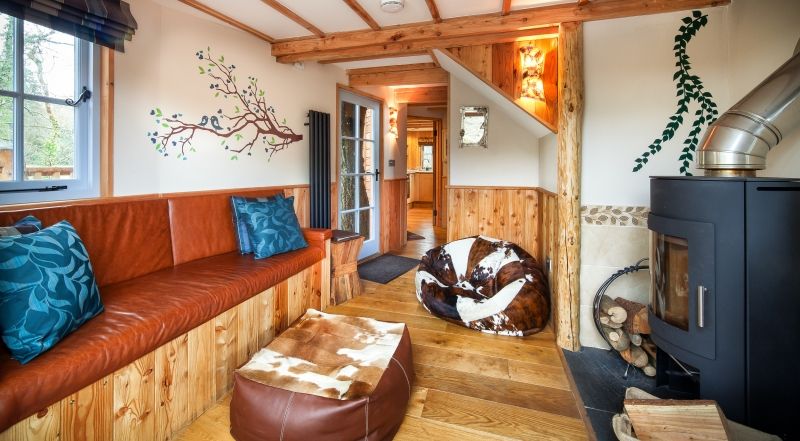 Arctic Treehouse Hotel Suite in Rovaniemi, Finland
Arctic Treehouse Suites are elevated wooden cabins with their own fireplace, sauna, and kitchenette. Each cabin has a double bed or two separate beds that can comfortably accommodate two persons. The cabin features a large window towards the end, offering uninterrupted outdoor views. Guests can also enjoy the outdoor views and Northern Lights even from the bed.
There is a private bathroom with under-floor heating and rain showerhead. Other features at the Arctic treehouse hotel include Wi-Fi, flat-screen TV, air conditioning, coffeeware, etc.
Nearby places: Santa Park, Arctic Golf Finland, Kemijoki River, Rovaniemi Church, Angry Birds Park, Ounasvaara Mountain, and more.
Price: €787 ($842)/night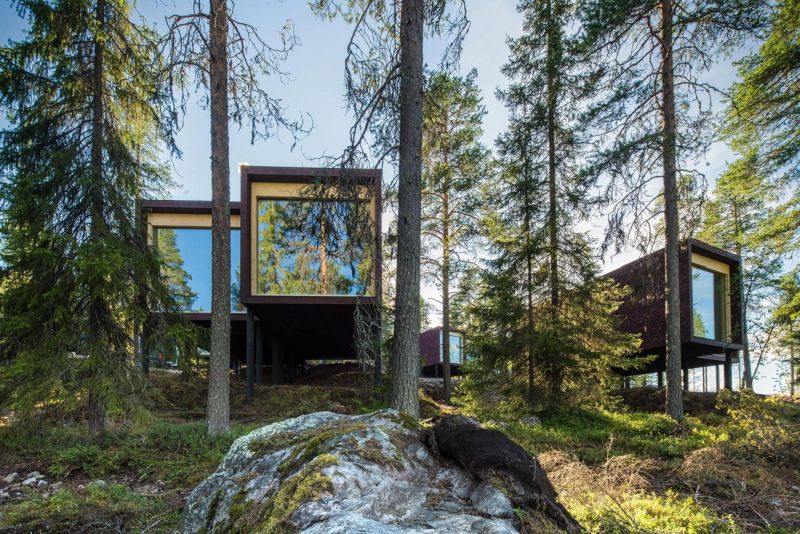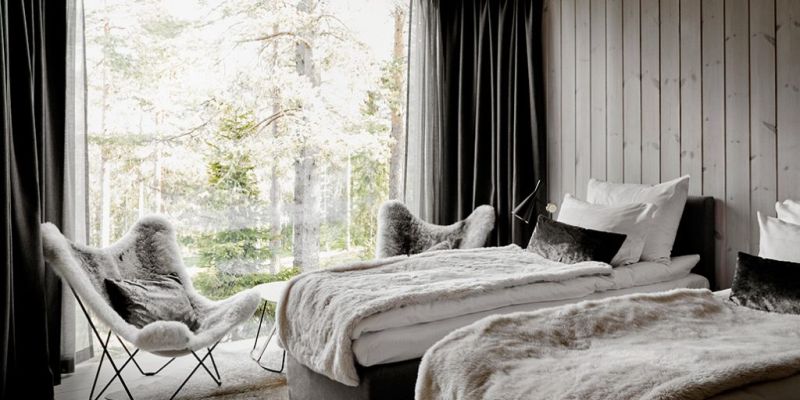 Treehouse Suite at Hotel Irma, Italy
A 60-meter walk from Hotel Irma in Italy leads one to this treehouse suite intended for guests wishing to spend time amid green pine trees. Combining luxury and nature, it is a 35-sqm dwelling made using lots of wood, natural colors, and generous materials. It features a 65-square-meter terrace on the top, ideal for enjoying the outdoors.
There is a bedroom, a comfortable living area, and a bathroom complete with a shower, bathtub, and toilet. The treehouse also has luxurious amenities like a flat-screen TV, minibar, and air-conditioning. Interestingly, guests can pull a large bed onto the terrace for sleeping in the open air.
Nearby places: Marlinger Waalweg trail in Merano, Giogaia di Tessa/Texelgruppe mountain range, golf courses of South Tyrol, Restaurant Finsterwirt, wine at Claudia Meister.
Price: Starts at €203 ($217)/night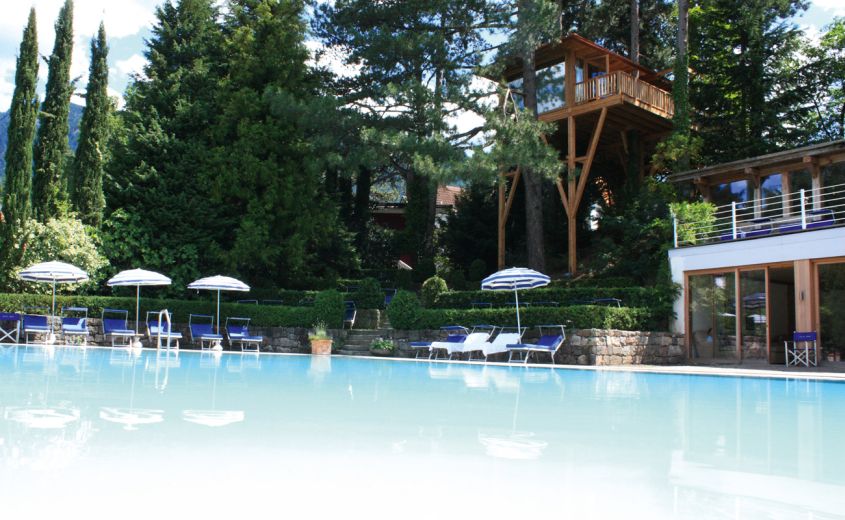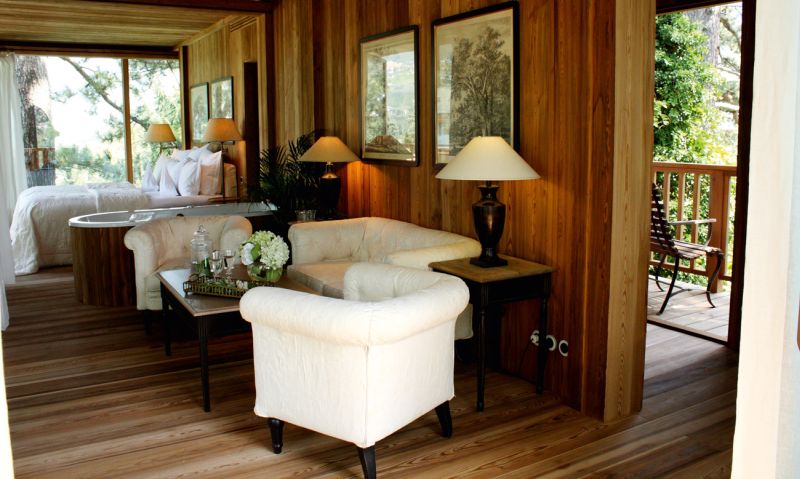 Tree-Top Room at Tsala Treetop Lodge in Plettenberg Bay, South Africa
Located amidst a dense forest, this treehouse hotel room by Hunter Hotels features flat-screen TVs, mini-bars, free Wi-Fi and other amenities. It is accessed by a raised wooden walkway in the height of trees. The treehouse has a living room, bedroom, bathroom, observation deck and a pool deck.
Guests can also Dine al fresco on the deck overlooking the forest. Other facilities are Aromatherapy, massage, and reflexology. It is a romantic accommodation ideal for couples.
Nearby places: Knysna Elephant Park, Fynbos Flower Safari, Plettenberg Bay Country Club, Garden Route, Monkeyland, Birds of Eden and the Elephant Sanctuary, Horse Riding in the Cape, Robberg Peninsula Walk.
Price: R5,295 ($300)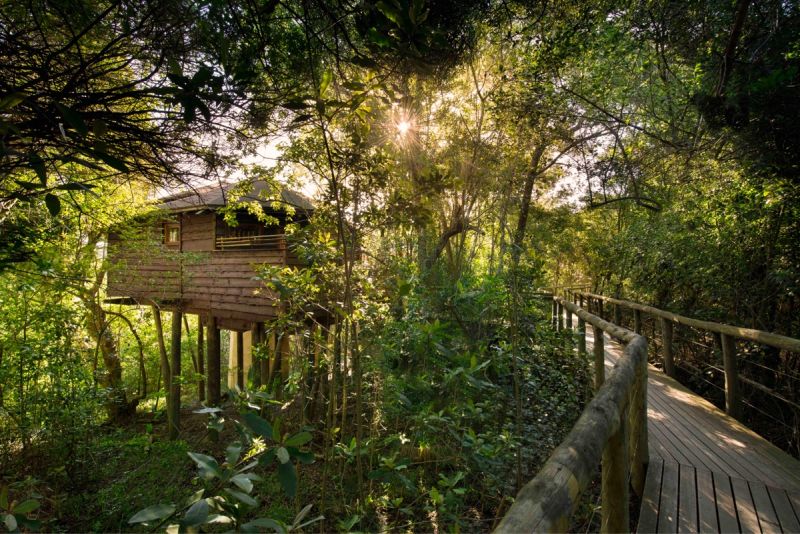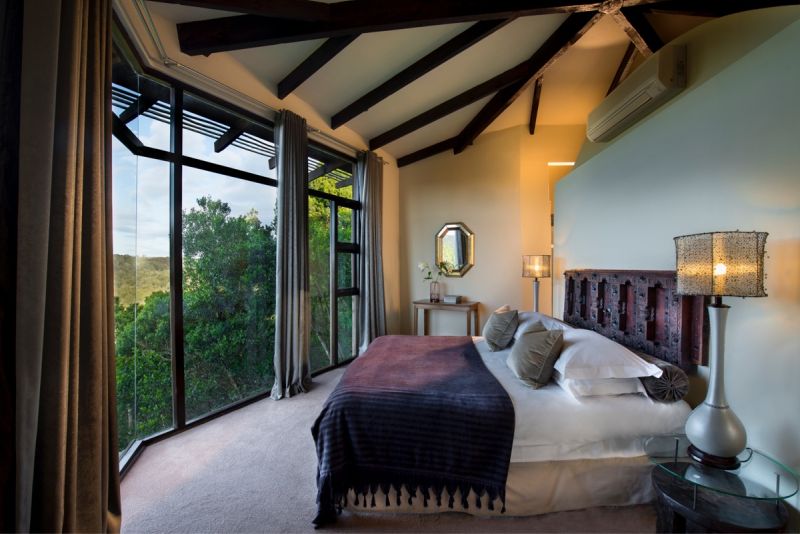 Adults-Only Treehouse at Post Ranch Inn, California
This triangular treehouse is elevated 9-feet above the forest floor on metal stilts so that it offers expansive views of the Pacific coastline and the surrounding forest. It has a cozy living room area with a window desk, wood-burning fireplace, dining space, a walk-in shower, and a bedroom with a skylight to watch the stars. There is also a private deck to spend time outdoors.
Guests get a complimentary daily breakfast, a mini-bar offering snacks, and non-alcoholic beverages as well as access to infinity swimming pools.
Nearby places: Big Sur Roadhouse, Pfeiffer Beach, Seal Beach Scenic Overlook, Nepenthe, Partington Cove hiking trail.
Price: Starts at $2,250/night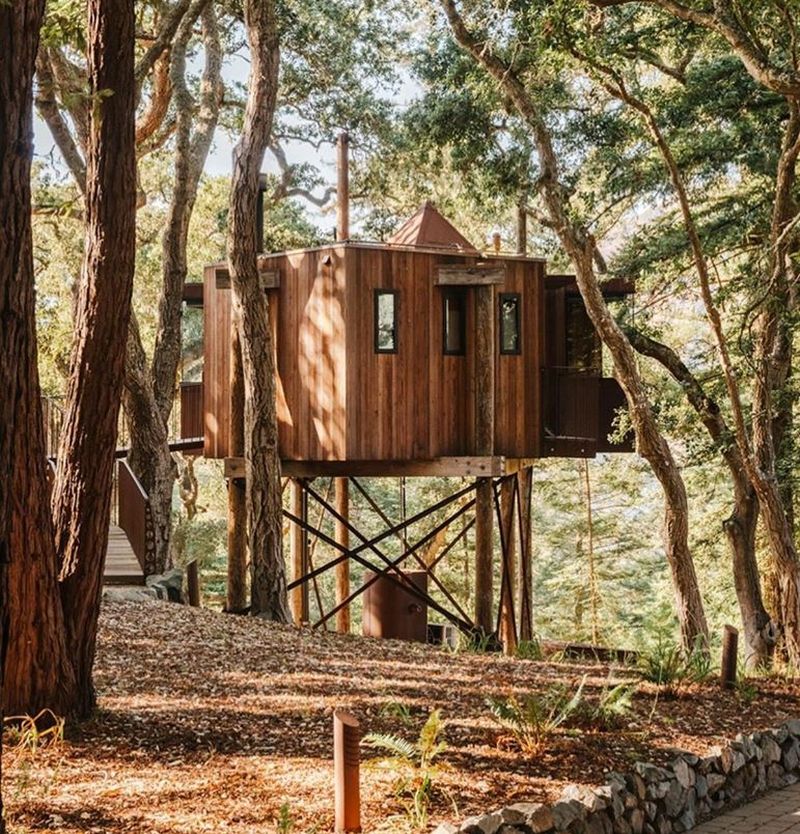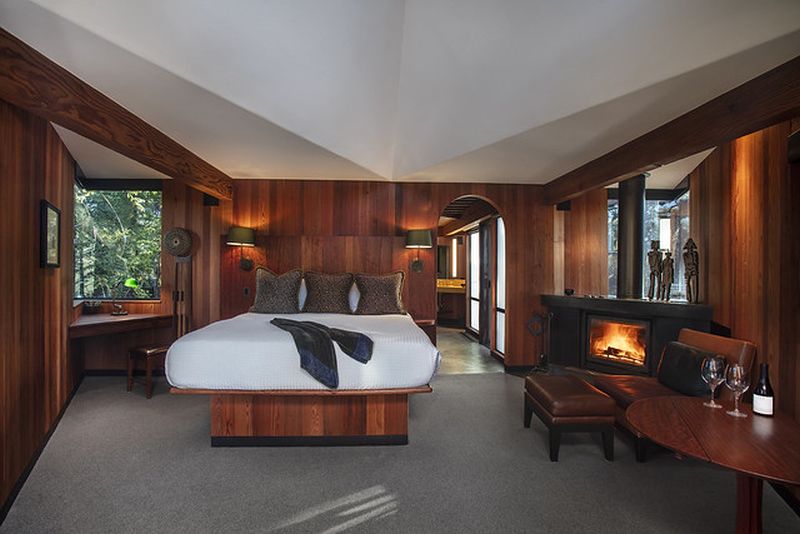 7th Room Treehouse at Treehotel, Sweden
Located amidst a pine forest in Swedish Lapland overlooking the Lule River, this charred-timber treehouse is designed by renowned Norwegian architecture firm Snøhetta. It is elevated ten meters above the ground on 12 metal columns.
The treehouse cabin has two bedrooms, a lounge, and a bathroom. It can accommodate five guests at a time. There are large windows and a netted terrace to enjoy the surroundings. It is a great vacation retreat for both summer and winter.
Nearby places: Lule River valley, white water rafting in Råne or Kalix river, Taiga forest, Moose safari.
Price: 15,900 SEK ($1,500)/night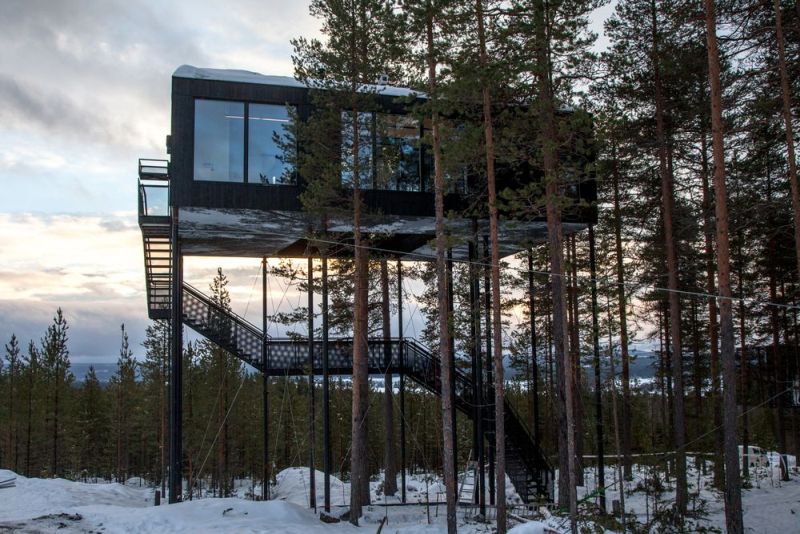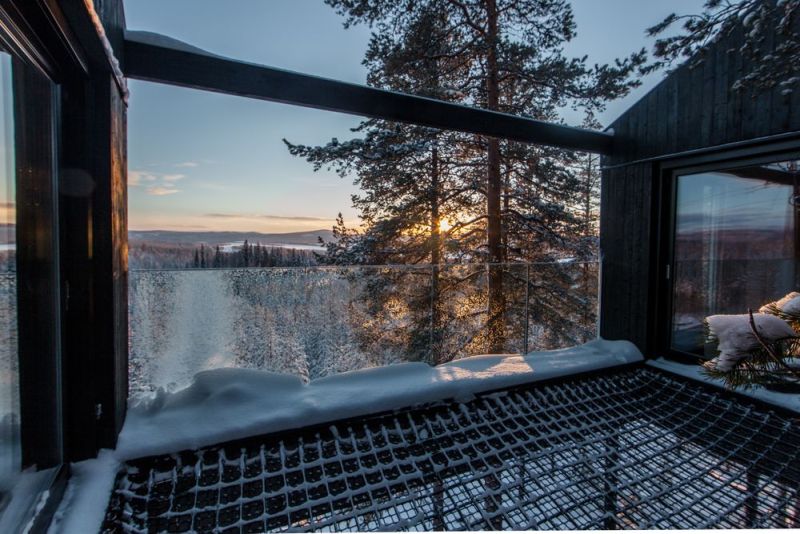 Bird's Nest at Keemala Resort in Phuket, Thailand
The Bird's Nest at Keemala Resort in Phuket, Thailand is one of the most unique treehouse accommodations you can find around the world. There are a total of eight such villas nestled amid trees here. Each of these comes with a private elevated pool, king-size bed, large bathroom, and an outdoor deck.
You can see trees piercing through the cabins like you would in many traditional treehouse structures. The Bird's Nest is perfect for couples looking for a peaceful time together.
Nearby places: Kamala Beach, Mala Spa, and all around Phuket Island.
Price: Starts at ฿27,960 ($833)/night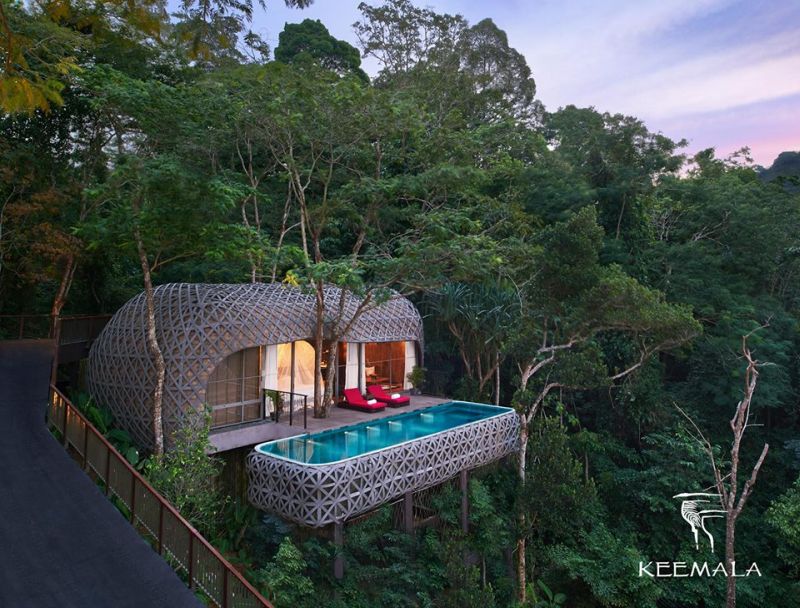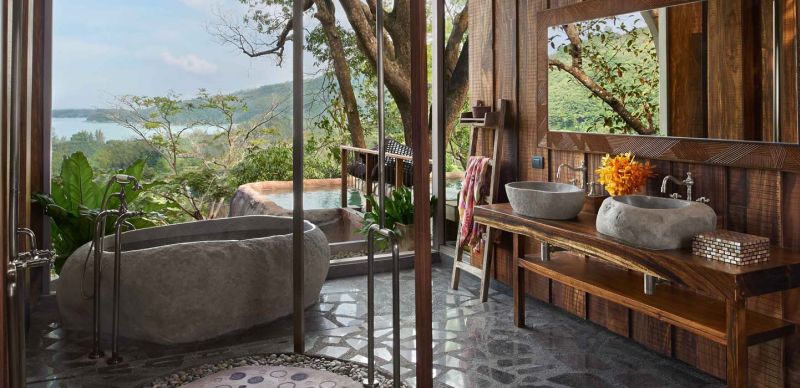 Tyrolean I Treehouse at Les Ormes, Domaine & Resort, France
If you're planning a trip to France and like treehouses, the Domaine des Ormes can be the right place you should add to your bucket list. Here, you can find a variety of treehouse accommodations for couples as well as bigger groups. The Tyrolean 1 treehouse is elevated 11 to 13 meters above the ground.
The treehouse is accessed only through a zip wire line, which makes it ideal for adventure seekers. There are many amenities in the treehouse but the exciting thing is that there is no electricity – you will have to enjoy your stay in candlelight. The treehouse has a double bed to accommodate two people comfortably.
Nearby places: Saint-Malo, Mont St Michel, Cancale, Dinan.
Price: Starting at €125 ($133)/night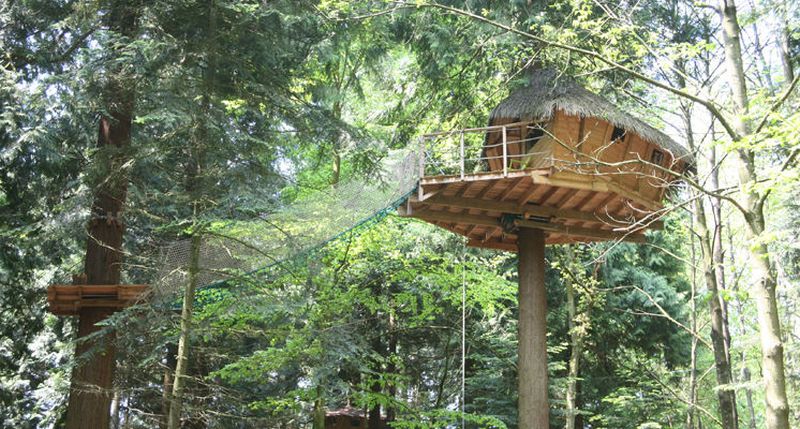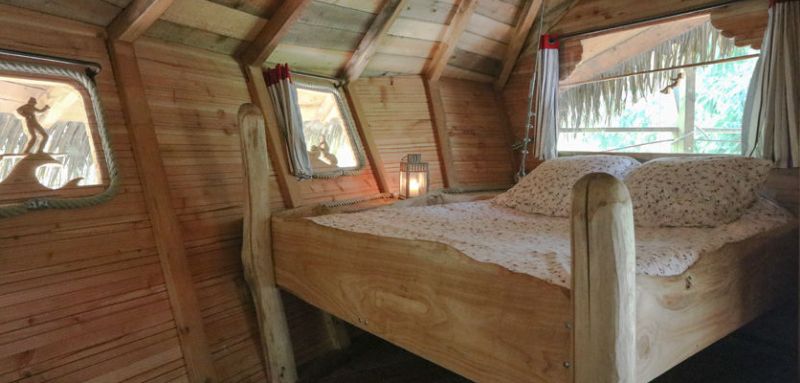 Oceanfront Treehouse Hotel at Playa Viva, Mexico
This tree top room with beachfront views at Playa Viva boutique hotel is raised 6 feet above the ground to maximize views. This treehouse on the beach is a true bet for those looking for a tropical holiday.
The treehouse has a king-size bed, a private bathroom, small lounge area with an in-floor hammock. Guests will enjoy unobstructed ocean views from the cabin thanks to the open front. The bamboo exterior gives the treehouse a unique appearance and makes it a haven for honeymoon couples.
Nearby places: Estuary, an Aztec archaeological site, turtle sanctuary, and a coastal forest.
Price: Starts at $599/person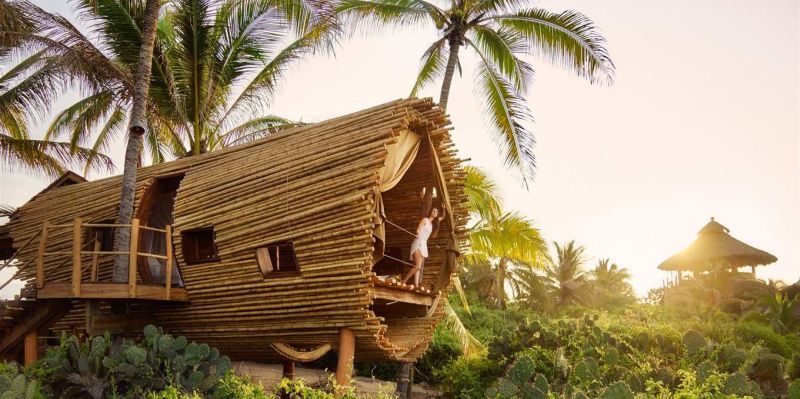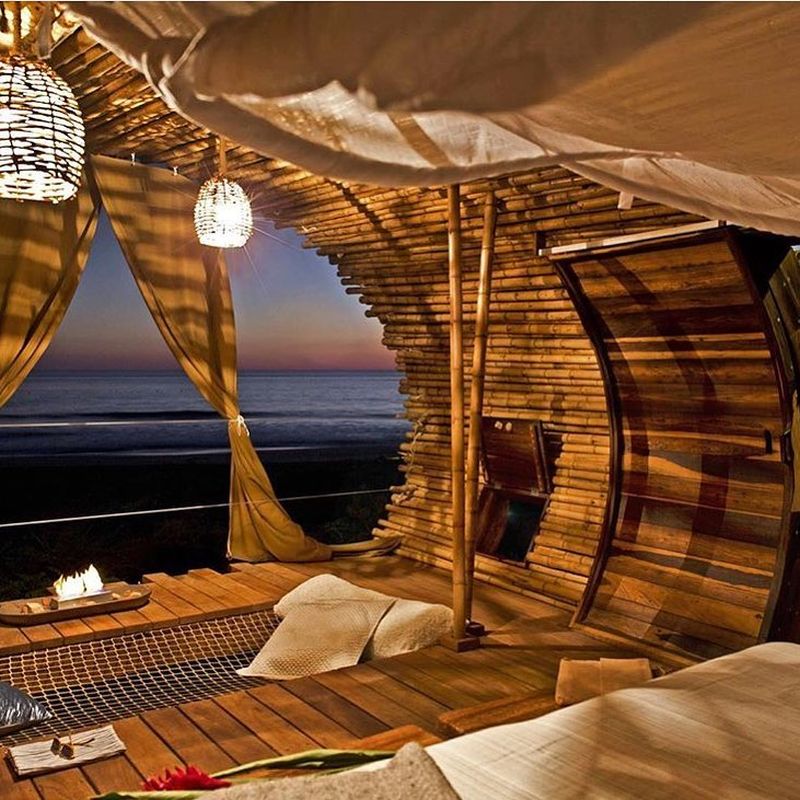 Treehouse Suite at andBEYOND Lake Manyara Tree Lodge in Tanzania
Located in the vicinity of Lake Manyara National Park, this eco-designed treehouse retreat is ideal for families looking for a safari holiday. Nestled amidst mahogany trees, the treehouse is crafted from local timber and makuti palm fronds with expansive forest views.
There is a cozy sofa with a table and beds with open access to the balcony. A private butler ensures you get everything on the go. Guests have access to a common pool and a sauna during their stay. Some to-do things in the region are watching the tree-climbing lions and birds, as well as taking part in adventure sports.
Nearby places: Lake Manyara National Park, Serengeti National Park, Zanzibar, Ngorongoro Crater, Mayoka village.
Price: Starts at $960/night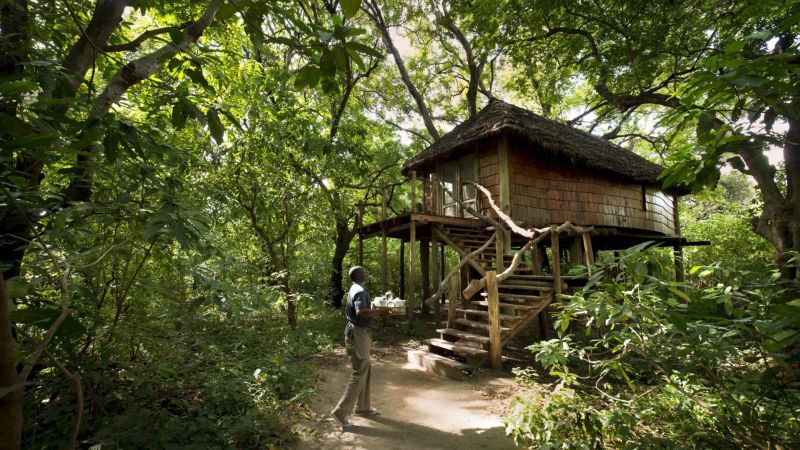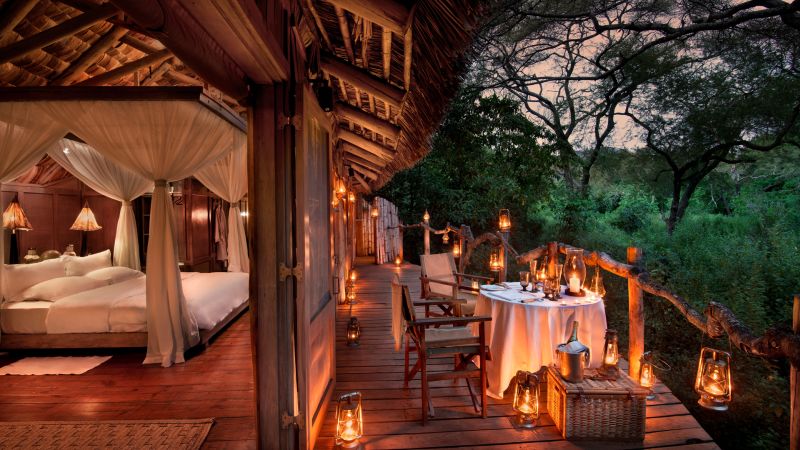 Château PUYBETON in Châteaux Dans Les Arbres, France
Châteaux Dans Les Arbres, which means 'Castle in the trees' in English, is a beautiful destination for treehouse lovers. The Château PUYBETON Treehouse seems to be inspired by a fairyland thanks to the shingled roof and a number of turrets. Interestingly, the structure stands on stilts and looks rising out of the water.
The 45-square-meter tree house has a living area, bedroom, and a large bathroom. There is also a hot tub and sauna for guests in the large terrace, making it special for visitors.
Nearby places: Etincelle and La Dolce Vita restaurant, vineyards like Monbazillac and Pécharmant, caves at Proumeyssac and Padirac, Lascaux historic sites.
Price: €355 ($380)/night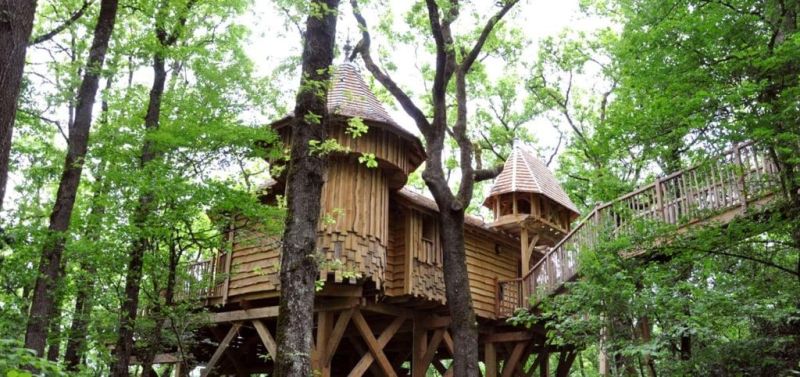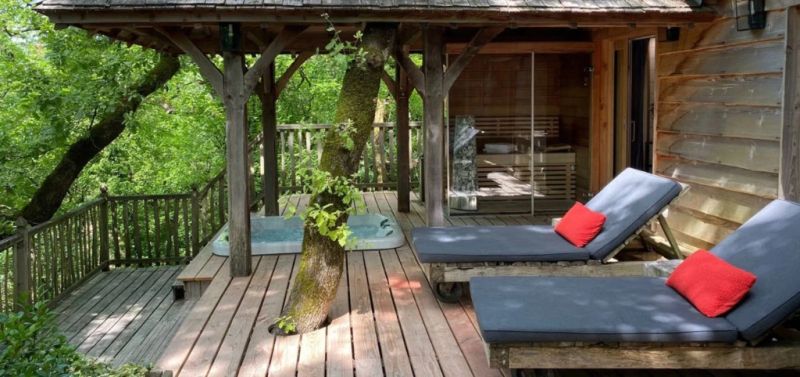 Riverhouse at Silky Oaks Lodge in Mossman, Australia
This 47-sqm treehouse perched on a side of Mossman River can be a good option if you're planning for a vacation in the rainforest. It has a king-size bed, living area, bathroom, and a veranda with a hammock to enjoy the outdoors. In the bathroom, guests can relax in a bathtub with uninterrupted views of the rainforest.
The polished timber floors and white walls make the room stylish. Its location among trees is perfect to connect with nature. Other enticing amenities include free Wi-Fi, iPod, fridge, guided rainforest walk, and morning yoga.
Nearby places: Miallo, Billabong, Four Mile Beach, Daintree Rainforest, Great Barrier Reef.
Price: Starts from AUD 1,800 ($1,247)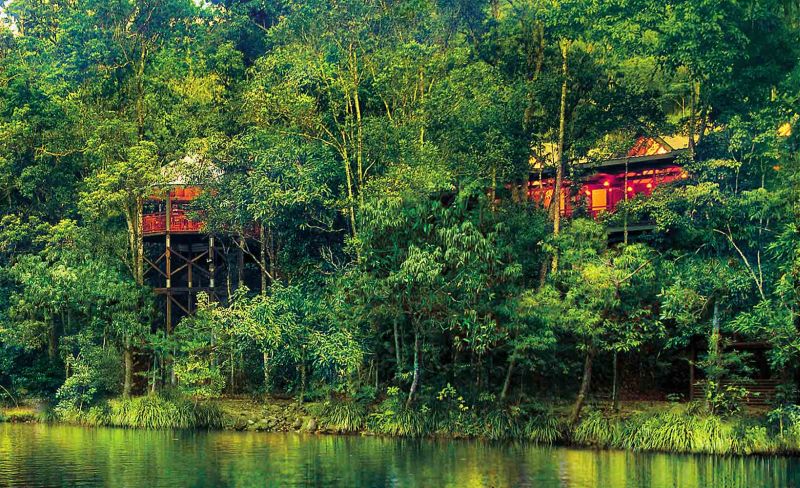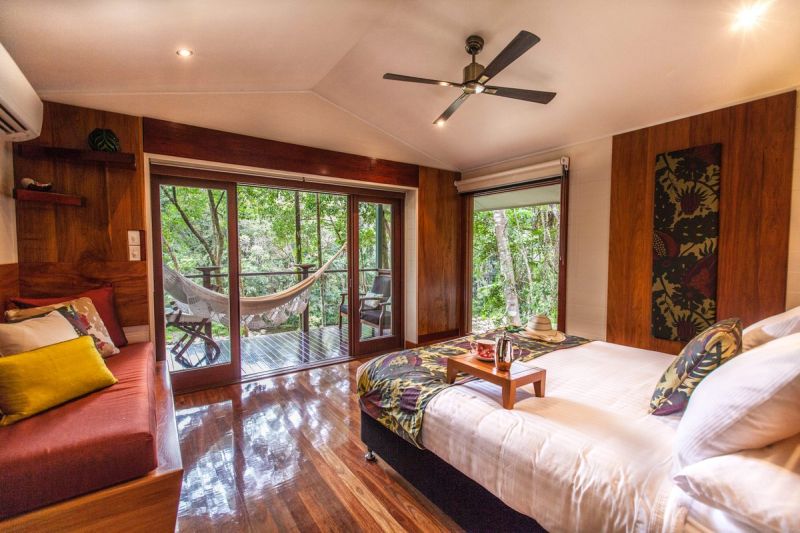 Also Read: Mark These World's Most Unique Hotels on Your Bucket List
Kingston Treehouse Hotel at Lion Sands Game Reserve, South Africa
Kingston treehouse is an elevated wooden structure that provides uninterrupted views of the safari area. There are no walls rather curtains can be used to provide privacy. The treehouse makes a perfect destination to cool off during hot summer days.
There is a king-sized bed, twin pull-out beds, a kitchen, and a bathroom to facilitate up to two adults and two children. There is also an outdoor deck. No electricity and Wi-Fi – you spend time watching African nature and wildlife.
You can not book the treehouse on a standalone basis, it comes with the travel package. It can be a great place to stay on a South African safari experience.
Nearby places: Kruger National Park, Sabi sand reserve.
Price: ZAR 4,125 ($234)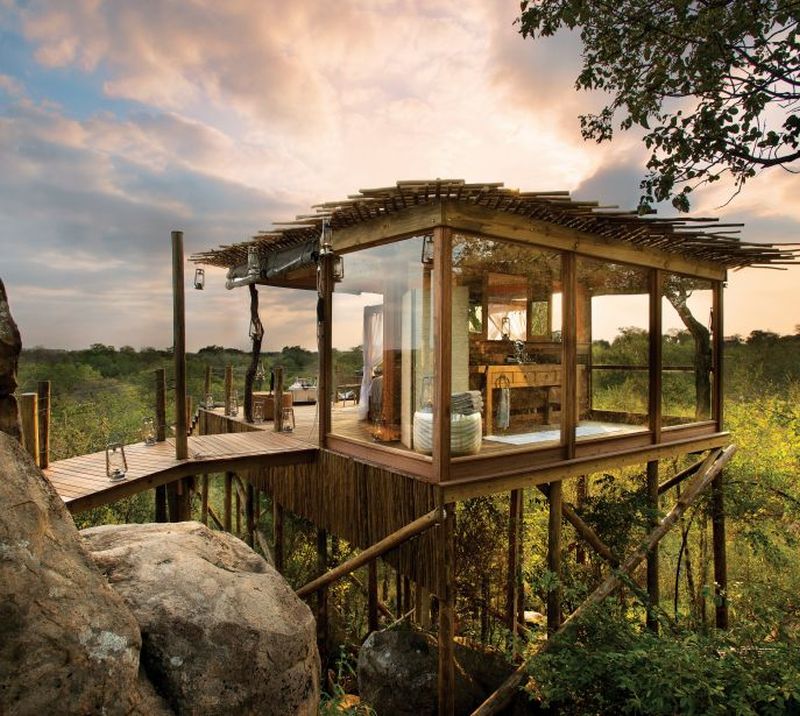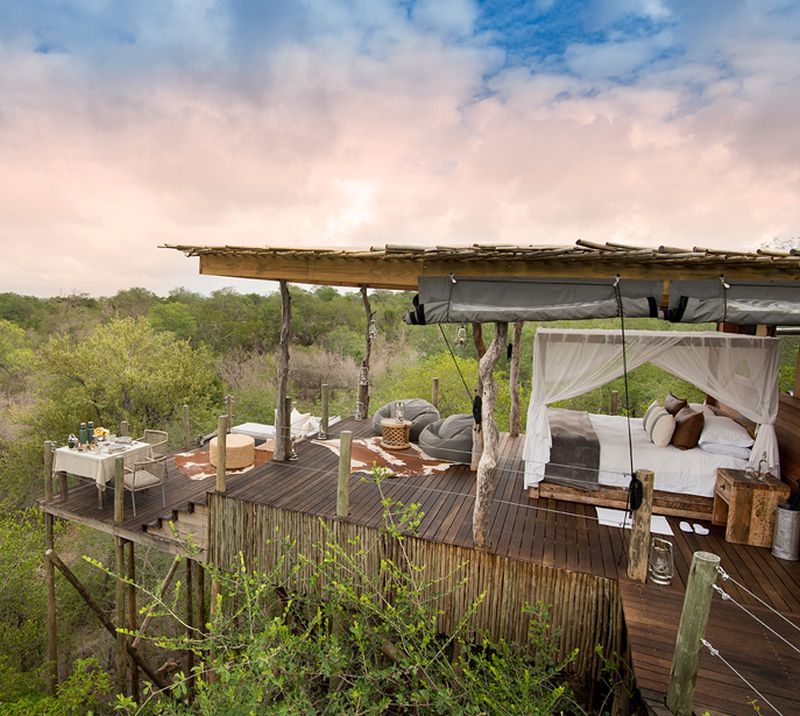 Piwakawaka Treehouse at Hapaku Lodge in Kaikoura, New Zealand
Suspended ten meters above the ground, this two-story treehouse at Hapaku Lodge is perfect to enjoy the dramatic environment of the coast and mountains with family. There are two separate bedrooms in two levels. The upper main bedroom also has a spa bathtub and shower with views.
This kid-friendly treehouse is furnished with wooden furnishings and other home decor items. The room amenities also include a fireplace, air conditioning, a flat-screen TV, and a refrigerator. There is also a deck where you can view the surrounding ocean and mountain views.
Nearby places: Kaikoura Coast, Lavendyl Lavender Farm, Springbank Estate, Ohau Waterfall Walk, Mount Cookson, Kaikoura Museum, and Okiwi Bay.
Price: NZD 1,955 ($1,234)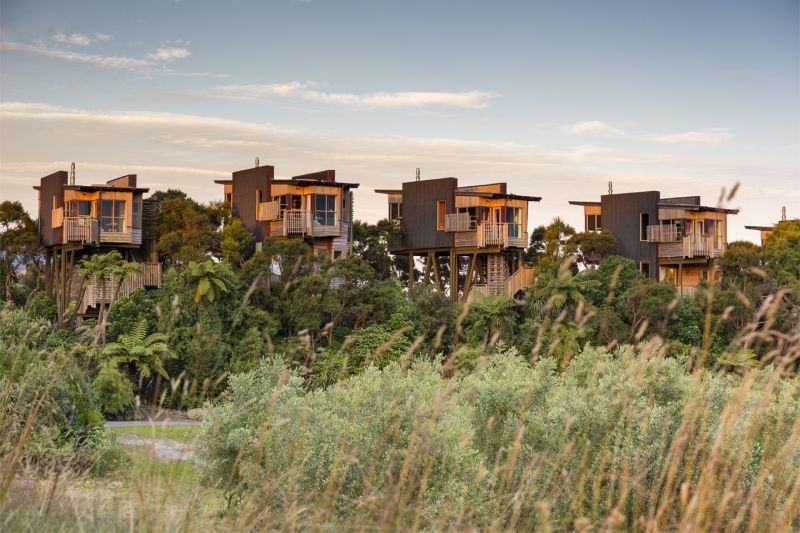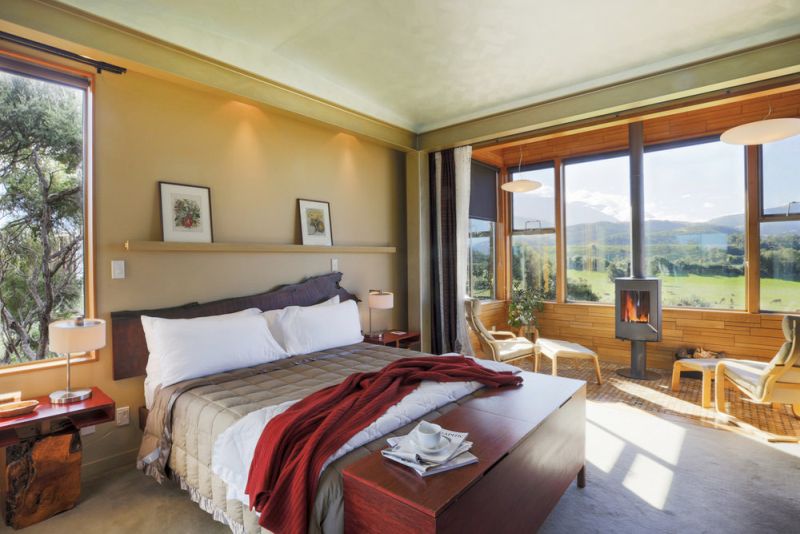 Treehouse Hideaway Suite at Chewton Glen Hotel & Spa in Hampshire, UK
The treehouse hideaway suite is a perfect accommodation for those special celebrations/moments in life. It can accommodate up to three persons at a time. The bedroom is set apart from the main living area and is accessed through a covered walkway. Its interiors boast warmth and comfort, complemented by floor-to-ceiling windows providing panoramic views.
Suspended 35-feet above in the air, the treehouse offers massive forest views. It is a child-friendly treehouse with a separate space for children. There is an open-air balcony with comfy seating, day beds, and a hot tub. There are many luxurious features like a mini kitchenette, under-floor heating, wood burner, flat-screen TV, mood lighting, etc.
Nearby places: Winchester Cathedral, Stonehenge, Paultons Park, Monkey World, Exbury Gardens.
Price: Starts at £1,600 ($1,917)/night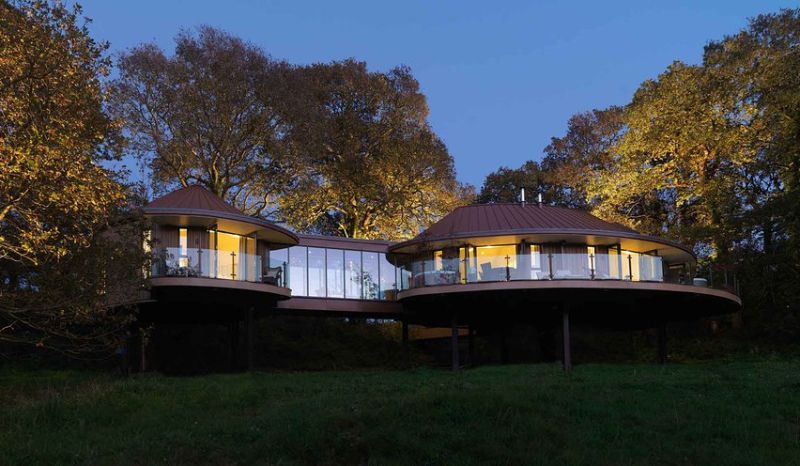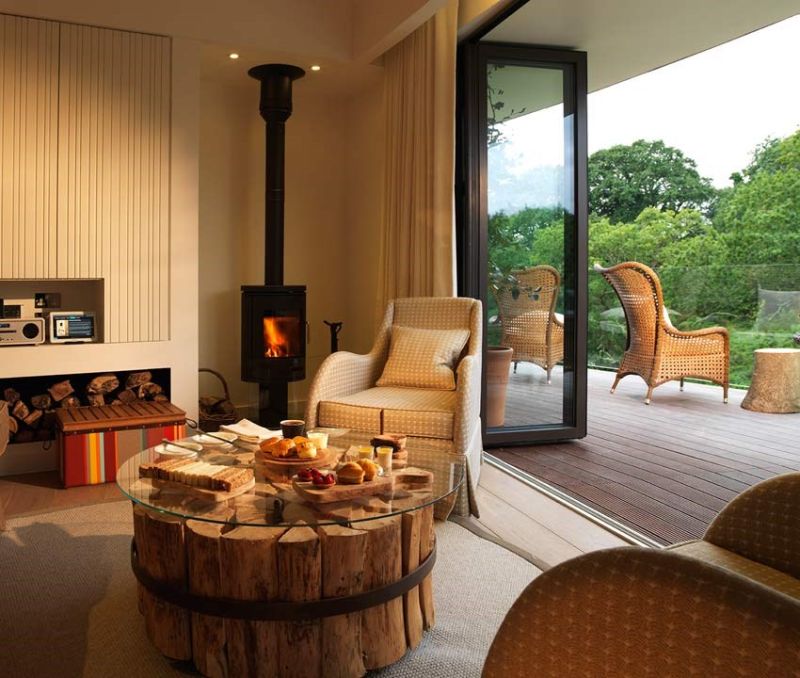 Human Nest on a Tree at Treebones Resort, Big Sur, USA
If you ever wished to stay at an unusual place, this bird's nest-like treehouse located at a walk-in campsite of Treebones Resort can be a good pick for you. Created by Big Sur artist Jayson Fann, it is not just accommodation but a wooden sculpture.
It includes a full-sized futon pad to provide sleeping space for up to two people. A picnic table, outdoor cook station, restrooms, and water supply are also included. Guests have to bring along their own sleeping bags and pillows. It is a minimalist treehouse designed to let people sleep like a bird in open air.
Nearby places: Wild Coast Restaurant, Julia Pfeiffer-Burns State Park, Monterey Bay National Marine Sanctuary.
Price: Starting at $195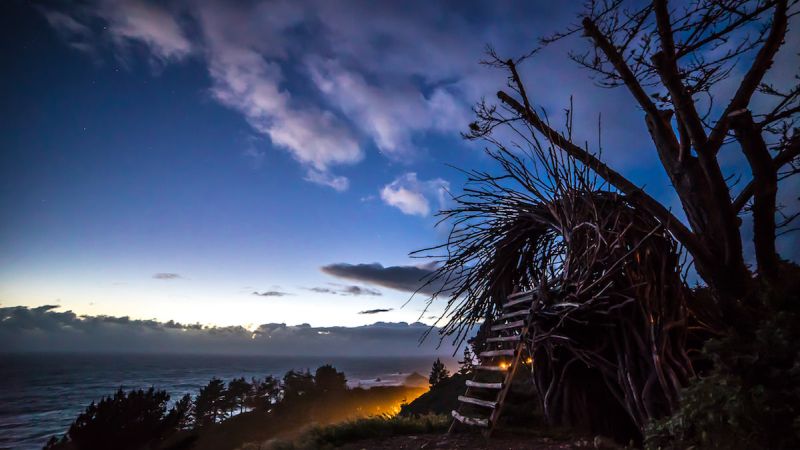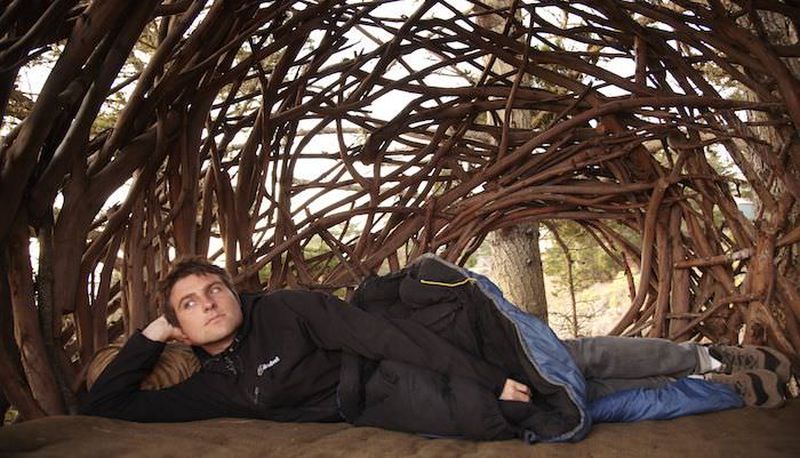 Treehouse Pod at Free Spirit Spheres, Canada
The Eryn spherical treetop cabin at Free Spirit Spheres tree farm is a great place to enjoy the coastal rainforest of Vancouver Island. Made from Sitka Spruce, with a diameter of 10.5 ft, the Eryn treehouse pod sleeps two adults and one more in the loft bed. It has a small sink, counter space, small refrigerator, a settee, cupboards with dishes, and nearly all the things to prepare a cup of tea.
The interior space is heated with a thermostat, features a five-window configuration, and includes a skylight. There is a composting toilet outhouse and a heated bathhouse with a private toilet, sink and shower for guests nearby.
Guests walk through an elevated walkway to the base of the spiral staircase that takes up to the treehouse. This small hanging accommodation is great for couples wanting privacy, comfort, and a connection with nature. The 5-acre private property has a large pond in the center that attracts birds and other wildlife.
Nearby places: Comox Valley, Qualicum Beach, Horne Lake Caves, Lighthouse Country Regional Trail, Parksville Community Park.
Price: Starts from $476/night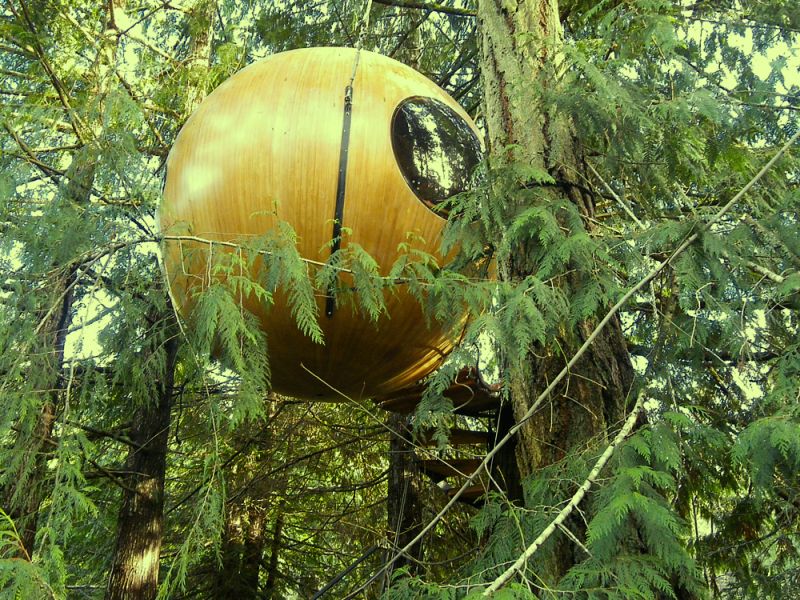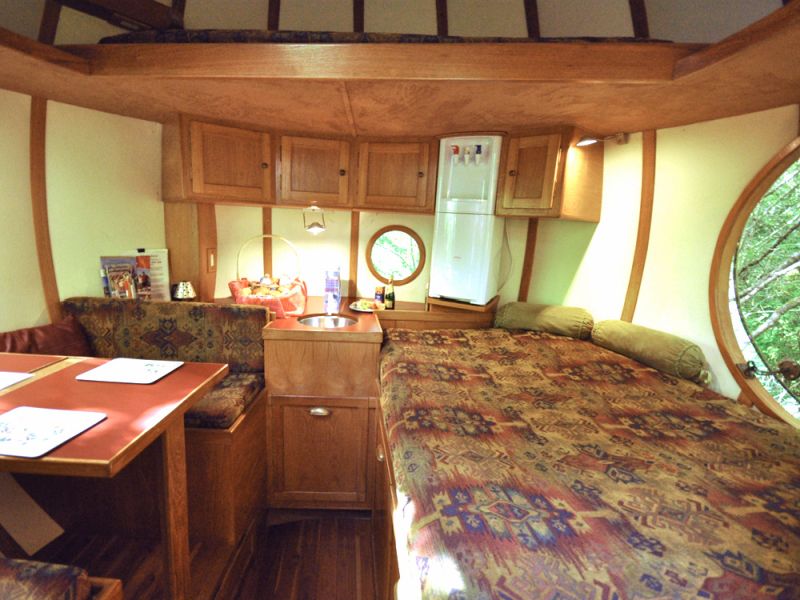 Also Read: Most Unique Airbnb Vacation Rentals from Around the World
Treehouse Ball at Robins Nest in Witzenhausen, Germany
Robins Nest in the forest of Hesse, Germany is a resort comprising various treehouses built with natural materials and decked with wildwood furniture. There is a ball-shaped treehouse at the property you may not want to miss out on.
Accessed through an elevated bridge, this treehouse pod is equipped with a large double bed to sleep two persons. A large skylight is included to enjoy stargazing while lying on the bed. There are shared toilets at the nearby restaurant. It allows pets which makes it ideal for those who like to travel with their pooches. Similar to a ball struck on a tree, it is a unique accommodation for a peaceful holiday in a forest.
Nearby places: Schloss Berlepsch, Hanstein Castle, Gaenseliesel.
Price: Starts at €274 ($293)/night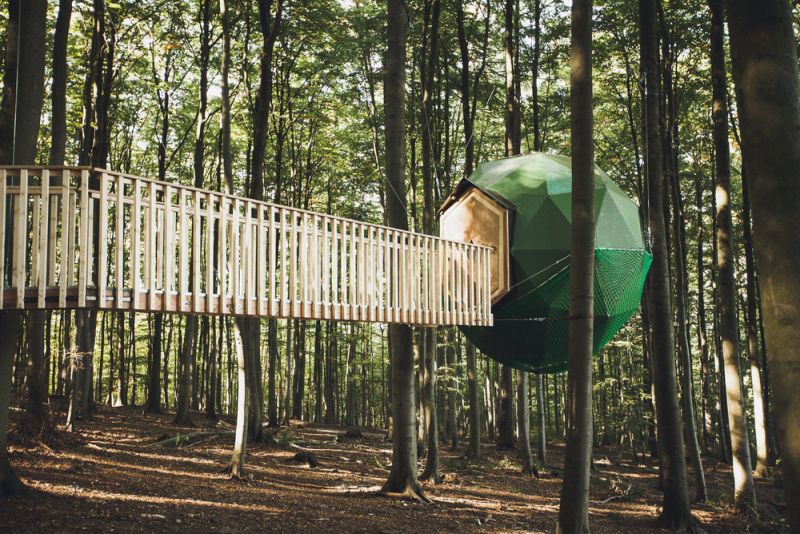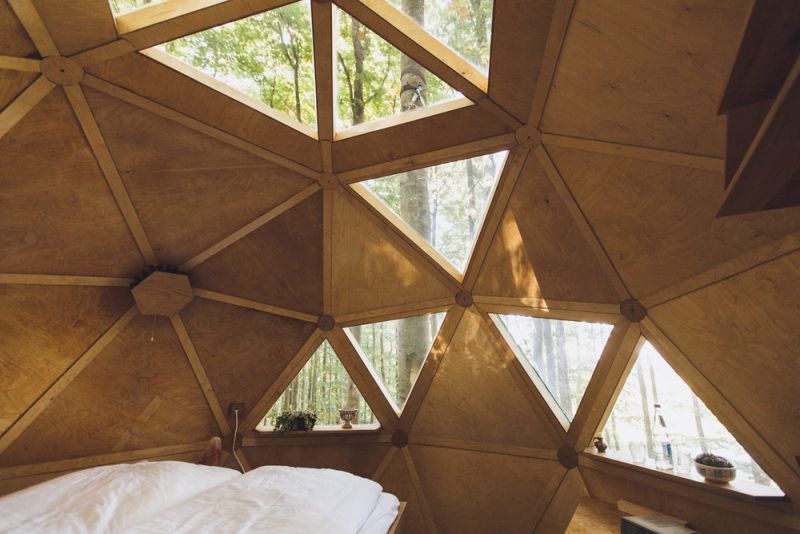 # Treehouse Rentals People are Dreaming About
The Pinecone Treehouse, California
Supported through ropes, the Pinecone Treehouse built in the middle of Redwood trees in Santa Cruz is perfect for couples seeking adventure. The see-through flooring of the treehouse enhances the staying experience and makes one feel as if he was flying in the air. Its pineapple-like shape is also another cool aesthetic feature.
A steep ladder and a trapdoor take guests up into the interior that features a queen-sized bed. The bathroom, with a hot shower, composting toilet, and sink is located on the ground floor. You can enjoy the wonderful forest view from all around the treehouse rental.
Nearby places: Cave Gulch Trail Head, Mc Henry Vineyard, Empire Cave, Rock Garden, Painted Barrels.
Price: $525/night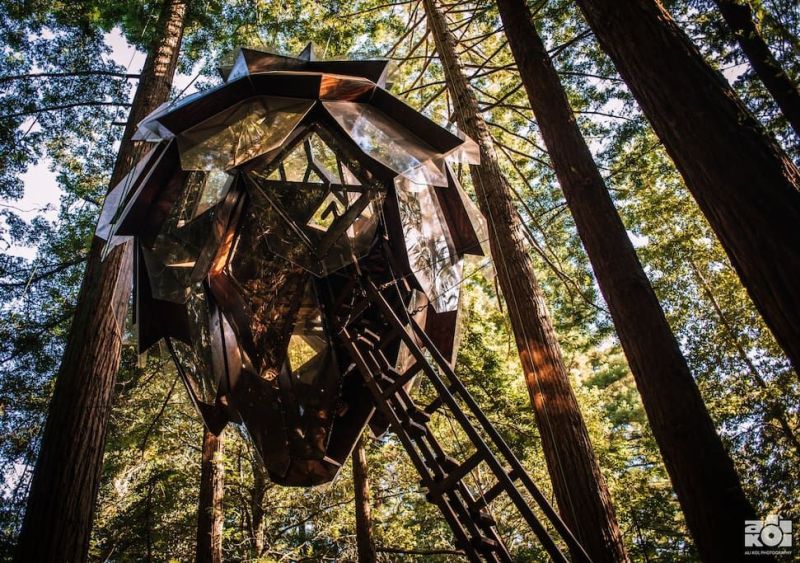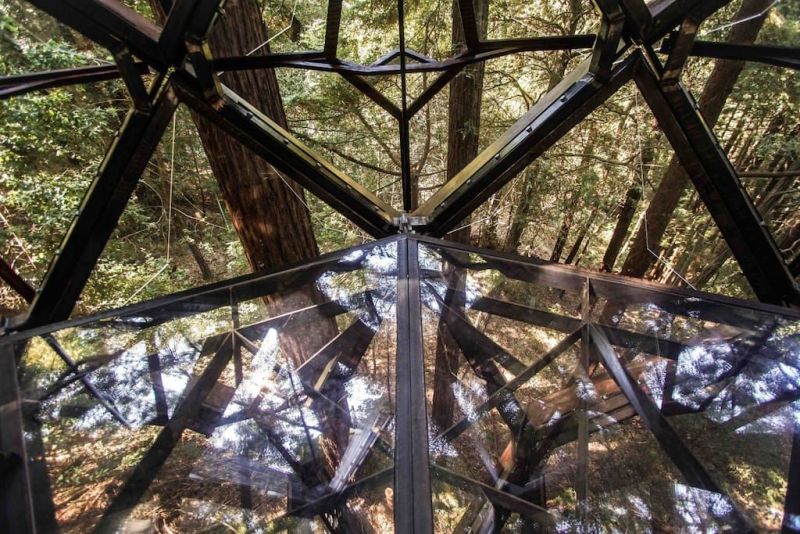 The Trillium at Treehouse Point in Seattle, Washington
Similar to a rectangular box hanging on a tree, this is one of the best treehouse accommodations at Treehouse Point, owned by Pete Nelson. A spiraling staircase with wood branch rail posts takes one above the main door. The most notable detail is the windows that cover up the entire two-story treehouse, providing panoramic views of the forest.
The treehouse has a living room and dining space with a live edge slab countertop on the first floor and a bedroom upstairs. The interior is decked with wood paneling and curtains. The Trillium treehouse also provides sweeping views of the nearby pond.
Nearby places: Twin Falls hiking trail, Snow Lake, Franklin Falls, Rattlesnake Ledge, the Roadhouse restaurant, and Carnation Café.
Price: Starts from $400/night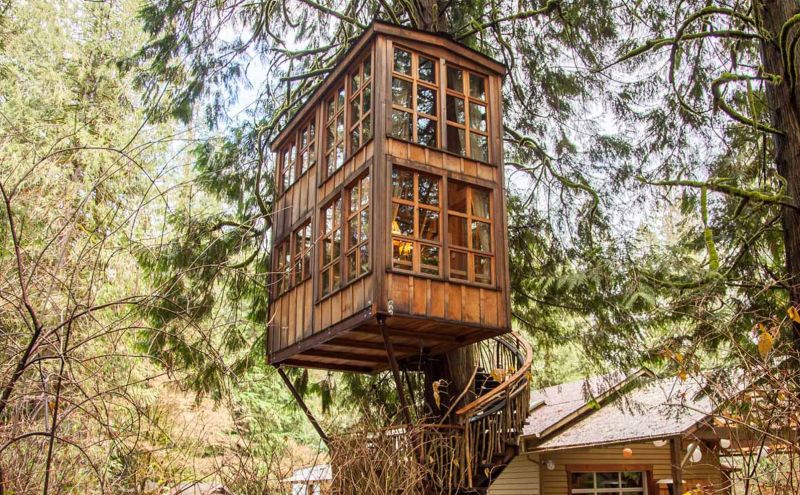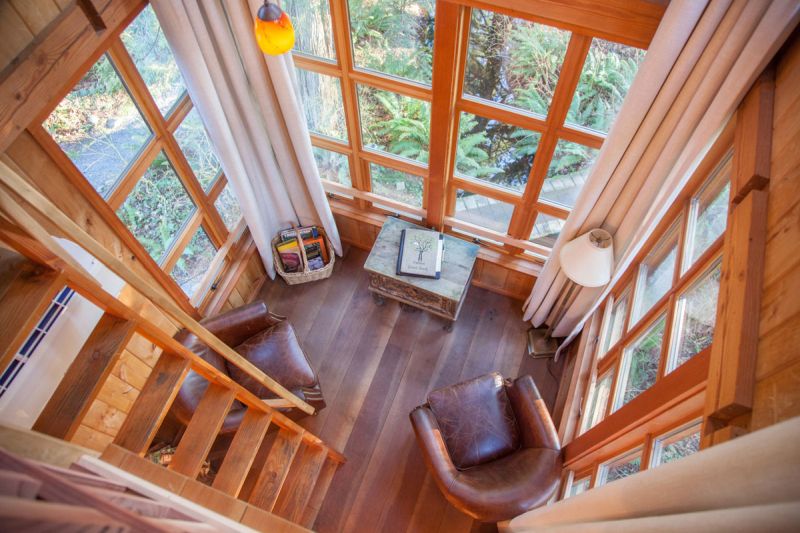 La Torreluna Treehouse at Finca Bellavista
This riverfront treehouse is a vacation rental at the Finca Bellavista off-grid treehouse community in Costa Rica. It is made from natural materials like wood, bamboo, and stone. There is a queen bed and two twin beds to accommodate up to four people. The bathroom is included but there is no kitchen.
The treehouse also has a river view balcony and an outdoor hot water shower. Its rustic design and farmhouse style is what attracts most guests.
Nearby places: Rio Bellavista, Amistosa, Golfo Dulce, Finca Kobo chocolate farm, Corcovado National Park.
Price: $125/night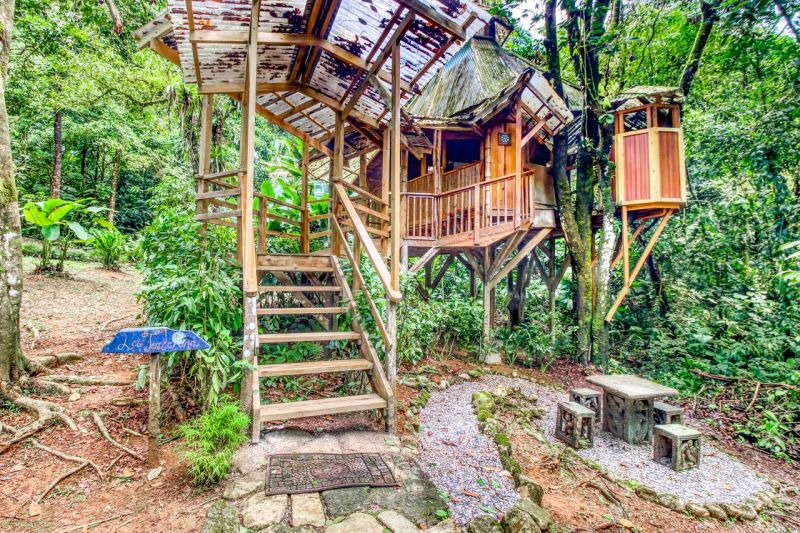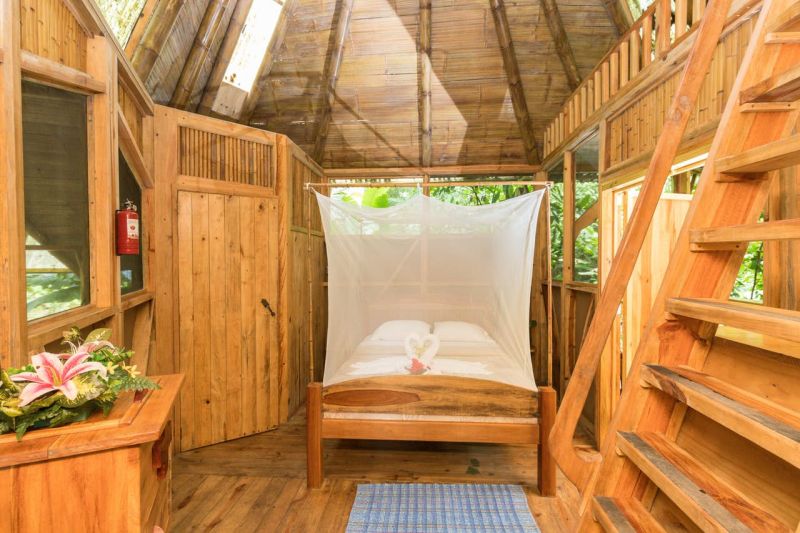 Cabana Bosqueta at Cabanes Als Arbres in La Selva, Spain
Looking for a treehouse retreat in Spain, Cabanes Als Arbres can be the right stop for you. The resort comprises 12 wooden treehouse cabins, of which you would surely like the Cabana Bosqueta standing almost four meters above the ground.
The treehouse is constructed mostly out of wood and is built around two Douglas fir trees. It includes a double bed, sofa, table, and chairs along with a bathroom with a dry toilet. There is also an outdoor deck to admire the delightful scenery of the Forest of The Guilleries.
Nearby places: Forest of The Guilleries, Guilleries Museum, Ter river valley, Adventure park – La Selva de l'Aventura, Sau's famous Reservoir.
Price: €179 ($191)/night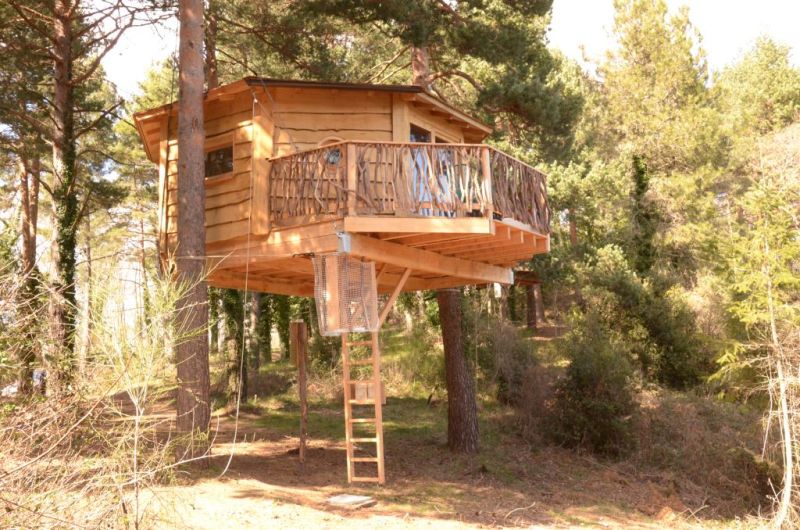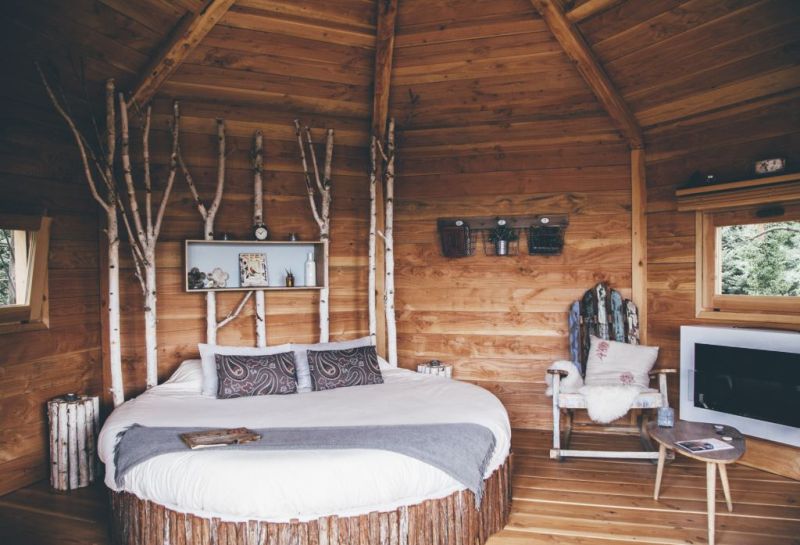 Willow Treehouse Airbnb Rental in New York
Located in a secluded, unique, romantic place, this one-of-a-kind treehouse is a feat of modern design and architectural solutions. Designed by Antony Gibbon and built by William Johnson, it is a wooden tree house elevated from the ground to offer massive views of the surrounding area.
There is a luxurious living room area overlooking a small nearby pond and forest. The sleeping loft is accessible by a ladder. Perfect for couples and solo adventurers, it can be rented from Airbnb.
Nearby places: Tremper Mountain, Cooper Lake, Elena Zang Gallery,
Price: $382/night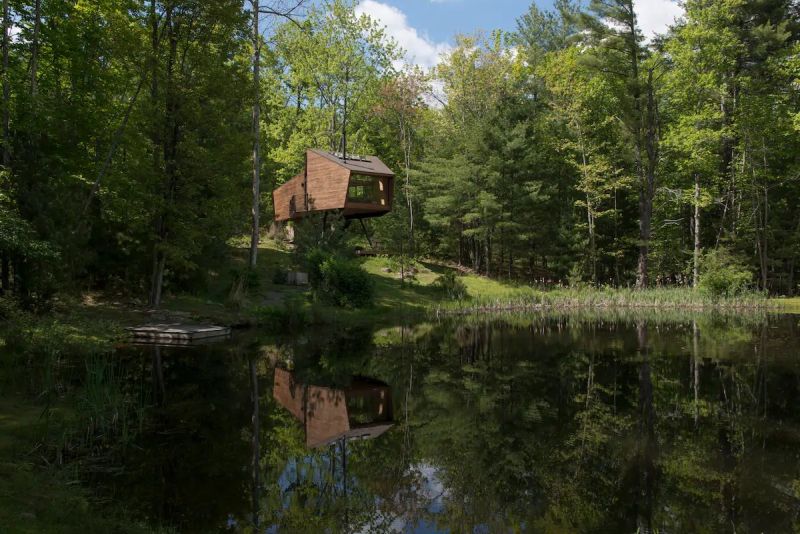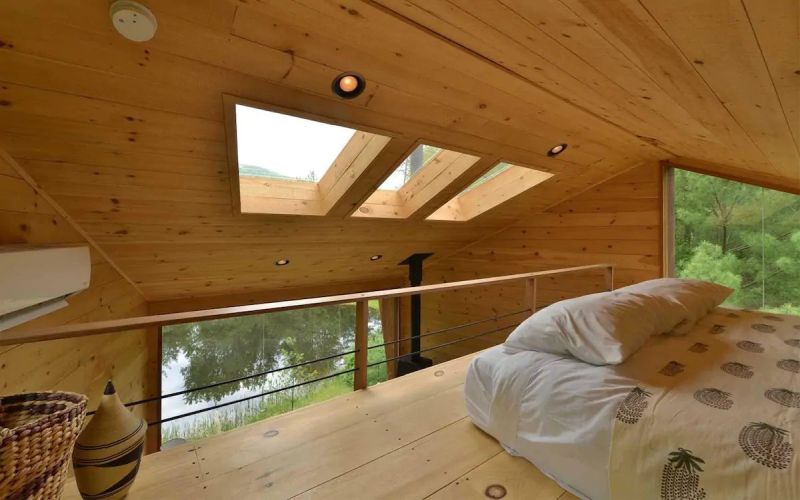 Dreamy Treehouse above Park City, Utah
Surrounded by a 200-year-old fir tree, this beautiful treehouse cabin is an ideal romantic summer retreat for two adults. The elevated cabin features a loft bedroom with a skylight, kitchen, bathroom, and a large deck. It has amenities you'll need for a comfortable stay including a heating system for winter and oscillating fans for summers.
This treehouse is unique as there is a real tree visible in the bedroom. One important thing to notice is that it is accessible only by 4×4/AWD vehicles.
Nearby places: Canyons Village, Park City Museum, Alpine coaster, Olympic Park, etc.
Price: $222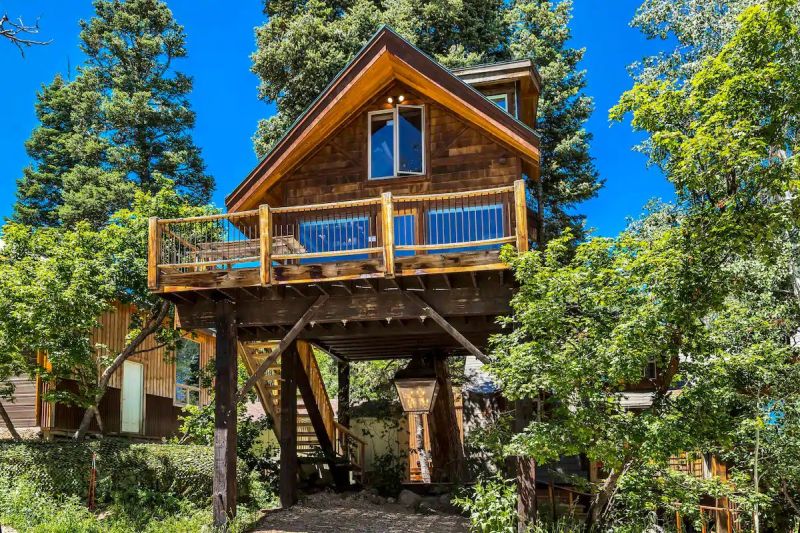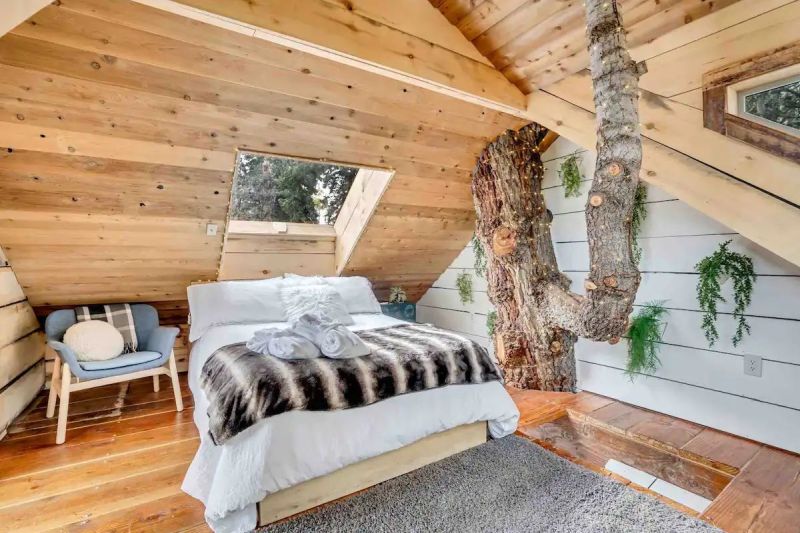 TreeLoft at BaseCamp in Perryville, Missouri
Located on a family farm, this custom-built luxury treehouse is an ideal vacation rental for couples looking for a serene place to spend time together in the lap of nature. There is limited cellphone service, no Wi-Fi or television at the TreeLoft so that guests can disconnect from their worries.
Inside the cabin is a bedroom with a skylight for night sky gazing, a kitchen and a bathroom with rain shower, soaking tub, and plush robes. There is a hot tub outside and a separate deck for grilling or chilling amidst the trees.
Nearby places: Jackson Street Brew Co., Villainous Grounds, American Tractor Museum, Pumpkin farm, National Veterans Memorial, etc.
Price: $330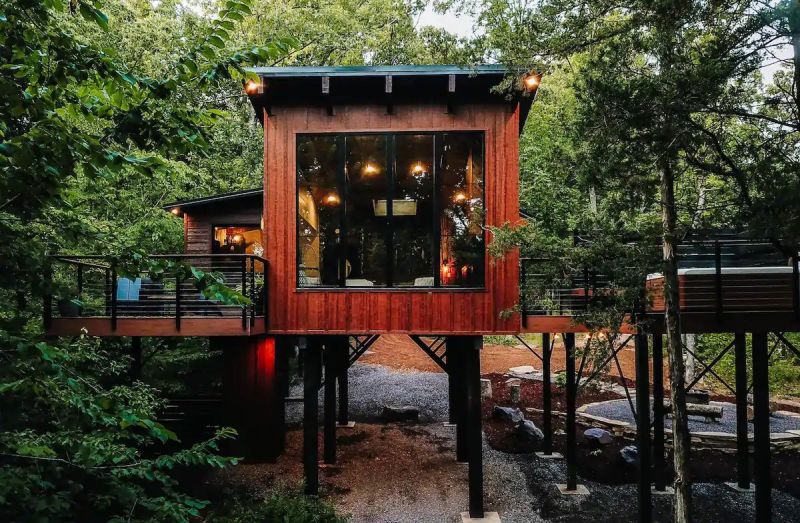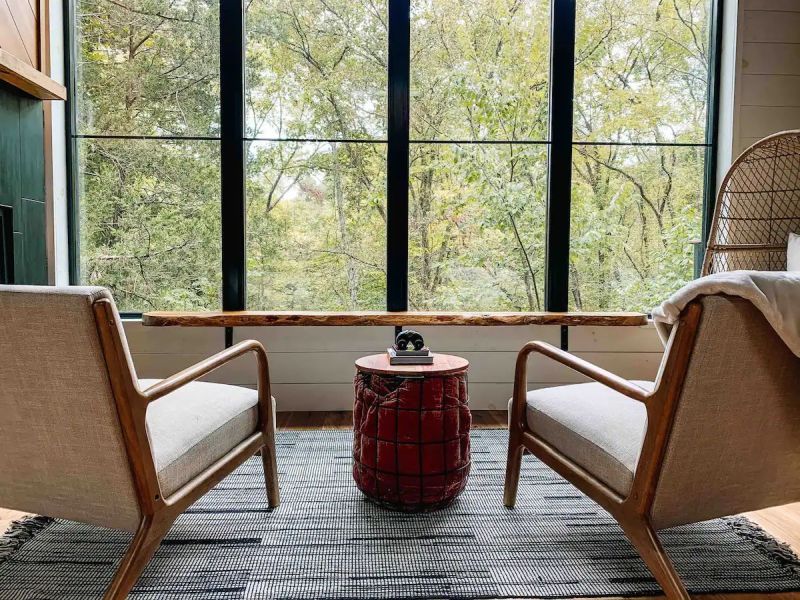 Alpaca Treehouse in Bamboo Forest, Atlanta
Located on a working farm in a private bamboo forest, this Alpaca treehouse in Atlanta has been featured on Treehouse Masters: Ultimate Treehouse VI in 2018. It has an elevated design and plenty of windows to maximize views.
A number of reclaimed items are used in making and decorating the treehouse. It has a living room, a bedroom with two beds, a bathroom with a composting toilet and reclaimed washbasin, and a wrap-around deck to watch llamas, alpacas, hens, and other pets on the farm.
Nearby places: Oakland Cemetery, Martin Luther King Jr. National Historic Site, Ebenezer Baptist Church of Atlanta, Jimmy Carter Library & Museum, Agatha's Mystery Theater.
Price: $411/night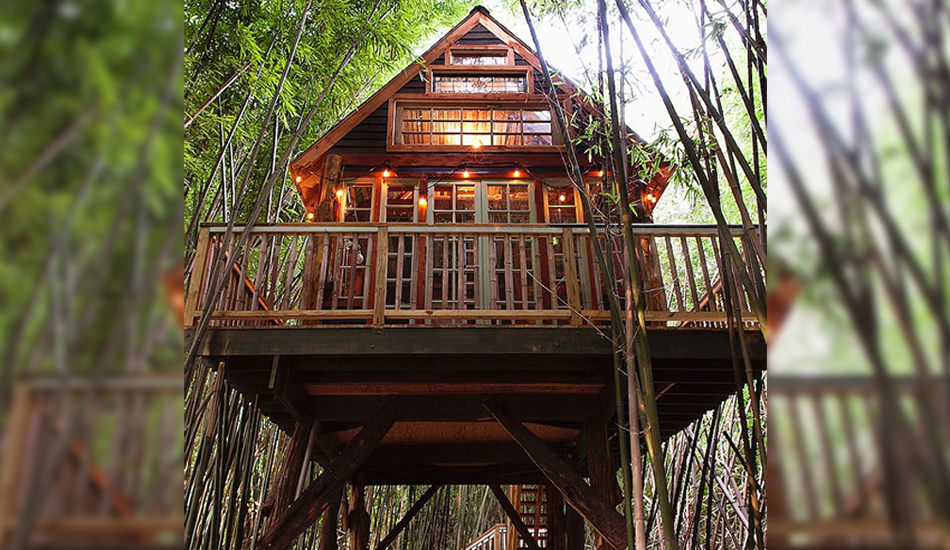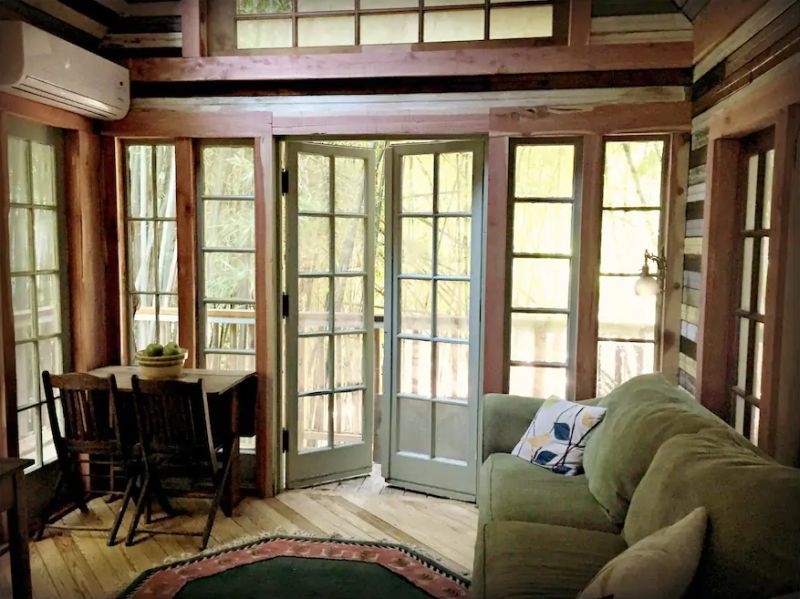 Tropical Treehouse Rental, Hawaii
Located on the outskirts of the Big Island's Hawaii Volcanoes National Park, this tropical treehouse rental was one of the world's most-wished-for Airbnb rentals in 2018. Built by Kristie Wolfe DIYer and blogger 15-feet above the ground, it provides 360-degree views of the surrounding. There is immaculate use of bamboo on the exterior and with a thatched roof it looks like a dreamy tropical abode.
Accessed through a staircase and a trapdoor, the treehouse has a bedroom, kitchen, and bathroom along with a number of windows to allow plenty of light indoors. The interior is decked up with a number of bamboo fixtures and vintage 1970s wallpaper. Solar panels are installed for power supply. There is also a hanging bed on the first floor and a folding teak table with chairs for a picnic on the wrap-around lanai.
Nearby places: Tres Palmas Marine Reserve, Sandy Beach, El Faro Lighthouse, El Faro Lighthouse.
Price: $300/night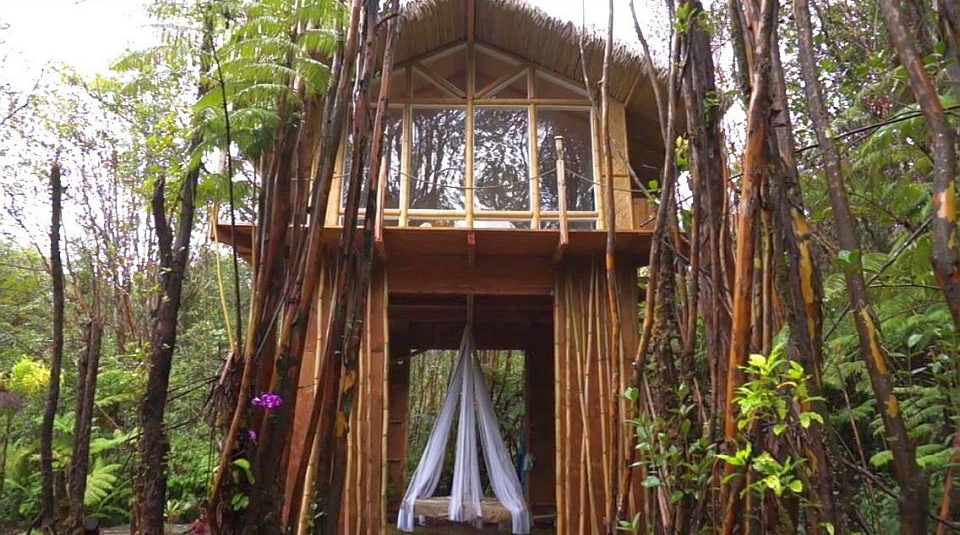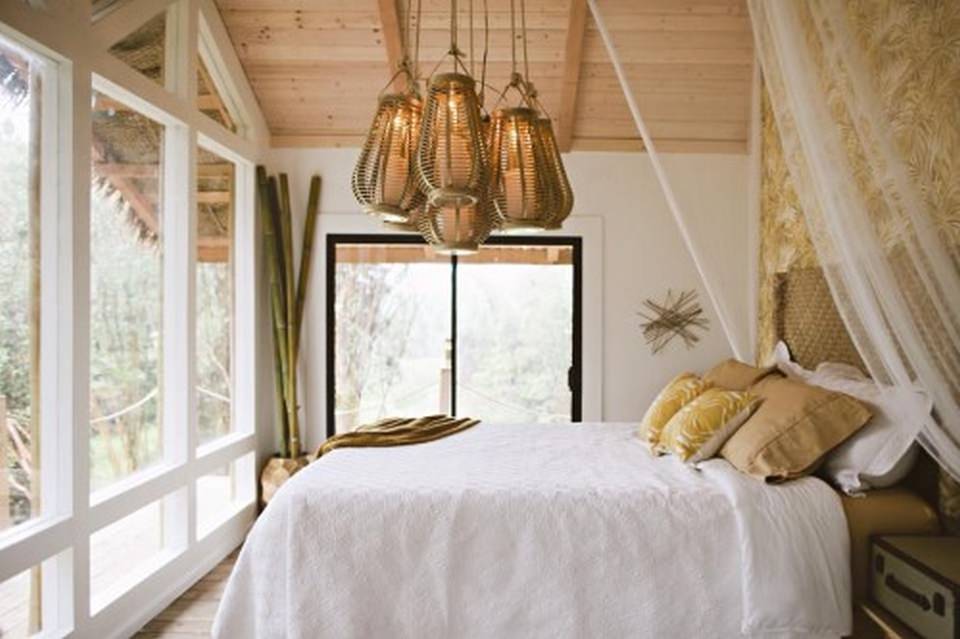 Shipping Container Treehouse Rental, Ohio
The Box Treehouse is touted as Ohio's most-wished-for Airbnb stay. Located in a woody location, it is a shipping container cabin cantilevered from over a sloped hill to look like a treehouse.
The treehouse cabin has two sleeping areas, a kitchenette, a full bath, and a cozy living area. There is a floor-to-ceiling window towards the front in order to maximize outdoor views from the inside. The soaking tub and deck are cool highlights of the treehouse.
Nearby places: Park Street Pizza, Dundee Falls, Amish Country Backroads, Main street Berlin, Norma Johnson Center, etc.
Price: Starts from $182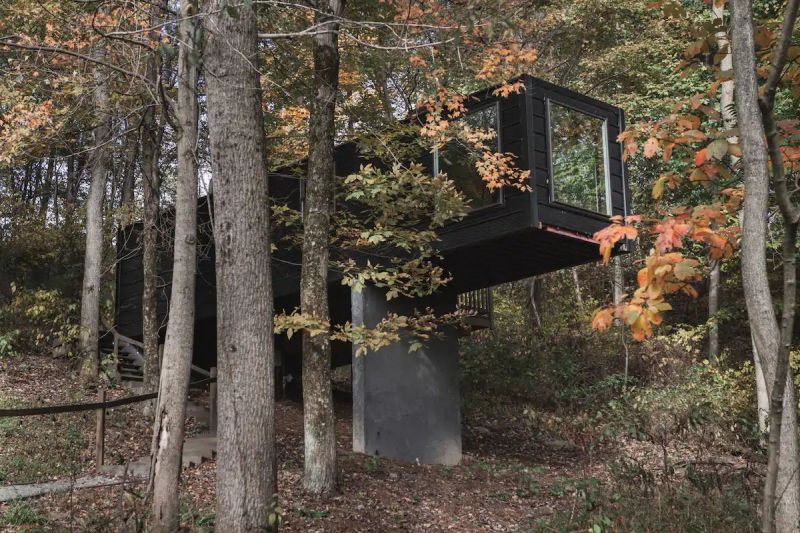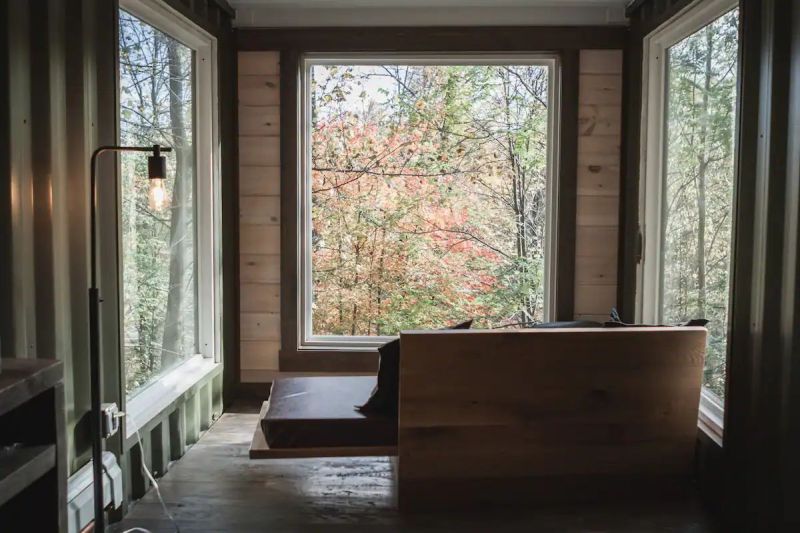 FAQs
What is a treehouse?
A treehouse is a unique kind of accommodation built around or in support of a tree or a perch of trees. The inhabitants live like a bird and can see amazing views above the trees.  
What kind of amenities are available in a treehouse?
Each treehouse is different and has particular space restrictions. So, the amenities in a treehouse may vary depending on the property, but they often include basic necessities like bedding, bathroom and outdoor deck. While most of the treehouses are designed with nature and privacy in mind, there are some properties that may also offer additional amenities like Wi-Fi, TV, and outdoor area.
How safe are tree houses?
Generally, treehouses are safe to stay in, as they are built to meet safety standards and regulations. These structures are cleverly engineered and properly constructed to support significant weight.
Can I bring my children to a treehouse rental?
Treehouses are built high above the ground so the risk is always there for children. There are many family-friendly treehouse hotels and rentals that welcome guests of all ages.
How many people can sleep in a treehouse?
Think of a treehouse as a tiny dwelling with a small living room, kitchen and sleeping area. It may accommodate 2-4 persons depending on the property.