Whether you're planning a tropical vacation or looking for a romantic getaway, your trip is dependent on the time at hand, desired activities, and budget among other things. When you have decided on a location, there is an endless number of popular vacation rentals, which can leave you confused. A Google search can open up a large encyclopedia of unique places to stay, and you're spoilt for choice. If that's not how you like it, here is a compilation of the best places to stay in the most exotic locations in the world.
Due to the increasing popularity of Airbnb, we have stuck with it for our compilation of awesome stays. It has more than 7 million properties listed within 81,000 cities, spanning more than 220 countries. From luxury condos and holiday cottages to tiny houses and treehouses, one can find different and unique kinds of properties on Airbnb. So, let's take a look at some of the most unusual Airbnb rentals you'd love to check-in.
Cave House in Utah, US
One of the most unique Airbnb accommodations, the cave homes are getting quite popular these days. This one named BedrocK Homestead is a fusion of modern technology and nature. The Airbnb rental is off-grid and uses hydroelectricity for power requirements. If you are interested in witnessing a sustainable lifestyle, this place is the right choice for you.
Price: $275/Night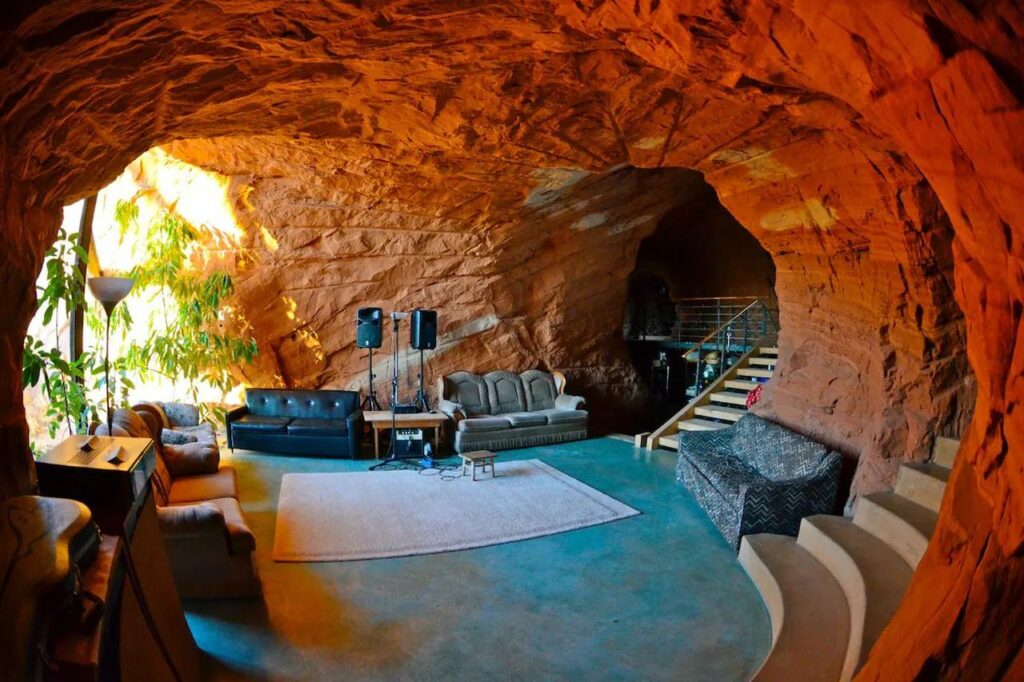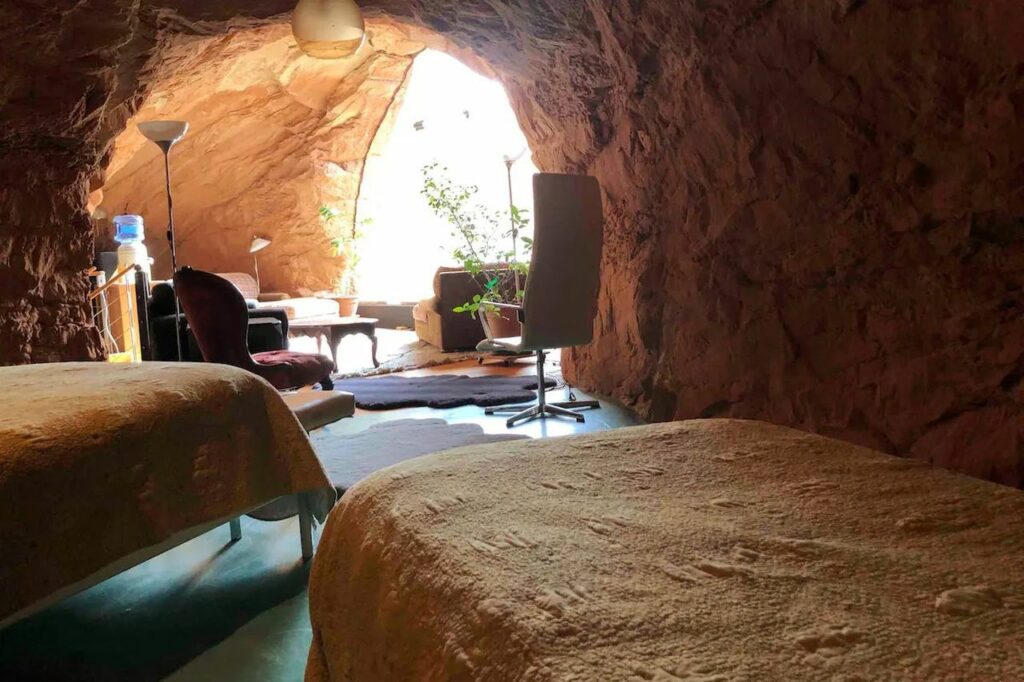 Area 55 Futuro House in Joshua Tree, California, US
Shaped like a UFO, this rare and famous Airbnb vacation rental is where you can disconnect from the hustle and bustle of city life. It is a Futuro House fully restored to offer an off-grid glamping experience. There are large oval windows all around the house that enhances the living experience. Inside, there are two beds, a kitchen, and a bathroom.
Price: $337/Night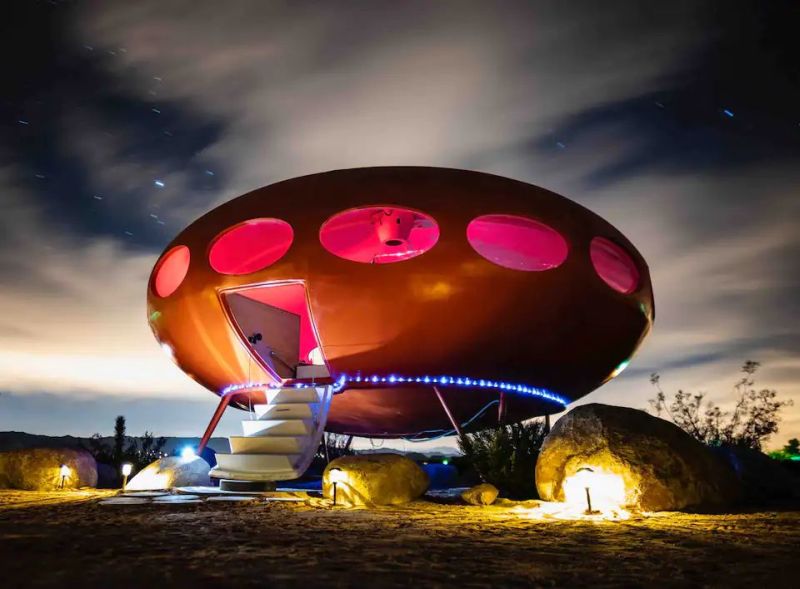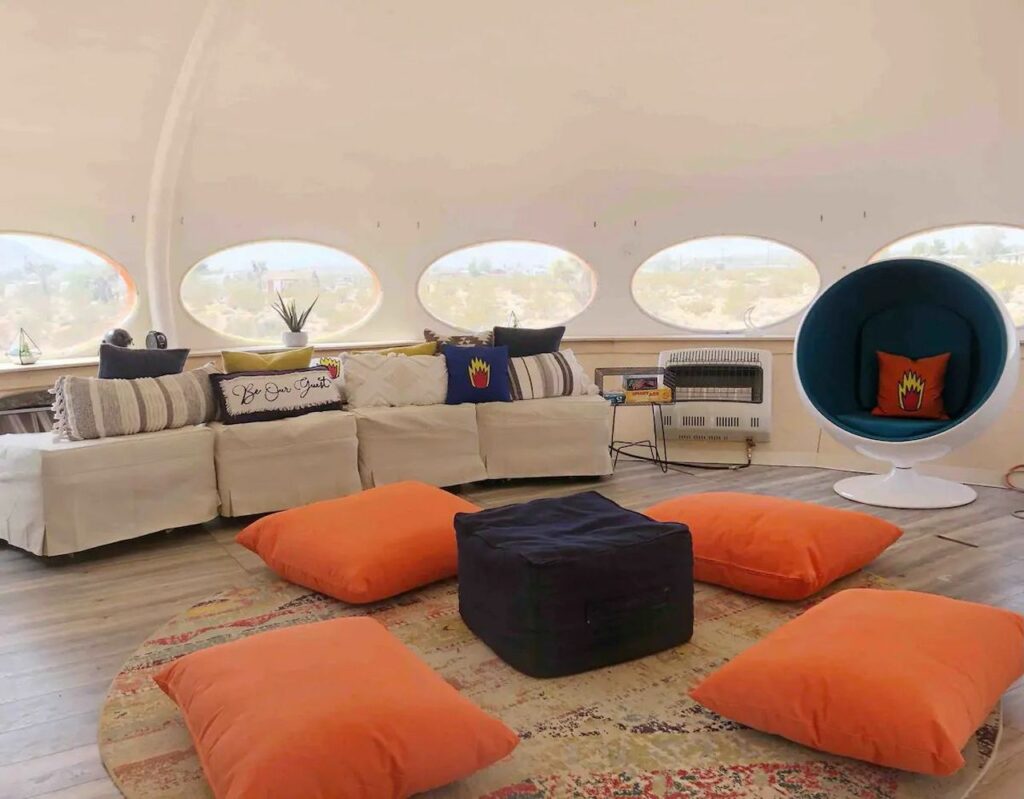 Caher Castle in Galway, Ireland
If you ever wished to live like a king, you should pack your bags for the Caher Castle that you can rent on Airbnb. This 5-story medieval castle is restored using traditional materials, and modern technology. You can find local stone, limestone, and oak beams throughout the castle.
It is one of the most popular Airbnb in Europe. It comprises a master bedroom on the top, a living room, a dining room, and two guest bedrooms.
Price: $185/Night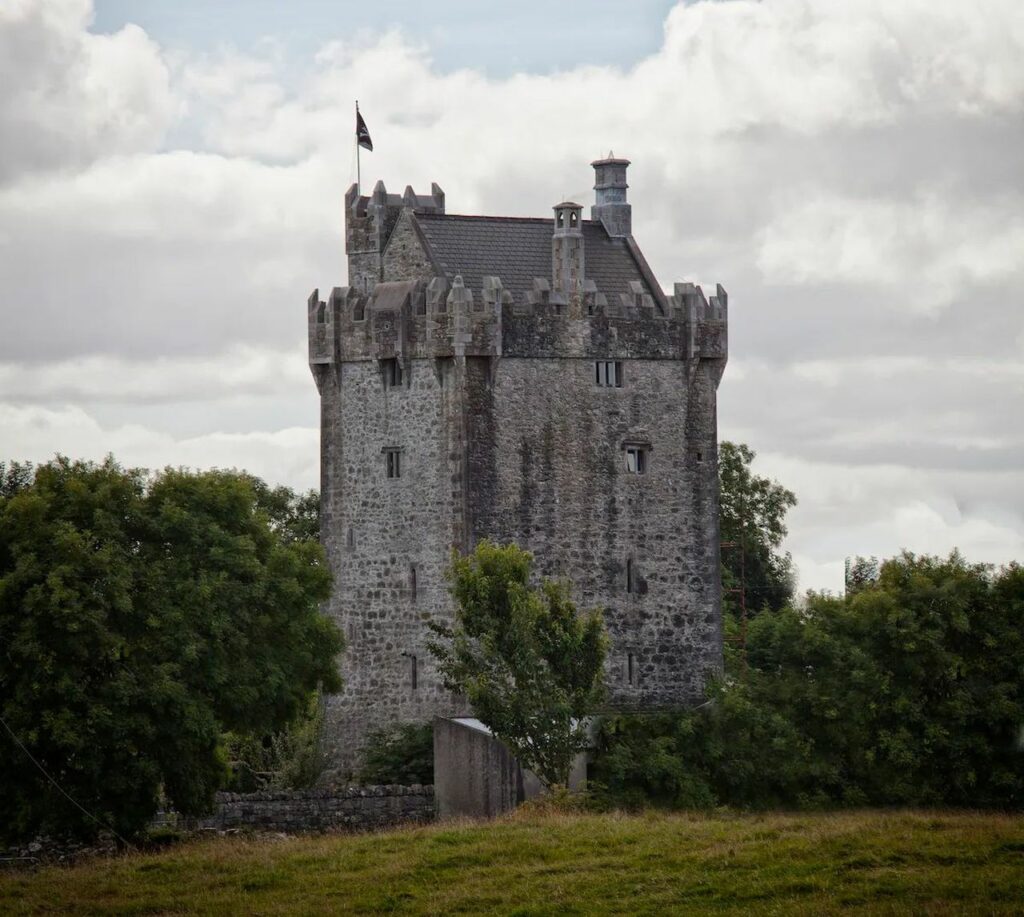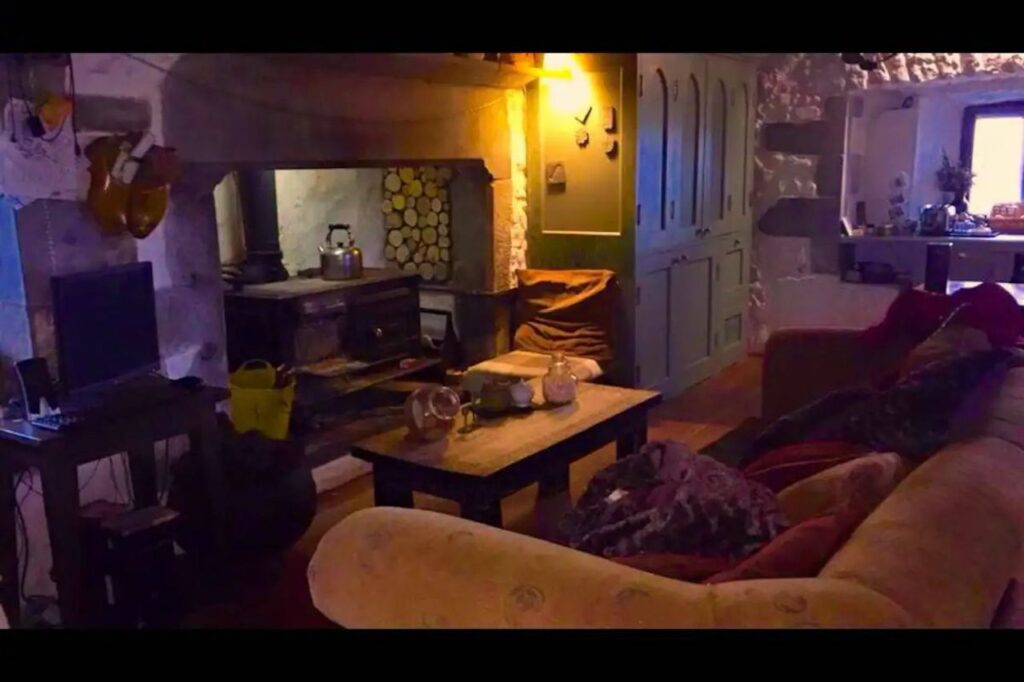 Tamanco Tubismo in Louriçal, Pombal, Portugal
Looking at the dire need for affordable housing, a number of architects are coming up with alternative solutions like a concrete water pipe house. You can experience one for real in Portugal at a great price. It is a small boutique hotel with eight reclaimed concrete tubes converted into cozy bedrooms with a view through large windows in the front.
Each Tubismo bedroom has a bed to accommodate two people. There is some storage space, a nightstand with a light, and an electrical outlet for charging devices. You may have to carry your own sleeping bag and pillows.
Price: $36/Night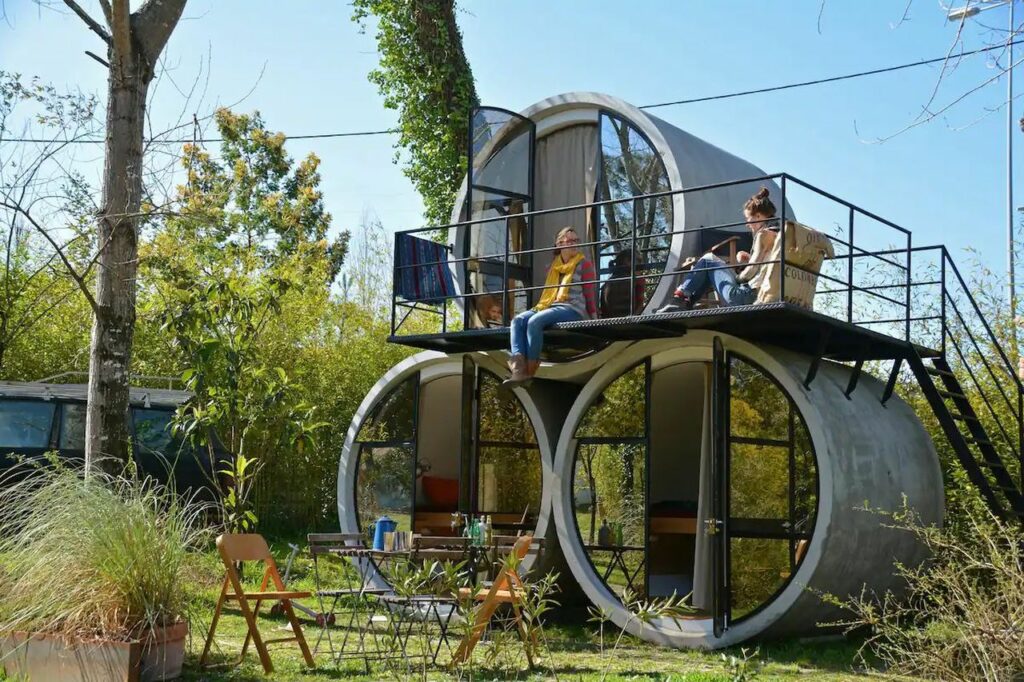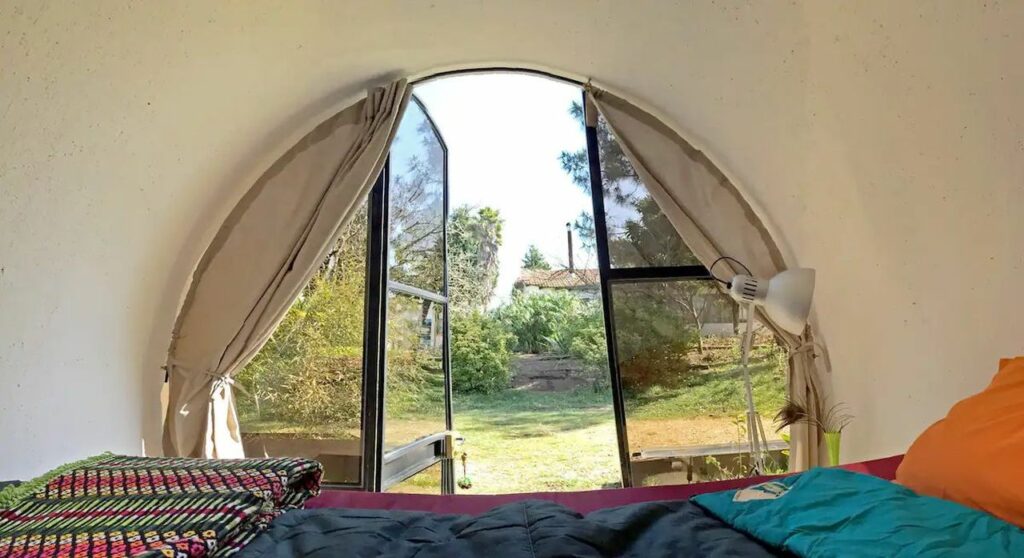 Cliff Dweller in Campton, Kentucky, US
Tucked high above the canopy in the Red River Gorge, the Cliff Dweller Airbnb rental is not for those who are afraid of heights. You reach the cliff-hanging cabin after a journey up several hundred suspended stairs. Inside, you can find a small kitchen, bathroom, and bedroom for four people. There is also a swing on the top deck.
Price: $190/Night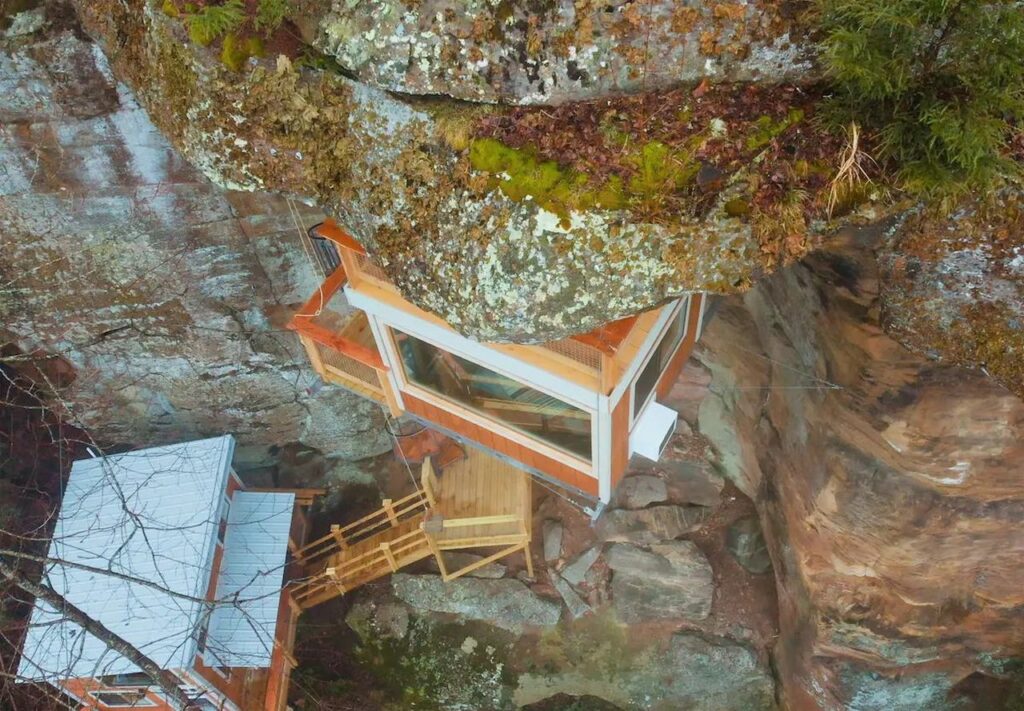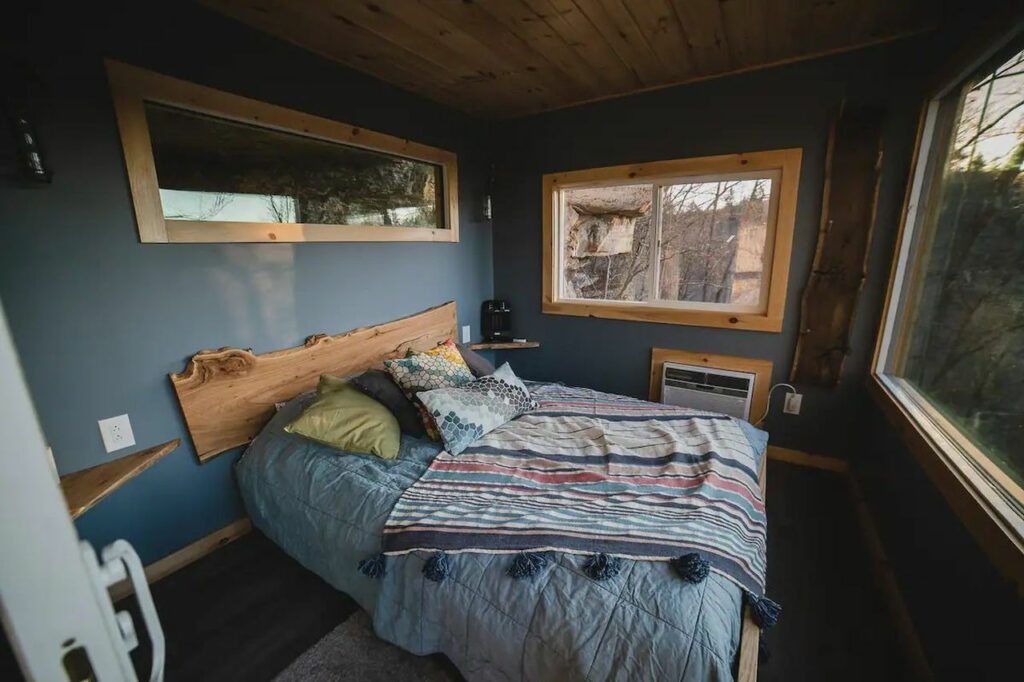 Phoenix House in Pāhoa, Hawaii, US
Situated on Kalapana lava beds near the base of the Kilauea Volcano, this off-grid tiny house can be rented for a stay. Chances are you will be able to see live-flowing lava here, and waking on the lava beds will be an unforgettable experience. It has a living room, full kitchen, bathroom, and sufficient sleeping space for two persons.
Price: $147/Night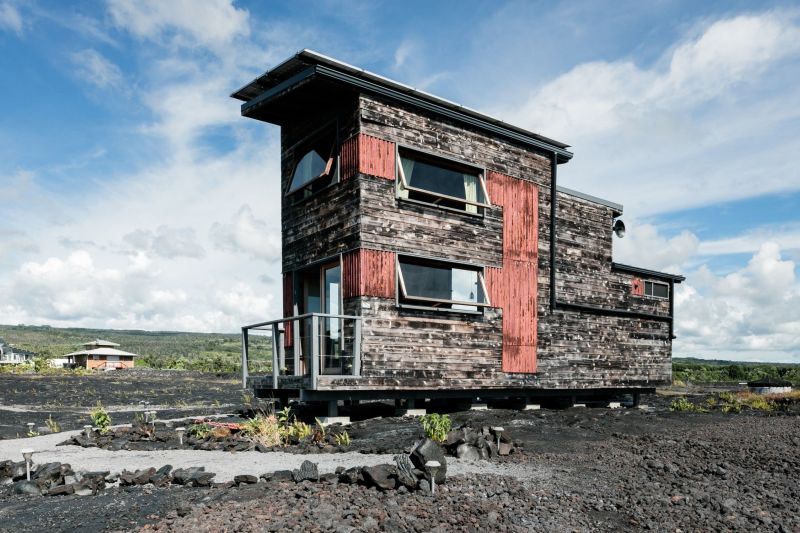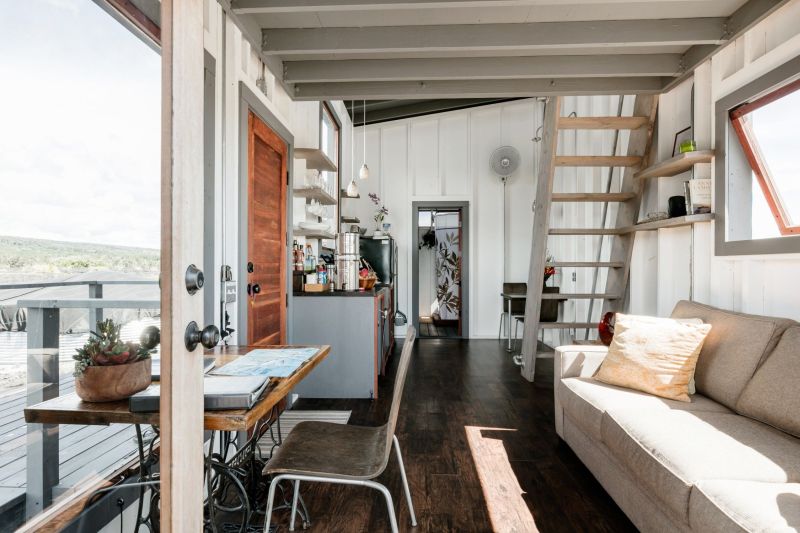 Glass Cottage in Hella, Iceland
Located on a lava desert in the south of Iceland, this holiday cabin is perfect for sky gazing – all thanks to its all-glass construction. Guests can sleep under the stars in comfort and warmth. The cabin also includes a kitchen and bathroom.
Price: $632/Night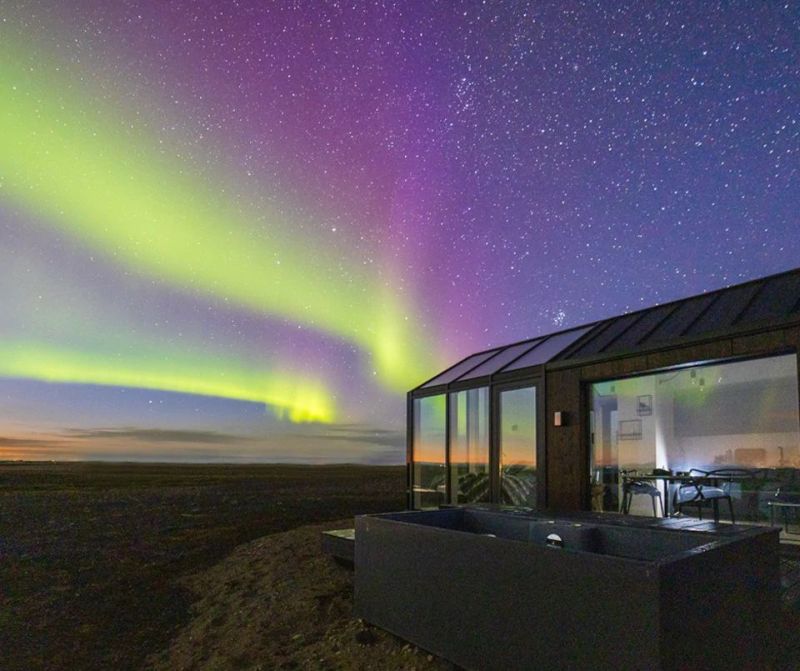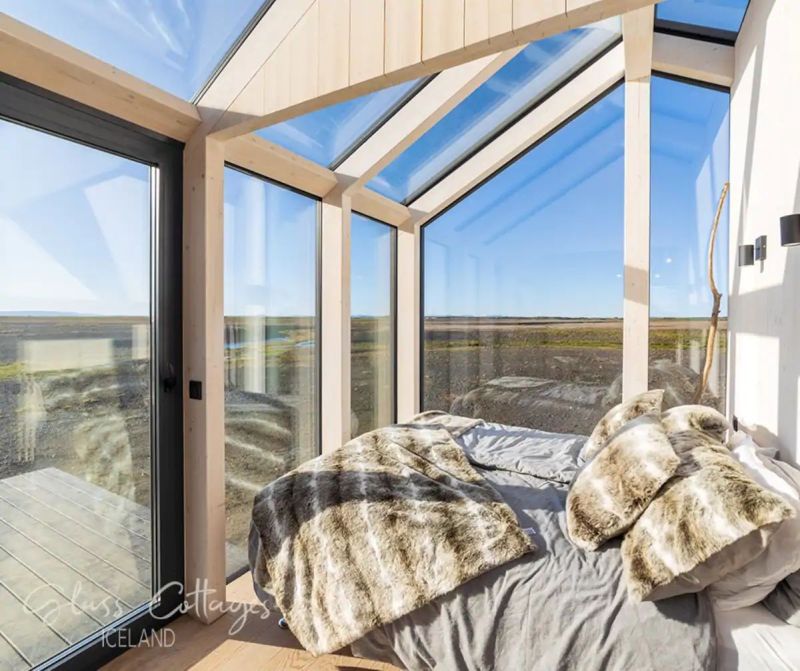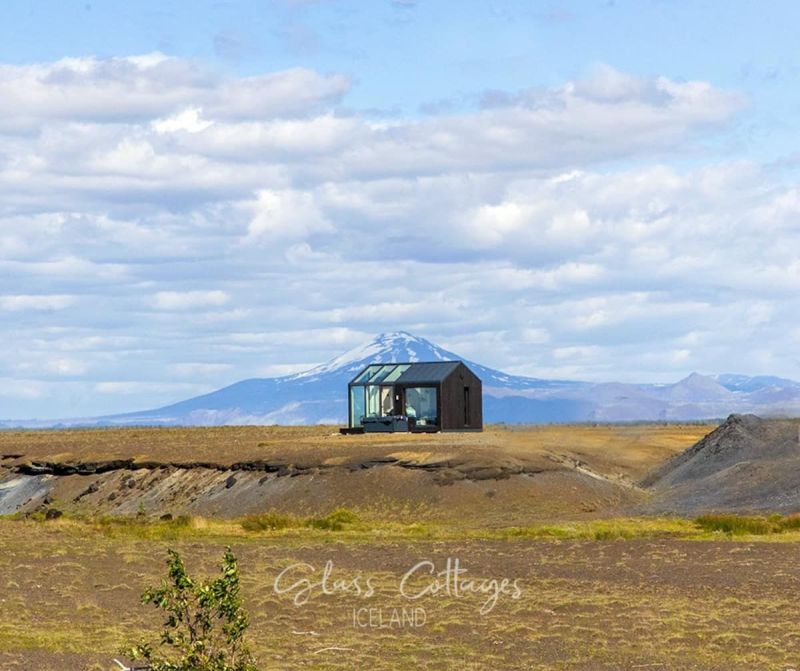 Shipping Container Home at Carolina Beach, US
This 320-square-foot shipping container accommodation is a low-profile vacation rental for visitors on Carolina Beach. It has enough living space to accommodate two adults and a small child. The container features floor-to-ceiling doors and a wooden deck. The interiors are luxurious, with modern furniture and amenities. Inside, there's a living room, kitchen, bathroom, and bedroom. It is a pet-friendly Airbnb.
Price: $106/Night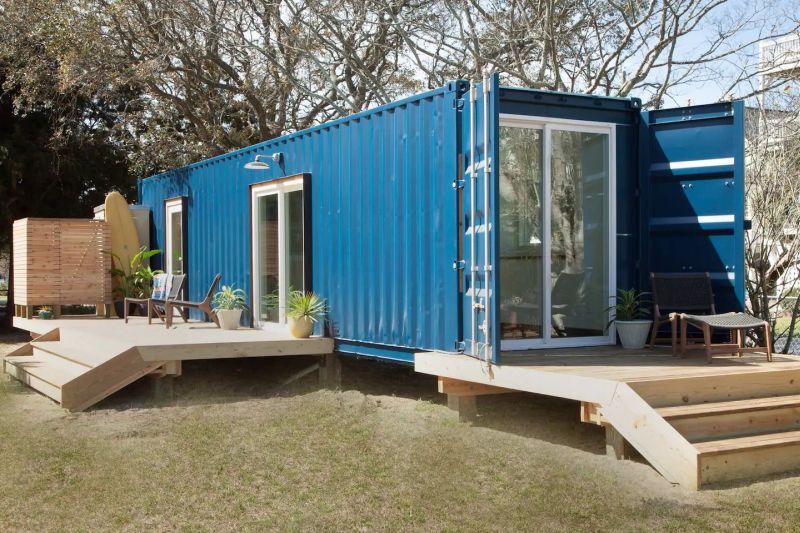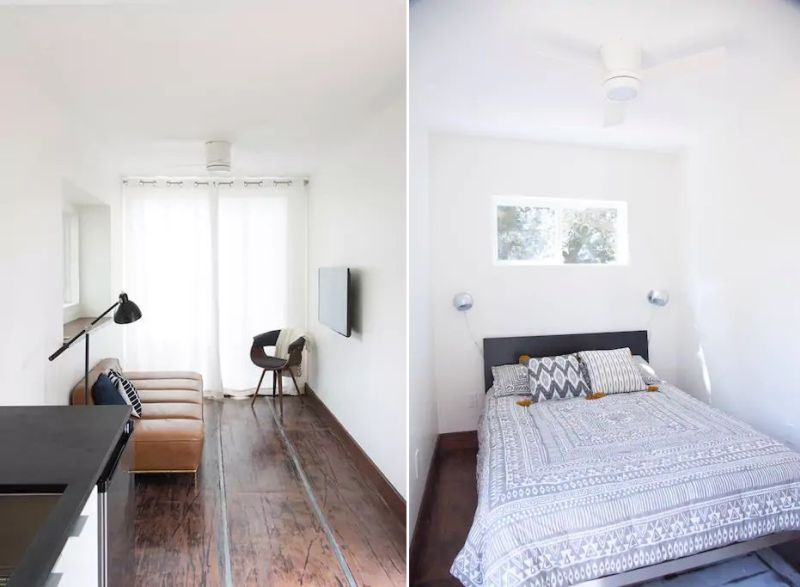 Van Gogh's 'The Bedroom' in Arles, France
The Art Institute of Chicago in collaboration with Airbnb has come up with the idea of offering guests a chance to experience the life of Dutch painter Vincent van Gogh. Perfect for art lovers, this one-bedroom vacation rental is a replica of Van Gogh's famous painting 'The Bedroom.'
Price: $53/Night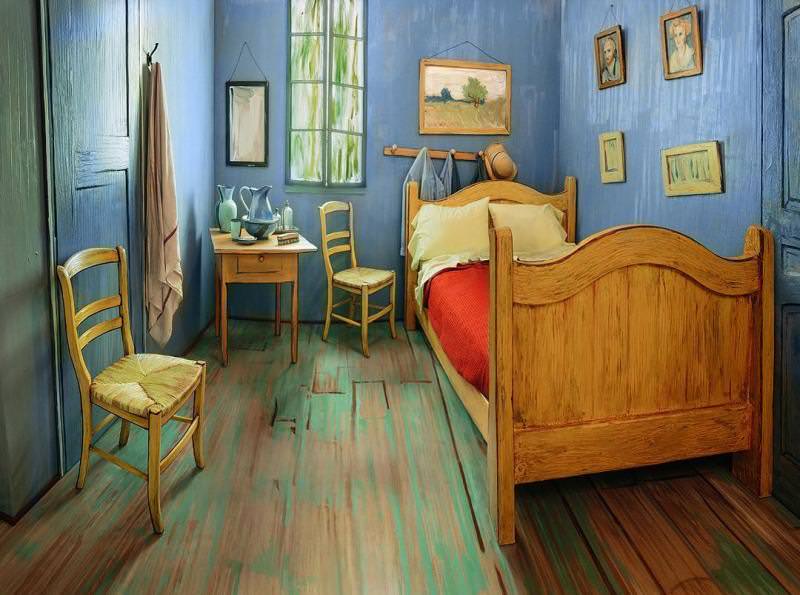 Tropical Treehouse in Hawaii, United States
This 230-square-foot tropical treehouse is situated amidst the beautiful Fern Forest on Big Island, Hawaii. Elevated 15 feet above the ground on bamboo stilts, it is designed to provide a 360-degree view of the surroundings. This off-grid treehouse includes a bedroom, kitchen, and bathroom, and can easily accommodate up to two guests.
Price: $300/Night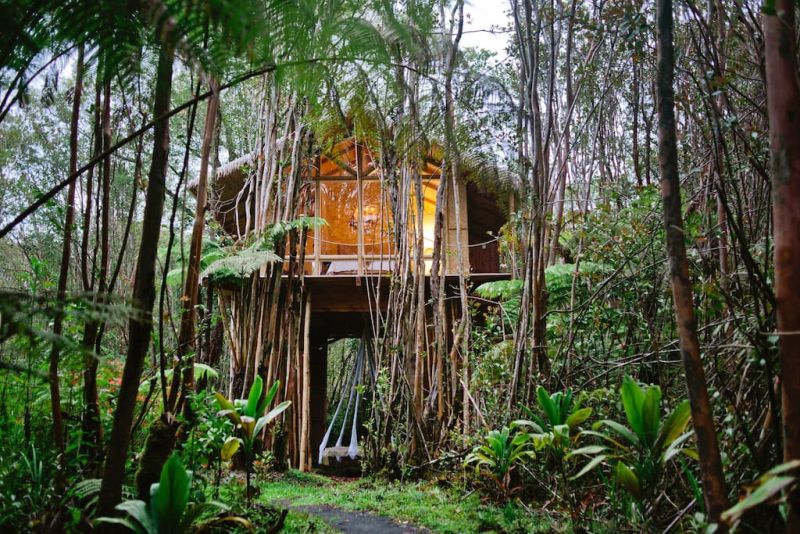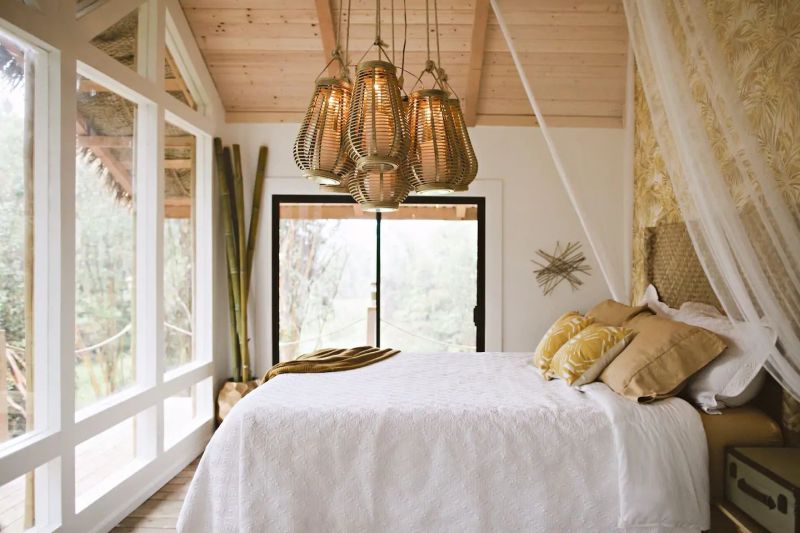 Three-Story Treehouse in Matapalo, Costa Rica
This three-story treehouse rental is a perfect spot for adventure seekers in Costa Rica's Osa Peninsula. It stands nearly 500 feet above sea level, providing uninterrupted views of the ocean and surrounding wildlife. There are two bedrooms to sleep six guests.
Price: $326/Night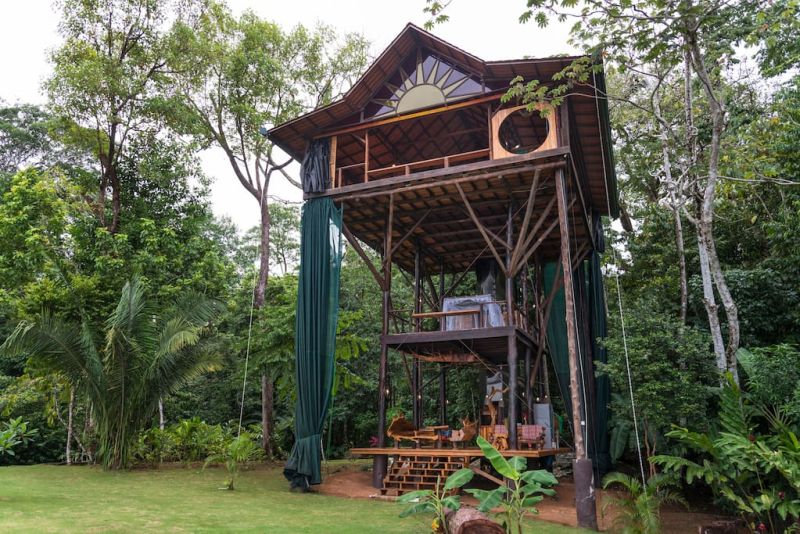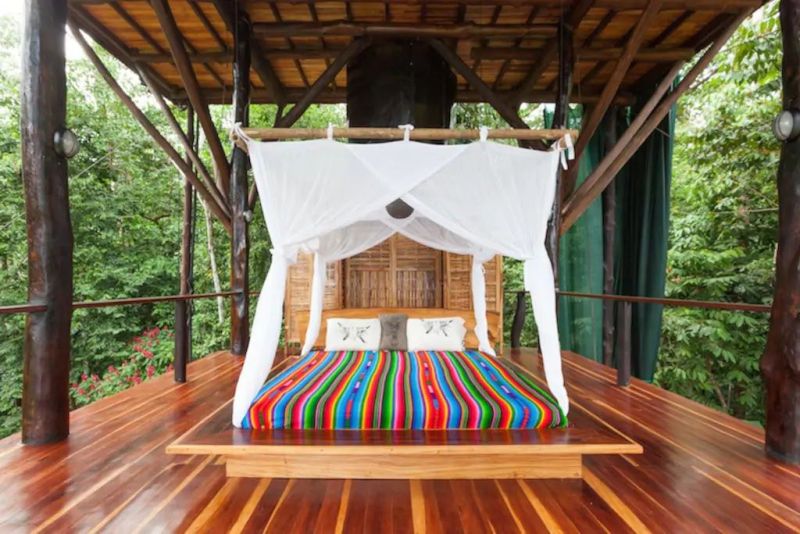 The Pinecone Treehouse in Bonny Doon, California, US
Nestled amid a groove of Red Wood forests 35 feet above the ground, the Pinecone Treehouse is designed by Dustin Feider of O2 Treehouse showcasing how architecture blends with nature. With its unique glass structure, it offers a 360-degree view of the surrounding forest. The floor is made of glass to give guests Goosebumps. Entry requires a bit of effort as one has to climb up a staircase, but it is well worth it when you are up there.
Price: $504/Night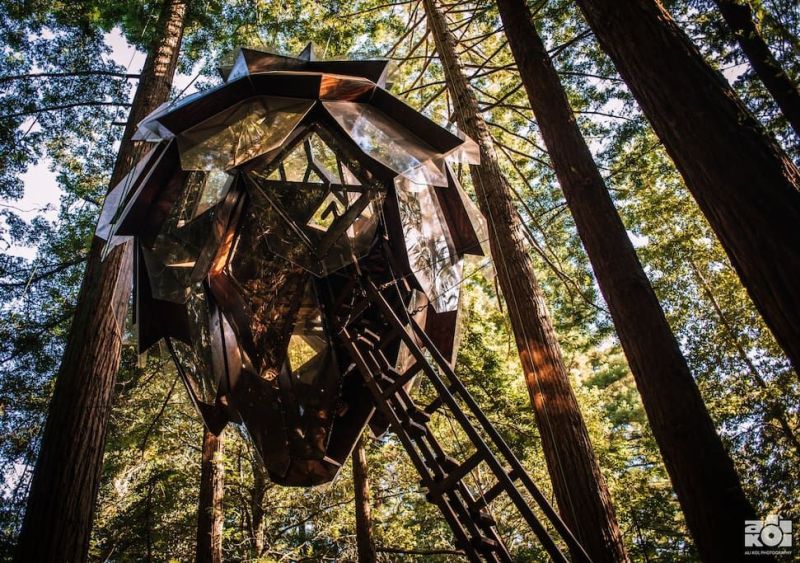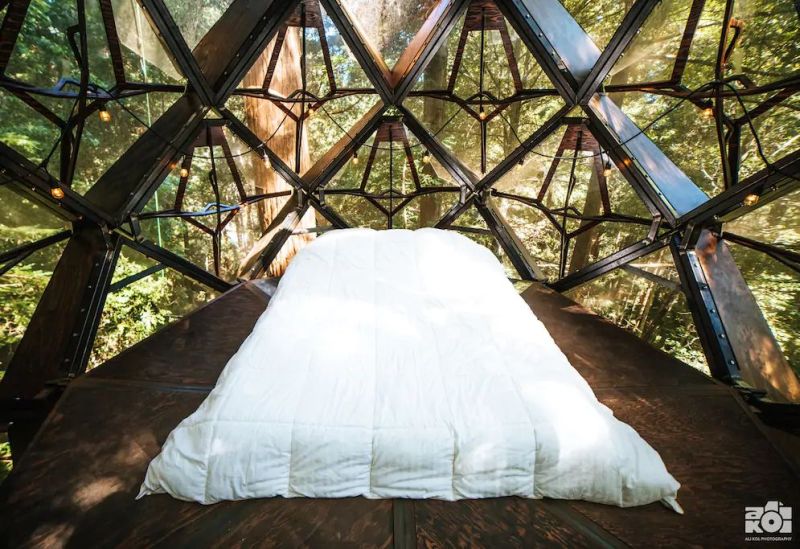 Also Read: 20 Best Treehouse Hotels You Wish You Could Live In
Underground Hobbit House in Washington, US
Dubbed Underground Hygge, this earth berm house is situated on one of the mountains at Columbia River Gorge near Chelan, Washington. It is a real-life hobbit home, featuring a round front door like Bilbo's in the Shire. There is a bedroom and a bathroom, and the rental can accommodate two guests comfortably.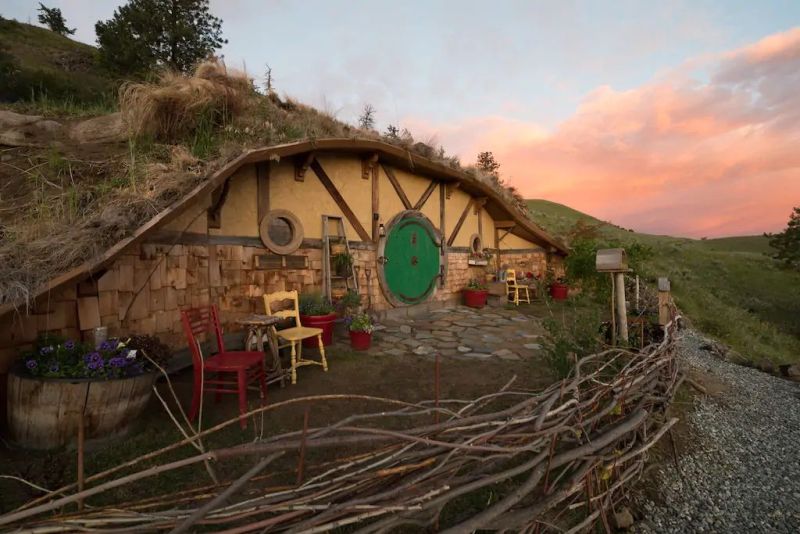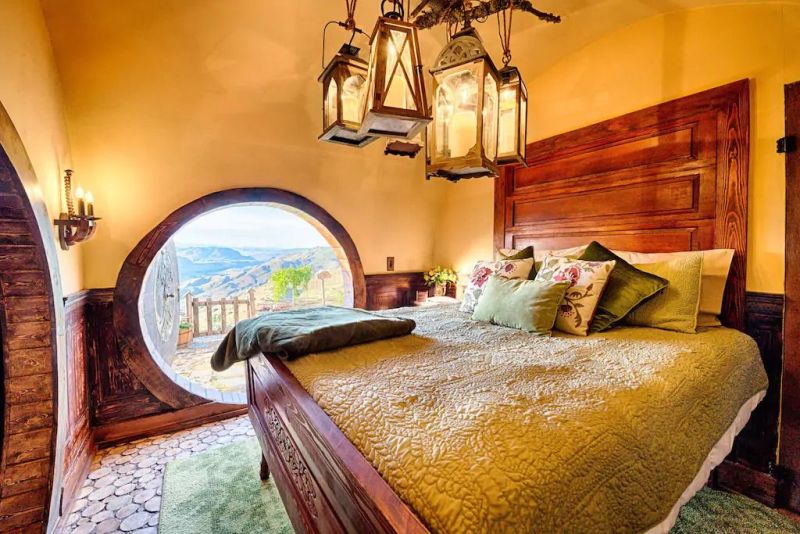 Old Tower in Hvar, Croatia
Situated in Hvar`s historical center, this tower is an old windmill restored into a chic vacation rental, offering guests a chance to peek into village life. The four-story tower has one bedroom, lounge area, living room, kitchenette with dining area, bathroom with a toilet, private garden, and private parking. There are modern amenities like a cooling and heating system, as well as its own water supply, electricity, and Wi-Fi for connectivity.
Price: $204/Night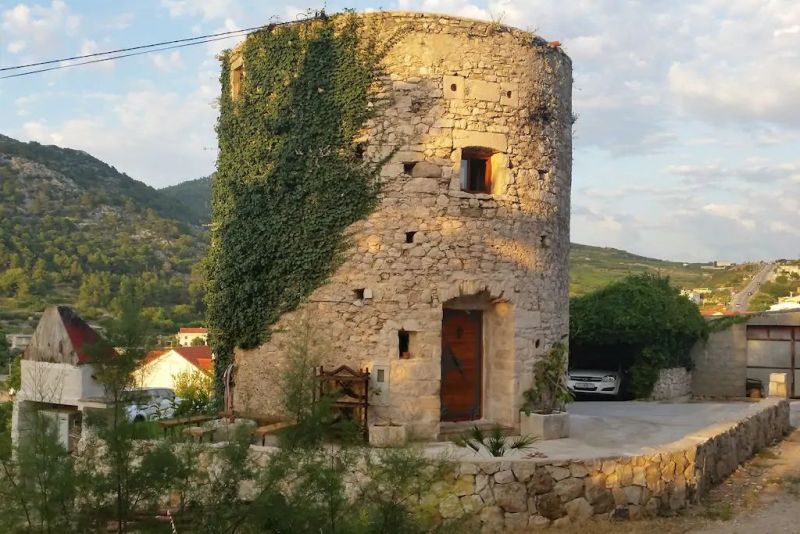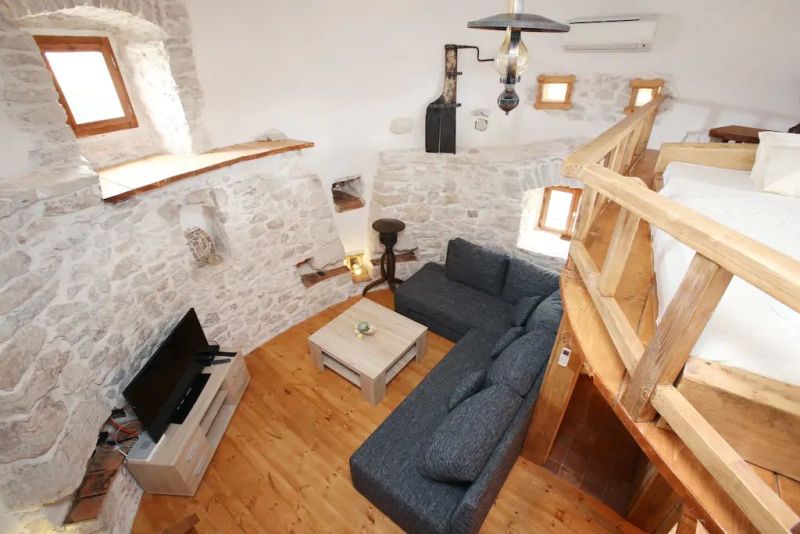 Silo Cottage in Berkshires, Massachusetts, US
Located in Santarella Estate in Berkshires, Western Massachusetts, this two-story cottage features a conical roof just like a medieval castle. Originally a summer studio of the English-born American sculptor Henry Hudson Kitson, it is now renewed as a vacation rental. The Silo Cottage has a cozy bedroom with multi-paned mill windows to offer views of a pond and nature outside.
Price: $215/Night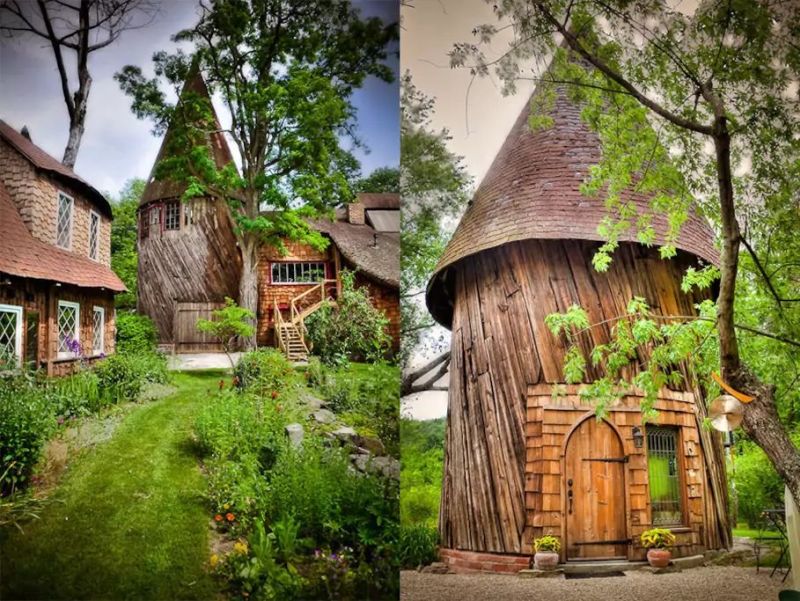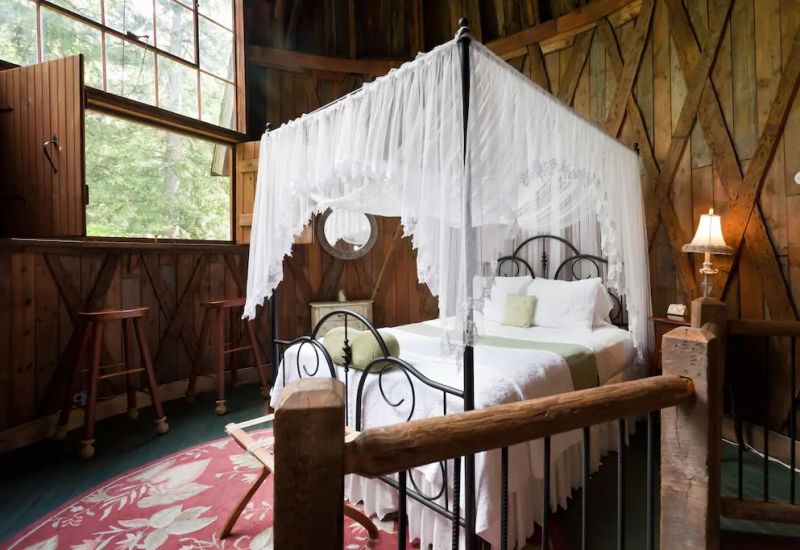 Sky Haus Cabin in Skykomish, Washington, US
Rent this A-Frame cabin in Skykomish, Washington to explore the woods with your loved one. It is a sweet vacation rental with a sleeping arrangement for four guests. A fully equipped kitchen and bathroom complete the interiors, while there's also a hot tub outside the front door. You can take your pets along for an extra fee.
Price: $310/Night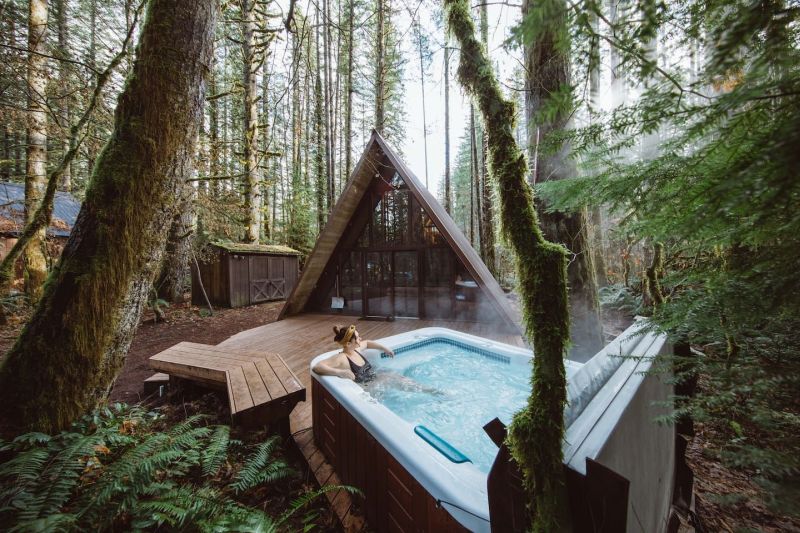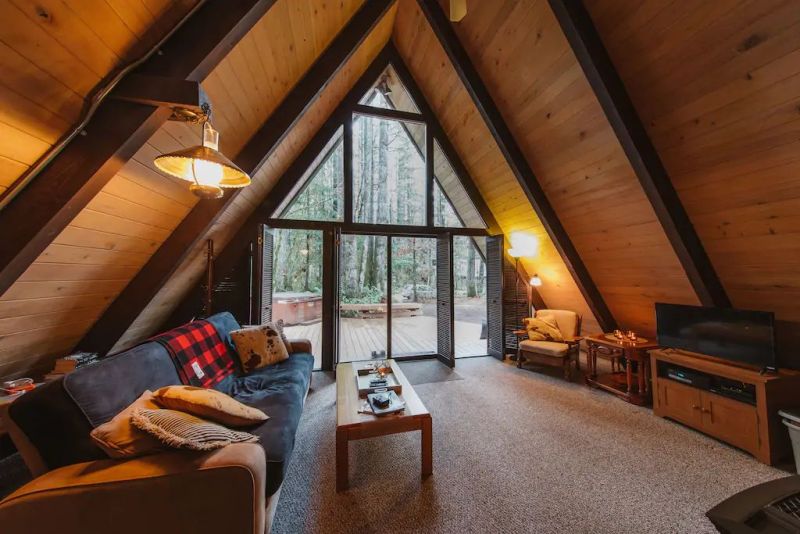 Eco-Friendly Bamboo Cottage in Selat, Bali
Situated along a river, this open bamboo cottage in Bali is a perfect hideout for eco-enthusiasts and nature lovers. There are two floors, with one housing a living room, a fully equipped kitchen, and a bathroom. On the second floor, there is a spacious bedroom, providing sleeping space for up to four adults.
Price: $160/Night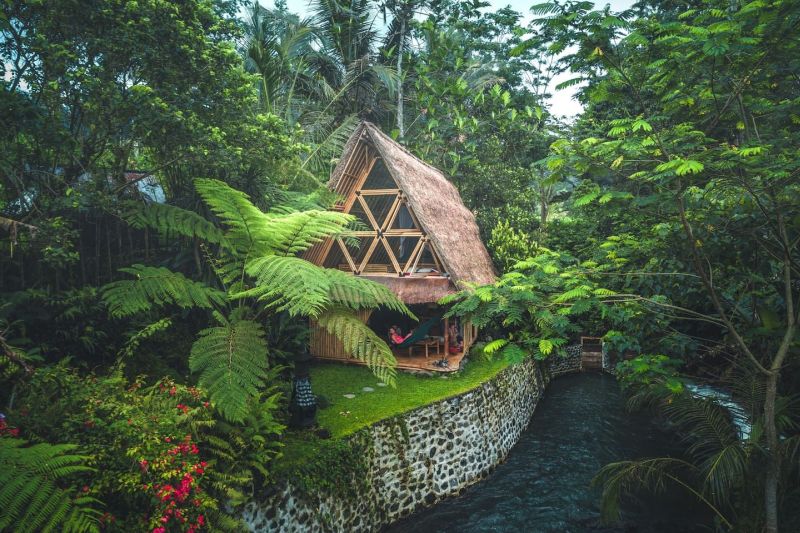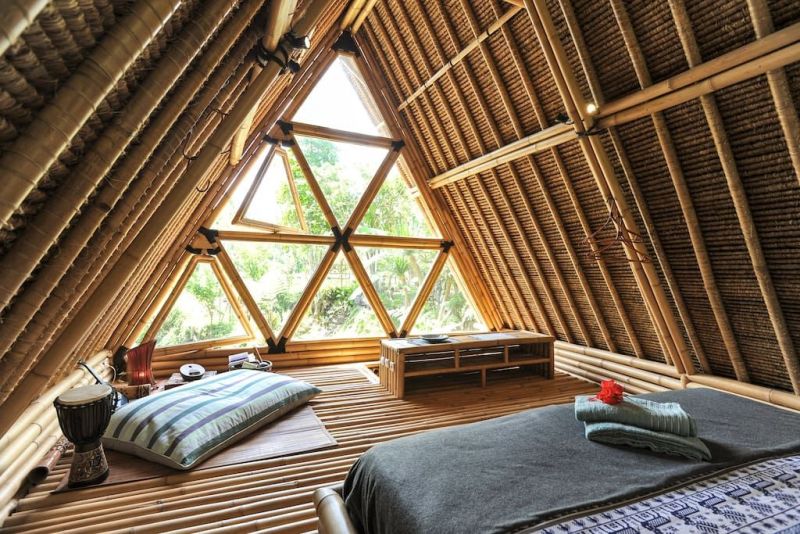 Unique Desert Rental in Joshua Tree, California, US
Looking for a desert getaway in the United States? This beautiful dome rental in Joshua Tree, California is a good option. Its interiors feature modern-bohemian decor with many handcrafted items. There's a full kitchen with a refrigerator, oven, microwave, and coffee maker. The main bedroom has a memory foam king-sized bed, while the sunroom is furnished with a daybed that can be turned into a bed by night.
Price: $166/Night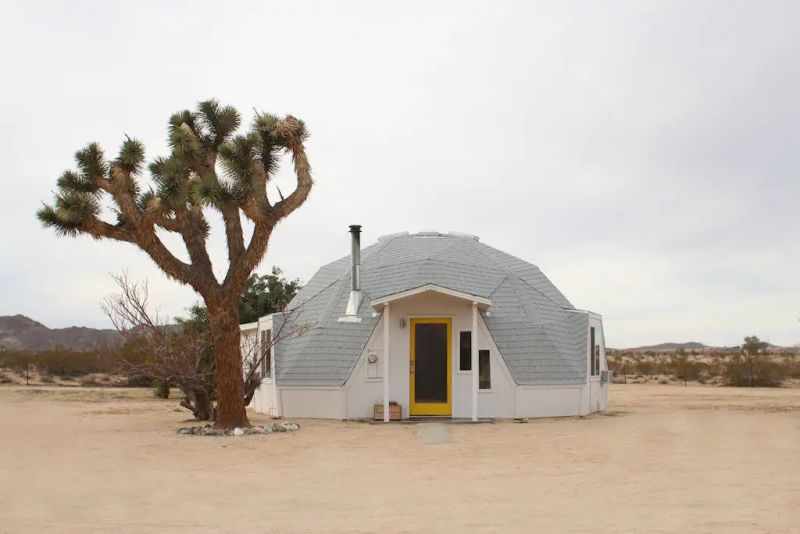 Skylodge Adventure Suites Peru
If you're looking for the rarest lodging experience, why not sleep high on the edge of a cliff at Skylodge adventure suites in the Sacred Valley of Cuzco, Peru? These luxury capsules feature transparent walls to gaze into the valley. Each cabin has a bedroom and bathroom, sufficient for a single person. More adventure is here for the taking; one has to climb 400 meters up via Ferrata or get up the daring trail through a zip line.
Price: $450/Night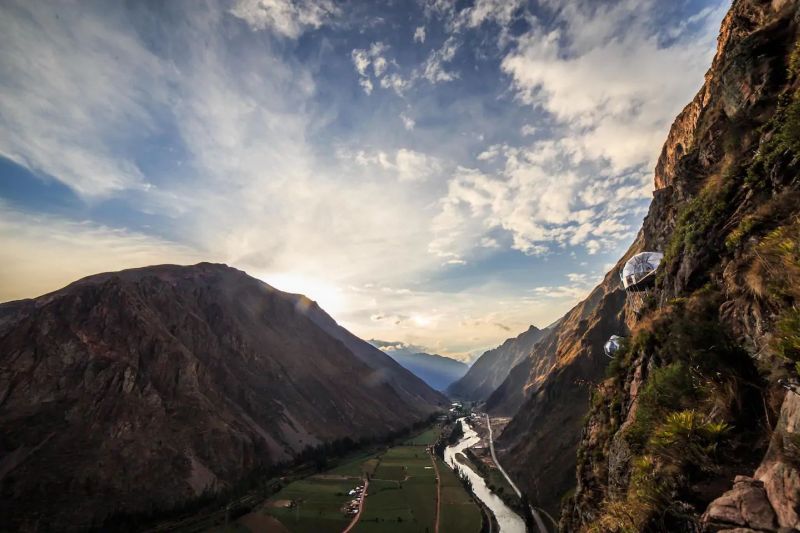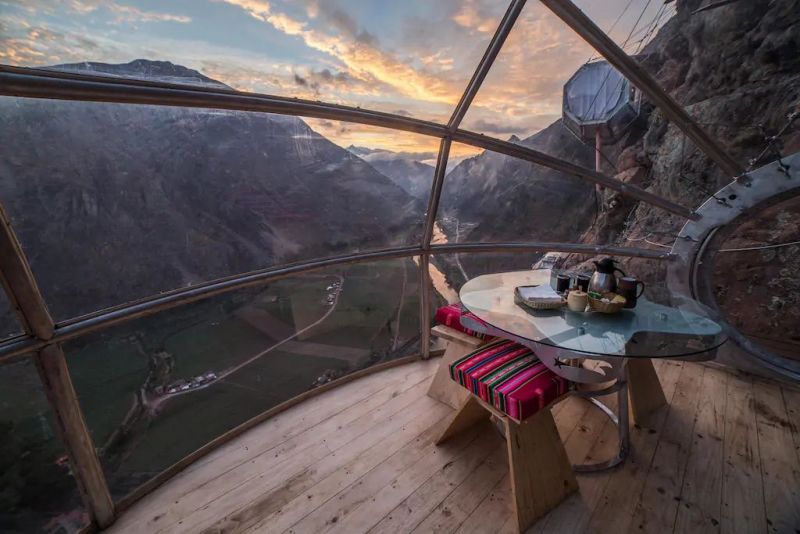 Platform1346 in Tennessee, US
This vintage train kitchen car converted into a cozy home is a cool vacation destination ideal for people to look back into history. Inside, there are two beds to sleep four persons, a kitchen bathroom, and everything else you will need for a comfortable stay.
Price: $156/Night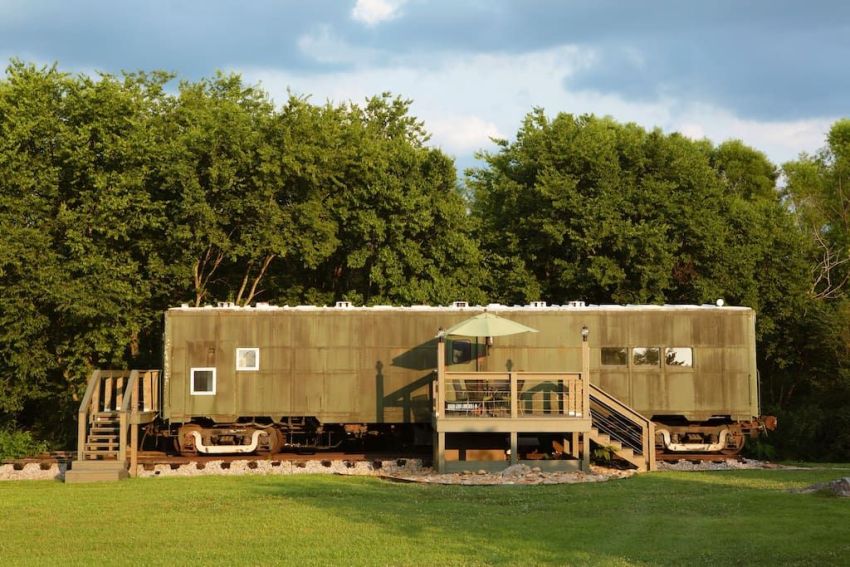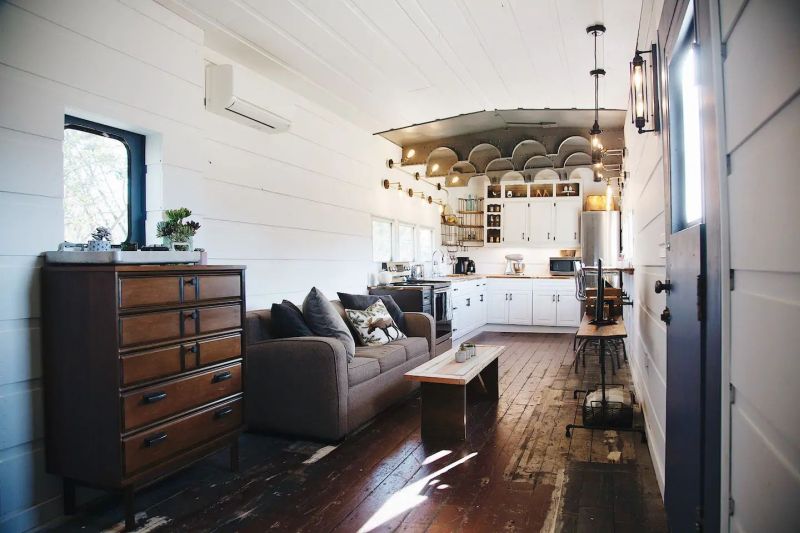 School Bus Rental in Shepherdstown, West Virginia, US
Life on the road is a popular trend that motivated a number of people to live in converted bus homes. If you want to experience how it feels living in a bus conversion, rent this one on Airbnb outrightly. Inside, there is a sofa, table, wood stove, and bed. The bathroom and kitchen are shared.
Price: $80/Night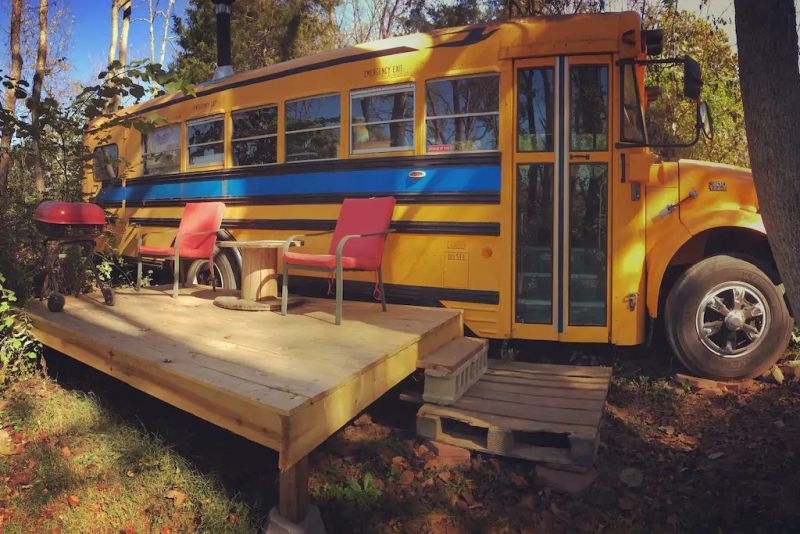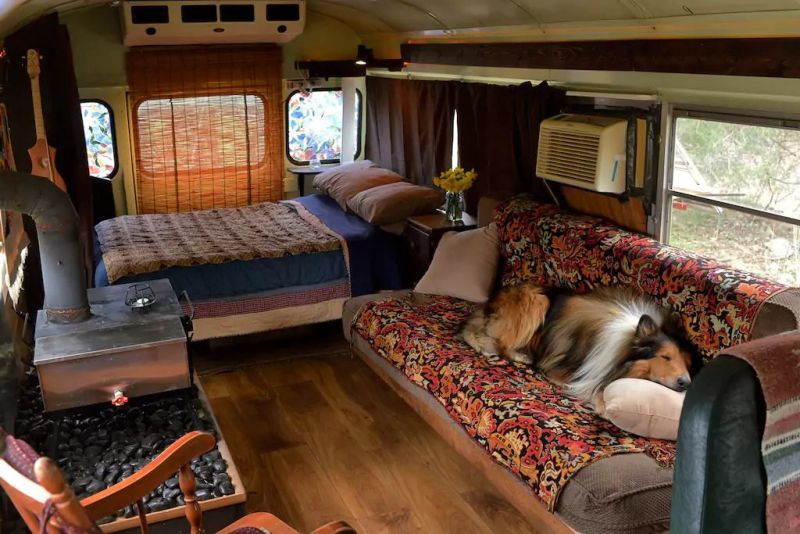 Converted Airplane Rental in France
Ever wished to sleep in a parked plane? If yes, this Airbnb rental in Le Haut Village, St Michel Chef Chef, France can make your wish come true. This one-of-a-kind vacation rental has a small living room, kitchen, three beds, and a bathroom complete with a toilet.
Price: $97/Night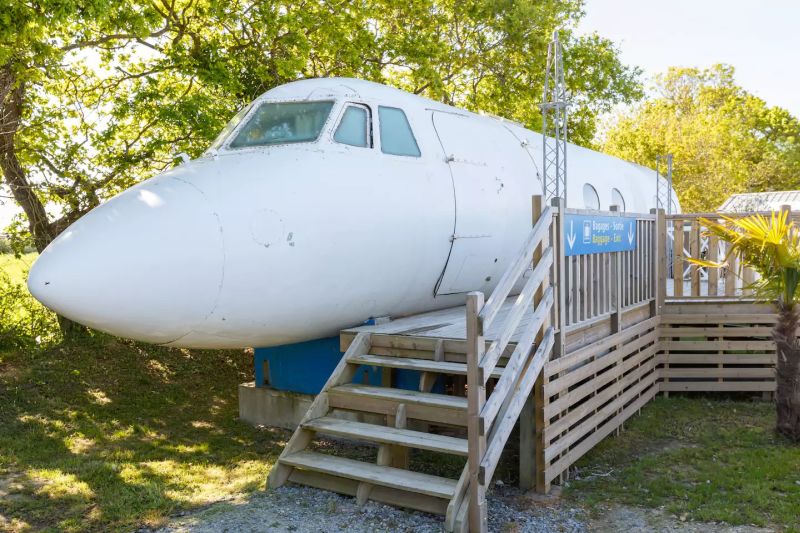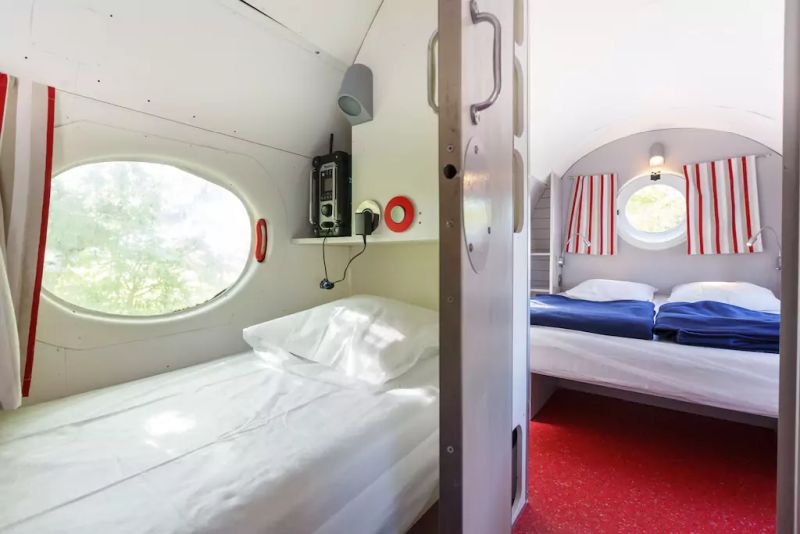 AirShip 2 Pod in Drimnin, United Kingdom
Situated in a secluded four-acre property, this shiny aluminum and glass pod makes a cool vacation home. It has a cozy living room, kitchenette, bedroom full bathroom, and a patio to enjoy the outdoors. There are modern amenities such as Wi-Fi, electronic heating, and an indoor wood-burning stove. It is also a pet-approved holiday rental.
Price: $205/Night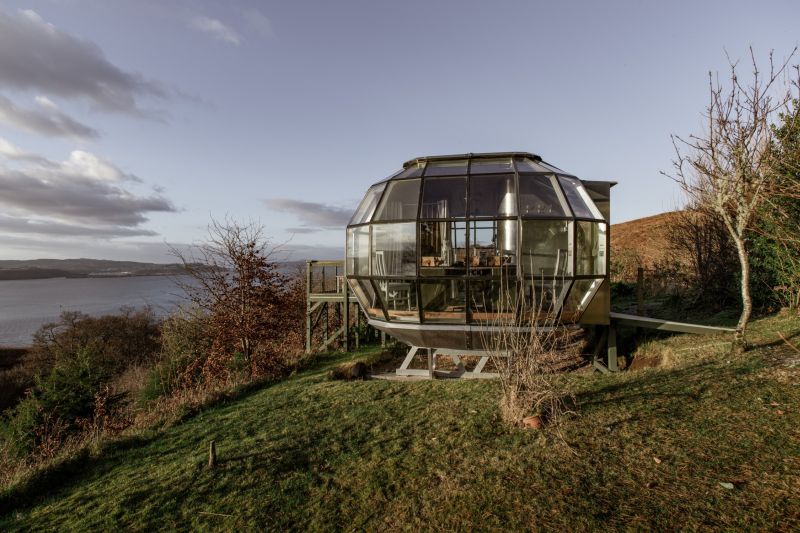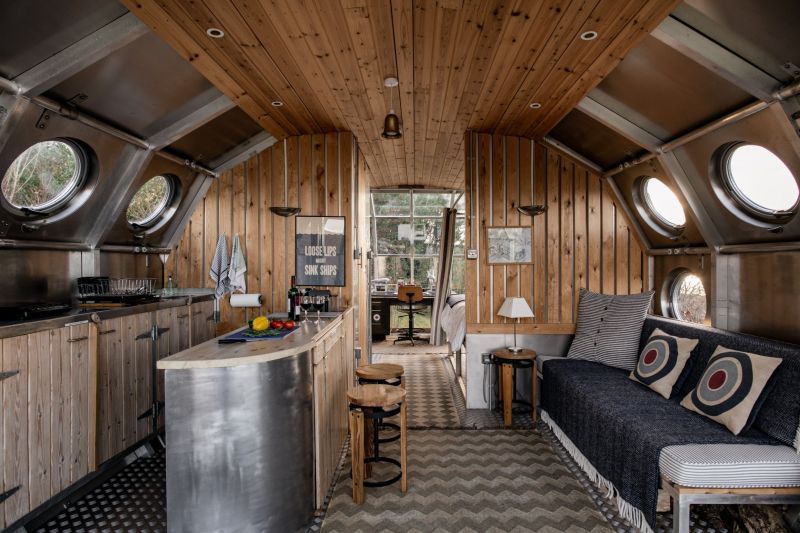 Cob Cottage in Mayne Island, British Columbia, Canada
This two-story cob house looks weird from the outside due to its mushroom-shaped roof but features a truly delightful interior with warm wooden details. There is a cozy living room with a sofa bed, kitchen, bathroom on the ground floor, and a double bed upstairs.
Price: $149/Night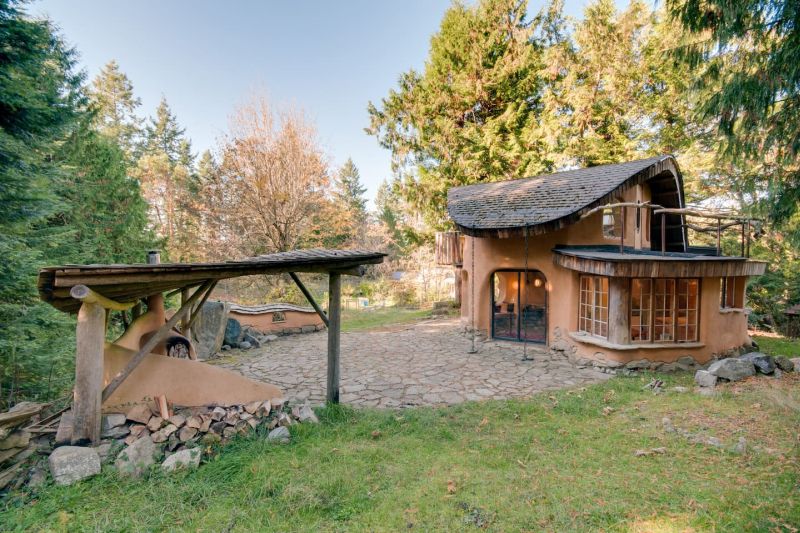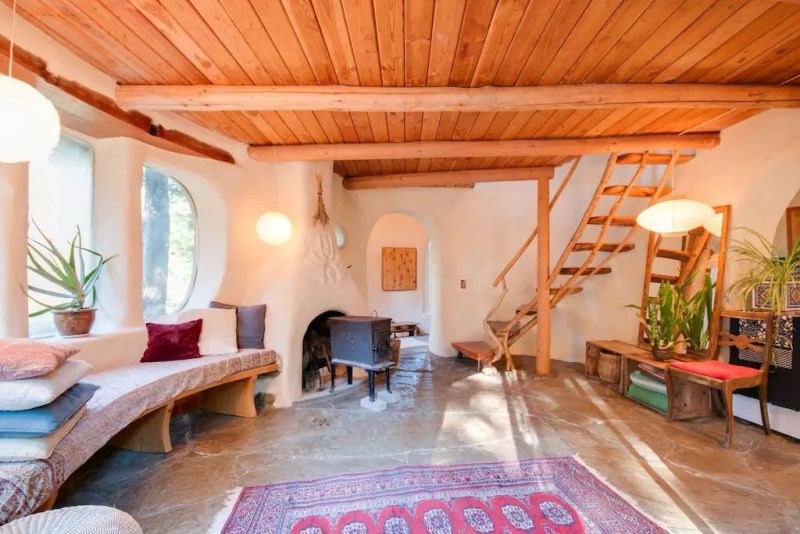 Hogan Earth House in Arizona, US
Located in a secluded and remote location, this unique rental home offers a once-in-a-lifetime experience. This one-room earth home is called a Hogan and comes included very basic minimalist essentials for camping. The is no electricity or running water here. It is a self-check-in/check-out accommodation.
Price: $215/Night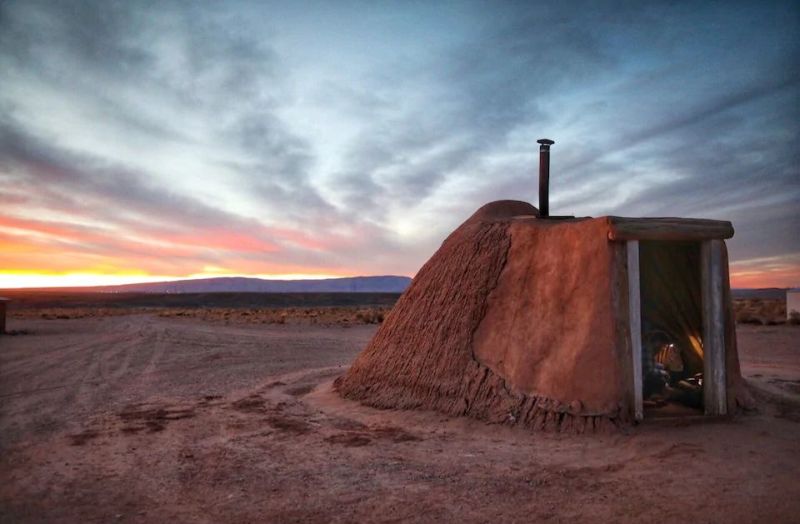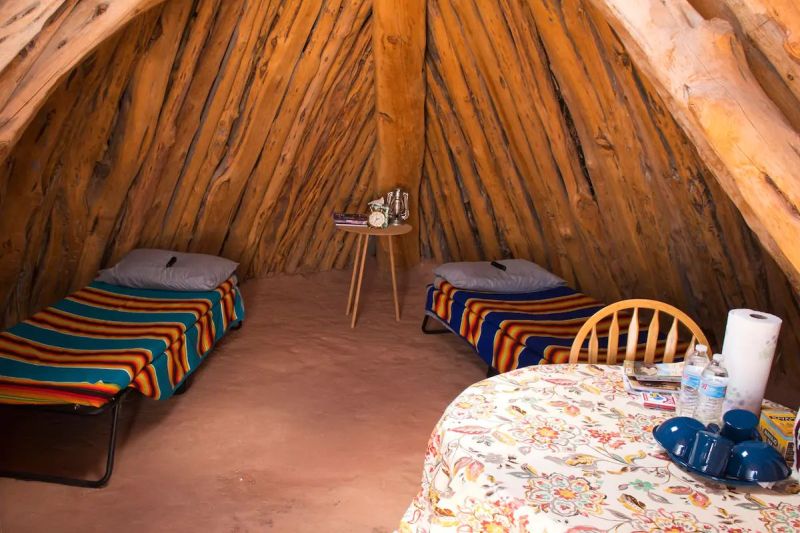 Bubble Hotel in Uluwatu, Bali
Fall asleep while gazing at the starry sky in one of these transparent bubble rooms in Bali. They are installed at a secret location, where guests can enjoy full privacy and breathtaking views of the Indian Ocean. There is a private toilet and a shower near the bubble hotel. Each Bubble can accommodate two persons and more Bubbles can be readily installed for a group.
Price: $340/Night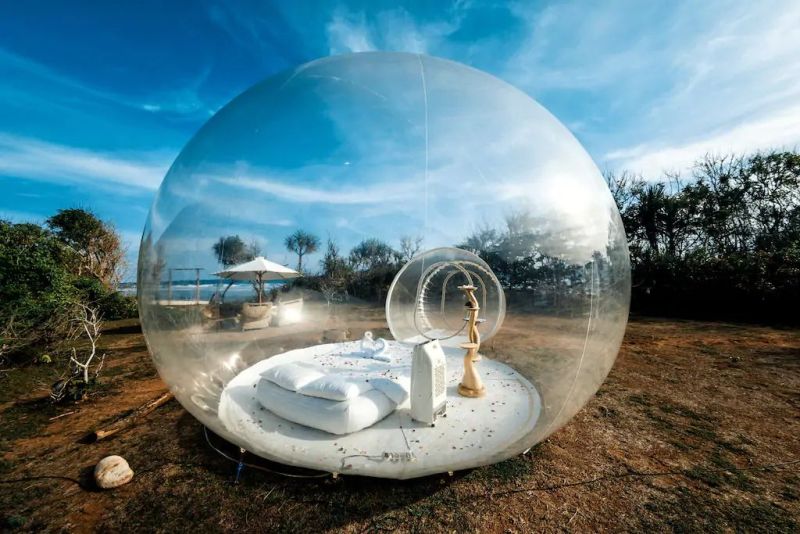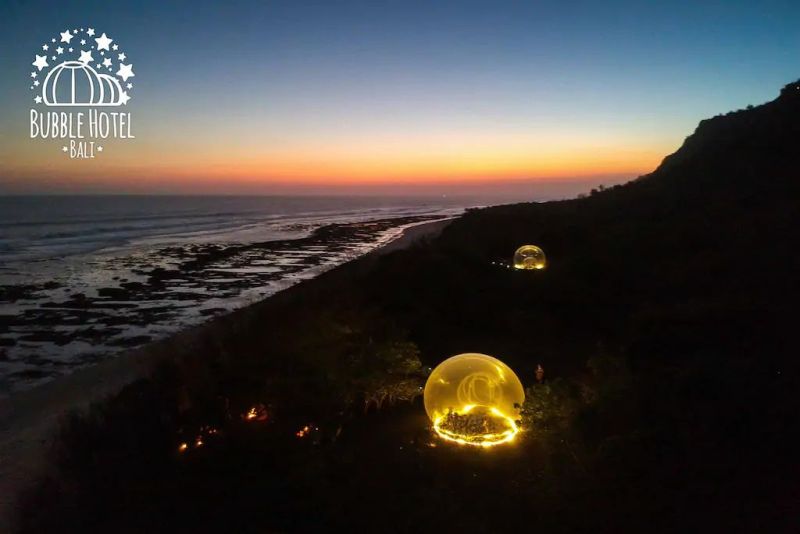 Mobile Cabins on Lake Inari, Finland
Want to sleep on a frozen lake? These caravans in Finland can help achieve that. With heating, lights, a toilet, and a bedroom featuring plenty of windows, it makes a great accommodation to see the northern lights. Each cabin along with the guests is towed for an overnight stay on the lake.
Price: $429/Night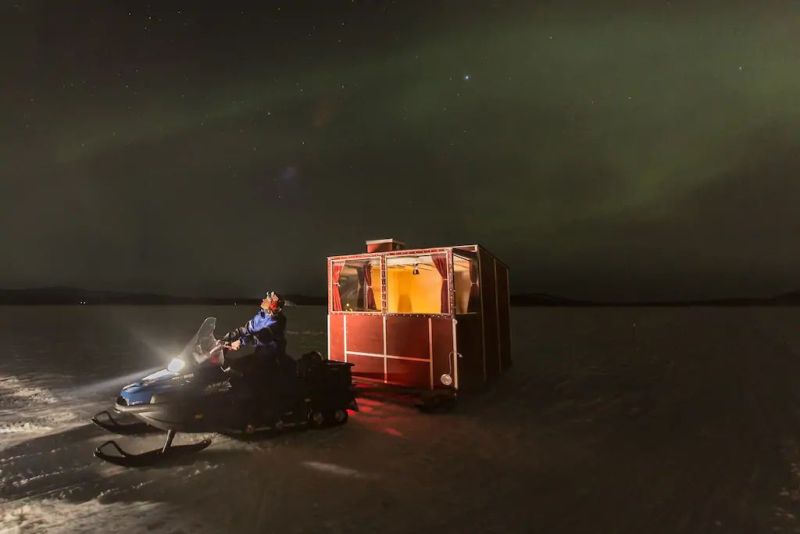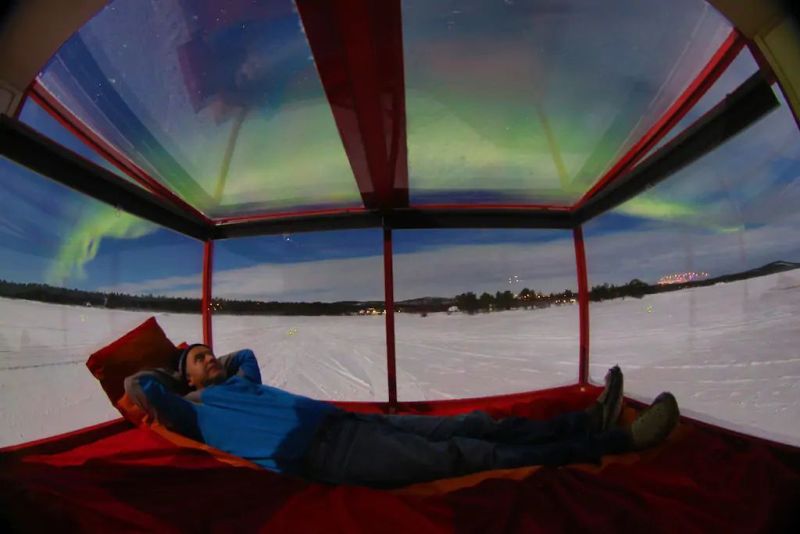 Houseboat Myrtle in Knysna Lagoon, South Africa
Enjoy your vacation in a fully equipped houseboat in Knysna, South Africa. It is a self-contained wooden cottage to experience how it feels like to live on the water. There are two decks to fully enjoy the outdoors. The houseboat has a kitchen, bathroom, and sleeping space for four, making it ideal for families.
Price: $91/Night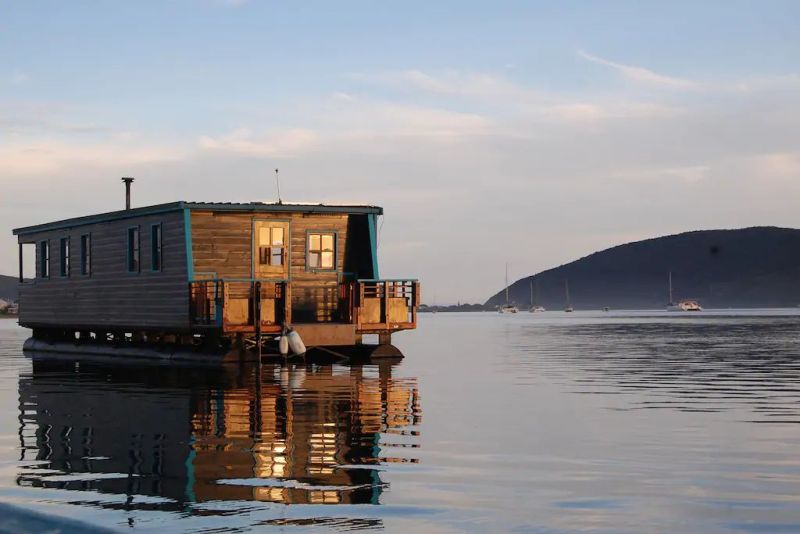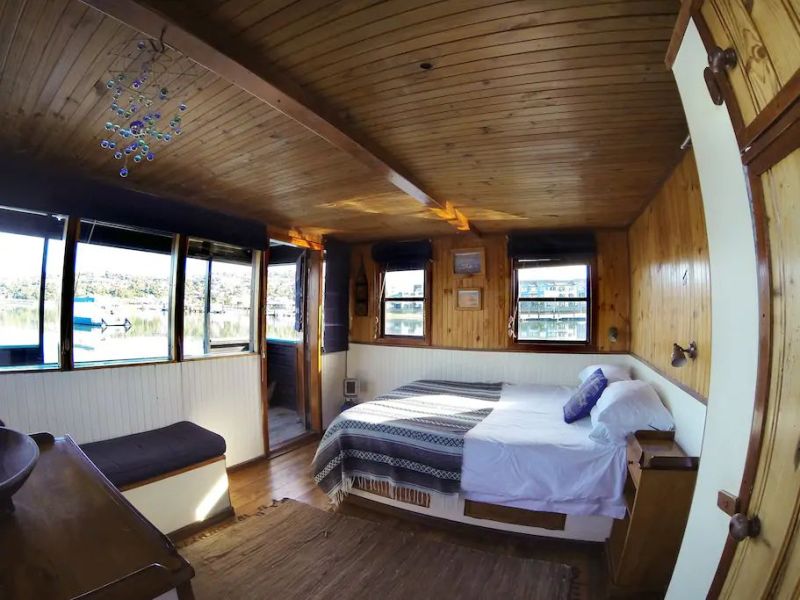 Also Read: Mark These World's Most Unique Hotels on Your Bucket List
ManCave in Airplane Hangar, Geneva
This luxurious man cave is located in an active airplane hangar. It features a thoughtfully decorated interior space that shows off an eclectic collection of collectibles hung from the ceiling and walls. The bedroom is located in the loft, while the kitchen, bathroom, and other facilities are located on the main floor. There is even a yurt and a treehouse available at the property.
Price: $174/Night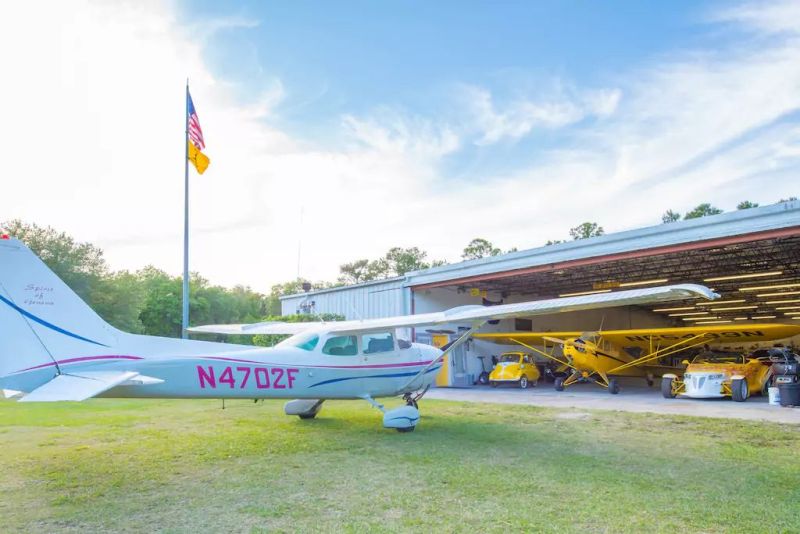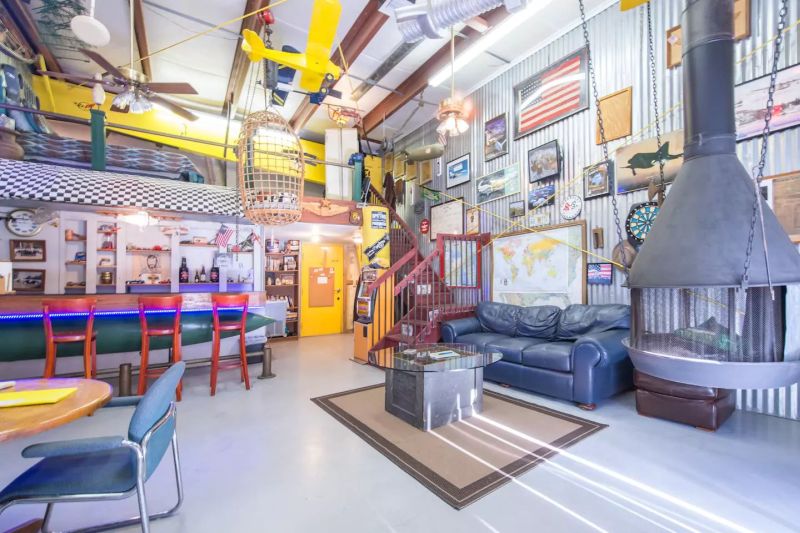 Twelve Parsecs in Florida, United States
If you have a deep obsession for space, this luxury rental villa in Florida is a good choice for you. There are nine bedrooms, each themed differently. One of the bedrooms features a Millennium Falcon cockpit bed to travel into the far away galaxy of dreams.
Price: $439/Night