Tiny houses on wheels are becoming rapidly popular as more people are influenced by the minimalist lifestyle. Alongside the biggest advantage of portability, most of them are more eco-friendly and economical than traditional homes, making them an ideal choice for those who travel frequently.
An obvious advantage of a tiny house is the lesser amount of time required to maintain the overall space. Of course, there are some drawbacks, but hitting the road in a mobile home makes you forget them all. Our list includes some of the best tiny houses on wheels that might inspire you to take that once-in-a-lifetime road trip. We have included popular models from the finest tiny house builders from around the world.
Most Traveled Tiny House by Tiny House Expedition
This tiny house on wheels is built by US-based couple Alexis Stephens and Christian Parsons of Tiny House Expedition in order to downsize their lifestyle. Measuring 130-square-feet, it has a cozy cabin, kitchen, two lofts, and a bathroom complete with a shower. The couple spent upward of $20,000 to build the entire tiny house, which is also touted as the most-traveled tiny house in the world.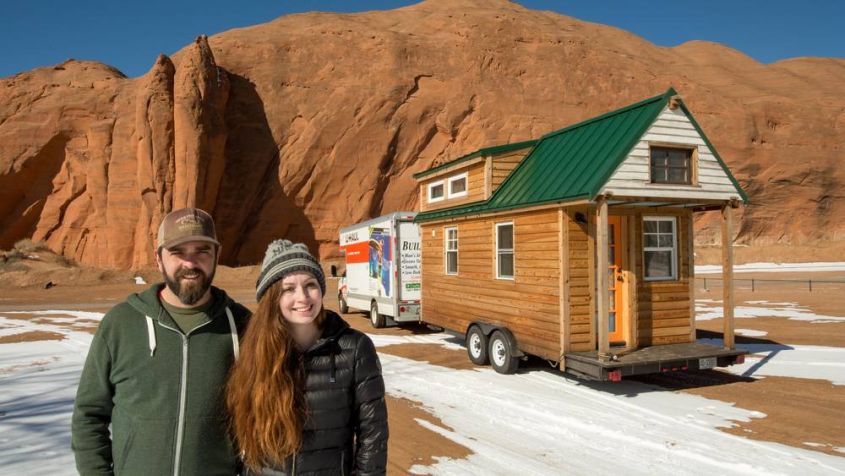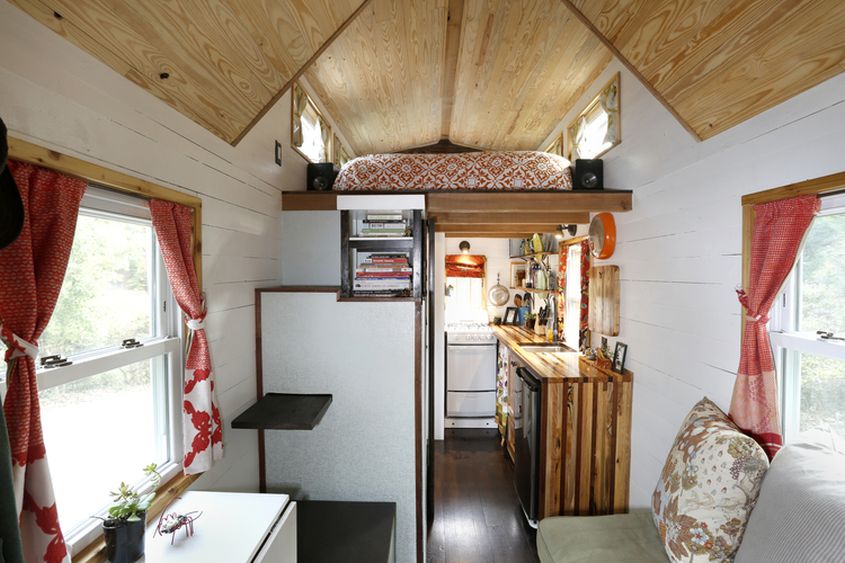 Tiny House by Guillaume Dutilh and Jenna Spesard
This 125-square-foot, two-story tiny house is made entirely of wood and designed to look like traditional homes by a US couple, who left their tedious jobs to live their dream life on the road. The reclaimed barn-clad exteriors add a whimsical touch to its overall appearance. The couple has installed a wood-burning fireplace in their tiny home to toast the toes in winter.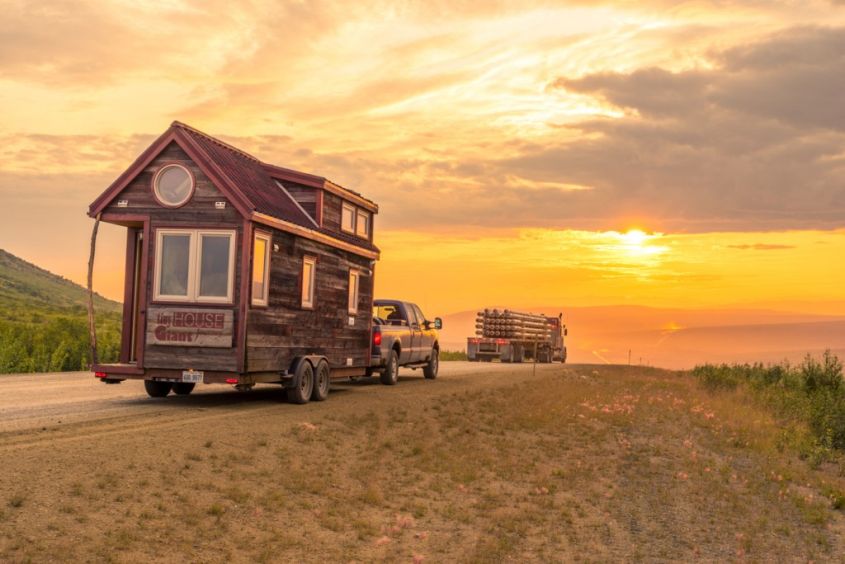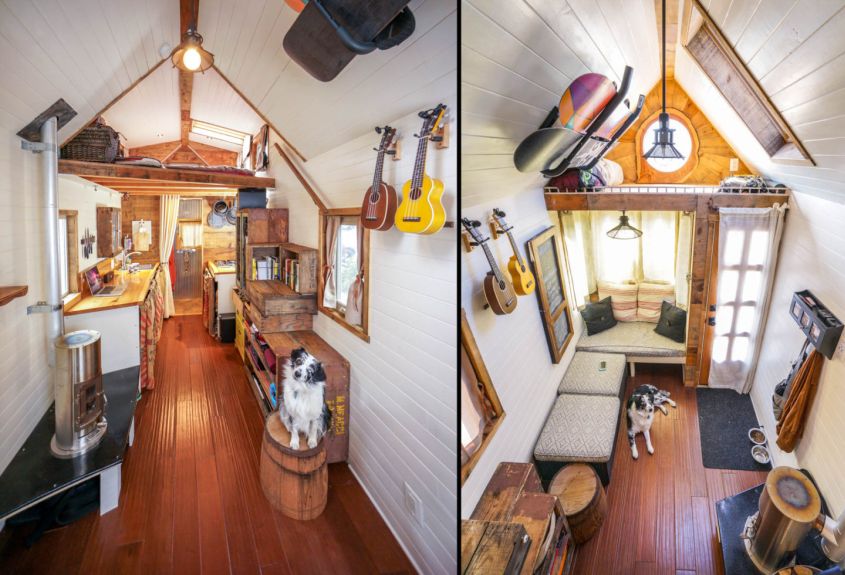 Dolly Rubiano's Tiny Home
Filipino Dolly Rubiano in wake of a rent-free life opted for tiny house living. Her 17.2-square-meter dwelling is built by Wales-based Designer Eco Tiny Homes within a budget of $75k-$80k. The tiny house features two lofts, a spacious kitchen, and a walk-in wardrobe.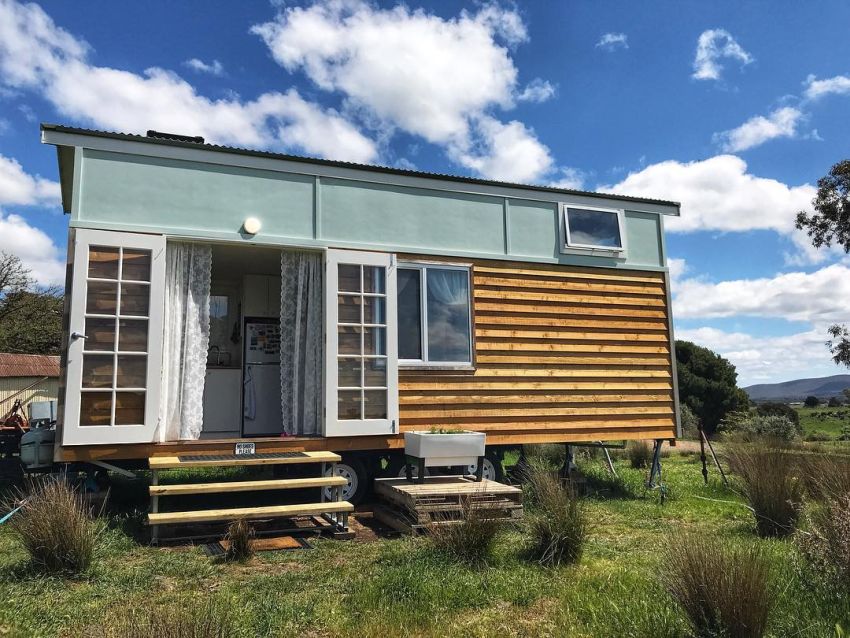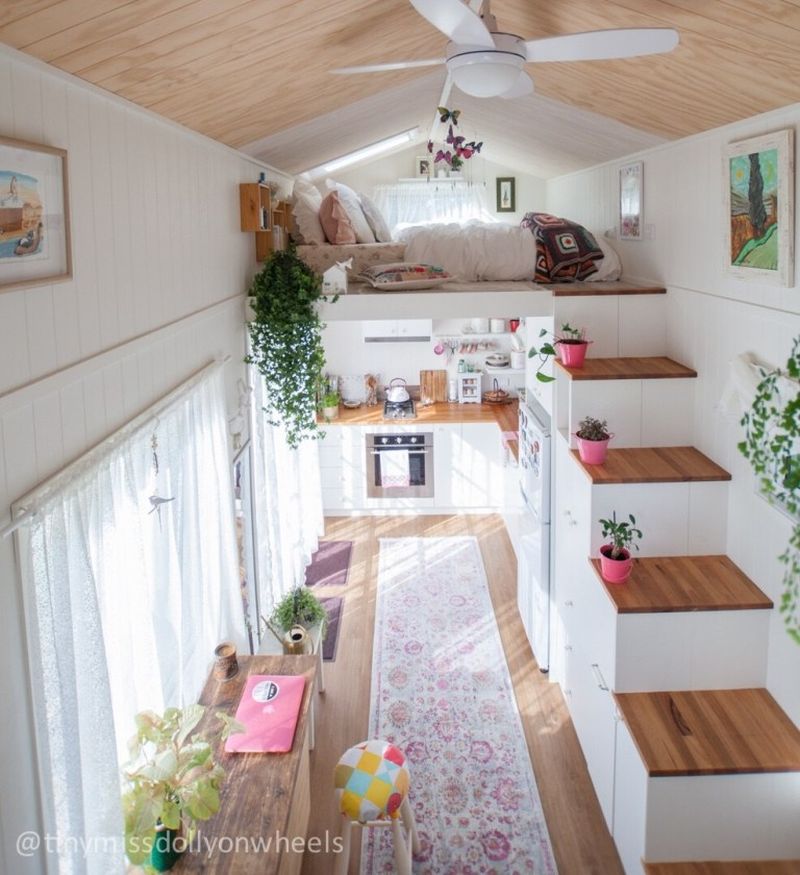 Cypress by Tumbleweed Tiny Houses
This tiny towable dwelling by Tumbleweed Tiny Houses has two bedrooms, a living room, a kitchen, a bathroom, and a small recessed porch. On the inside, there are wood-paneled walls and a ceiling to match the wood-style flooring. The hipped roof design also gives it an overwhelming appeal.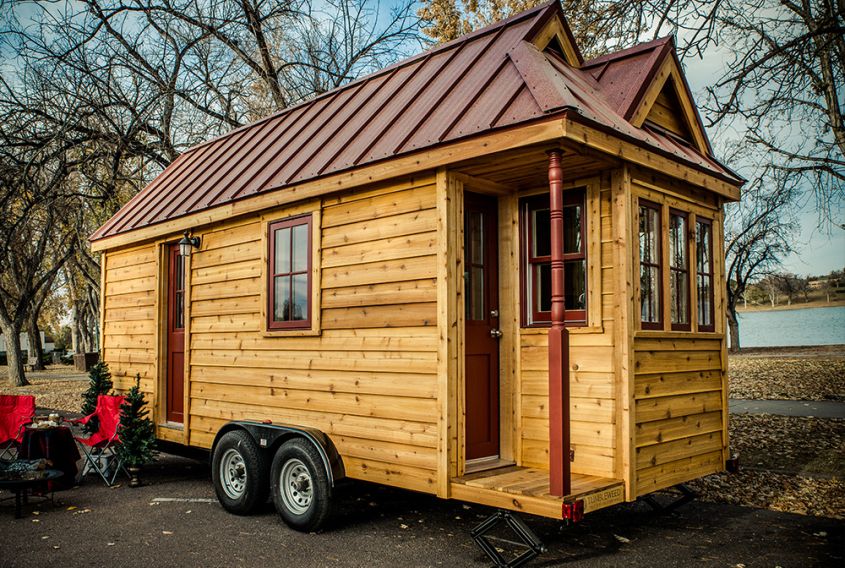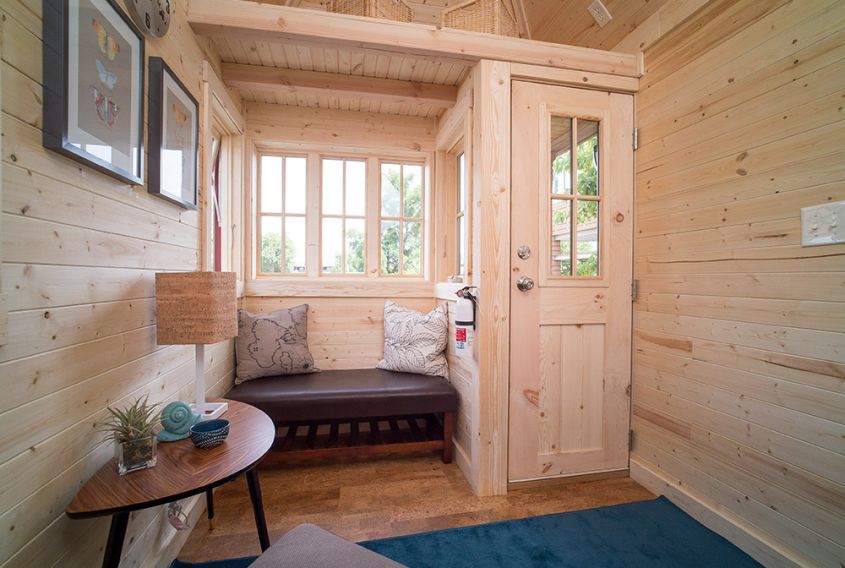 Denali XL Bunkhouse by Timbercraft Tiny Homes
Based on a quad-axle trailer, the Denali XL Bunkhouse by Timbercraft Tiny Homes is a three-bedroom tiny house that can sleep up to six people at once. It offers 399-square-feet on the main floor and an additional 200-square-feet space upstairs. The tiny house has a main-floor bedroom and two sleeping lofts. There is also a fully furnished kitchen and bathroom with a bathtub. It is spacious, however, can be hard to tow it around due to its elongated design. This makes it ideal only for those who aren't going to tow it around very often.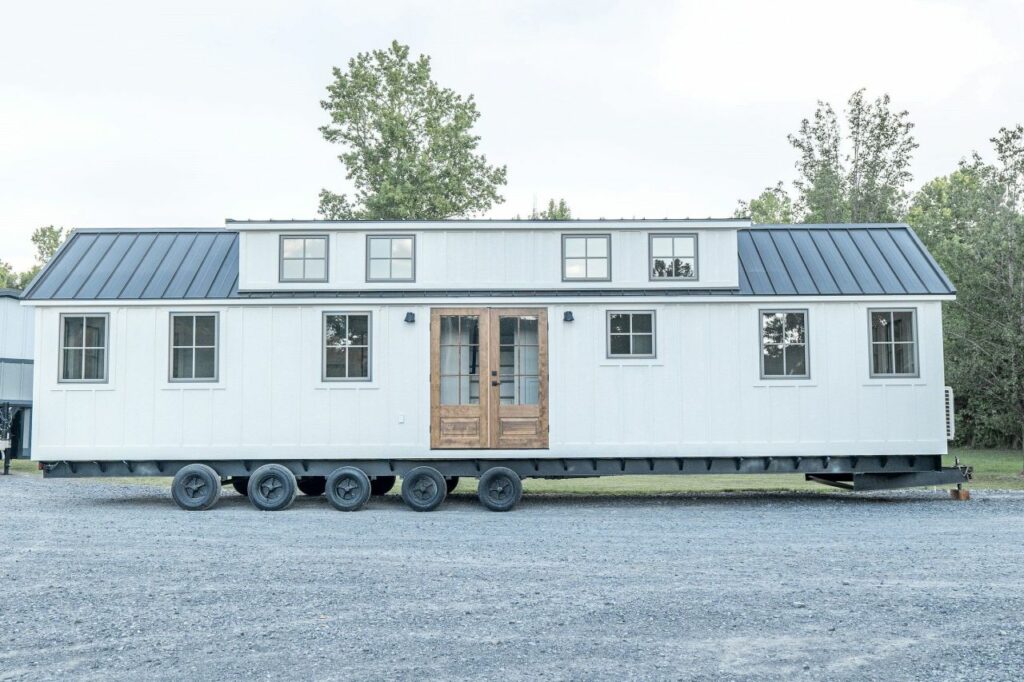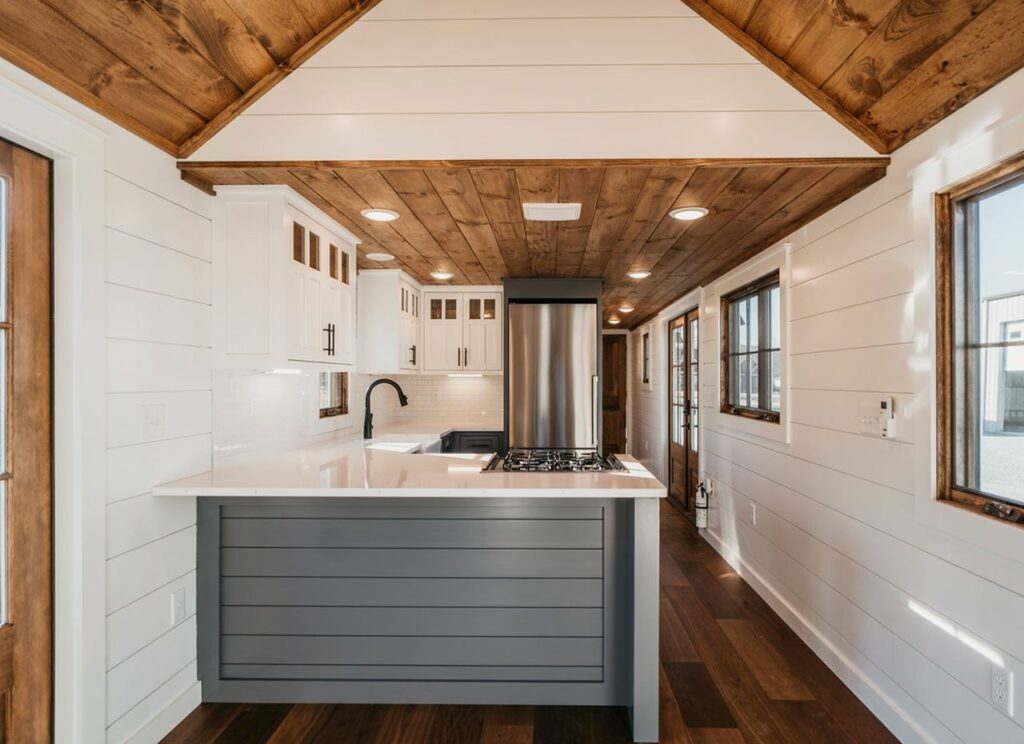 Cocoa Tiny by Modern Tiny Living
This contemporary tiny house on wheels by Modern Tiny Living sits on a 20-foot trailer. It can be customized with different hardware kits, appliances, living areas, and colors. There are two lofts to create enough sleeping space. The simplistic wood-paneled exteriors with a number of windows add a touch of sophistication to its façade.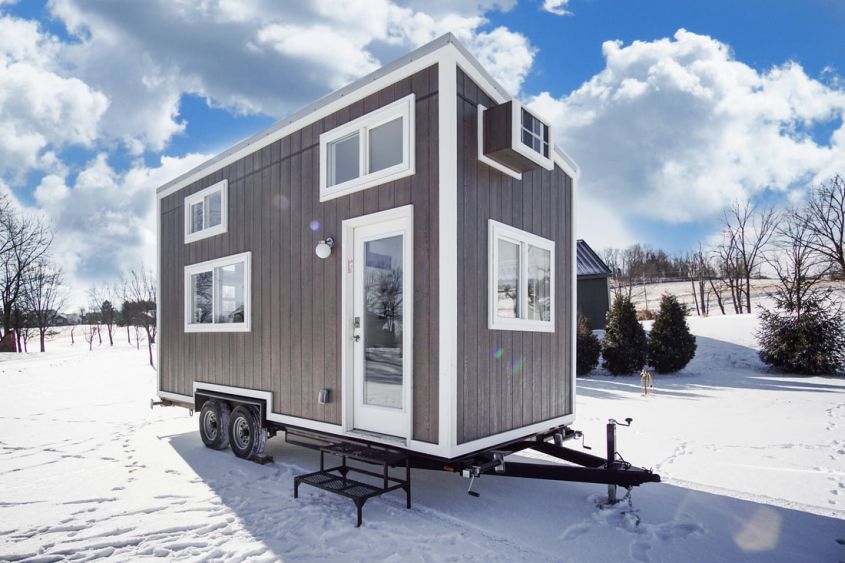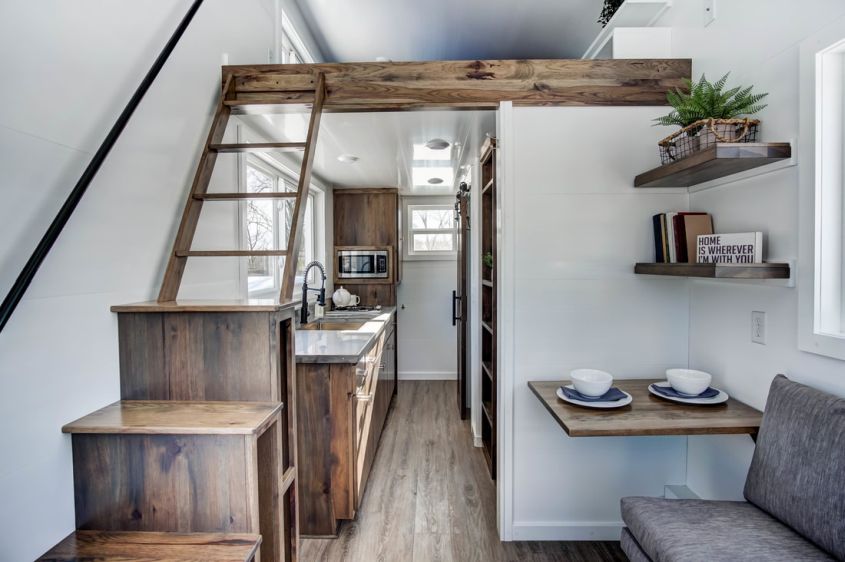 Escape One XL
This two-story, tiny house on wheels by Escape Traveler is wrapped in wood charred exterior using the Japanese Shou Sugi Ban wood-preserving technique. The living room, kitchen, and bathroom are housed on the first floor, while a wooden staircase leads to sleeping lofts above. There are a number of big windows, adding a feeling of spaciousness.
Read our interview with the founder of Escape Homes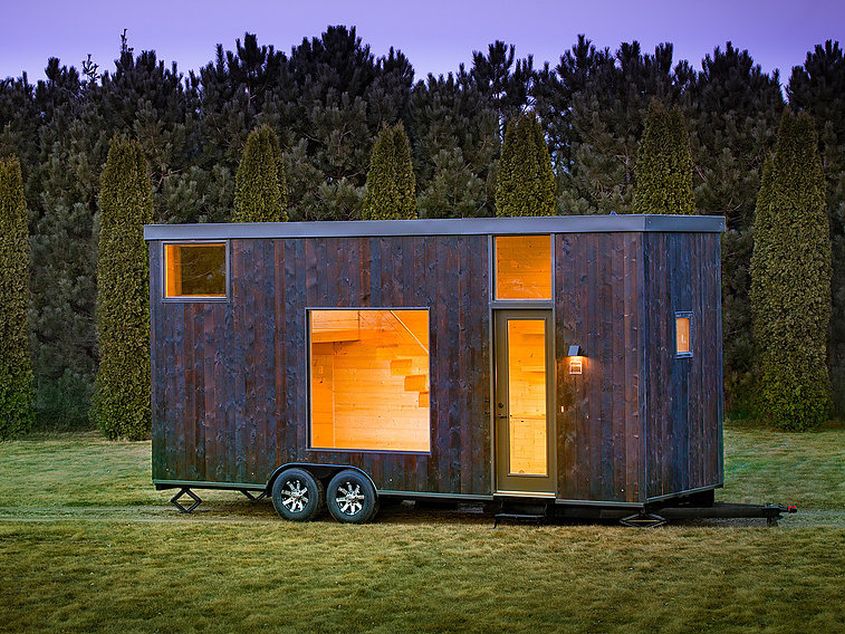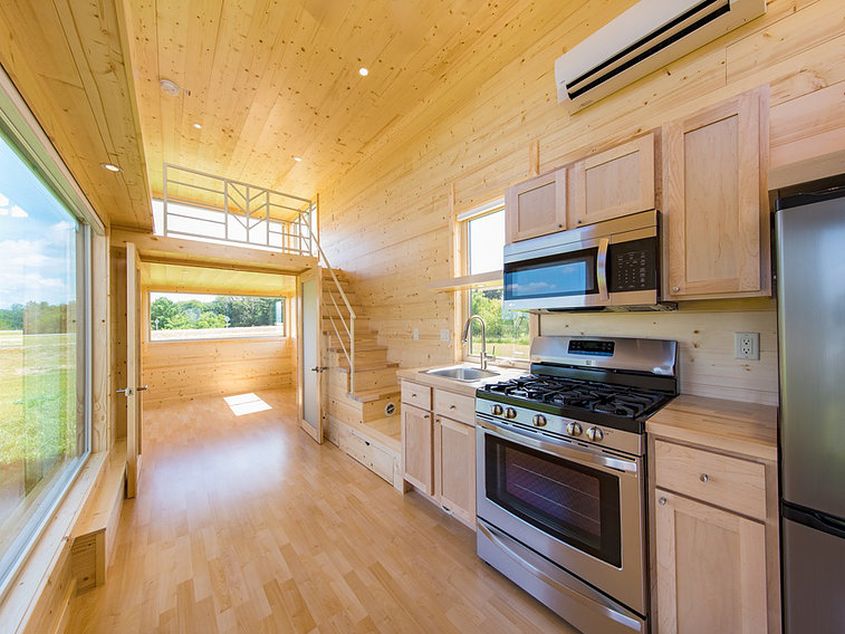 CASUARINA 9.0 by Aussie Tiny Houses
Built on a 9-meter trailer, the tiny home by Aussie Tiny Houses comes complete with a large enclosed ground-level bedroom, double built-in wardrobes, a central bathroom, a spacious kitchen, and a living area. The internal bathroom design creates an ensuite for the bedroom. The Skillion roof design adds charm to its exterior while white walls and wooden floor create a simple look inside.
Read our interview with the founder of Aussie Tiny Houses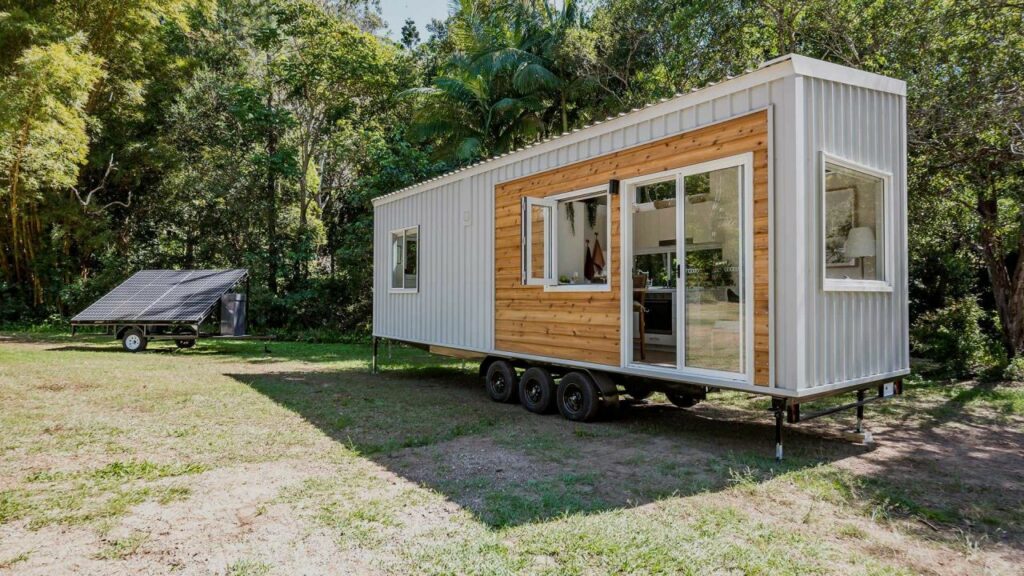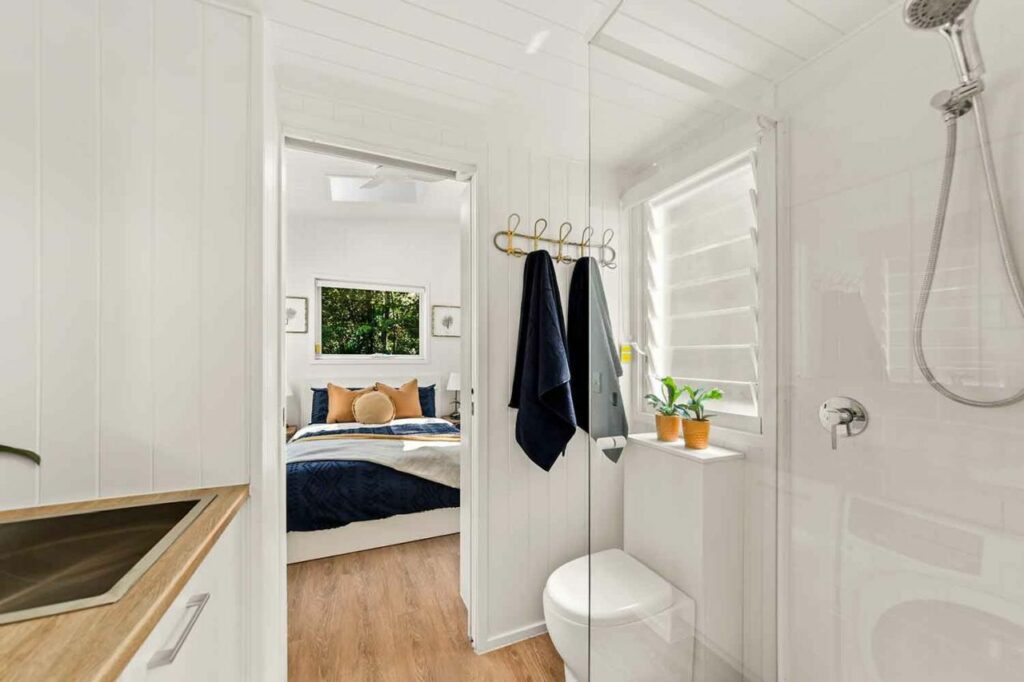 Magnolia by Minimaliste
This 2-bedroom semi-permanent tiny house is one of the latest models by Quebec-based Minimaliste. It features a classic shed roof slope that ensures a comfortable standing height inside and plenty of windows. The interior space is separated into four sections: living area, kitchen, bathroom, and bedroom. Suited for a couple, the tiny house can accommodate up to four guests with an extra loft and sofa bed.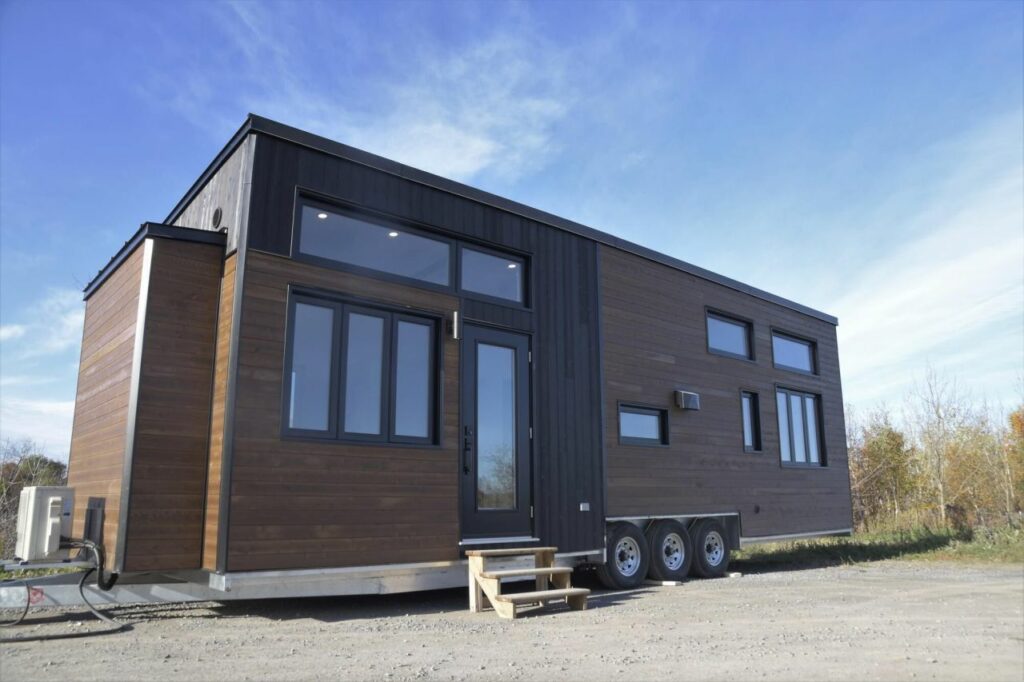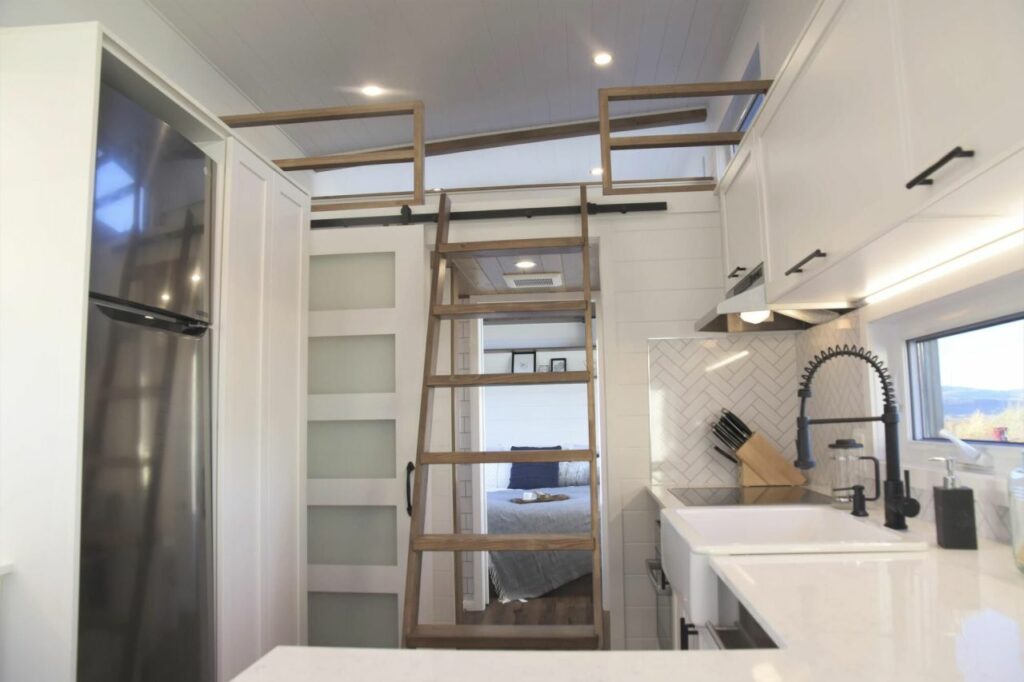 Tiny house Siana by Baluchon
The Siana tiny home is built by the French company Baluchon for Anaïs and her mom Blandine. It is not only appealing from the outside but also equally enticing on the inside. With two separate loft bedrooms, the tiny house can house up to 3-5 people comfortably. A netted bridge connects both mezzanines. There is a fully equipped kitchen, a living room with a convertible sofa bed, and a bathroom on the ground floor.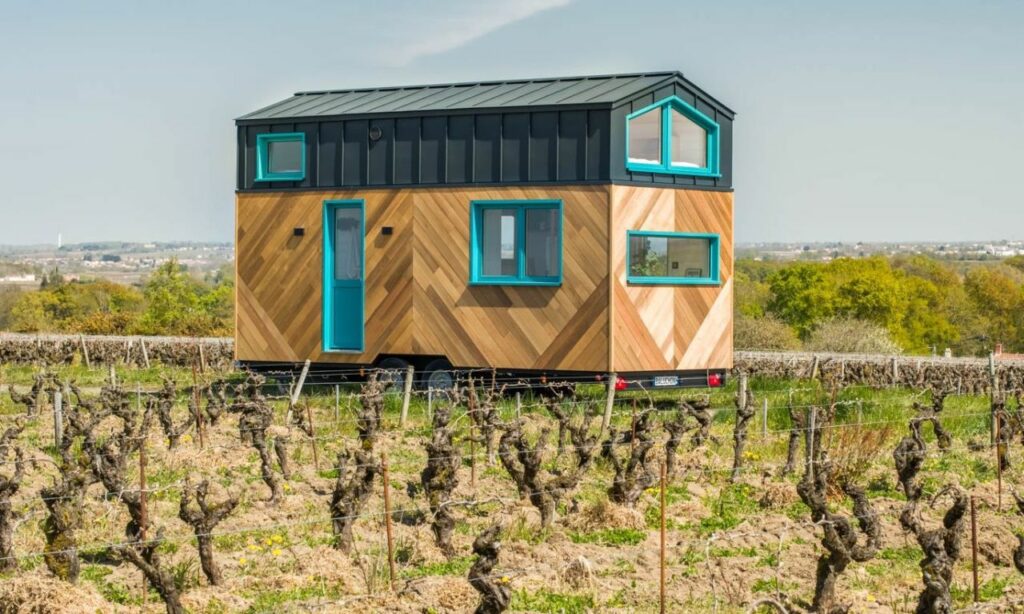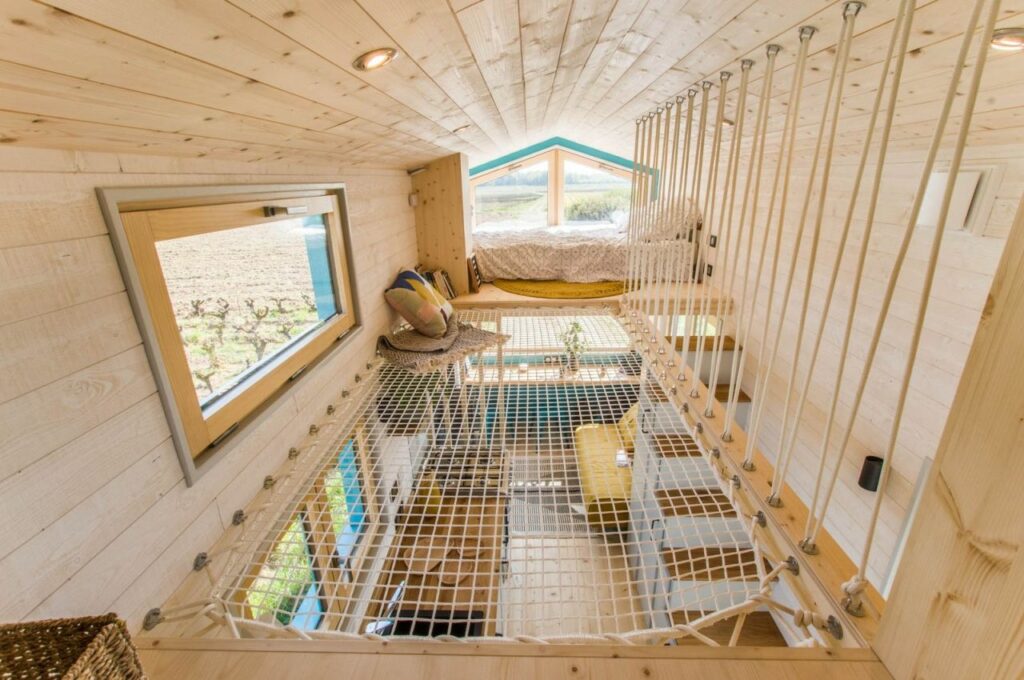 Self-built tiny house on wheels
UK-based builder Chris Marsh built this 180-sqft wooden tiny house on wheels for himself after realizing the high costs of a rented two-bedroom house in Hexham, Northumberland. Its roof design is captivating and also makes it a two-story tiny house. Chris now owns Tiny Eco Homes UK which sells tiny houses across Europe.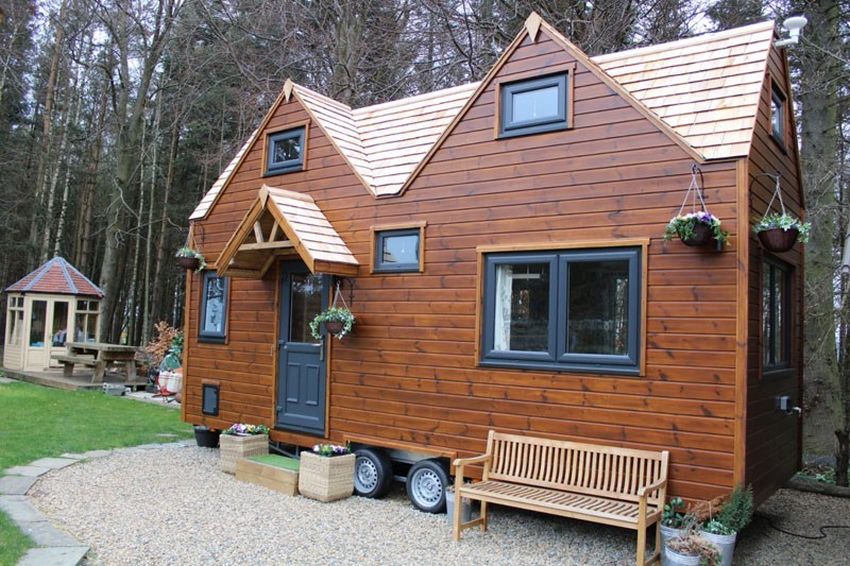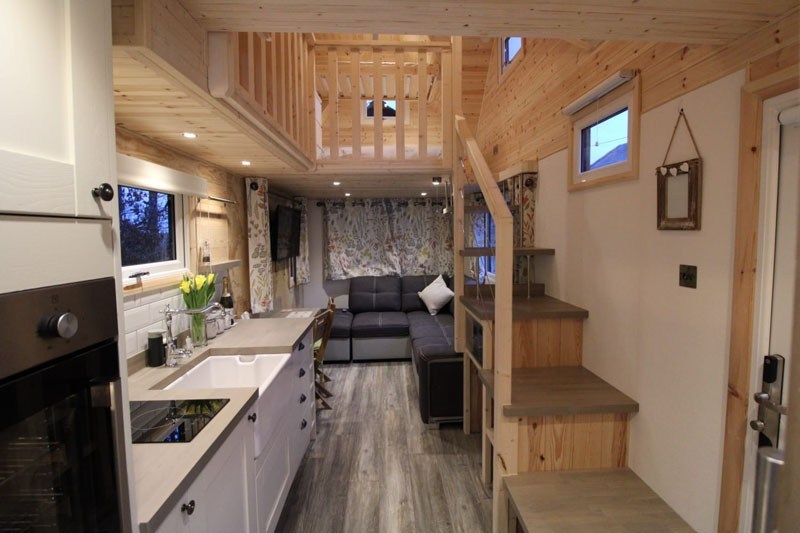 Heritage by Summit Tiny Homes
Built by Canadian builder Summit Tiny Homes, this 24-foot long Victorian-style tiny house on wheels is spacious enough to accommodate a couple. It features a spacious living room, kitchen, loft bedroom, and bathroom with a standard flush toilet and shower. One interesting element is a bay window on the front that extends over the tongue.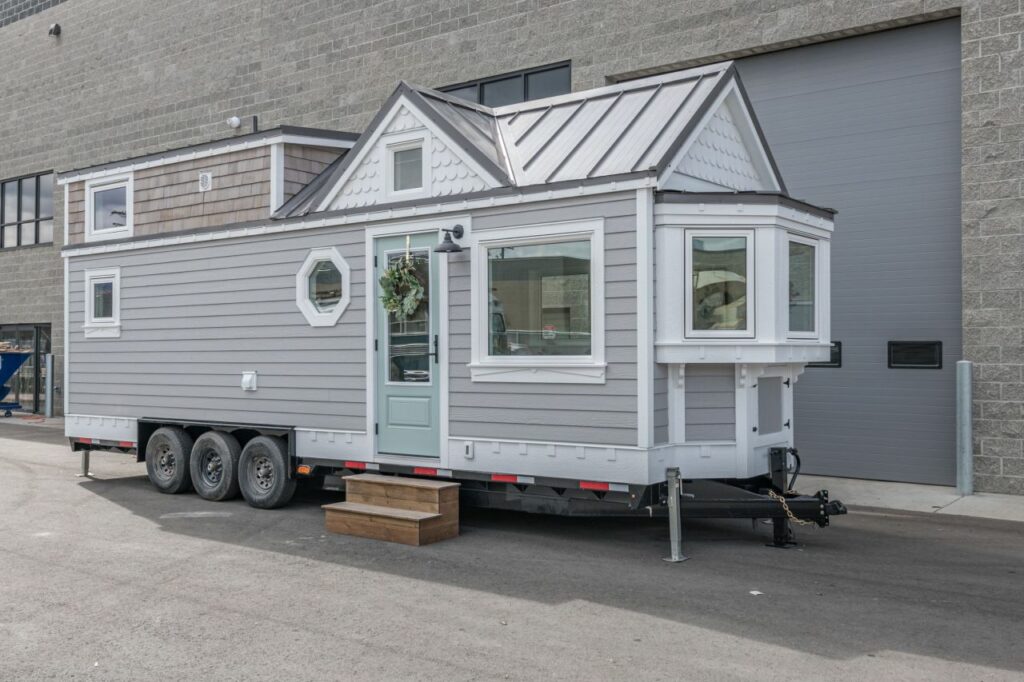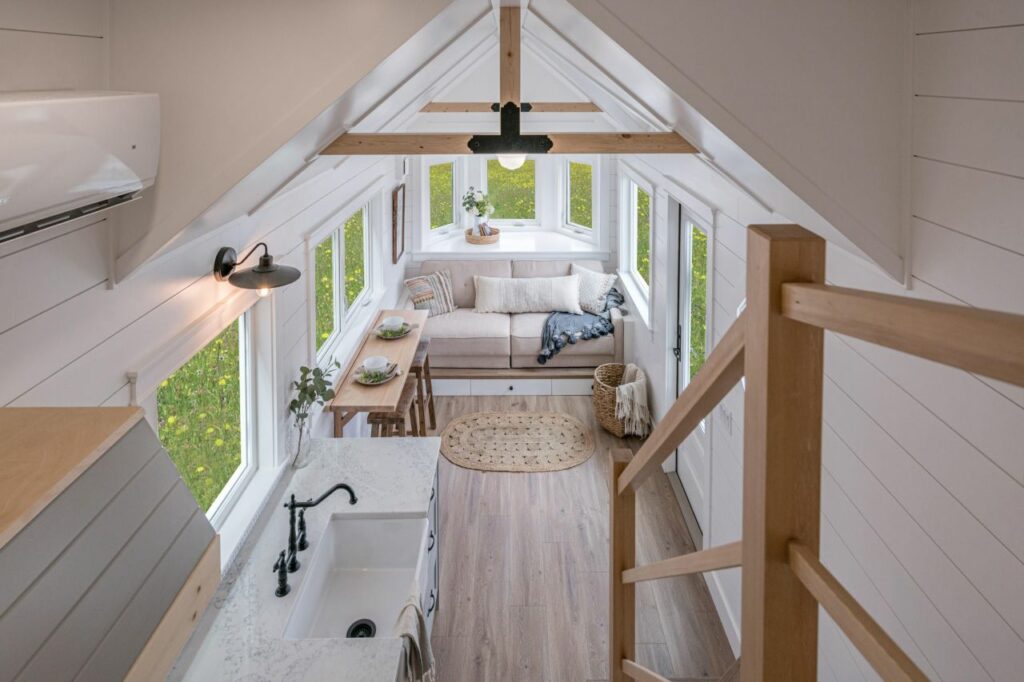 Tiny House on Wheels With a Climbing Wall
Oregon-based company Tiny Heirloom has built this tiny house for a Mississippi couple, Breck and Kelsey. A lot of luxury features are included, as they did not want to sacrifice their original lifestyle. The exterior climbing wall, spa tub, walk-in closet, retractable dining table, arched sliding door, and custom chandelier are some of its cool features.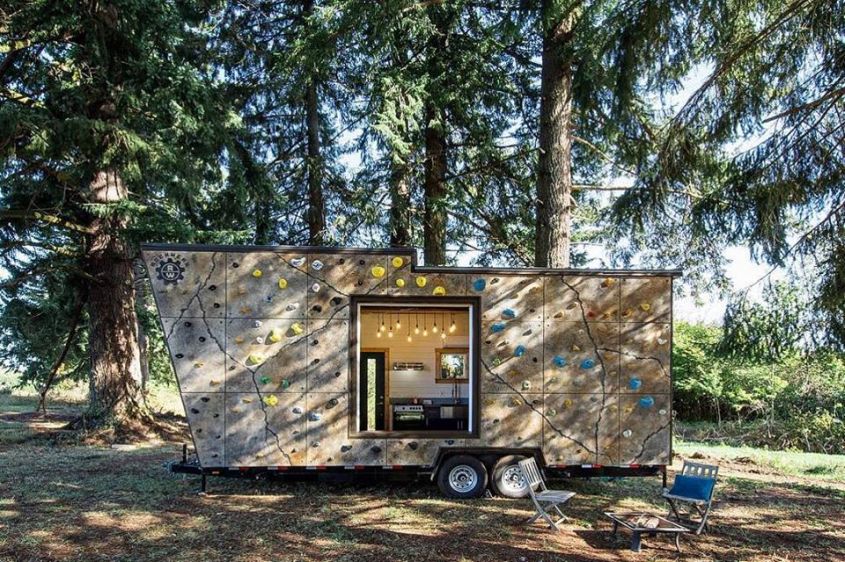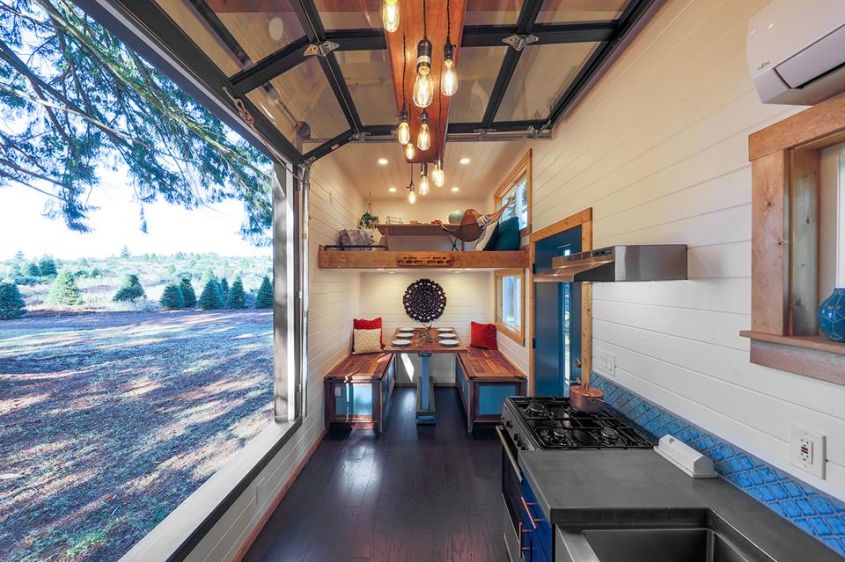 Tiny House With Sliding Roof by Optinid
French tiny house builder Optinid has built this 6.60m long tiny house wheels as tourist accommodation. It comes with a sliding sunroof that allows inhabitants to sleep under the open sky in the loft bedroom. The main floor has a living room, kitchen, and bathroom. On the inside, a white and yellow combination creates a stunning look.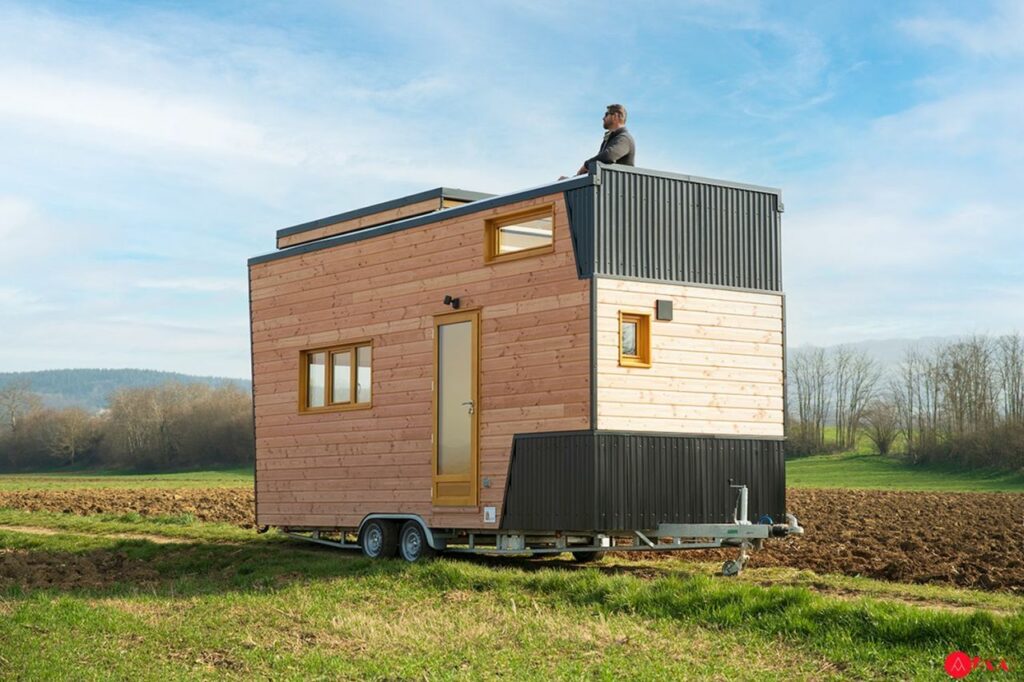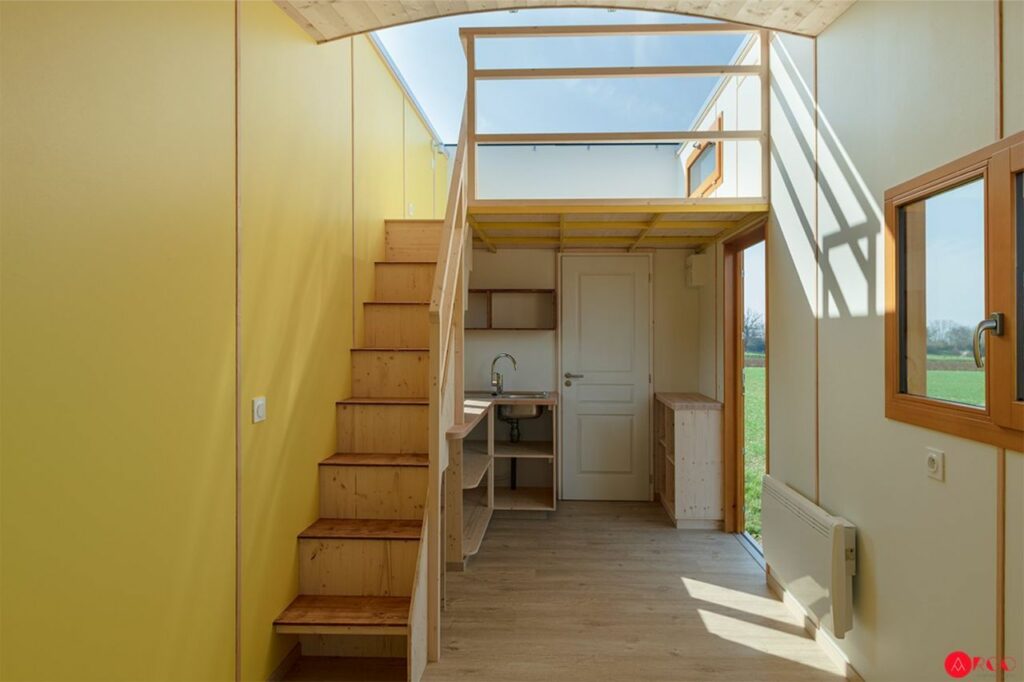 Oasis Tiny House
This 24-foot, bluish tiny house in Hawaii is built by the brother and sister duo of Paradise Tiny Homes. Measuring just 260-square-feet, the cabin has a kitchen, living area, loft bedroom, and bathroom with a skylight over the shower. The tiny home features a large round window and exposed beams on the inside.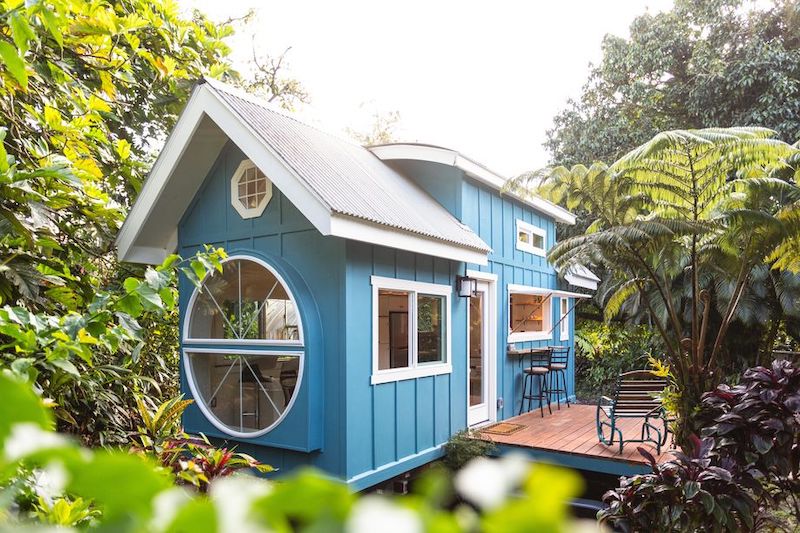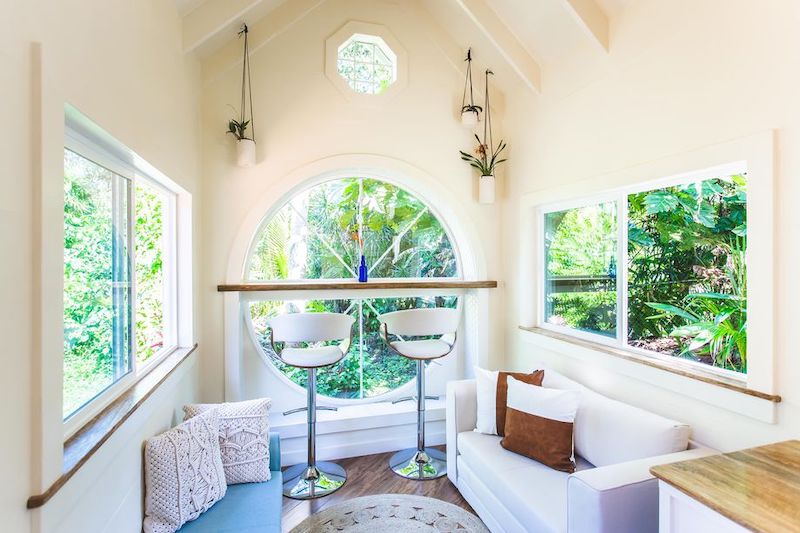 Also Read: The Best Airbnbs of 2022 Good Enough to Lure Travelers in 2023
Clear Creek by Tiny Idahomes
This 24-feet long tiny house is built by Idaho-based Tiny Idahomes, famous for its space-expanding, mechanical slide-out cabins. This one also features a living room with a 6-feet slide-out that houses a Jackknife couch. There is also a galley-style kitchen that provides enough space for hosting.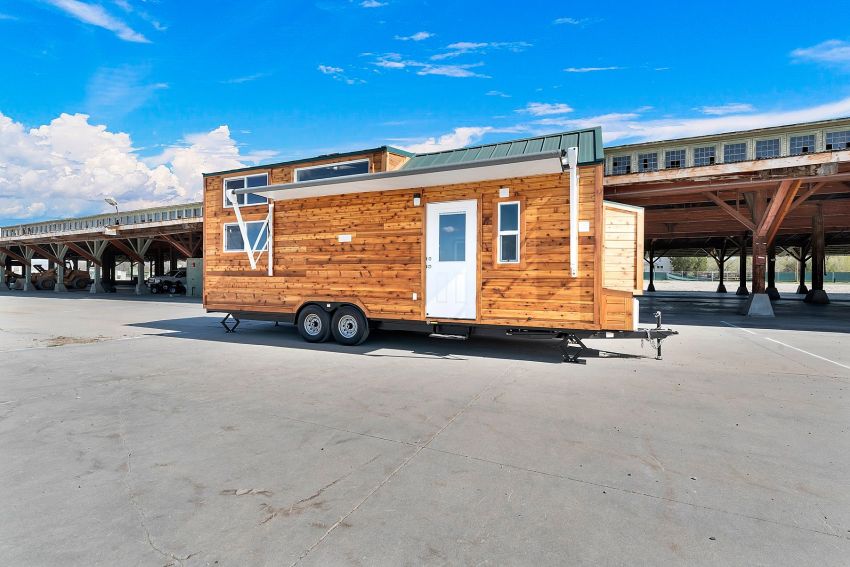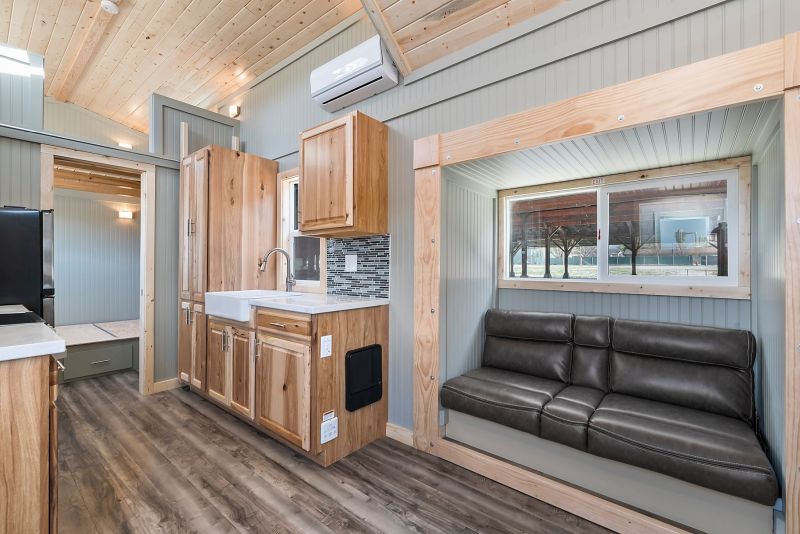 Shaka Shack
This cabin on wheels is built by New Zealand-based Tiny by Taylor for a couple wanting to experience travel, adventure, and a simpler lifestyle. The tiny home features a rustic exterior design along with a slightly tilted black roof and a pull-out deck. It is a self-contained living unit with gray water and freshwater tanks, as well as solar panels and a power inlet.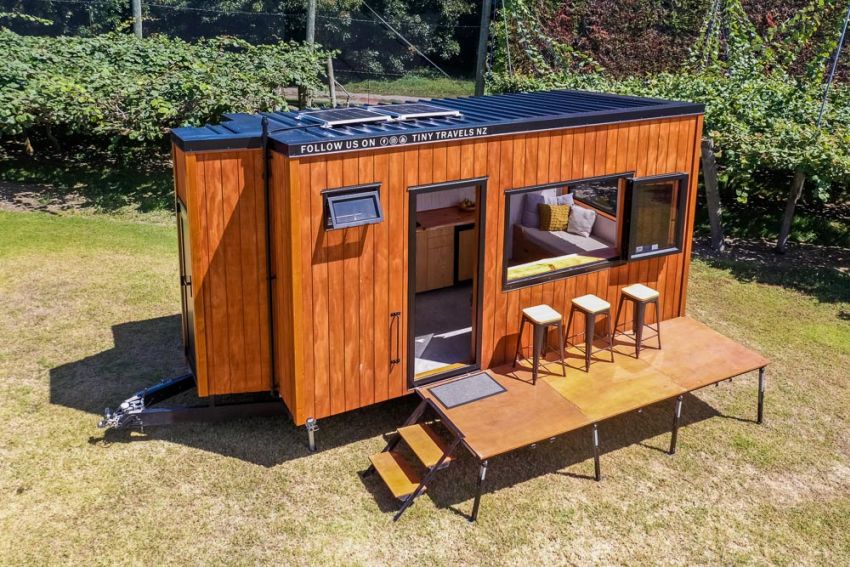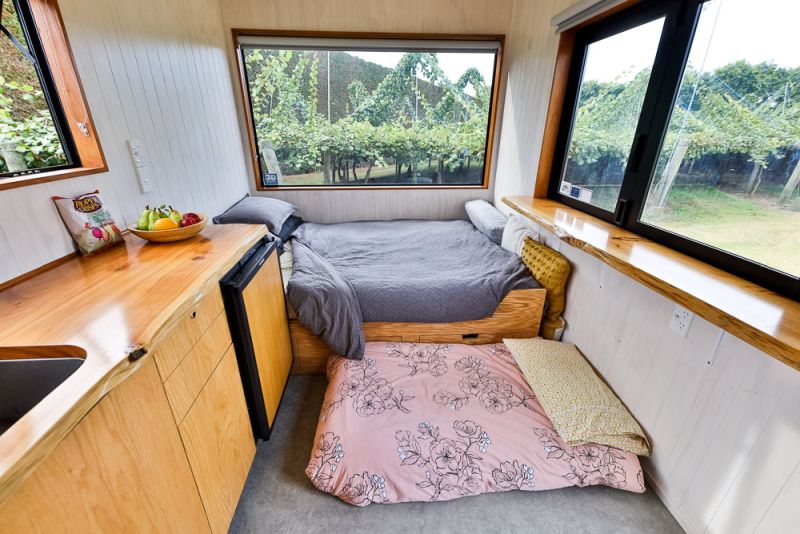 Cyril Tiny House
This tiny home on wheels with a cat-friendly interior is built by New Zealand-based Build Tiny. It has wall-mounted shelves for cats to sleep and play on; plus a pet door in the rear of the tiny house. Inside, there is a cozy living room, an L-shaped kitchen, a bathroom with shower and toilet, a bedroom loft, and an office loft.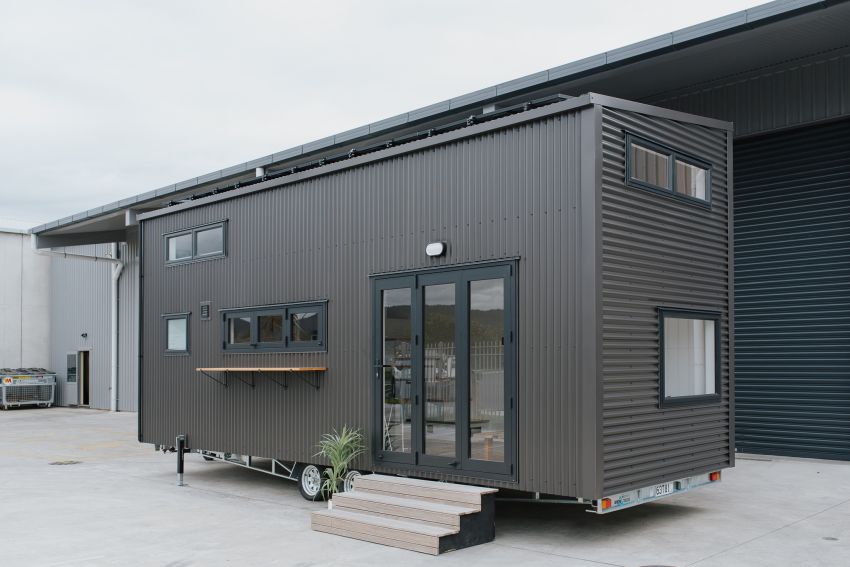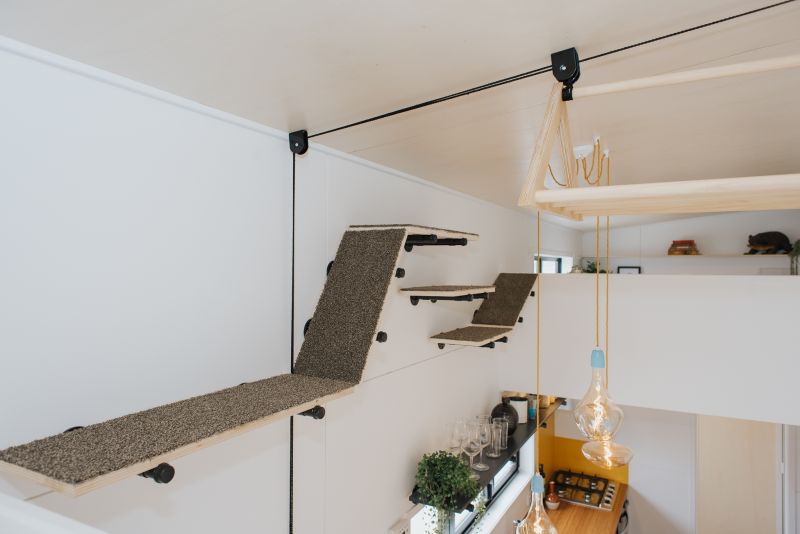 GoSun Solar-Powered Tiny House
GoSun has launched a solar-powered tiny house on wheels that looks like a dream mobile home for eco-conscious travelers. It includes all the features required for off-grid living. It offers 195-square-feet living space, including a retractable bed.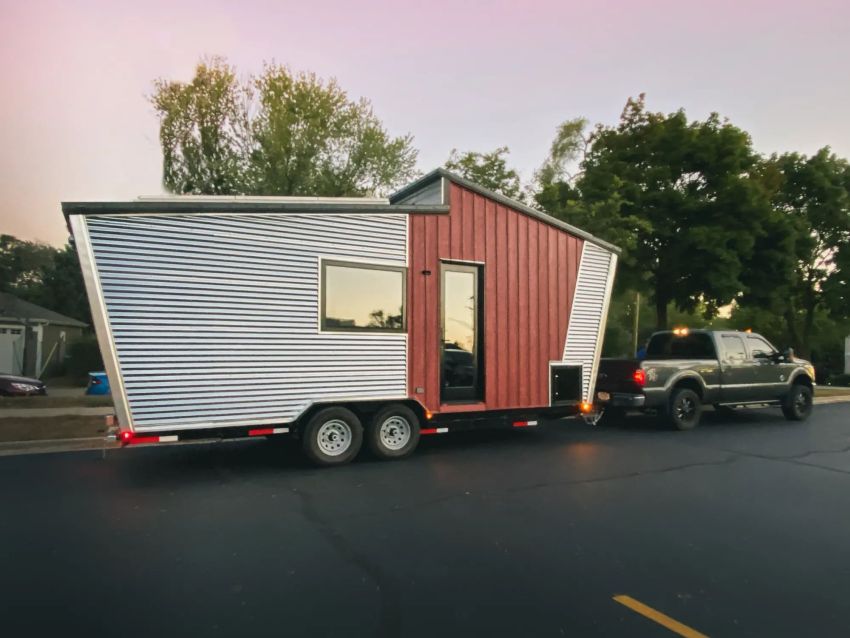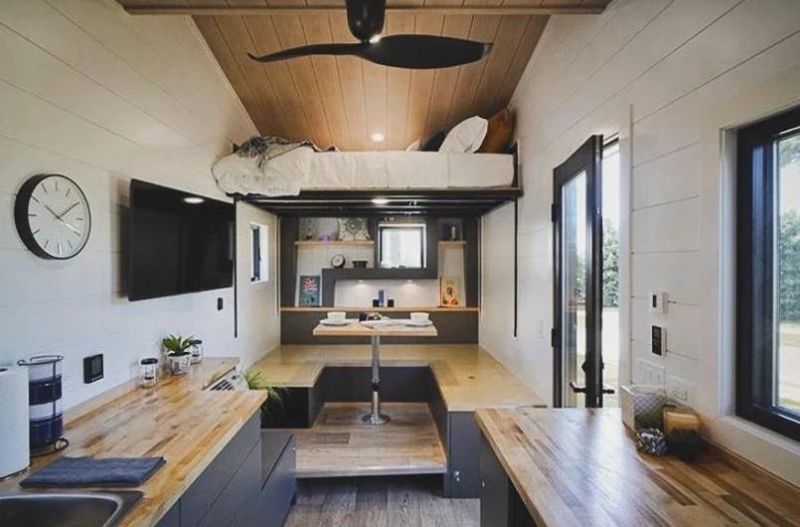 Canada Goose RV
Built on a gooseneck trailer, this 392-square-foot tiny home is designed and built by Vancouver-based Mint Tiny Home Company. It is a 41-ft long travel trailer with an option for a full-height bedroom. It can sleep 6-8 people comfortably.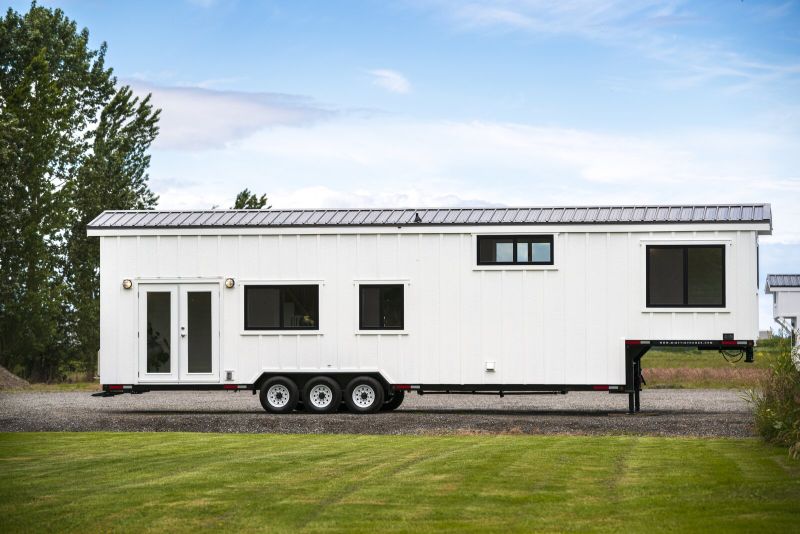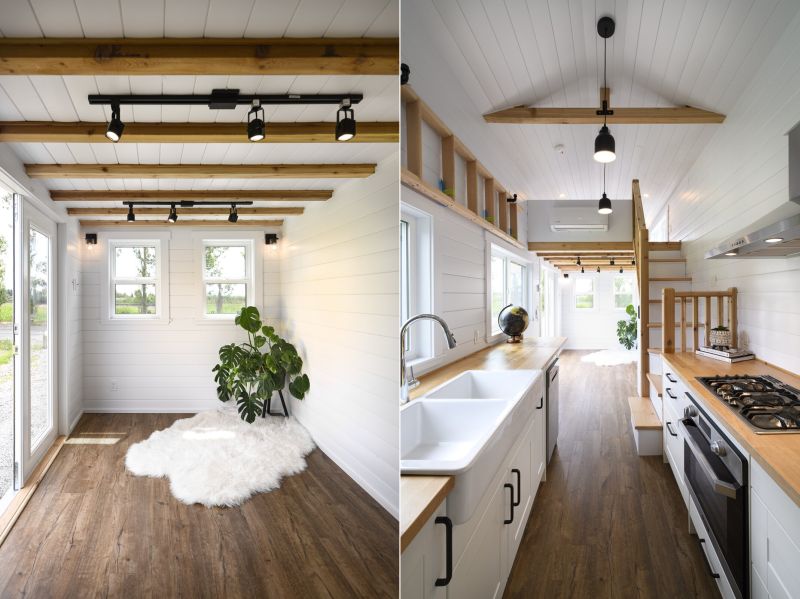 Jana Tiny Home on Wheels by Koleliba
Bulgarian tiny house maker Koleliba has built this tiny house for Jana & Steffen using a 3m wide trailer, which creates a functional 1-bed mini house. It features a separate bedroom and a cozy living room with a real fireplace. The tiny house looks really charming from the outside, with wood paneling and large sliding glass doors. On the other hand, plywood walls and ceiling keep the interior space sophisticated.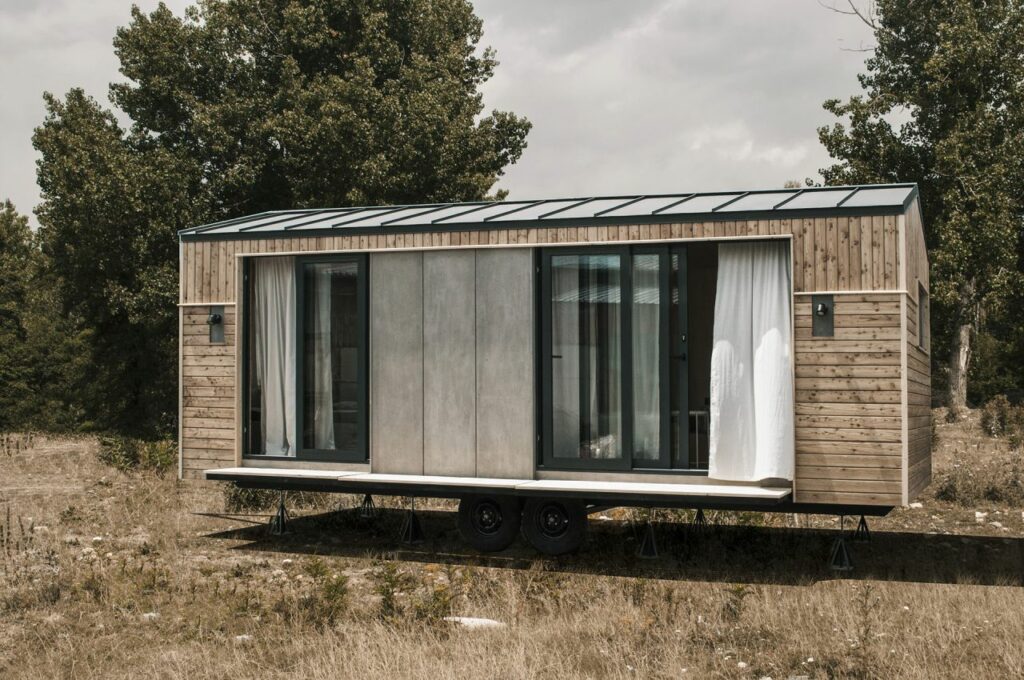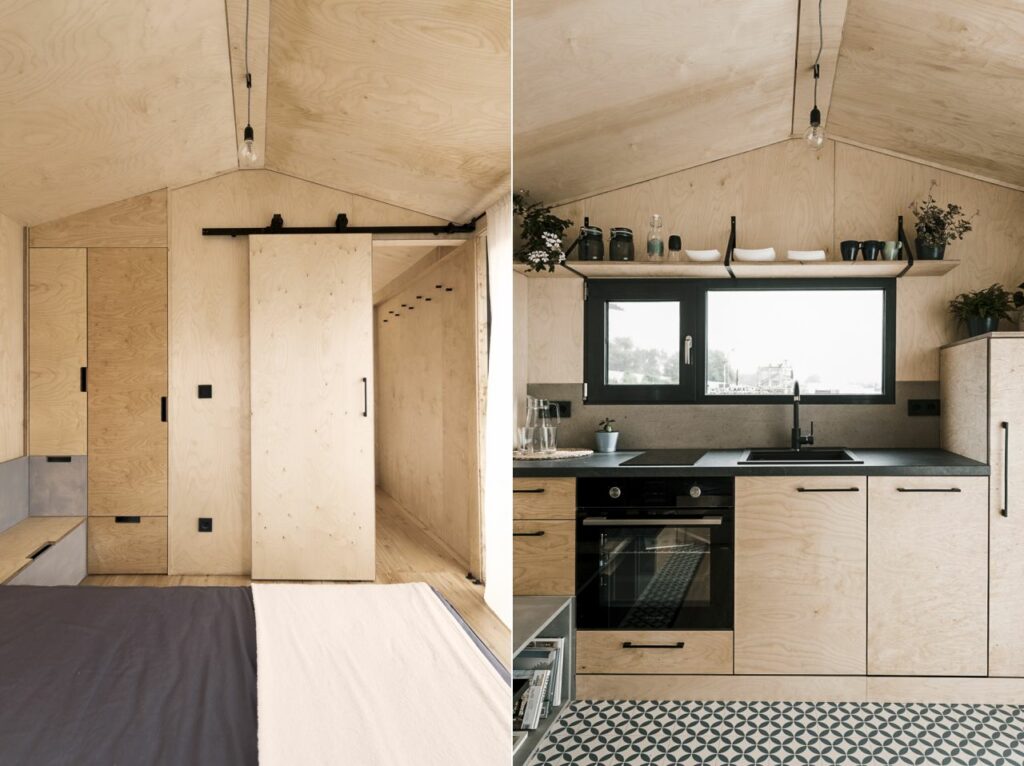 Matthew Hofmann's Living Vehicle
Featuring an aluminum body and double-paned windows, Living Vehicle is an incredible creation by Californian architect Matthew Hofmann. It comes fully furnished and can comfortably accommodate a family of six. There is a rooftop solar array with a battery system and many smart features as well as a security system. The 2023 model also comes with an integrated solar system to produce its own drinking water. There is an option to connect the RV with the Creative Studio remote office.
Read our interview with the founders of Living Vehicle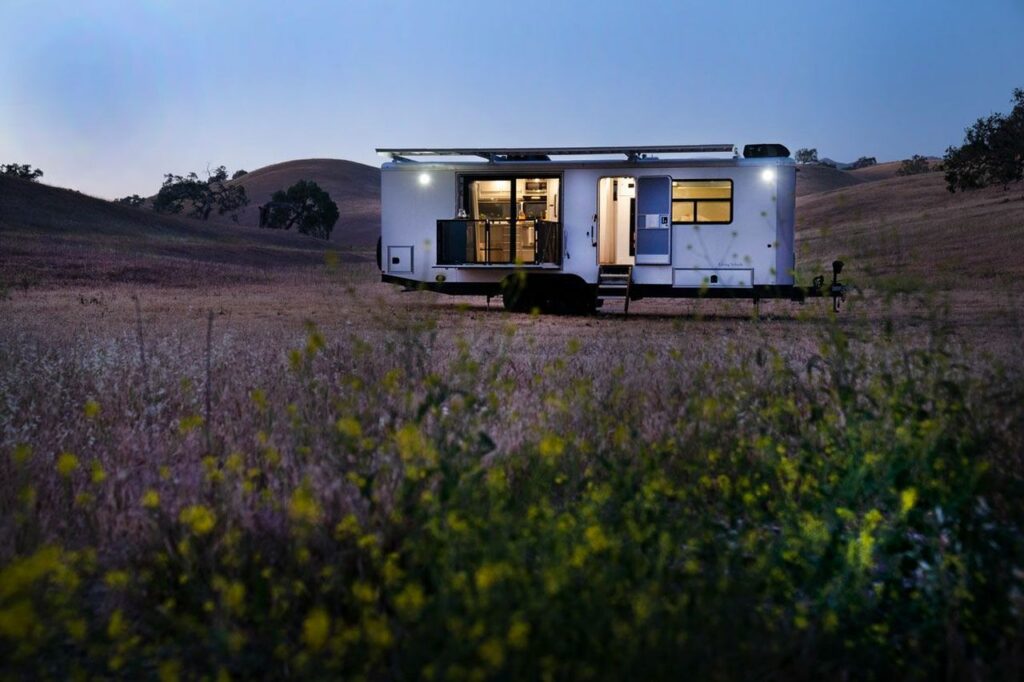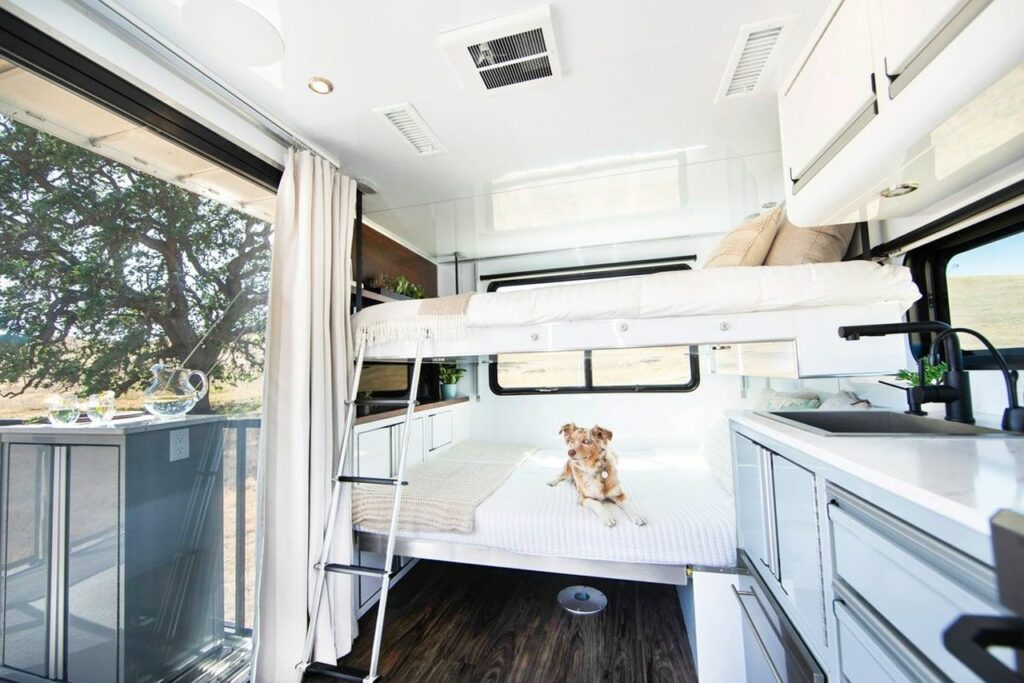 Alpha Tiny House on Wheels
This luxury tiny home by Nashville-based New Frontier Tiny Homes cleverly utilizes 240-square-foot area to include all modern-day amenities in a small space. It has several foldable exterior elements like a roof, deck, and awning, which can be kept open in order to let in more natural air and light. Inside, the transforming furniture helps get the most out of limited interior space.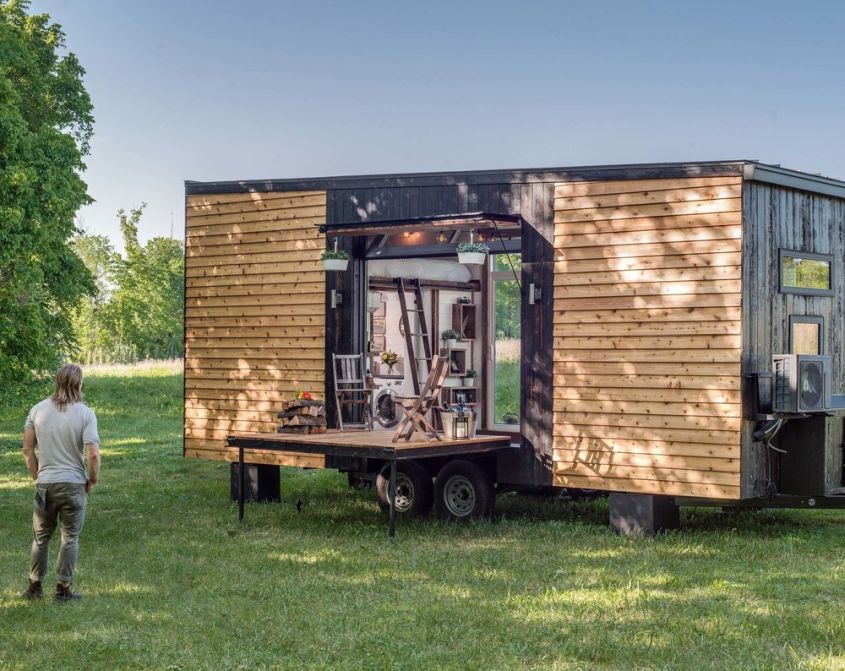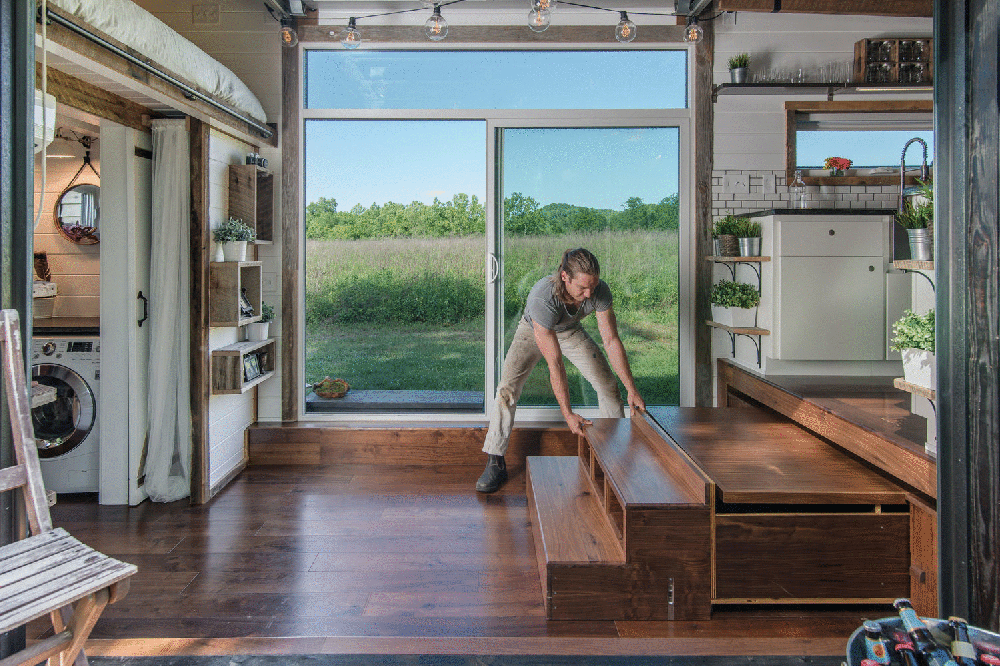 Domek by Acorn Tiny Homes
Based on a 32-foot trailer, this tiny house boasts three lofts – two sleeping lofts and one office space. There is also a spacious kitchen, mudroom, and bathroom with a glass atrium. The exterior is covered in shu sugi ban red pine and steel while the interior is painted in red pine and drywall.
Read our interview with the founder of Acorn Tiny Homes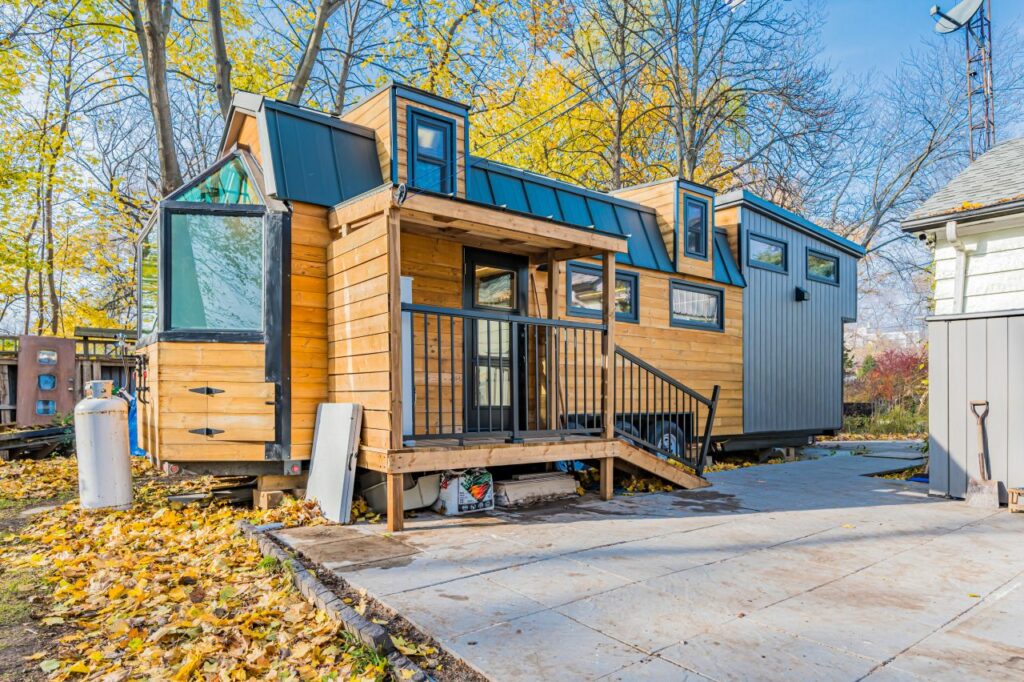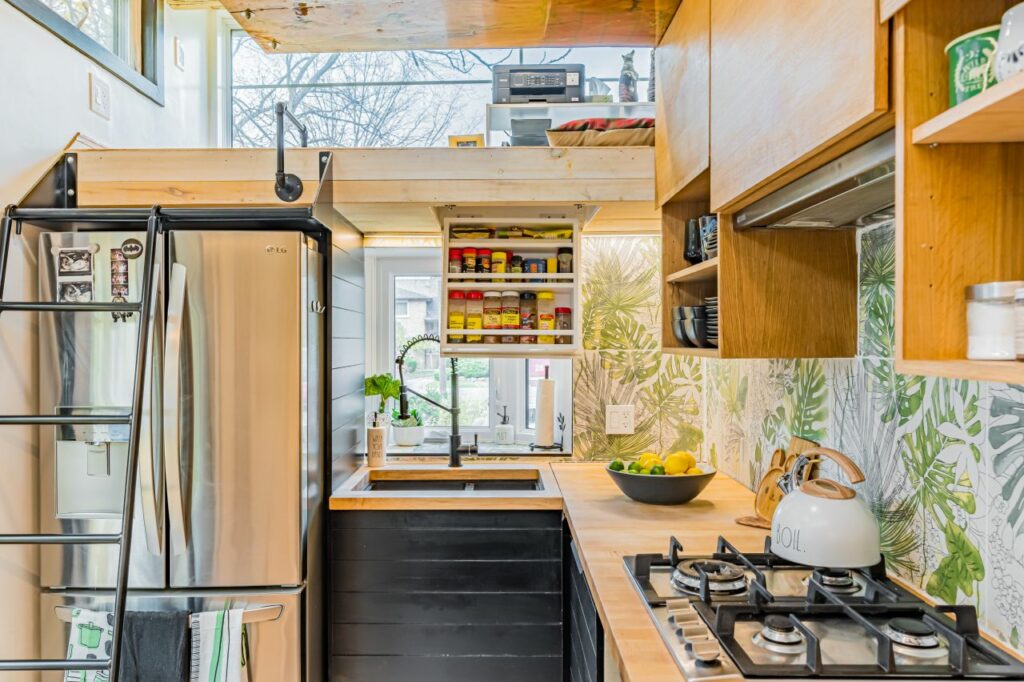 | Also Read: 10+ Inspiring Bus Homes to Ignite Your Wanderlust
TH2 by Lumbec
Covered in white pine, stained western red cedar, and steel cladding, this 24-foot-long tiny house by Lumbec on wheels promises a long life. It has a small living room area with a custom couch and table, a mid-size kitchen, a bathroom with a tub, and a private bedroom loft. Furthermore, storage spaces are scattered throughout the home.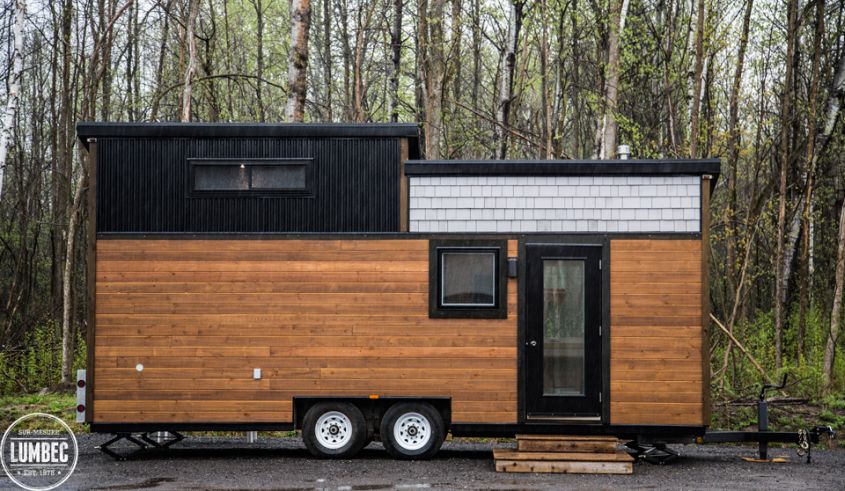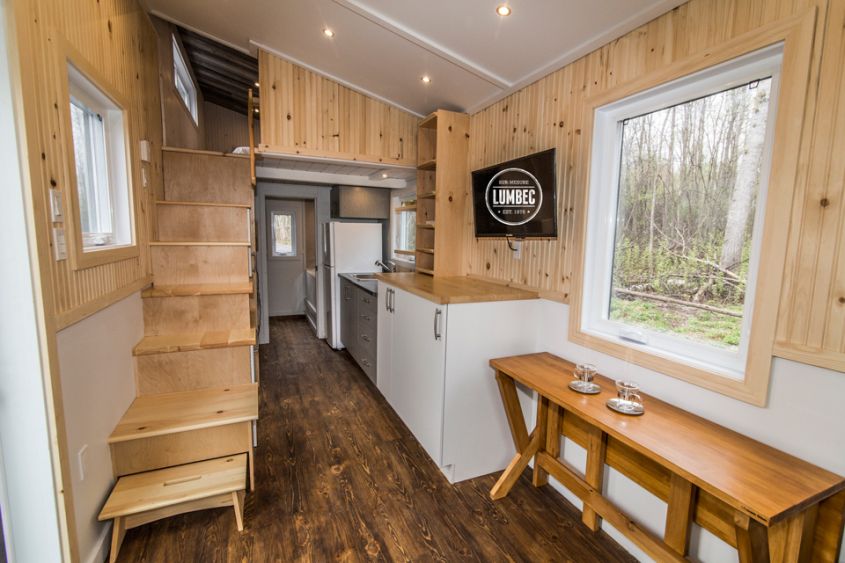 Elsa Two-Part Tiny House
This 323-square-foot tiny house on wheels with its own mobile porch and greenhouse is contrived by Olive Nest Tiny Homes. The exteriors finished with 1×8 cedar shiplap siding go well with the gray standing seam metal roof and the four-panel glass door.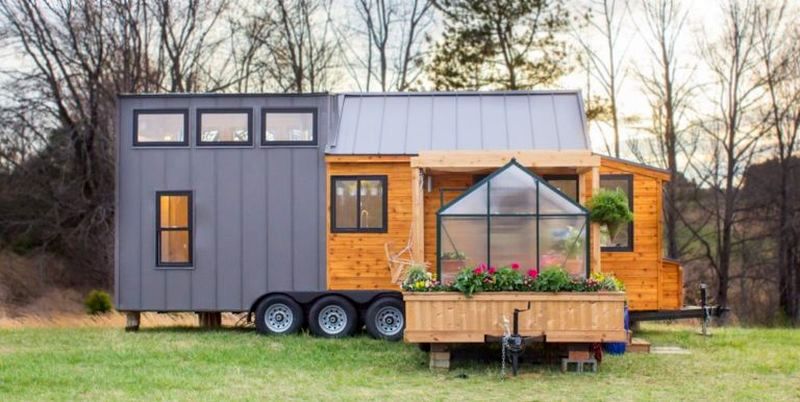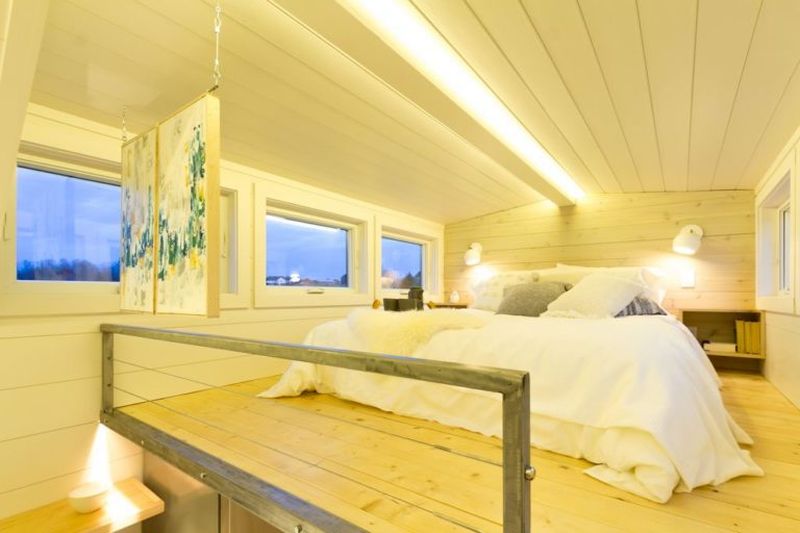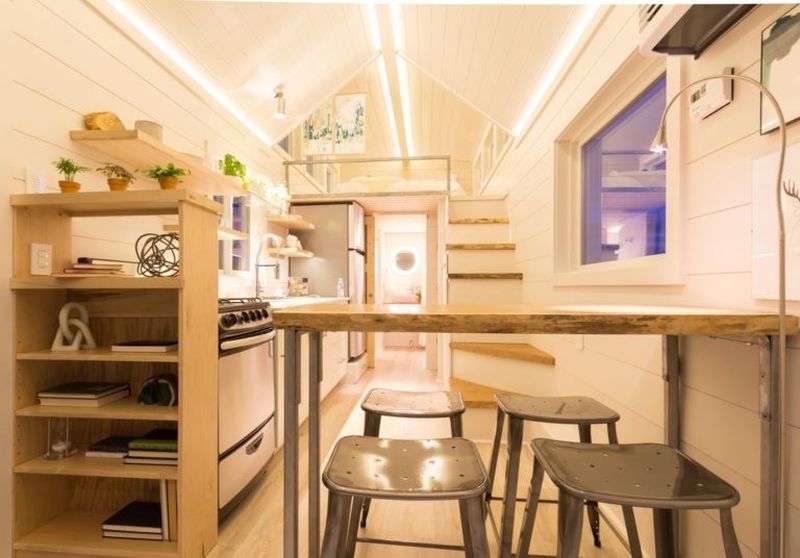 Bryce Langston's Tiny House
This tiny house on wheels is built by Bryce Langston of Living Big in a Tiny House. It is just 5 meters long but is cleverly packed with all the required features to make it just like a fully functional home. Made in collaboration with Tiny House Chattanooga, it features steel exteriors with a combination of standing seam metal and wooden siding. The interior space feels light and open. There is a spacious main-floor bedroom that also serves as a living room.
Another highlighting feature is Amazon Alexa compatibility, which allows controlling lights, door locks, security camera, and sound system using voice commands. On the inside, high ceilings, plenty of wooden details, and modern furnishings ensure comfort and style.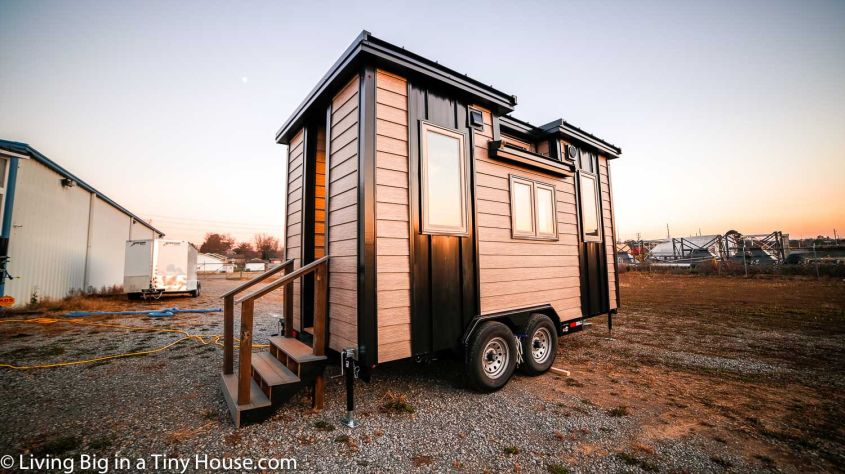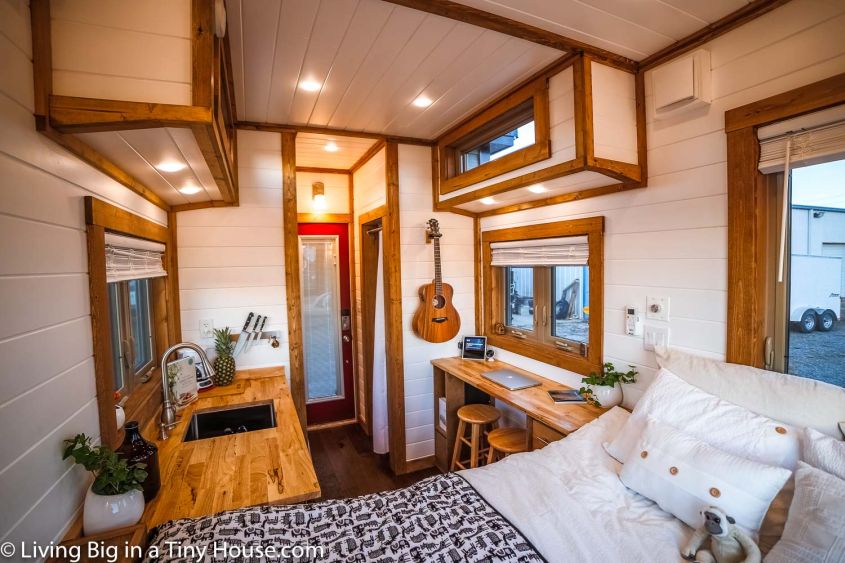 Jesse's Tiny House on Wheels
Building a tiny home using salvaged or reclaimed materials is indeed a challenge but Australia-based Jesse has done it so wonderfully. It's incredible how he has transformed some old materials into a wonderful home. This whimsical tiny home in Berkeley, California uses fence palings as cladding and cabinetry.
Built for less than $20,000, the tiny house is equipped with all the essential amenities required for a comfortable stay. Inside, there is a shower, kitchen, living room, and sleeping loft. The shingled exterior and a skylight above the bedroom loft are other unique features. It can accommodate up to three persons at a time. The tiny home is designed to be completely off-the-grid, with a rooftop solar power array and rain-water collection.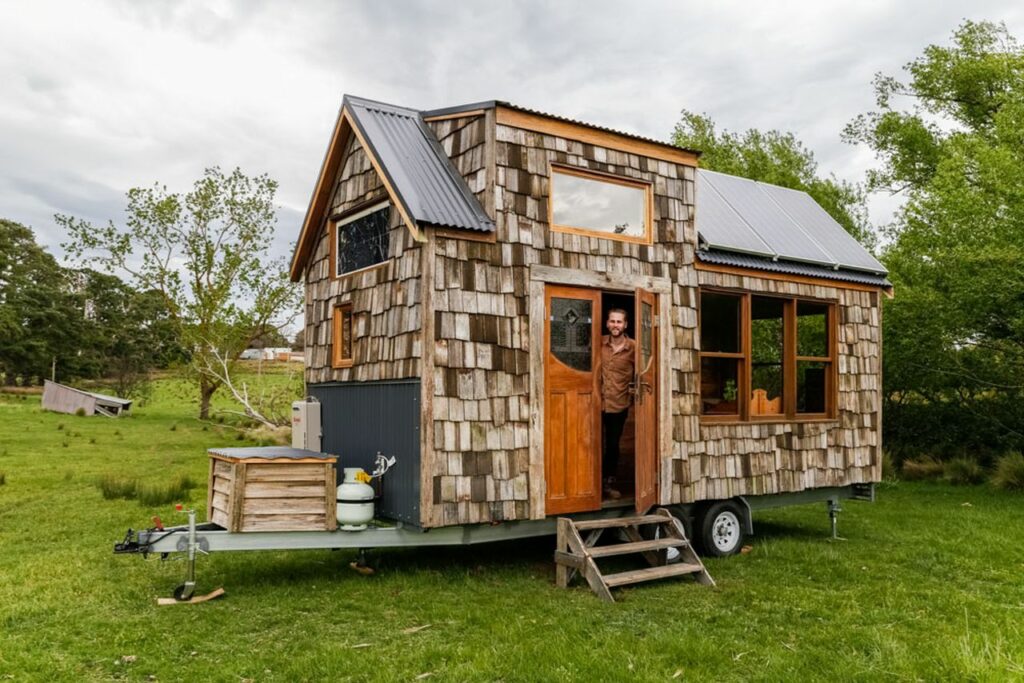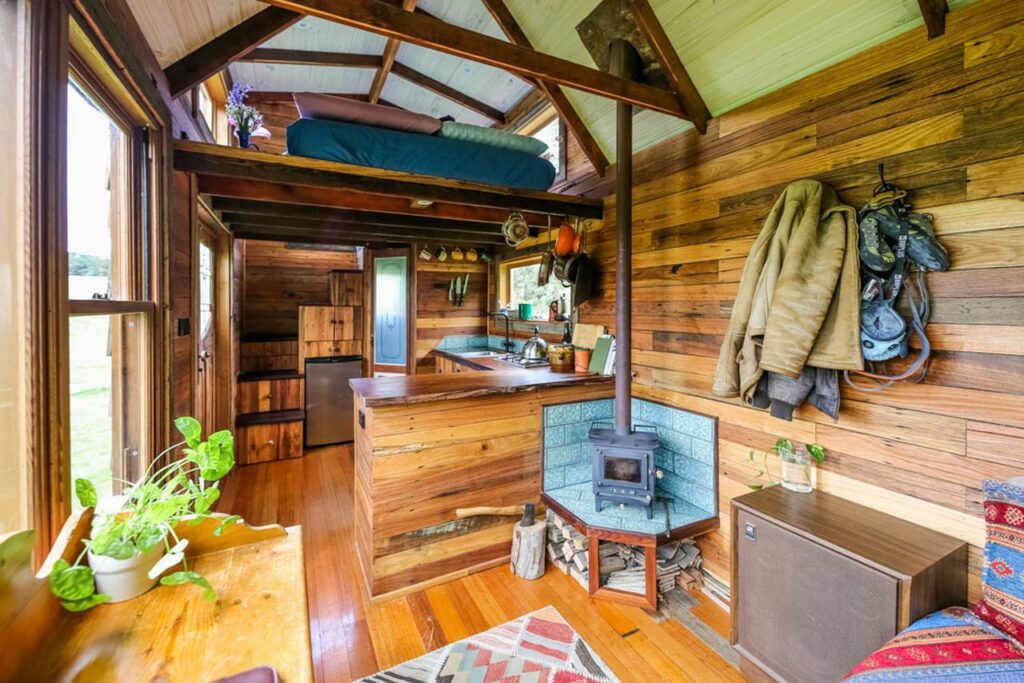 aVOID Tiny House
Combining minimalist design with transforming furniture elements, aVOID is a mind-blowing tiny house on wheels designed by Italian architect Leonardo Di Chiara. There are retractable walls that hide behind furniture and other required accessories to let homeowners make ideal use of the available floor space. All living spaces are neatly tucked into the nine-square-meter space.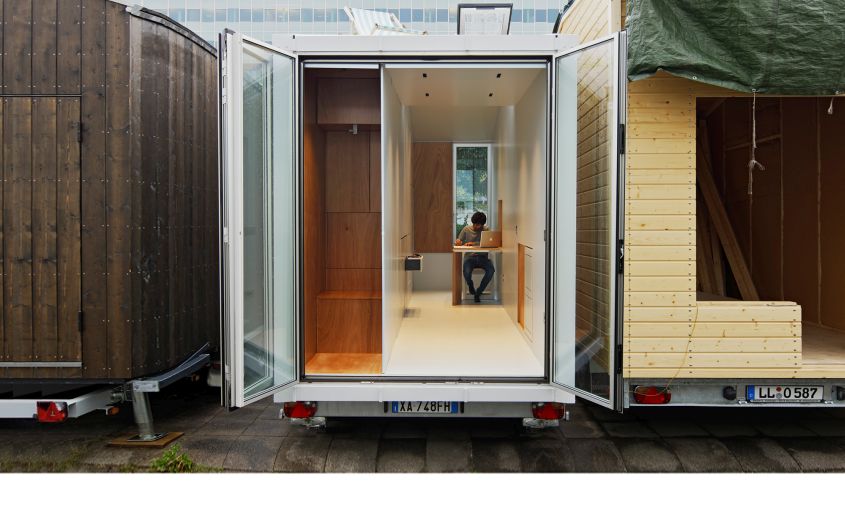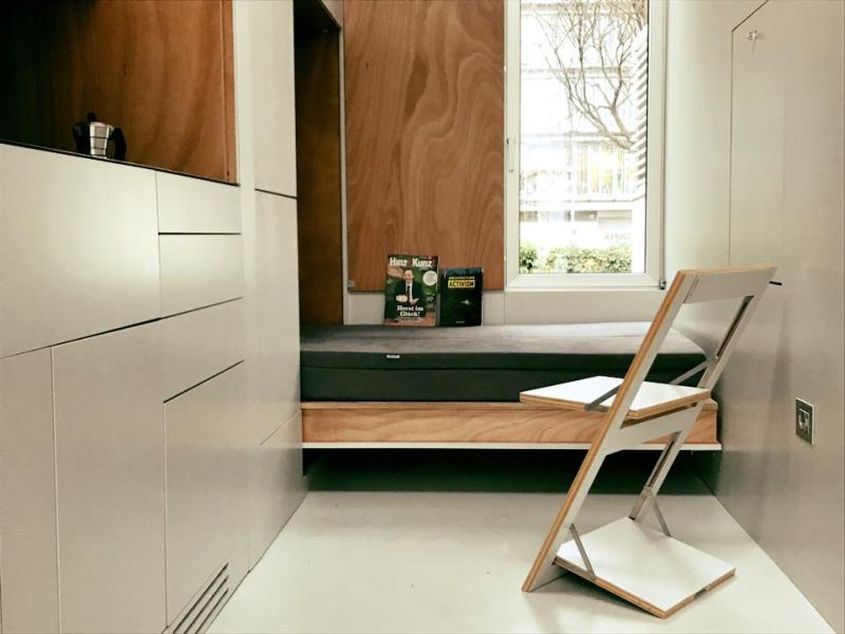 Baleia Tiny House by Madeiguincho
It is a tiny towable timber house based on a double-axle trailer that serves as a dream abode for a Portuguese family. The structure is distinguished by slatted wood cladding on the exterior. The interior space is also decked with plenty of wooden elements. There are two sleeping lofts, a kitchen, and a bathroom inside.
Read our interview with CEO of Madeiguincho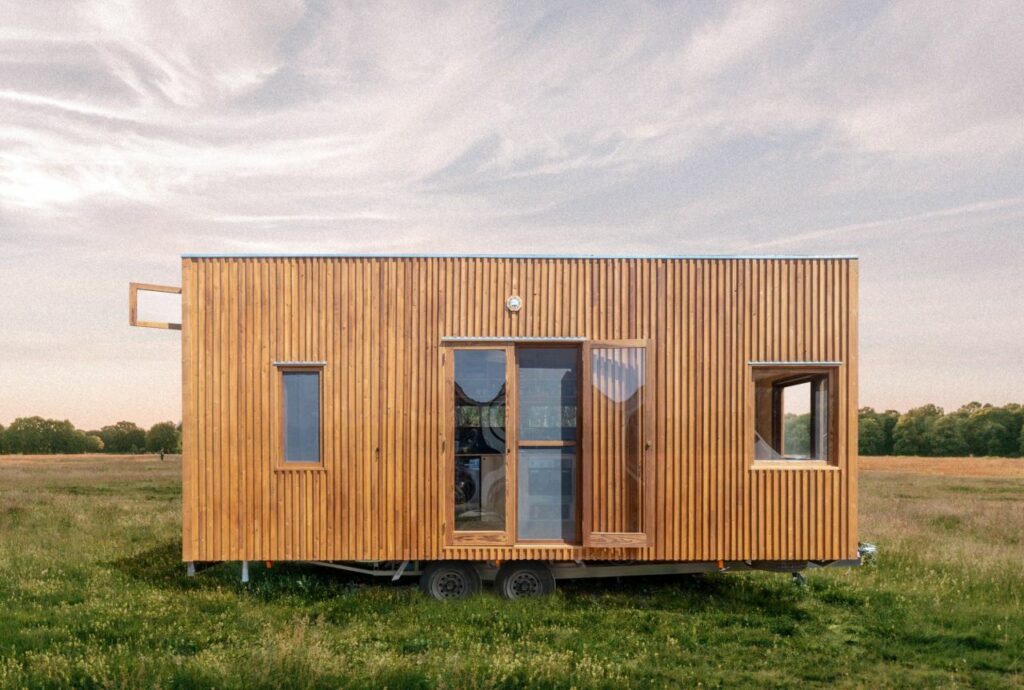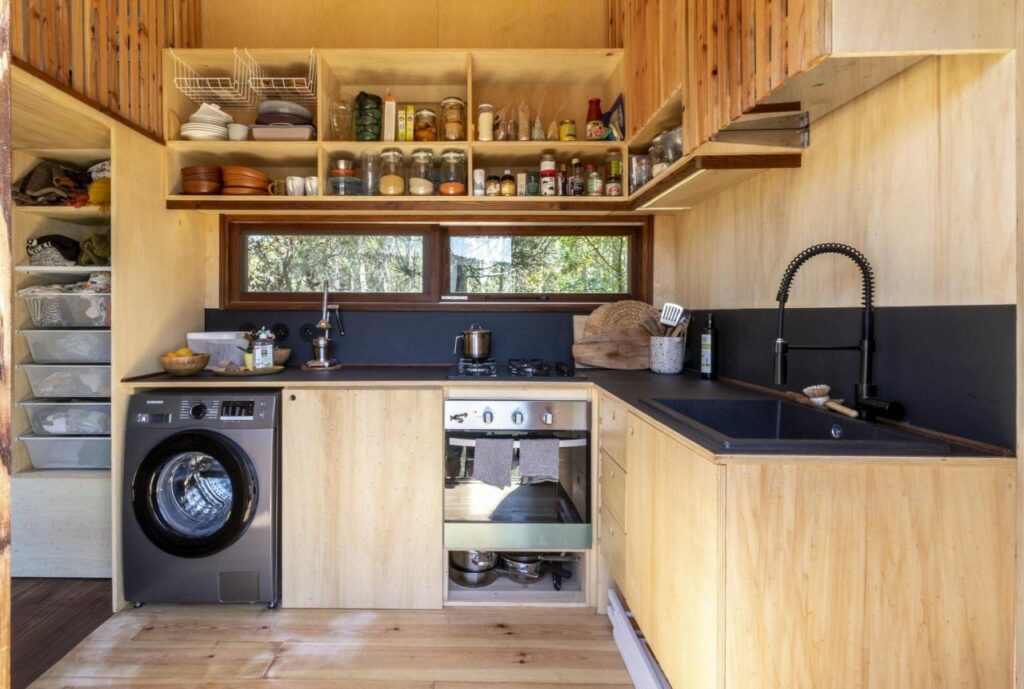 Lillooet 31 by Westcoast Outbuildings
This white and black tiny house is suitable for those who want to enjoy the conveniences of a regular house in a tiny house on wheels. Its exterior is composed of stone grey corrugated steel with a galvalume standing seam roof. There are plenty of windows to bring in enough natural light and surrounding views. Just like most other tiny houses on wheels, it also has a staircase that provides additional storage space.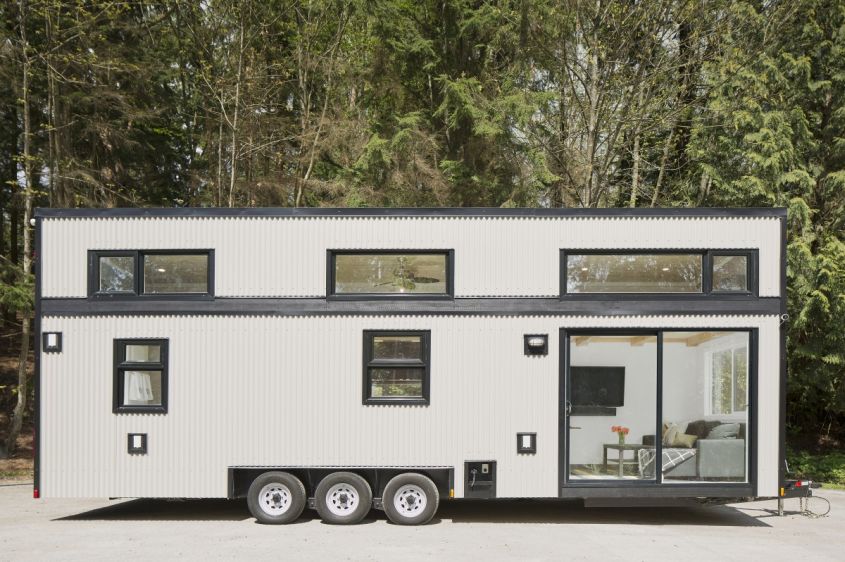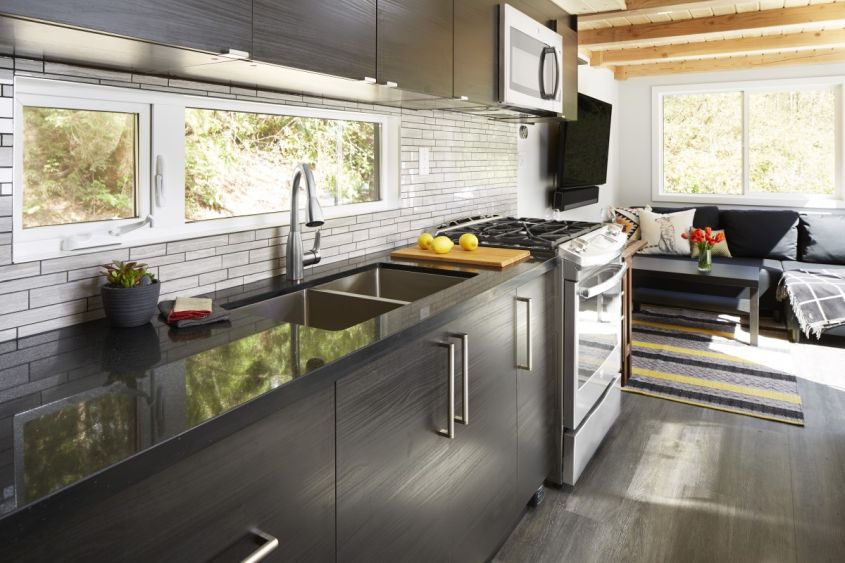 Damselfly tiny house on wheels
Made by tiny house builder Zyl Vardos, this mobile home features a wood-paneled exterior, an Onduvilla-tiled roof, and a number of curvy windows. It has a living area, fully-equipped kitchen, two bedrooms, and a bathroom complete with shower and toilet. The contoured design of the roof and windows are the most attention-grabbing details of this tiny house on wheels.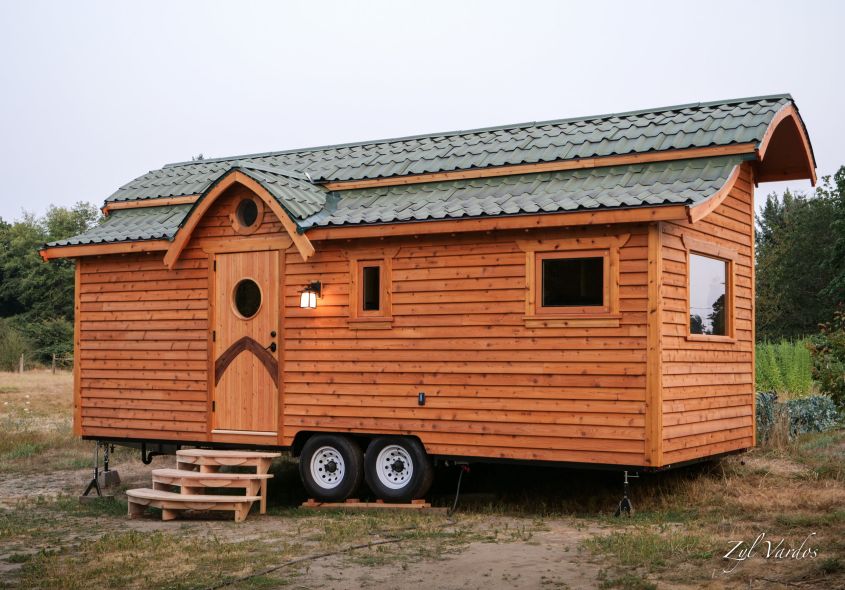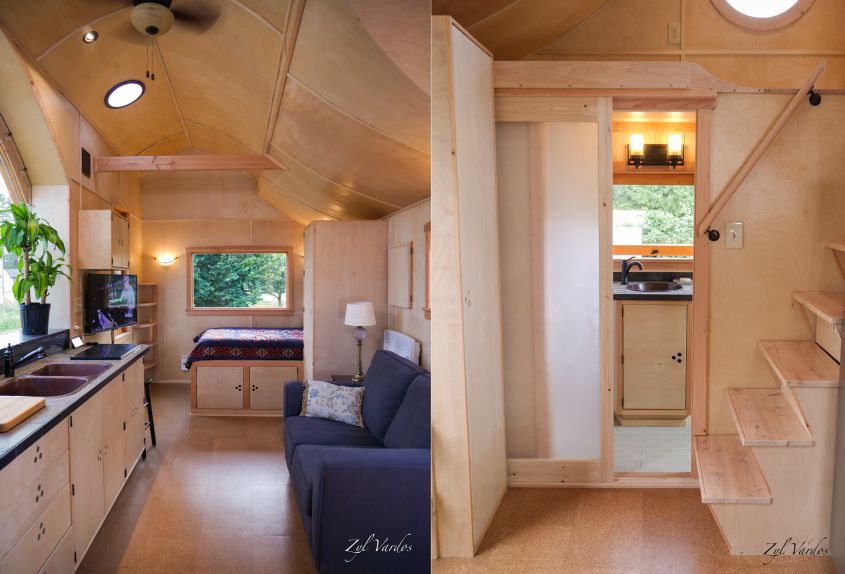 Wohnwagon Tiny House
Made by the Austrian company Wohnwagon, this self-sufficient mobile home offers a unique living experience in just 25 square meters of living space. It is made using natural and recycled materials and has a variety of sustainability features as well. Its rounded frame clad in larch wood brings unique essence to its exteriors. Inside, there are plenty of multifunctional space-saving features to make the most out of the available space.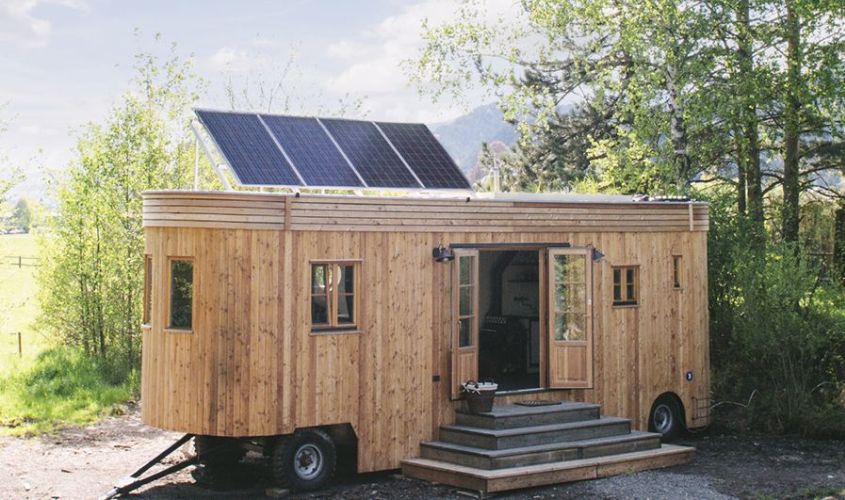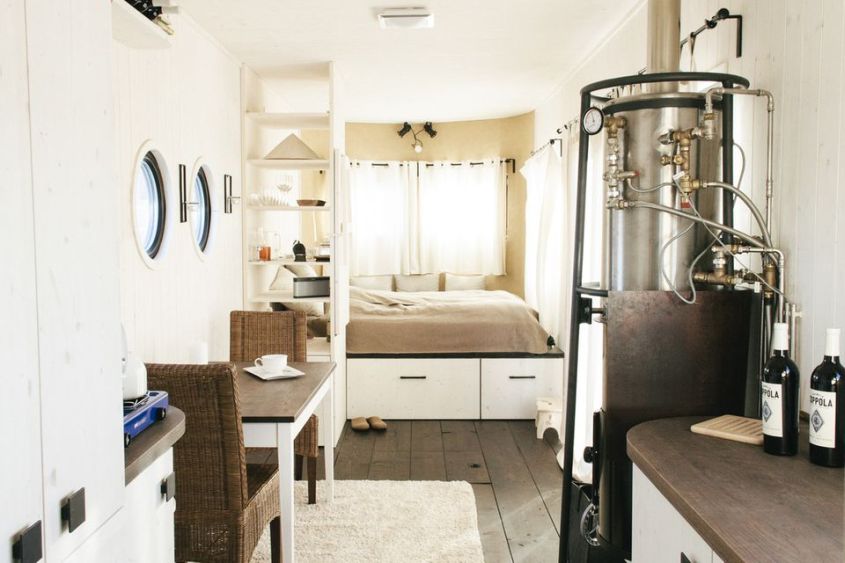 Peacock Tiny House
The Peacock by Rob Millar of Old Hippie Design is a classic mobile home featuring an impressive rooftop balcony accessed via a wooden staircase at the back. The interiors are styled in a certain southwestern flair while the exteriors are finished in wood and corrugated metal siding.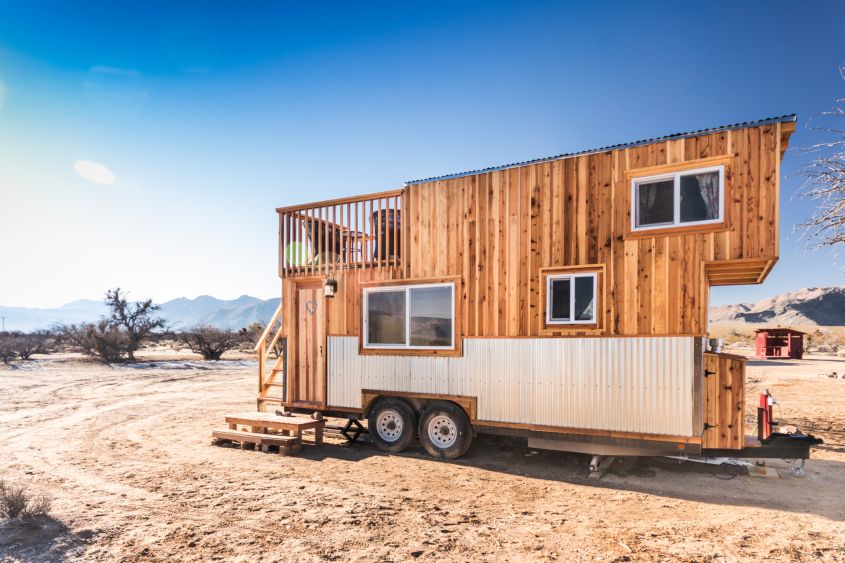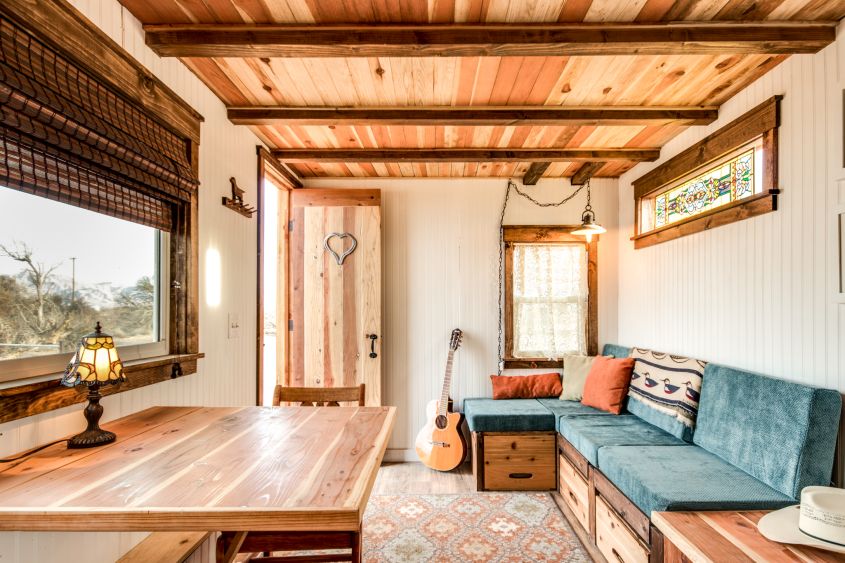 Porta Palace by WoonPioners
The minimalistic wooden building envelope combined with large fold-out glass doors add unique aesthetics to this stunning tiny house on wheels. It is made from CLT boards that ensure thermal efficiency and sound insulation. It comes complete with a living area, kitchenette, bathroom, and a cozy sleeping loft.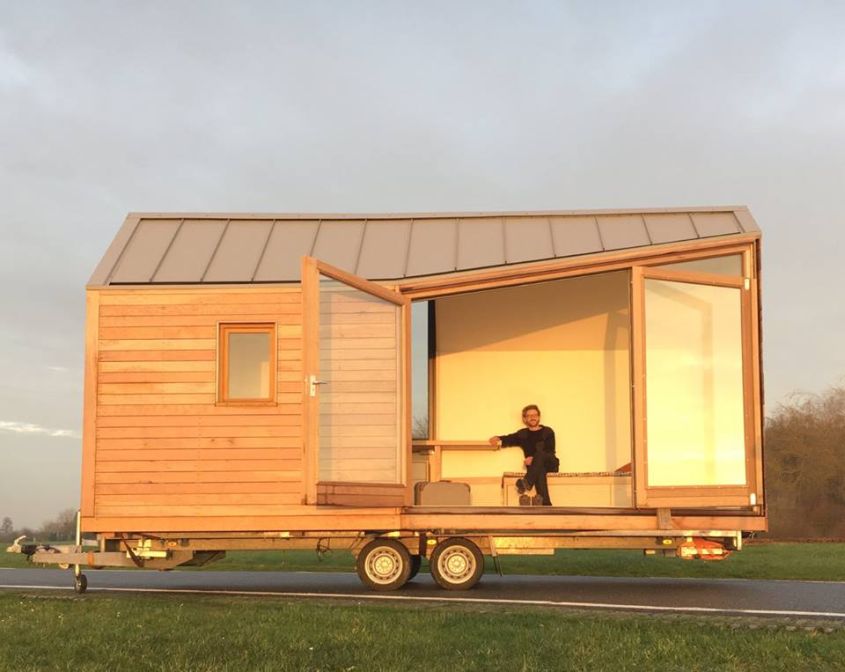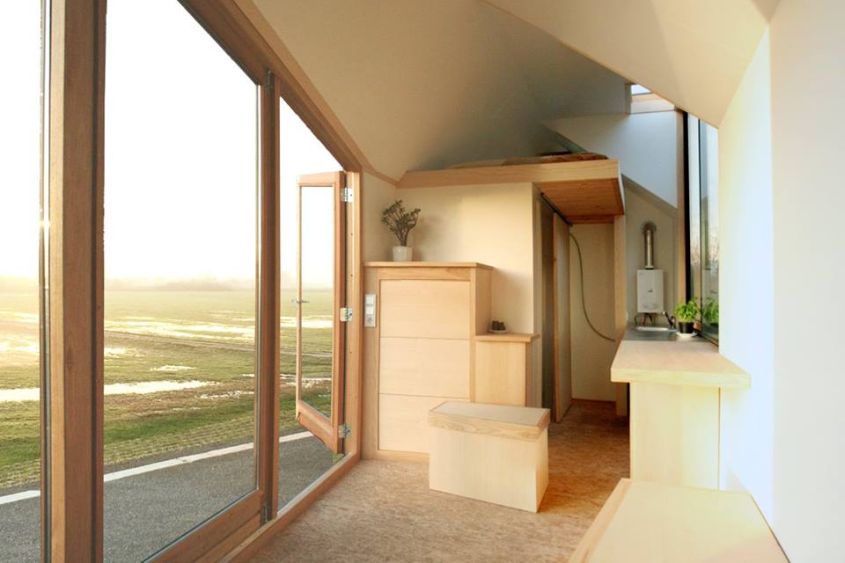 Incred-I-Box
If you are looking for an affordable tiny house, then Tennessee-based Incredible Tiny Homes has this great option for you. Priced at $20K, it is a pre-built tiny house that measures 8 feet wide and 16 feet long. Made from engineered steel panels, the tiny house has a living room, kitchen, bathroom with shower and toilet, and storage on the loft.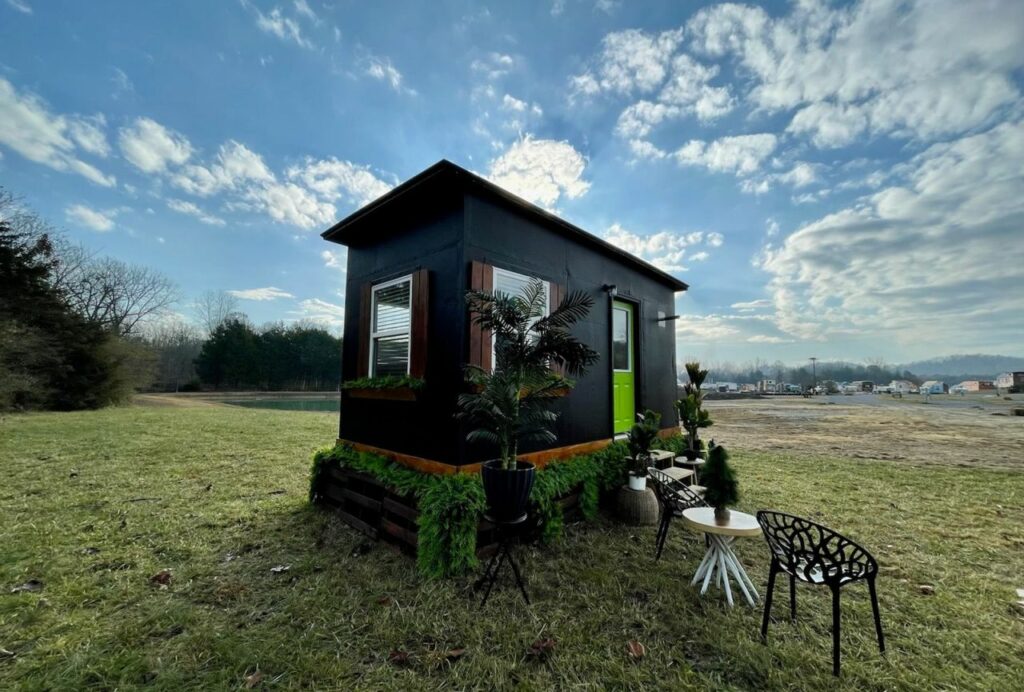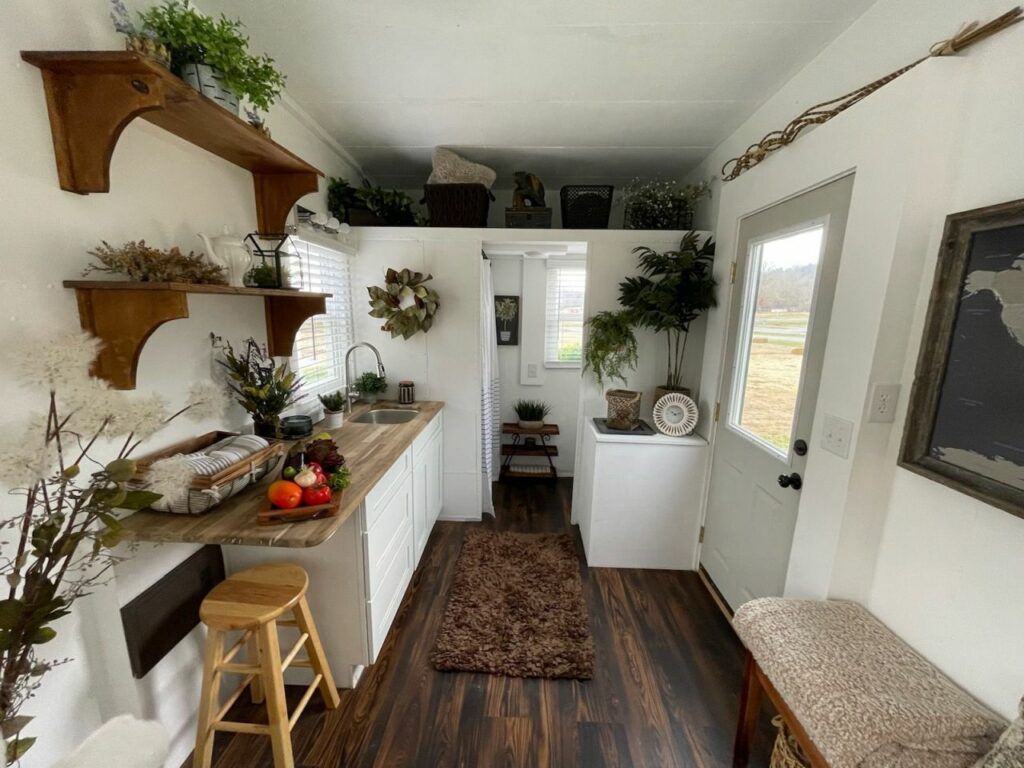 Greenmoxie Tiny House on Wheels
David Shephard, the co-founder of Toronto-based Greenmoxie, and green building consultant Ian Fotheringham have built a contemporary tiny house on wheels with modern and eco-friendly features. It features a drawbridge deck that can be electrically lifted or lowered to create additional outdoor space. The dual-pitched black metal roof and spray foam insulation keep the entire space pleasing and comfortable all year long.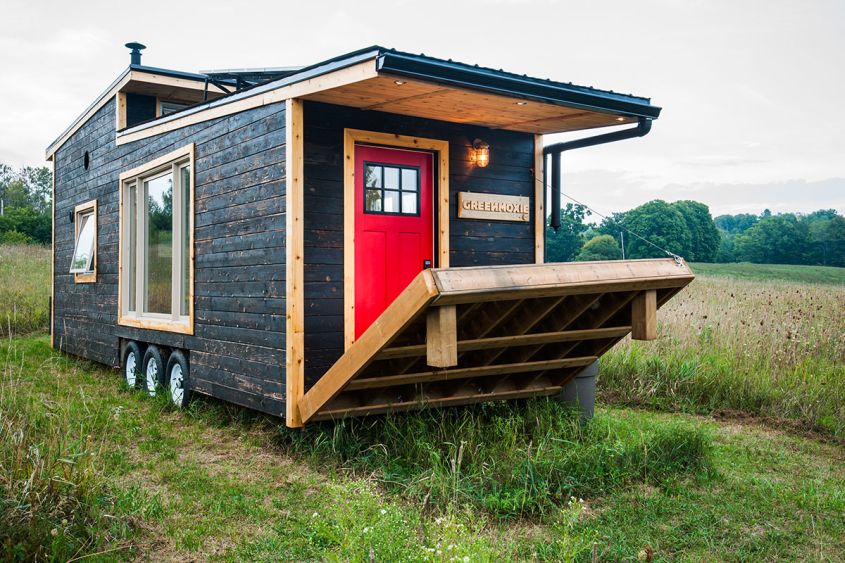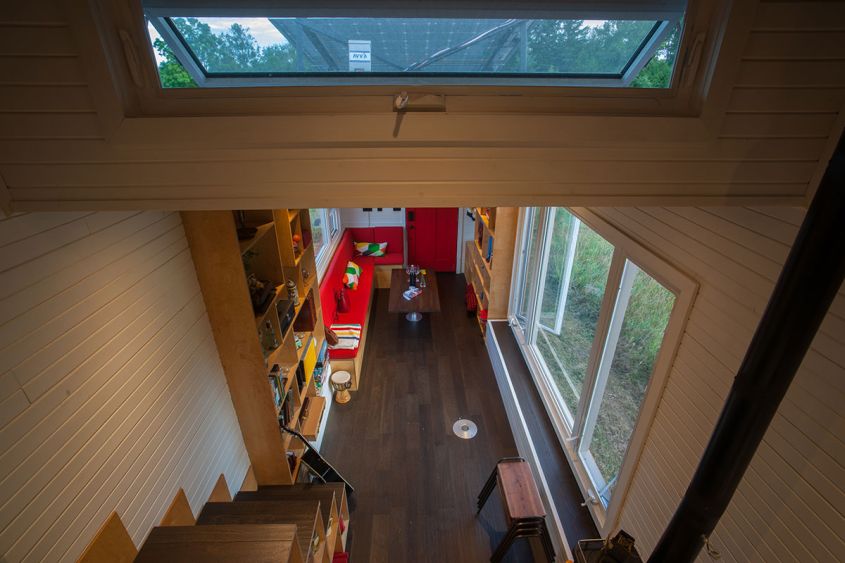 | Also Read: 25 Best Treehouse Hotels You Wish You Could Live In
The Toybox
This colorful mobile home measures just 140-square-feet but looks roomy due to its space-savvy interior design. Designed by Frank Henderson and Paul Schultz, it combines modern design elements with ecologically responsible materials. Its unique exteriors are finished with multiple colored, corrugated fiberglass cubes and natural cedar panels.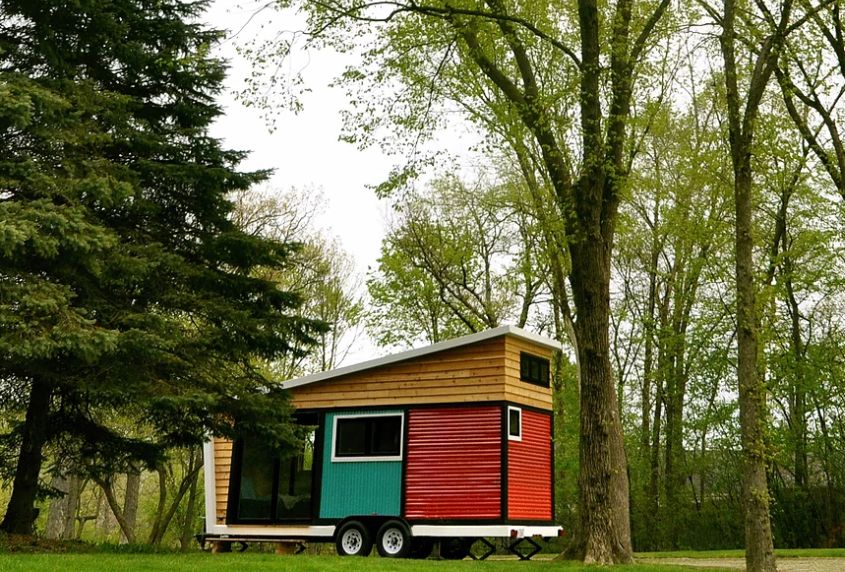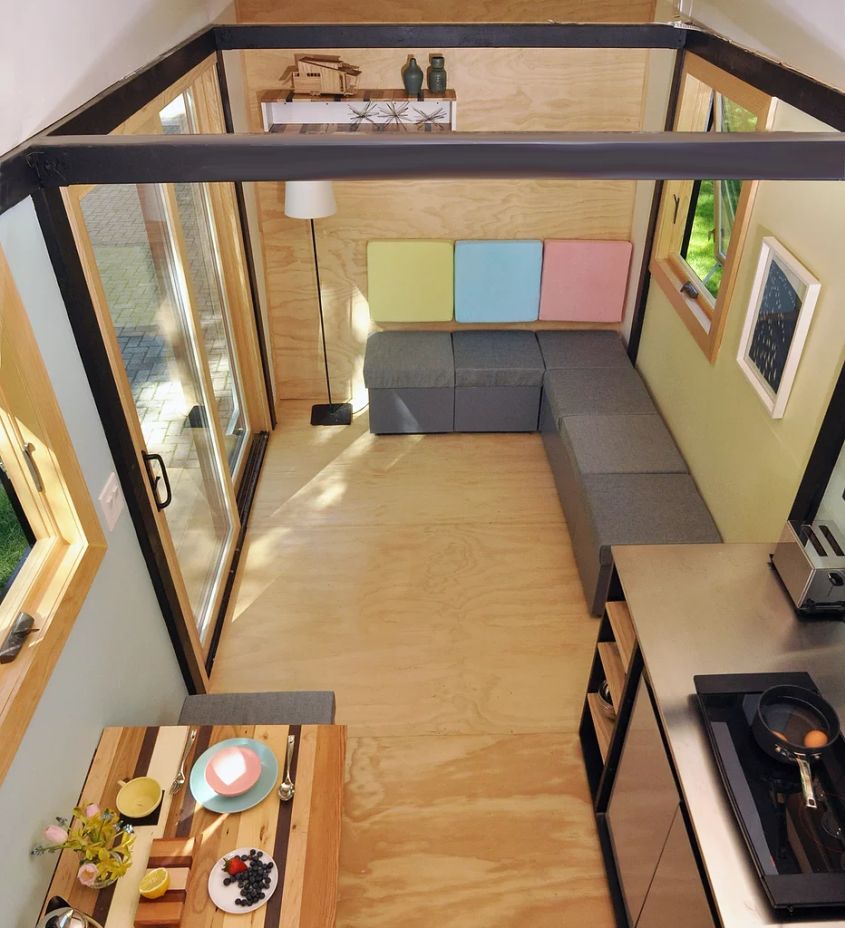 Ana White's Open-Concept Tiny House
This brilliantly-designed mobile home sits on a 24-foot-long, 8 1/2-foot-wide trailer. The exteriors are wrapped in standing seam metal while the interior space is furnished with a lot of DIY projects from Ana White, including a DIY elevator bed, folding table, multipurpose seating furniture, pipe coat rack, and sliding doors for a shelving unit. There is also a modular lounge that turns into a guest bed easily.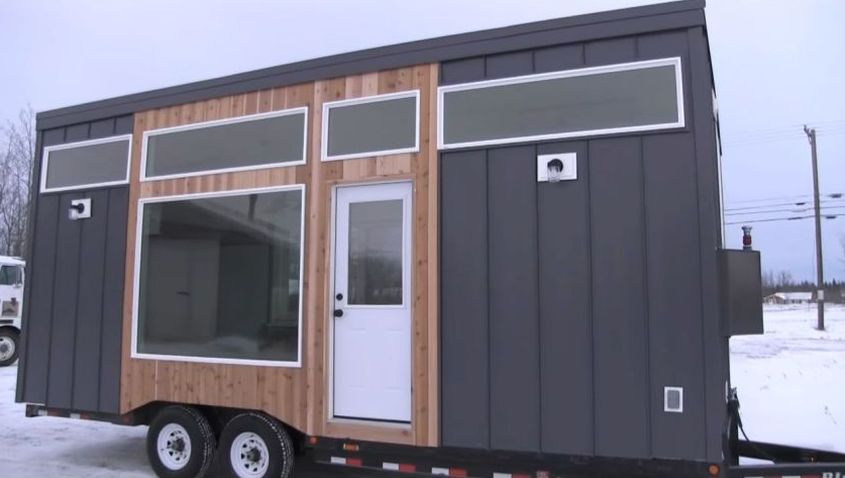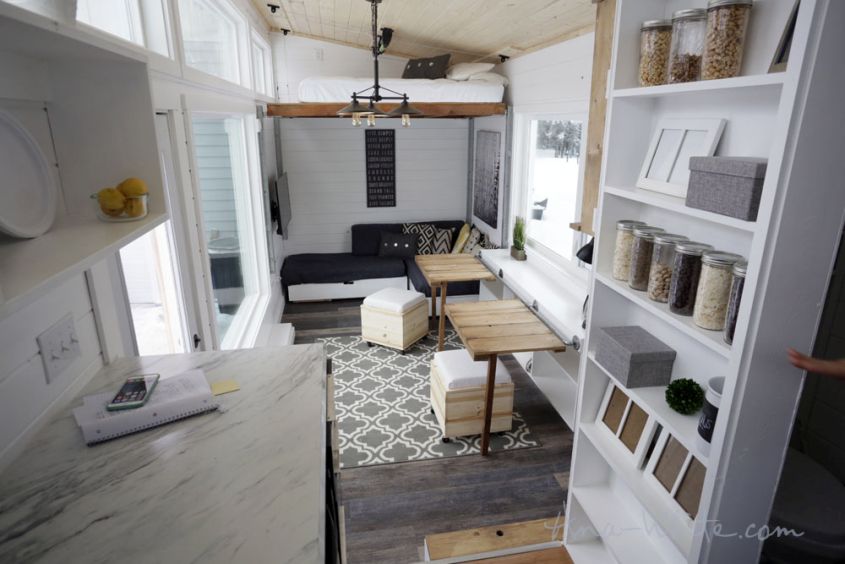 The Highland
This beautiful tiny house on wheels is another wonderful creation by Incredible Tiny Homes. It features a thatched roof system and exteriors covered in cedar shingles, board, and batten panels. Inside, there is a retractable bed and a loft that can be used as a home office or additional sleeping room. The exposed wooden beams on the ceiling add rustic appeal to the interiors.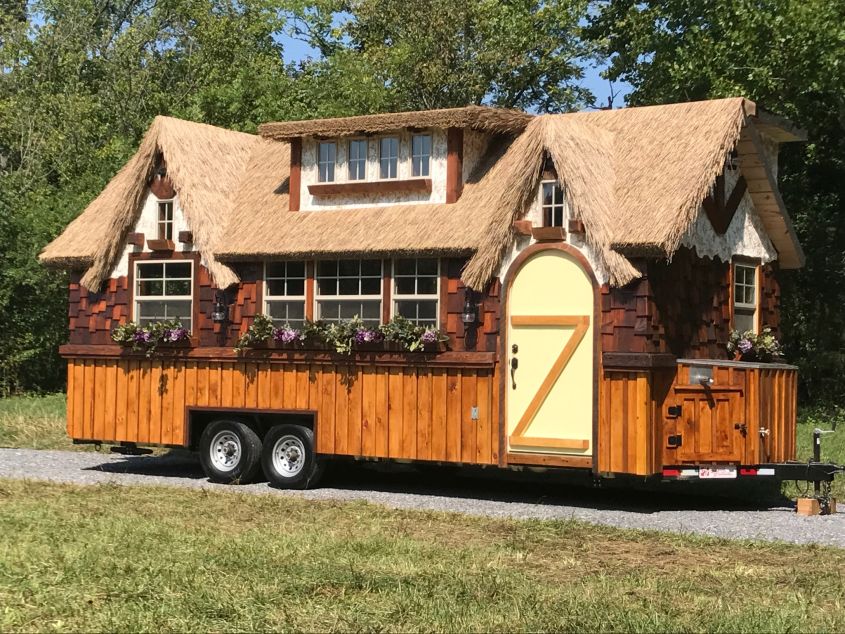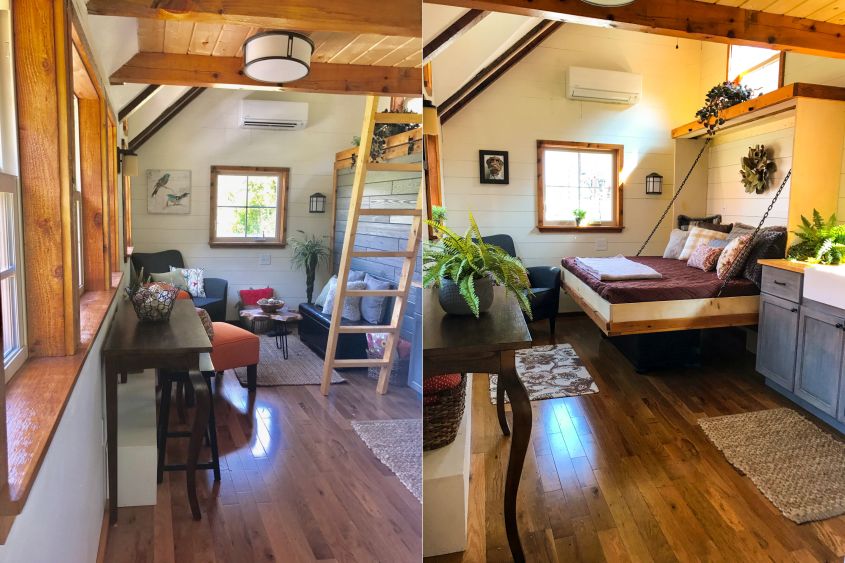 Quatro by Land Ark RV
This stylish and modern tiny house model is the brainchild of Colorado couple Brian Buzarde and Joni Buzarde who first built a tiny house on wheels for themselves and then started Land Ark RV. Featuring an all-black exterior and angled walls, this tiny house looks quite spacious. There is a combined living room and kitchen area, which can also be turned into an additional sleeping area, a bathroom with a shower/toilet room and a vanity. The bedroom is on the main floor which results in a 9-foot ceiling height.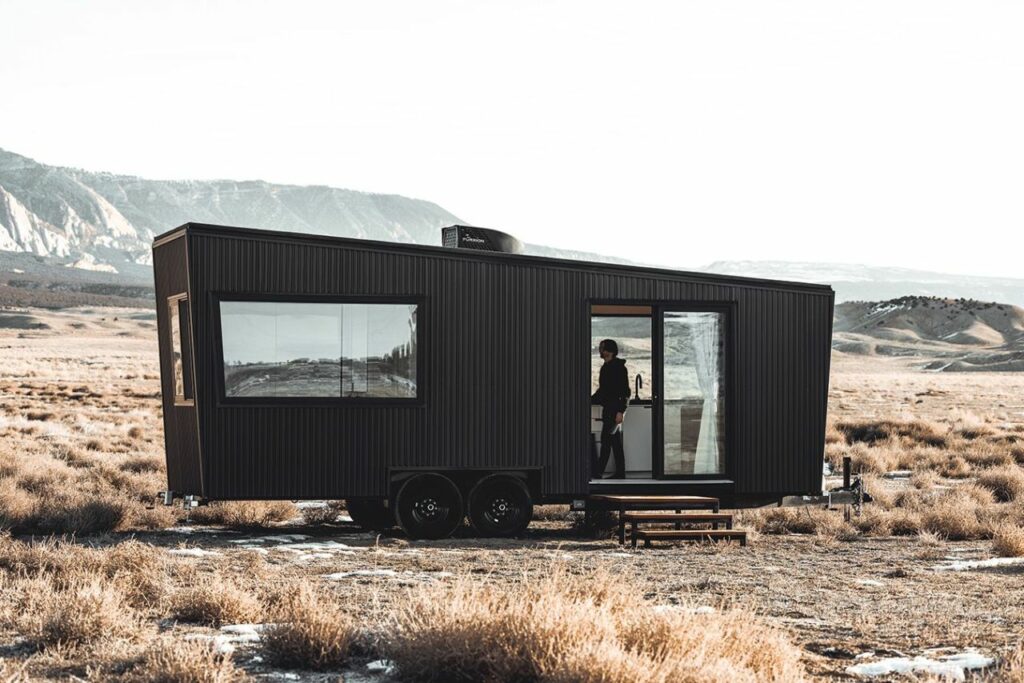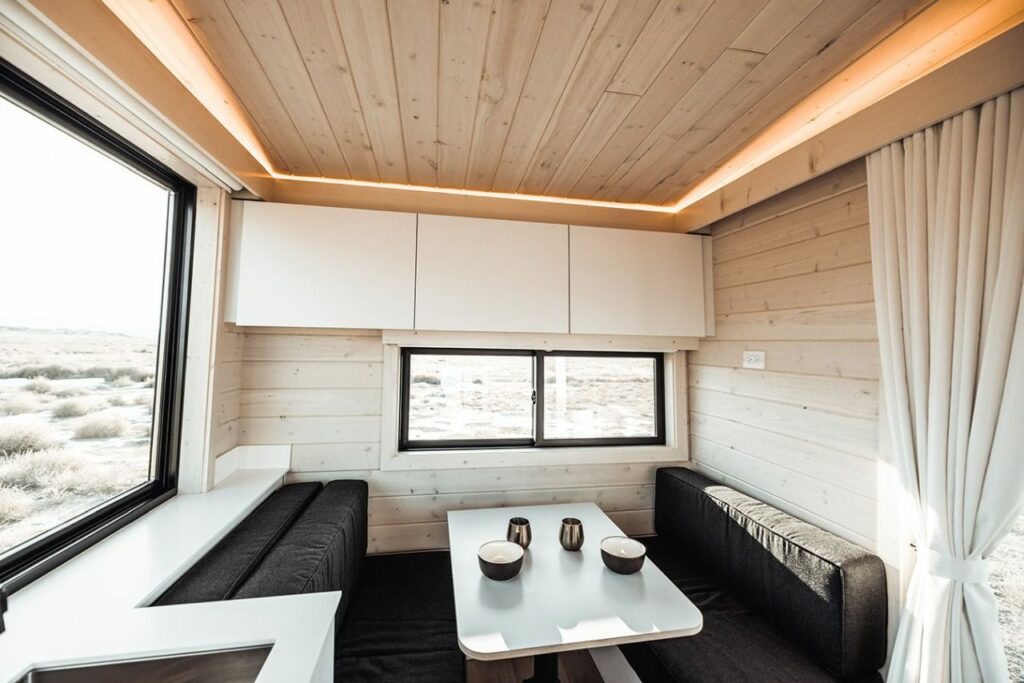 Urban Payette by Tru Form Tiny
Built by Oregon-based Tru Form Tiny, this 28-ft long tiny house features two bedrooms – one loft bedroom accessible by stairs and another bedroom on the ground floor. The white wood walls with black flooring create a minimalist look. There is an option to add solar panels to the tiny house.
Read our interview with COO of Tru Form Tiny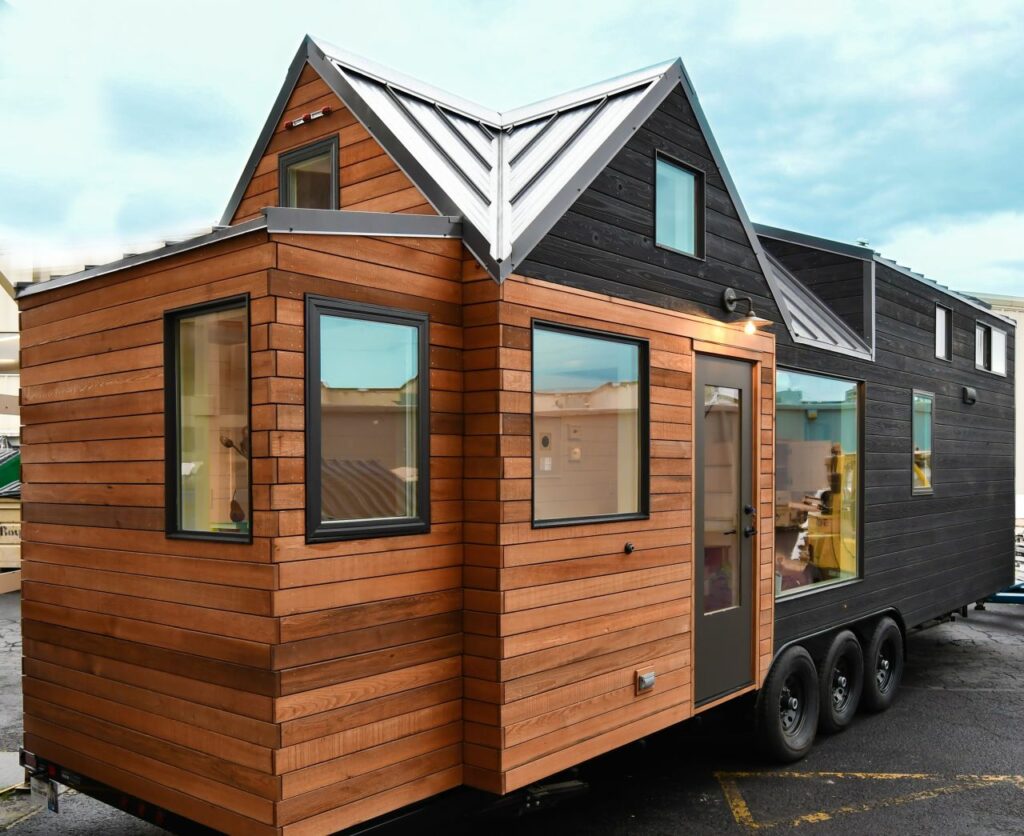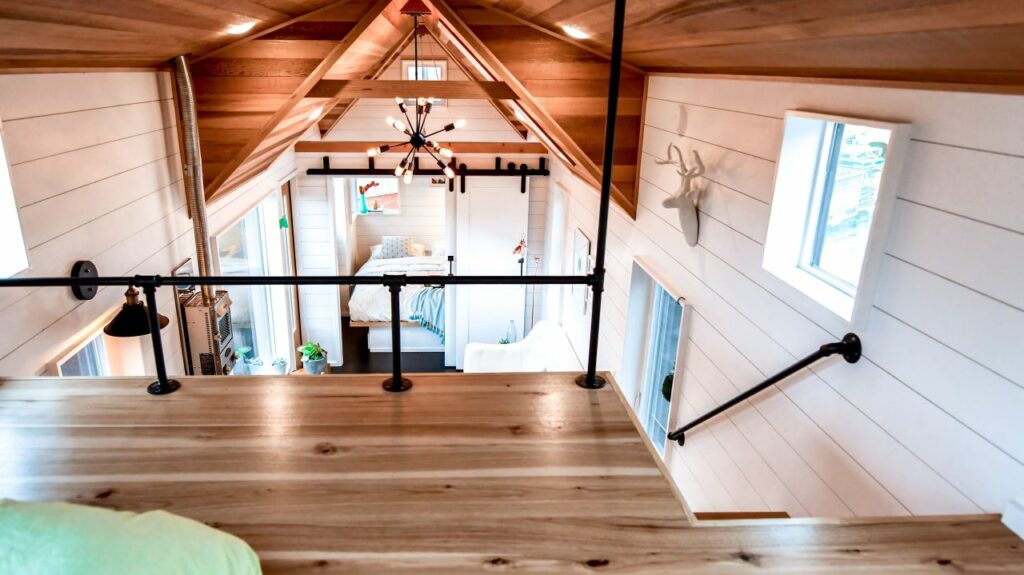 Also Read: Best Shipping Container Homes That You'll Want to Own
Aurora by Zero Squared
Built by Canada-based Zero Squared, The Aurora tiny house on wheels doubles interior space with the push of a button. Due to the use of heavy construction like SIPs that are made from prefabricated polyurethane foam insulation wrapped in a vapor barrier, it is suitable for use throughout the year. Inside, there are completely white walls contrasting the wood-clad ceiling.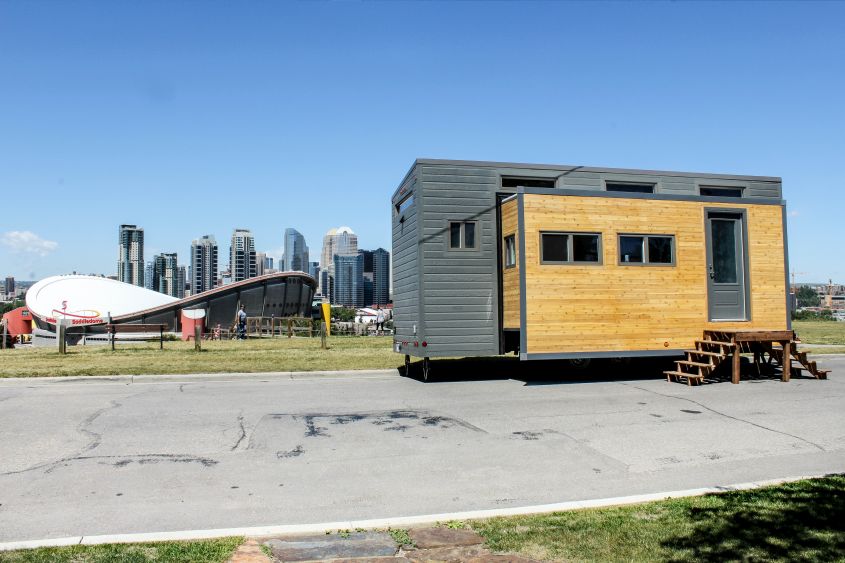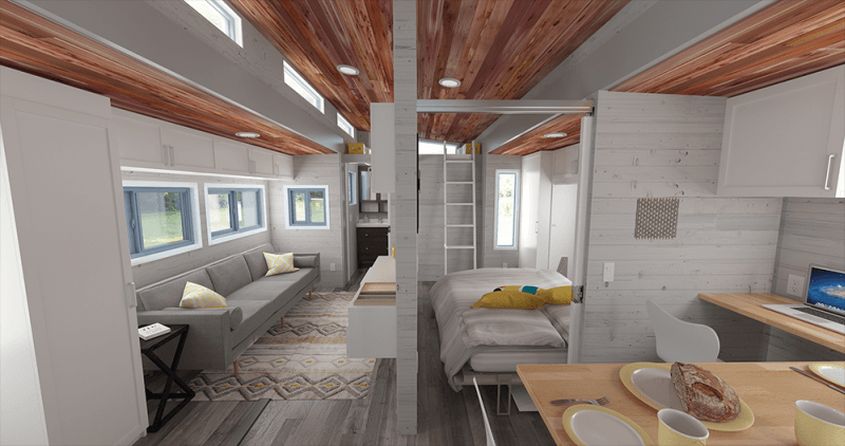 Pequod by Rocky Mountain Tiny Houses
It is a larger tiny house on wheels built for a family of four by Colorado-based Rocky Mountain Tiny Houses. Sitting on a drop axle trailer chassis, it has an additional 4 feet of headroom in the loft. The wavy shape of the roof brings whimsical aesthetics and helps to maximize height inside. A colorful exterior is another eye-catchy design element of the tiny house.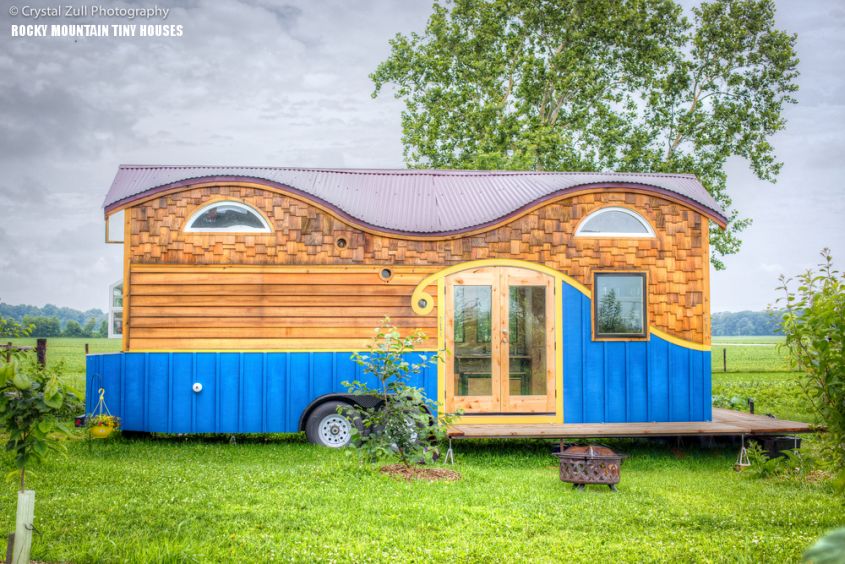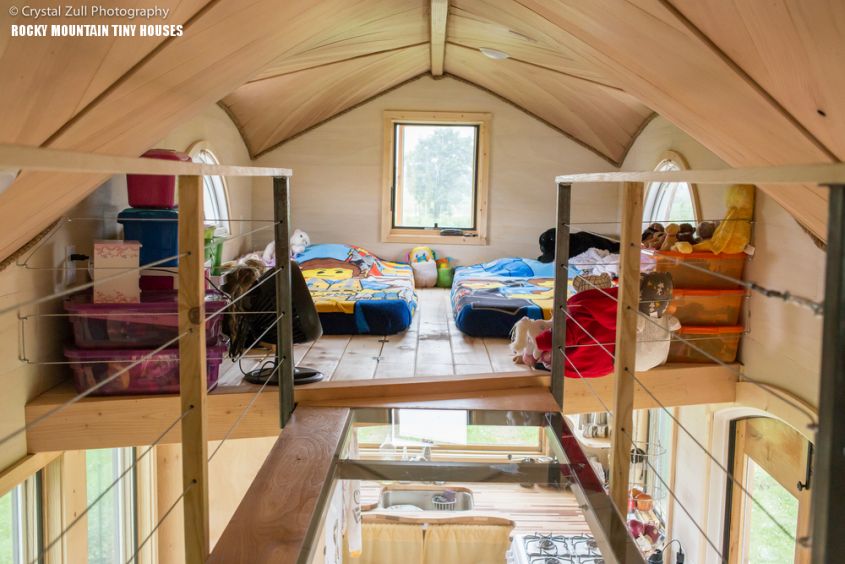 Shed Tiny House By Shedsistence
Aptly named Shed, this 204-square-foot mobile tiny house is designed and constructed by Washington-based couple Robert and Samantha to represent their lifestyle of simplicity. They have used 2×3 framing with continuous exterior insulation for high thermal performance. The wedge entry alcove corrugated metal siding and sleeping area lie above the kitchen are some other unique features of the Shed.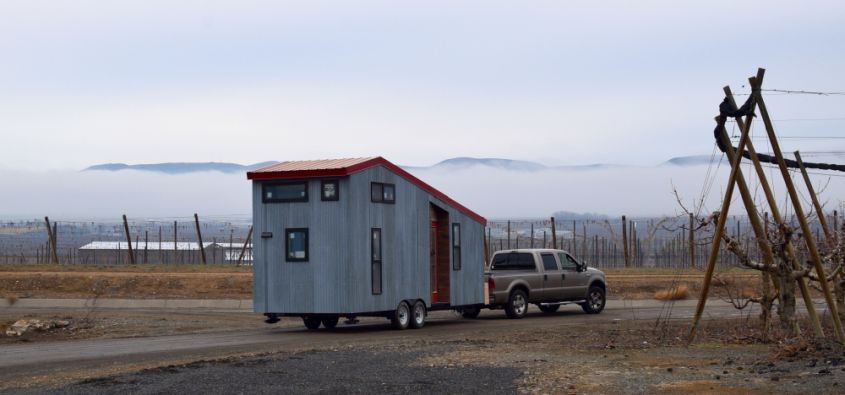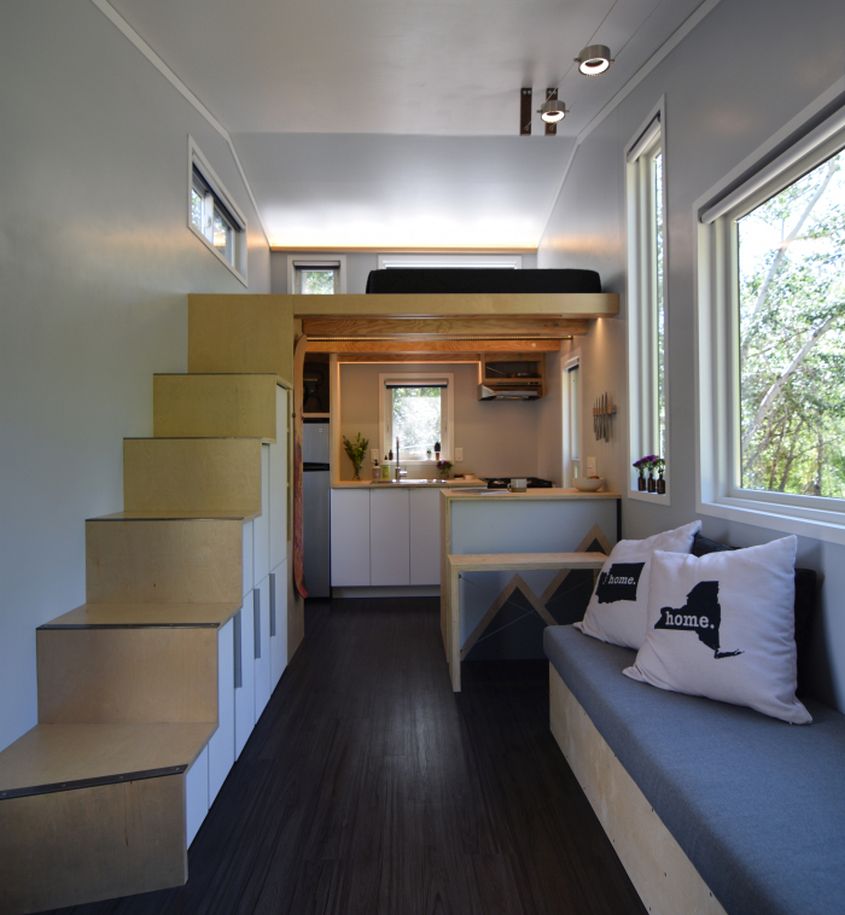 Elise by Vagabond Haven
This tiny house by Vagabond Haven features Japanese inspired design that creates a light and spacious living environment. There is an extra-large kitchen, bathroom, and two spacious lofts inside. One interesting feature is the raised living room with a child's bedroom below.
Read our interview with the founder of Vagabond Haven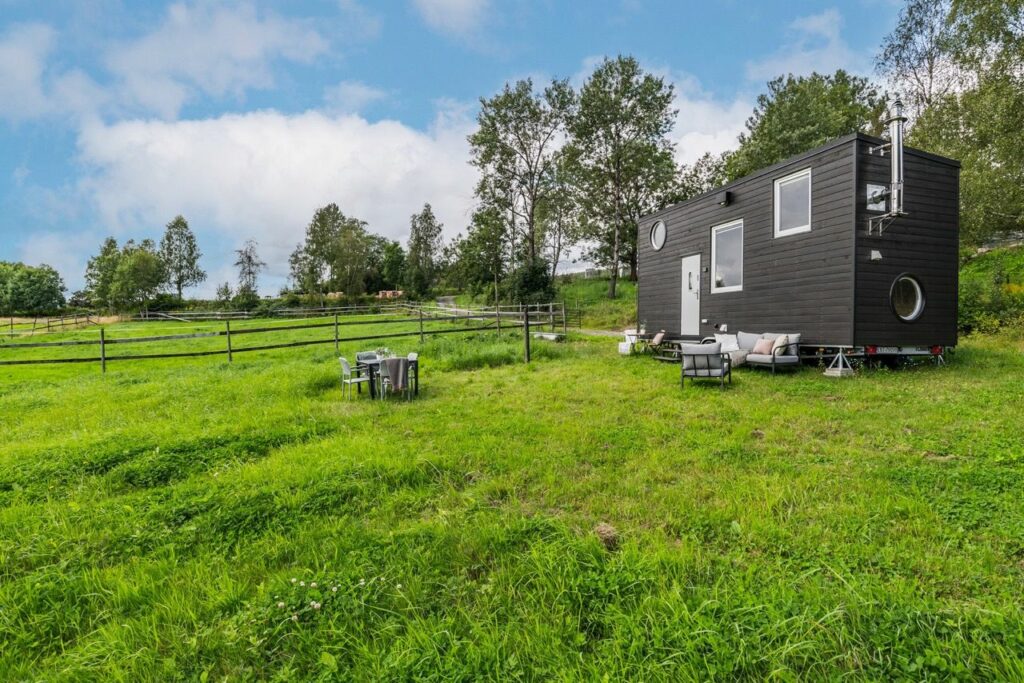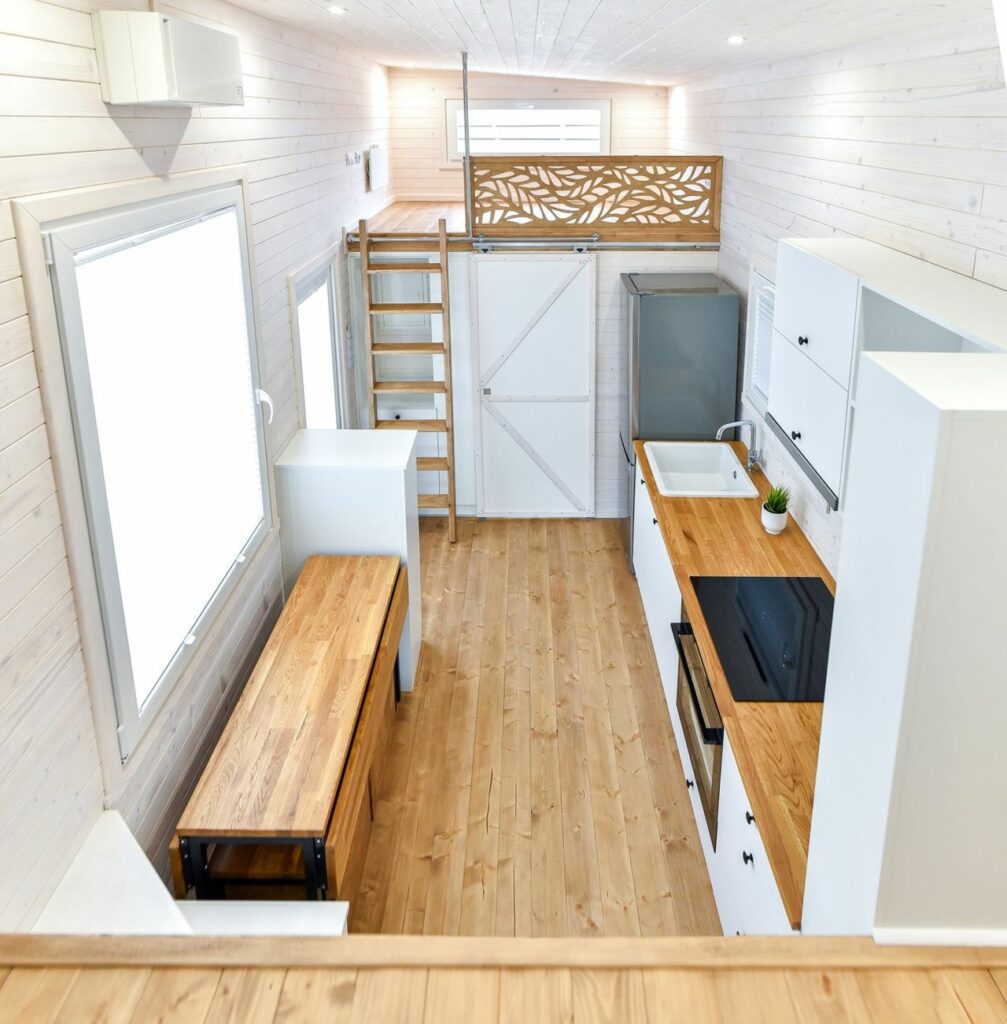 Tiny Home on Wheels by Leaf House
It is an upgraded version of the tiny home built by Canadian Leaf House in 2012. Although it looks small but has ample space to accommodate a family of four. The innovative loft that allows one to stand comfortably beside the bed is a cool feature of this stylish tiny house on wheels.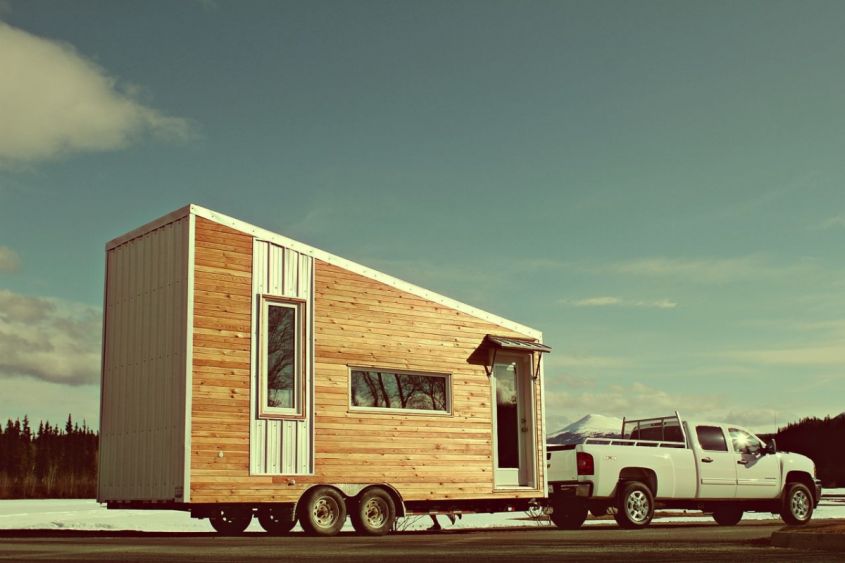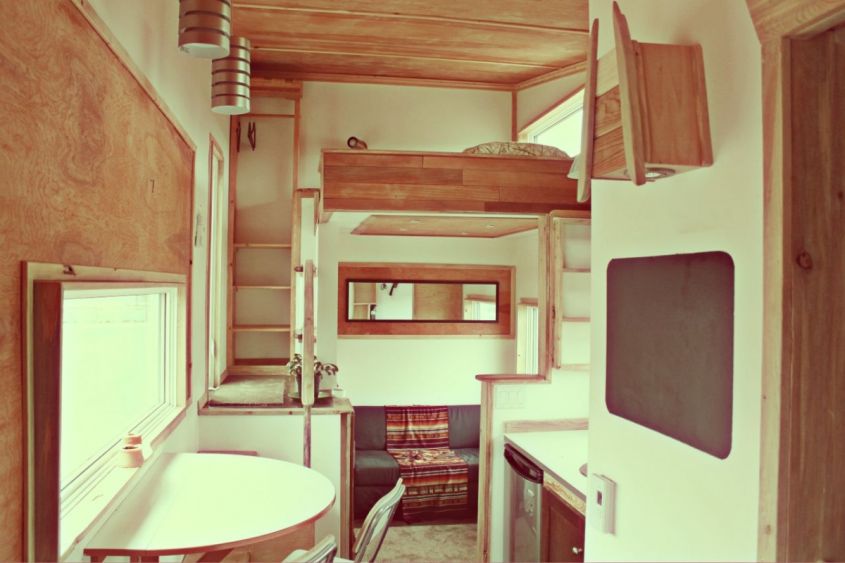 Andy Bergin-Sperry's Mobile Tiny Home
Pacific Northwest snowboarder and a pretty capable craftsman, Andy Bergin-Sperry has built this towable mini home using scraps sourced from his employer. Built on a 14.5′ double axle trailer, it has a metal roof and a combination of corrugated metal and cedar siding on the exterior. The interior is decked with bamboo flooring and birch plywood ceiling panels. Perfectly waterproofed and insulated to withstand extreme weather conditions, the tiny house has a cozy loft bedroom with a muralled wall.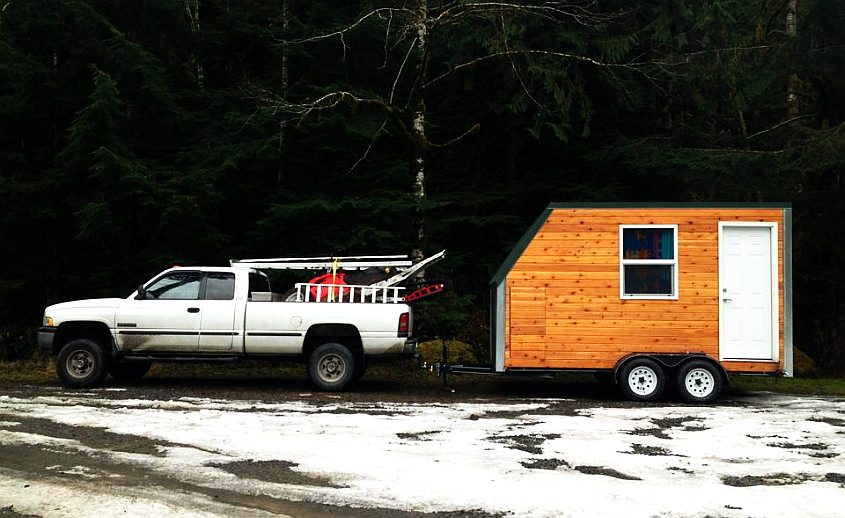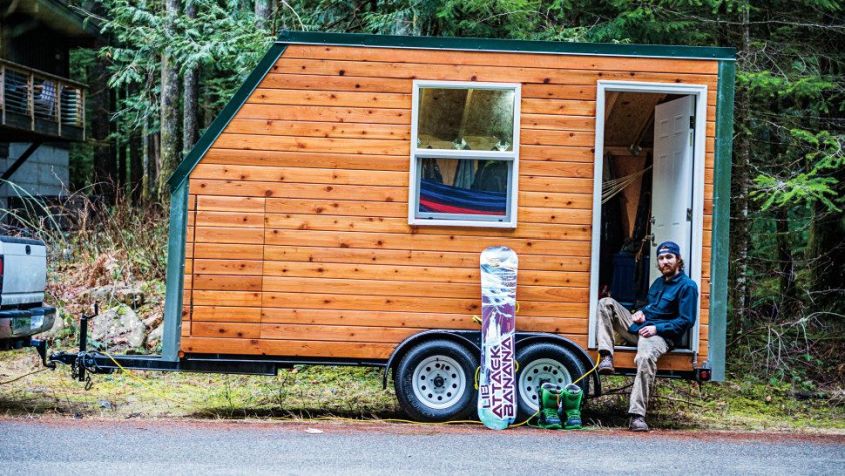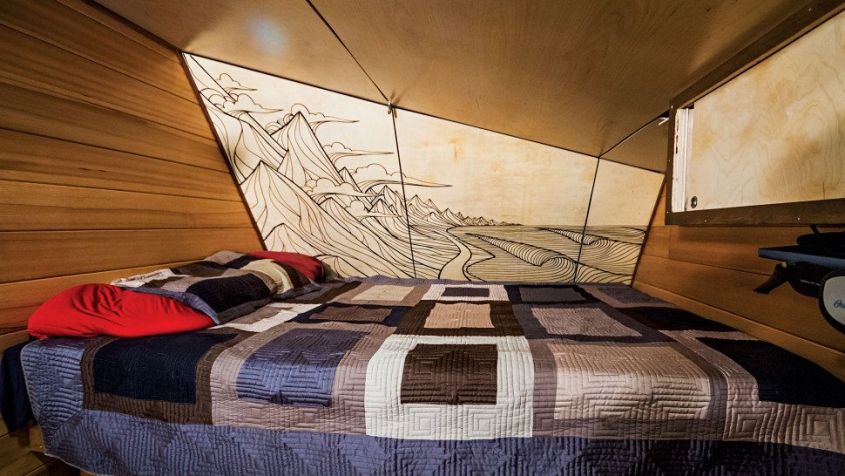 Tiny House on Wheels by The Upcyclist
Australian builder James Galletly, also known as The Upcyclist, in partnership with Bower Reuse and Repair Center, has designed and built this small and cozy tiny house out of more than 95 percent recycled material. It has various eco-friendly and space-saving features, including a fold-up bed and pallet wood stairs, and a deck.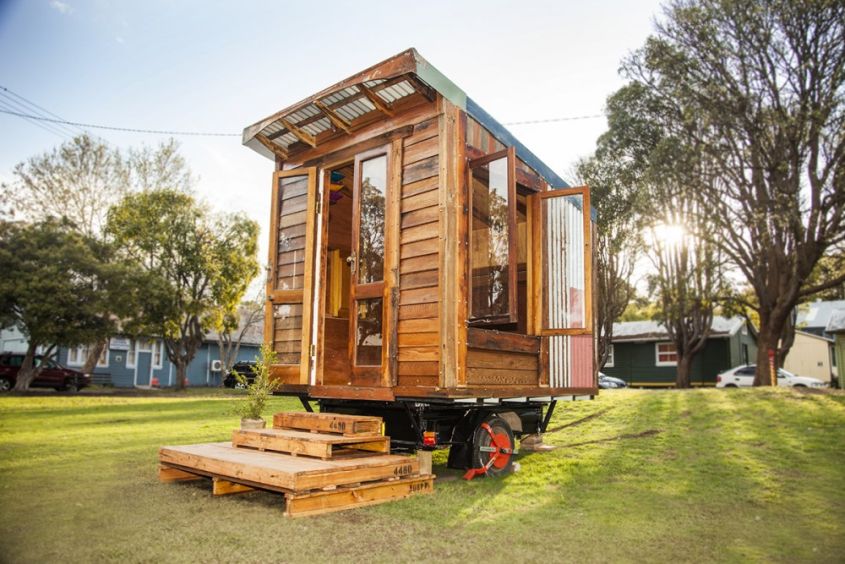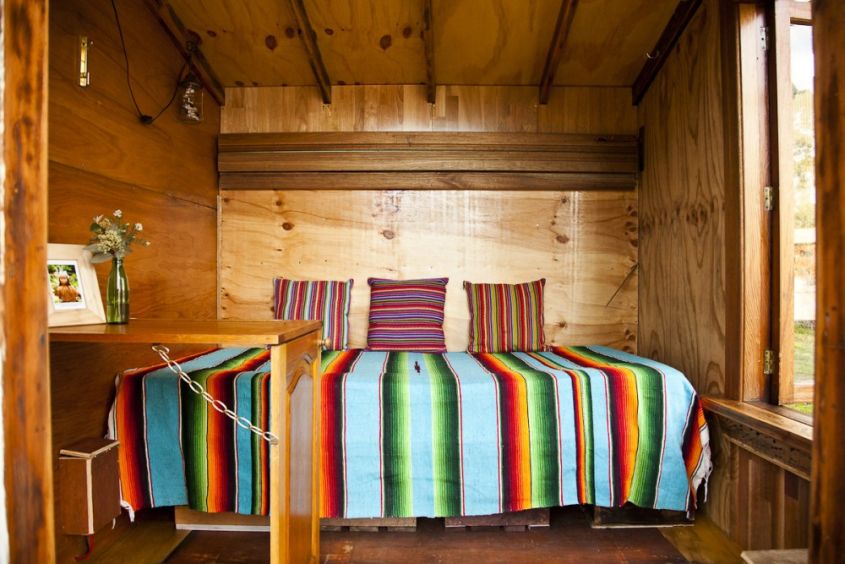 Vodafone Tiny House on Wheels
Waskman Design Studio and Culdesac created this movable Vodafone tiny home. It is made from white polyethylene panels and transparent polycarbonate. The large glass façade with solar panels is the unique design element of this tiny house. It is equipped with all the necessary amenities to accommodate four people. The white interiors blend well with minimalist furniture units.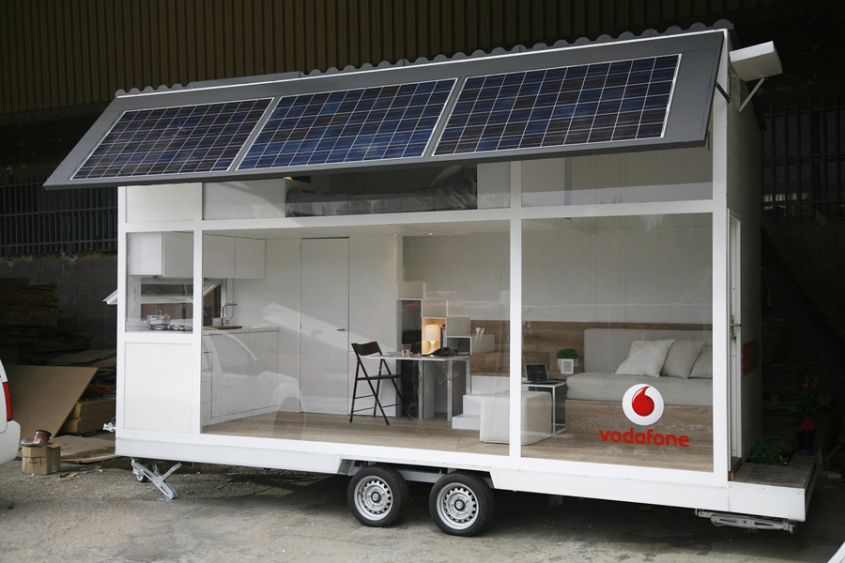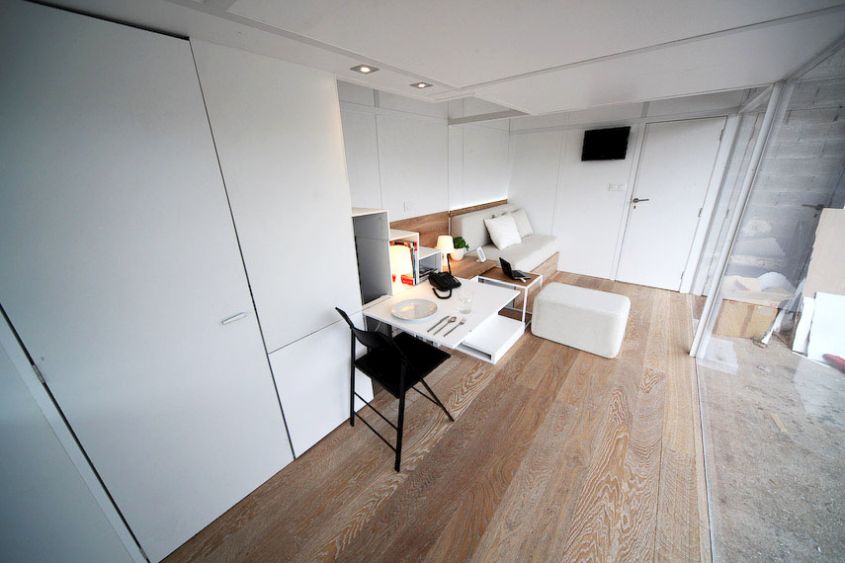 Japanese-Style Tiny House
Made by Japanese craftsman Haruhiko Tagami, this lightweight tiny house on wheels is built using locally sourced materials like cedar. It has an architectural edge that seems to combine the work of renowned architect Frank Lloyd Wright with Japanese craftsmanship. The most interesting feature of this tiny home is the transforming interior space to accommodate more in less.