Since the last decade, there has been a surge in demand for shipping container homes, owing to its low cost of construction and portability. That's why repurposing shipping containers has become an eco-friendly trend in building space-saving homes across the globe.
If you are also interested in shipping container architecture, you'll definitely get inspired by these shipping container homes and designs from around the world. They not only offer a chance to own a home for less but also do your bit to lead a sustainable lifestyle. Have a look, and you'll want to own one!
Australian couple's shipping container home
If you desire a low-debt home, follow the likes of Richard and Amy – a couple from Victoria, Australia – who opted for cargo architecture. The latter has transformed three 20-feet shipping containers into the couple's dream home with a roof installed with solar panels for off-the-grid living.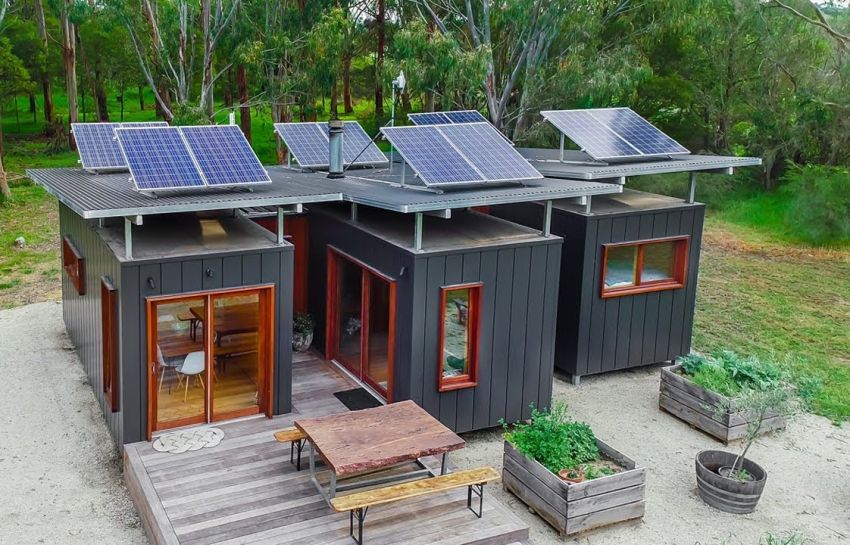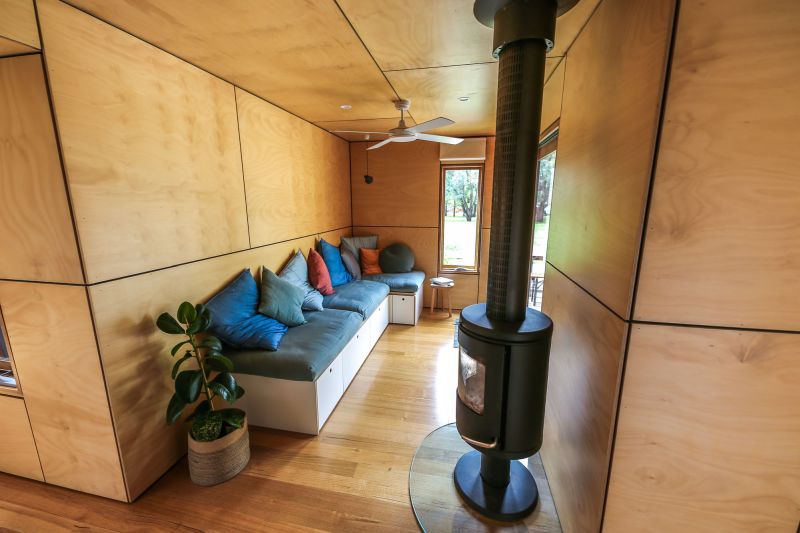 Off-grid shipping container home
Located amidst a forest, this unique home is built out of five 20ft shipping containers. It features off-grid capability, with onboard solar panels and inverter, rainwater harvesting system and a vermicomposting toilet. The interior design is customized according to the particular requirements of the owners.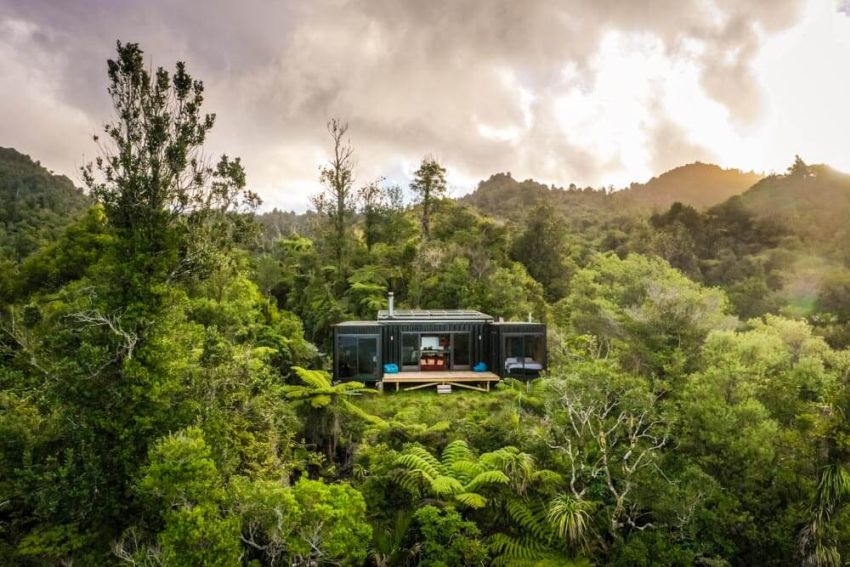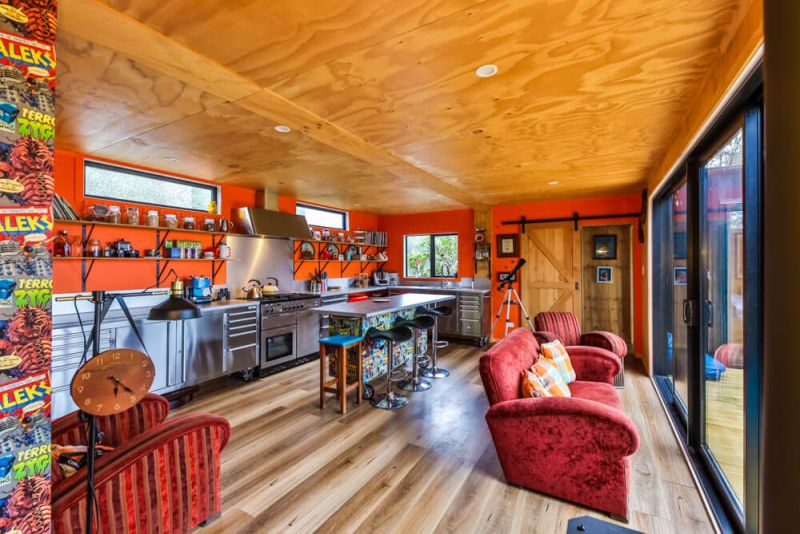 Happy Twogether shipping container home
Made from two 20-feet shipping containers, this 320-square-foot home features a living room, kitchen, bathroom, and bedroom to sleep two persons comfortably. It also has a gabled roof and intricate wooden details on the inside. The extended section of the roof creates a covered terrace beneath. Starting at $68,900, it is a perfect compact family home.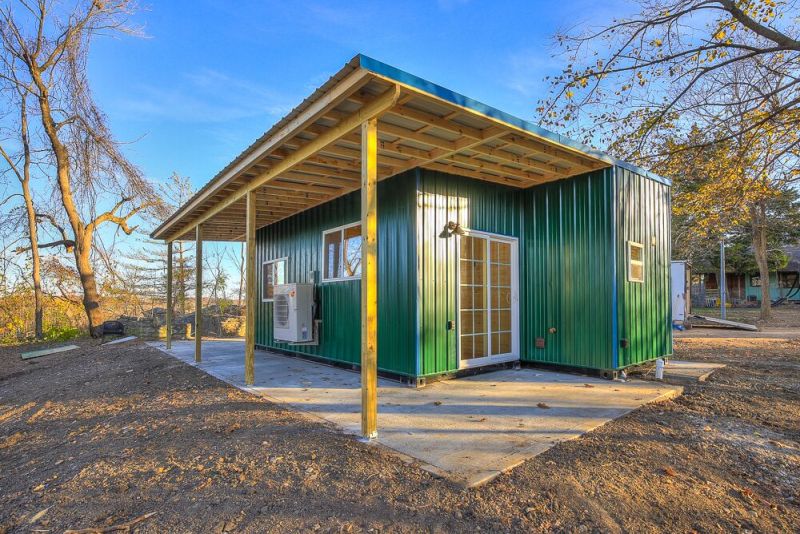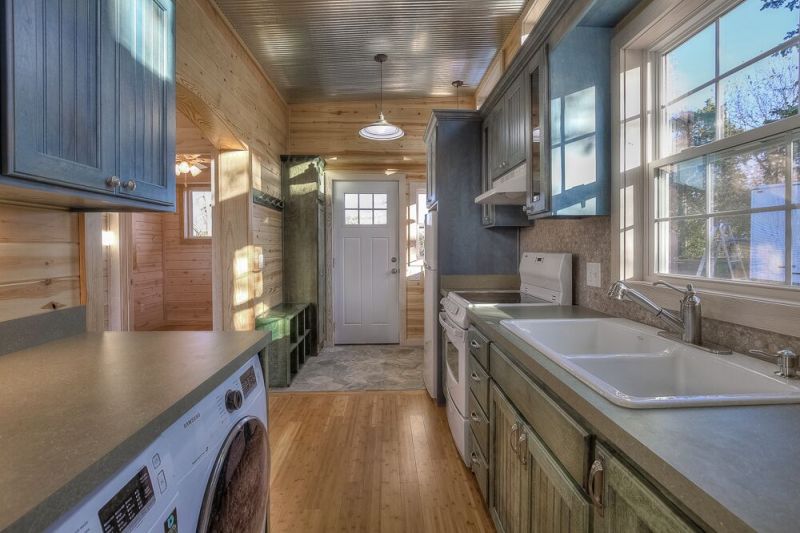 Carroll House in Brooklyn by LOT-EK
It is a single-family residence made out of 21 steel containers stacked over each other to form different living spaces. The containers are angled on the top and bottom, which in turn creates private outdoor space at each level of the house. There are large glass doors opening to each outdoor deck and bringing in natural light and air.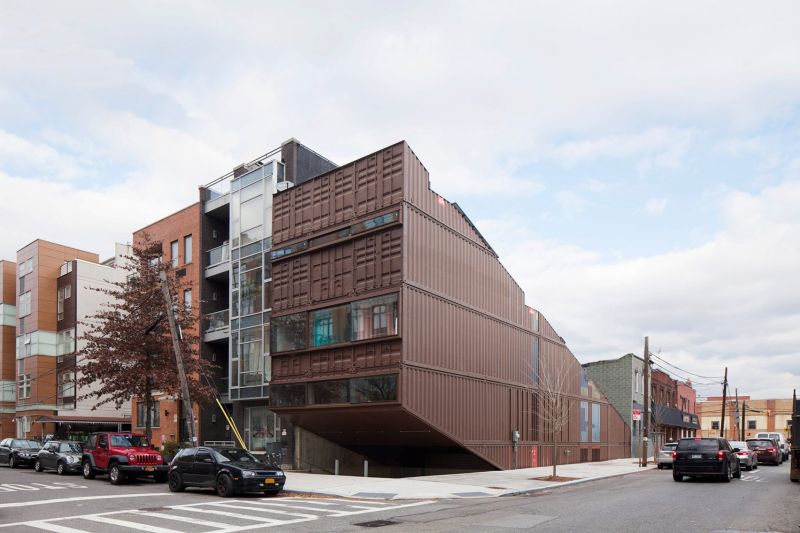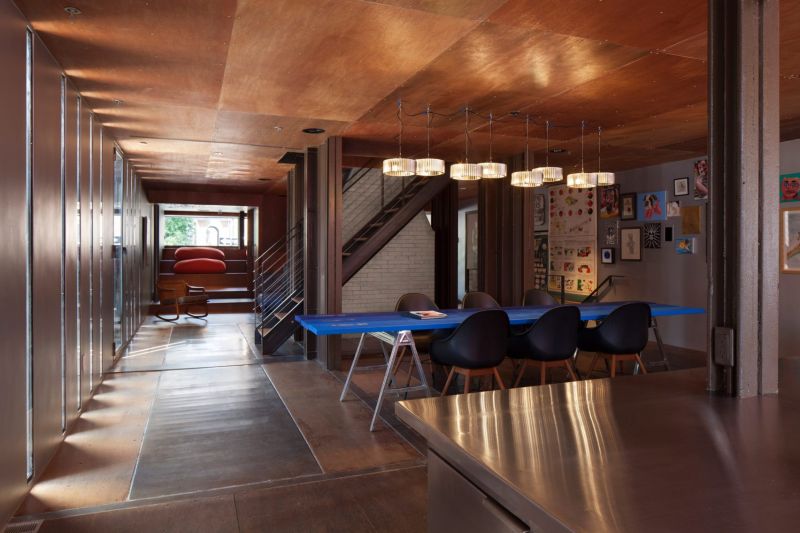 Shipping container home by Alternative Living Spaces
The Las Vegas-based Alternative Living Spaces offers luxury shipping container homes that can be furnished with desired furniture, accessories, and appliances. Whether wanting a backyard office or guest house, they can customize the shipping container as per your needs. They can even add a trailer to make it a movable home.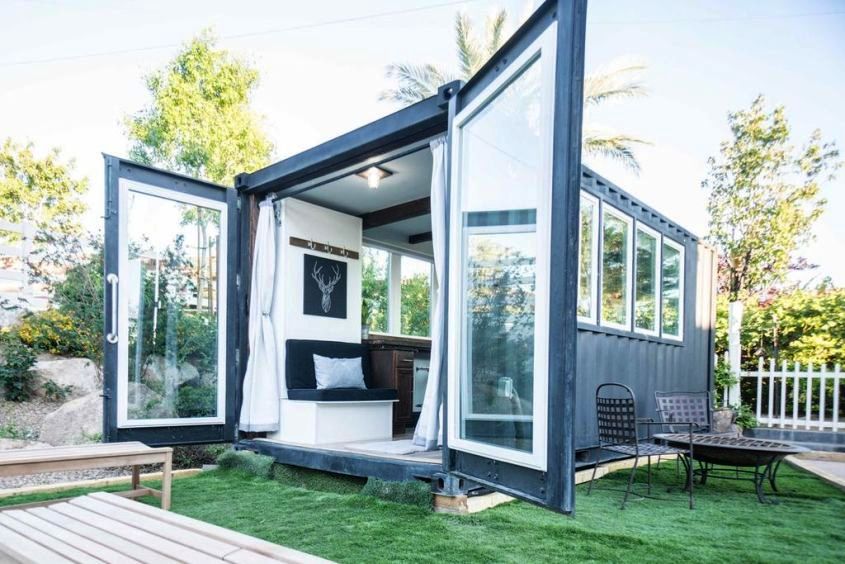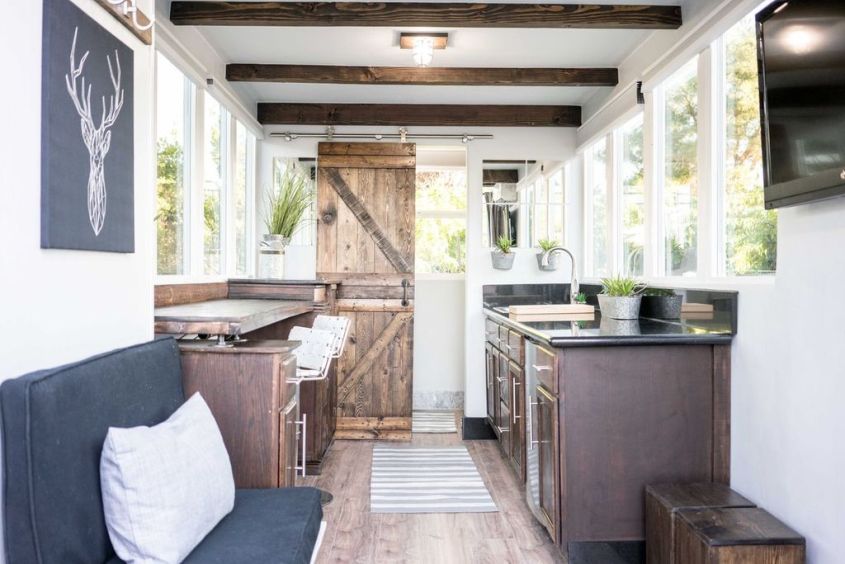 South Coast Container House by Matt Elkan
Built from four shipping containers, it is a spacious home that can sleep ten persons. It has a flat roof and multiple outdoor decks. There are a number of sustainable features, including zero VOC finish, low E windows, recycled HW doors, natural wool insulation in the roof and insulated exterior cladding for optimal thermal performance. Furthermore, there is an abundance of windows to bring in loads of natural light.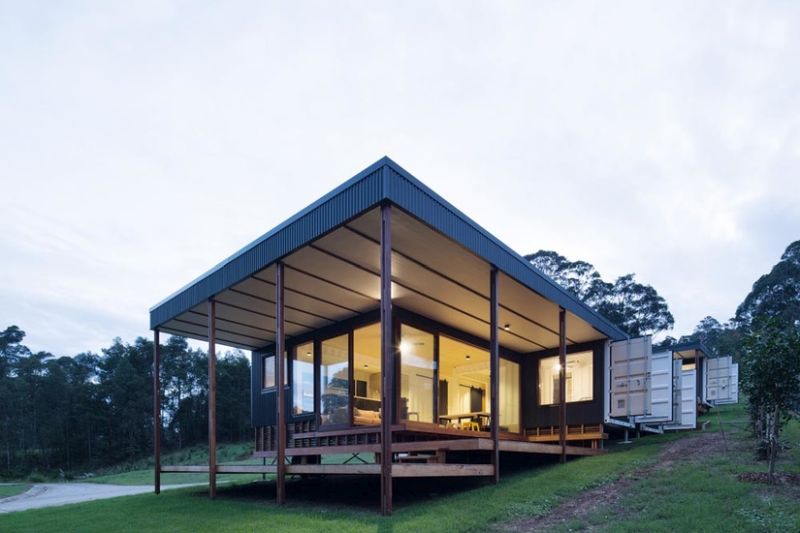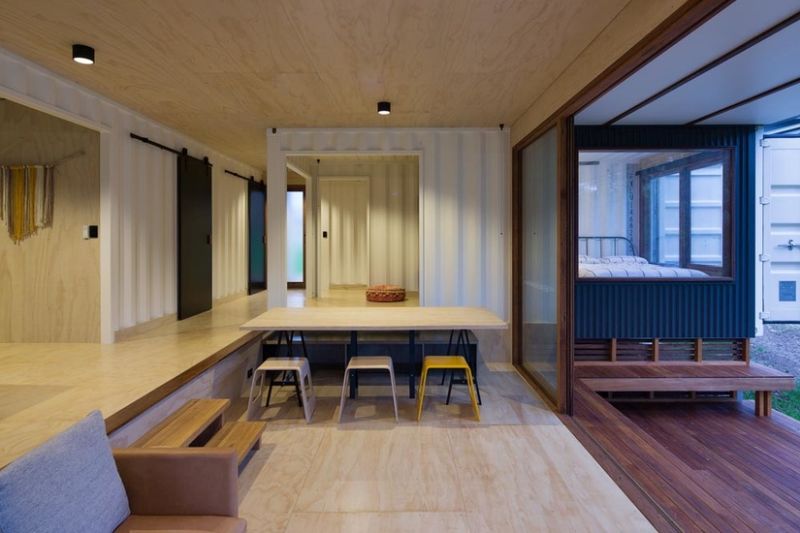 Shipping container house by Ty Kelly
Built by the Seattle artist and architect Ty Kelly in 2013, this 700-square-foot container home is made from two shipping containers. Featuring an open floor plan, it has a bedroom, bathroom, fully-equipped kitchen, and a living room with a wood burning stove. The house feels much larger due to the open layout and glass walls. There is an abundance of reclaimed wood in wall panels, flooring and kitchen countertop.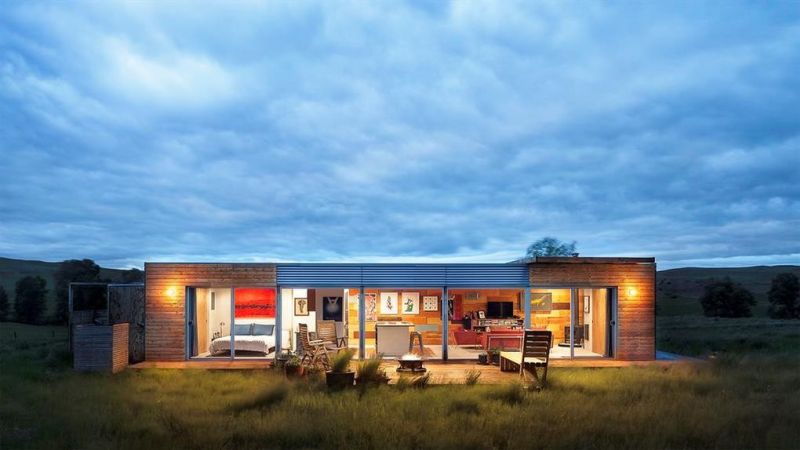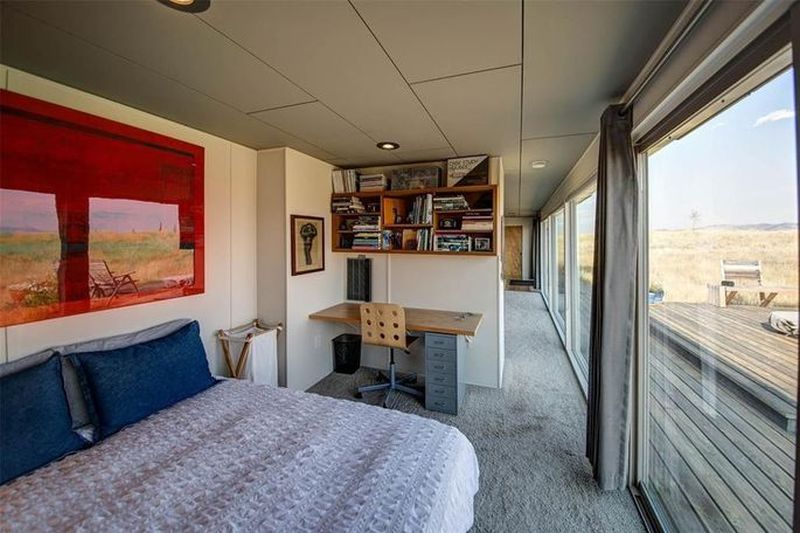 Modular shipping container homes by Cocoon Modules
Exploiting the easy-to-assemble feature of cargo containers, Athens-based Cocoon Modules in collaboration with eco-furniture brand Coco-Mat has created a modular shipping container home. The wooden façade and rooftop garden are the most interesting features, designed to leave a lasting impression. On the inside, there are complete white interiors making it a modern accommodation.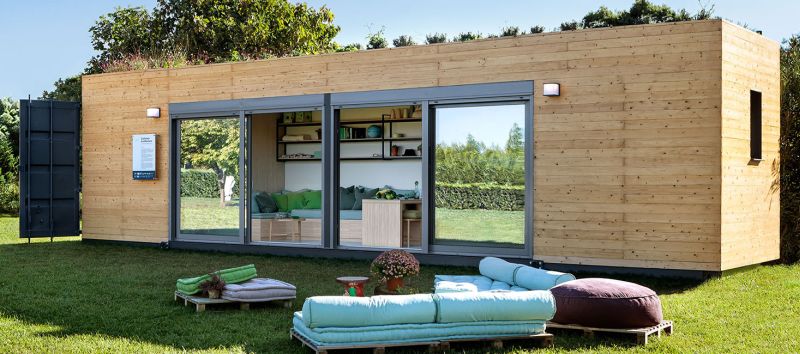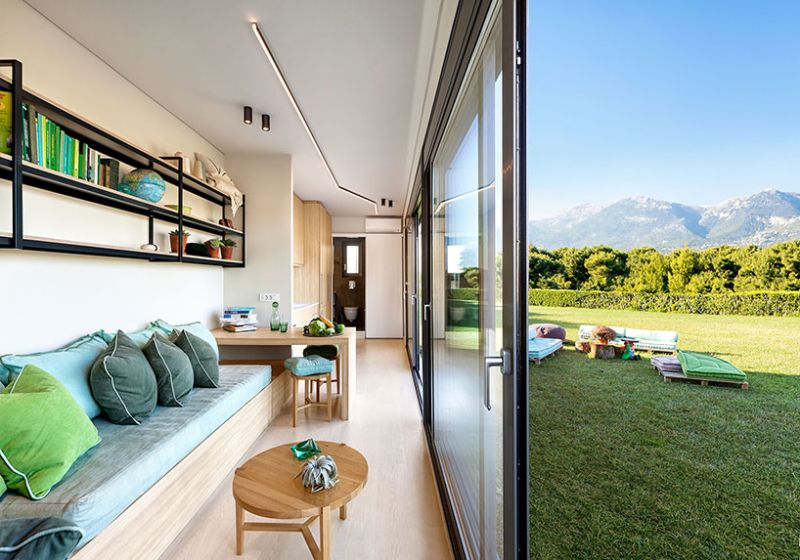 House 28 by Studio Edwards
Located on the Surf Coast in Wye River, Victoria, House 28 is a unique vacation home made from three 20ft shipping containers elevated from the ground on metal stilts. Two of them are joined to form the living space with toilet and laundry while the third one houses two bedrooms, along with a separate toilet and shower. The interior spaces are lined with marine plywood and exteriors are insulated and clad with galvanized steel sheets.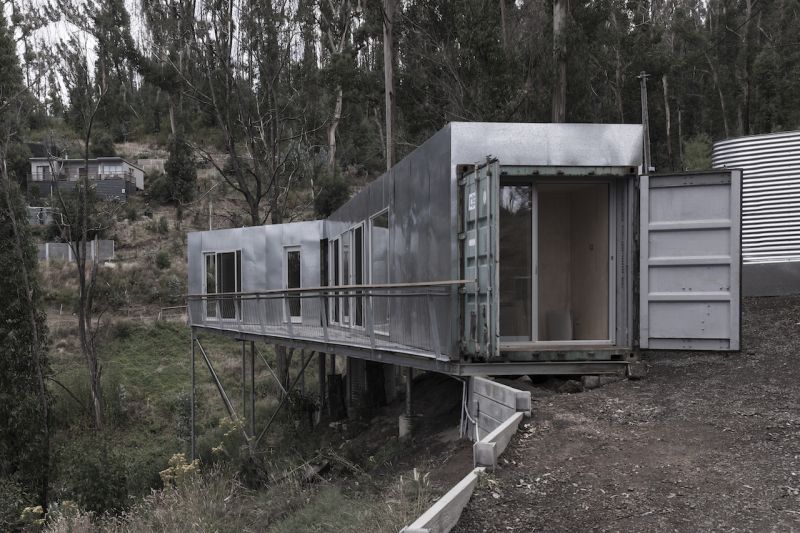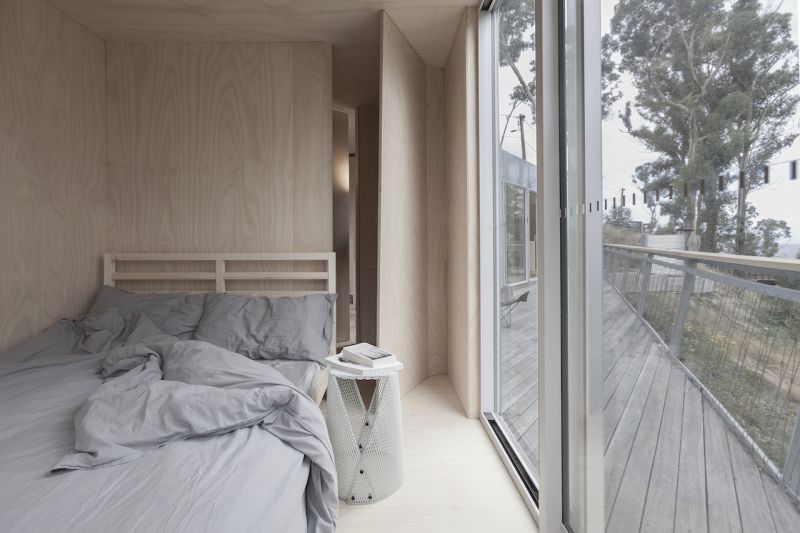 Intellectual shipping container tiny home by Roostspace
Intellectual Tiny Home by Roostspace is a great option for couples looking for a budget-friendly dwelling. This one-story container home nicely accommodates a bedroom, lounge, closet, kitchen, and bathroom. It can be used as a full-time tiny house, guest house, or office.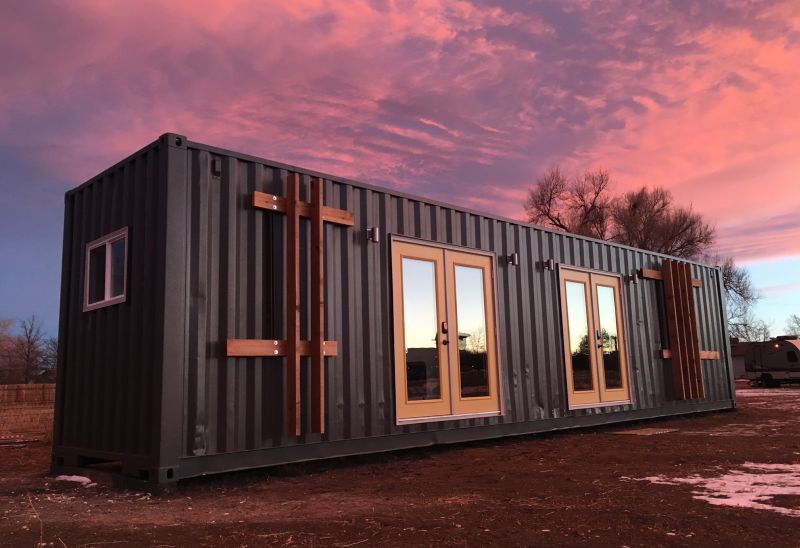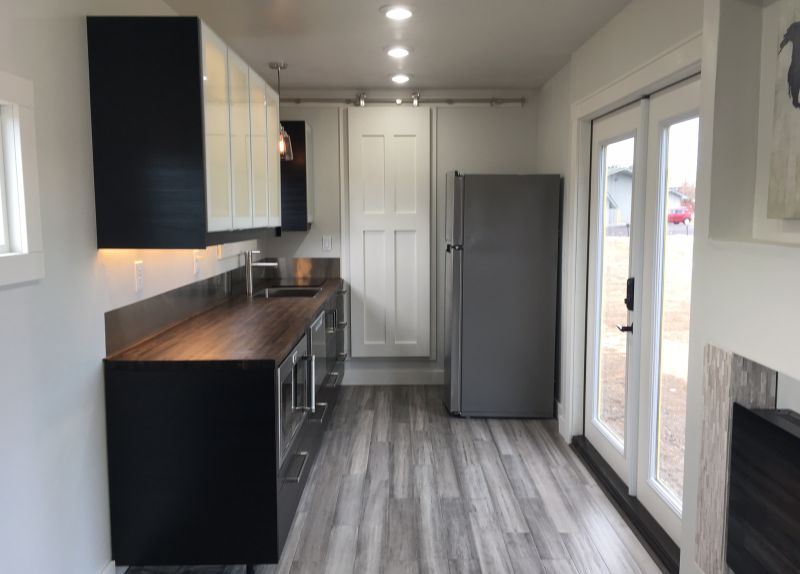 Redondo Beach House
Designed by DeMaria Design Associates, Redondo Beach House is a shipping container house with all the amenities required for a comfortable life. It is made up of eight containers of different sizes attached together using conventional building methods. These modified container homes are mold, fire and termite proof, and are structurally superior to wood framing. This multi-level home features a master bedroom, living room, studio, dining area kitchen and bathroom.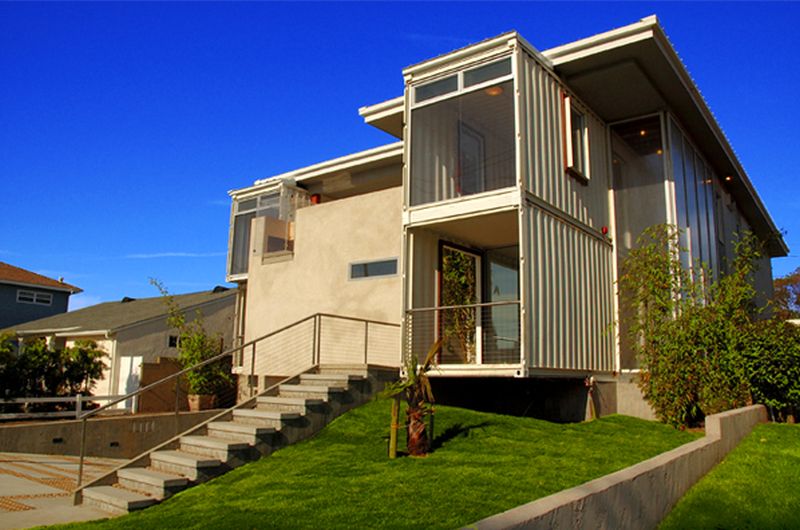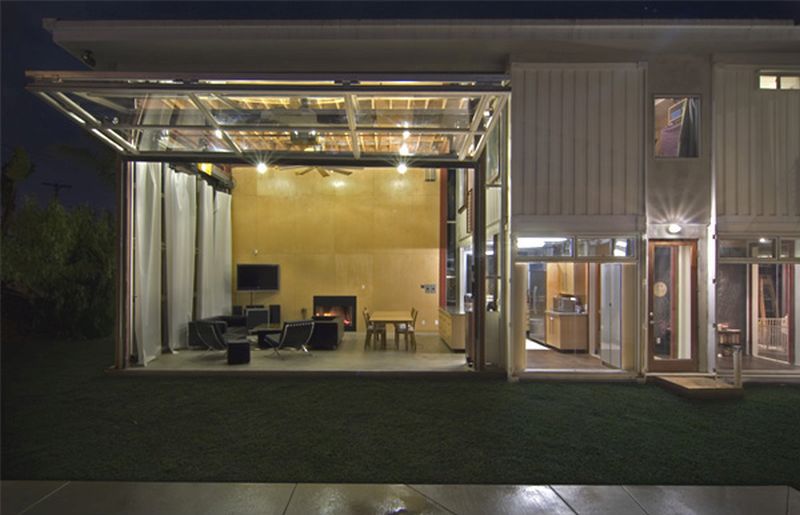 Self-sufficient shipping container home by Paul Chambers
Located 62 miles from New South Wales, this self-sufficient home is made by Paul Chambers and his wife Sarah from two shipping containers. It has a living room with fireplace, bedroom, kitchen and a bathroom. They have completed building this shipping container home by spending $46,551.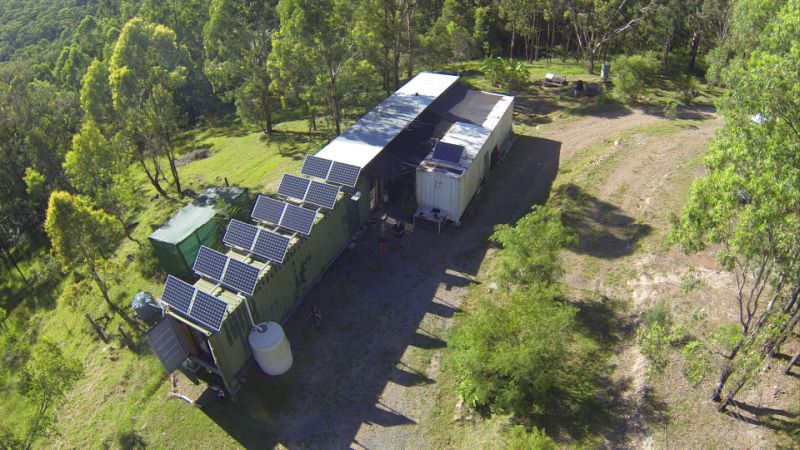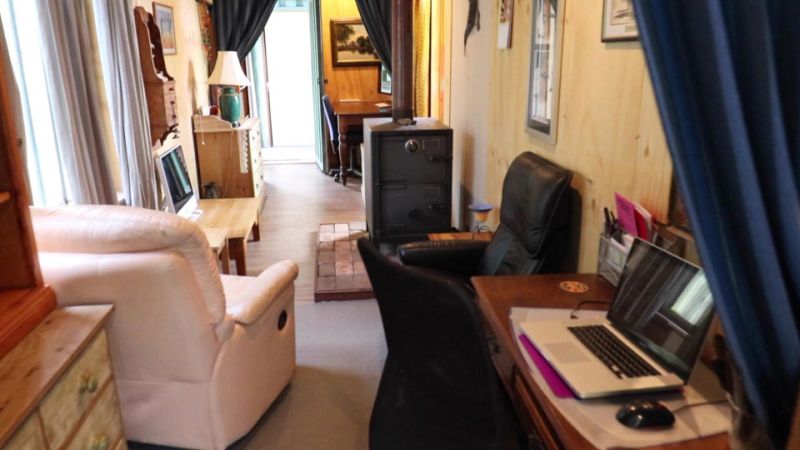 Urban Rigger – floating shipping container homes
Bjarke Ingels Group (BIG) in partnership with Urban Rigger founder Kim Loudrop has transformed shipping containers into sustainable, floating and affordable accommodations spreading over 680-square-meter of livable area. Located on the Copenhagen harbor, the Urban Rigger is a great concept for waterfront cities. These dwellings are created by stacking nine containers in a circular orientation.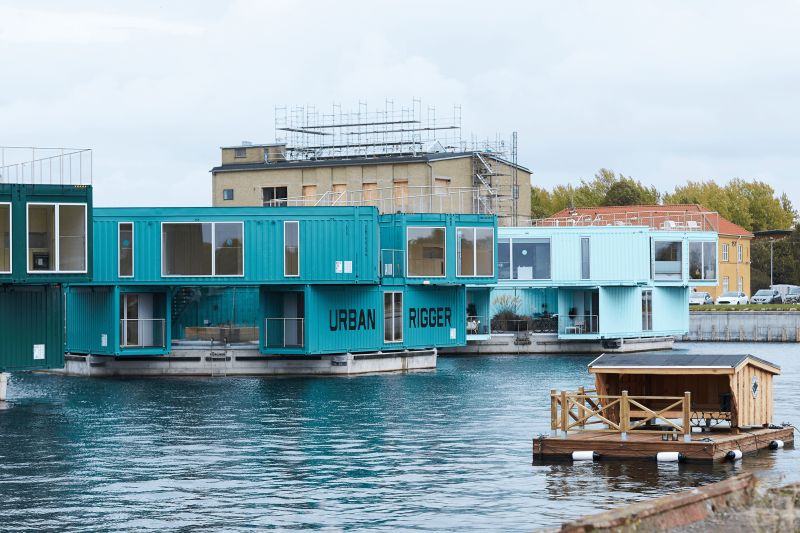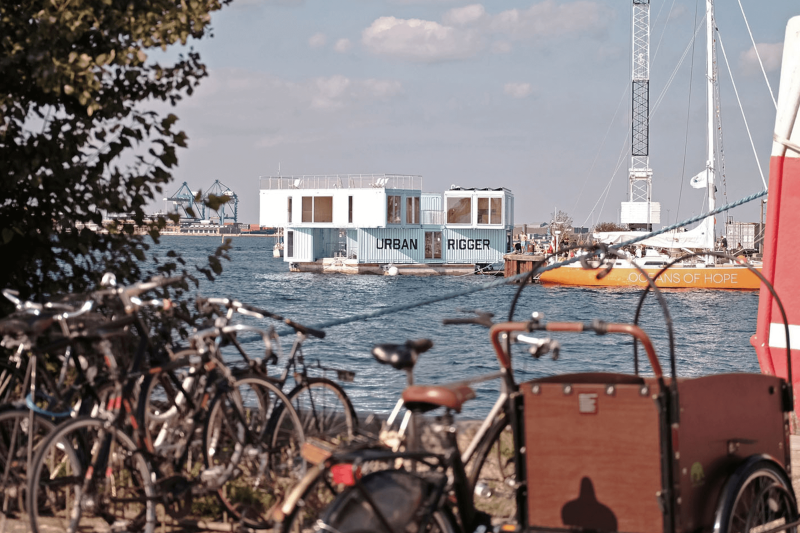 Guest house from shipping containers 
Texas-based firm Poteet Architects has built this blue-colored container house in San Antonio. They have beautifully turned an 8 x 40-foot container into a cozy lodging for guests. It comprises a bedroom, living space, kitchen, full bathroom and outdoor patio. In addition, there's a rooftop garden which helps to maintain the temperature inside.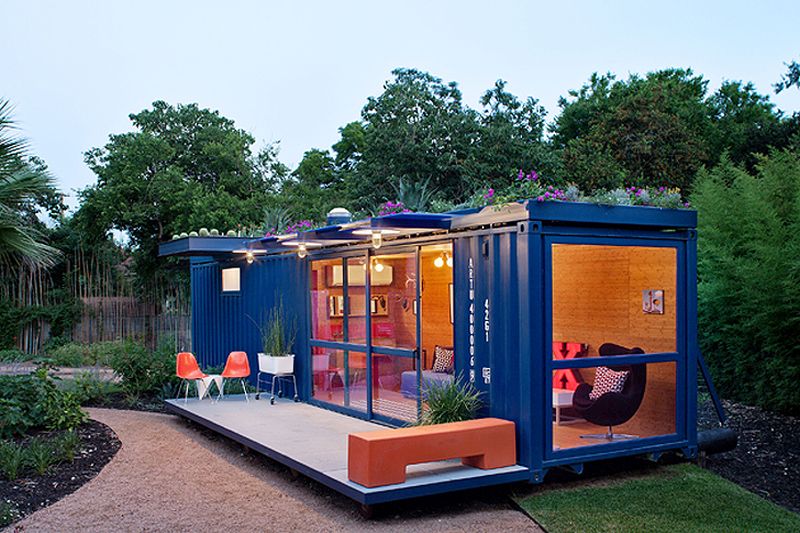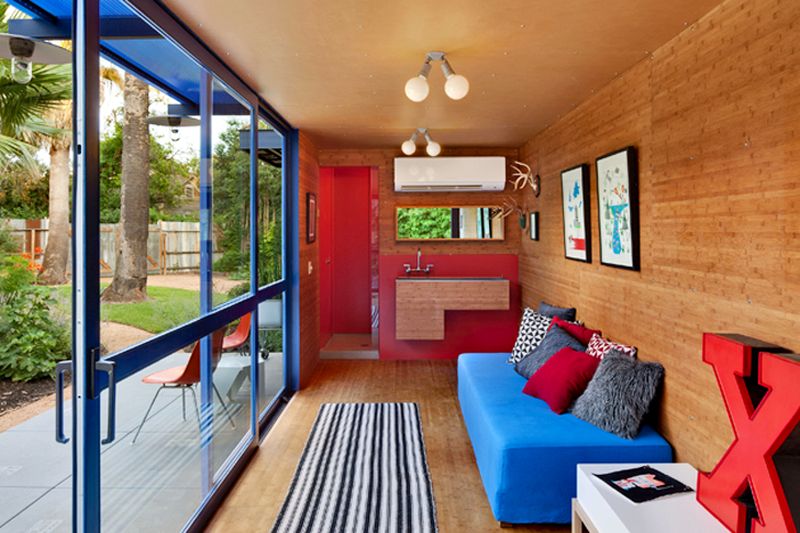 HO4+ modern shipping container home
Made using four shipping containers, this spacious family home by Canadian company Honomobo features a large living room, dining room, kitchen, and three bedrooms. The floor-to-ceiling glass façade brings in natural light and beauty. Starting at $163,000 these homes can be fitted with solar arrays to generate their own energy.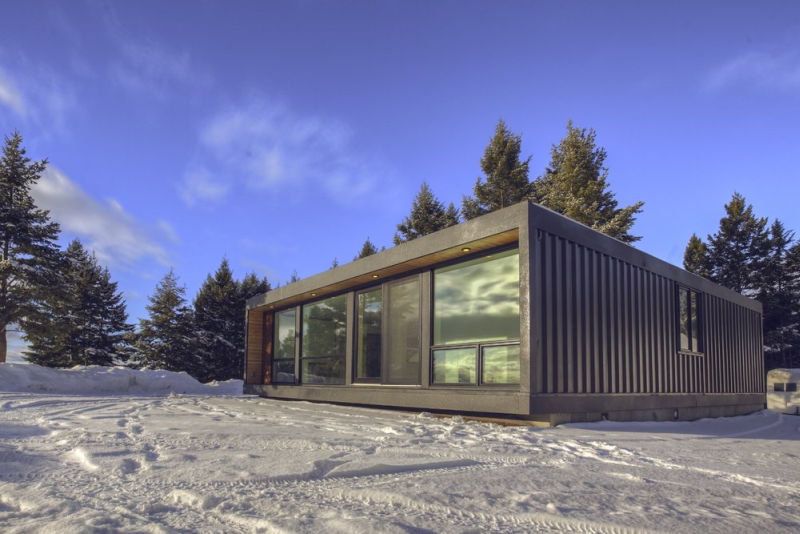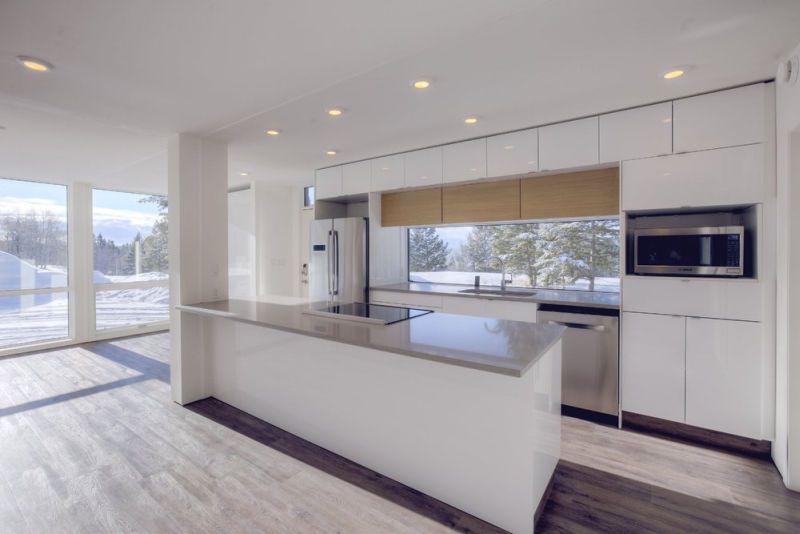 Lavish shipping container homes – Israel
Designed by a group of students residing in Israel with the help of Ayalim Association, these lavish apartments are made from two old unused shipping containers. Each apartment has a living room, kitchen, bathroom and two bedrooms. It costs about $40,000 per apartment and can be completed in less than six months.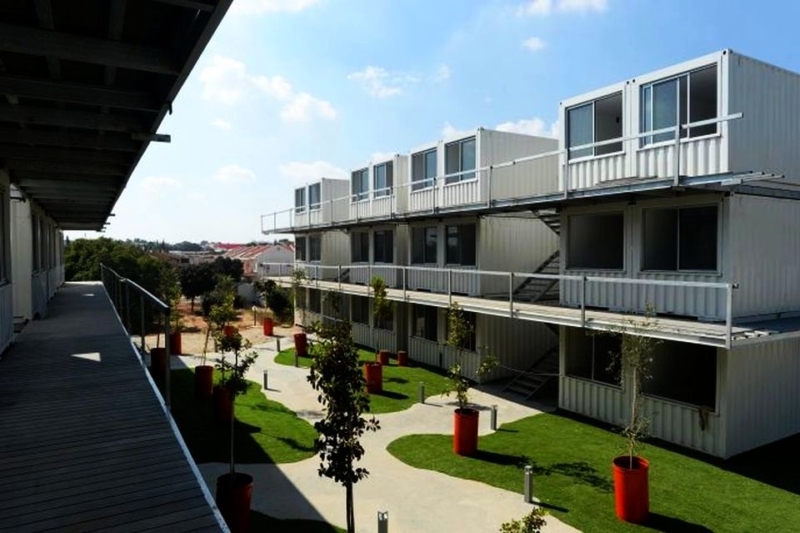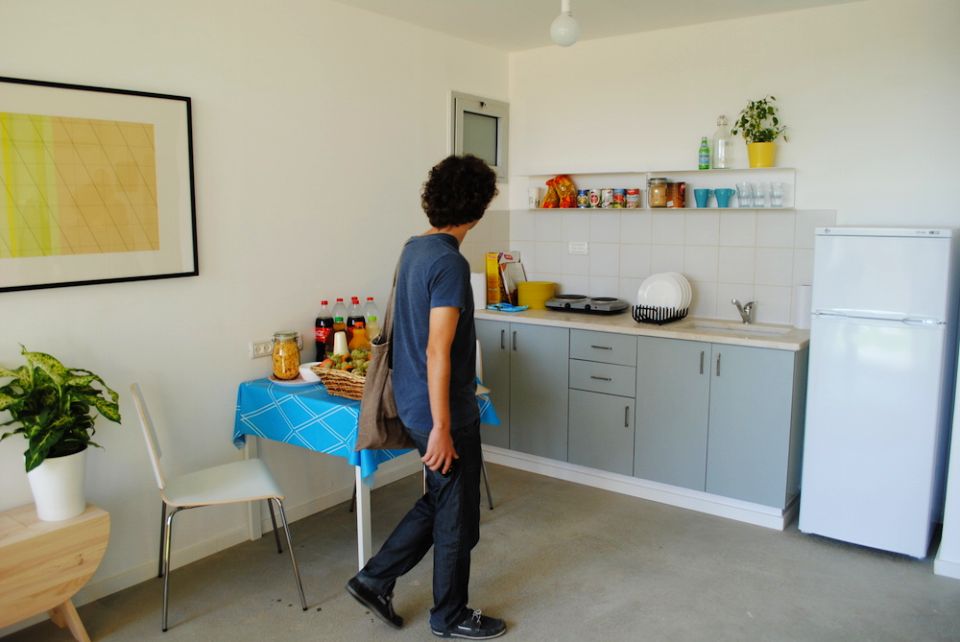 WFH shipping container house in Wuxi, China
The WFH house is made by Copenhagen-based Arcgency for World FLEX Home using three shipping containers. A sustainable bamboo façade, rainwater collection system, solar cell-clad green roof and permeable paving are some of its features. They work as modular units that can be used to create individual villas or multi-story family homes. The WFH house comprises two rows of 40-foot-high shipping containers, subdivided into bedrooms and a landing on the mezzanine floor.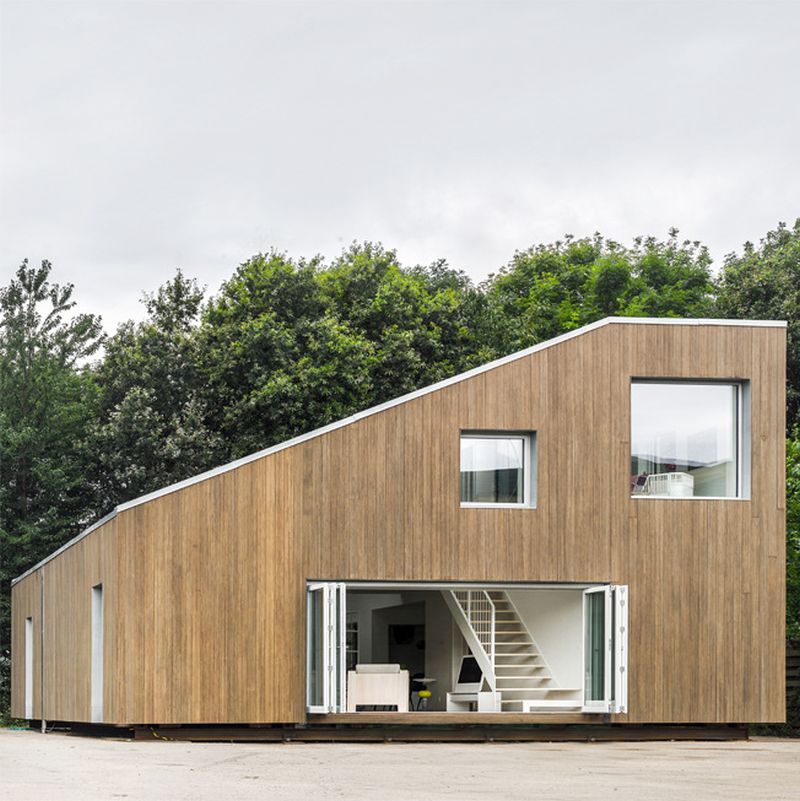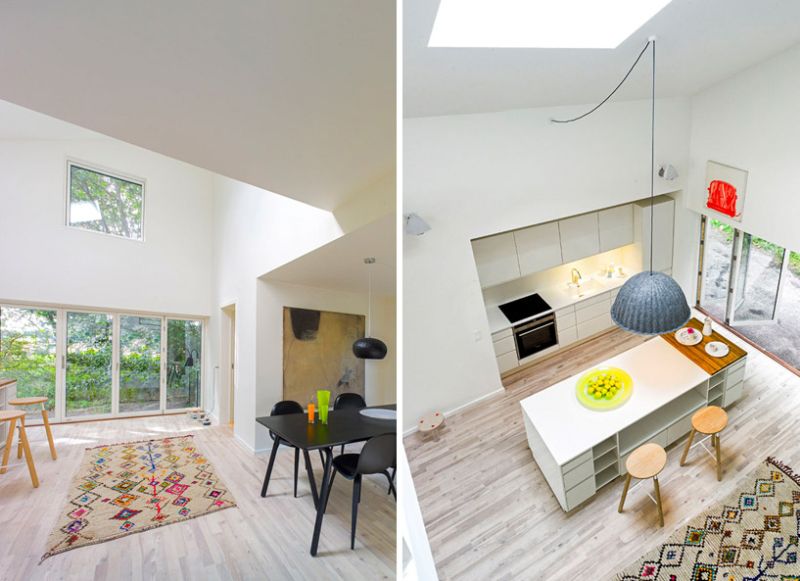 Grillagh Water House by Patrick Bradley
Patrick Bradley has built this eye-pleasing home in North Ireland using four shipping containers that merge together to form two large cantilever forms. Designed to offer uninterrupted views of the surrounding areas, this modern shipping container home conceals two bedrooms, a living room, dining area, kitchen and bathroom with a hammock bathtub.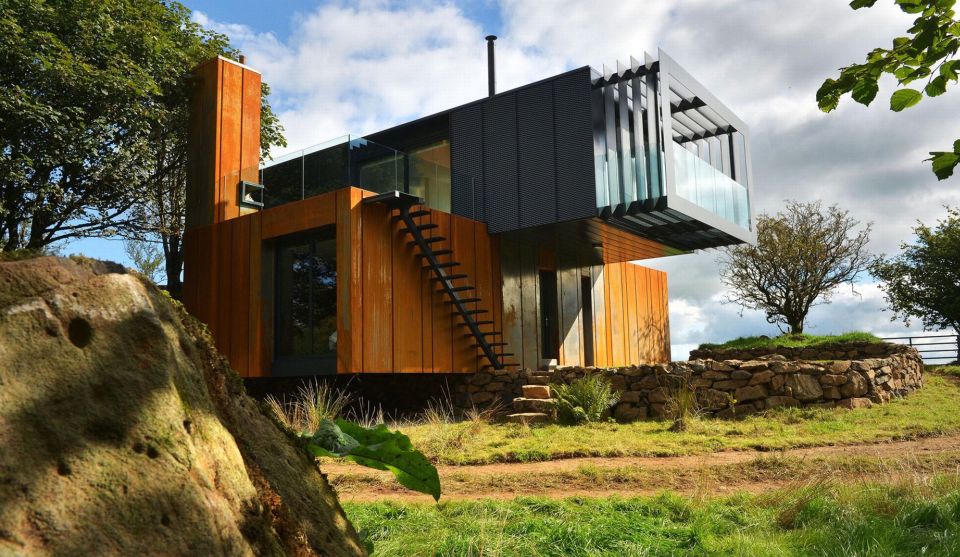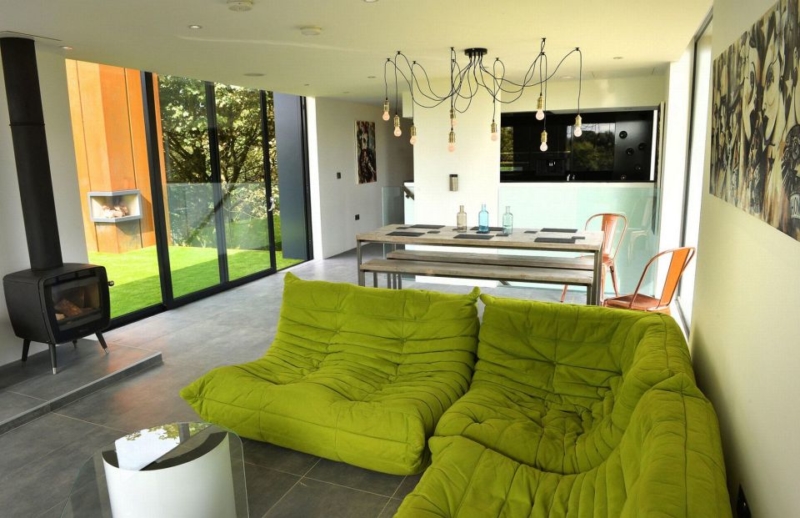 Container house by José Schreiber
Located in Cordoba, Argentina, this two-story shipping container home designed by José Schreiber Arquitecto offers a total of 195-square-meter of living space. The L-shaped structure is achieved by placing two metal containers perpendicular to each other. There's a kitchen, workshop, warehouse, bathroom, and garage, on the ground floor while the second floor contains a bedroom and bathroom. The house's exterior and interior are wisely designed using a combination of red, white and black.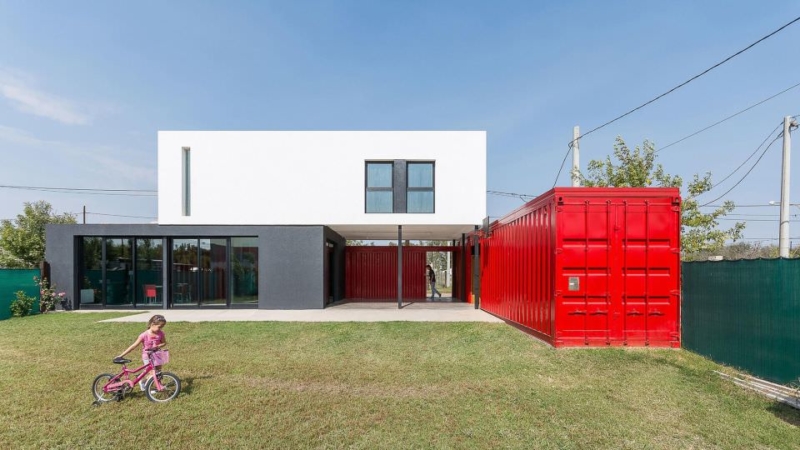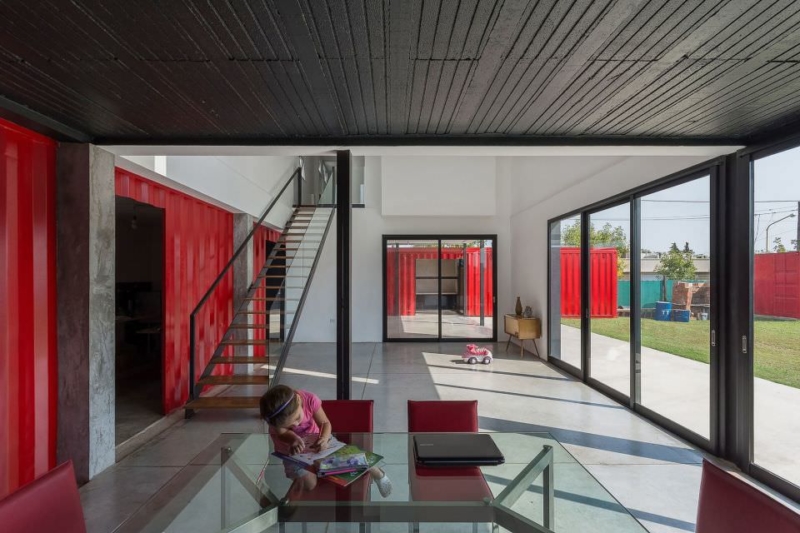 Push Button House by Adam Kalkin 
It is a massive container turned into a home. Using hydraulic power, this shipping container house opens up to reveal a room furnished with a bed, couch, dining table, bathroom, library, and light fixtures. At one moment it is a rugged metal box and the very next second it turns into a lavish apartment.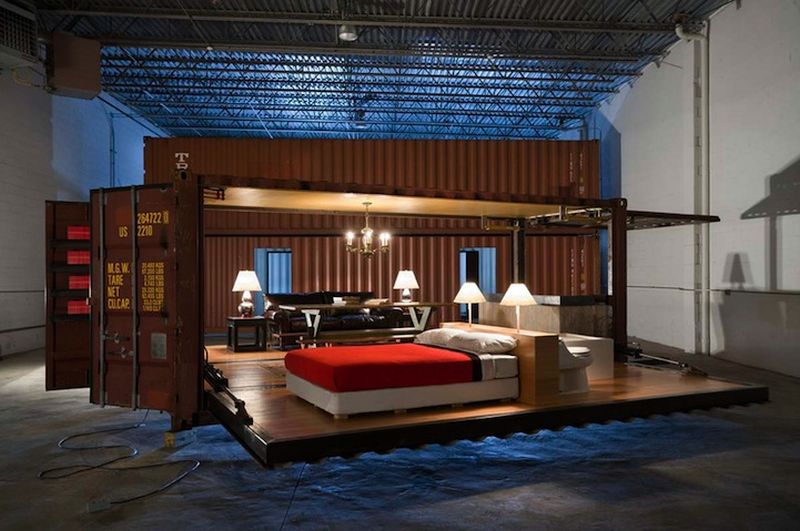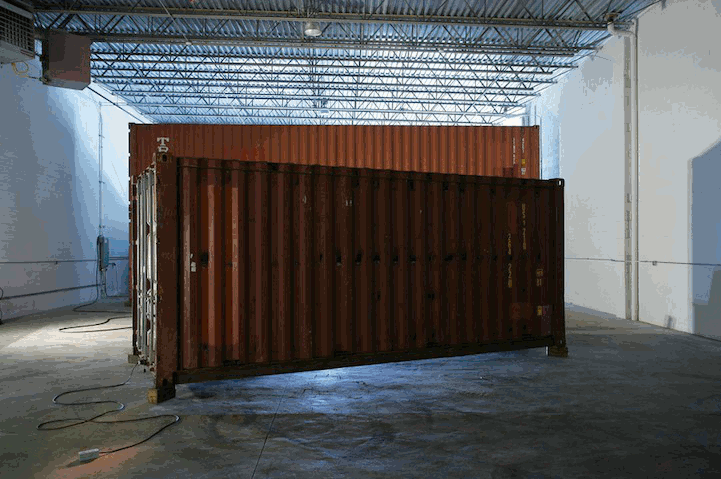 Flying Box Villa– France
Architect Josué Gillet has used old shipping containers to build this prefab house in France. Designed by Gillet's studio 2A Design, it can be produced and assembled in just three months. Three layers of containers are stacked to create a structure and then finalized with insulation, wiring and other necessary amenities. The first floor houses a lounge, kitchen and dining area, while there are two bedrooms at the front of the house.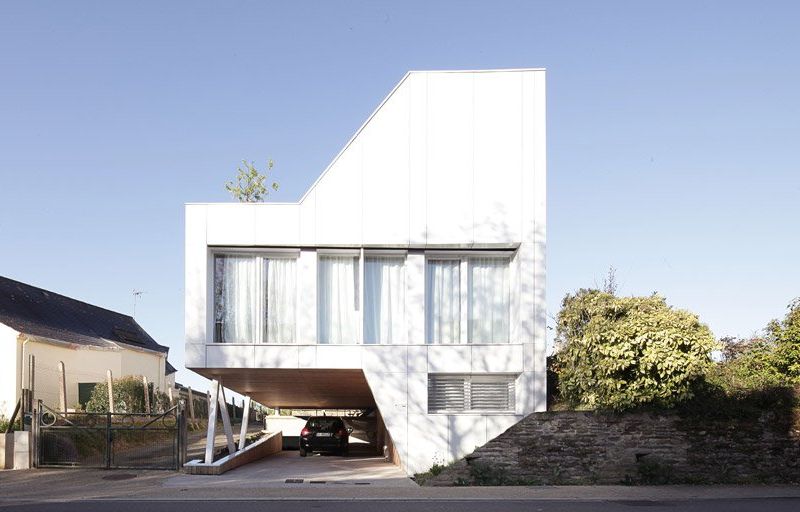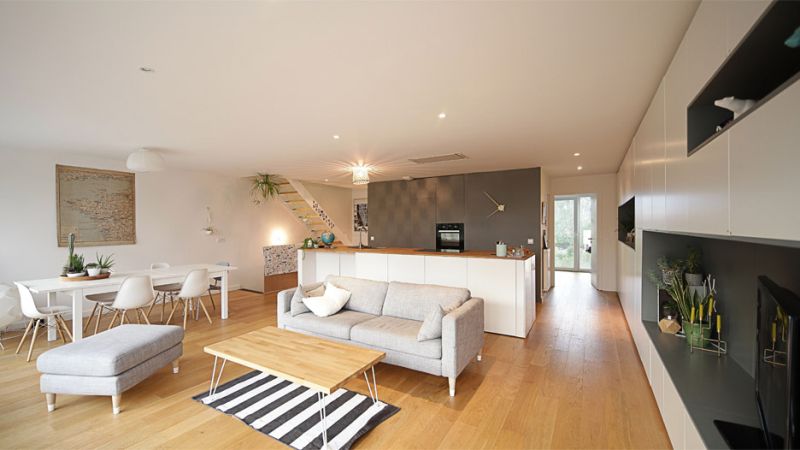 Manifesto house by James & Mau Arquitetura
The Manifesto House for Infiniski is made mostly out of recycled materials, including shipping containers, wooden pallets, and eco-friendly wood. The dwelling applies bio-climatic design concepts such as "Forms Follow Energy", "dress and undress" techniques to obtain passive heating and cooling effects in winter and summer. It features a system of palette shutters that open/close to expose or shade the metal structures. Also, there's a cantilevered balcony on the upper level.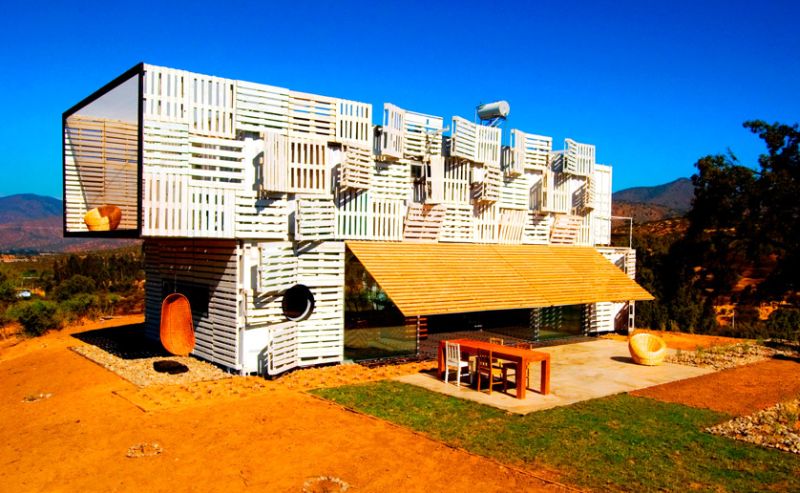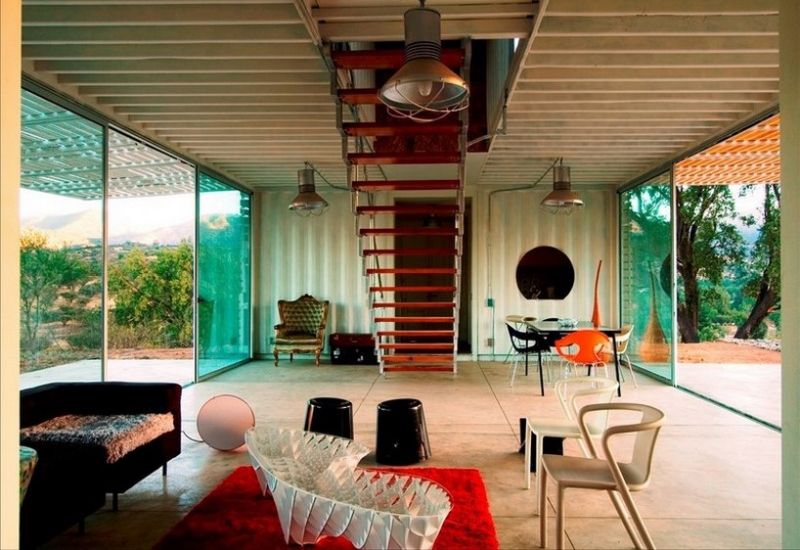 Weekend House 2+
Designed by Jure Kotnik Arhitekt, it is an eye-catching container house with pink dots on its black facade. This two-level house is composed of two containers set perpendicular to each other. The upper container serves as a projecting roof above the entrance that also shelters the back terrace. This way, the ceiling of the bottom container becomes a terrace for the first floor.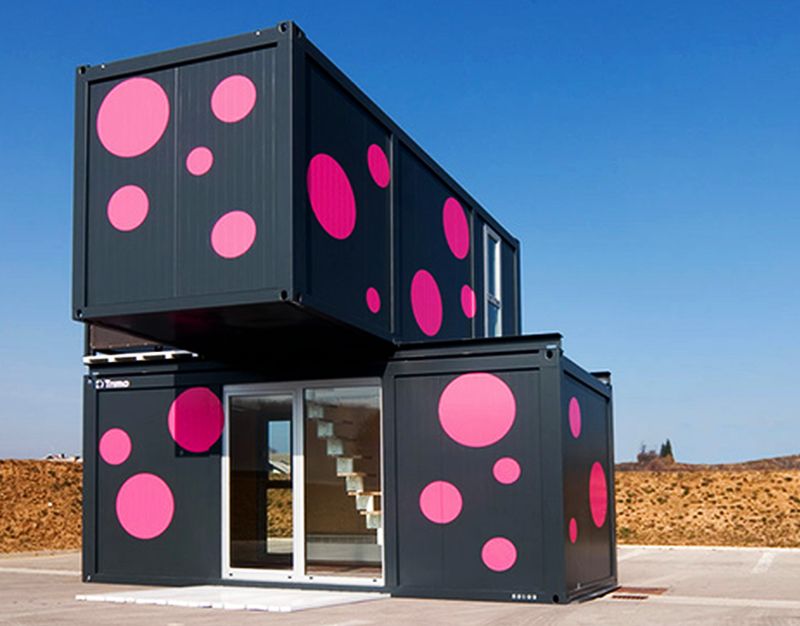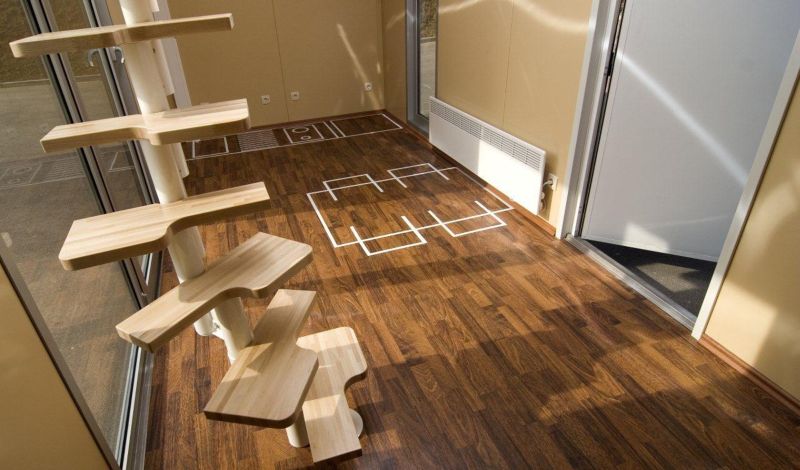 Huiini House – Mexico
Located in the Primavera forest in Azpopan, Mexico, the Huiini House is created out of five shipping containers (One container is placed in an isolated location in the forest). Designed by S+Diseno Architects, they successfully created a cantilevered section, creating a covered terrace on the ground floor and two terraces above. Its exteriors are painted in eye-catching yellow and white.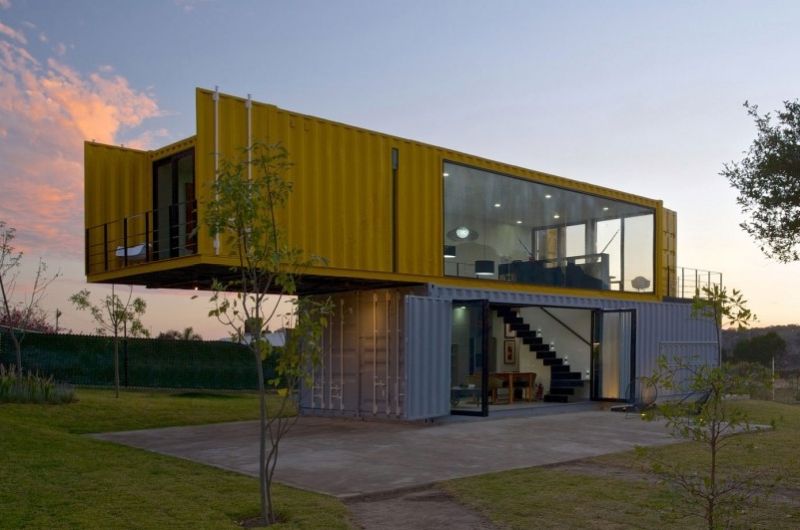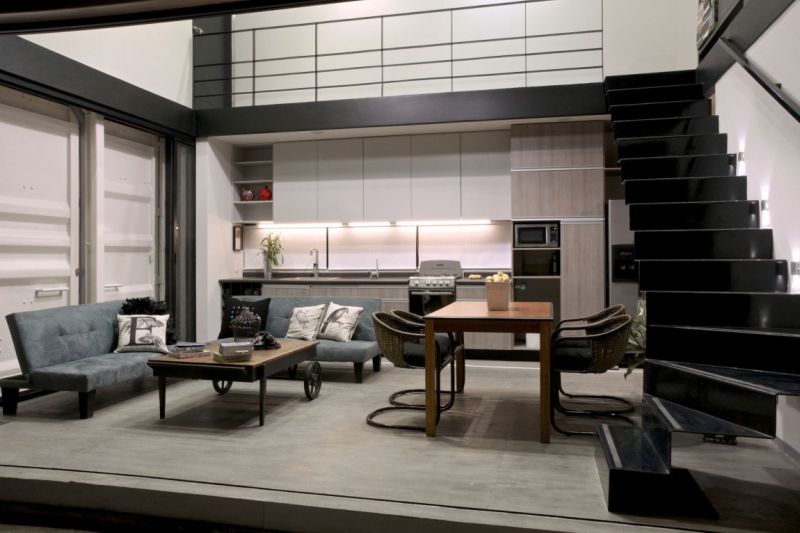 Containers of Hope by Studio Saxe 
Created on a small budget, this house is made by Studio Saxe using two shipping containers for the Peralta family to fulfill their dream of living outside of San Jose. The roof between two sections of the house is made from scrap pieces of metal to add a feeling of openness and provide cross ventilation. Its modern interior space provides a comfortable living experience with a luxury living room, bedroom, guest room kitchen and bathroom.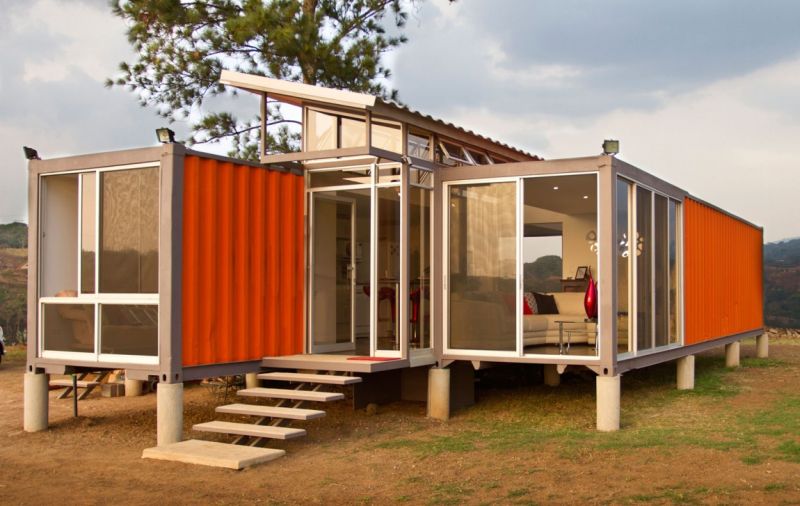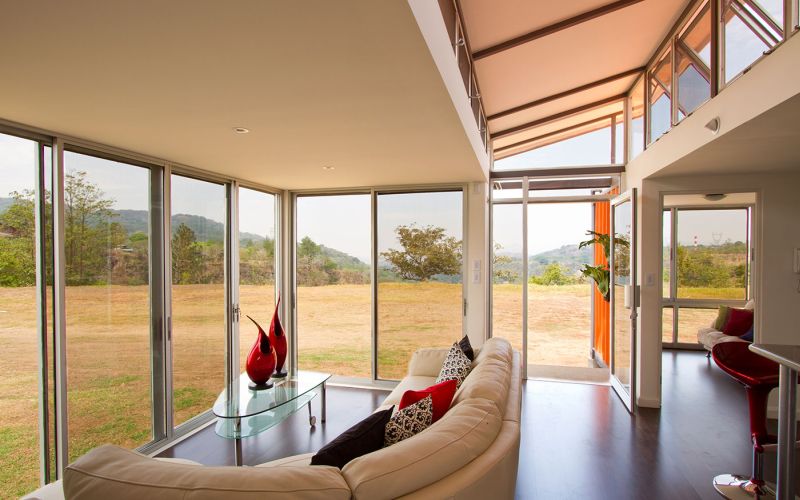 Crossbox, a cantilevered modular house by CG Architectes 
This structure focuses on a different concept where one shipping container is cantilevered over the other to create covered spaces on two sides. The green and black finishes contrast the wood of the adjacent garden shed and rooftop garden. There is a living area on the ground floor and three bedrooms on the first floor.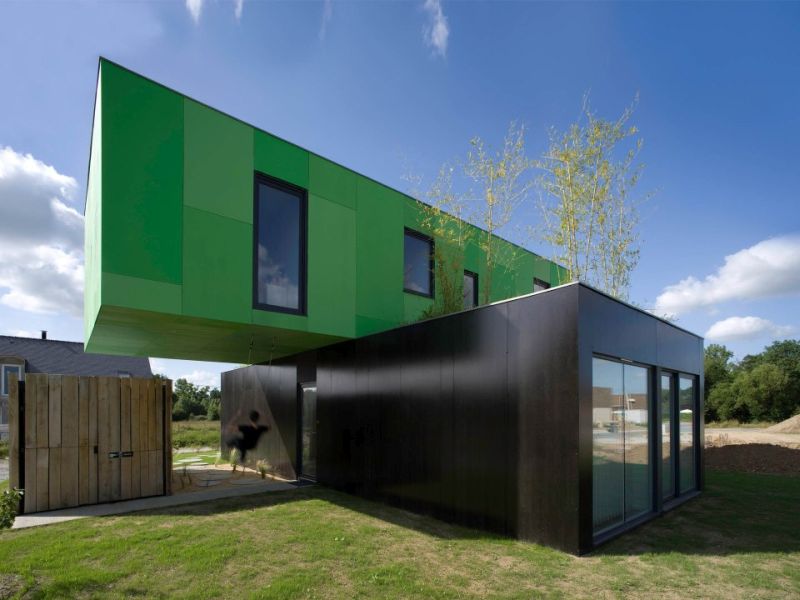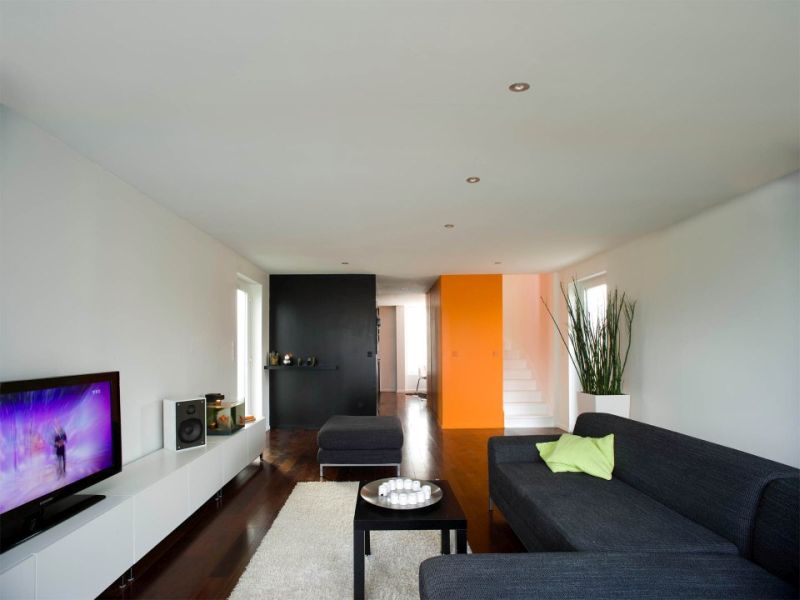 Shipping container house by Studio H:T
Studio H:T has built this 1,517-square-meter shipping container house in Nederland, Colorado, USA. The central section of the house is flanked with shipping containers on two sides, which serve as a bedroom and home office. Its interior and exterior are beautifully decked using quality wood.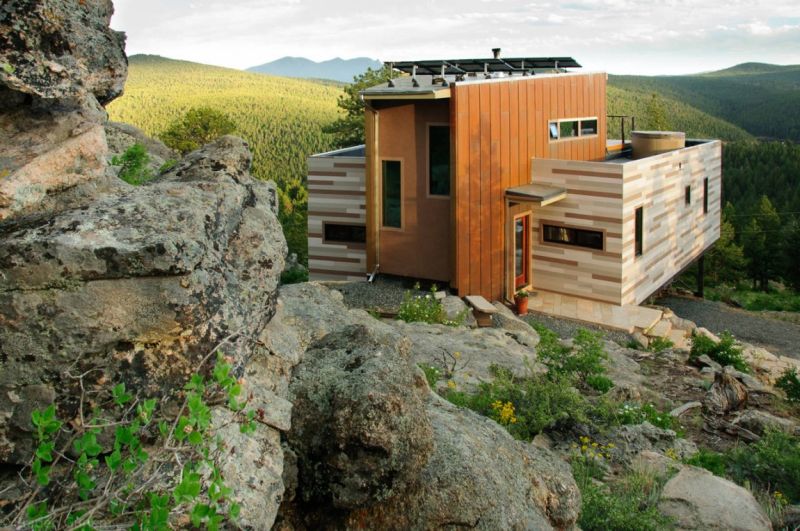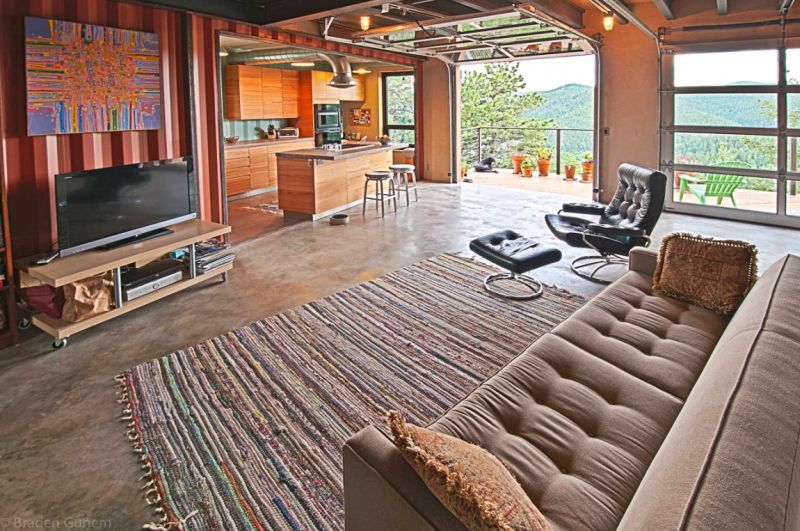 Beach Refuge in Chile
Architect Pablo Errázuriz has built this shipping container home as his own vacation getaway situated just a few minutes away from the beach near Huentelauquén in central Chile. Made from a twenty-foot repurposed shipping container clad in rusty Corten steel plates, it contains a kitchen and bathroom. There's a covered wooden deck to the side which serves as the main living room. There are clear PVC plastic walls to cover it up when the weather turns windy or rainy.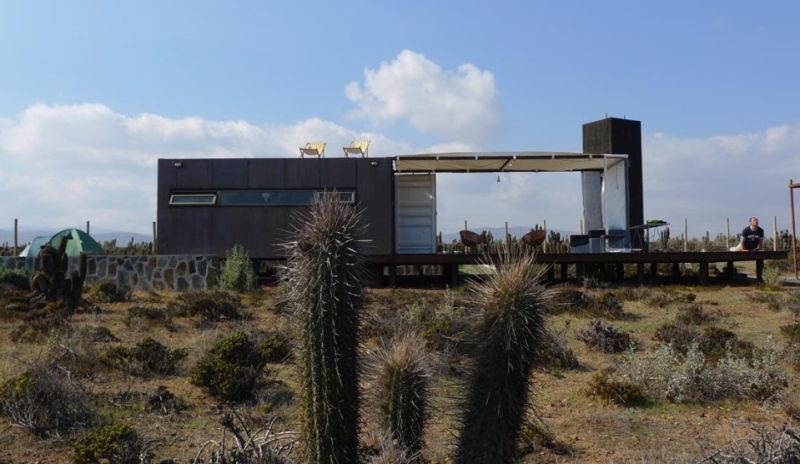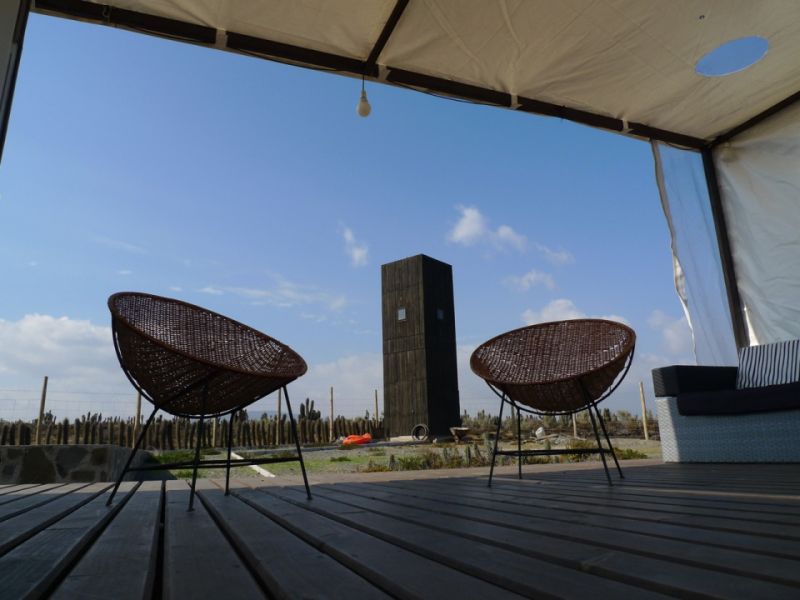 Casa Cubica
It is a cool concept for a tiny container home. This home is designed to accommodate four persons comfortably with two bedrooms, a living room, and a bathroom at one end. One interesting feature is the rooftop deck accessed through a metal stair from the outside. Furthermore, there is a covered wooden terrace in the front. Its exteriors are finished with durable corrugated metal.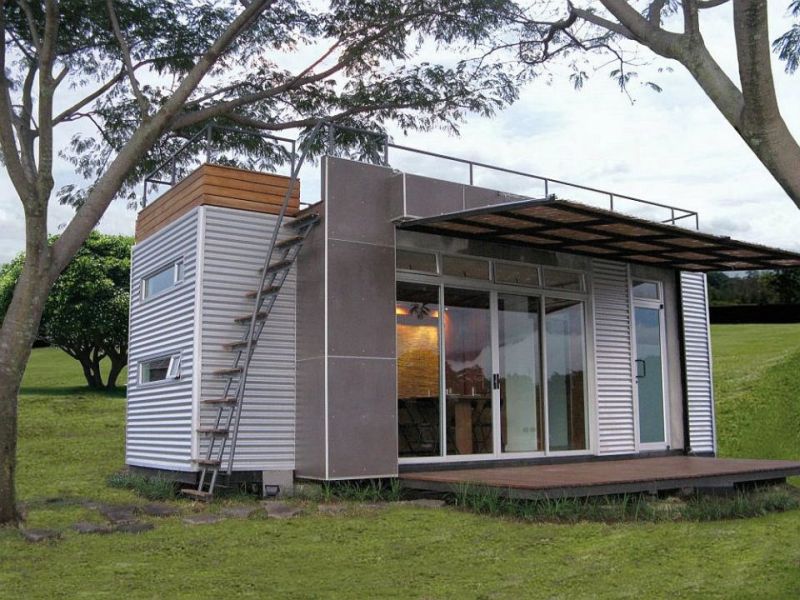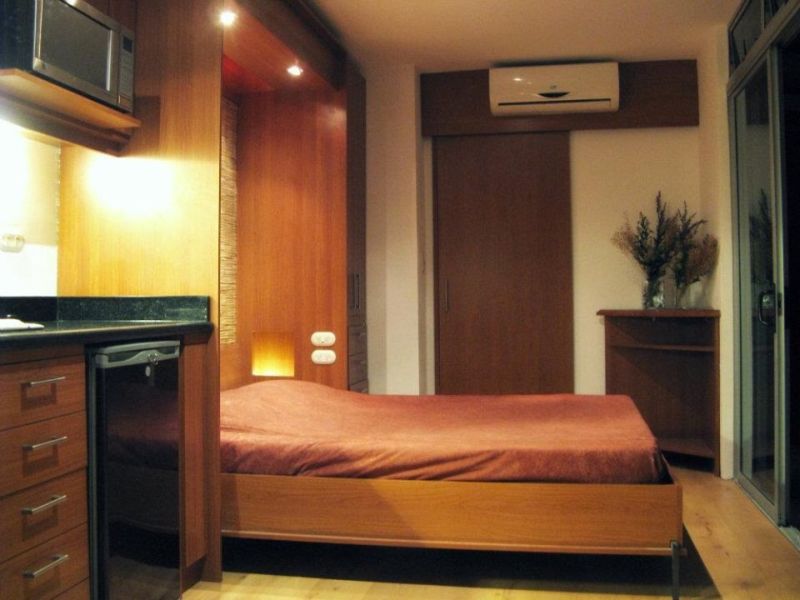 MDU (Mobile Dwelling Unit)
This shipping container is transformed into a mobile housing unit. Its interior and sub-volumes are decked entirely out of plywood and plastic coated plywood, including all fixtures and furnishings. The MDU is ideal for individuals constantly moving around the globe.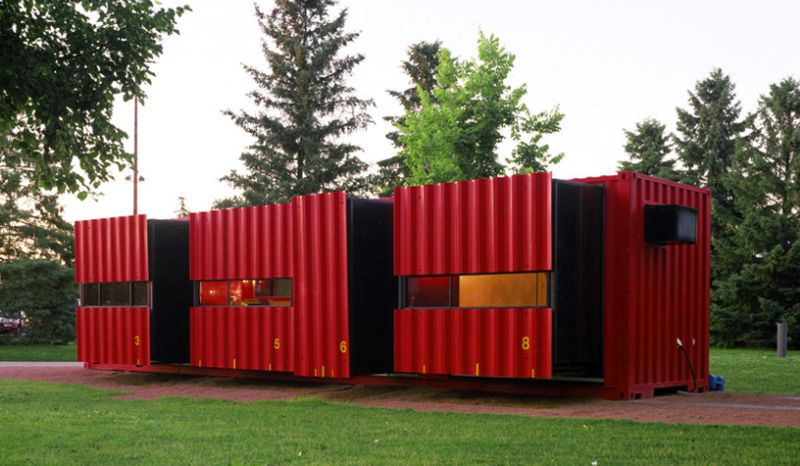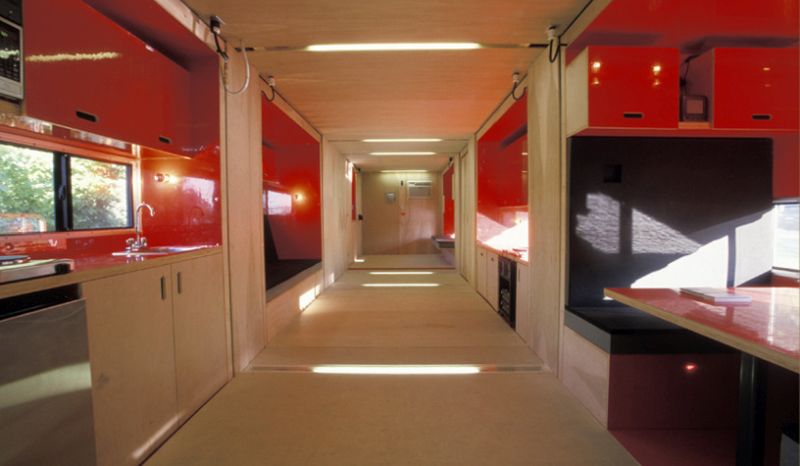 Port-A-Bach shipping container home
New Zealand-based architect Atelier Workshop designed this movable shipping container home. Made from a single shipping container, the interiors of the Port-A-Bach are decked mostly using wood. It can accommodate two adults and two children. Solar panels and wind turbines on the roof allow it to generate power for off-grid use.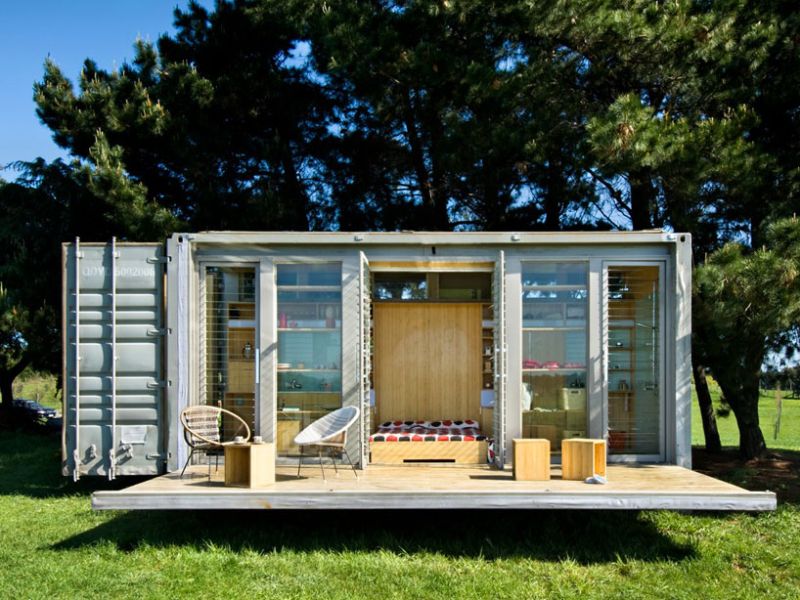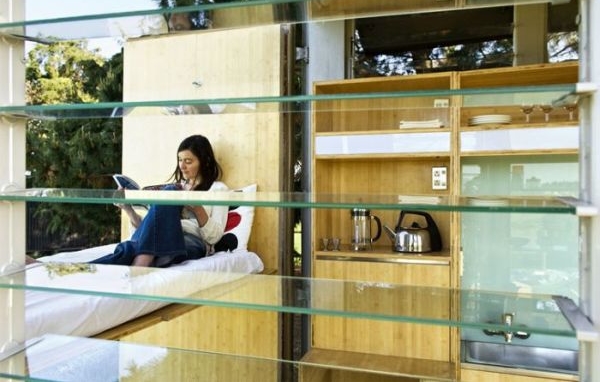 Budget-friendly shipping container home
Chris Bittner of OBR Architecture created the McConkey Residence, combining shipping containers and the natural beauty of the outdoors. To make it fire resistant, special flame retardant materials are used for windows and roofs. There's an open-plan kitchen with a door that can be retracted to bring the outdoors in.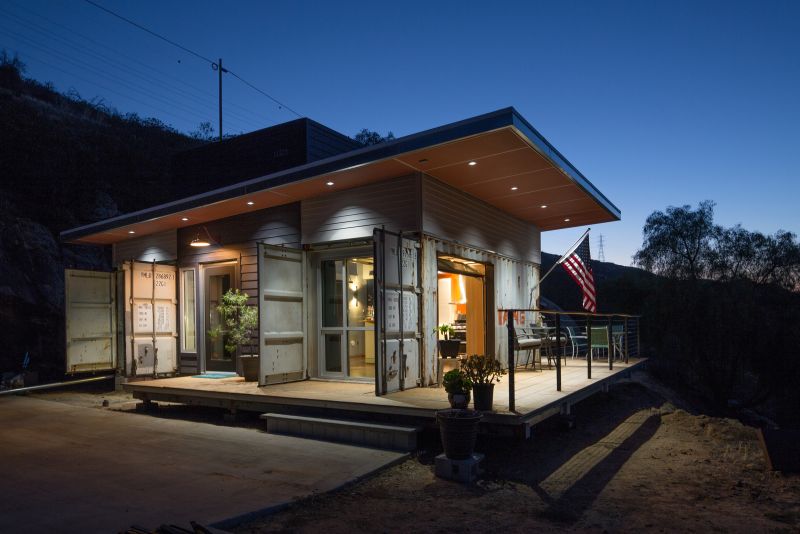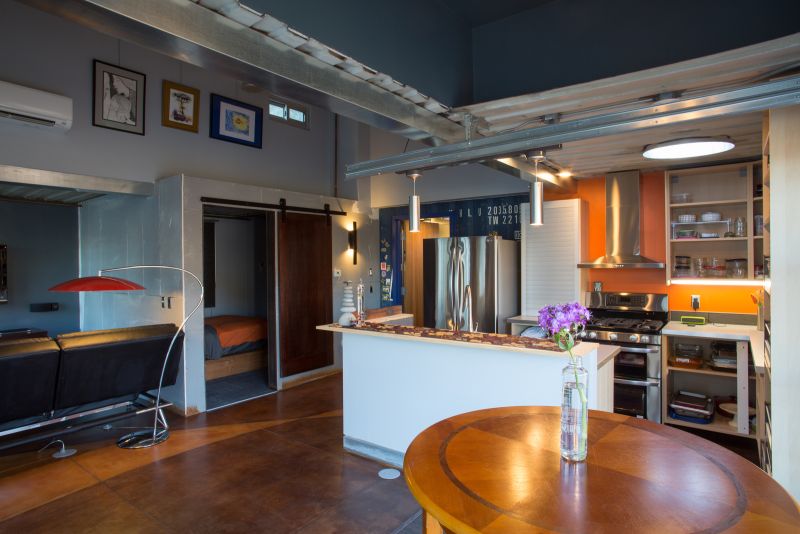 RDP House by Daniel Moreno Flores & Sebastian Calero
Made out of eight shipping containers, the RDP house in Pichincha, Ecuador is an outstanding creation by Daniel Moreno Flores and Sebastian Calero. Each module includes different living spaces, including a living room, storeroom, bathroom, closet, and kitchen. The materials forming the structure of the house are left exposed in order to remind them of their history.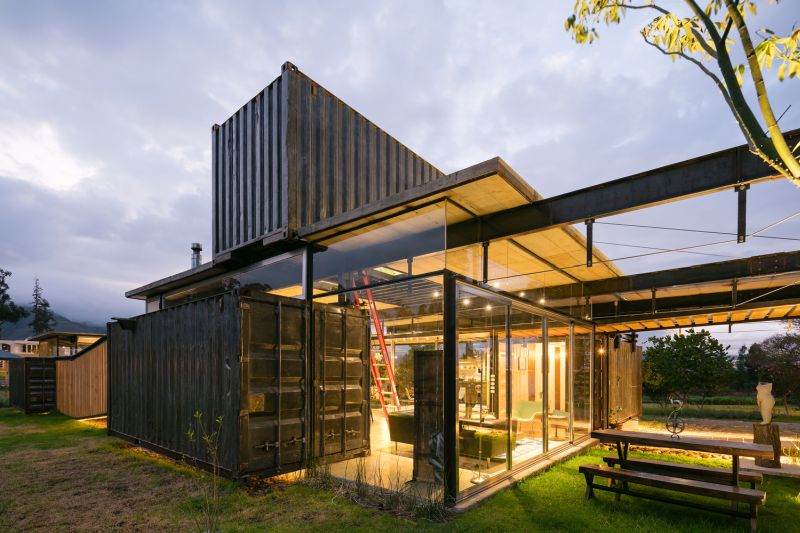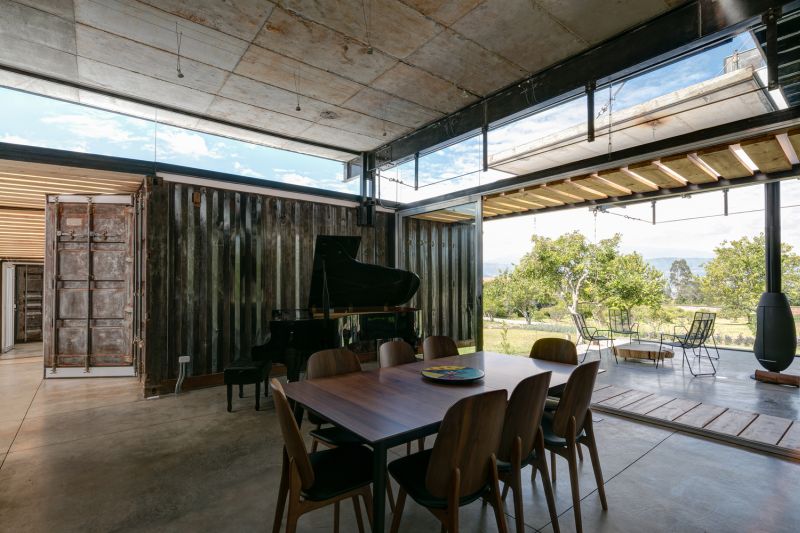 Casa Oruga by Sebastián Irarrázaval
Located on a hillside of Santiago city in Chile, the Caterpillar House consists of twelve used shipping containers cantilevered on a metallic base. Each container is equipped with windows, skylights and adjoining components. The Casa Oruga is designed in a way that it passes the natural air throughout the house.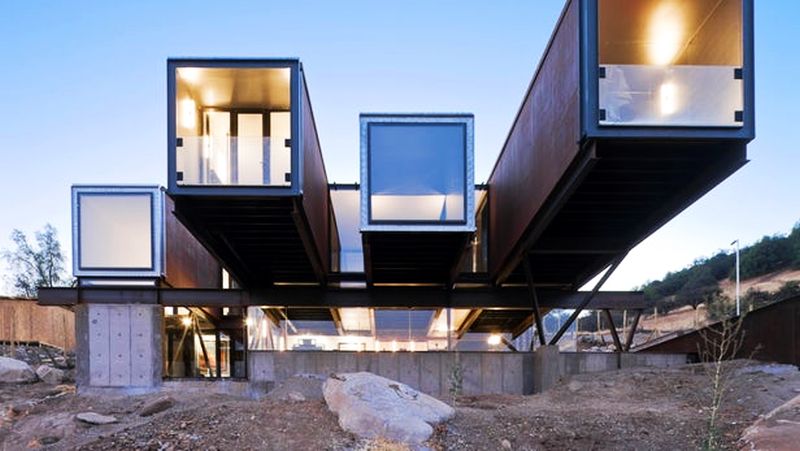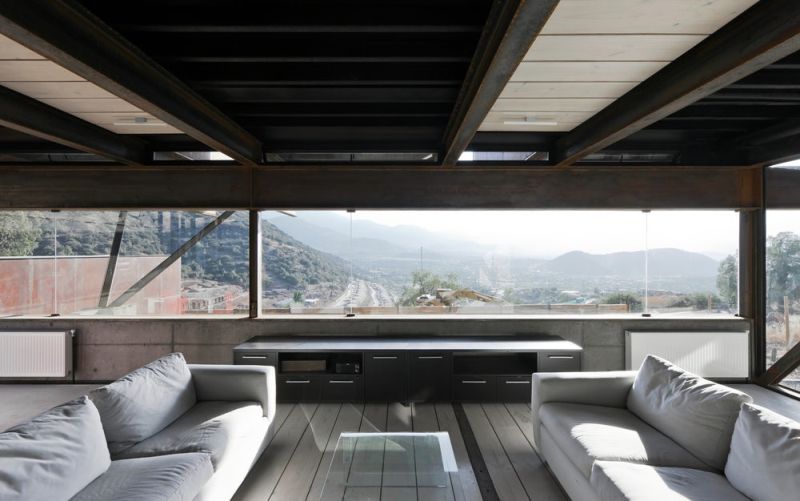 Modern shipping container home 
Keen Development Group, a Texas-based architect firm, has built a tiny shipping container house with a bedroom, living space, bathroom, and kitchen. The house is built with a gray colored shipping container that has an attached wooden deck on the front. The house's interior is sufficient to accommodate a family of three.