River tables, including live edge wood river tables, are very desirable to adorn a stylish living room. These gorgeous tables are designed to add faux 'river' (made from a watery hue of epoxy) to your living or dining space. Whether you like the minimalist, modern, eclectic, industrial, or even Bohemian home design; these nature-inspired river tables are just an apt and easy way to add a natural touch to your home décor.
What is a river table?
A river table is a unique kind of wood furniture that usually features a distinctive flowing design element on the tabletop, resembling a river. These are famous as epoxy resin river tables for they are made with a sublime mix of epoxy resin inserted between wood slabs to create the illusion of water. The tabletop is usually made from live-edge wood slabs, which ensures a natural and organic appearance.
List of Best River Tables to Buy in 2023
Inspired by the flow of a river, the tables made with glass inserts and epoxy resin snaking through the center of the tabletop are real eye candies. River tables for sale are available in a variety of materials, designs, and finishes. To help you make a good choice, we have compiled a list of the 20+ best river tables that show how aesthetics and functionality go hand in hand. Choose one that fits your budget, space, and interior décor.
If you're a newbie, you can scroll through the following list and check out the comprehensive buying guide (that follows) for an idea as to which right river table you should buy depending on the factors that define the purchase.
Wood slab river table by ThunderWoodStudio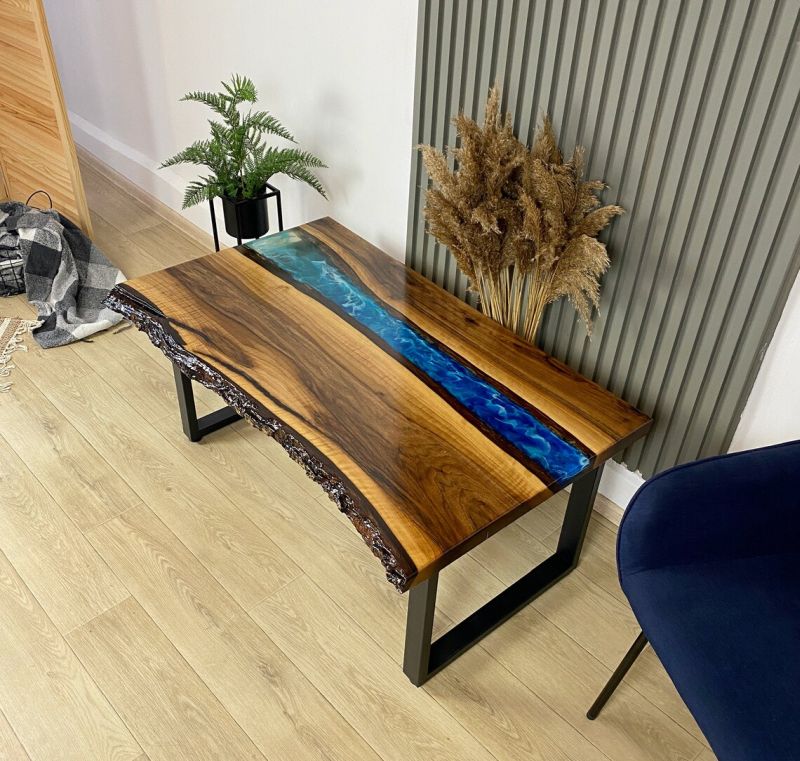 Made by Ukraine-based ThunderWoodStudio, this table has a burl poplar tabletop with a unique and dynamic epoxy color for a cool appearance. It would be a great conversational piece for any home or office. You have an option to choose the wood, color, design, and shape to suit your requirement.
Buy: $395
Big leaf maple river dining table by SAWLiveEdge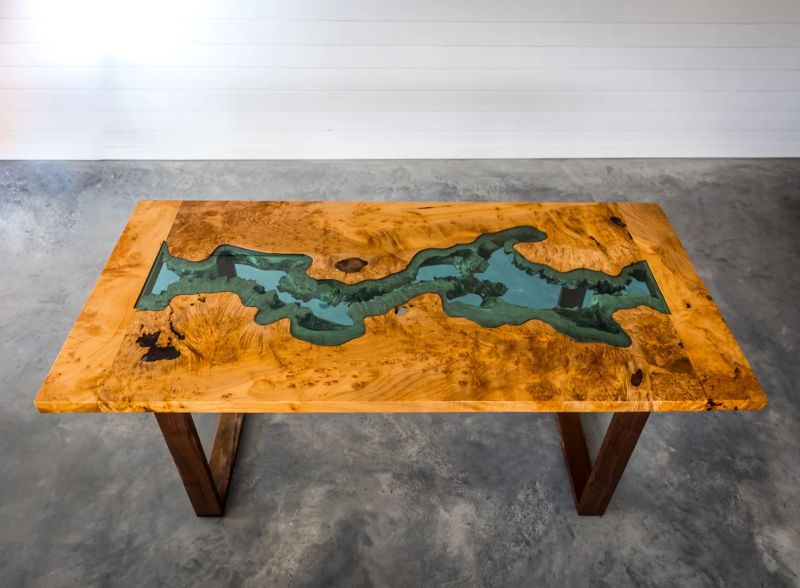 This handmade live edge river table is one of the coolest furniture pieces you can buy on Etsy. The top is made of two slabs and has a 6mm Azure Blue Glass with smoothed down edges. It stands on black walnut legs. Epoxy resin is also used to fill voids and cracks.
Buy: $4,280
Mesquite river table with stump base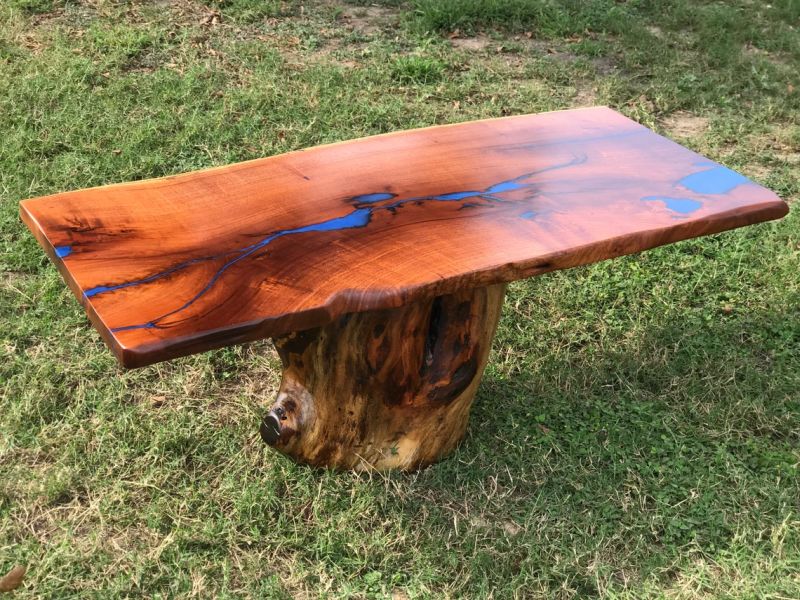 Texas-based furniture manufacturer SlabsAndSteel has handcrafted this artistic river coffee table using mesquite wood which beautifully contrasts aqua blue resin. Imitating the blue waves of a sea, this table, unlike most it stands on a tree stump base. This river table measures 48″ long, 22″ wide and 18″ tall.
Buy: $1,350
Live edge river table by LivinOnTheEdgeArt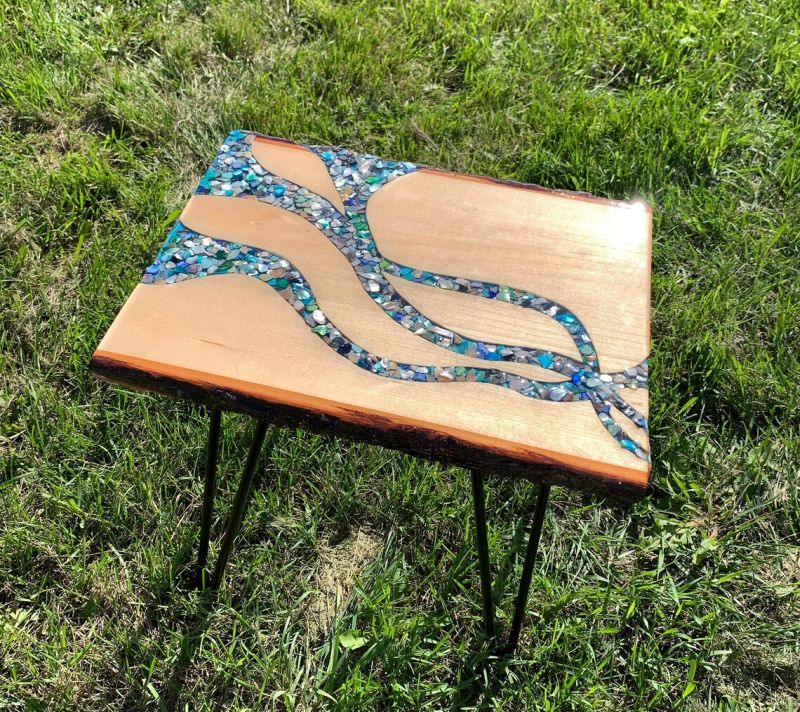 This one-of-a-kind live edge river side table has been decorated with blue and green crushed shells. Measuring 16" x 12" x 16" tall, the table will be a conversation starter in your home. There are a variety of colors and finishes available on request.
Buy: $220
Also Read: 10 Stylish Expandable Dining Tables to Make Room for Unexpected Guests
Epoxy resin river table by JenithHandicrafts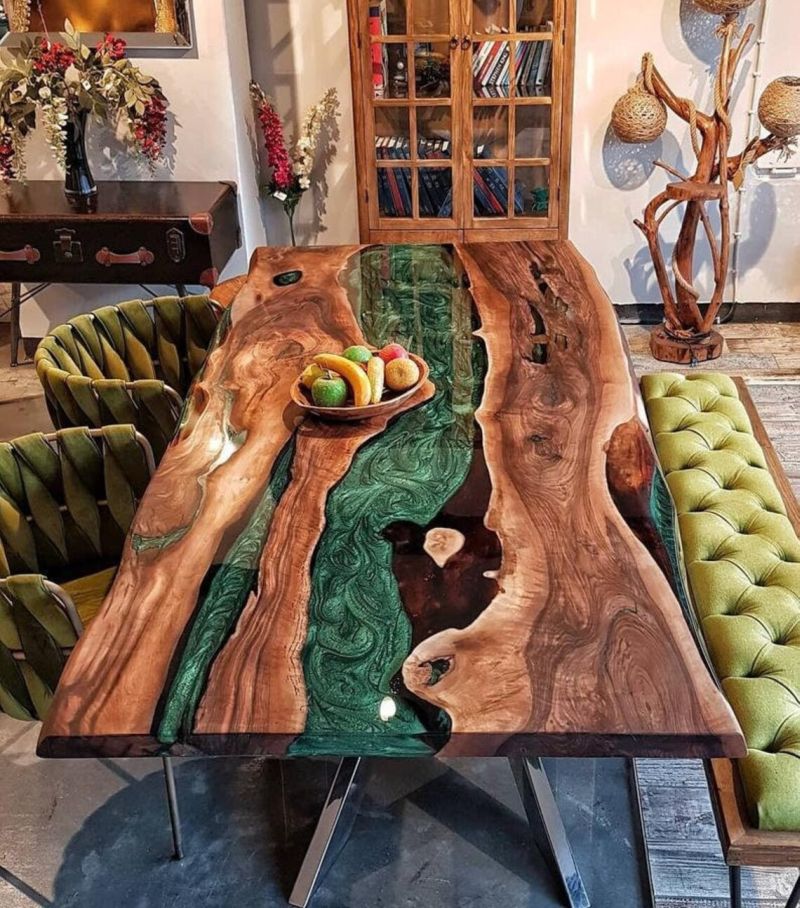 This rectangular river table is made of solid walnut wood, which is filled with green epoxy UV-protected resin. The legs are made of shiny steel and sport a tapered shape. It's a conversation starter for sure. There are several sizes available and customization can be done as per your requirement.
Buy: $400
Round river table by BlackLoftEpoxy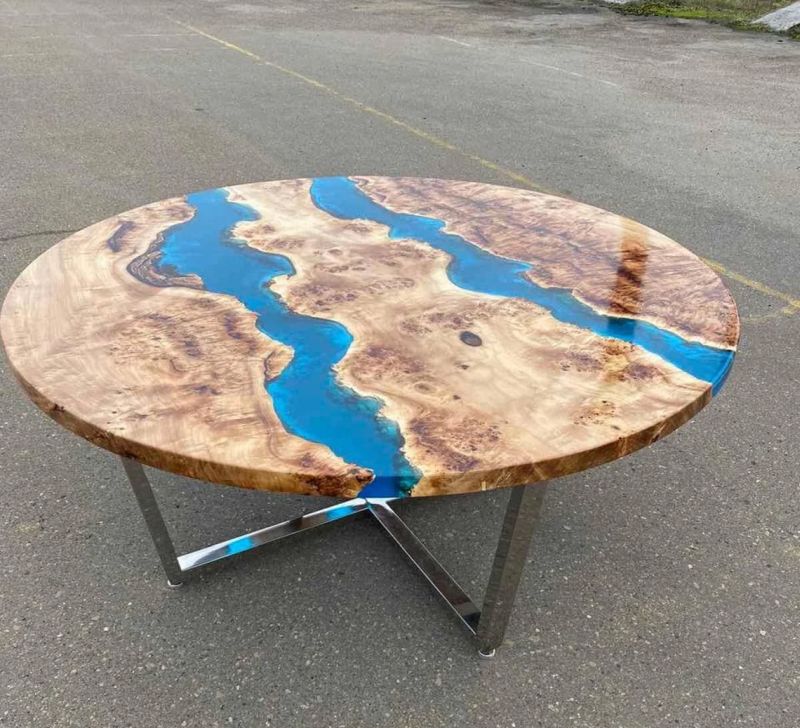 If you want to play with the geometry of your living room and want a round table to accentuate the look, take home this handmade epoxy resin river coffee table by Ukraine-based Andrew of BlackLoftEpoxy. Made of Burl Poplar, it measures 19.6H x 27.5W x 27.5D-inches and comes with steel legs.
Buy: $845
Delta live edge river coffee table by Fine Wooden Creations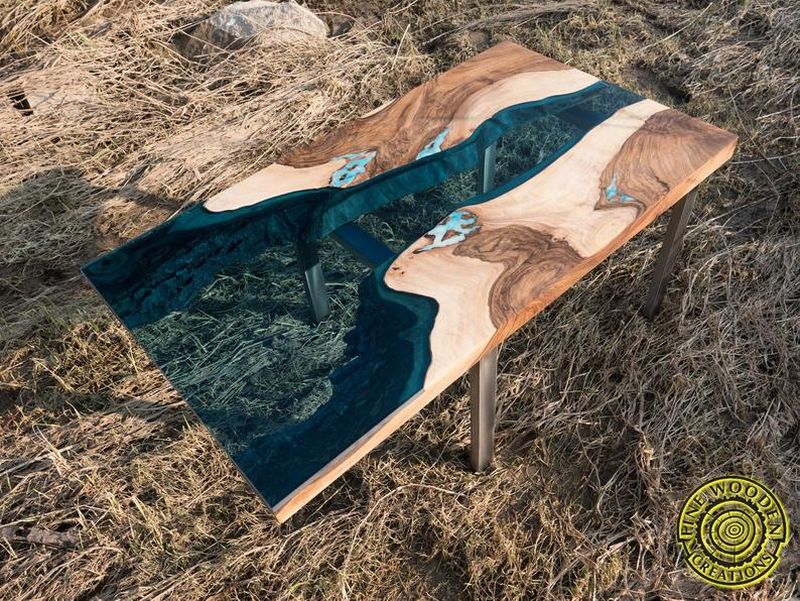 It is a sleek modern coffee table that comprises two live edge walnut wood slabs combined together to hold a wide glass insert that serves as a cantilevered place to display your items. The cracks and voids on the top are filled with glow-in-the-dark turquoise resin, adding more fun to the table design.
Buy: $1,452
Cherry wood table with river patch by KentuckyLiveEdge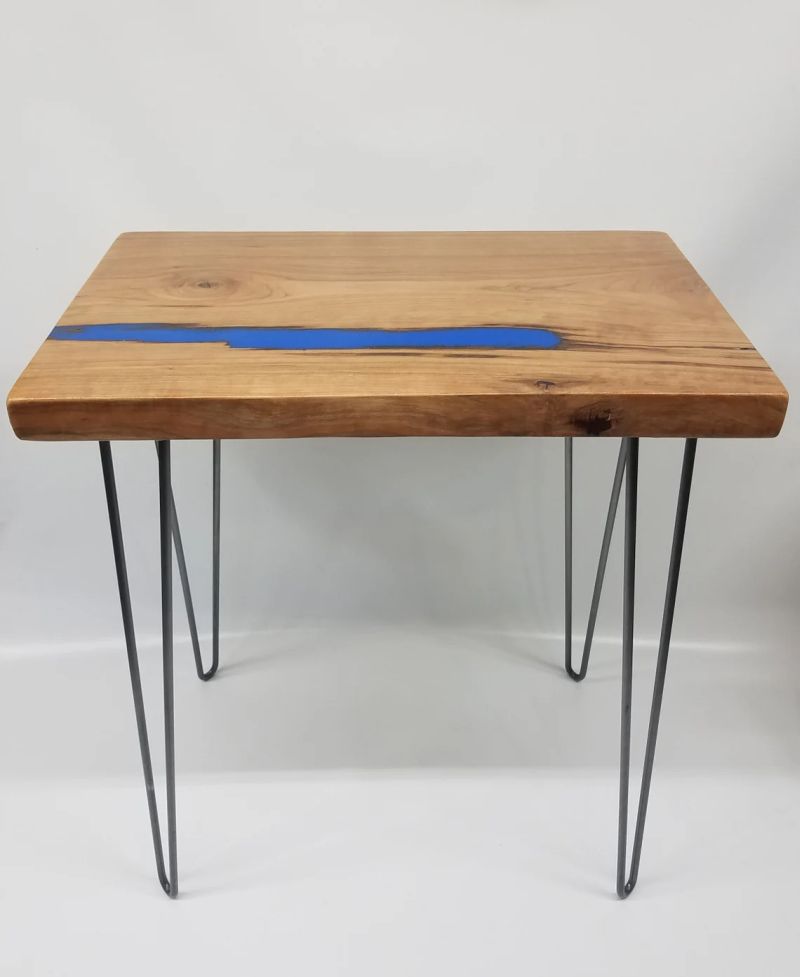 This gorgeous table made from a slab of cherry features a river-like patch filled with turquoise resin on the top. The wooden tabletop sits firmly on four raw steel hairpin legs. Measuring approximately 23 1/2W x 14 1/2D x 23 1/2H inches, it would make a great addition to any space.
Buy: $625
Birdseye river table by Natures Beauty Store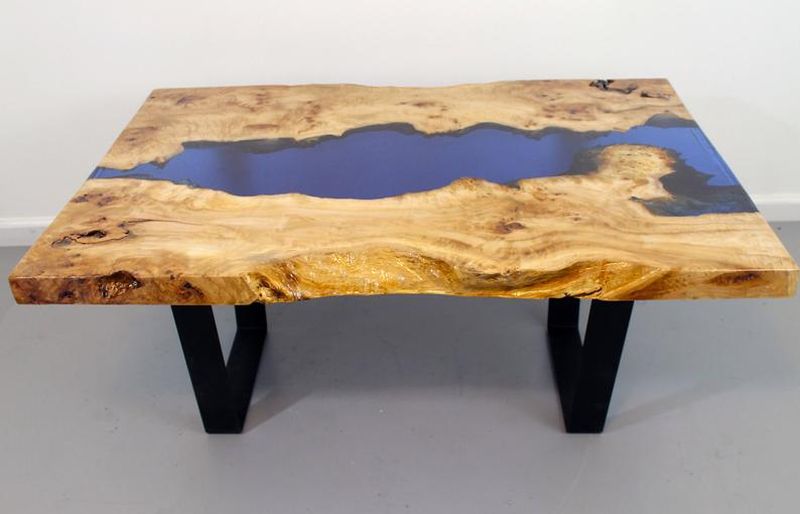 It is an absolutely beautiful river table featuring a rugged Birdseye poplar burl wood top along with a transparent blue resin river flowing in between. The intricate knots, cracks, deformities, and patterns of the burled wood, combined with trapezoid steel legs, give it a spectacular look. Since each table is handmade, it takes 6-8 weeks to make a unique piece and to deliver it.
Buy: $1,800
Coffee Table with Epoxy Resin River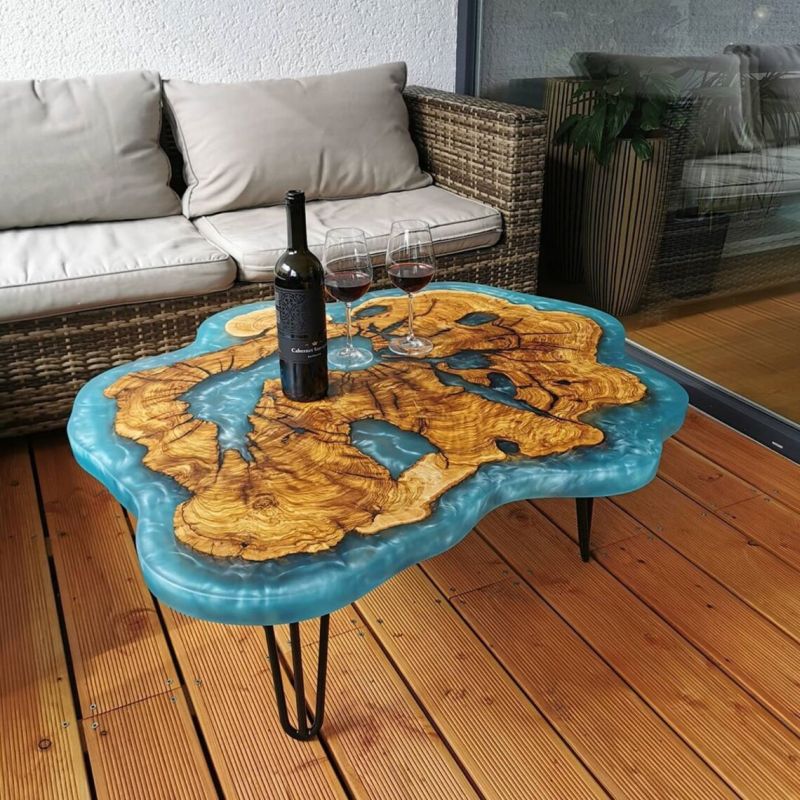 Made of walnut wood, this round coffee table features a one-of-a-kind semi-transparent epoxy resin river flowing on its top. Knots and holes are also filled with resin to enhance the overall appearance. The tabletop shows off cracks, creating a charming effect. The table comes with black matte legs.
Buy: $849
Red resin coffee table with spider legs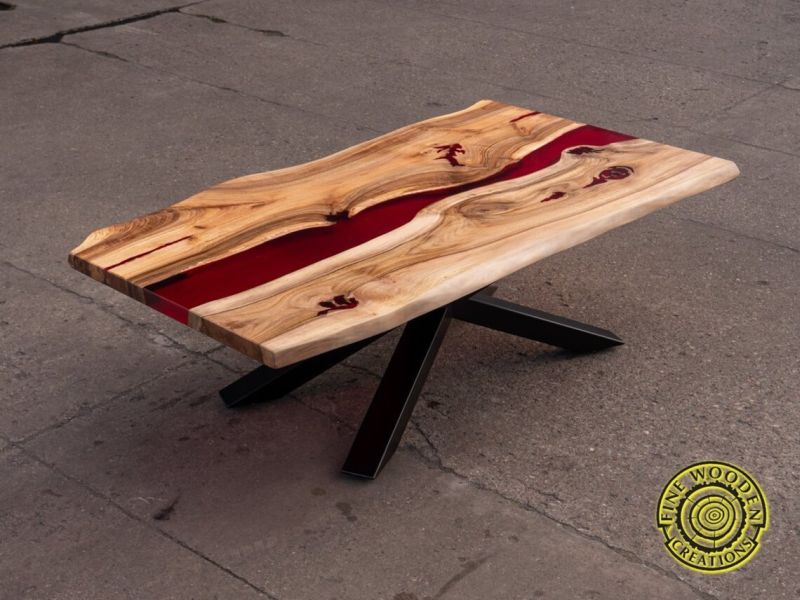 Poland-based Fine Wooden Creations has made this innovative red semi-transparent coffee table from dried walnut wood, colored resin, and powder-painted steel legs. What makes this 47.2 x 23.6 x 21.6-inches river table unique is its spider-style legs. The wood has been air-dried and protected with a sealant to prevent natural cracking before being used for the table.
For the finishing, natural oils like Tung or Danish are mixed with wax using a special technique of applying oil and lacquer. These oils help in bringing out color, grain, and structure while lacquer helps in protecting the tabletop against scratches, heat, and accidental liquid spills.
Buy: $2,000
Epoxy resin coffee table with Koi fish by TvWoodResin
Vietnam-based TvWoodResin has handcrafted this wooden river table that mimics the natural water body and also has floating epoxy resin fish. Each piece is made individually by hand and production can take up to three weeks. Available in different sizes, this unique river table will neatly uplift any living room décor.
Buy: $1,666
Live edge river table by WorldOfWoodenbyAlp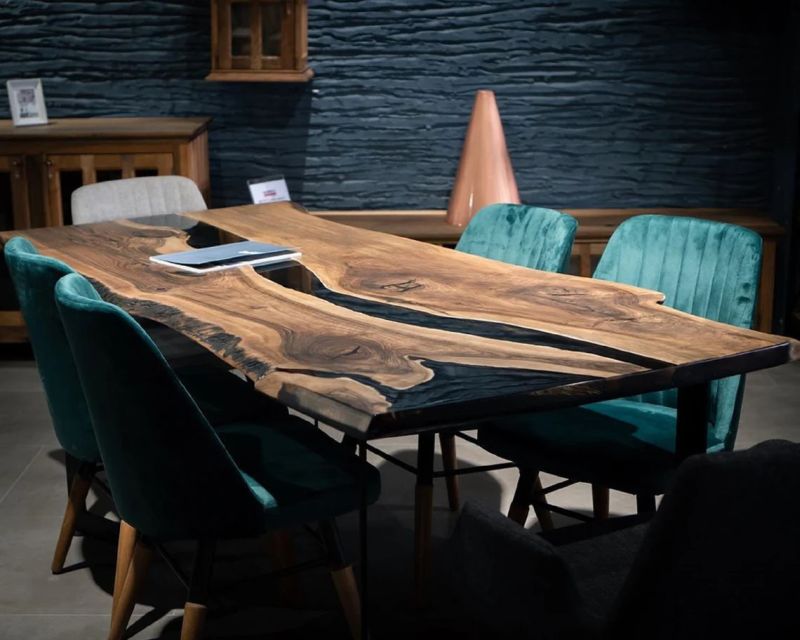 This live edge walnut slab dining table boasts glowing turquoise and black river flowing through its center. It stands on metal legs and there is an option to choose the style you want it in. These tables can be filled with any color of epoxy.
Buy: $551
Coastline edition river table by Dillweedscustomwood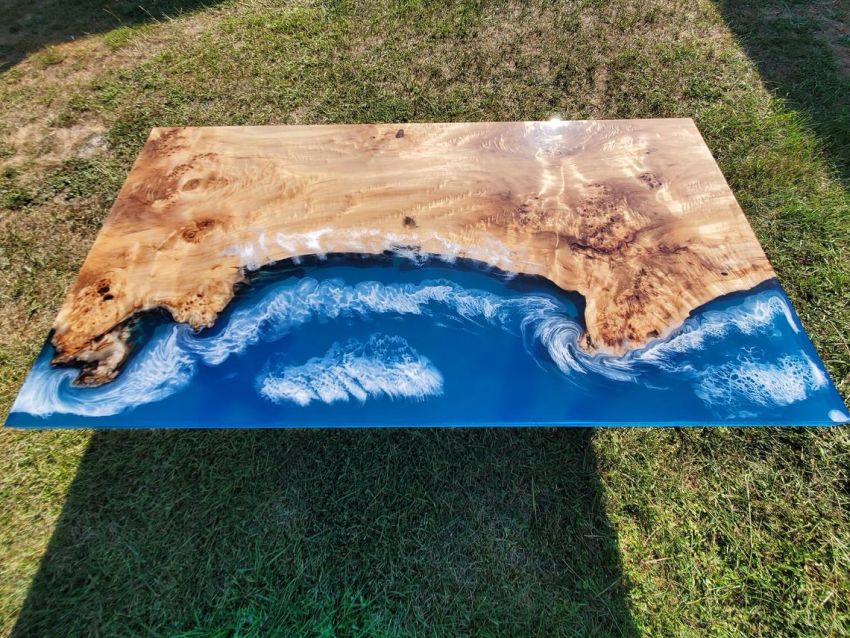 Created by Florida-based woodworker Dylan Walters of Dillweedscustomwood, who specializes in custom epoxy resin river tables and other home décor pieces; the Coastline River Table is an ocean-themed special edition table with a top in two elegant hues.
More than half part of the top is a large wooden slab with thorough attention to detail finished in a glossy appeal. The other half of the slab is crafted with resin to look like a coastline. The top sits on a metal base with small wooden details to complement the overall design.
Buy: $11,999
Concrete river table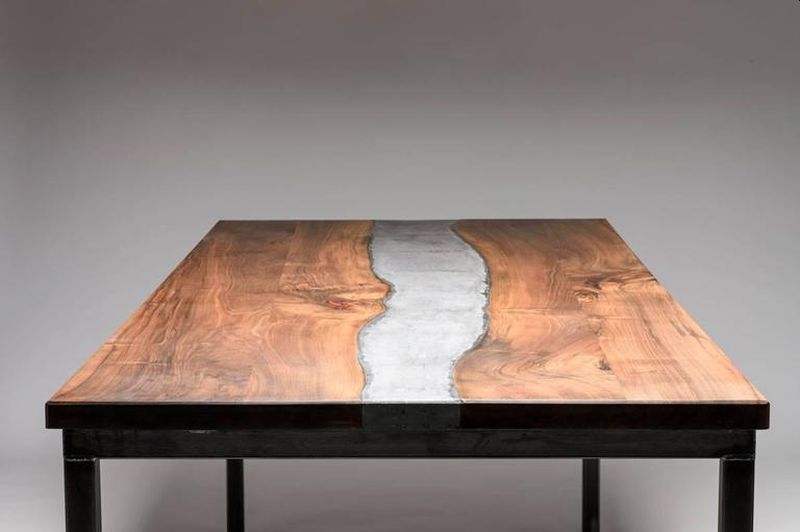 Way too costly for its design, this concrete table, handmade by an Austrian artist, is however different from the epoxy and resin tables we have seen on the list. A combination of warm wood and cold concrete, it creates a perfect harmony to appear like a river that flows through the table. The oiled Nutwood tabletop is emphasized with concrete inlay, mimicking a flowing river.
Buy: $11,500
Special Mentions:
Seven Lakes table by Greg Klassen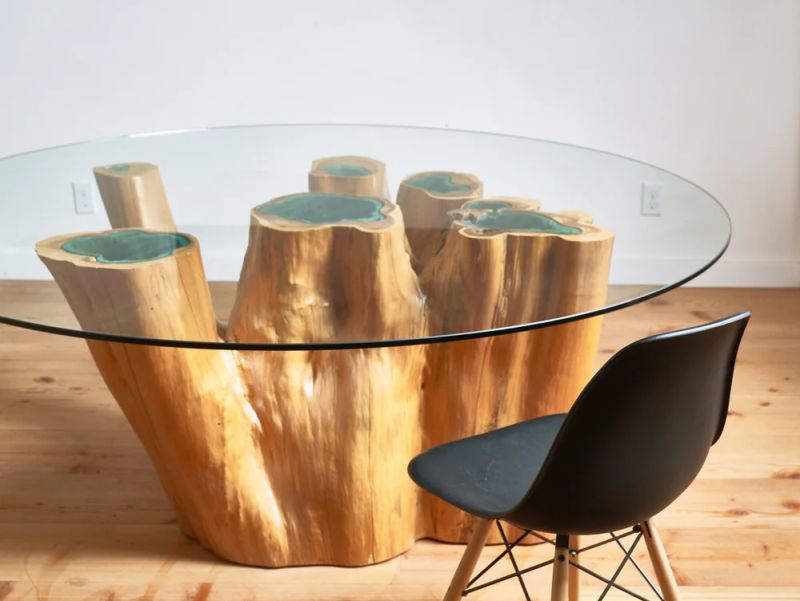 Washington-based Greg Klassen was one of the first furniture makers who combined wood and glass to provide a glimpse of a river in furniture. Much like functional art, this table showcases his design approach and creativity. It is made from a gigantic tree trunk, with seven branches that have been decorated as lakes with bluish glass. The table has a tempered glass top.
Buy: $22,800
Also Read: 15 Best Lift Top Coffee Tables to Buy
White river coffee table by OneOff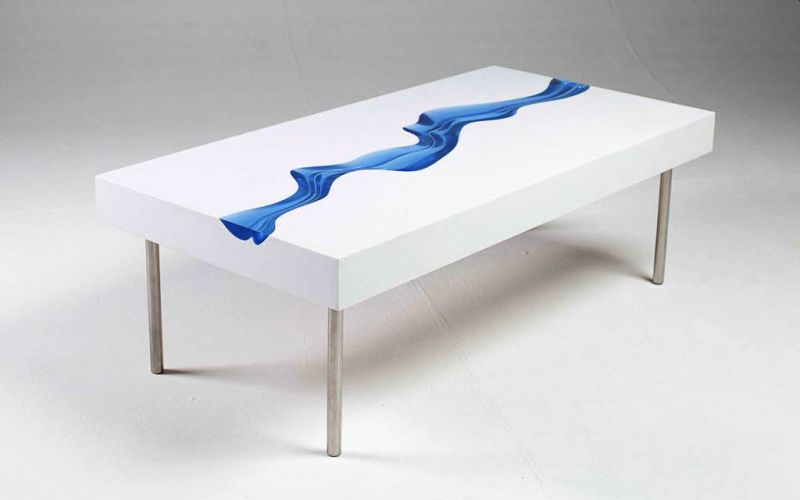 If you're looking for a river table that isn't made from wood, this river coffee table from OneOff is a good choice for you. The white and blue tones of the table make it an instant eye-catcher. Made from Corian and steel with blue resin details, this stunning table is perfect for modern homes.
Buy: €8,250/ $8,848
Resin river coffee table II by Frances Bradley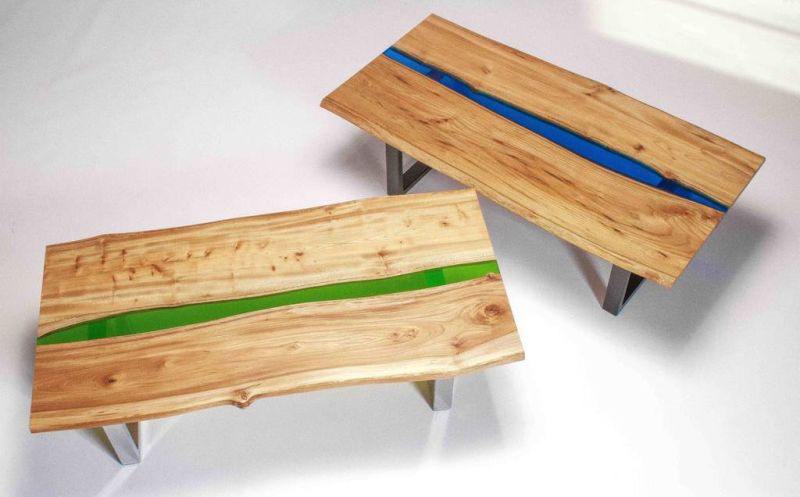 Bring in the feel of a river flowing inside your home with Frances Bradley's epoxy resin river coffee table. Sitting on steel legs, it has a wooden top, inlaid with a resin river, and is available in different colors, including blue, green, orange, and turquoise. With clean lines and bright appearance, it is a sophisticated addition to modish interiors.
Buy: £900/$1,089
Winding river coffee table by Jason Miles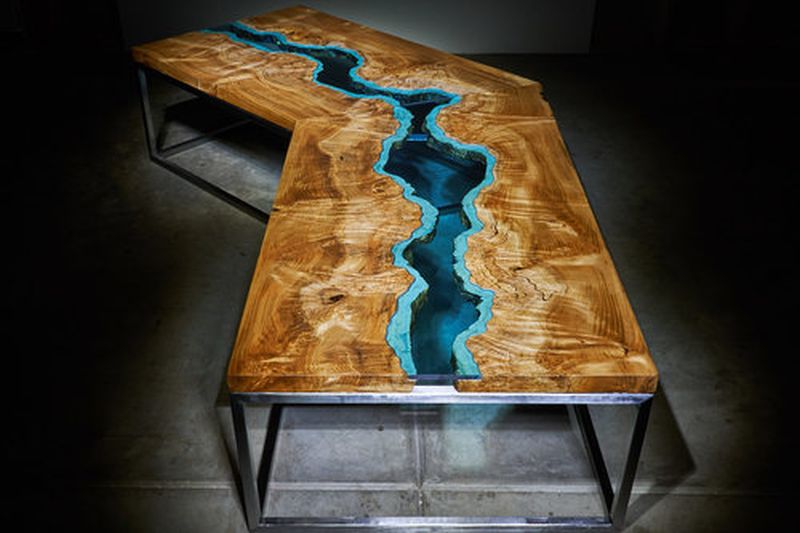 If you are looking for a unique and spacious river coffee table, check out this maple burl river coffee table from Wayward Grain. Distinctive by its angular design, it can provide space to accommodate 7-8 people. Measuring 60l x 50l x 32w x 18h, this coffee table features a nine-foot-long river that runs across the top.
Buy: On request
Kasparo I river table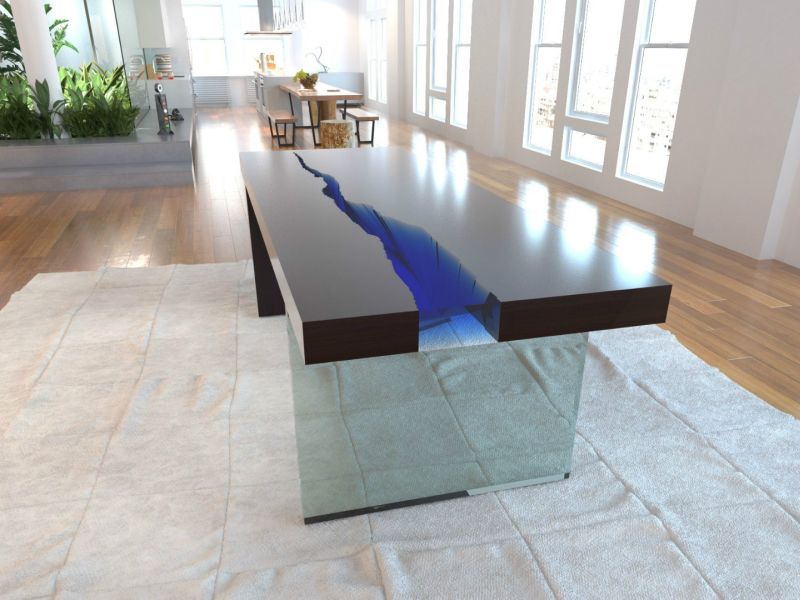 Elevate your home interiors with this one-of-a-kind river coffee table with built-in LEDs and motion sensors to automatically show cool animations of a flowing river when someone is nearby. Made from wood, glass, and resin, this handcrafted river table employs technology to serve as a functional centerpiece in a dining room, living room, or office.
River run dining table from Live Edge Design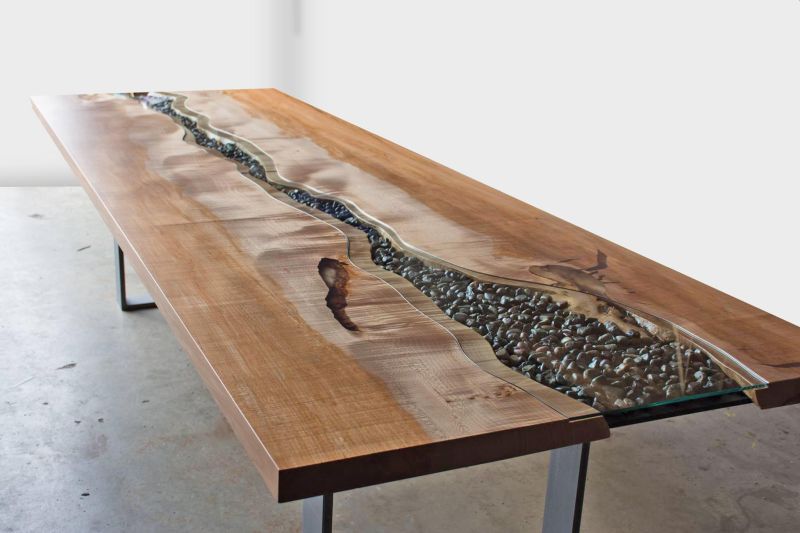 Canadian company Live Edge Design has created this outstanding river run dining table to meet a large family's requirement. Featuring a maple wood slab as a tabletop with glass inlay and river rock detail that appears like a dried-out river, it features a Blackcomb base that allows for flexible seating arrangements.
Buy: Starts from $9,412
River Thames coffee table from The Timber Shack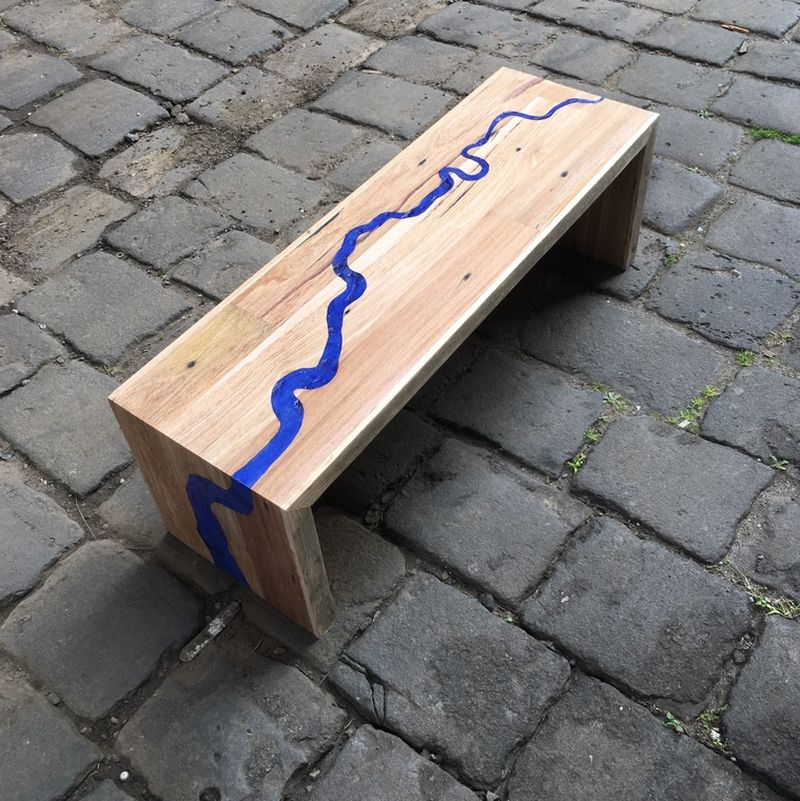 If you've seen River Thames meandering into the horizon – this cool coffee table gives a similar expression with its top and base featuring a bluish resin river running through. This iteration of the Thames River table features a tabletop and slab base made from salvaged wood. Its rectangular elongated form provides sufficient space to dine or keep your belongings.
Available on request from The Timber Shack
Thames river coffee table by Johnson Furniture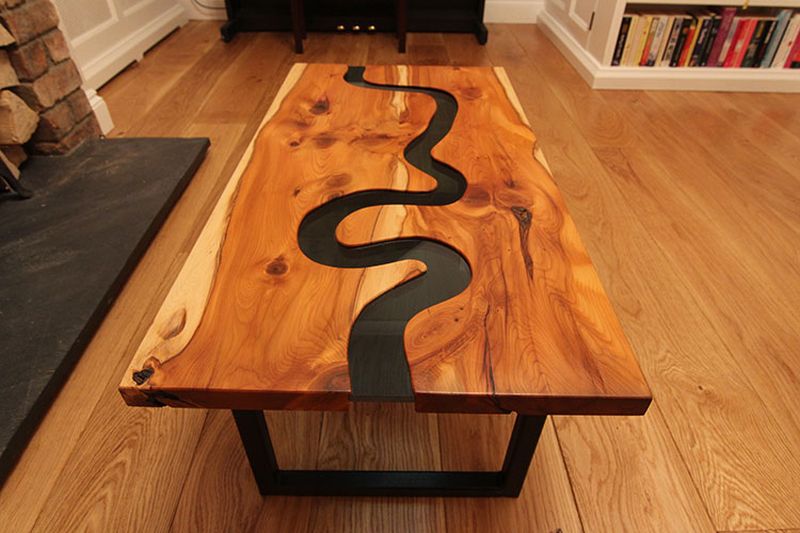 How about River Thames snaking across your coffee table? Daring you to dream big, George Johnson of Johnson Furniture allows you to incorporate the elegance of the majestic river into your living room. It beautifully exhibits the meandering curves of the river on the Yew tabletop that rests on metal legs. George also designed a dining table-sized version of this table.
Buy: £1,500/$1,815
Makarios river coffee table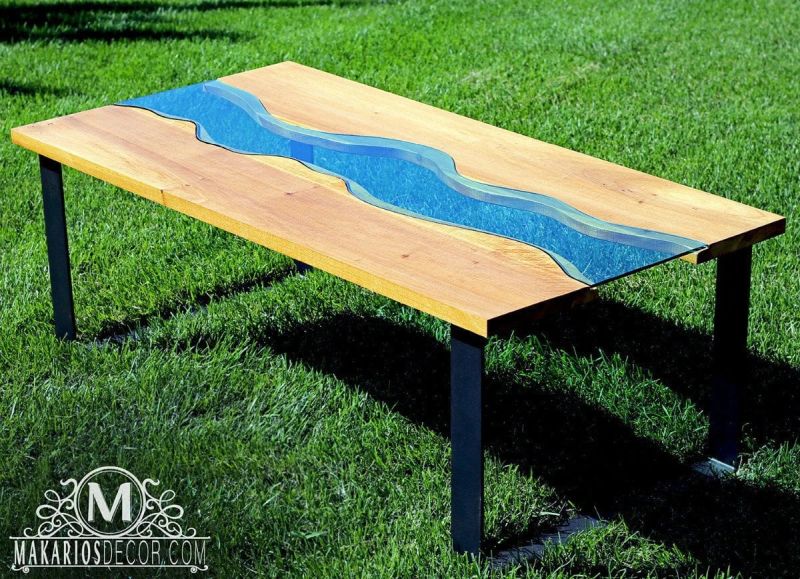 Makarios Decor river coffee table boasts a simple and rustic design. Handcrafted using poplar hardwood, it features a turquoise tempered glass insert resembling a flowing river. This minimalistic river table will welcome your guests into the living space, and showcase the custom style of your home.
Buy: $600
Things to Consider When Buying a River Table
Live edge or not, river tables evoke an aesthetically pleasing look that costs aplenty, yet you can find them everywhere. Is it just the visual appeal enticing consumers or is functionality a prerequisite too? Designers and woodworkers have their eyes rooted in the fact that functionality is a must despite all the fancy design it beholds. Thus, they build their river tables in a way that they don't trade off functionality for looks.
Like with all tables, a perfect river coffee table is one that is the right size for you to reach the snack, sturdy enough to take the weight of your books and even your legs occasionally. Resin if used properly is robust enough to see you through all that you give it – but be mindful of the fact that wood would need a lot of care. Wipe it sporadically with a soft, damp cloth to ensure its longevity and gloss.
When buying a river table, be sure of the type of wood you are investing in. Certain wood types are more durable and appealing than others but the cost of the table will depend on the wood type used. For instance, finer wood like Walnut or English Yew will cost slightly higher than Poplar and Ashwood.
Even if you don't have a real idea about the quality of resin and epoxy, it is advisable to check the table thoroughly to see for any bubbles or other blemishes. Many resins do not play really well with damp wood – so if your manufacturer has not used finely dried wood – there are chances of some glitches in the way resin has flowed in between the wooden slabs. Woodworkers are generally mindful of things like these, but you want to be doubly sure 'coz you're investing your hard-earned cash on a river table.
The article has been updated with the most recent entries in February 2023.