Birds are wonderful feathered creatures who bring joy and melody to our backyard or garden. Watching them sitting and chirping is a delightful feeling. If you have affection for birds and want them around your dwelling, you can attract them by placing a beautiful birdhouse in your garden. You can find a number of birdhouses – in various designs – over the web or can even try to make one by yourself.
Setting up a nest box in the lawn and balcony is a great way to invite sparrows, finches, swallows, bluebirds, or other species of birds. Here is a round-up of some of the most impressive birdhouse designs that not only provide birds with a natural habitat to live in but also add to the outdoor appeal of your house.
Birdhouses You can Buy Online
Eva Solo Bird Shelter
This Eva Solo birdhouse will help you invite birds into your garden. It comprises a white porcelain dome and a cocoon hand-woven from natural rush strands at the bottom. It comes with a suspension cord and is easy to clean. You can buy it on Amazon.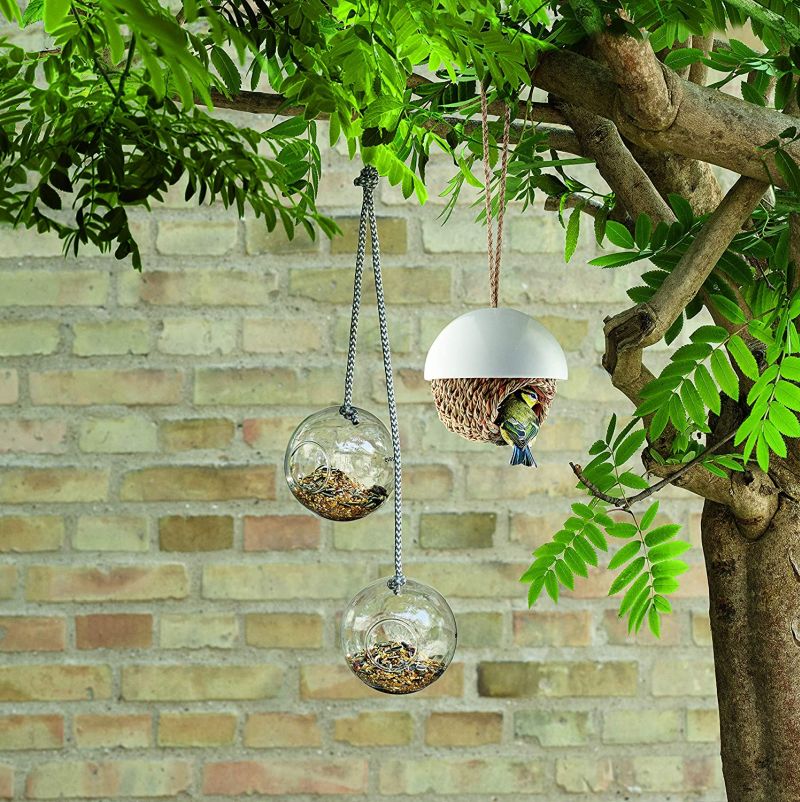 Seagrass Bird House
This all-natural birdhouse is crafted from seagrass, which makes it a fantastic gift for gardening enthusiasts and nature lovers. Some of these models are also decorated with bamboo chimes. It is perfect to bring a fairytale cottage inspired look to your outdoor space. There is a rope attached to hang the birdhouse from a tree. You can buy it from Etsy.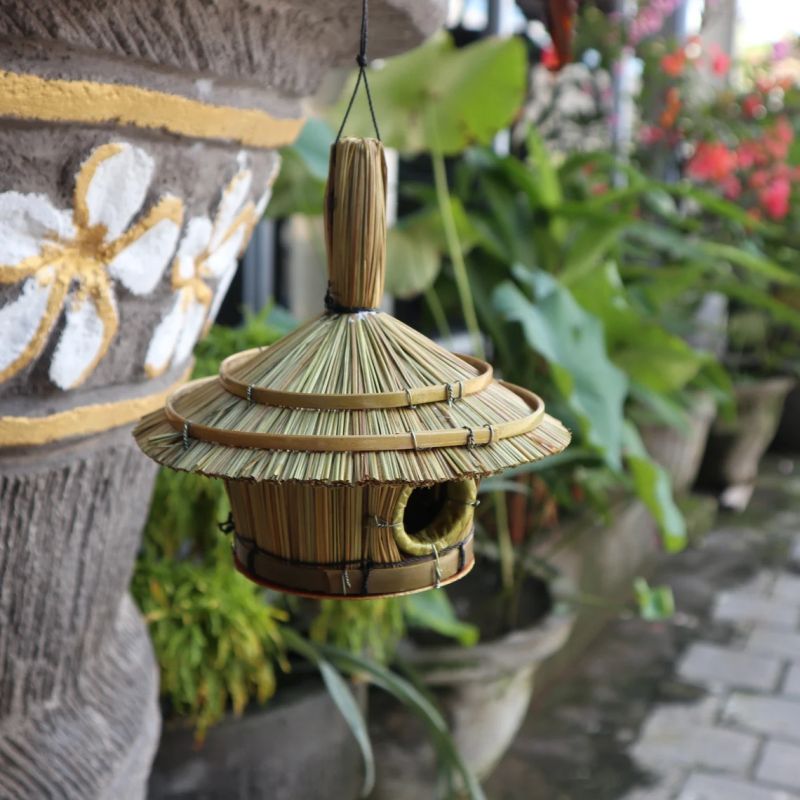 Modern Porcelain Birdhouse
Stylish and cute, this birdhouse would make a great present for a bird lover. It works great as a birdhouse outdoors but can also be used as an indoor decoration piece. The birdhouse can withstand the elements, rain, snow, ice, wind, etc. There is also a perch made from salvaged Pacific Yew. It can be purchased on Etsy.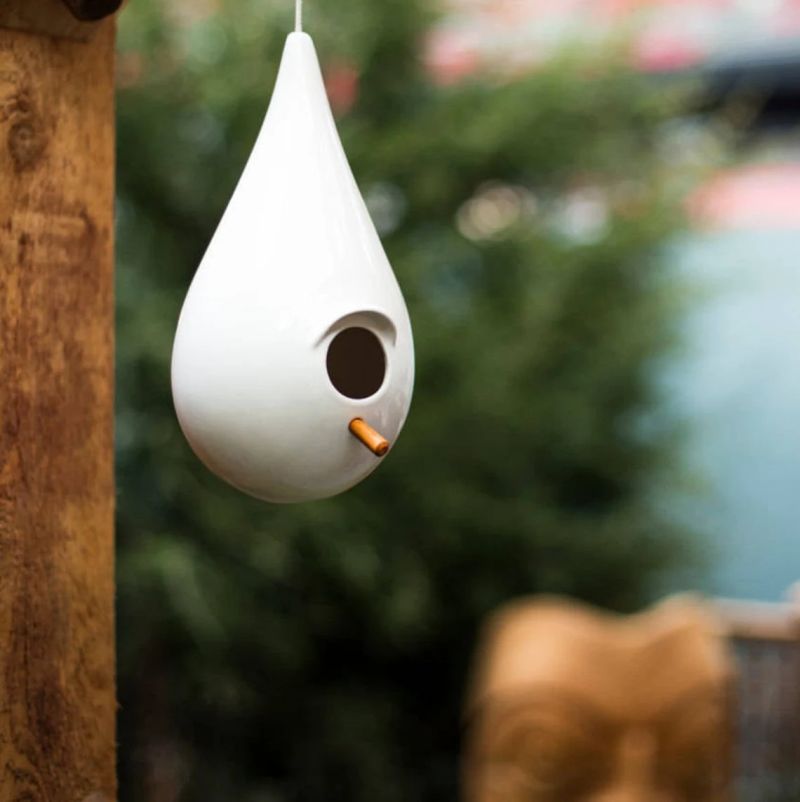 Natural Moss and Stick Birdhouse
This moss covered birdhouse will nicely fit into your backyard. It comes with a metal hanging chain and also a perch for birds. The birdhouse measures approx. 9.5 x 10.5-inches and can be used both indoors and outdoors. Made from all-natural materials, it is a sustainable product for garden décor that is available on Etsy.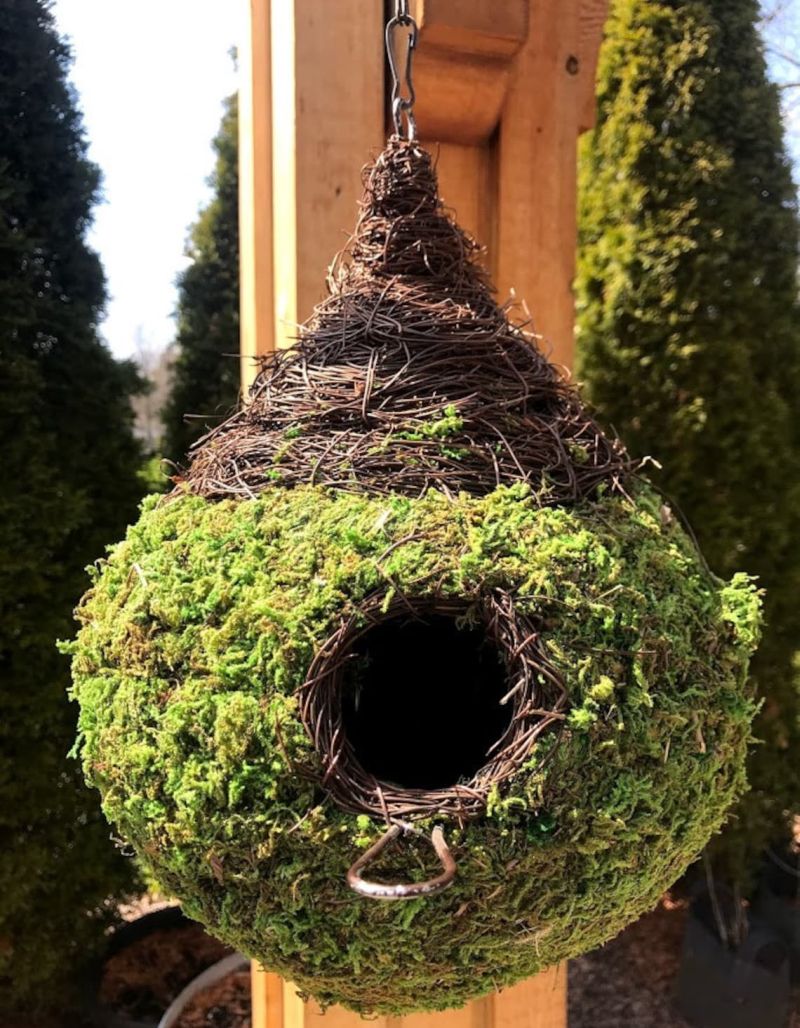 Woolen Bird House
This bird nesting box is a unique house for birds. It is made from strong wool fibers and wool that give it the look of a real birdhouse. The woolen walls protect against the cold while keeping the temperature low in summer. You can buy it from Etsy.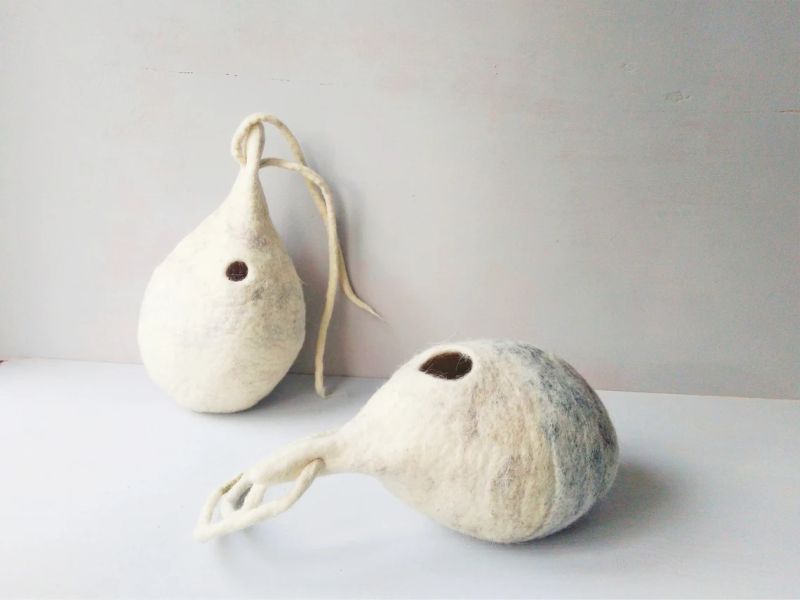 Gute Hummingbird House
This hanging birdhouse is made of natural, environmentally friendly dried hibiscus grass. You can hang this unique birdhouse on tree branches, vines, or fences to provide a sheltered warm place for birds. It can be bought for $24 from Amazon.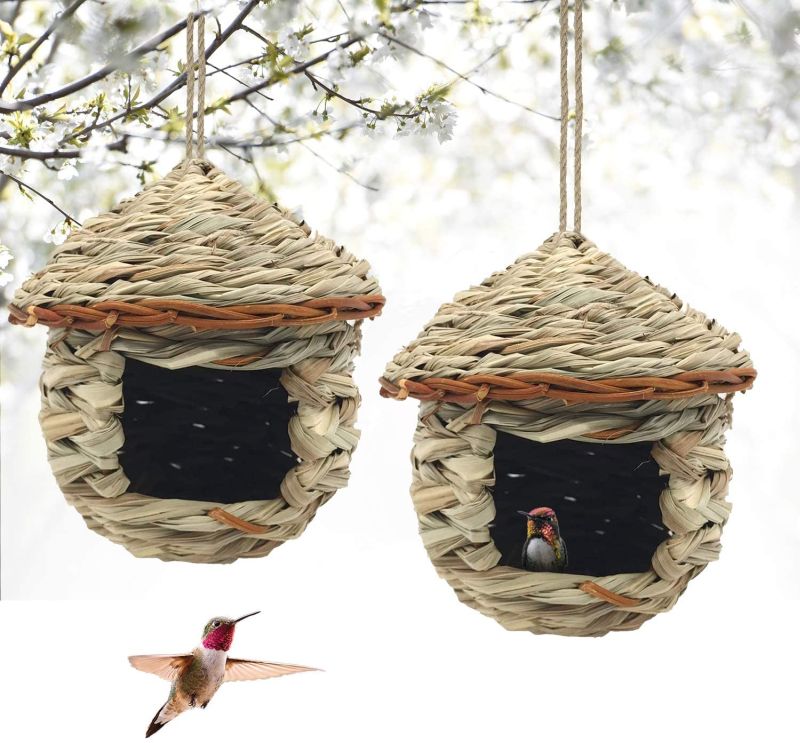 Barnwood Birdhouse by Michael Campbell
Michael Campbell decked up this birdhouse with beautiful details like a wooden hobbit home. The shell is made of old barn wood and other reclaimed materials and is further detailed with brass hinges, metal latches, and door knockers. Besides being decorative, it provides a comfortable space for feathered friends to stay and enjoy outside views from a tiny window. Buy this reclaimed wood birdhouse from Etsy.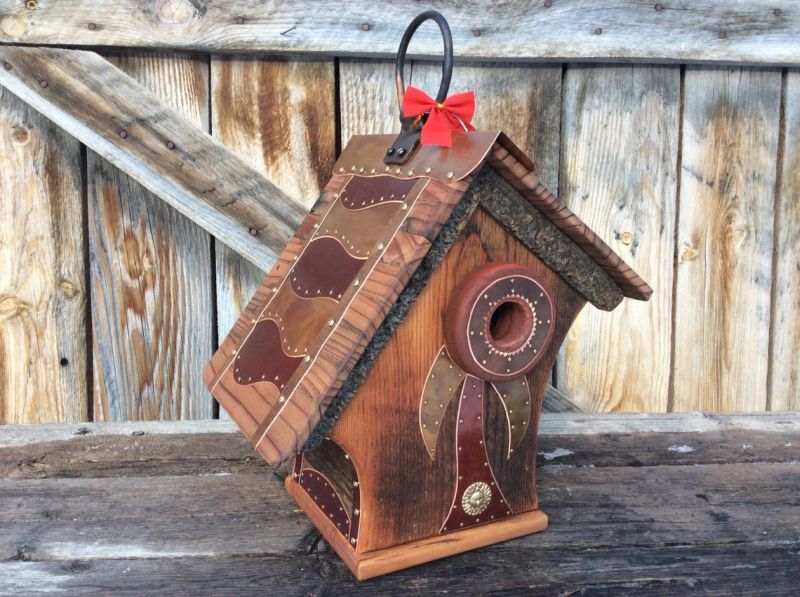 Metal Birdhouse by Artist Brain Carlisle
Brain Carlisle crafted this unique birdhouse with salvaged material. The waterproof nest box is made up of two vintage chrome kitchen canisters to prevent feathered creatures from extreme weather. It provides two separate rooms, which are spacious enough for birds to perch and build their nests. You can buy this birdhouse for about $665 from Etsy, and set it up anywhere on a flat surface.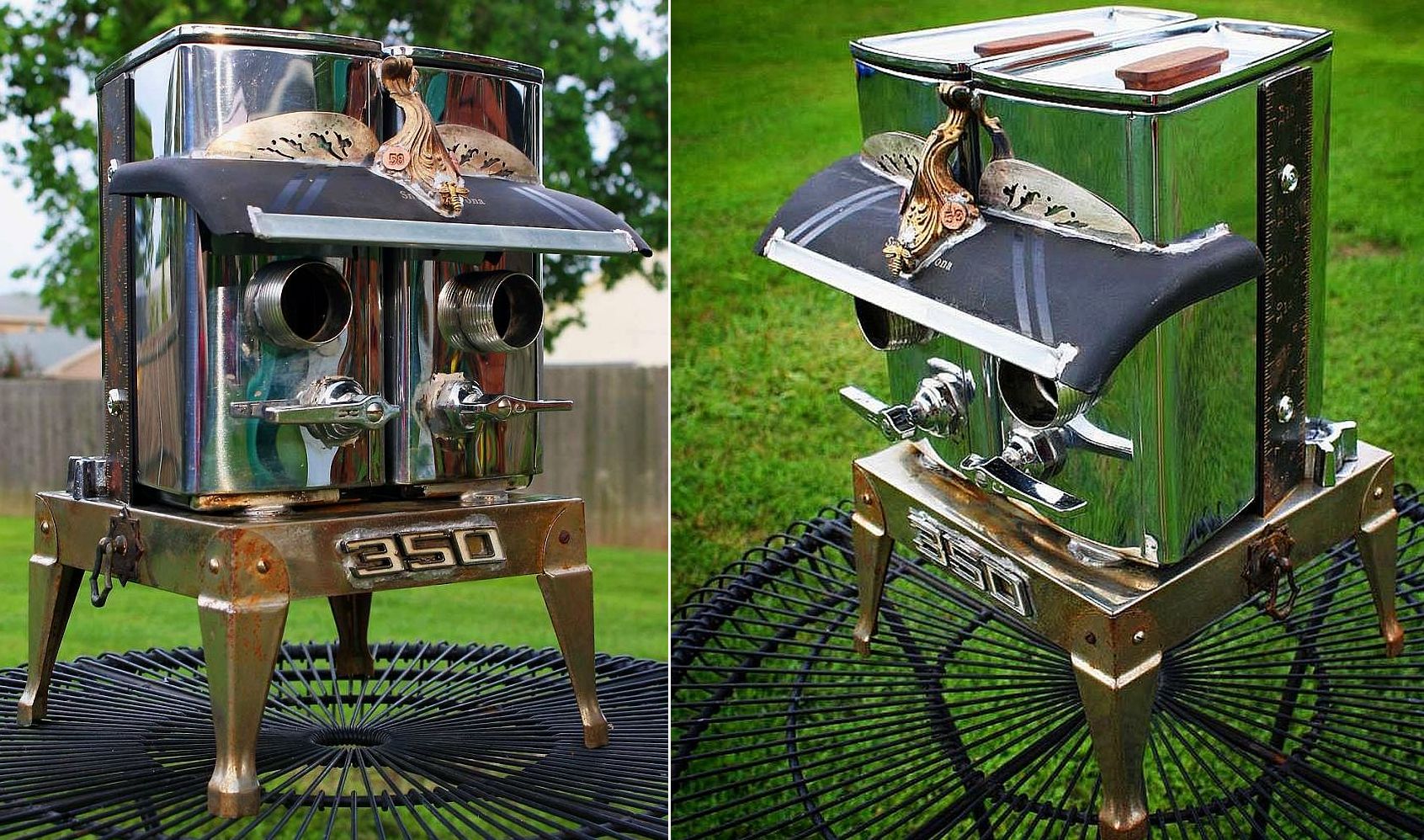 Handcrafted Trailer House for Birds
This wooden birdhouse features a weathered metal top that is caulked and hand-nailed for a weather-tight seal. It is painted with metal exterior primer coat and then again painted with the color. Its edges and sides are lightly hand-sanded for a distressed look. This decorative birdhouse is perfect for camping lovers. Bird lovers can buy it from Etsy.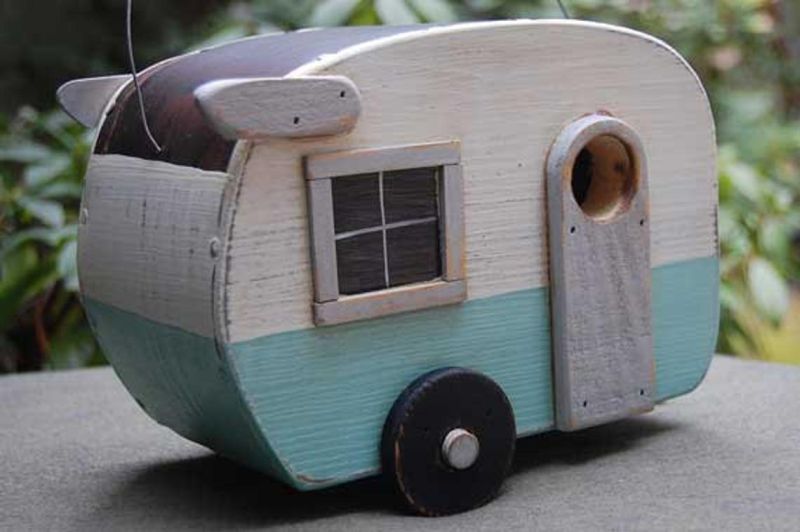 Repurposed Driftwood Birdhouse
Creatively crafted from natural driftwood, this one-of-a-kind hanging birdhouse offers a comfortable living space for birds. Its ecstatic, hut-shaped look attracts various species of birds and adds a rustic accent to backyards and balconies. This tropical island-inspired birdhouse will add an exotic vibe to any place. It can be purchased from Etsy.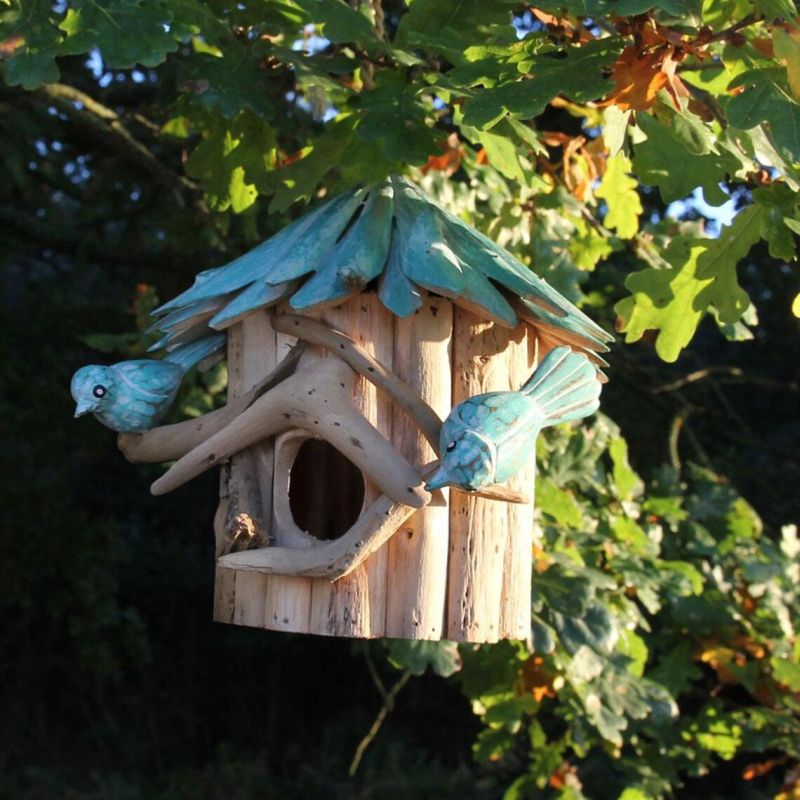 Death Star Birdhouse
This spherical bird nest is inspired by the moon-sized space station Death Star from the Star Wars movie series. This tiny ceramic ball with a single entrance hole can be hung on trees to become comfortable accommodation for small bird species. It is available on Etsy.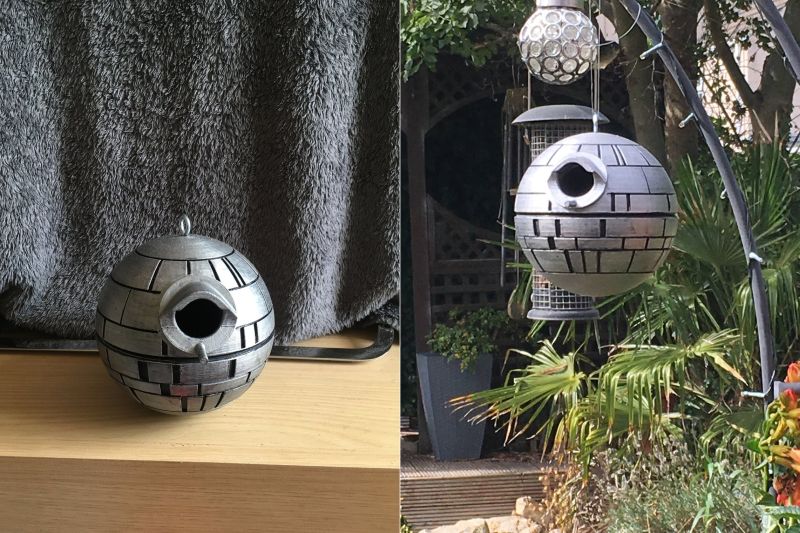 Unique Birdhouse Designs for Your Inspiration
Orator Birdhouse by Katia Tolstykh
Katia Tolstykh designed a birdhouse that disseminates sounds of chirping birds through a copper loudspeaker. This stylish bird nest has an oak wood base with enough space to grow a money plant and a copper cage with a slide-out bird feeder. You can easily hang it on your balcony, garden, or porch.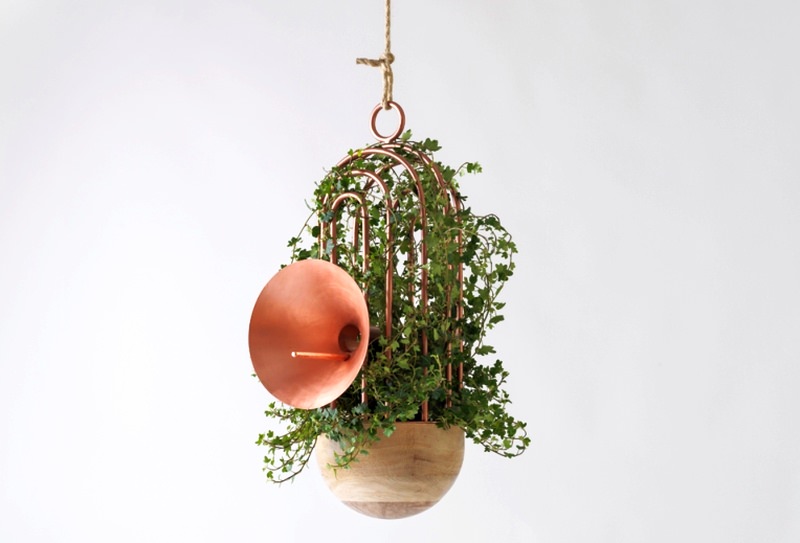 Birdball by Michael Hilgers
Stunning yet simplistic; this ball-shaped birdhouse by Michael Hilgers is an ideal nest for small birds. The Birdball is made from recycled plastic in bright colors which are inviting for birds. The spherical design makes it a gorgeous addition to the balcony and garden. You can simply hang it over your balcony or garden fence.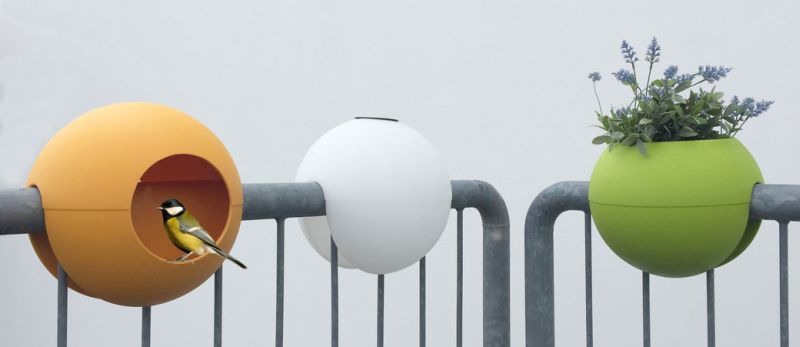 Modern Wooden birdhouse
Sourgrassbuilt, a home décor workshop has crafted this birdhouse inspired by modern architects of the mid-century. Dubbed Sunset Modern, it is an ideal abode for small birds. Made out of bamboo, and protected with teak, glossy white, and orange laminate; the bird nest looks more like a human house. Its wooden terrace and veranda add more space for birds to relish.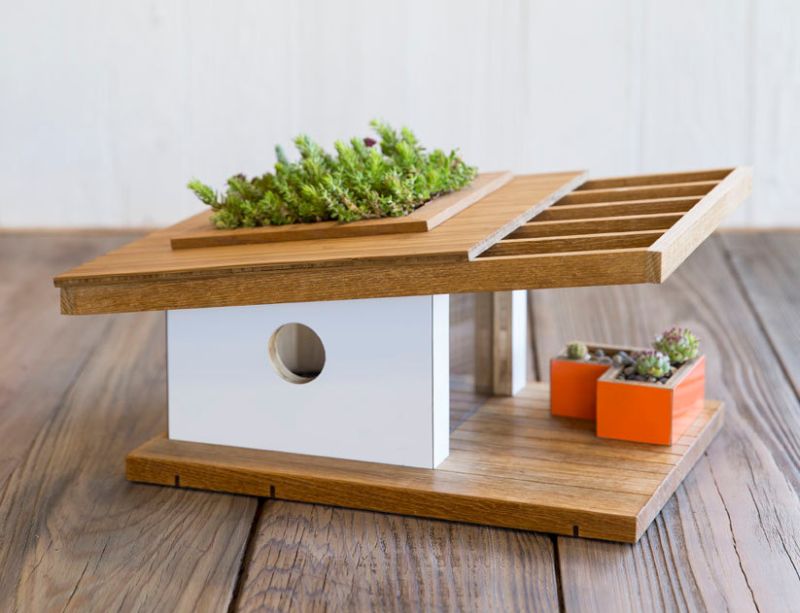 Collapsible Birdhouse by Dydykin Studio
This oval-shaped birdhouse is designed with the motive to minimize the impact of the elements on the birds living inside. It comprises three pieces that fit together. Resembling a natural tree hollow, the birdhouse is designed to match the nesting needs of birds.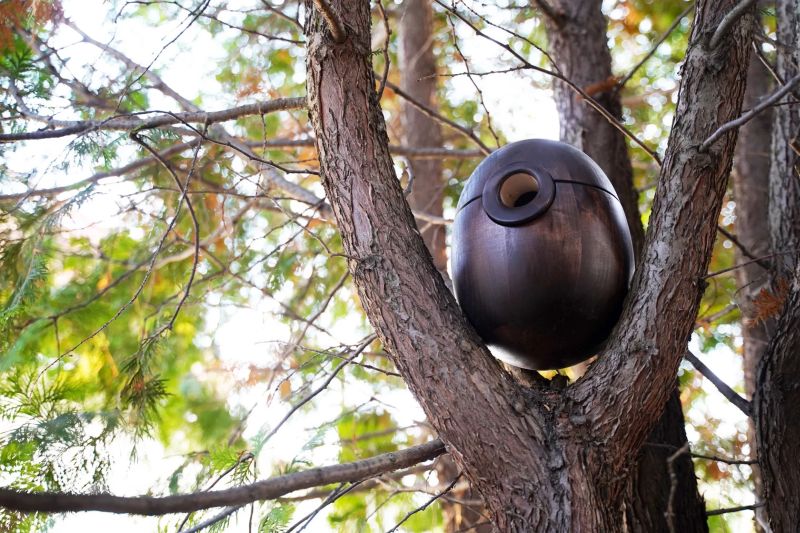 Log Quartered Birdhouse
Moger Mehrhof Architects built an eye-catching and rustic habitat for birds to stay warm in winter. The rustic bird box is made out of fallen oak logs and metal. The sturdy bird shed can be hung outside the window, or over the branches of trees in your yard to catch the attention of feathered pals.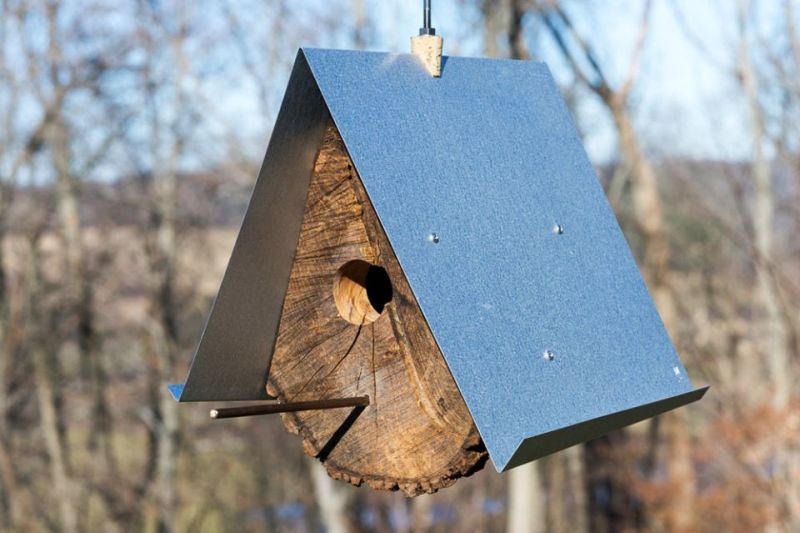 Birdhouse by CPOPP Workshop
This freestanding birdhouse from CPOPP Workshop comprises two parts: an egg-shaped dwelling and a tripod-style three-legged steel stand. The egg is crafted either from solid walnut or teak giving it structural strength.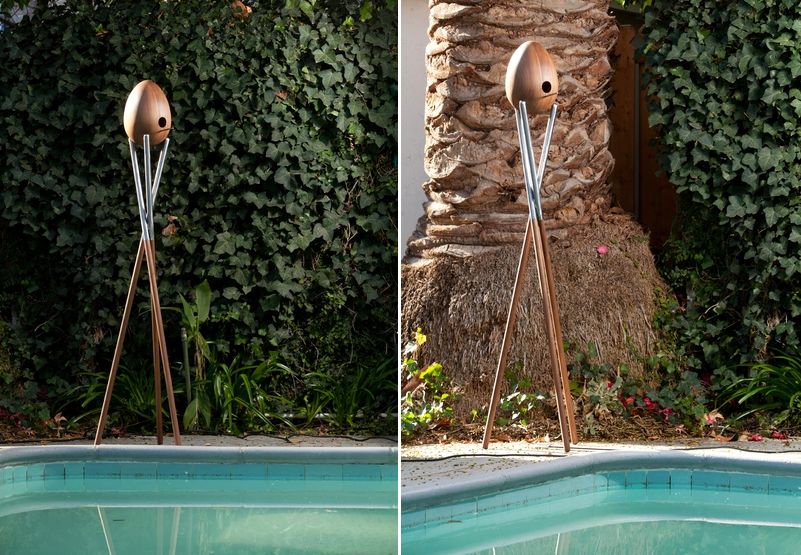 Affinity Birdhouse by Ryan Bruxvoort
Affinity is a curved wooden birdhouse designed specifically for sparrows. Its aerodynamic body featuring sweeping curves is made from maple wood and metal fixings. There's a wire to suspend it to the ceiling or a tree. This creative nest box will be a great inviting space for birds around you.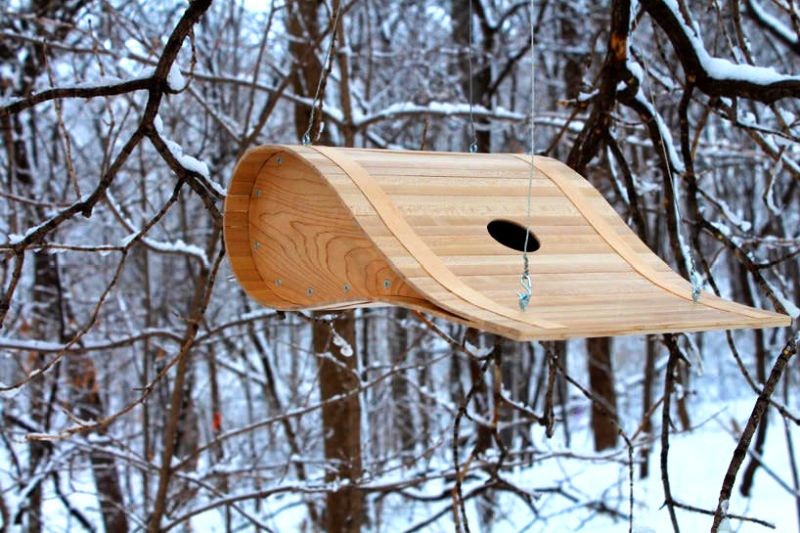 Alphabetic Birdhouse by Artist Nishant Jethi
Spell out your name or write your favorite quote on outdoor walls or backyard trees with letter-shaped birdhouses. Designer Nishant Jethi has created aviary alphabet-shaped birdhouses that bring style to your home and convenience to feathered friends.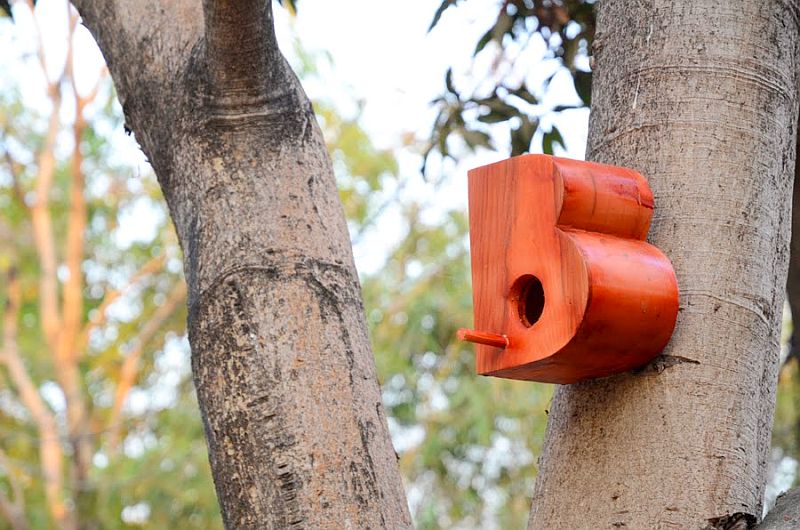 Birdhouse S.P.H.E.R.E
This mirrored birdhouse is a cool creation from Superkül Inc. It reflects its surroundings with the mirrored surface. This shiny bird home was showcased at the Toronto Botanical Garden exhibition. Unfortunately, it is not available for purchase.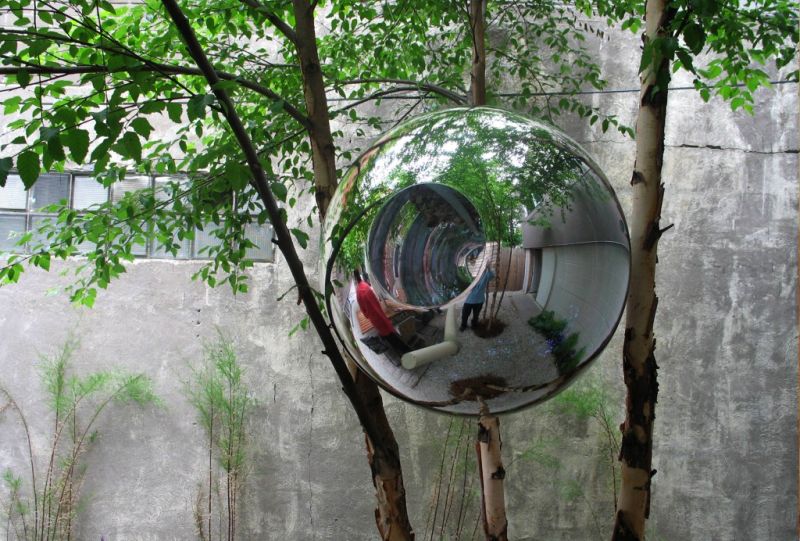 Airstream Birdhouse
Chrome Dome Studio designed a unique bird nest inspired by the Airstream trailer. Airstream Birdhouse is one modern bird dwelling on wheels that can be positioned in a garden or veranda. Your bird friends will fancy exploring this shiny metal nest.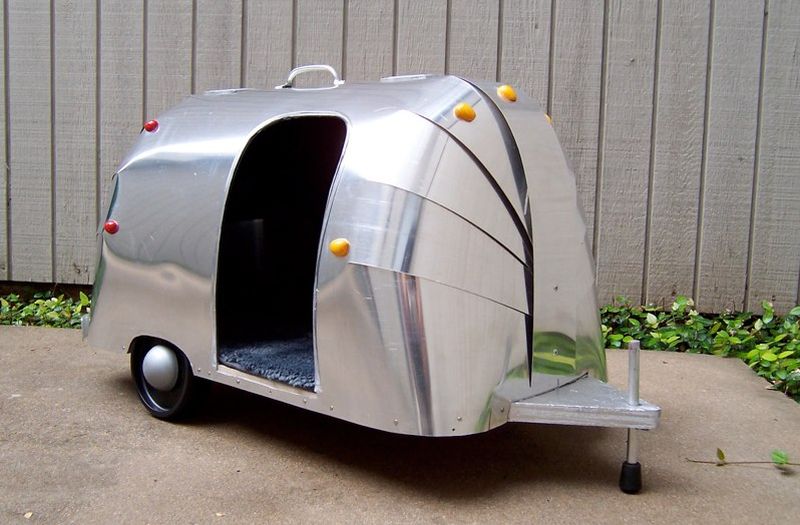 Liquor Bottle Birdhouse by Larry Keisling
The Riverside resident Larry Keisling transforms liquor bottles into elegant birdhouses. Sugar syrup, alcohol, and other beverage bottles are recycled to function as the mainstay of these birdhouses that are framed beautifully with Larry's woodworking skills.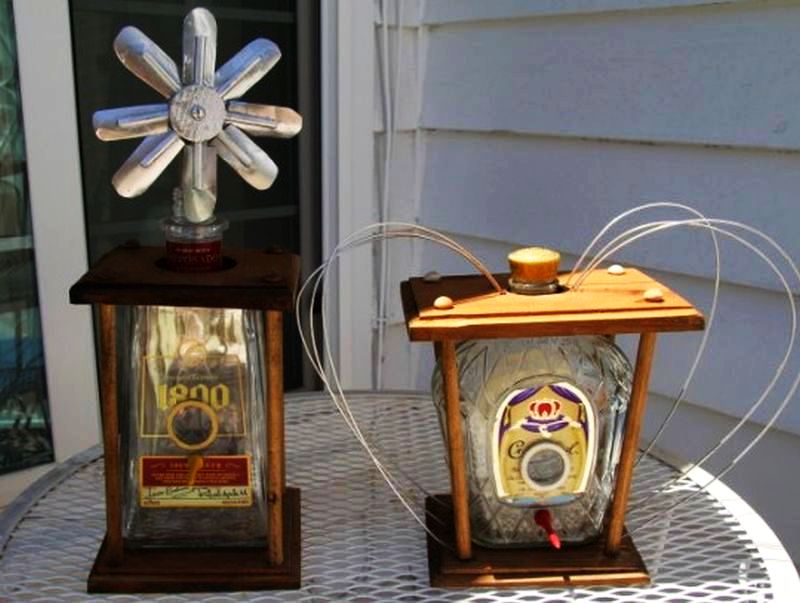 Space Jet Teapot Birdhouse
Space jet teapot birdhouse is constructed using a teapot, washer, nuts, found objects, and copper jewelry by QueenBeeAndMrMan. It looks like a small spaceship when hung on the garden tree or balcony. This bird dwelling is most suited for small birds like sparrows and hummingbirds.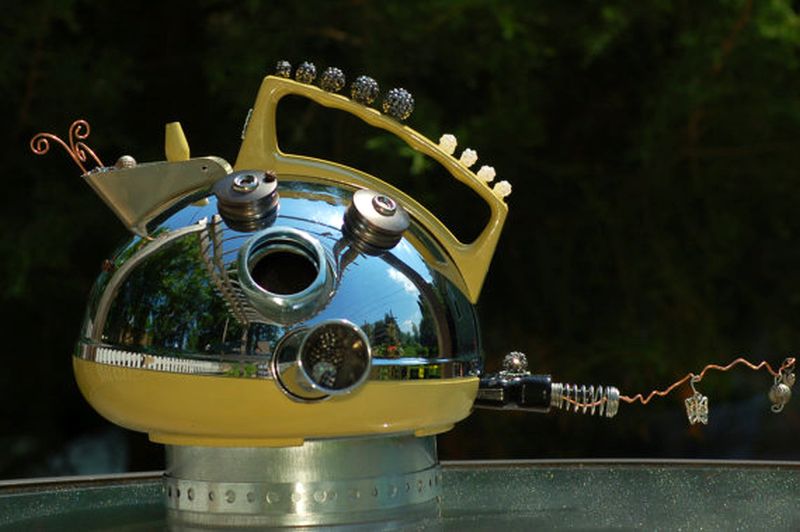 Woven Bamboo Birdhouse
Invite colorful songbirds to take up shelter in this teardrop-shaped birdhouse made from natural bamboo. It boasts a natural design that seems inviting for woodpeckers and sparrows.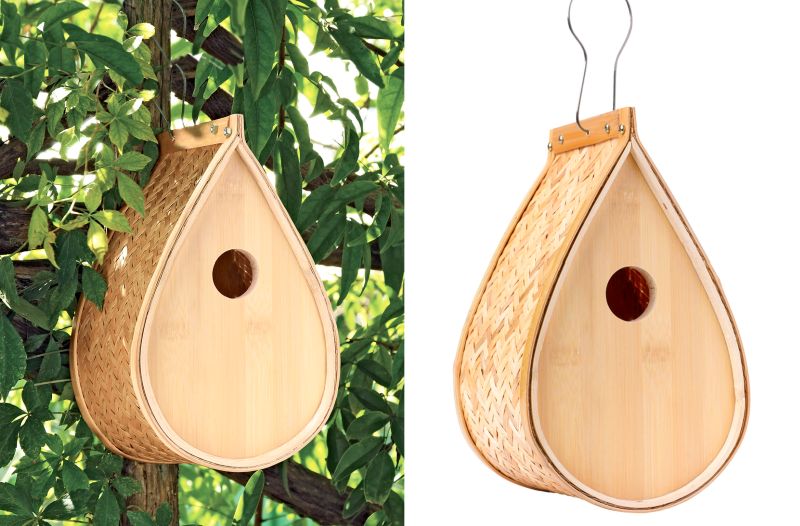 Corchito Birdhouse
Help birds live in a natural habitat with Corchito birdhouse by Brenda Osorio. Composed of seven natural cork pieces, it is an eco-friendly idea. Assemble it like a 3D puzzle and place it near the focal point of your garden to enhance the overall appeal of the outdoors.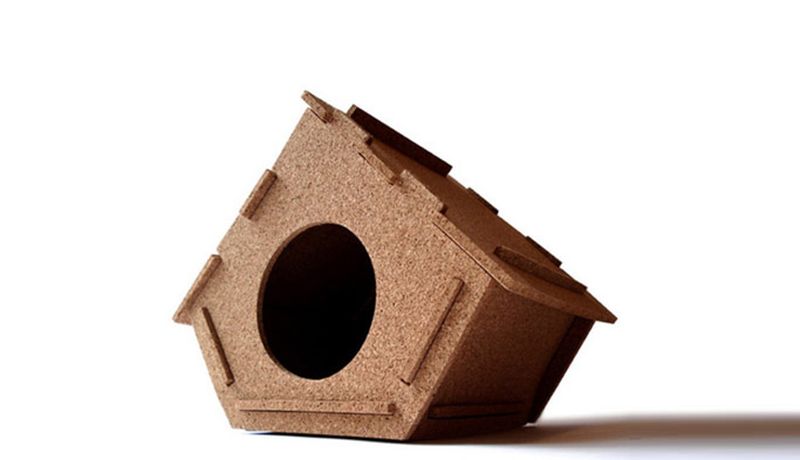 NeighBirds Birdhouse
NeighBirds is an award-winning creation by designer Andreu Carulla. Made of quality wood, this hexagonal nesting box looks simple but is able to invite loads of birds. It can be hung in your front yard, porch, balcony, deck, or backyard to create eco-friendly living spaces for birds.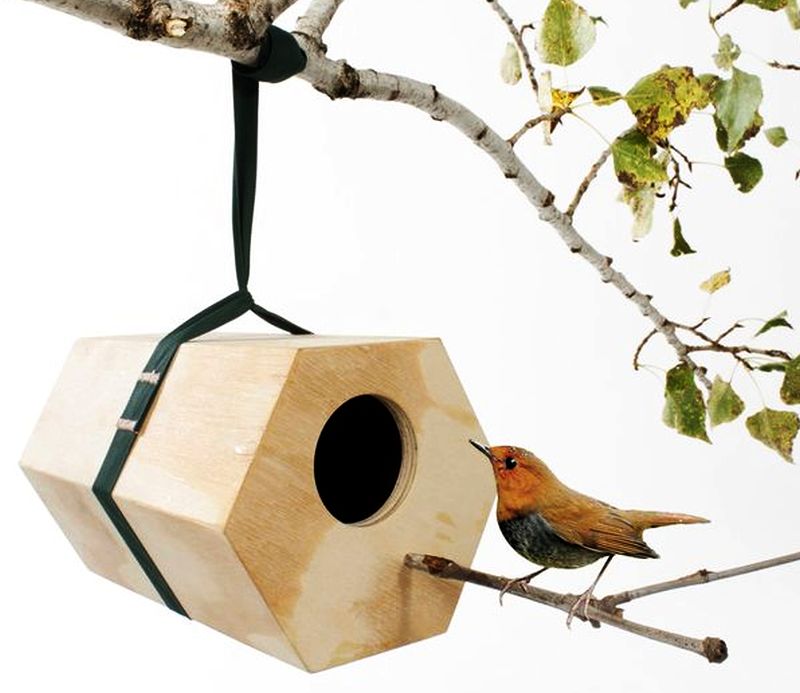 Tree-Ring Bird Nesting Box by Jarrod Lim
Jarrod Lim designed this wooden birdhouse for the Singapore-based brand Hinika. Built from natural teak wood, it is intended to make small birds feel safe and comfortable. Its layered design drains away rainwater to keep the interior livable for birds in all seasons. Its ideally-sized entrance hole lets in small birds but keeps the preying, unwanted guests at bay.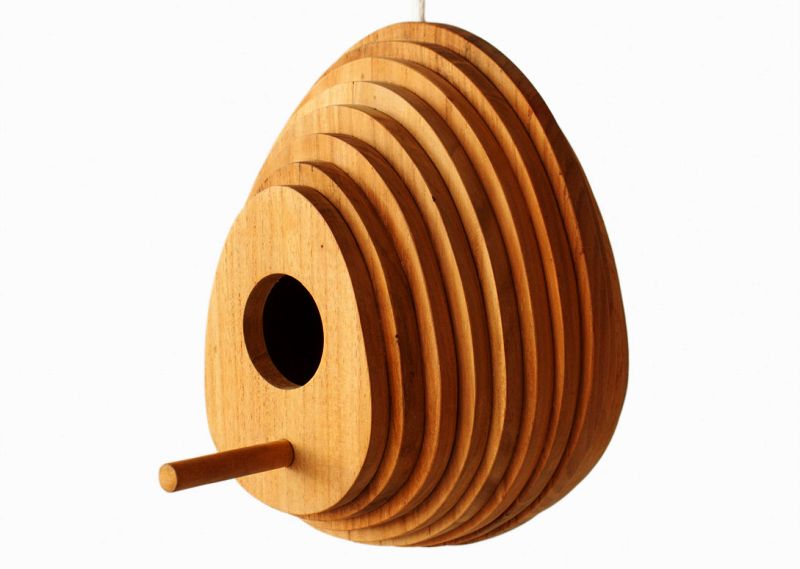 Google Maps-Inspired Birdhouse
We all are familiar with red icons from Google Maps. Inspired by these location markers, designer Shuchun Hsiao has created a birdhouse. Just like Google Maps helps us find our intended destination, this tiny red-colored nest helps birds find a cozy home.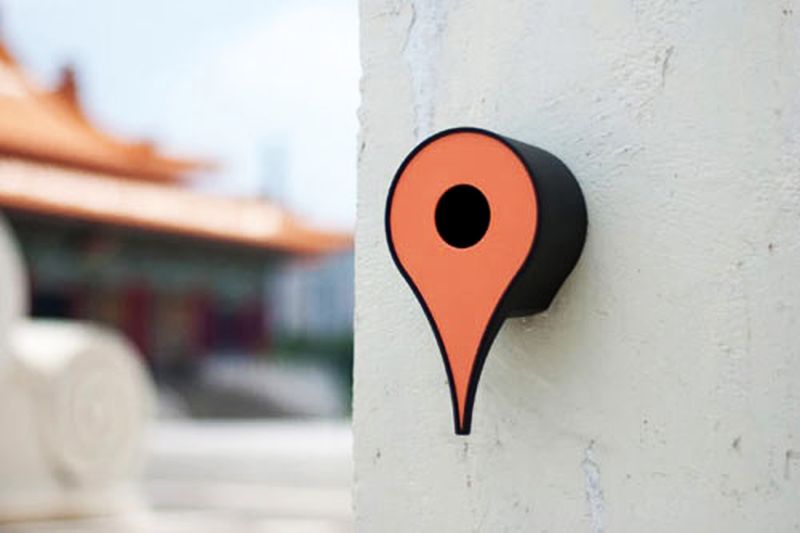 Birdhouse by L.E.FT
L.E.FT designed a birdhouse from 2500 empty stray brass bullets that were collected from different hunting regions in Lebanon. This out-of-the-box, bird nest reflects the uncertainty of life during the tough times that war brings. Also, it looks visually stunning and functions as a comfortable waterproof dwelling for feathered creatures.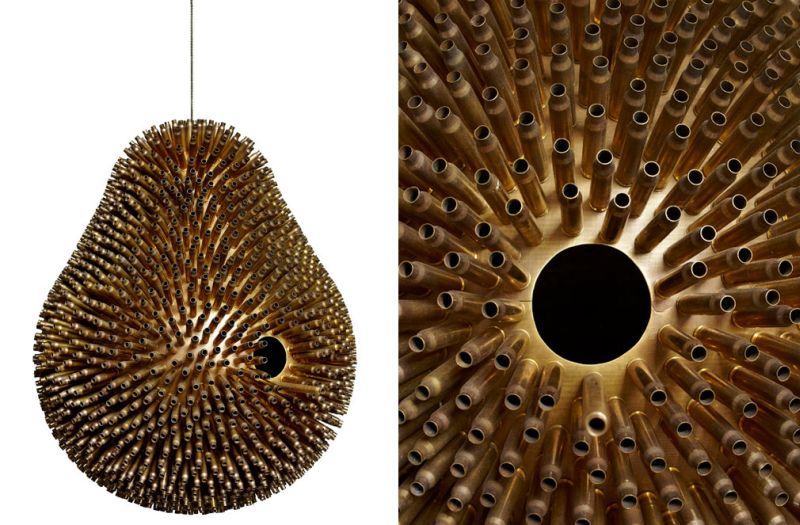 Birdhouse by Paul Clark
With an aim to utilize household waste, Paul Clark has designed an alluring birdhouse using unused plant pots. The idea is simple but can be effective to help the environment by reducing household waste and providing shelter for birds as well.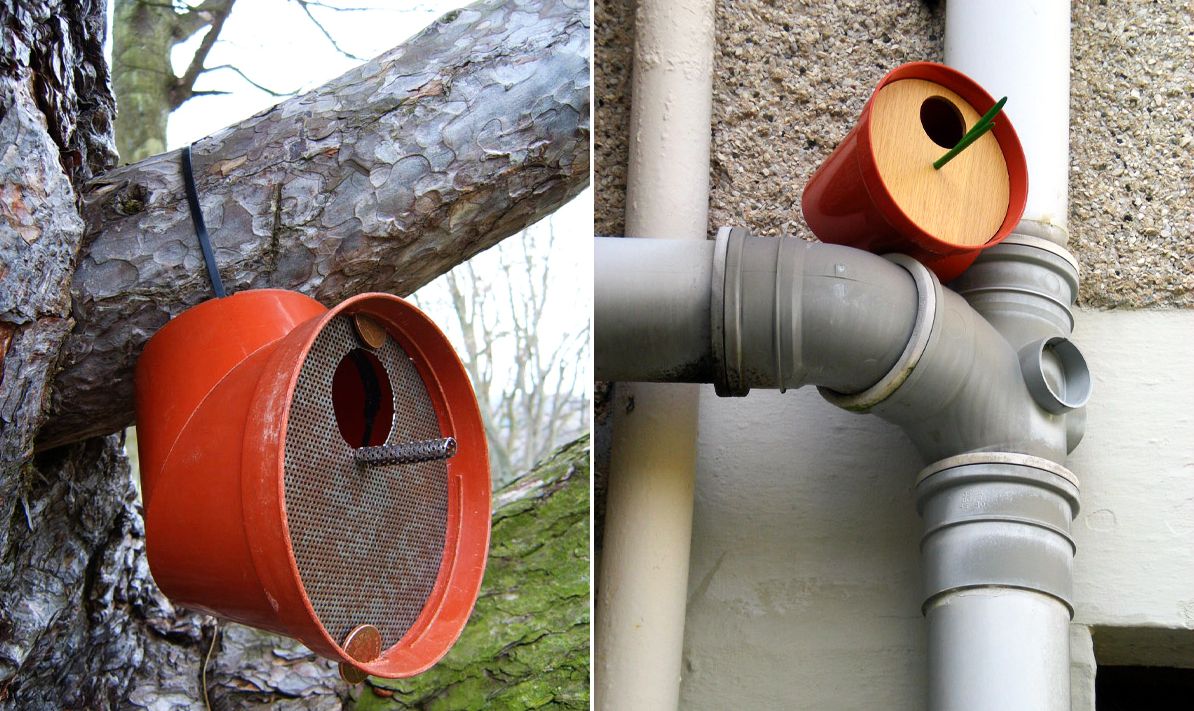 LEGO Birdhouse
If you want birds around your residence, then build a colorful birdhouse with LEGO bricks. With LEGO bricks, you can easily build a dwelling of any shape and size. Make sure you add a bit of glue to keep all LEGO bricks bound together for a longer period of time.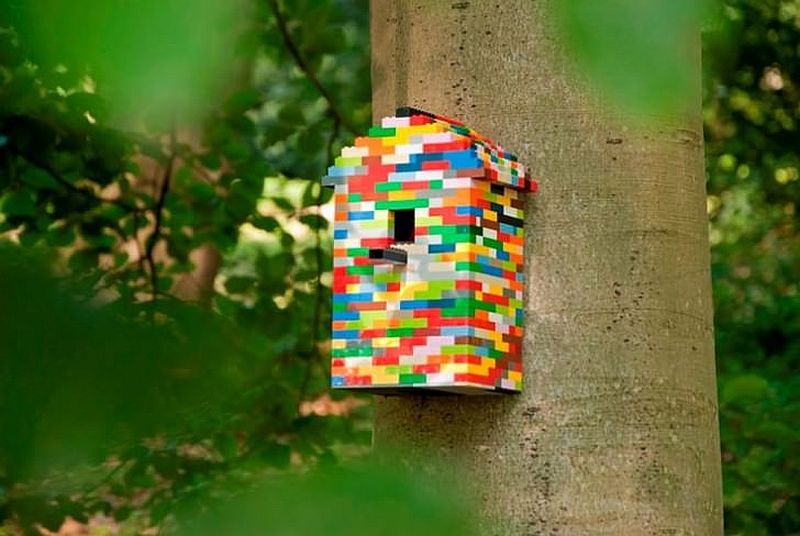 Birdhouse in Roof Tiles
Birdhouse roof tile is a great way to provide birds with a small comfortable abode at the top of your house. If your house has a shingled roof, and you love being surrounded by birds; then fix this to the roof tile to provide a birdhouse on your rooftop. It offers great ventilation and protection to small species of birds.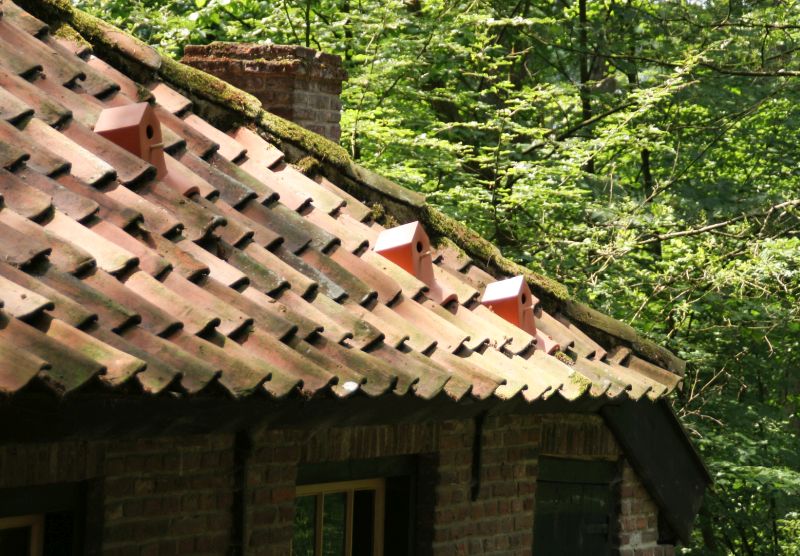 DIY Birdhouse Designs You will Love
Log Cabin Birdhouse by Machoturtle
The log bird cabin is a little treasure for your bird tenants. This DIY bird box can be made at home using cedar wood logs, adhesive and red paint. Anybody with little DIY skills and a stable hand in woodworking can make this birdhouse at home. Birds around your house will definitely find it a welcoming shelter.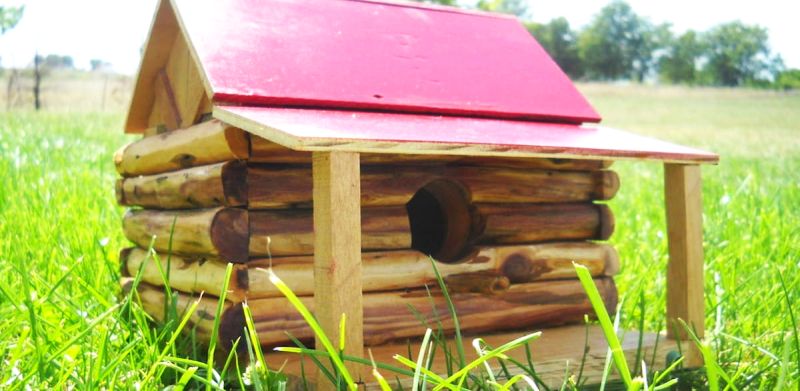 DIY Coconut Shell Birdhouse
This birdhouse can be built easily with a coconut shell using a circular drill, hemp twine, and a flat-head screwdriver. The coconut shell birdhouse can be a cozy nest for small birds. The birds would love to relax in this small cave with their family. It'll look amazing when hung on the most beautiful tree in your yard.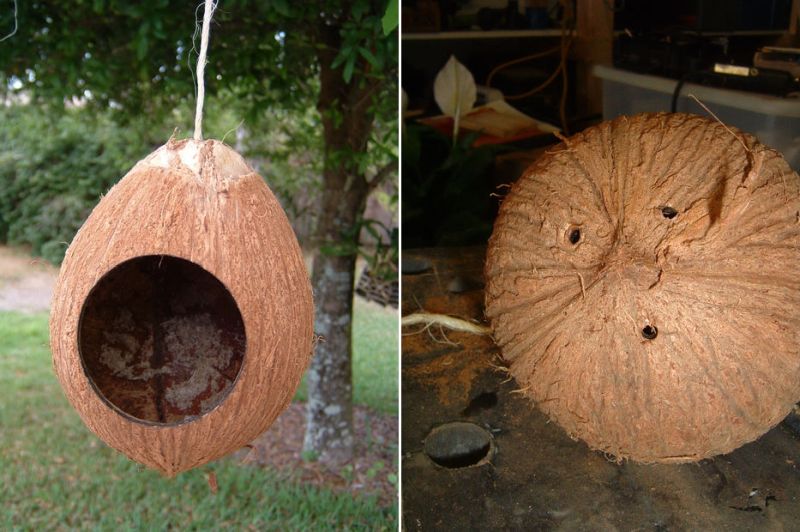 DIY Bird House with Penny Roof
If you have an old wooden birdhouse at home, you can add a cool touch to it by sticking a handful of pennies to its rook. Check out the details for this project on Dream a Little Bigger.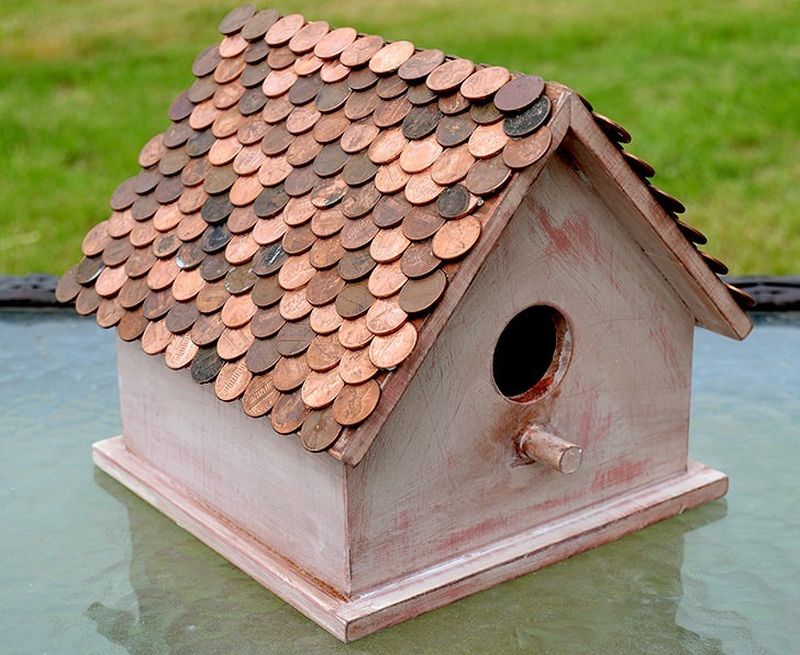 PVC Pipe Blue Bird Nest Box
This birdhouse is made using a piece of wood and PVC pipe. Its design has been preferred by bluebirds for years. Check out the free design plan at Suncatcher Studio.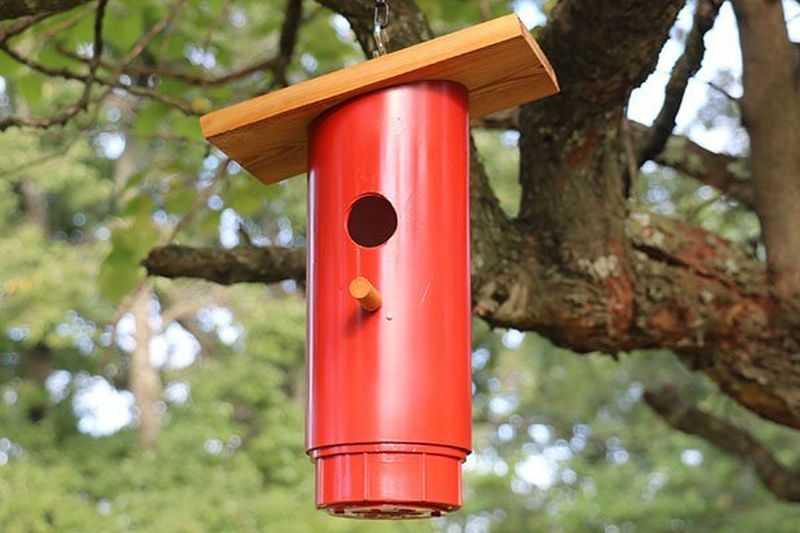 Stone Birdhouse
Making a stone birdhouse is not that tough – you just need a wooden form and then glue up pebbles to it. This birdhouse will be sturdy and can be kept outside all year round. Check out the build details at Empress of Dirt.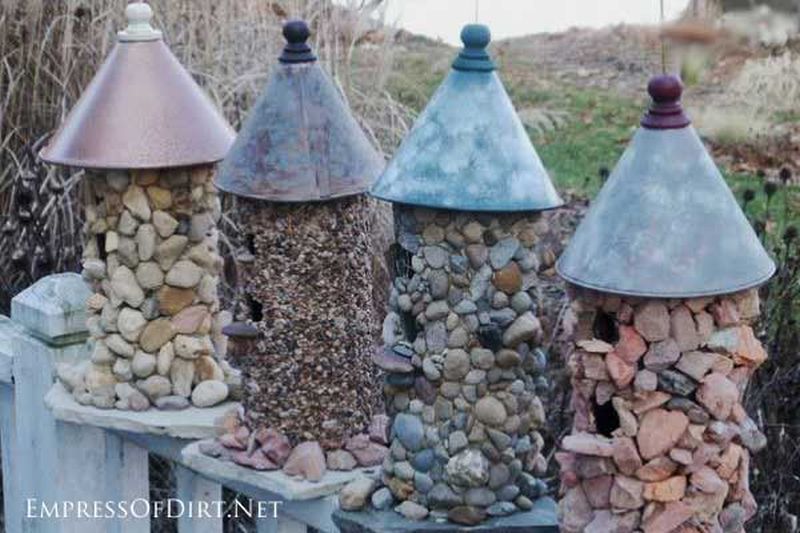 Fake Security Camera Bird House
If you have a proficient hand in woodworking and also have the tools; build this birdhouse that can double as a surveillance camera disguise. There is a hole for birds to enter inside as well as a perch to chill outside. See the tutorial at Madly Odd.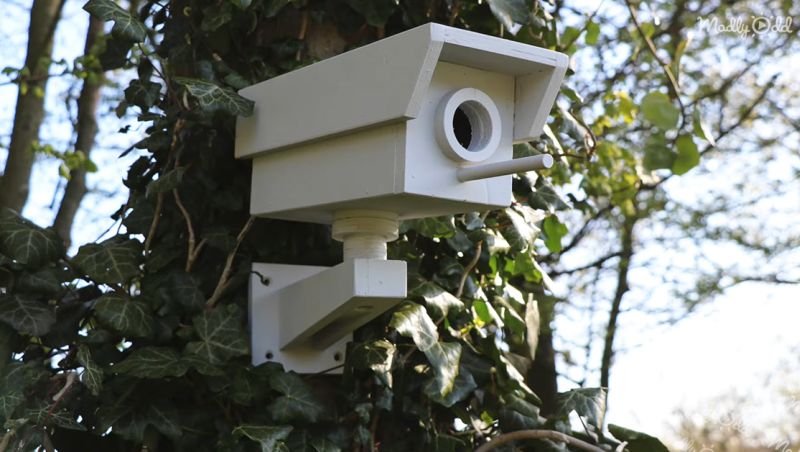 Peterson Bluebird House
Designed by Dick Peterson, it is a classic wooden nestbox with a tilted roof. The front can be pulled down for cleaning the interiors. You can see the free plan at Nestbox Builder.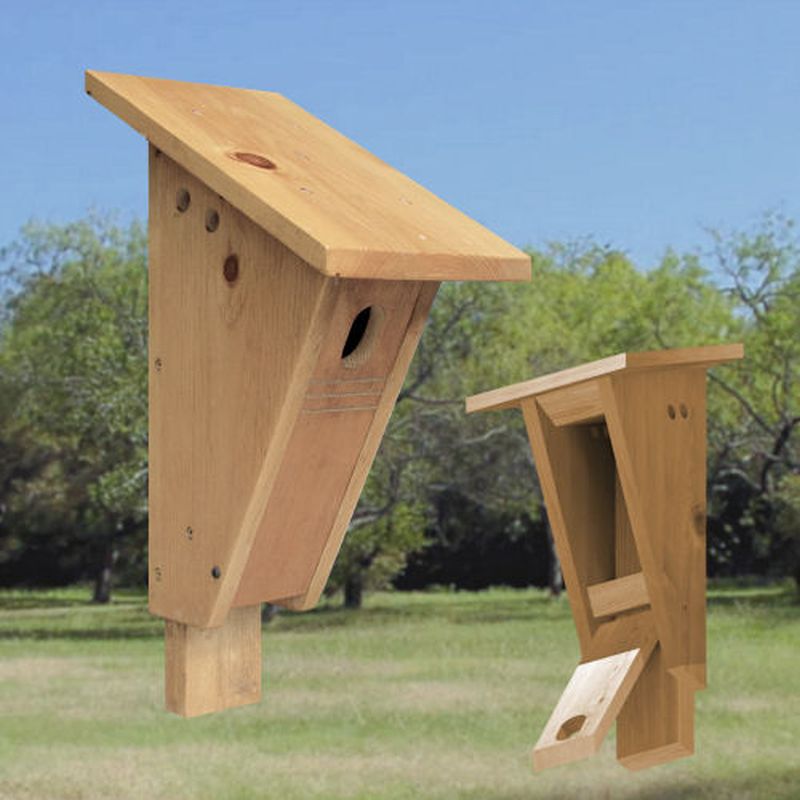 3D Printed Bird House by Scintilla
With a simple raindrop design, this birdhouse is a cool option if you're looking for a whimsical design. The birdhouse is 3D printed in two halves that are held together with pegs. It couldn't hurt to use a bit of superglue when assembling it. You can just hang up one, or print several of these and hang them from the trees.