Life on the road is a great way to explore the world in comforts reminiscent of a home. There are numerous examples of mobile homes built by people having strong wanderlust or the ones wanting to minimize their lifestyle. In addition to the tiny house on wheels, there's a new trend of school bus conversions catching up. It is all about turning old school buses into cozy mobile homes.
Mostly, these renovated school bus homes are built from scratch by people on their own or with the help of some professionals. Those who want to cut overall construction costs and want everything tailored to their needs never hesitate to go the DIY route. You may find several examples of couples moving into skoolies and refurbishing short school buses into tiny-traveling homes.
If you're planning to buy a school bus home or convert one by yourself, here are some of the best school bus conversions and other ideas you can draw inspiration from to embark on the adventure trip of a lifetime.
School Bus Conversions
Paved to Pines
This Thomas school bus converted into a mobile home is called 'The Doghouse'. Featuring a red exterior design and rustic interior details, it is custom-built for a firefighter. Being a dog lover, the owner has integrated features that may help him during dog rescues.
There is a kitchen, living area, bathroom, and bedroom with a queen-size bed inside. The rooftop deck, accessed from the rear of the house allows owners to enjoy in the open!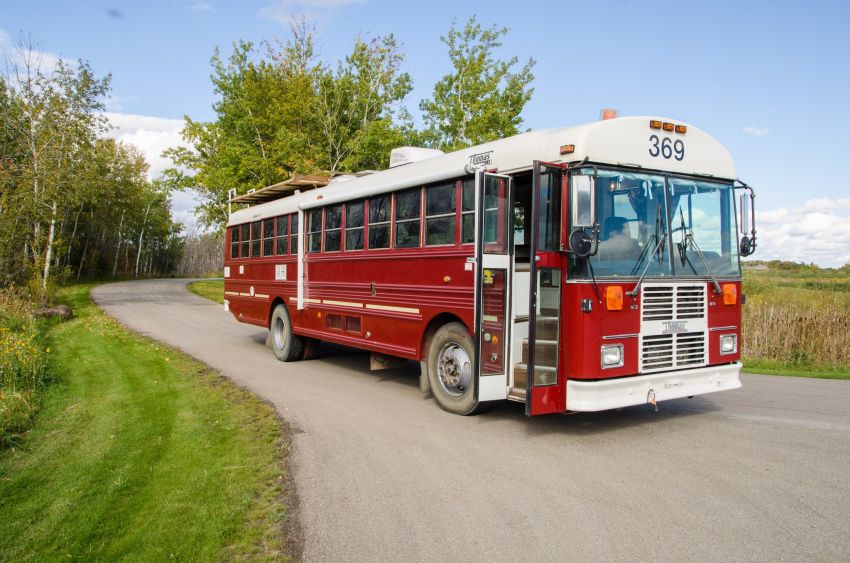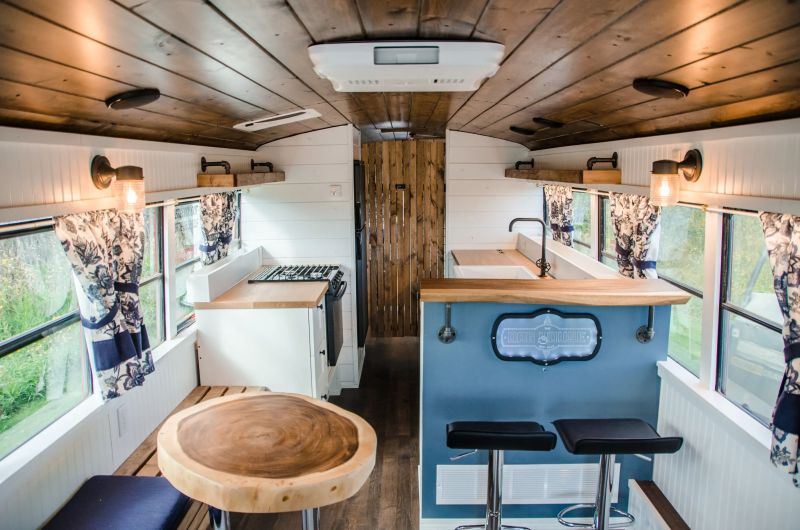 Outside Found
Will Hitchcock and Alyssa Pelletier of Outside Found started refurbishing an old school bus into a luxury tiny home on wheels in October 2014 and completed the project by March 2015, in mere six months. The living room, right behind the driver's area has a comfy couch with integrated storage and a large drop-down table.
There's a full-sized kitchen with an electric/propane Norcold RV fridge, two-burner Atwood propane stoves, and a six-gallon Suburban propane water heater. The office area is situated alongside the kitchen and has two seats for a mobile home office. As for the bedroom, it appears to be a cozy space with wood-paneled walls and a skylight. The bathroom includes a composting toilet and a tiny shower. There is storage for camping gear at the back of the bus.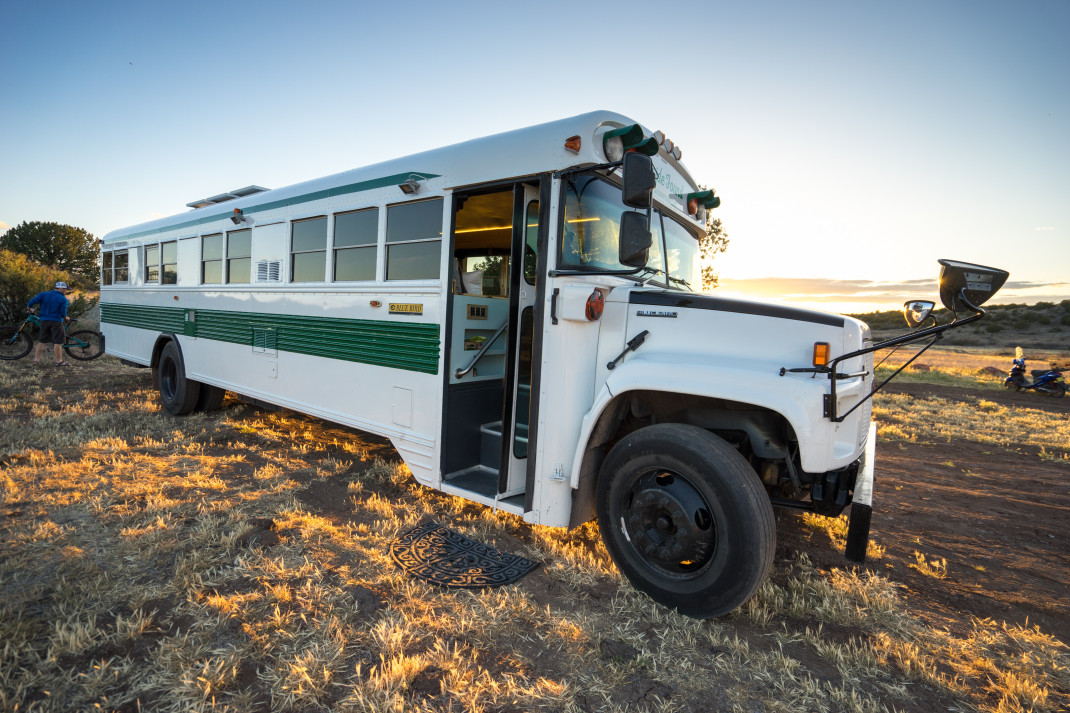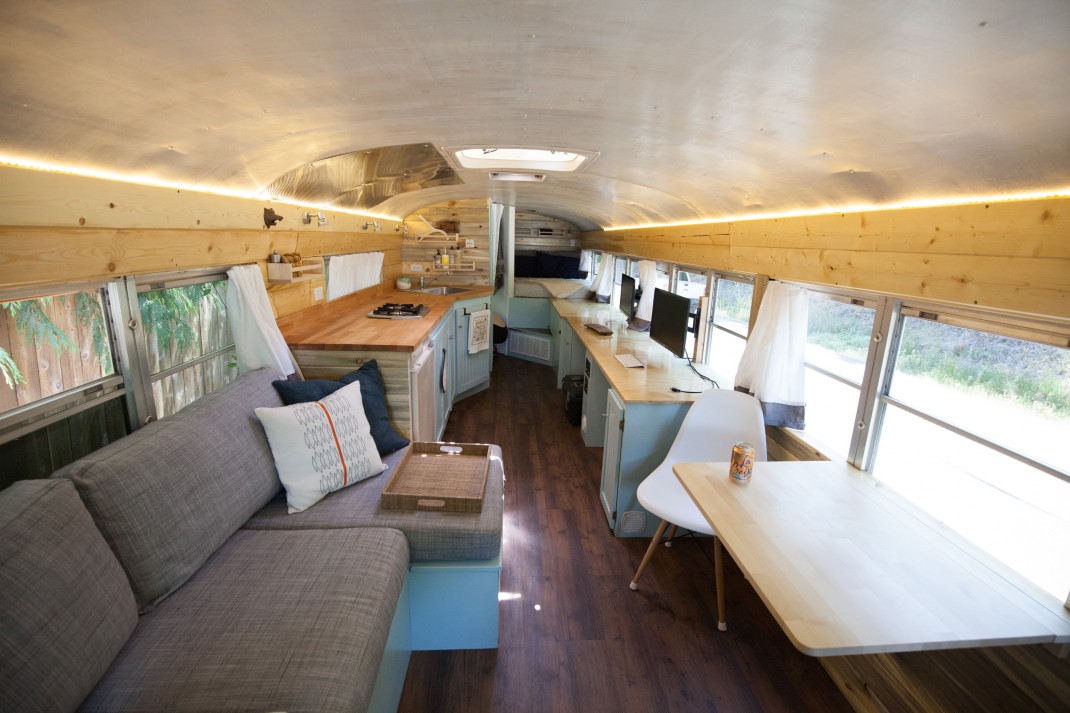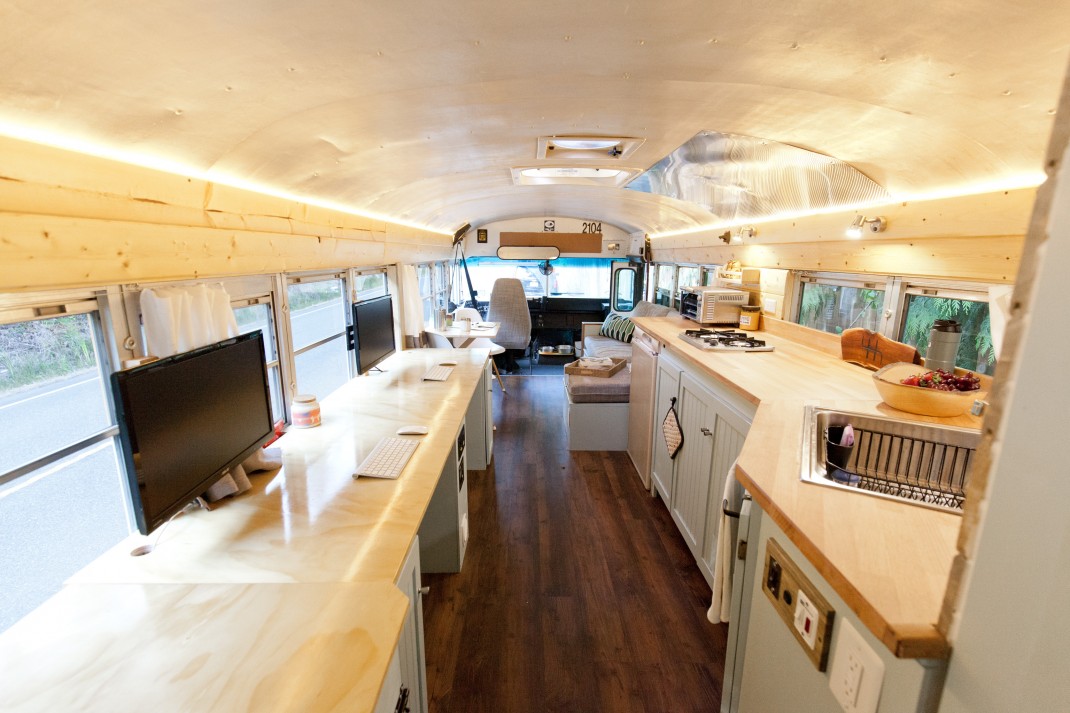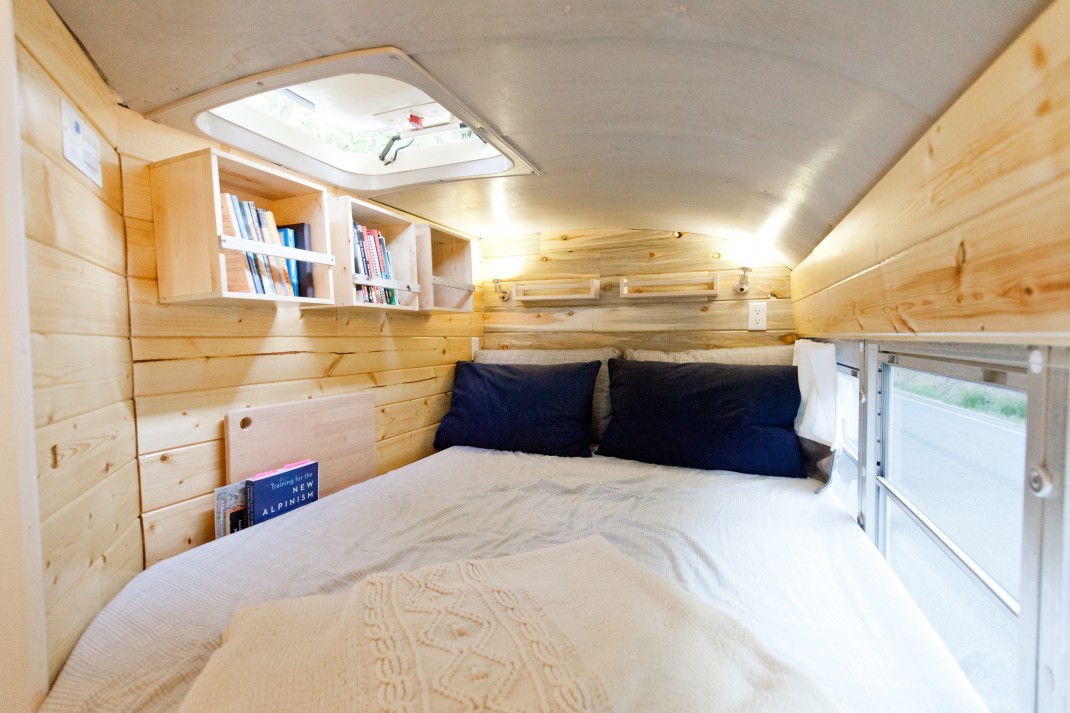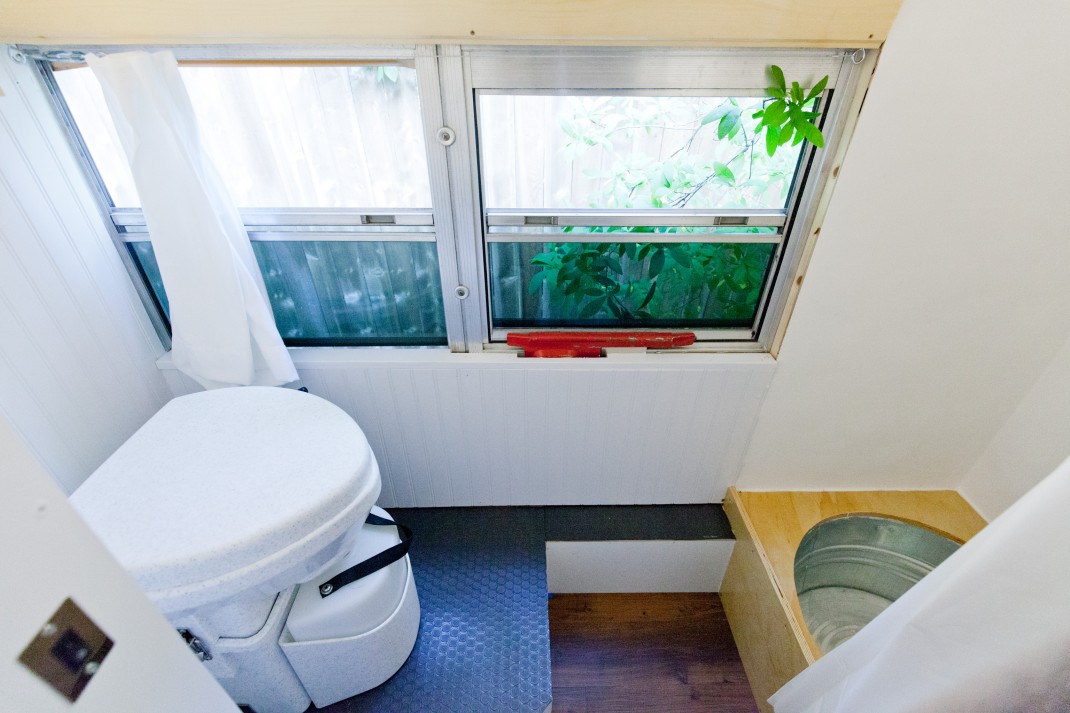 Navigation Nowhere
Michael Fuehrer from Stockholm, New Jersey, spent about $35,000 and nine months transforming a 2004 Thomas Freightliner school bus into a comfortable house with a rooftop deck. The army green exterior of the bus is outfitted with a retractable cooking area, storage, floodlights, a rooftop deck, and a garage at back.
The fresh and grey water tanks are housed on the underside of the bus. There are more modern features like skylights, solar panels, and an air conditioner. On the inside, it offers about 140 square feet living space. It can sleep six and has a full kitchen, complete bathroom, pantry, and closet. The wood-paneled ceiling and walls instantly capture attention, while widows bring in enough natural light.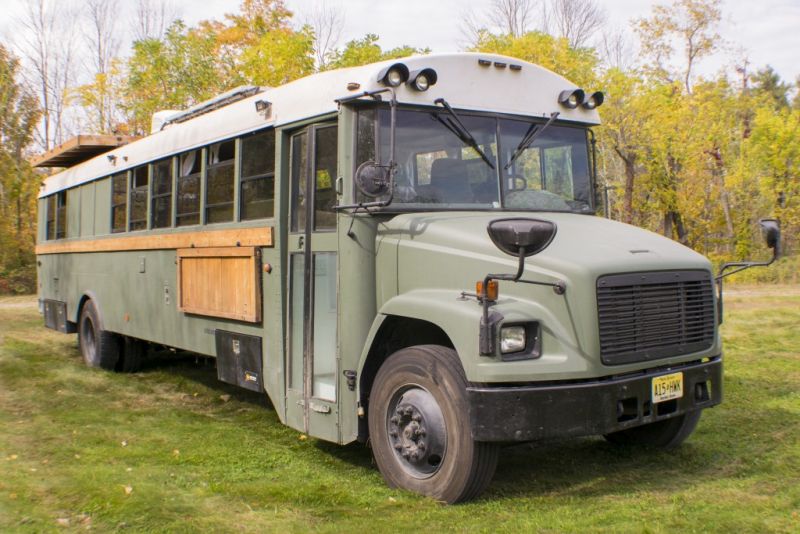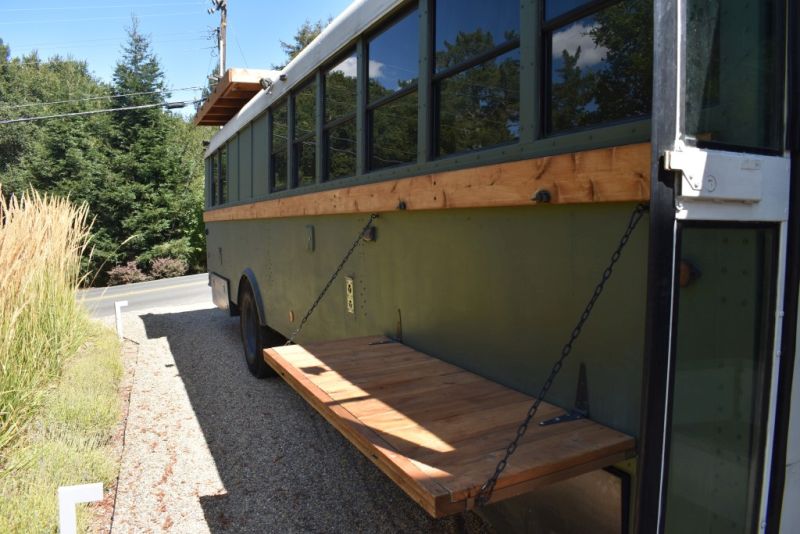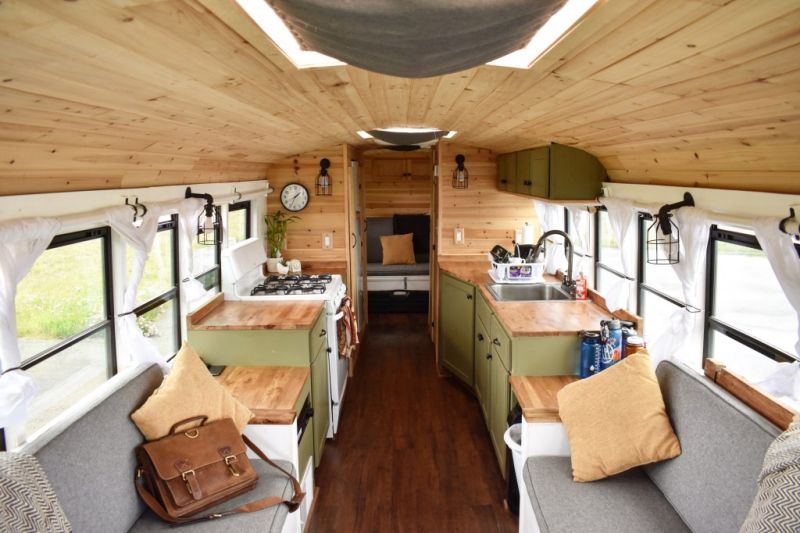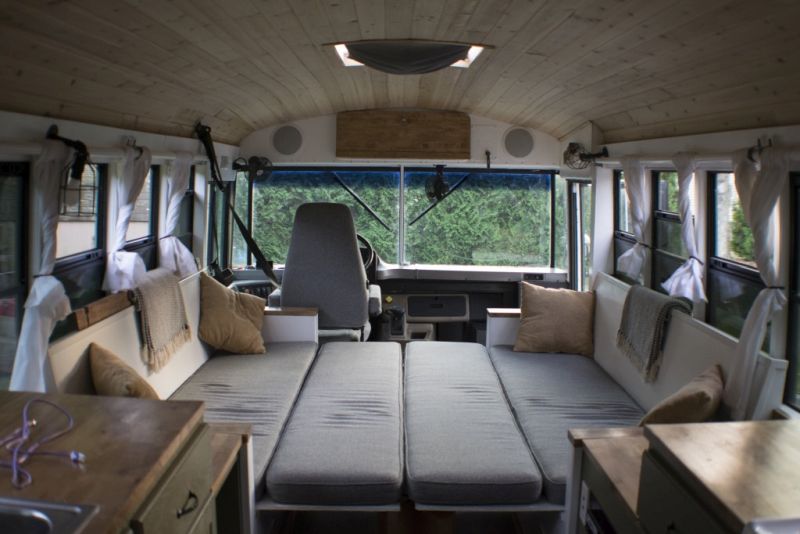 The Mayes Team
In order to get some happy family time, the US-based couple Gabriel and Debbie Mayes opted for a school bus conversion. They have transformed a 2000 Thomas High Top school bus into a cozy mobile home, with a roof deck, full kitchen, and sleeping space for up to eight. The floor plan is interesting – the kitchen and living area share the same room while the kids' room and master bedroom are concealed behind doors.
The complete white color scheme fills a modernist flair to the interiors. In the kitchen, there are a lot of overhead shelves and a drop-down dining/work table. Small interior design ideas like installing shoe storage near the door make it easy to keep the mobile home clean. Some other notable features of this converted school bus home are 250 square feet of living space, a floor-to-ceiling height of 6′ 5″, and two sofas that convert into a queen-size bed.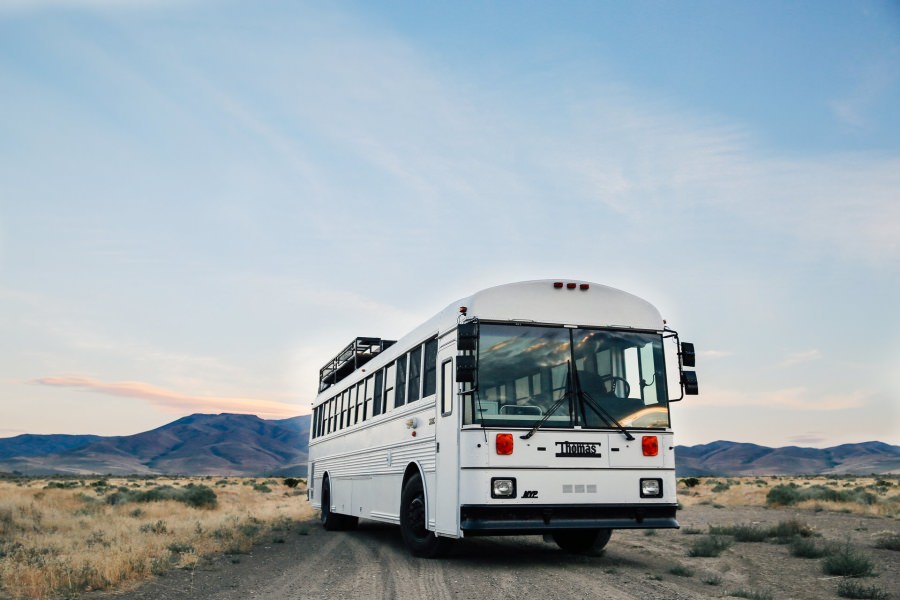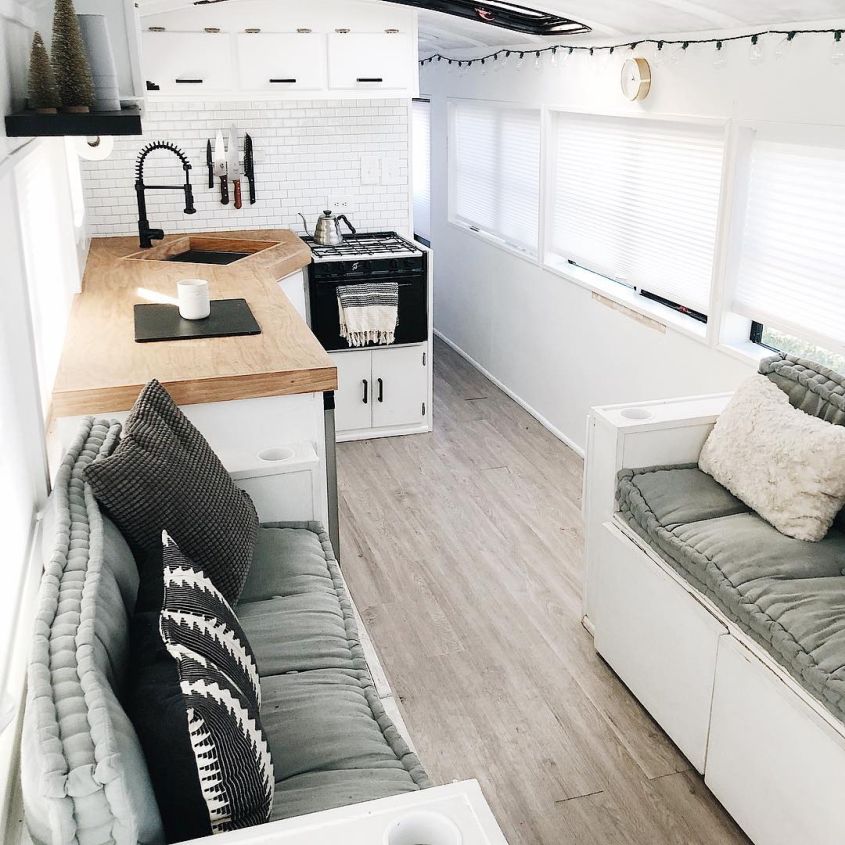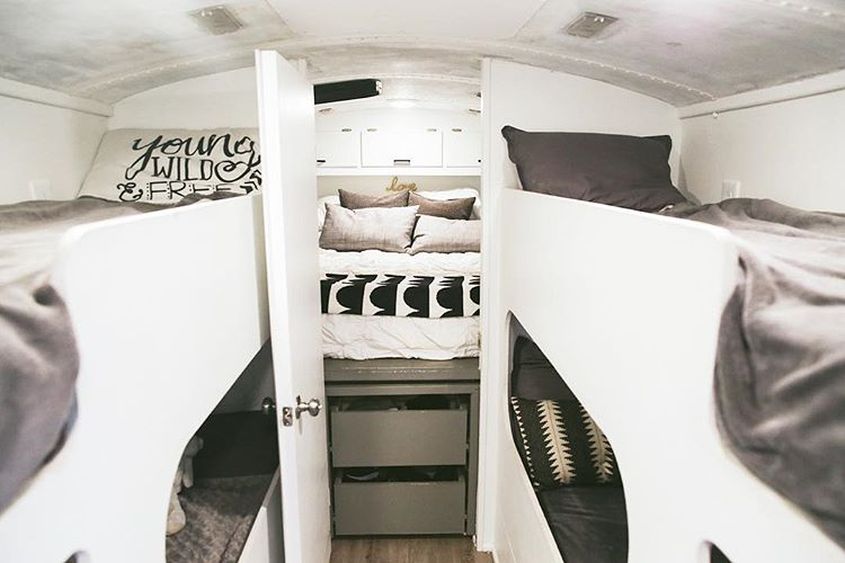 Small school bus home by Our Van Quest
Jake and Gianna of Our Van Quest have first chosen a converted sprinter van to travel across the US but have finally turned a mid-size school bus into their home after one year. The bus home has extra storage in the driving section for shoes and other nitty-gritty items. As you enter inside, you come across the kitchen area that also includes plenty of cabinet storage. Other notable features are bench storage for clothes and toys.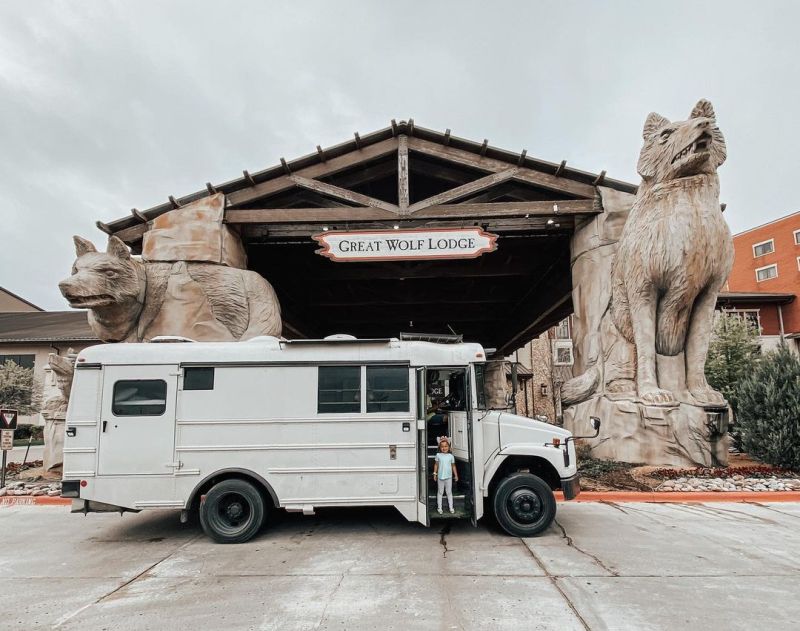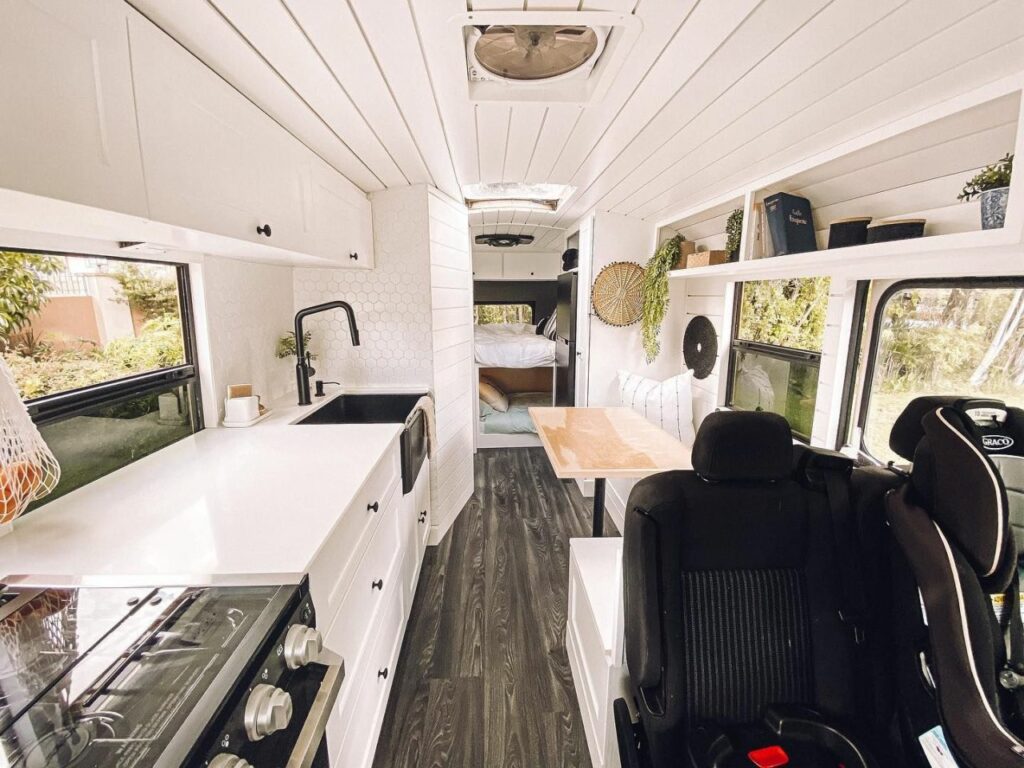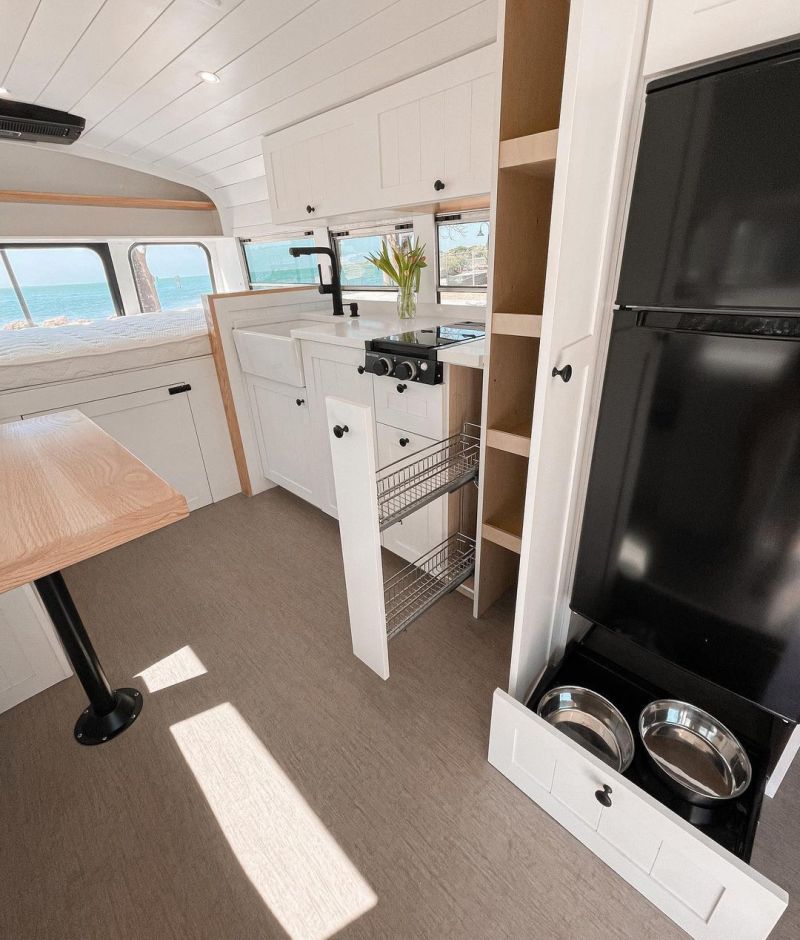 Bus home with golf deck by Jax Austin
Jax Austin's skoolie features a putting green rooftop deck and stunning interior design. The ceiling is paneled in wood and the floor matches the same. There is a spacious seating area behind the driver's seat and also a small kitchen. The bedroom with a skylight lies at the rear of the bus. The energy system lies under the bed and can be accessed from the back door.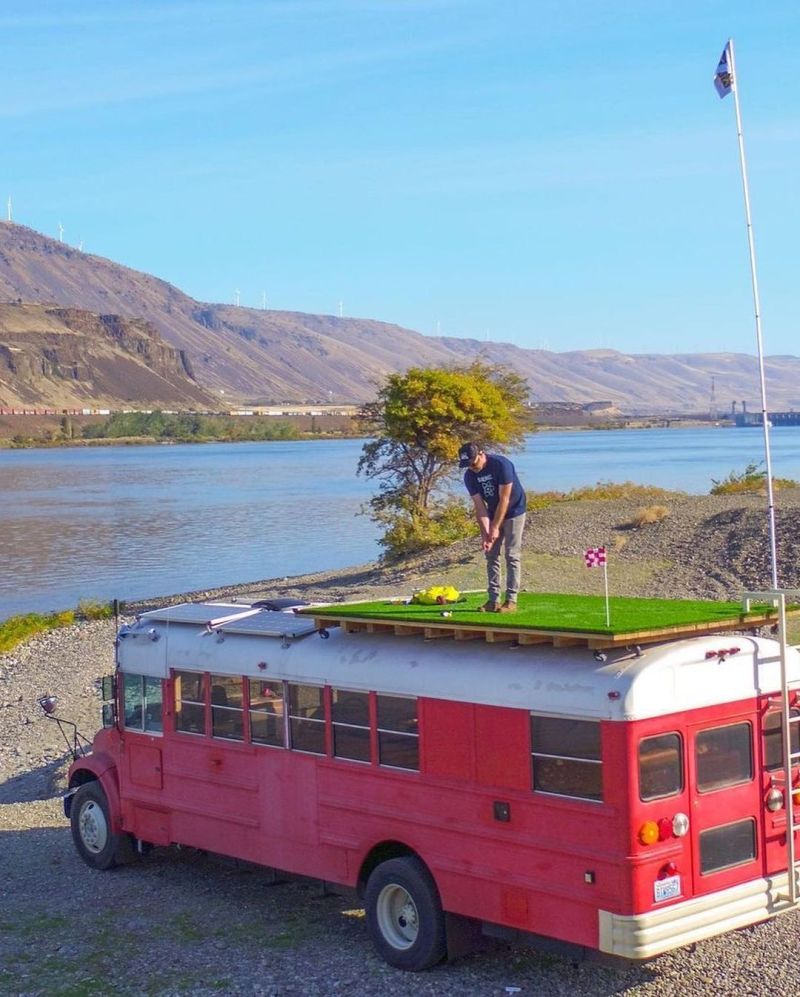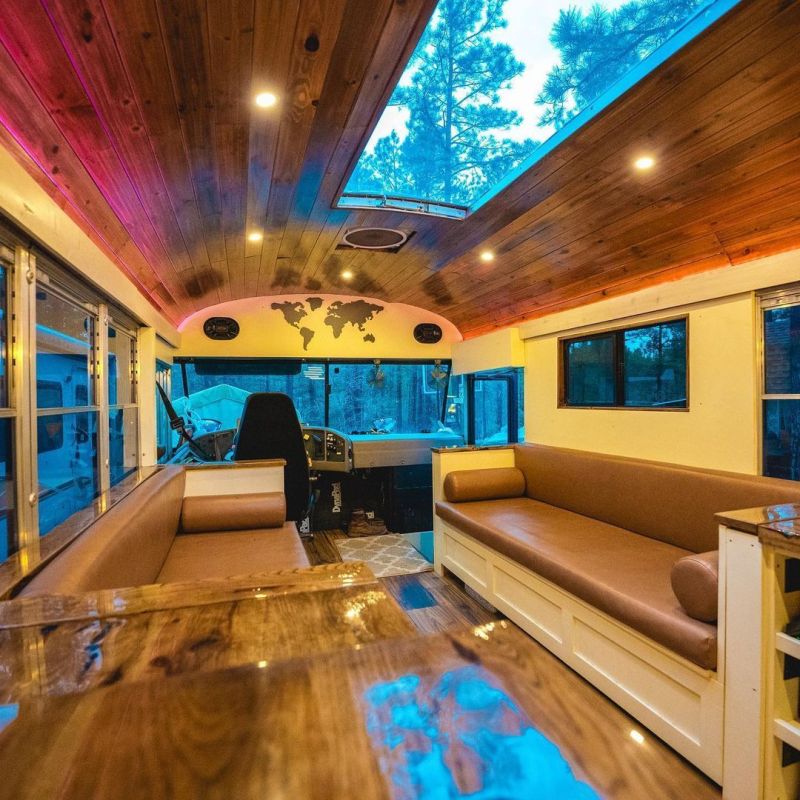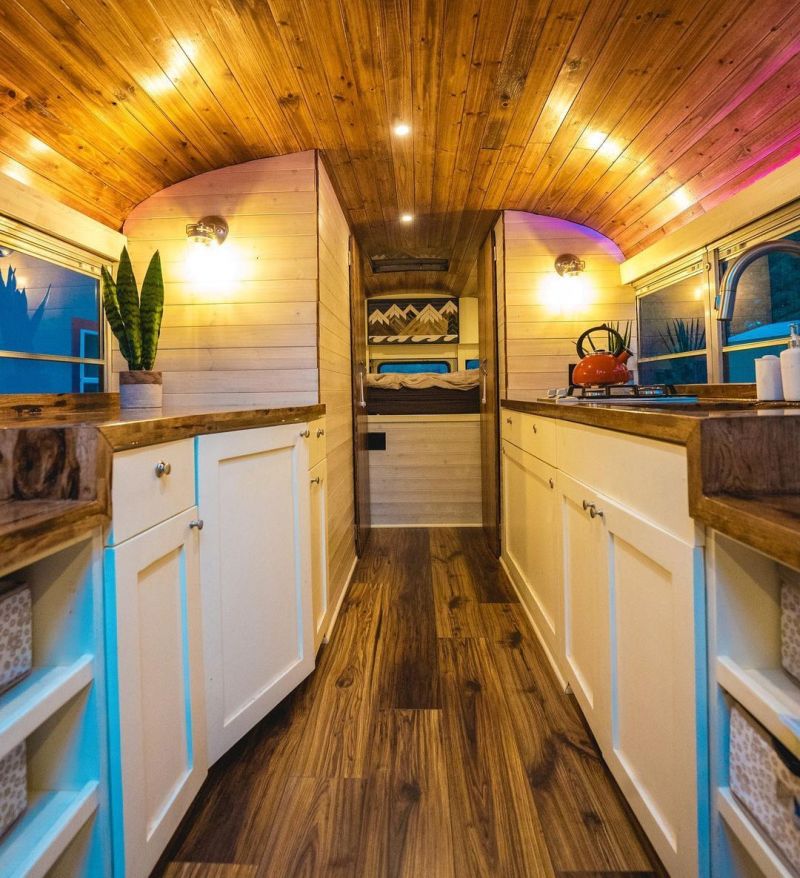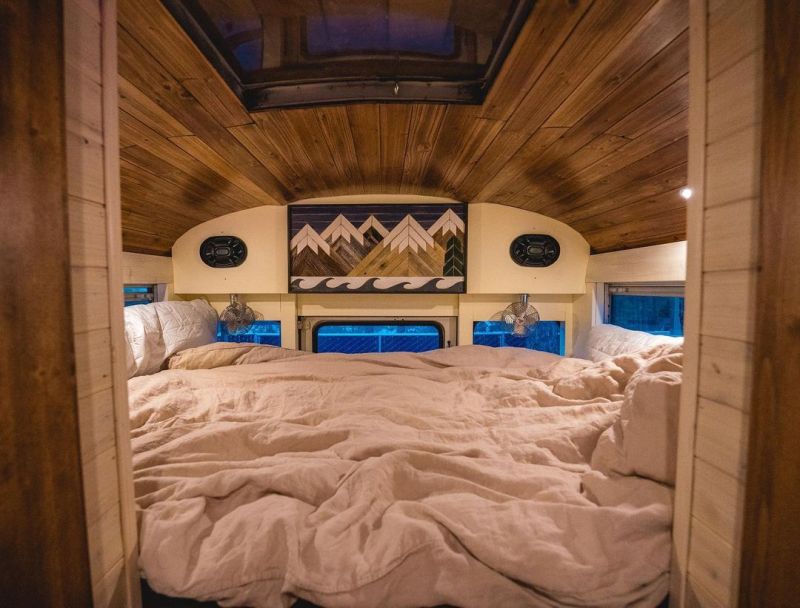 The Hanzian Bus by Ian and Hannah
This 40-foot 1990 converted school bus serves as a full-time home for a family of four and a cute little dog. The couple has been enjoying bus life for more than six years and now they live in their second bus home. The interior space of the bus home is decked in teal and white along with a rustic wooden countertop. Being kids in the family, there is also a small nursery in the bus home. 
Right behind the driver's seat is a kitchen with a stove, sink, and cabinets. Up next is a dining area and a sitting area with a sofa that pulls out into a bed. They have spent about $14,000 to renovate The Hanzian Bus.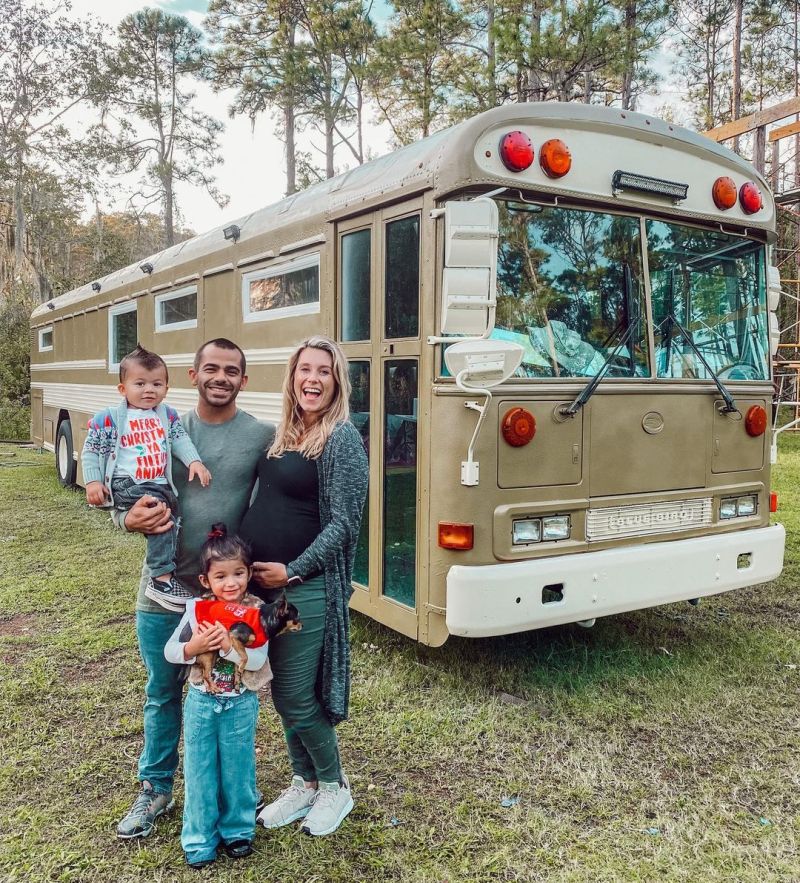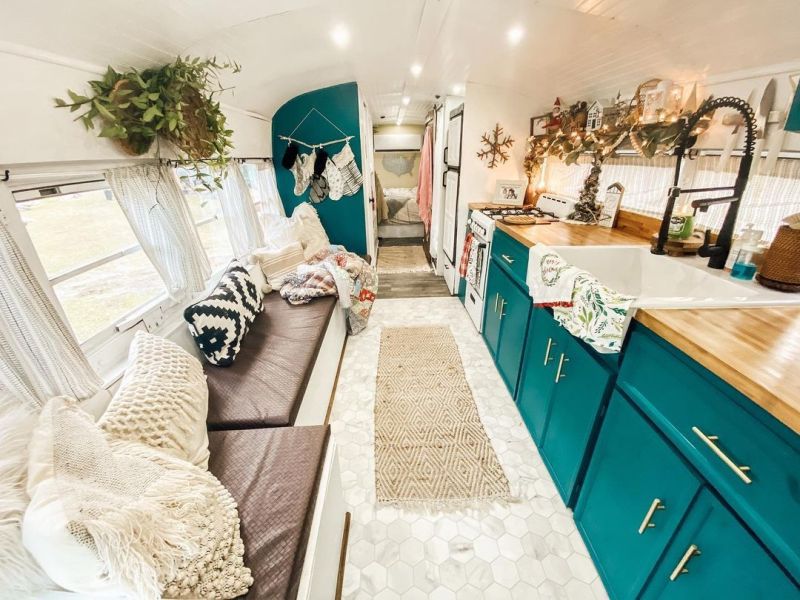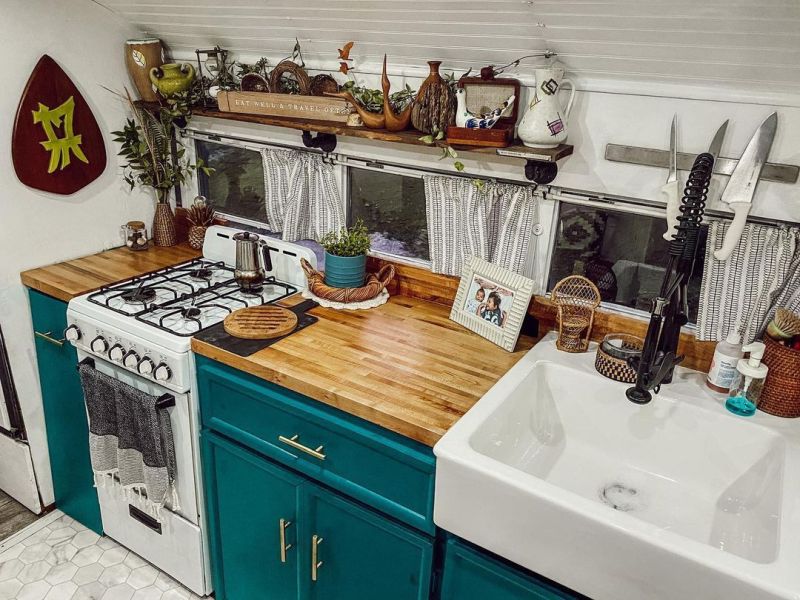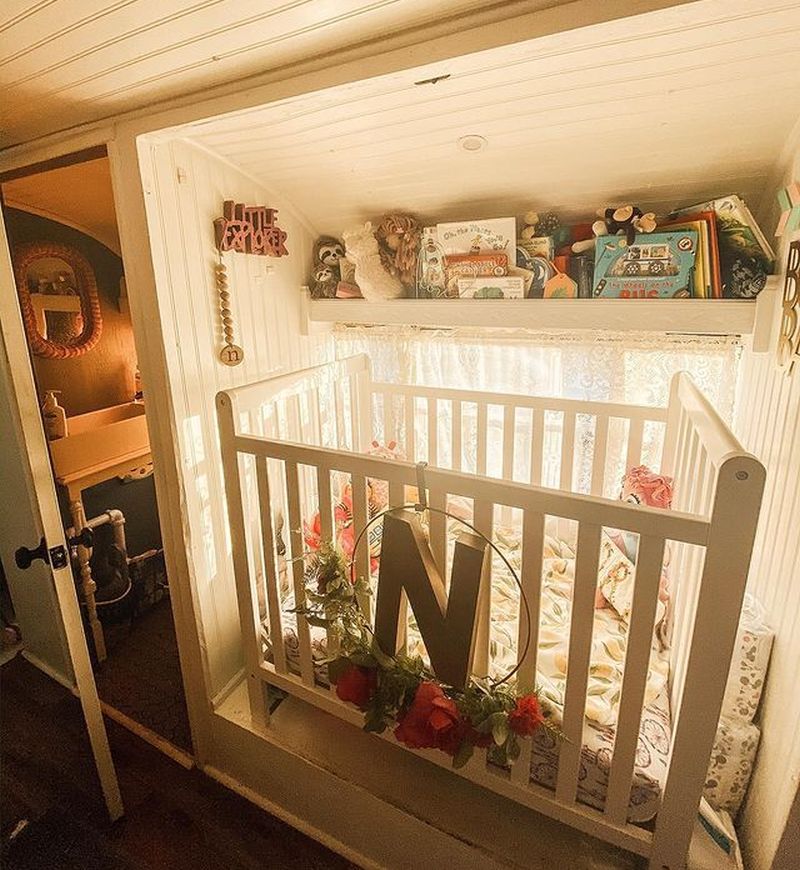 Apt84
Catherine Ovejas has transformed a school bus into a 225-square-foot home that can accommodate a family of four. This white and blue bus home looks cool from the outside and is cozy on the inside. It has a small kitchen, bathroom with shower, bedroom, and a rooftop deck. There are also solar panels to generate energy for use.
The school bus home has been rented for weddings, bachelorette parties, wine tours, and various other events.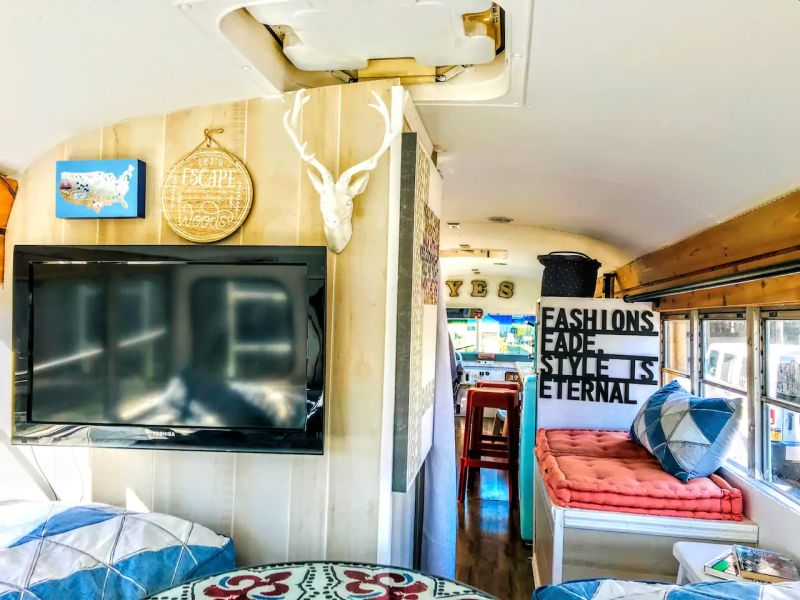 Loft on Wheels – Expedition Happiness
After getting inspired by a school bus conversion, the German couple Selima Taibi and Felix Starck decided to make one for themselves. Under the name Expedition Happiness, they started an epic road trip with their dog, traveling across North America in this bus home.
They bought the bus from Thomas International School and got down to remodeling interiors to accommodate a living room, bedroom, kitchen, and bathroom with a composting toilet and classy shower. Since this bus has a number of windows, it allows them to capture mesmerizing landscapes and wilderness on the road.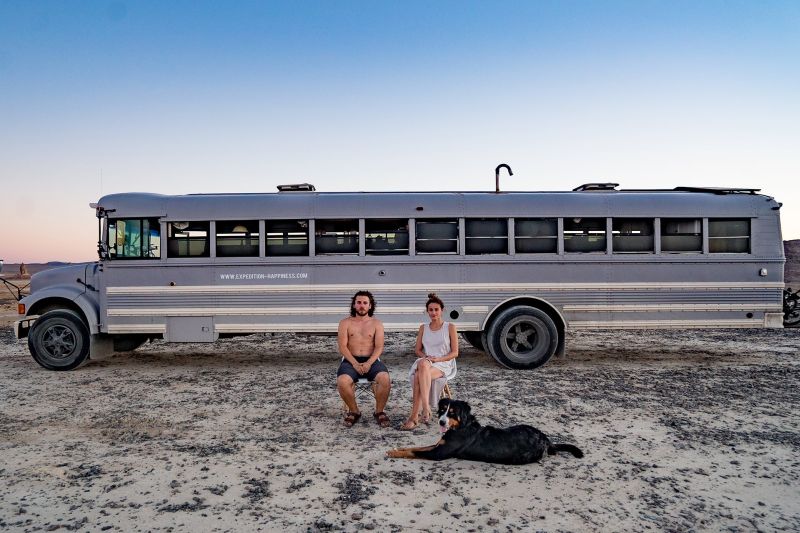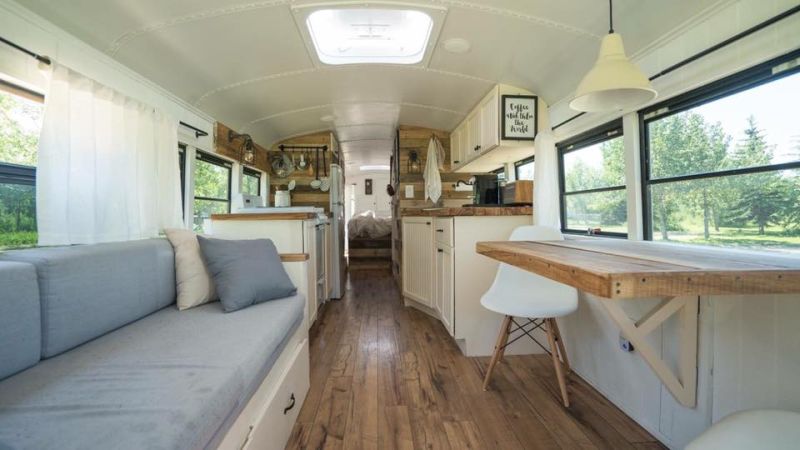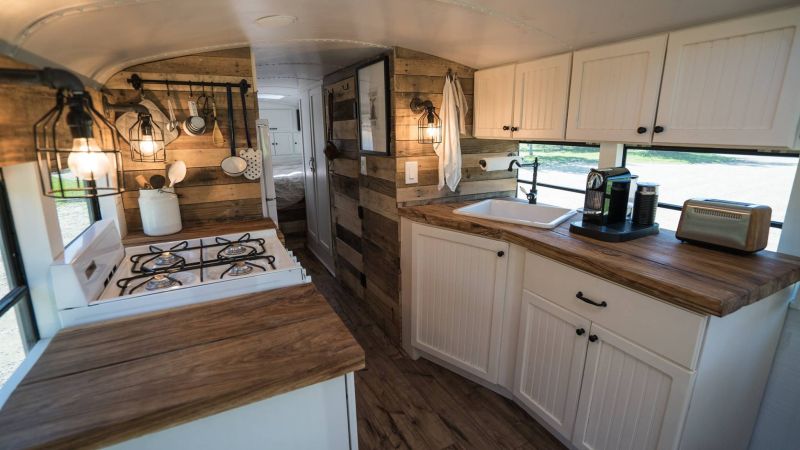 Also Read: Best Tiny Houses on Wheels
Adventure or Bust
This school bus conversion by Brittany and Steven Altmann of Adventure or Bust is an attempt to bypass the high cost of living in Florida. From the walls and flooring to furniture, there is massive use of wood inside. There's a total of three doors, including a side door. As they wanted a more sustainable life, they installed solar panels, a composting toilet, and freshwater and greywater storage.
The bus home is insulated with closed-cell spray foam and the roof with silicone roof coating to reflect the heat of the sun. They began building the bus home in March 2016 and completed it in March 2017, after spending about $18,000.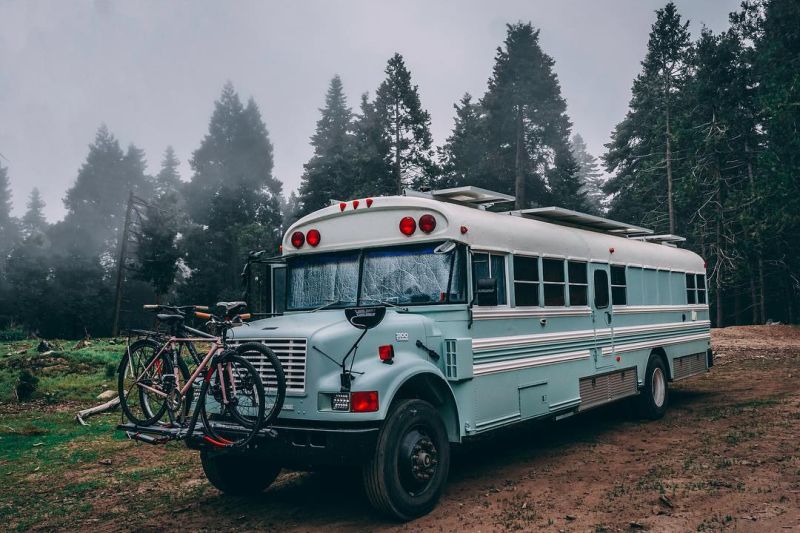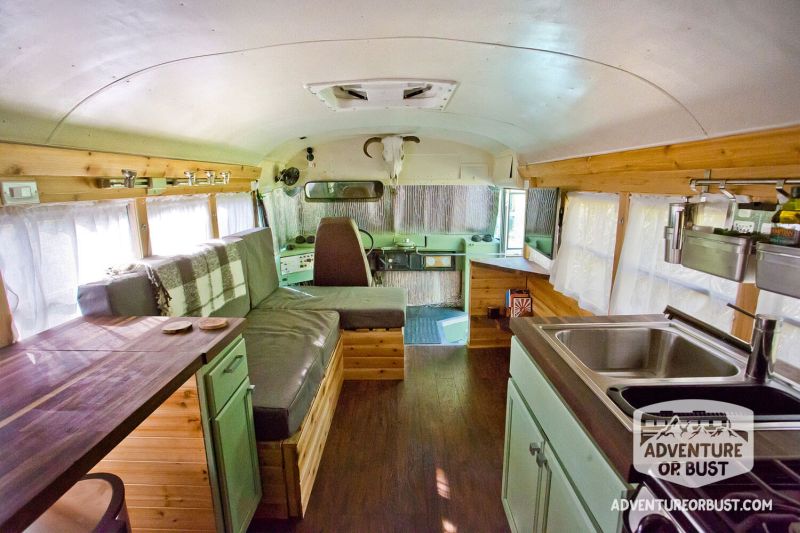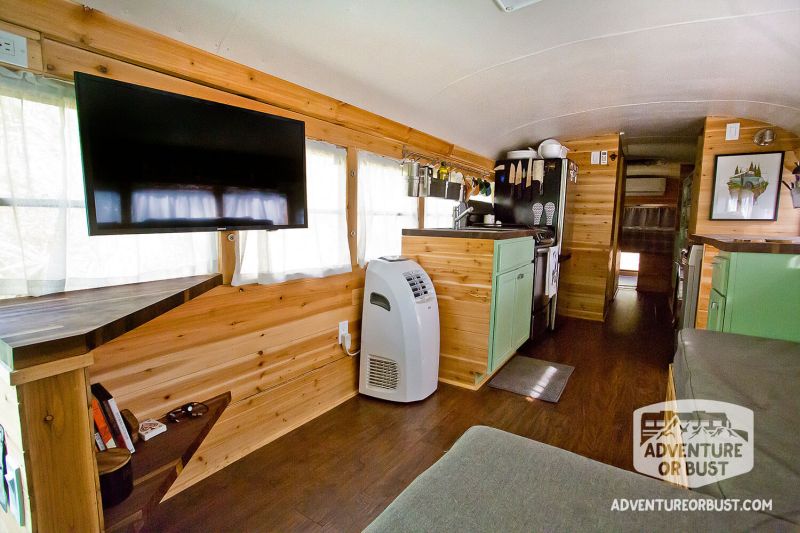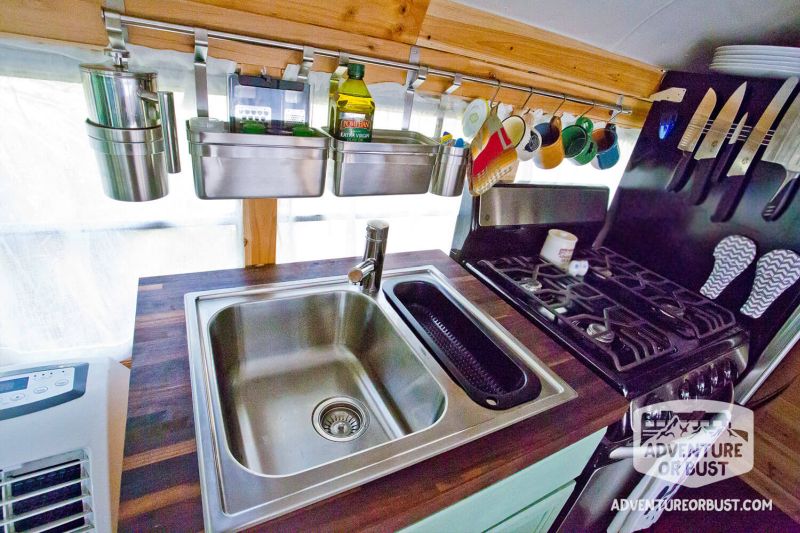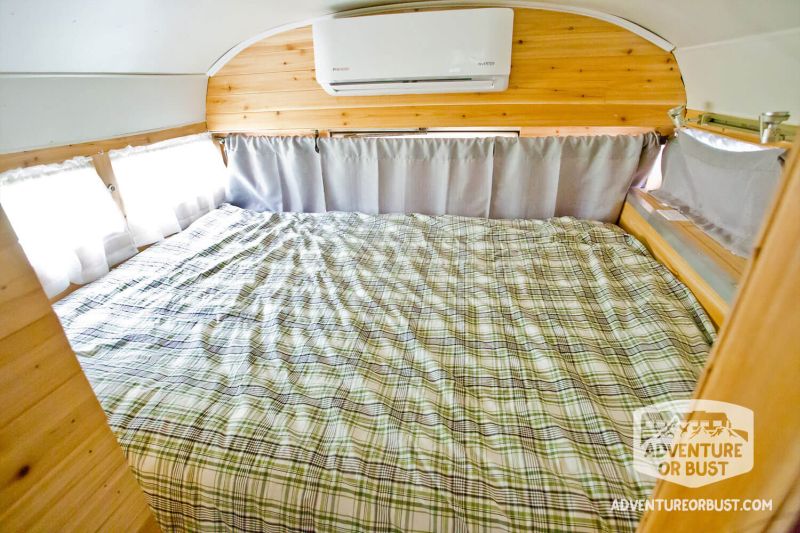 Fern the Bus
Mande and Ben Tucker have transformed a retired 1992 international school bus into their dream house-on-wheels. The interior is open and spacious, with white-painted pine and natural cedar dominating the space. There is a cedar deck atop the bus for hauling paddleboards and stargazing.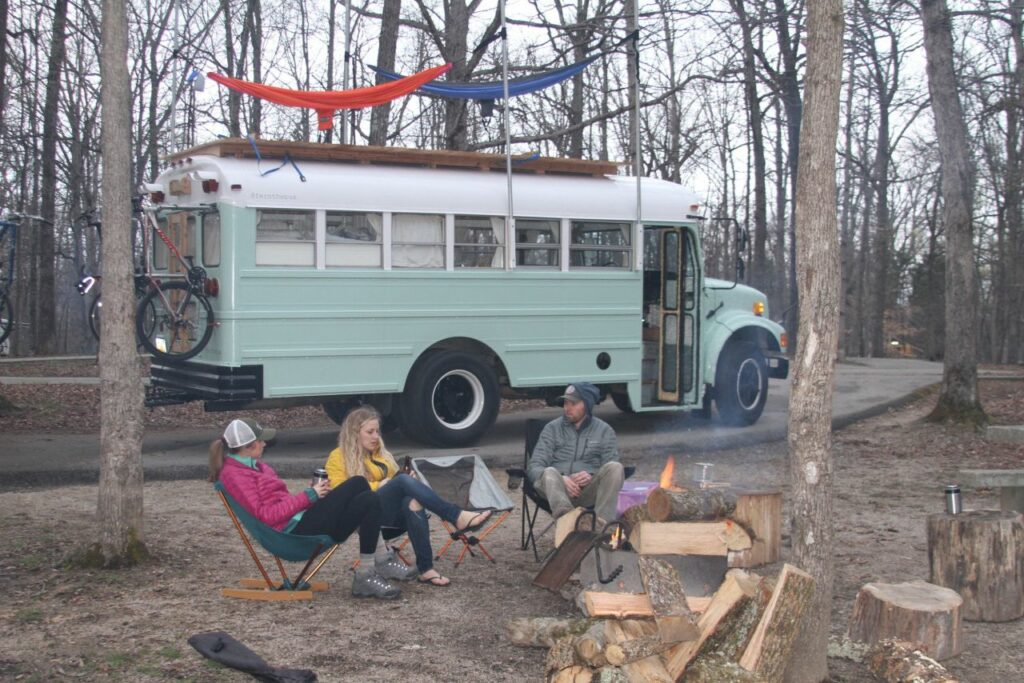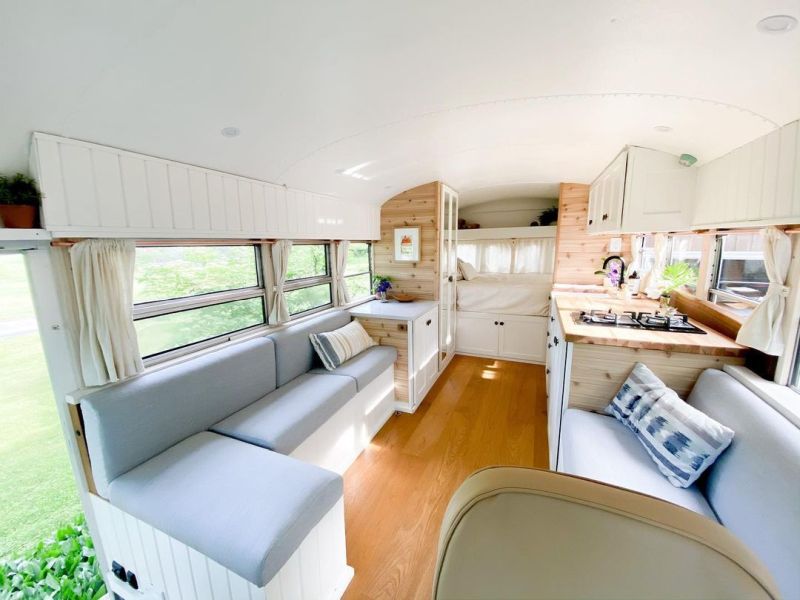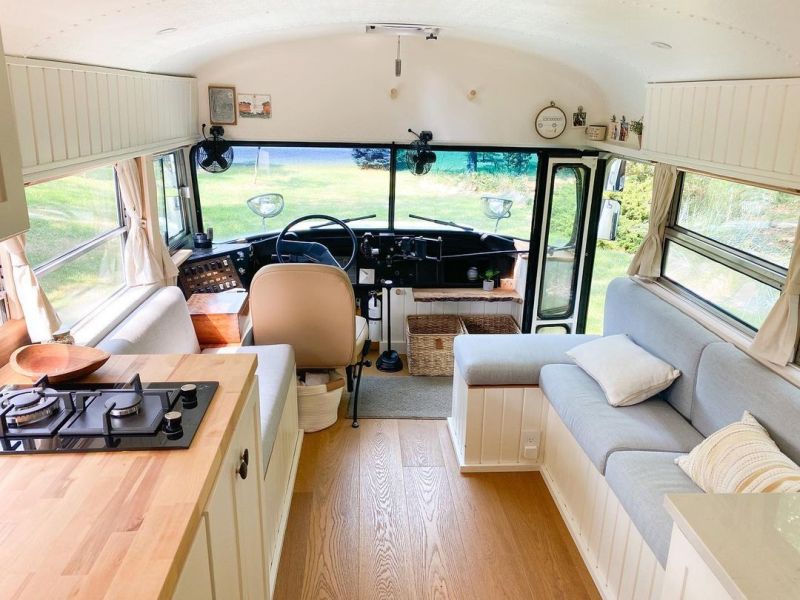 Little Gus The Bus
It is a short converted bus by Marie and Ben based in Canada who have completed the DIY project in about four months and spent over $20K. Its interior is coated in cream and dark wood. The kitchen looks really lavish with an oven, two burners, a fridge, a large sink, a wide countertop, and a bunch of storage. There is also a wood-burning stove to the side. The window coverings, a swing, and a back door are some other cool features. The couch in the living room becomes a bed at the night.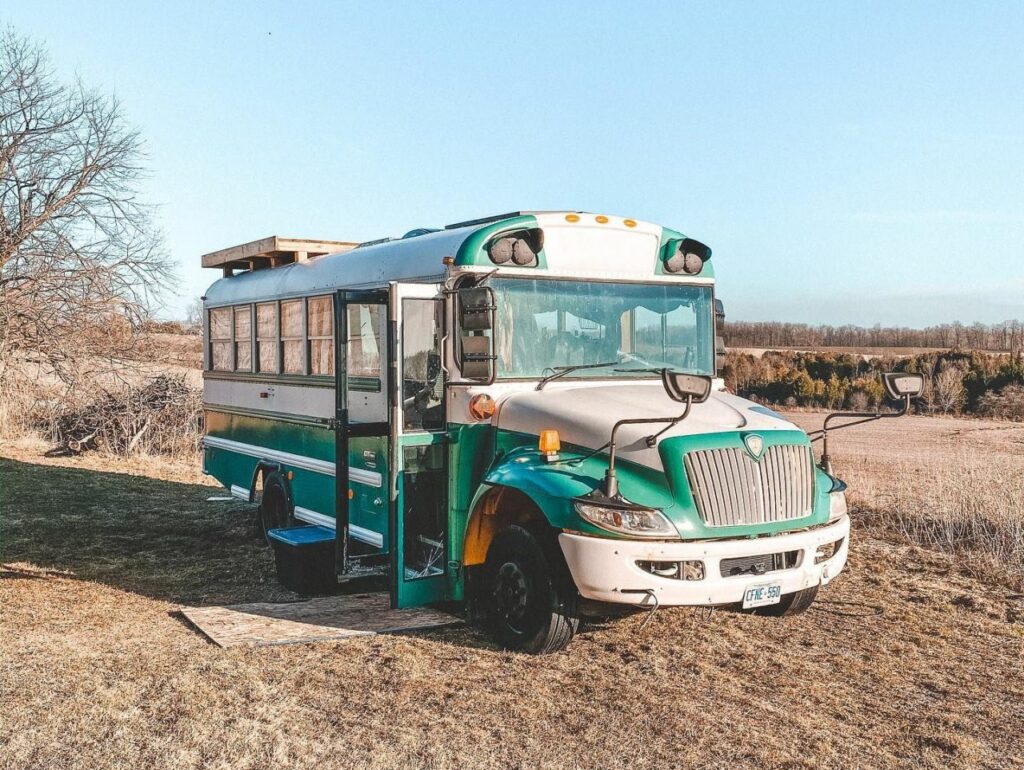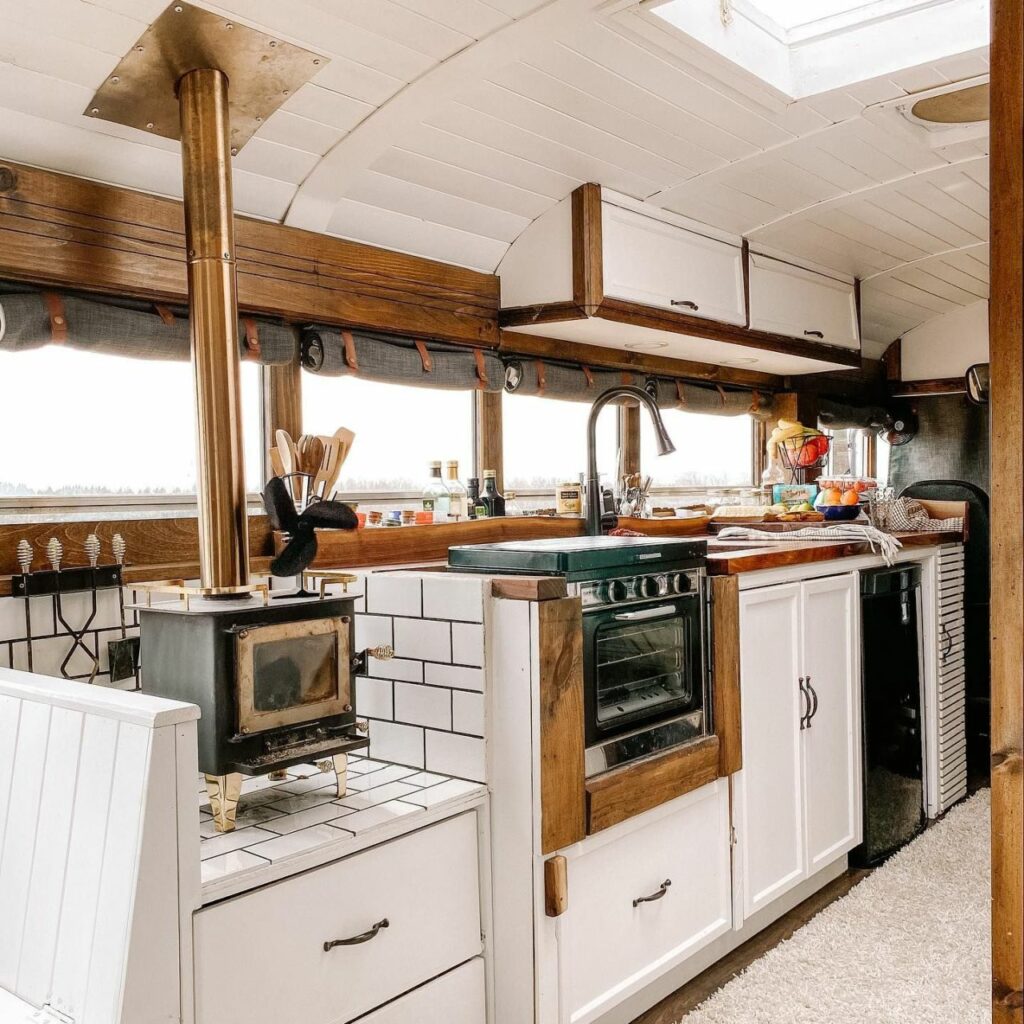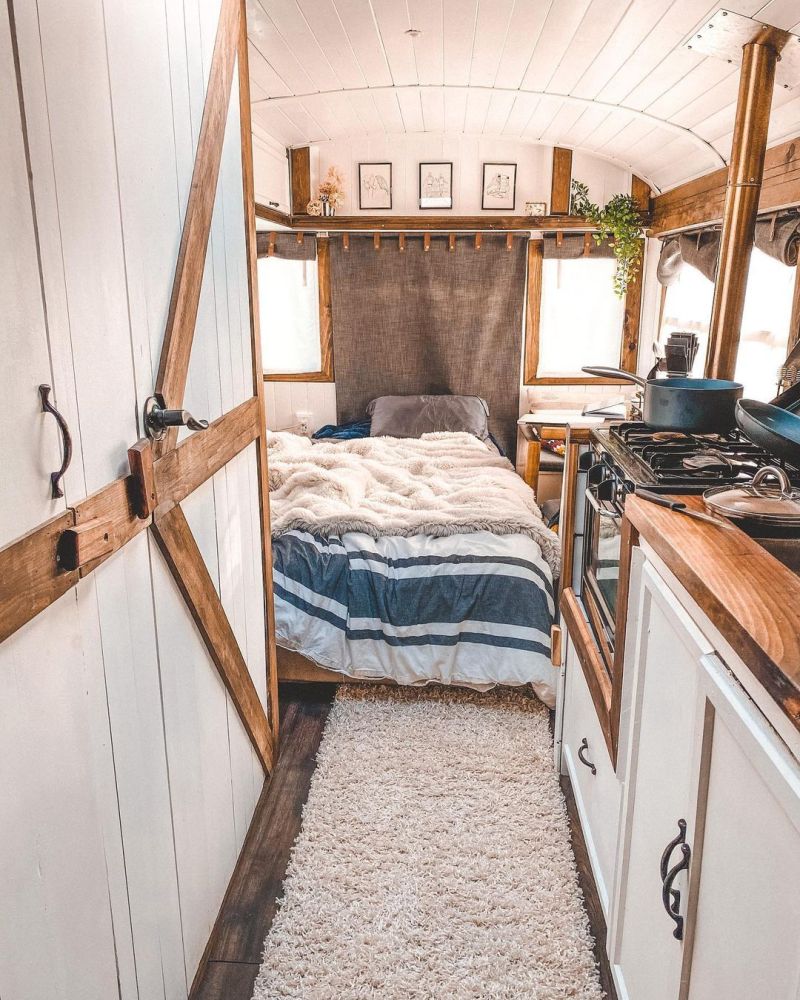 Home on Wheels by Hank Butita
This cool home on wheels is more of a design inspiration for those who like being on the road. Created by the architecture student Hank Butitta, this bus home offers 225 square feet of living area, including a kitchen, living room, and bedroom. He bought the school bus for $3,000 and invested another $6,000 to complete the project in 15 weeks.
It consists of four modular units of 28 square inches, grouped to create four primary zones: bathroom, kitchen, seating, and bedroom. In addition, there is a hidden storage compartment, LED lights, and wooden flooring to make one feel at home.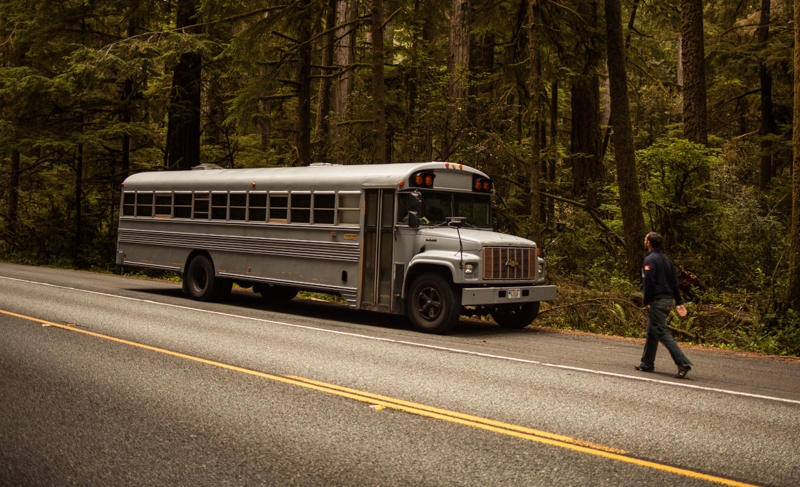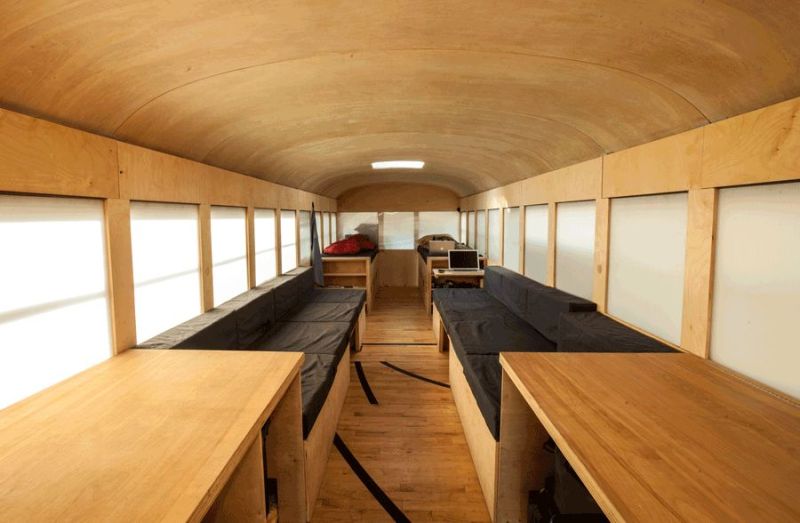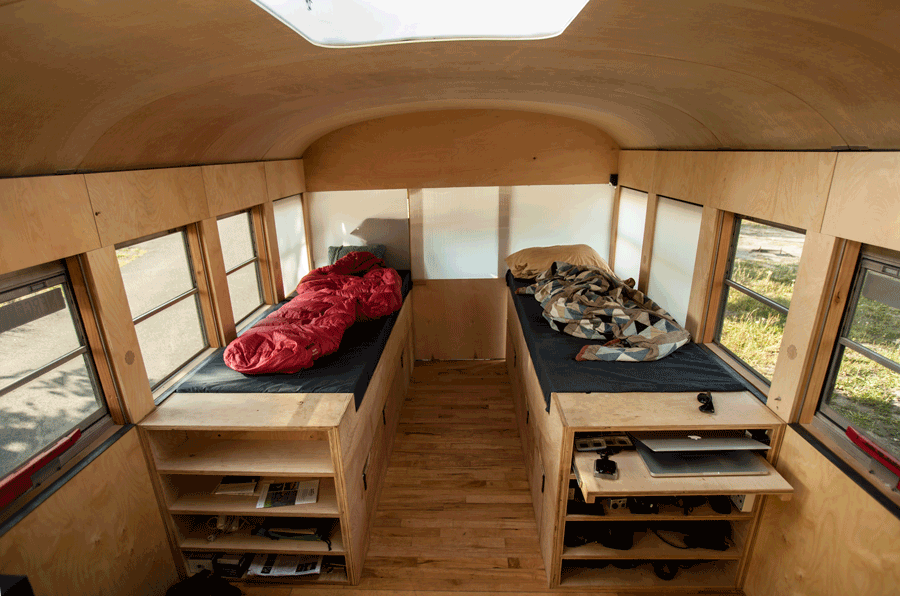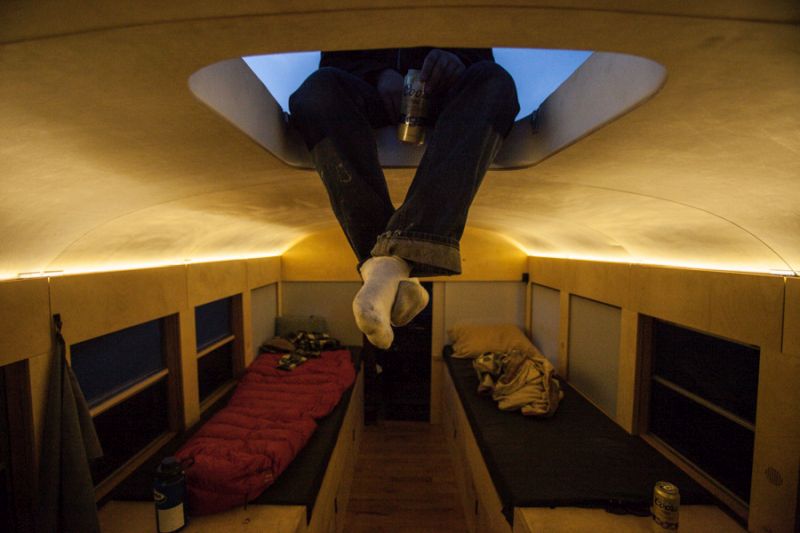 The Free to Wander Bus
Renovated by Tessa and Jacob for just $9,244, this free to wander bus home is largely built using reclaimed materials to lower the cost. There is massive use of repurposed wood for cabinets, a table, and other furniture. It features a cozy sitting area that doubles as a guest bed, a full kitchen with plenty of counter space and dining area, and a double bed at the back. The space covered up by all the wheel wells is utilized for storage.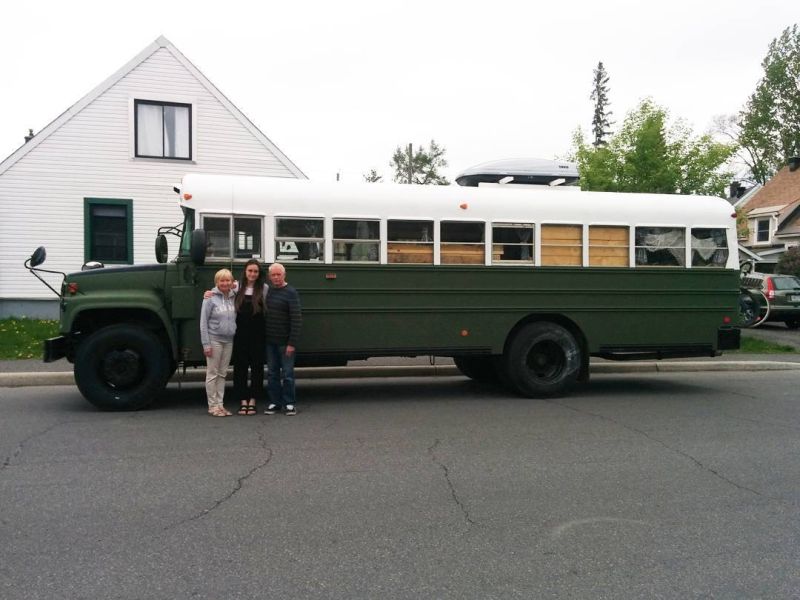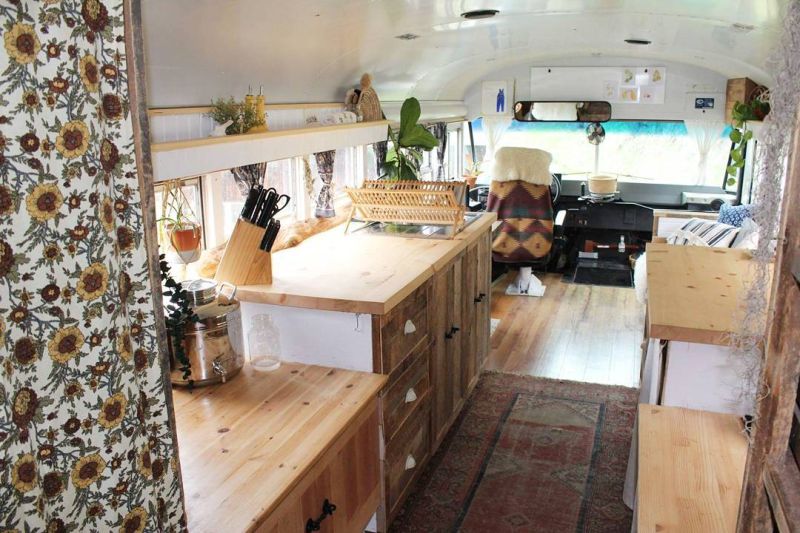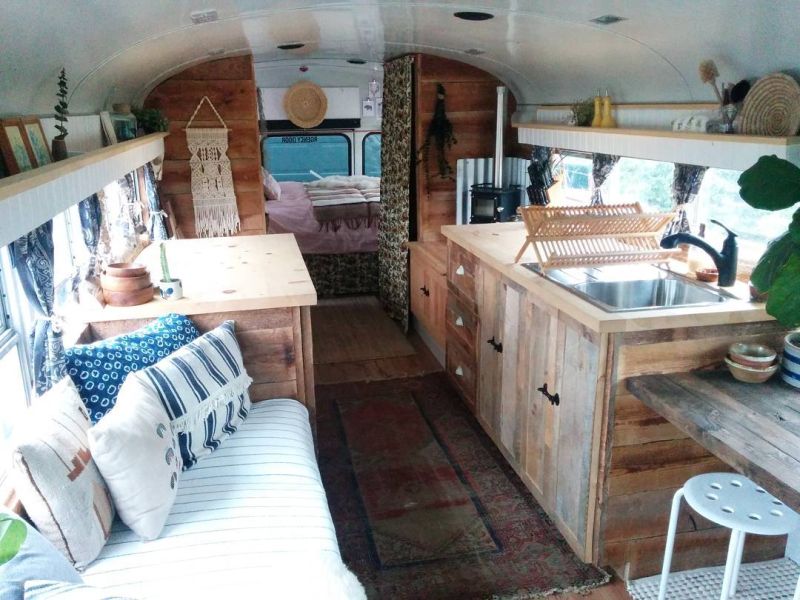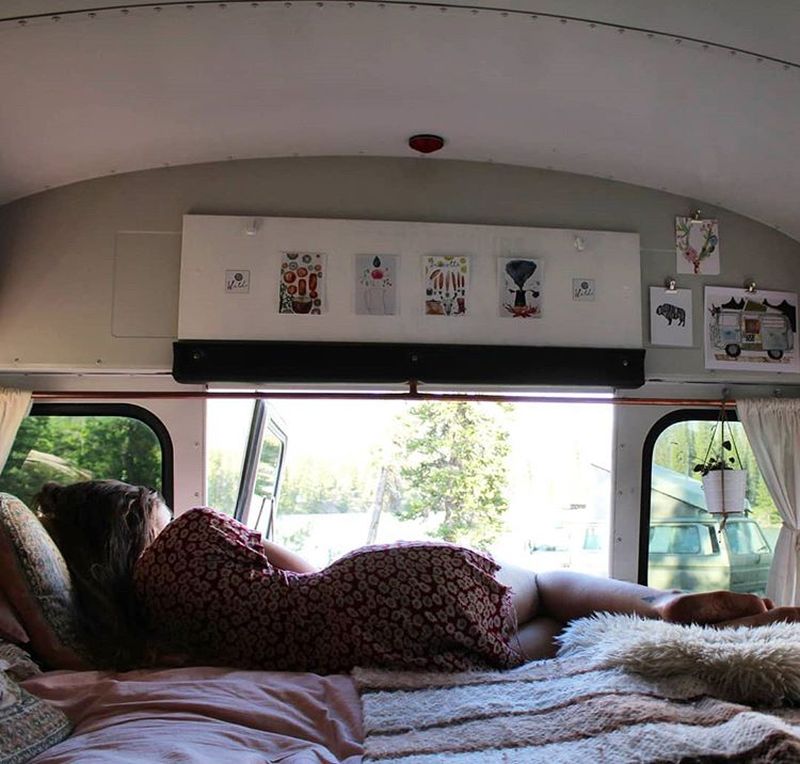 Mid West Wanderers
This converted bus home is an amazing DIY project by Luke and Rachel Davis. The most appealing thing is the raised roof that creates a loft bedroom with storage underneath. On the inside, you'll find no clue that it is a school bus. The bus home has a living room with a convertible couch, kitchen, bathroom, two bedrooms, and separate sleeping space for their little daughter.
In addition, there are solar panels, water storage, RV-style windows, and retractable awning to fully enjoy life on the go.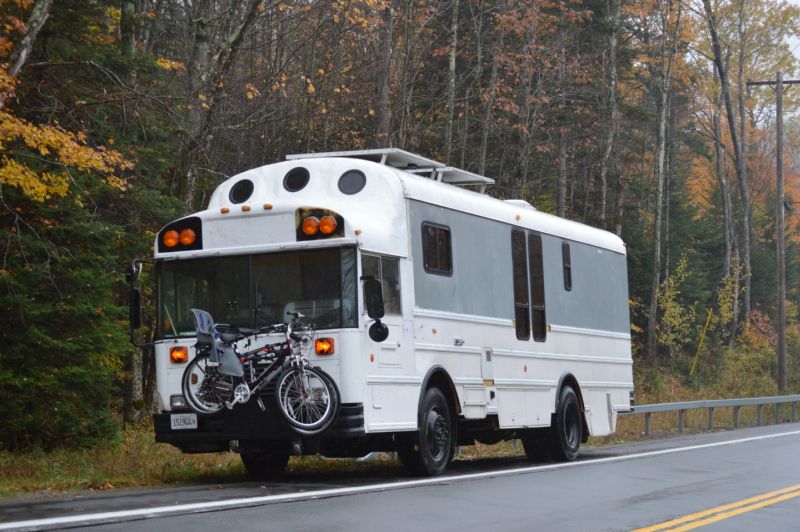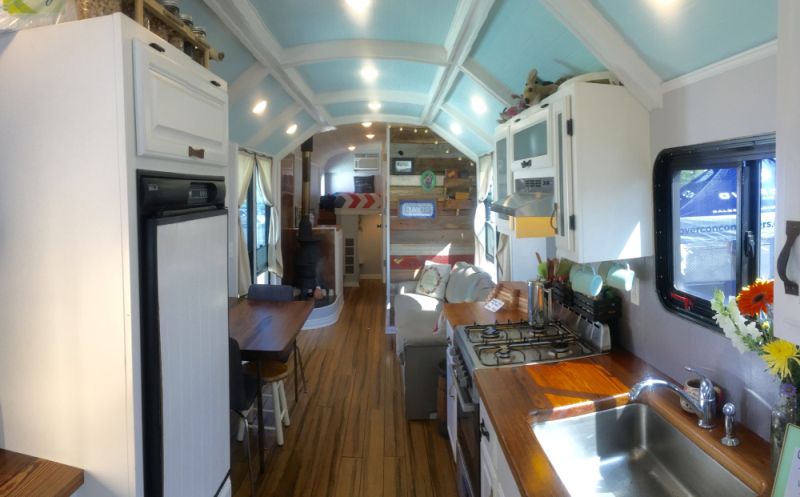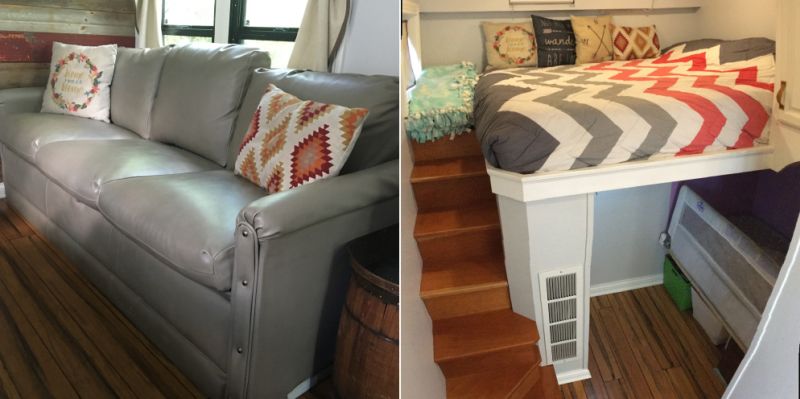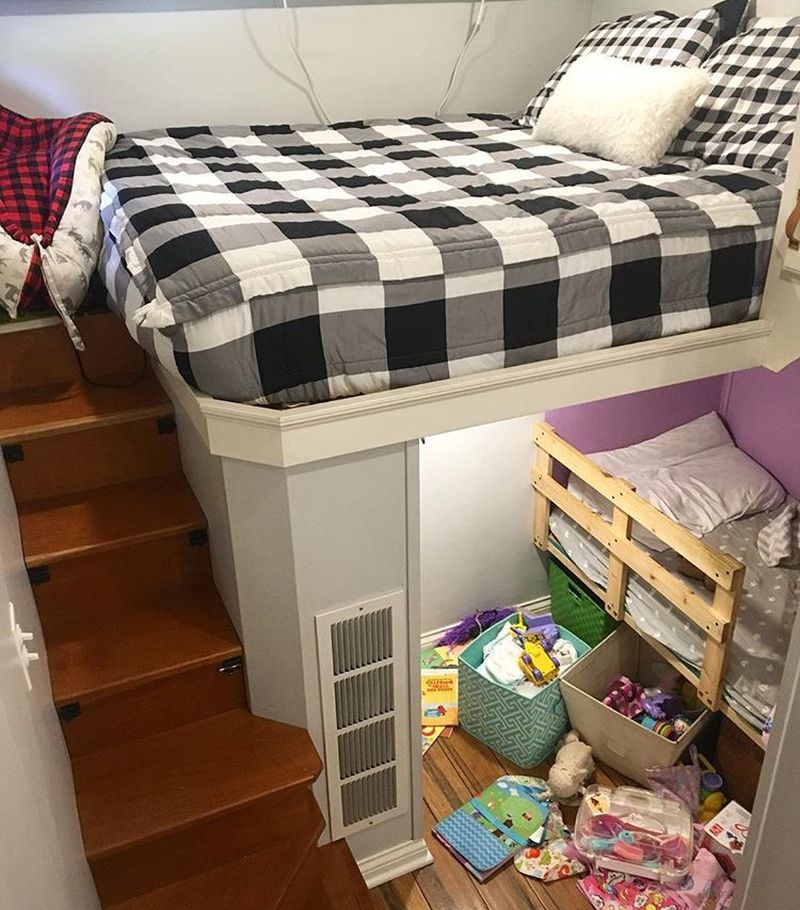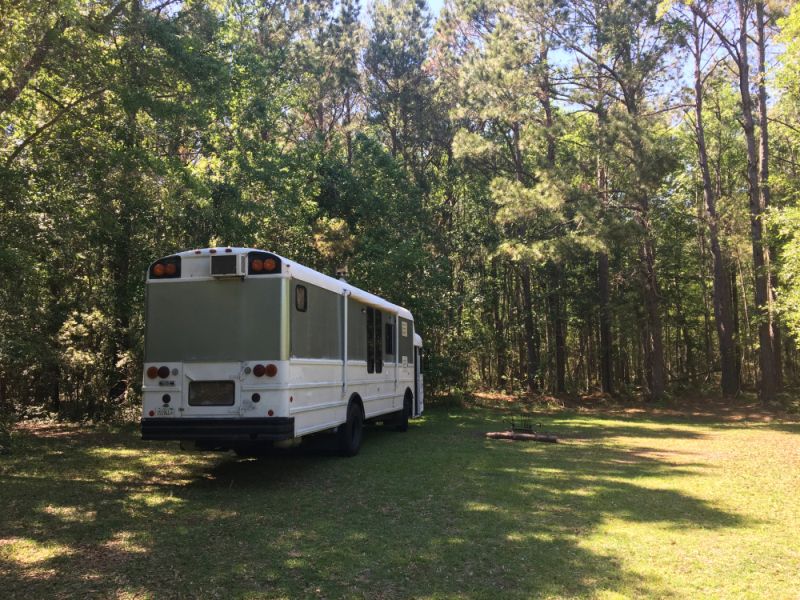 Trebventure
A family of five, wanting to live a simple life on the road, adopted the bus life in 2016. As main family members, Brandon and Ashley Trebitowski spent six months modifying a '99 Blue Bird school bus into a full-time home. Within 240 square feet of space, they managed to accommodate a living room with a wood burner, a kitchen, bunk beds for kids, and a master bedroom. The master bedroom and storage are located in the rear.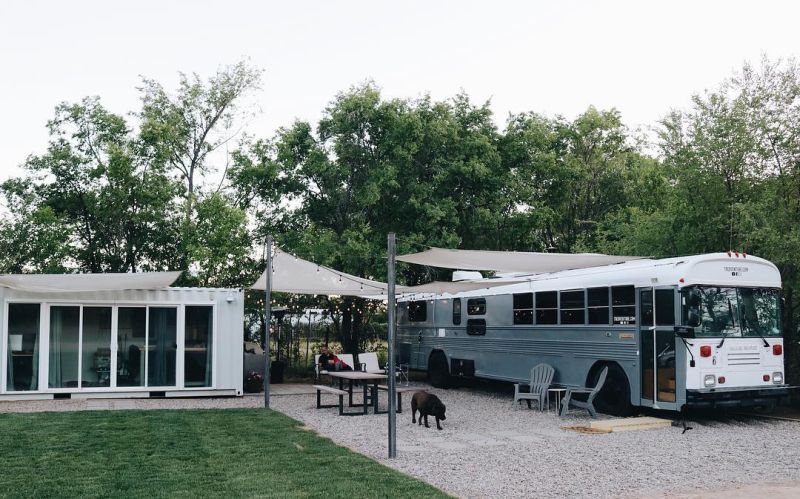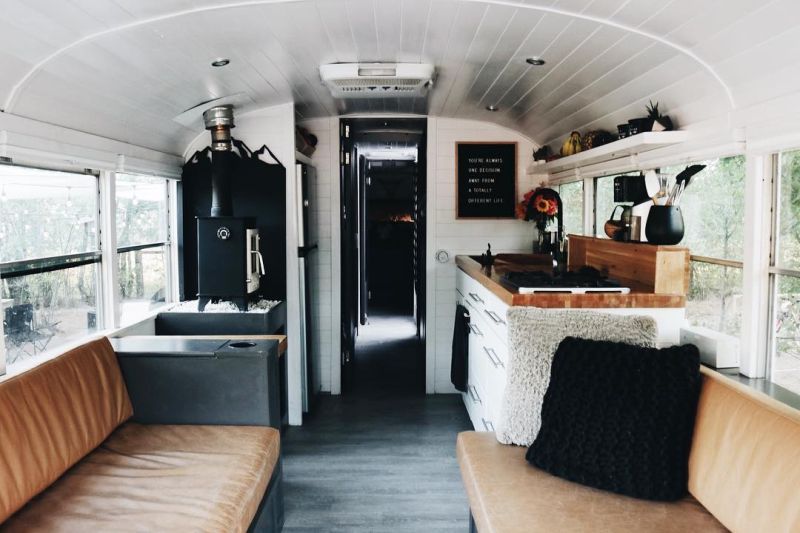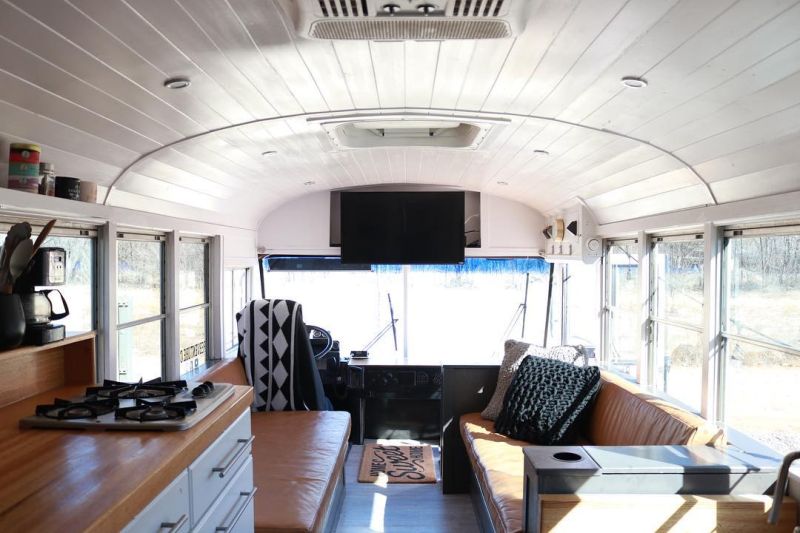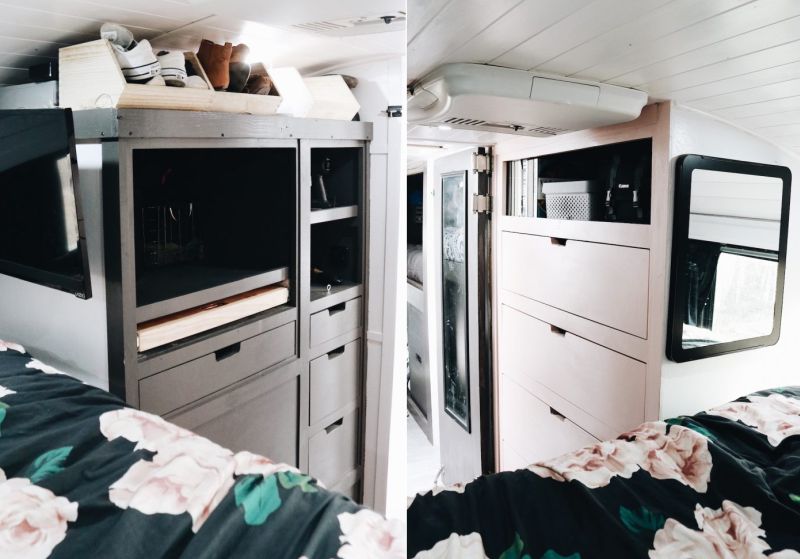 Mira and Jeremy Thompson's school bus conversion
Have a look at this awe-inspiring bus conversion by Jeremy and Mira Thompson who revamped an old school bus, featured on HGTV's Tiny House Nation. It took them almost four years to finally get what they dreamed of. The interior space is comfortable, while the pitched roof and shingled exteriors give it the appearance of a fairytale house. The loft bedroom that could be closed off for privacy and the fully functional flushing toilet are some of the highlighting features of this repurposed school bus home.
It is situated on the picturesque lakeside view of Key Peninsula in Washington where they live with their two-year-old daughter, Carys.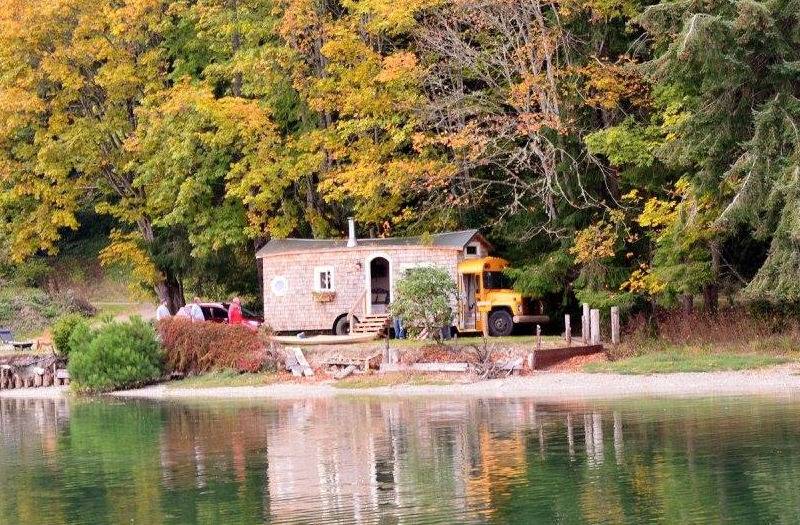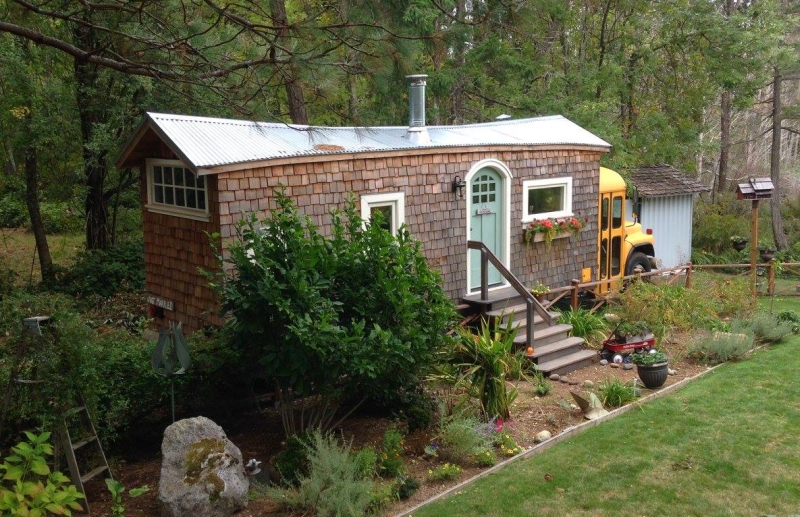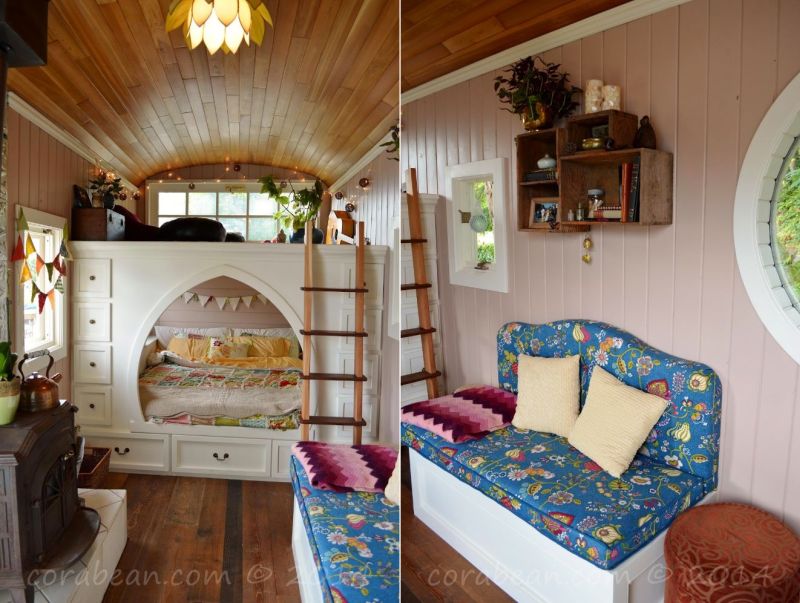 Busonomics
This bus home built by Katy, a blogger at Busonomics, and her husband, is the perfect solution for their need for affordable housing. They ended up refurbishing an old school bus into a home for two, with 200 square feet of living space. The Busonomics bus home includes a living room, dining room, kitchen, and a lot of storage.
The wooden sofa in the living room doubles as a comfy bed for two when unfolded. The kitchen is equipped with modern cookware and appliances, and a small dining table in front of the windows.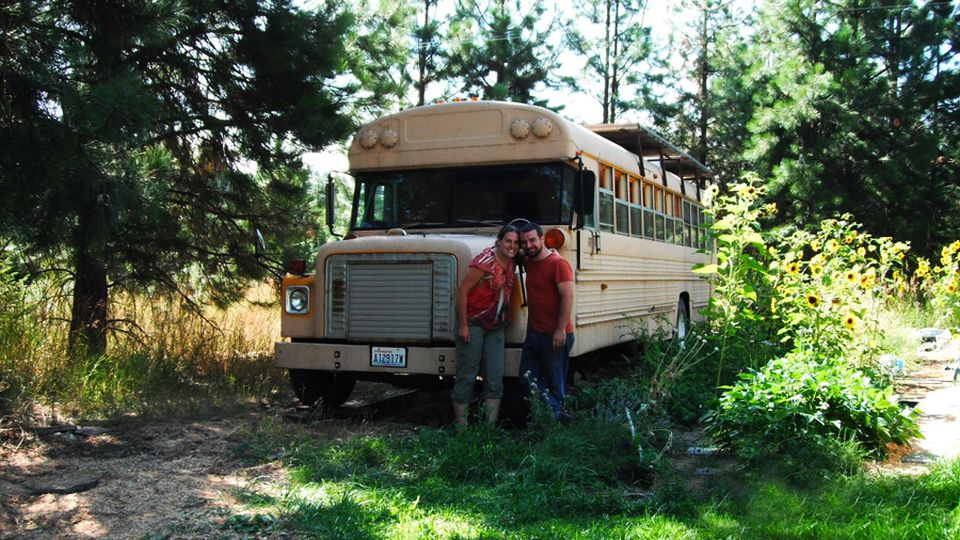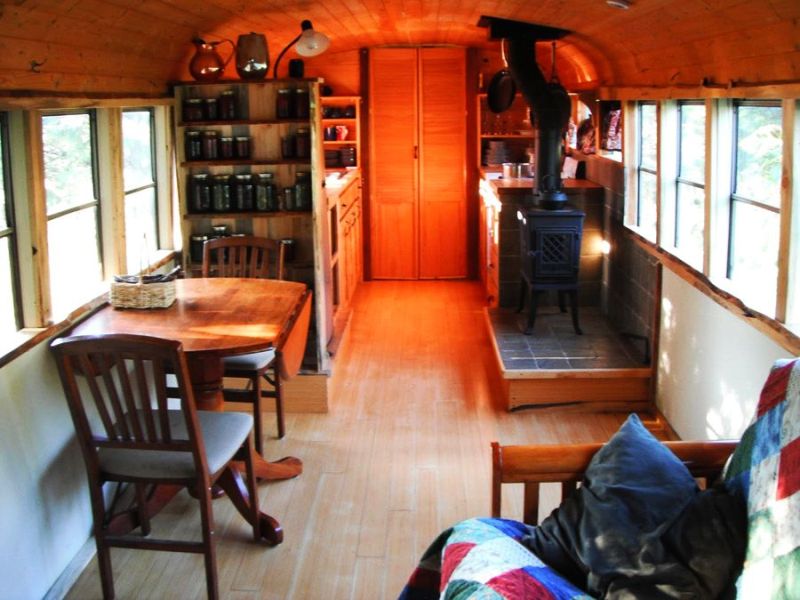 School Bus Home with a Wood Stove
This school bus home by wpi Creative features a wood-fired stove to give you a feel of being in the woods. The bus home has a kitchen, living room, bedroom, and ample storage space. It was later sold to a young couple in the Cascade Mountains.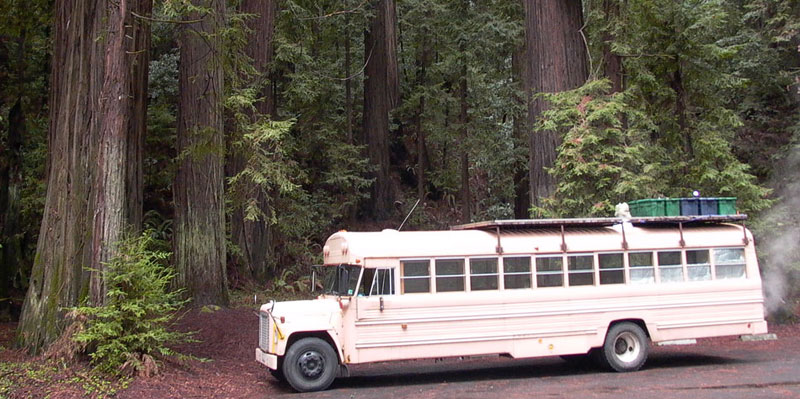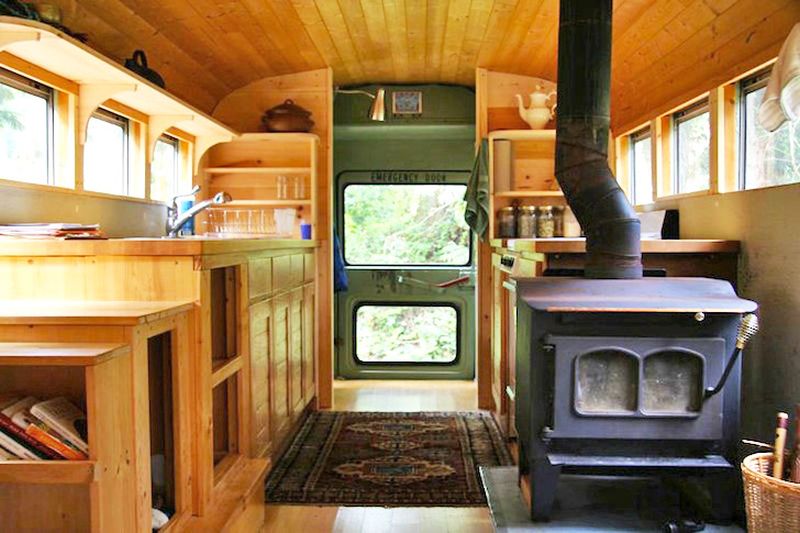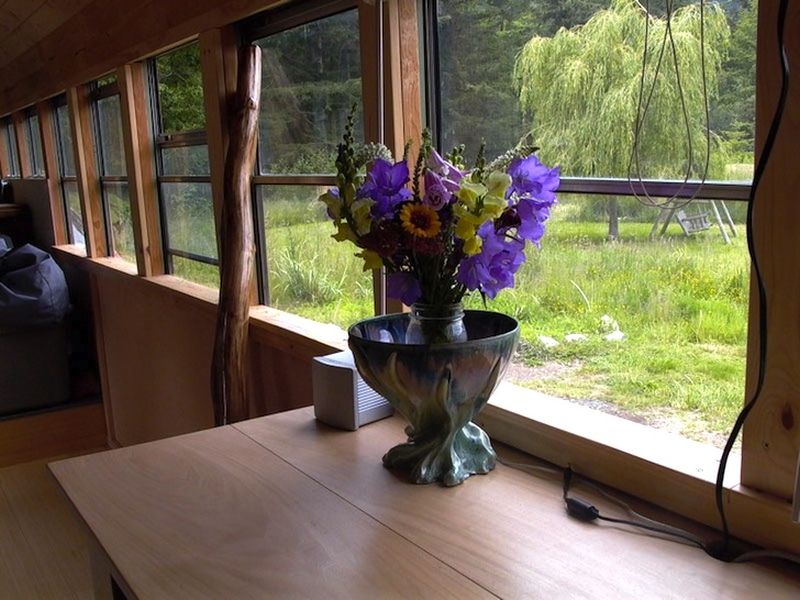 Bluebird School Bus Turned into Home
This 1996 Bluebird school bus turned into a full-time residence in Charlemont, Massachusetts is a great source of inspiration for tiny home lovers. The wooden-styled interiors distinguish it from other bus homes. Inside, there's a full kitchen, dinette, fold-out bench, bedroom with storage space, and bathroom with a composting toilet.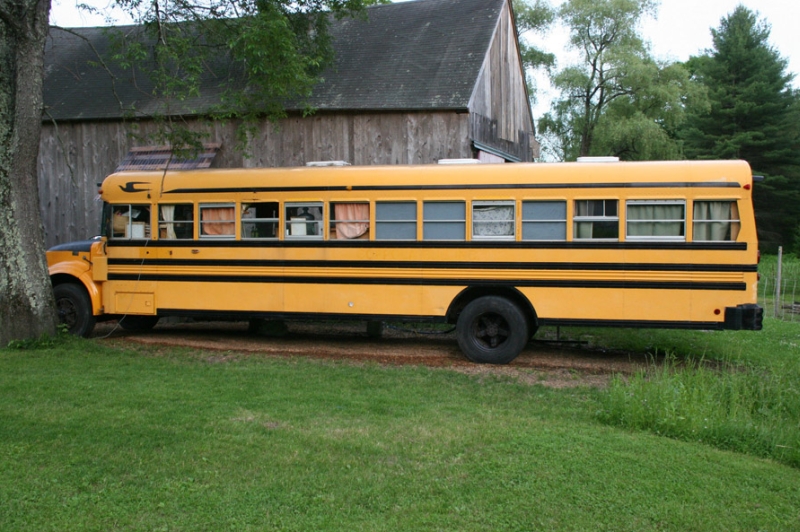 ✢
More Bus Conversion Ideas
✢
Trafalgar Square Bus Hotel in South Causey Inn
Currently, at South Causey Inn, this vintage double-decker bus is converted by County Durham-based couple Susan Mosier and Philip Mosier. It is a good example of what bus conversions can actually result in. They bought the vintage bus for about £5000 (approx. $9,000) and spent nearly £100,000 (approx. $175,000) renovating it into a luxe home featuring a private garden and outdoor hot tub.
The vintage bus named Trafalgar Square still has some of its original features like seats, steering wheel, and signs. Although, its exterior looks like any other ordinary bus, the living space is a reddish haven.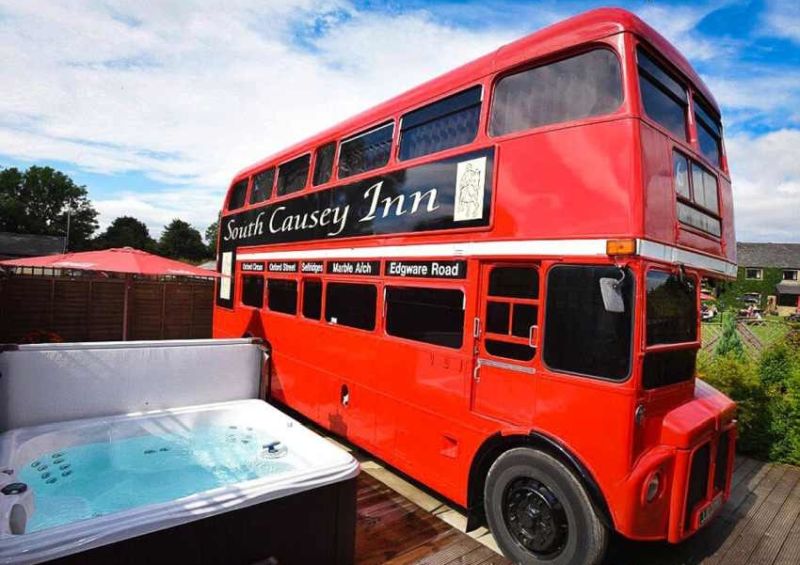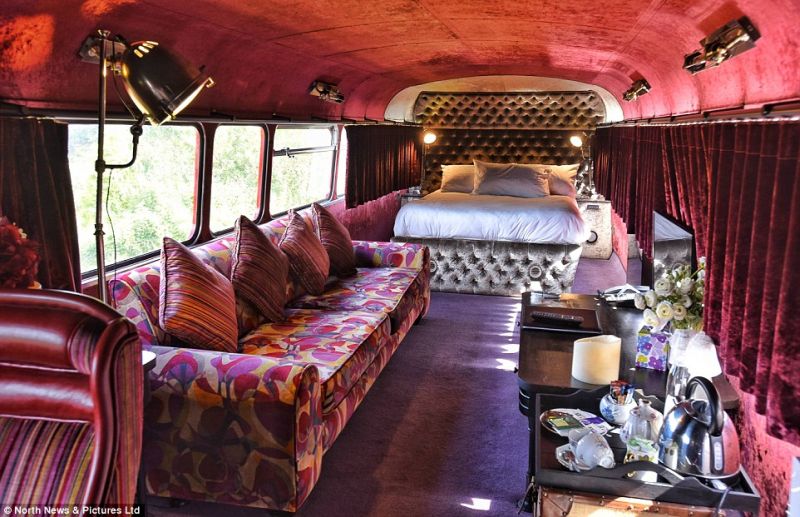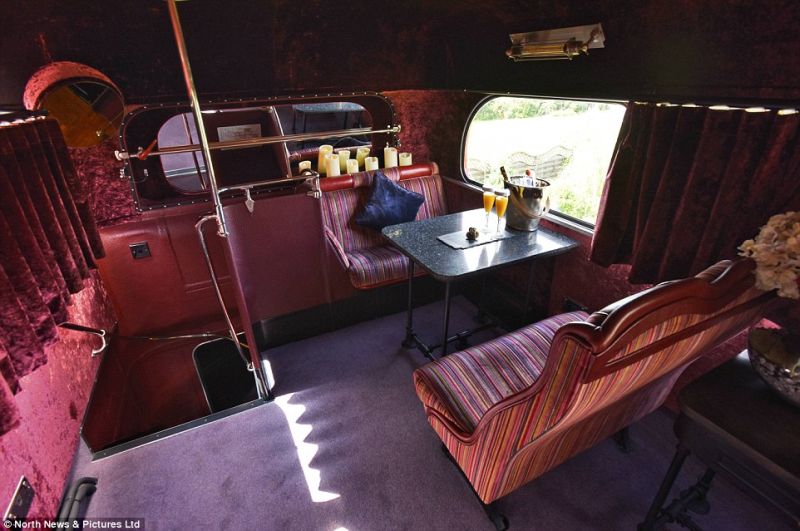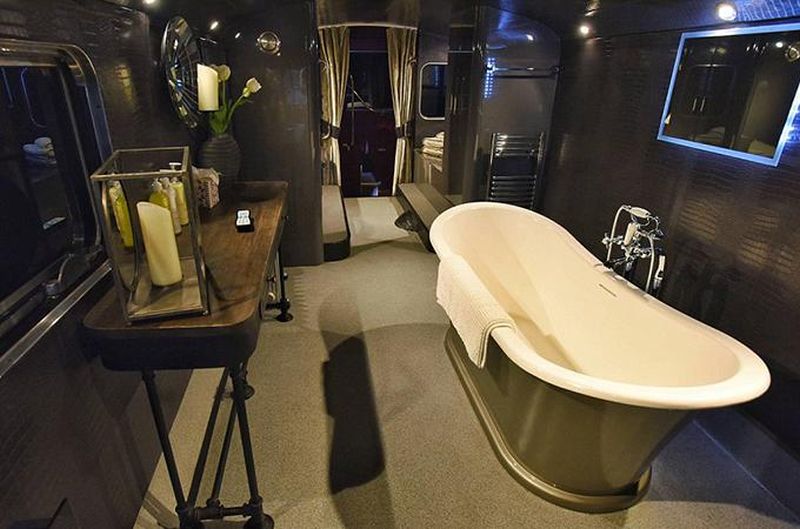 Also Read: Best Treehouse Hotels You Wish You Could Live In
Short Bus Retro by Winkelman Architecture
The Short Bus Retro is created by ME-based Winkelman Architecture for a client who wanted maximum flexibility to camp and calm the wanderlust. The idea was to make a house on wheels from a 1959 Chevrolet Viking short bus, which acted as a camper van for family escapades and group outings. With two sofas combined into a queen bed, it can accommodate two persons comfortably.
The final bus home comes complete with plumbing, power, and a funky living space. The interiors are given an extensive makeover with thoughtful design inputs, since managing the available space was one of the major concerns.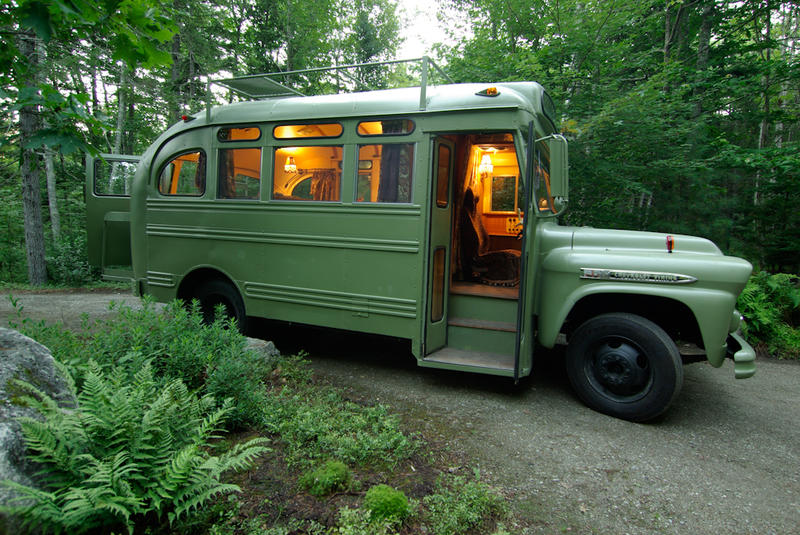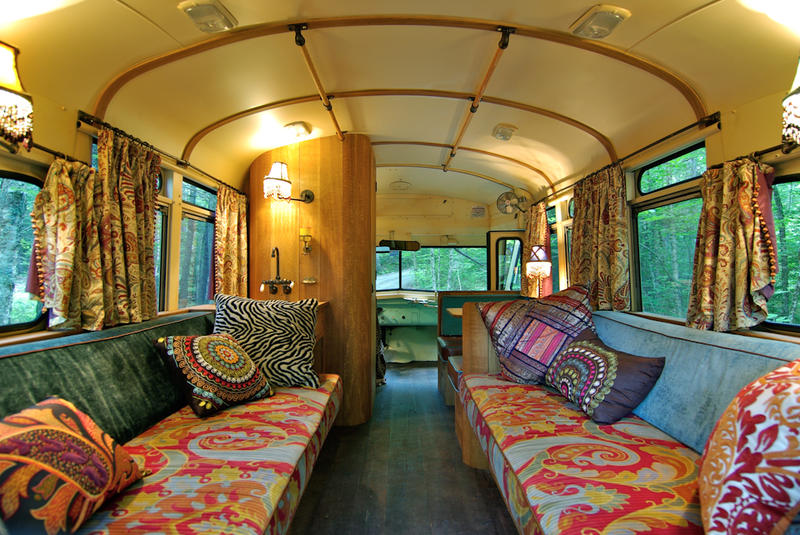 Betsy Blue Double Decker Bus Home
Travel enthusiasts Andrew and Lisa-Jayne Powis wanted to travel the countryside in a mobile home just like the renowned British pop singer Cliff Richard; so they turned an old Leyland Atlantean double-decker bus into a luxurious tiny house on wheels working six weeks and spending about £15,000 (approx. $23,000).
There is a fully-equipped kitchen on the first floor, three heated bedrooms on the top, along with an indoor garden, outdoor hot tub, and bathroom with shower and toilet. The motivation behind renovating the old bus into a livable home was multiple rejections for a home because of their two big dogs.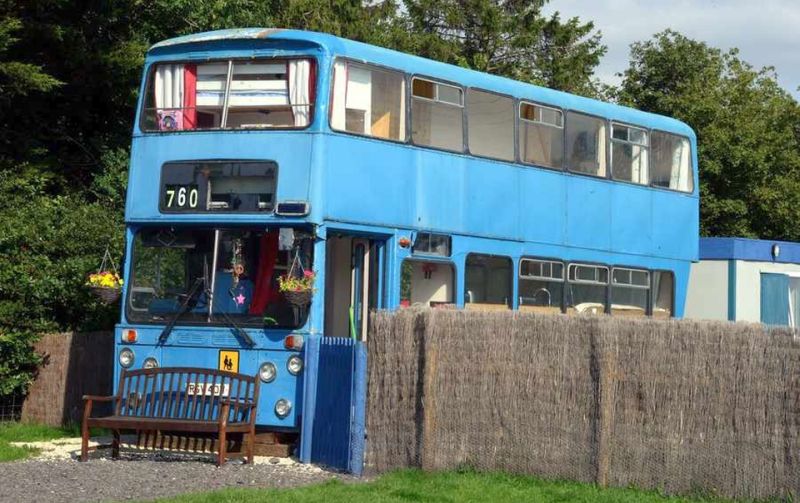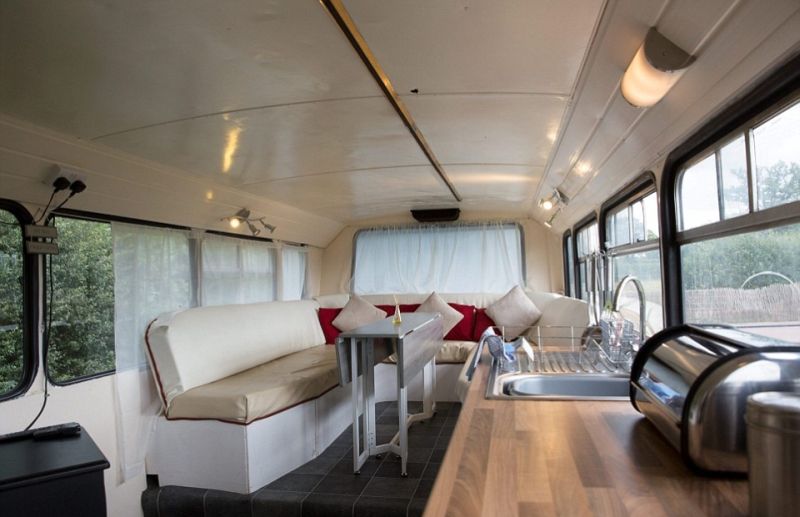 Double Decker Bus Home
This double-decker bus converted into a mobile home by Daniel Bond and his girlfriend Stacey Drinkwater gives them a way to have a debt-free house. They bought the bus for £3,000 and spent about £11,000 on plumbing, kitchen, and bedrooms.
It took about four months of work to transform a bus into a comfy mobile home. They have comfortably packed a lounge, kitchen, two bedrooms, bathroom, and a toilet into this tiny home.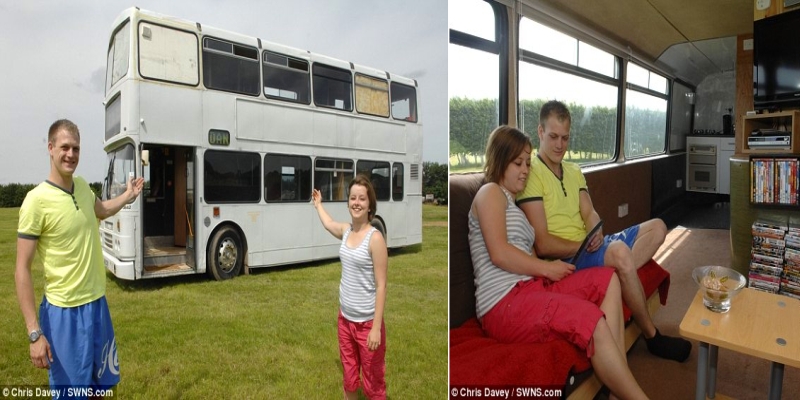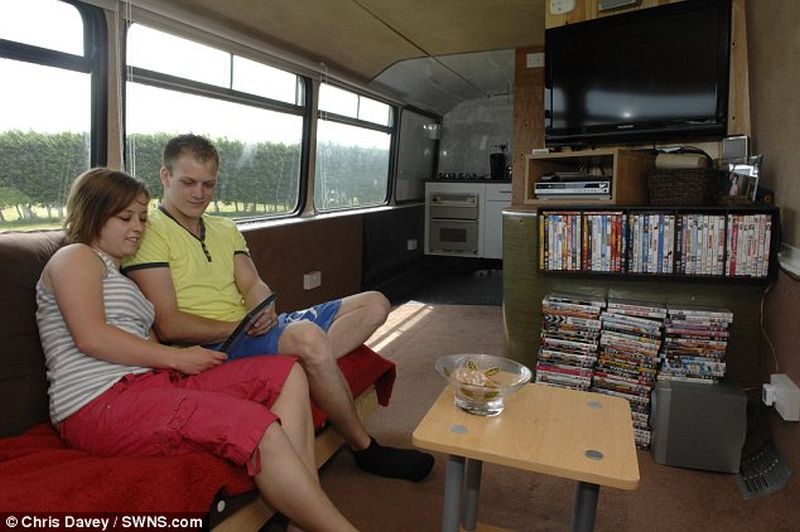 The Wild Drive Life
Debt-free living was one of the main reasons why Meagan and Ben Poirier of The Wild Drive Life converted a 1989 Chevy prison bus into a cozy tiny home. They spent about $23,560 on the bus conversion. For all-season efficiency, they used XPS rigid insulation and filled the gaps with spray foam.
Inside, the open-concept floor plan keeps every space within eyesight. The lounge and raised bed with storage are conceived alongside a wood stove.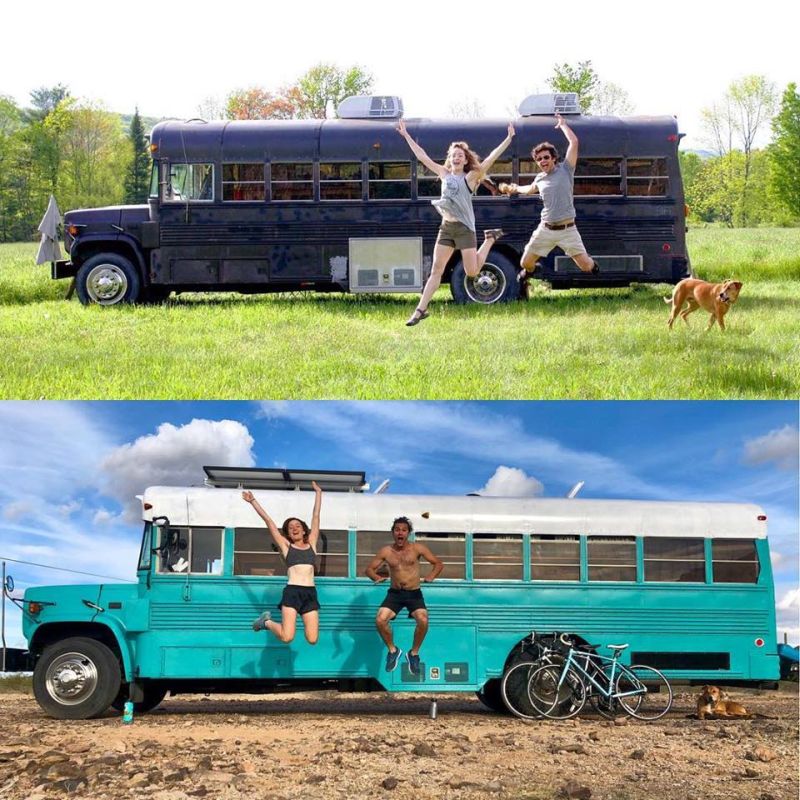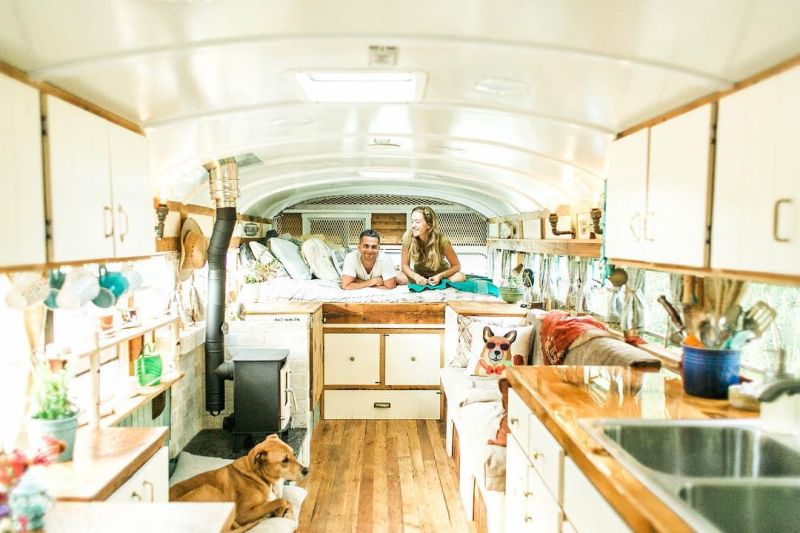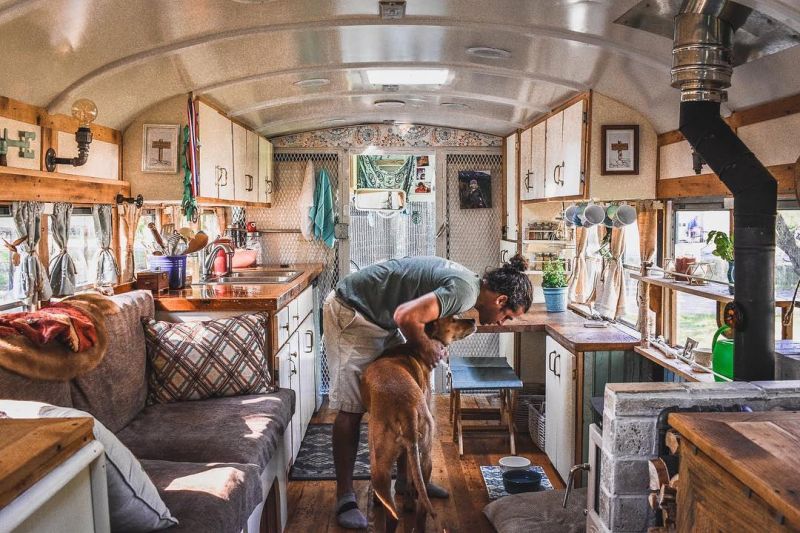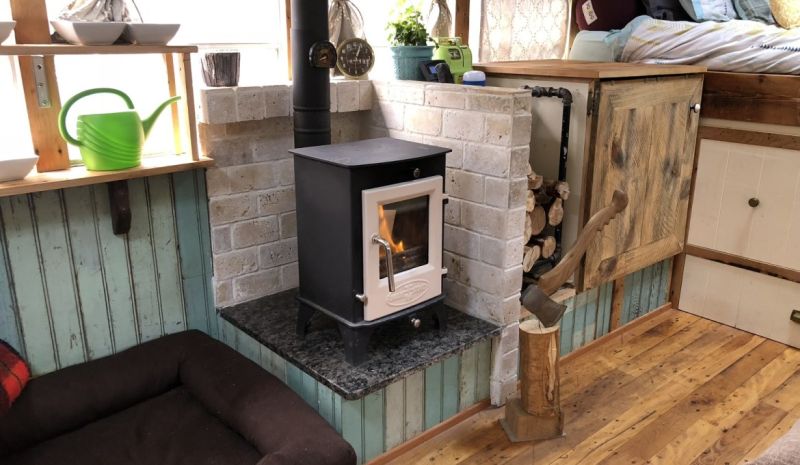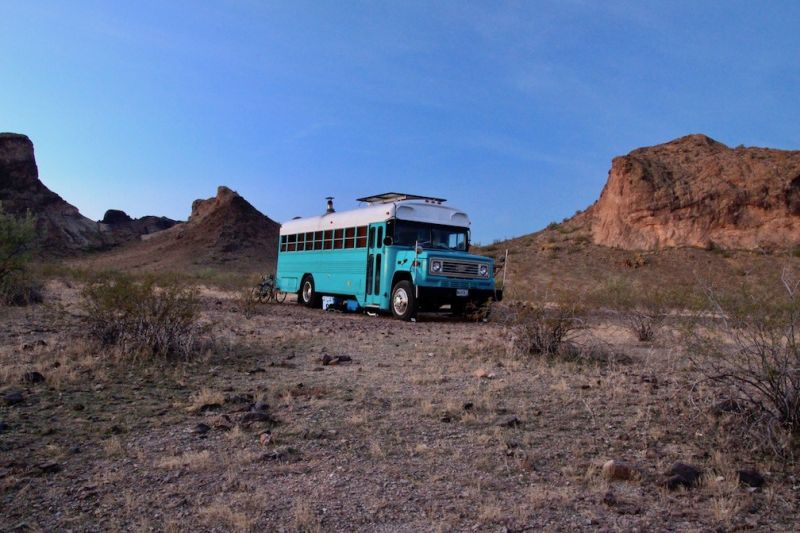 Bus conversion by Luke Whitaker
Landscape architect and garden designer Luke Whitaker have converted an old bus into a luxe tiny home in Cotswold Countryside that you rent on Airbnb. Suitable for two people, the bus home has a cozy living area with a wood-burning fireplace and dining table. There is a sumptuous double bed, and a kitchen inside while the bathroom shack is outside.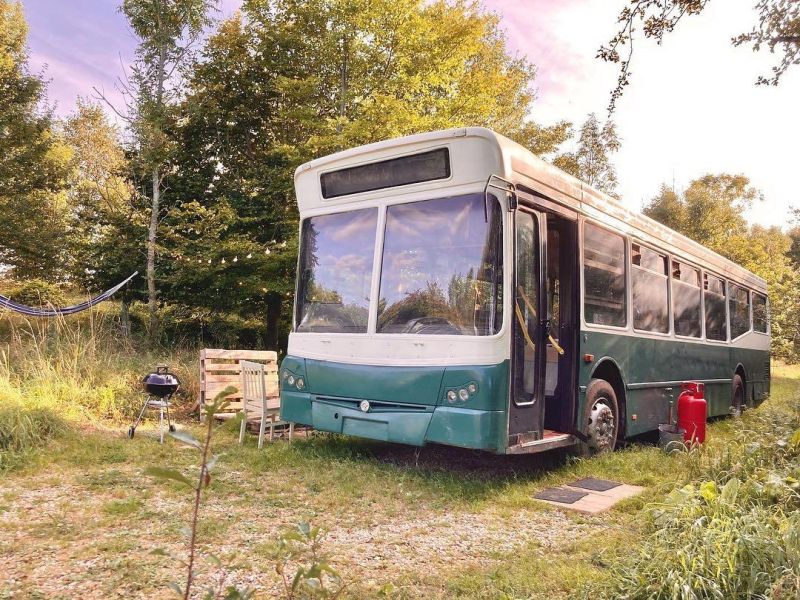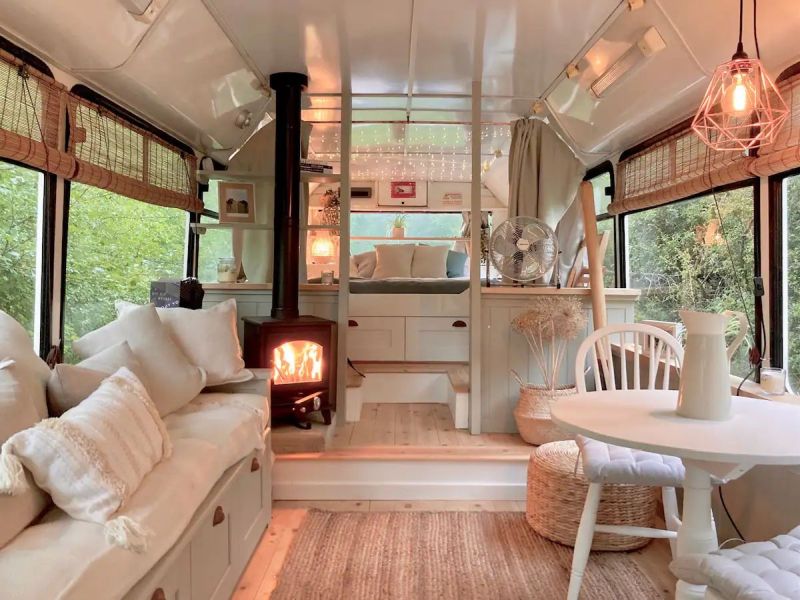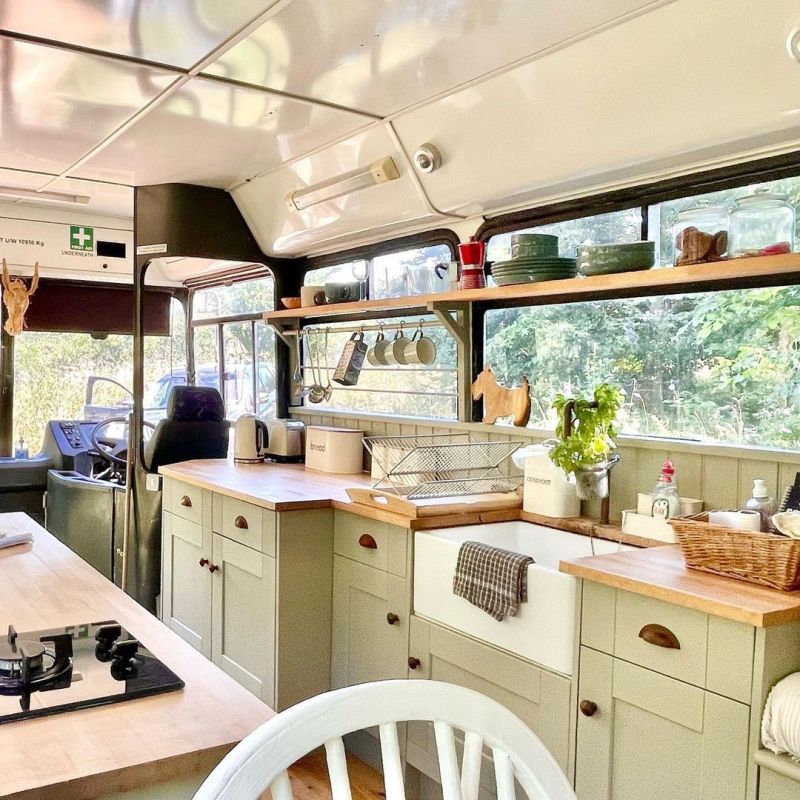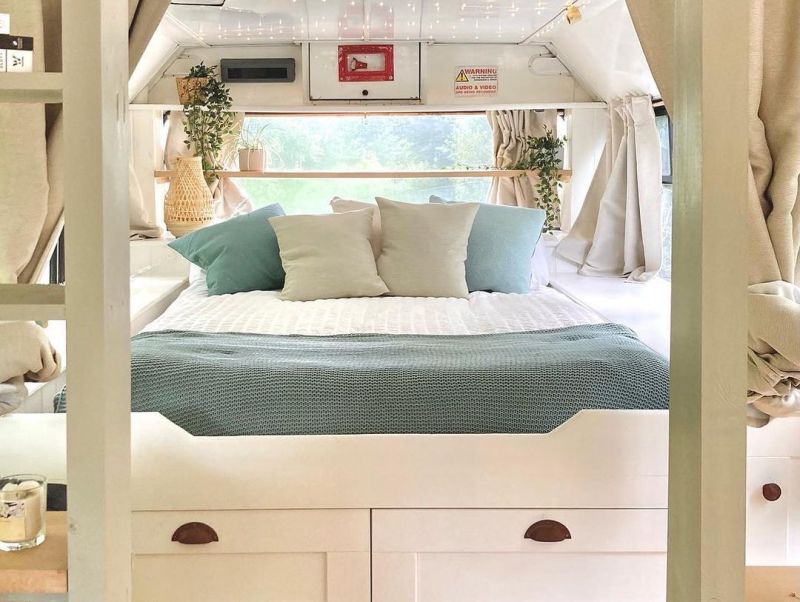 Tally Saul and Hagit Morevski Bus Home
Housing is a big problem in Israel, and seeing it as an opportunity to get creative, two women – Tali Shaul and Hagit Moravsky – decided to go for a bus conversion with the help of a designer friend named Vered Sofer Drori. As the rear of the bus was higher than the front, balancing the slope was one of the biggest challenges resolved with carpentry work.
As windows are left intact, the interior space welcomes lots of natural light. One side across the windows is meant for bright orange diner benches while there are kitchen cabinets on the other side. In addition, the rear seat is refurbished as a double bed. There's a bathroom with a shower, a bathroom cabinet, and a toilet.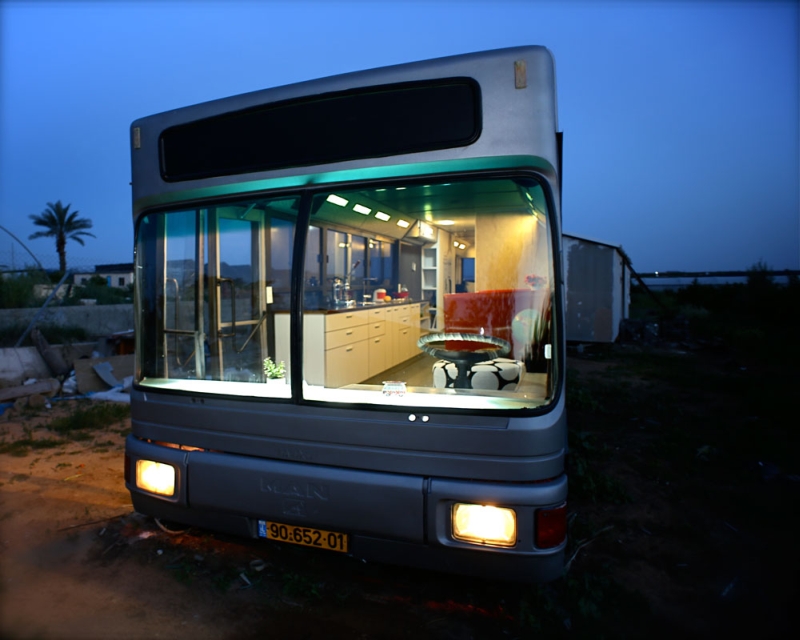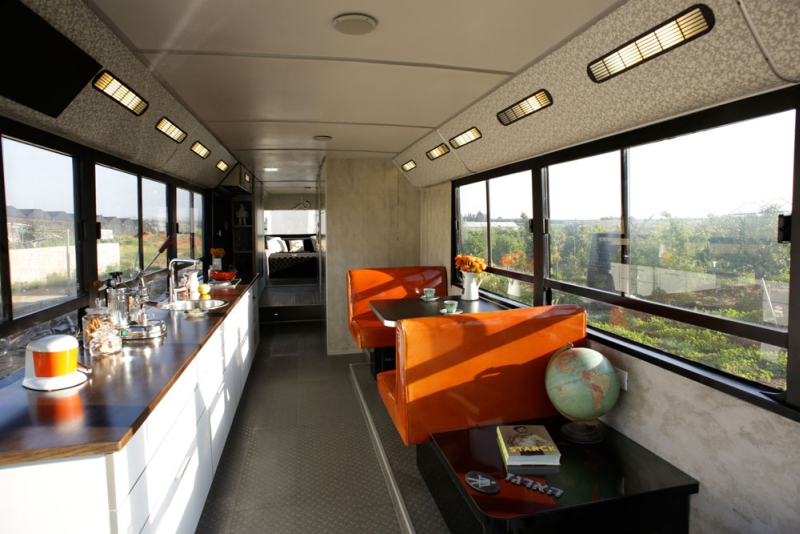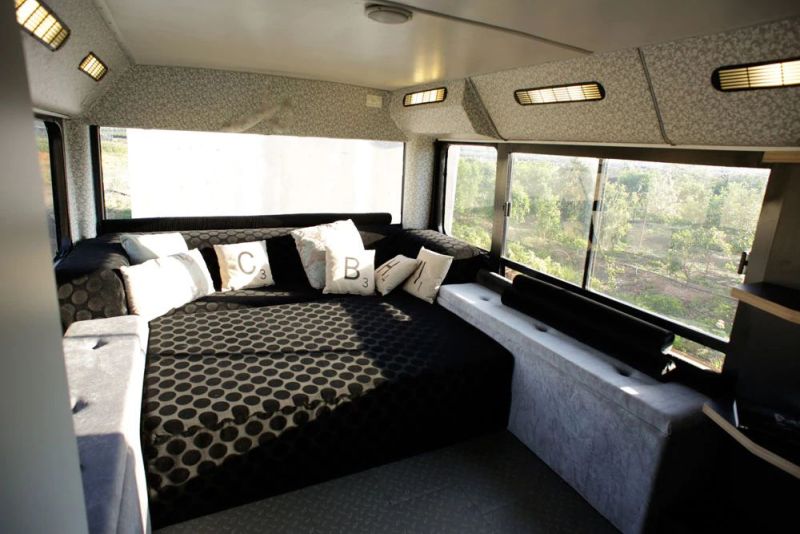 The Bus Tiny Home by Jessie Lipskin
Jessie Lipskin spent three years and about $125,000 transforming a vintage Greyhound bus into a stylish mobile home, which she calls The Bus Tiny Home. This 400-square-foot tiny house on wheels has a full-blown kitchen, bath, and two sleeping areas for up to four persons. The hardwood flooring and Scandinavian-style interiors add a sophisticated and minimalist touch.
The large closet space with mirrored double doors makes the space feel bigger. Another great feature is the DIY maple countertop in the kitchen.