German couple Selima Taibi and Felix Starck after getting bored from city life, and seeing a bus conversion they immediately decided to turn an old bus into mobile home. They bought an old bus from Thomas international school and turned it into 'Loft on Wheels' for fulfilling their dreams to travel until the bus home breaks down! They share their travel tales under the name Expedition Happiness.
The school bus conversion looks easy but space restrictions demand a lot of hard work and imagination to keep it airy, as well as comfortable. Keeping in mind simple lifestyle, they redesigned the mobile home interiors to get enough space for a living room, large bed room, kitchen and bathroom with a composting toilet that reduces overall ecological footprint.
Turning the old bus into mobile home started with scraping out all the seats and cleaning the entire space. Thereafter; proper insulation, water supply and electrical wiring were added inside the bus. This bus measuring 12 x 2.4 x 3M was finally divided to four different living areas and a additional garage on its back.
Driving and living area
As you open the door of the 90s bus, three steps covered with door mat welcomes you inside the mobile home. The engine and dashboard painted in chalkboard color keeps the drivers' area slightly different from the living room in white accent. The driving area has all basic things you will need during a road trip including a GPS, Bluetooth speaker, 90s small fan and a rear view camera to record unusual things happening in roads. Storage spaces are apparent everywhere, including a storage box over the dashboard.
Also Read: 12+ Inspiring Bus Homes to Ignite Your Wanderlust
Right behind the driver's area; a compact living room is outfitted with a folding table, Eames chairs and a self made sofa bed with hidden storage cabinets for their camera gear. The wood-patterned floor beautifully brings an elegant look to the interiors.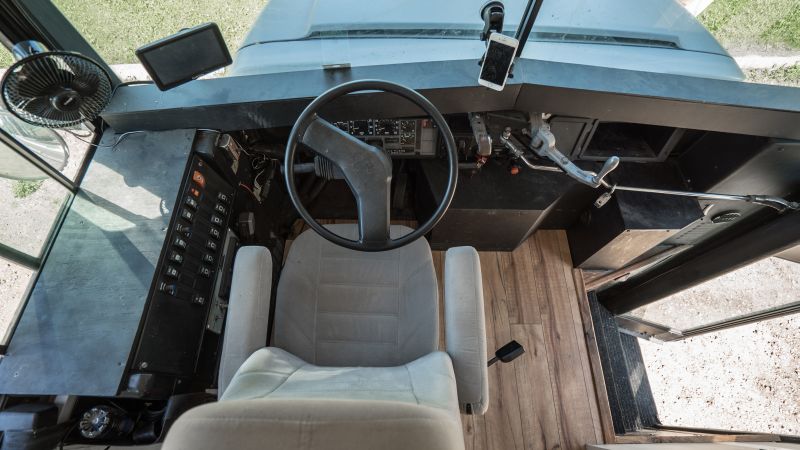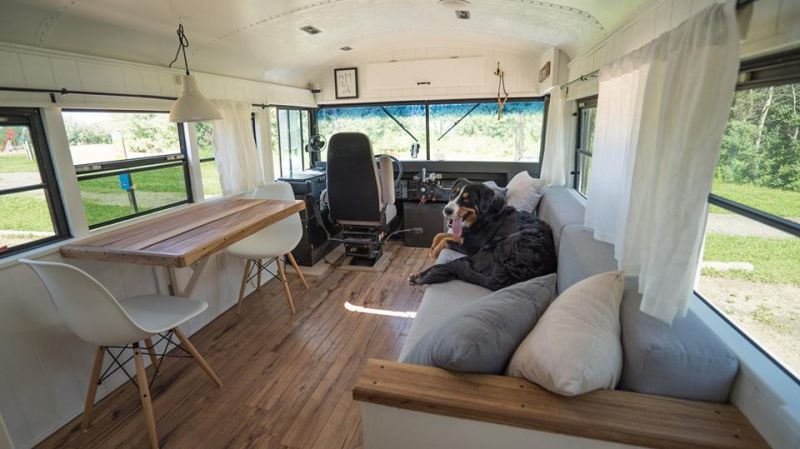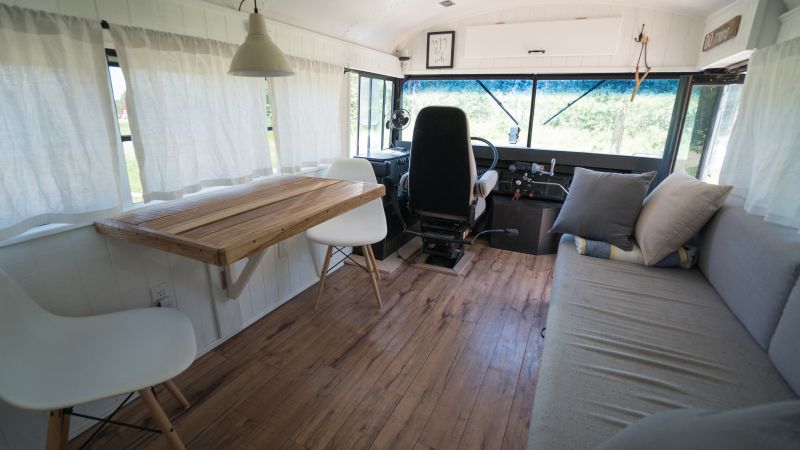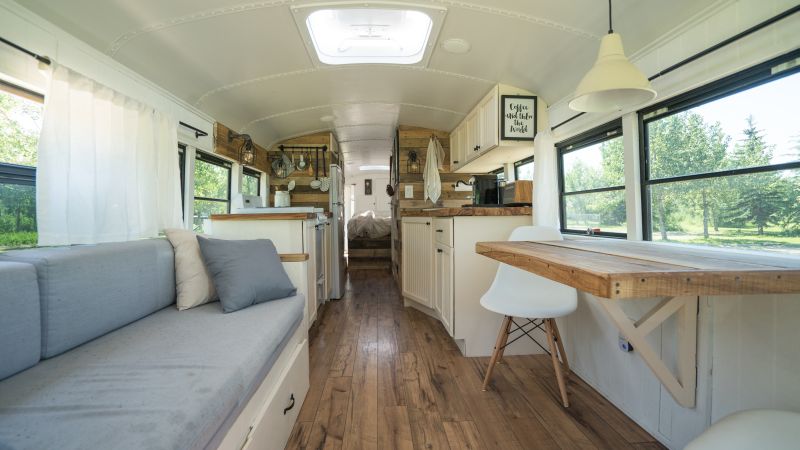 Kitchen
They designed the kitchen big enough to keep all necessary items organized including the utensils, coffee machine, fridge, propane-powered stove, and other appliances. They added overhead cabinetry to keep all imported mugs and plates secured in one place. Moreover, a small cabinet over the sink is included for keeping bathroom products and another over the fridge for additional space. The gorgeous kitchen has everything you will need for a gourmet dining experience during a road trip.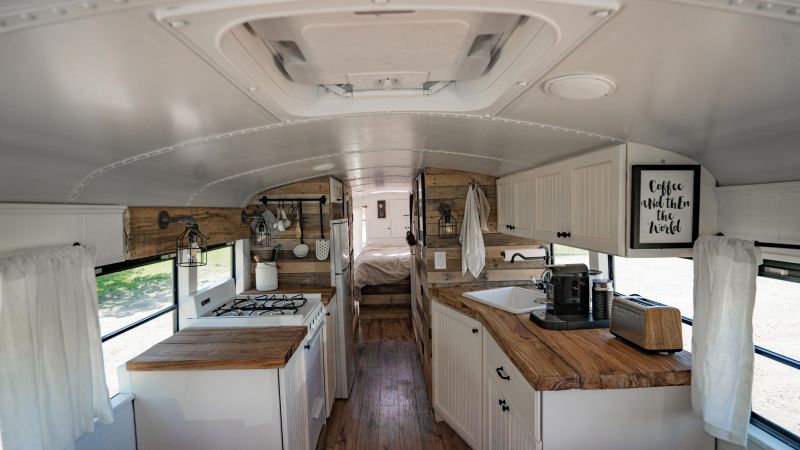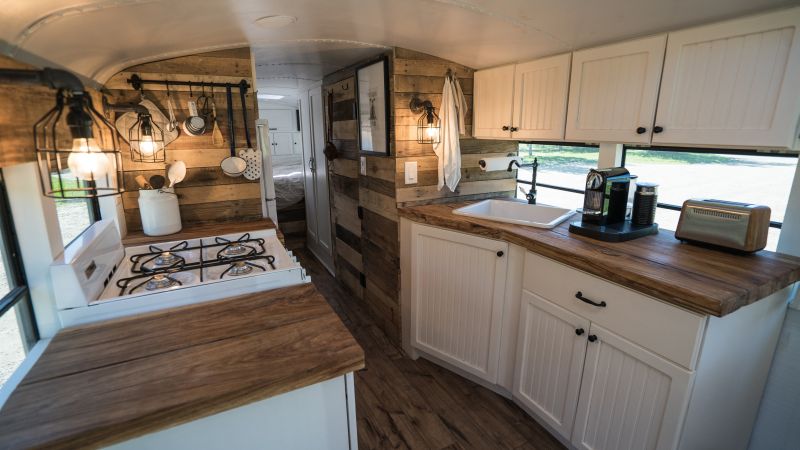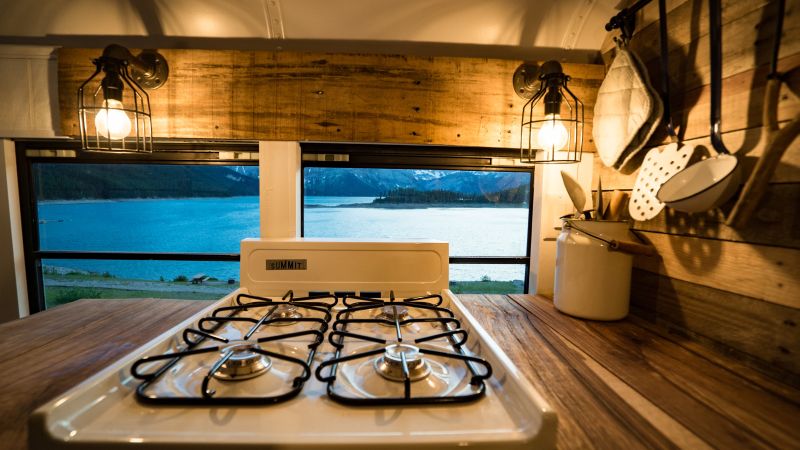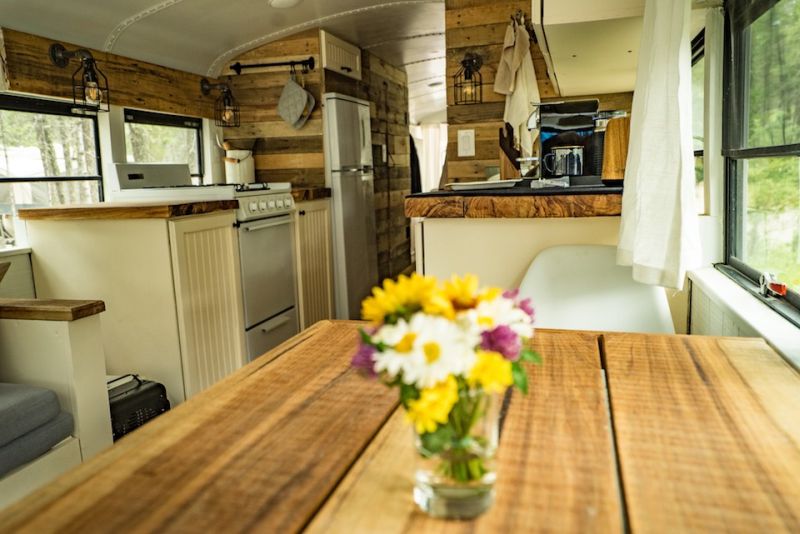 Toilet and Bathroom
The space for toilet was extracted by separating the area with pallet material which keeps it strong and adds rustic essence in the bus home. They used composting toilet to make the house eco-friendly. However, the toilet is small in size but has enough space to accommodate one person.
The bathroom on its opposite side is the prettiest space in the bus home. It boasts imposing interiors designed with dark green handmade tiles (by Mercury Mosaics) and a RV Shower. Despite travelling numerous bumpy terrains, there is not even a single crack in the shower tiles.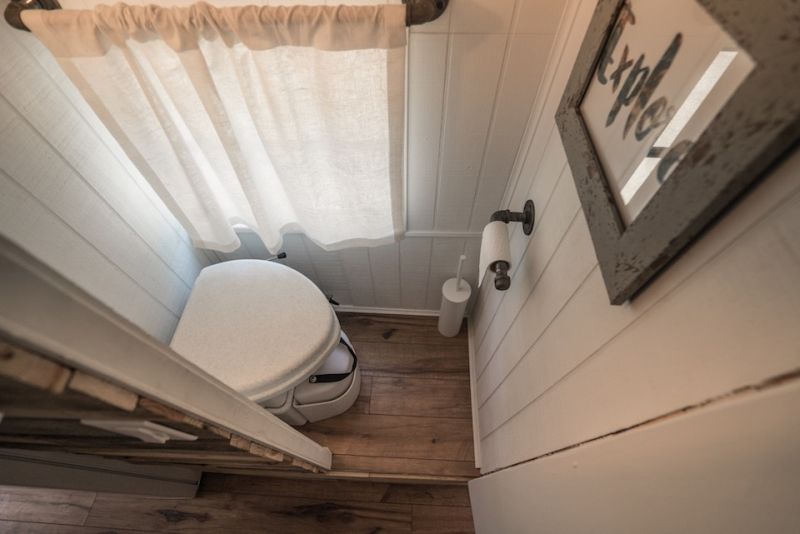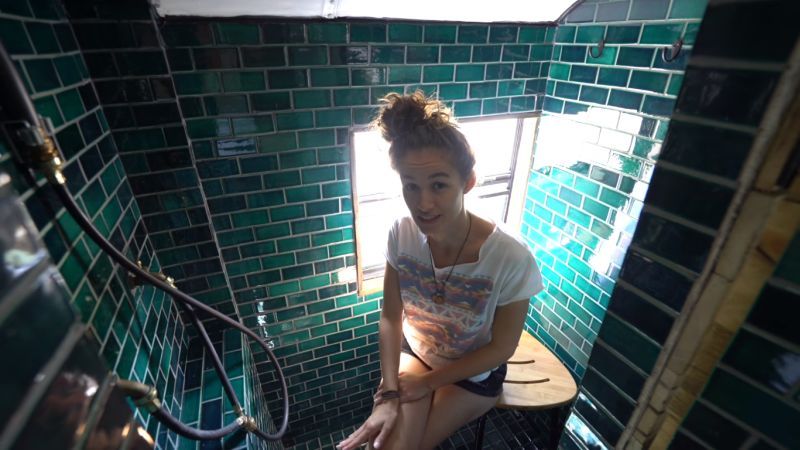 Big and cozy bedroom
The master bedroom features a queen-sized bed with built-in storage boxes underneath and a 32" Apple TV for entertainment purposes. They also included a sunroof to stargaze while sleeping or let in natural light in the bedroom. There are a number of cabinets and cabbies added behind the bed to keep your important things, like watch or mobile well within reach when going to sleep. This space even has charging outlets.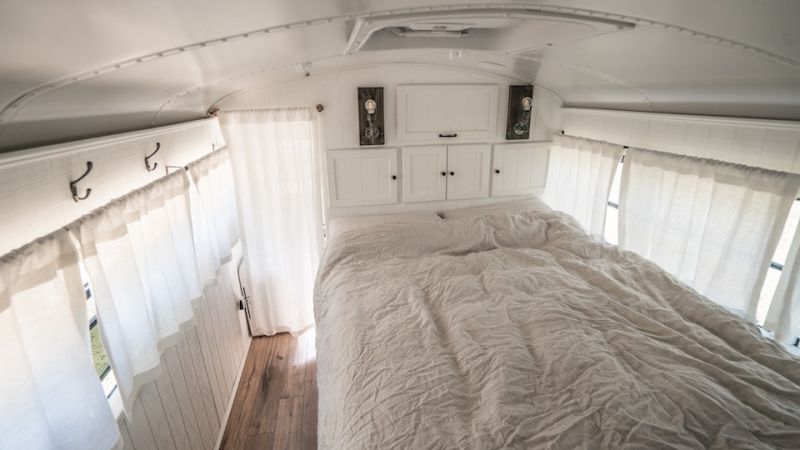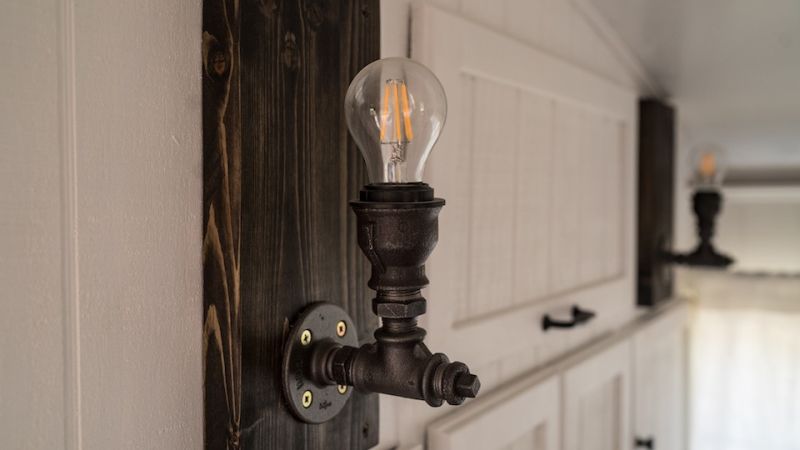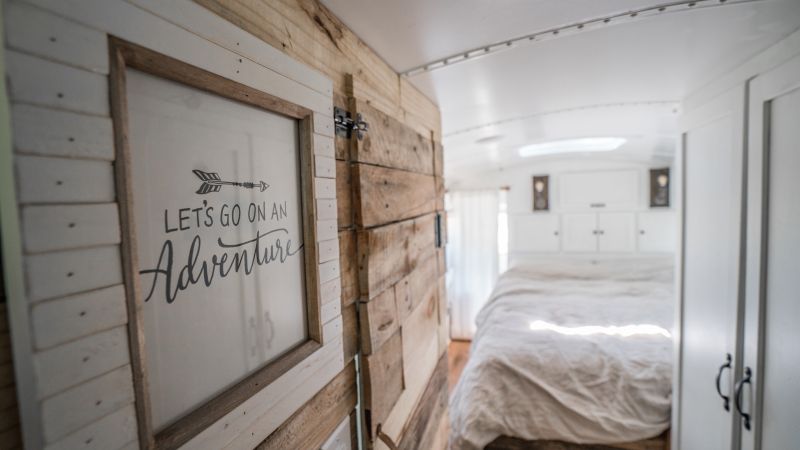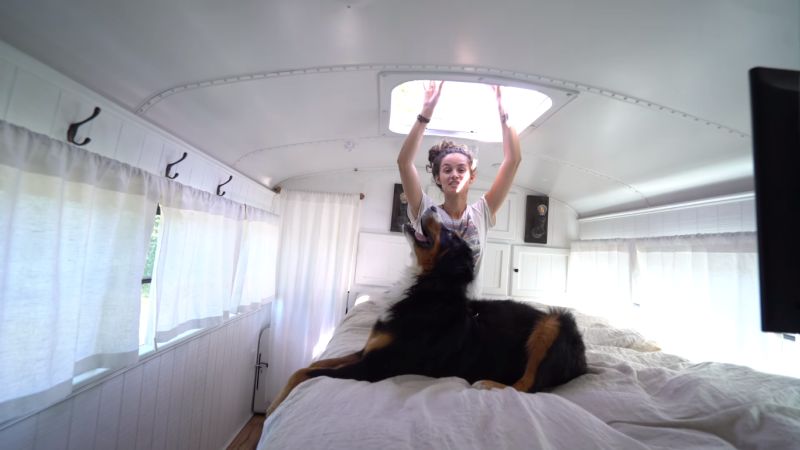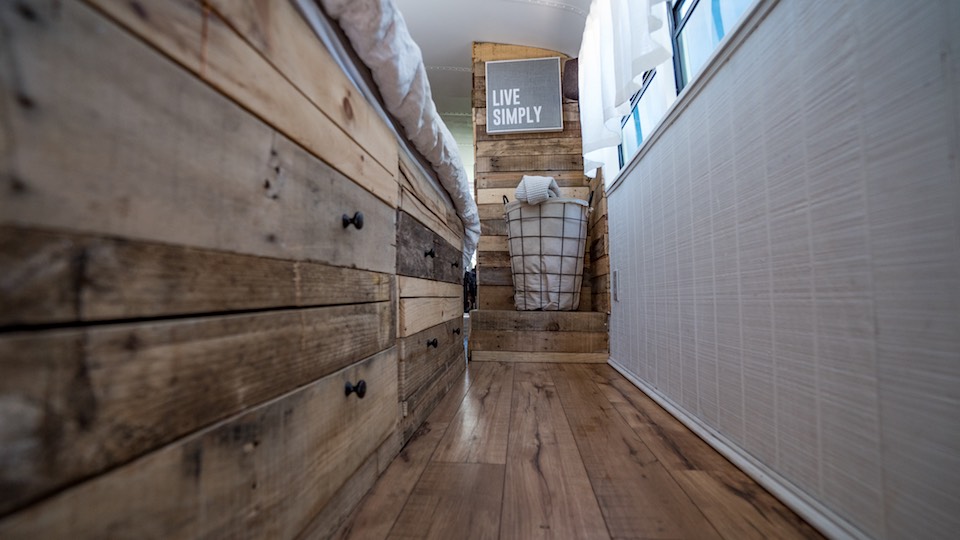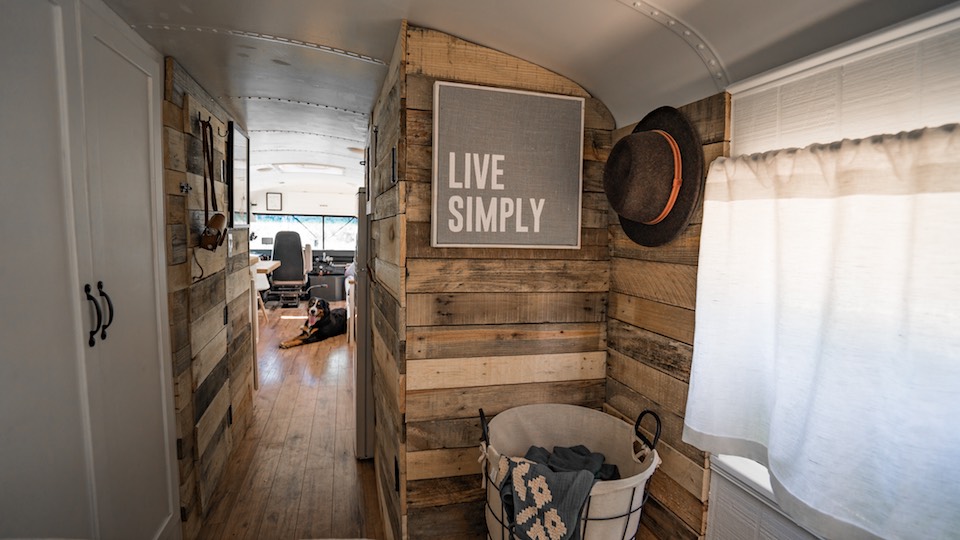 Garage area
The back area of the bus is used as a small garage to keep all electrical appliances, dog food and propane bottles. They have installed a composite power system having a capacity of 810 hours of backup for their energy needs. It can be charged with solar panels or it can also be plugged into the main power supply. Other than that, there is more than enough space for keeping sport gear, toys, and other heavy stuff.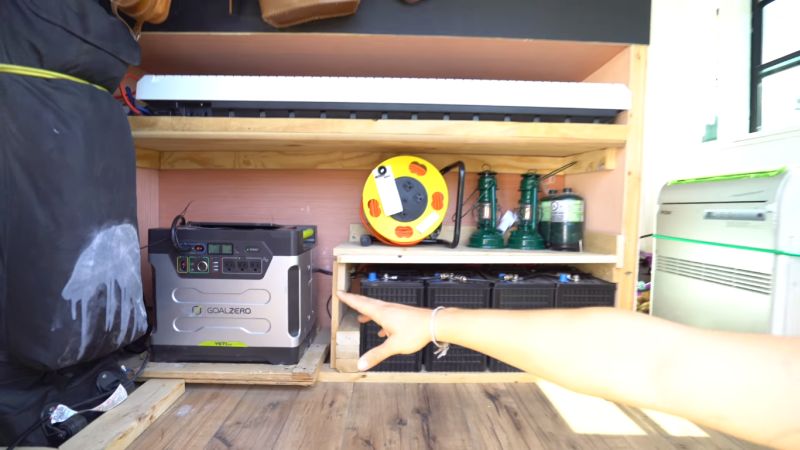 Surely, this beautiful school bus conversion done by the couple gives them a lavish way to expedite happiness throughout the world. The interiors are satisfying and quote framed posters all over the house keep them motivated at all times. Since it is a bus with a number of windows, so it gives them a good way to capture mesmerizing landscapes and wilderness while road tripping. At last, the remodeled exteriors of Loft on Wheels looks fine but its big size can create an issue in their future adventures in the bus home.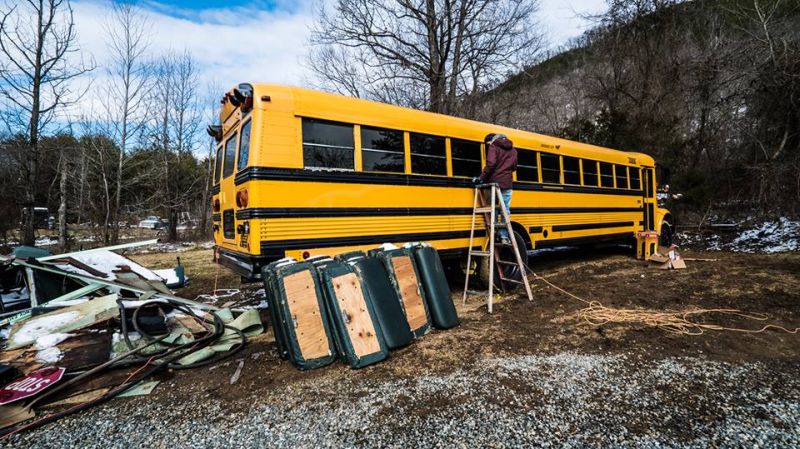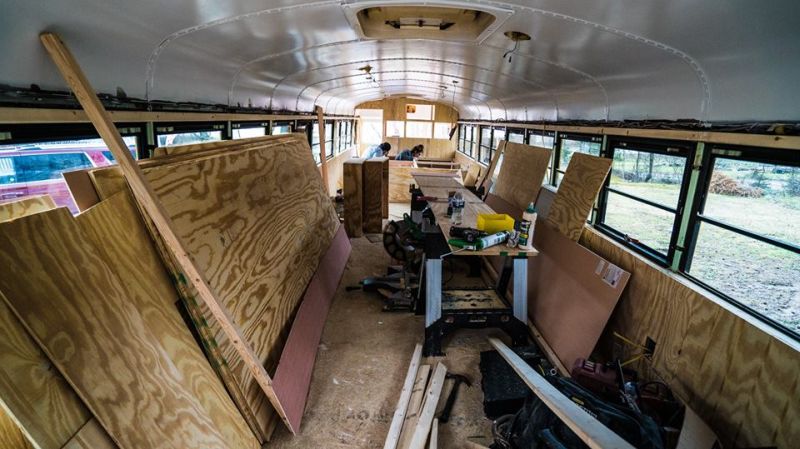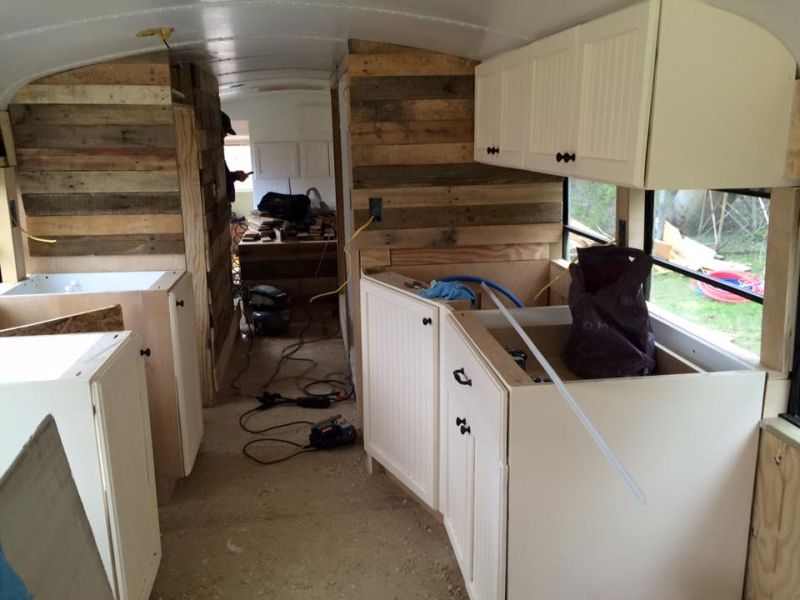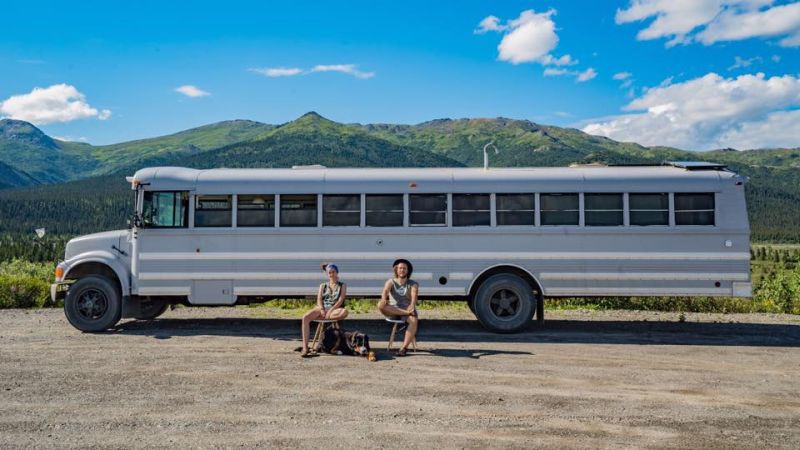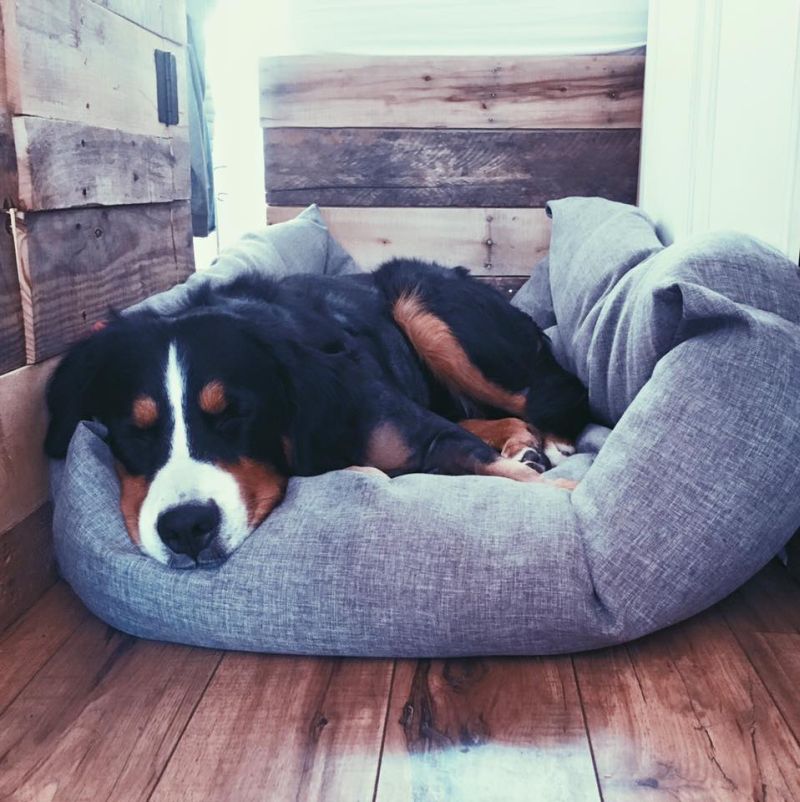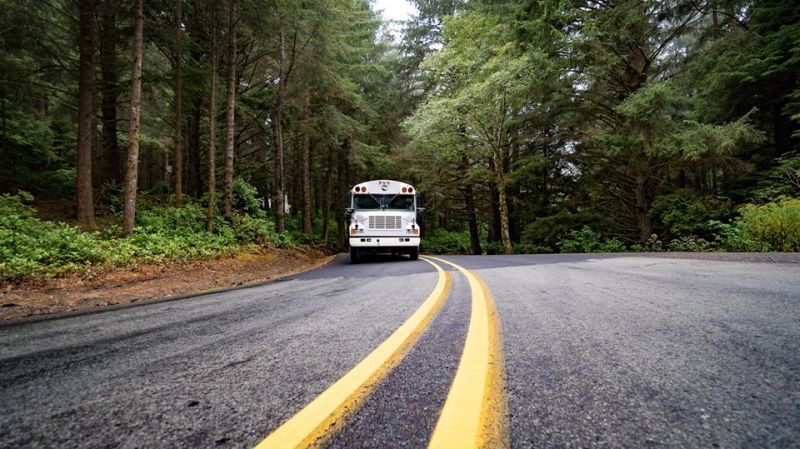 Via: TinyHouseBlog